Cover Story: WBB Team Is Improving, Slowly
In its 64-54 loss to BYU, Utah State offered plenty of reasons for optimism. It also lost a winnable game because it couldn't hit shots. Cover on a USU WBB team looking for answers on offense: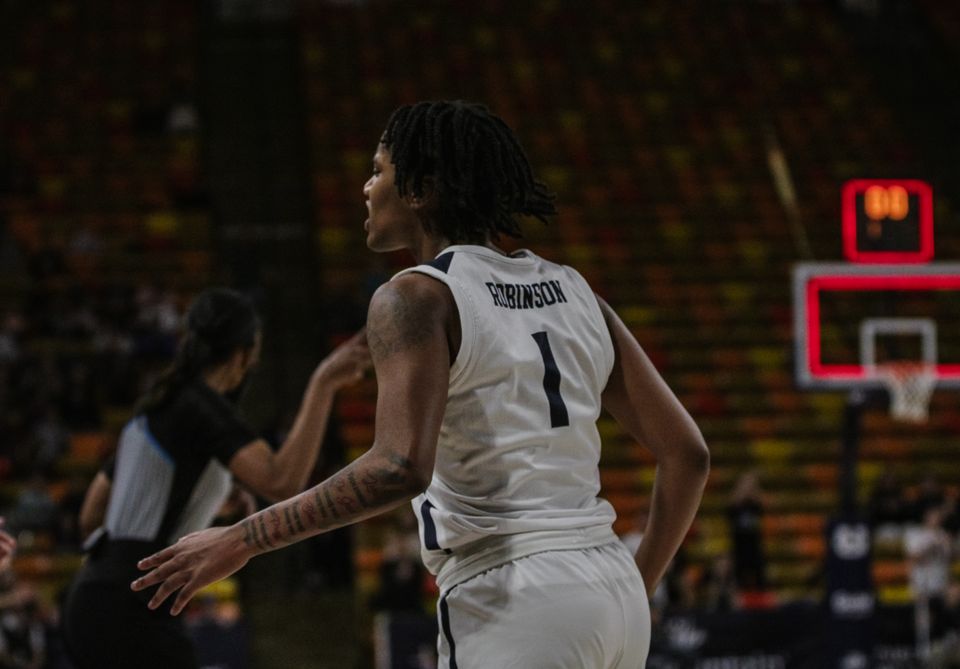 LOGAN – We should start with the bad news. Utah State shot 17 of 60 from the field (28.3 percent), 6 of 26 from three-point range (23.1 percent) and 14 of 22 from the free-throw stripe (63.6 percent) in its 64-54 home loss to BYU on Dec. 6. It was a new low for an offense that has spent the first nine games of the season alternating between disjointed and catatonic. No, really. Utah State has shot 32.1 percent or worse from the field six times this season, and this was pretty easily the worst of the bunch.
The Aggies turned the ball over 18 times, their sixth game this season with at least 16 turnovers. They turned 13 offensive rebounding into seven second-chance points and registered just 16 points in the paint. BYU finished the afternoon with an unbelievable 32 turnovers, yet the Aggies managed only 16 points off turnovers.
Utah State's offense looked like a collection of five individuals playing one-on-one with their respective defenders a whole lot more offense than it looked like a basketball team. And far more often than not, it wasn't pretty.
"We're showing fight," Utah State head coach Kayla Ard said. "We're fighting really hard and I love what we're doing effort-wise. We can't score the ball. We're not going to beat very many teams scoring 54 points. We have to score the ball better.
"We shot 23 percent tonight from three. We've been really good from three as of late and we just couldn't make threes today, and then we were 29 percent from the field. We just missed too many shots. That's the story of the game, we missed too many shots and we have to shoot the basketball better."
Off-ball movement was so infrequent that any successful cuts to the basket or screens away from the ball should probably be chalked up as some sort of mistake. When I asked Ard about Utah State's focus for off-ball movement right now, she said the focus is movement – any movement at all.
"The focus off the ball has been movement, so it's really problematic that we're not doing that," Ard said. "We're running a 5-out offense right now and that literally is the focus – to make sure that you're moving away from the ball and that you keep the ball moving. I just don't think our chemistry is there yet, to be honest. We have a lot of new players, and I think we still have chemistry issues.
"We flow on the defensive end, we don't flow on the offensive end. We help each other on the defensive end, but we don't help each other on the offensive end. We ended up with 12 assists and that number just has to be a lot higher. We need to be up in the 20s. We have to learn how to share the ball and make shots. You can't get assists if you don't make them at the end."
In a very winnable game against an in-state rival that Utah State seldom beats, the Aggies put forth what was probably their worst offensive effort of the season. They couldn't shoot from anywhere and they certainly couldn't finish at the rim, where they've been dreadful all season. That's the bad news. Utah State lost a game it very well could have won because it could not hit the broad side of a barn.
The good news? Utah State played a game against BYU that it probably should have won. It doesn't matter that the Cougars are rebuilding this season, breaking in a new coach serving at the collegiate level for the first time with four brand-new starters. It doesn't matter that they aren't going 26-4 and winning the WCC like they did last year.
BYU now holds a 40-4 series advantage over Utah State. The Aggies haven't won this game at home since Jimmy Carter was the president. A whole lot of Utah State teams didn't come this close against BYU, and it's pretty damn hard to believe that any of those who kept it close did so while shooting 28.3 percent from the field. For as catastrophically bad as Utah State's offense was, the Aggies never lacked energy, intensity or fight.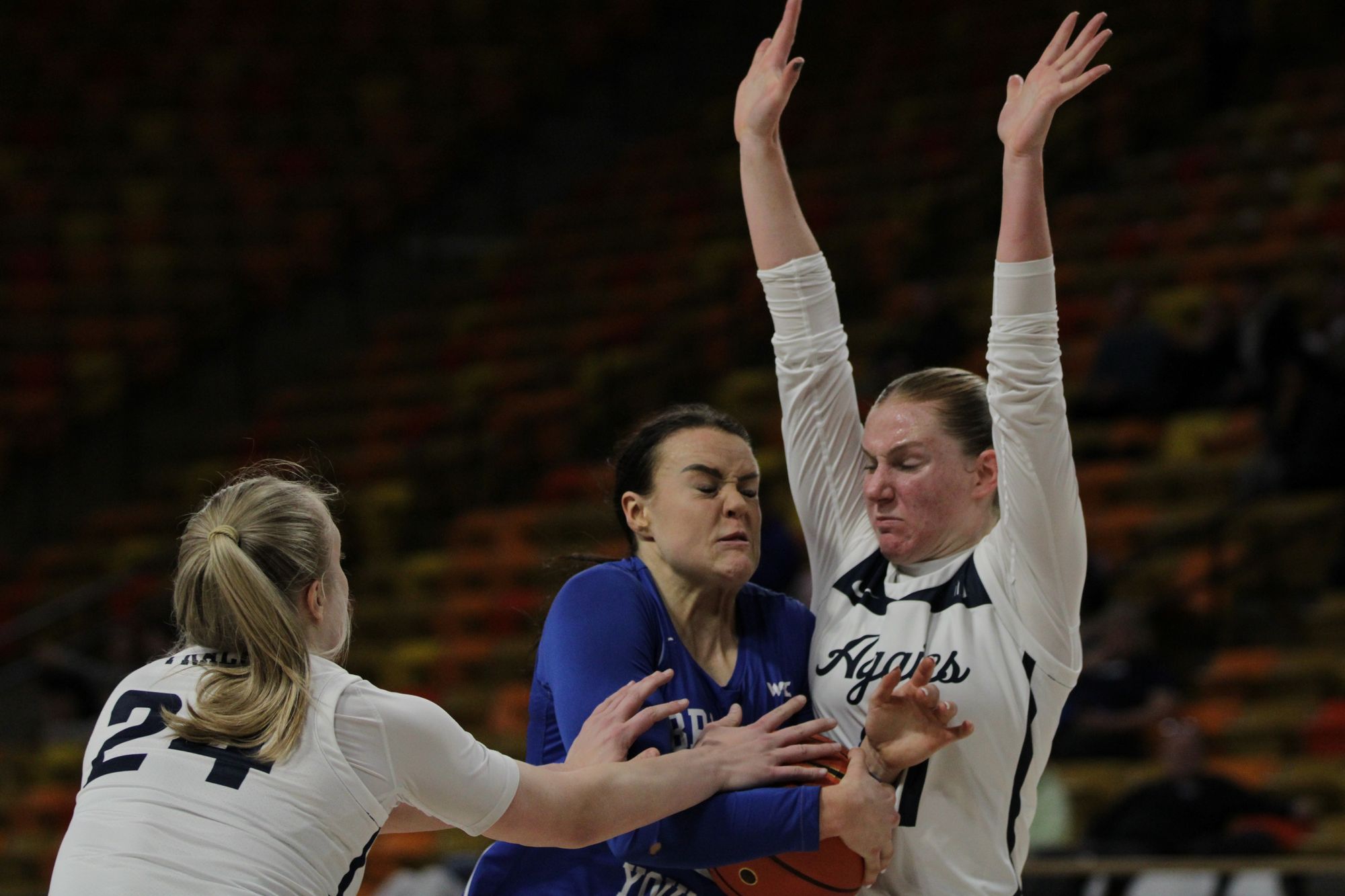 Look no further than the day BYU's offense had. It knocked down 54.8 percent of its shots from the field, but took 18 fewer shots (42) than Utah State did. Star forward Lauren Gustin scored 11 points and grabbed 10 rebounds in 35 minutes, but she also turned the ball over six times and fouled out.
Starting guard Nani Falatea had 13 points in 34 minutes but matched Gustin's efforts with six turnovers. Guards Arielle Mackey-Williams and Kaylee Smiler and forward Rose Bubakar had four turnovers apiece, while reserves Amanda Barcello and Lauren Calvert each added three.
The final figure – 32 turnovers with 14 credited directly to Utah State steals – is the most a Utah State opponent has suffered since 2010-11 and may be one of the highest figures in program history. And while many of those turnovers went down in the stat sheet as unforced, the reality of the game was a different story.
Utah State was energetic, physical and intense on defense. The Aggies may not have been credited for BYU's desperate passes out of bounds or balls knocked loose on drives, but they were, without a doubt, responsible for BYU's offensive chaos.
"Our defensive effort is really, really good," Ard said. "I'm really proud of what we're doing defensively – the effort is definitely there – but we have to score points. We're just not capitalizing. We're working so hard on defense, we're getting the tips and the steals, and then we don't score behind it. I don't want to say it's for nothing, because it's not, but we have to score behind it. We spent a lot of time on defense and that seems to have gotten a lot better. We have to switch gears now and work on our offense."
That's a step in the right direction. Effort hasn't been an issue for Utah State this season, but channeling that effort into productive play has been. Against the Cougars, the Aggies used their defensive effort well. It was far from perfect – which is apparent even in the stats because BYU hit 23 of 42 shots and still had too many wide-open looks – but Utah State isn't looking for perfect right now. Improvement for this team is positive production, and Utah State got positive defensive production against a legitimately capable (not good, but capable) opponent on Tuesday.
Its next goal, as it enters the final stretch of non-conference play with winnable games at Loyola Marymount and Eastern Washington before opening conference play at Air Force on Dec. 29, is to figure out anything at all on offense.
"We have to go back, watch film and figure out how this basketball team is going to score the ball. Every team is different. What worked last year might not work this year; what's worked in previous years might not work. We have to figure out how this team, with this group of individuals, is going to score the basketball. That's what the staff and I are going to focus on."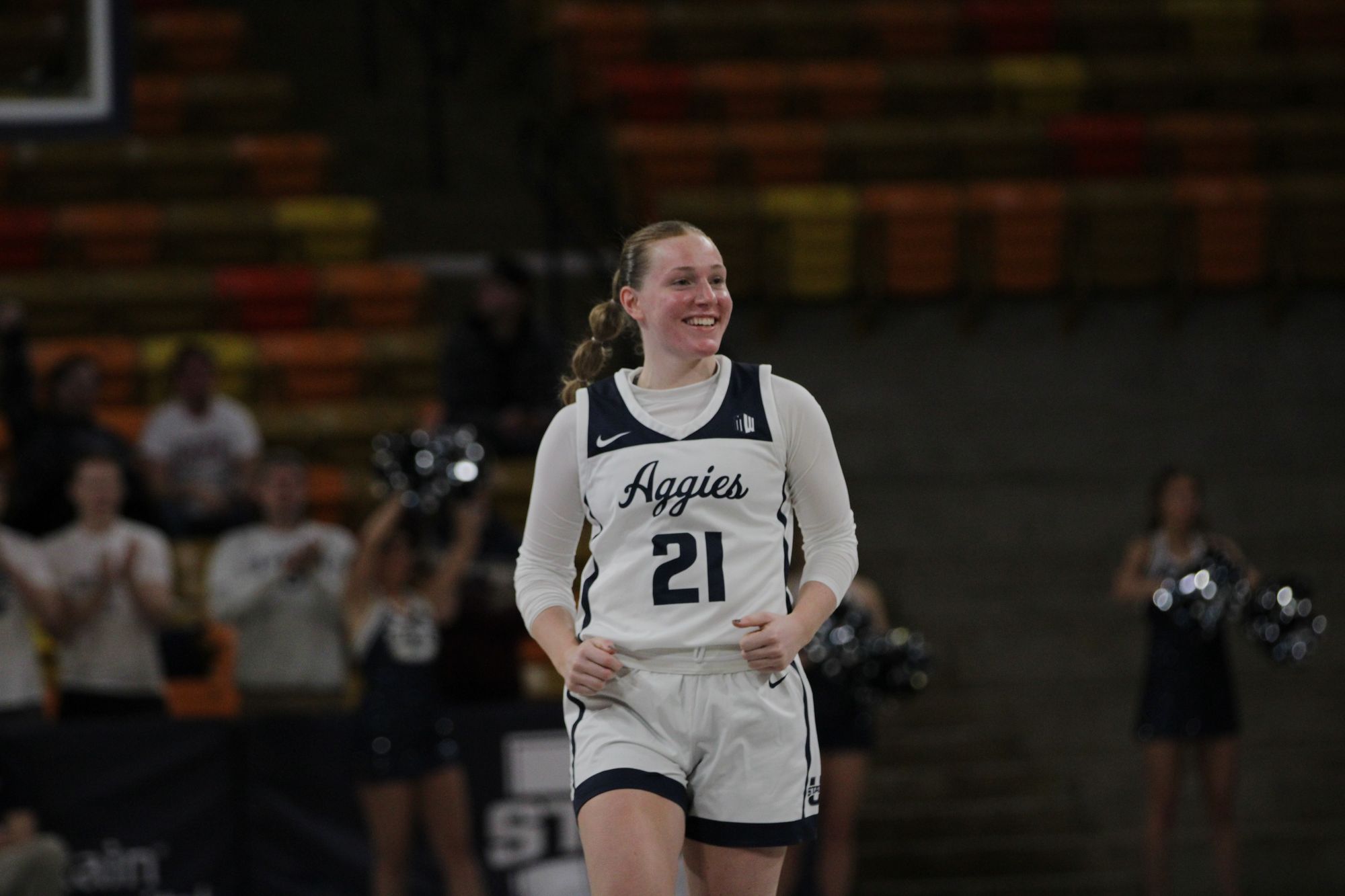 Utah State can take some small encouragement from individuals still showing signs of offensive prowess within a unit that just is not playing anything approaching cohesive basketball. Mayson Kimball shot 5 of 10 from the field and 4 of 8 from deep for a team-high 14 points. She's scored in double-figures six times this season and is shooting well both from the field (45.6 percent) and beyond the arc (42.5 percent).
Ashya Klopfenstein is back from injury, and while her shot isn't yet falling, she still managed 12 points despite shooting 2 of 7 from the field because she converted 7 of 8 free throws. That's a dimension the offense otherwise hasn't had – Abby Wahl is a good player, but she hasn't shown a whole lot of interest in scoring. Fellow recent returner Natalie Fraley will be a very good player once she catches up with the speed of the college game.
Stalwart guards Maria Carvalho and Tamiah Robinson have struggled with inefficiency (Carvalho is shooting 37.4 percent, Robinson is shooting 31.9 percent), but their career stats before this season suggest that it's more a symptom of this team than a reflection of their respective scoring ability.
The wingers, Cris Oliva and Olivia Wikstrom, have offered glimpses at what Utah State still hopes they can be this year – tandem spark-plug scorers, one in the starting lineup and one off the bench – but have largely been mired in inconsistency.
It's easy to imagine all of this clicking into place in an offense that flows with off-ball movement and screens to set up those shooters. An offense that can highlight the iso-scoring skills of players like Carvalho, Kimball, Oliva, Robinson and Wikstrom rather than relying on it exclusively (this is not hyperbole, it's pretty much all just iso-ball right now).
But, Utah State needs to find its way to that offense before the season slips from its grasp. And right now, it looks to be starting from square one.
"I think we have a chance to be really good, but the bottom line is we have to score the basketball more," Ard said. "We have scorers – they've just all shown it on different nights. We have to get them all going on the same night. The staff and I are going to try to figure out how to do that.
"How do we get them all going on the same day? Not effort-wise, because they're doing that, but how do we get them to score consistently? I would rather us have 10 points across the board than 30 points, then eight points, and then two points. We have to figure out a way to get consistent scoring across the board with everybody who goes into the basketball game. When we do that, I think we have a shot to be really good, but we're just not there yet."