Film Review: Danny Sprinkle's Hard-Nosed, Anticipatory Defense
Let's take a much closer look at Danny Sprinkle's aggressive, disciplined defense in this free sample edition of Film Review: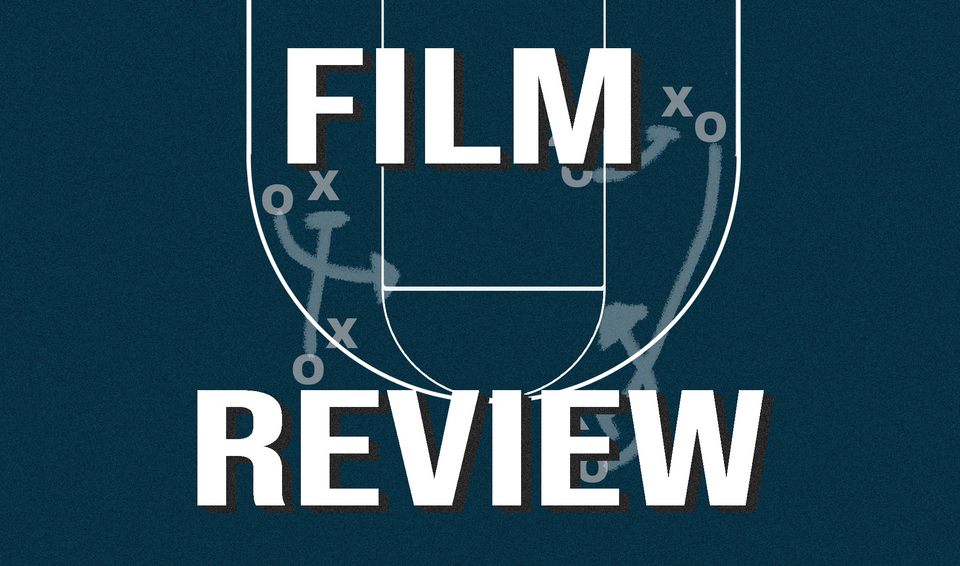 Film studies are best viewed in your internet browser, not your email reader – some readers don't work very well with GIF embeds.
Additionally, while this film study is free, stories like it will usually go behind the Flaggship Tier paywall. Subscribe to the Flaggship Tier for more like it.
It would be an egregious oversimplification to say that Danny Sprinkle is the new head coach at Utah State because of his defense – there's quite a bit more that goes into this sort of thing – but it also wouldn't be entirely incorrect. Sprinkle is in Logan for any number of reasons, from his extensive Western ties to his strong recruiting chops and everything in between, none of it related to the defense his Bobcats played at Montana State.
That defense, though, has to be mentioned at the top of the list. It was the defining trait of one of the best four-year spans in program history, a constant as Sprinkle led the Bobcats out of the Big Sky basement and into its penthouse, winning back-to-back conference titles in his final two seasons at the helm after inheriting a team that hadn't finished with a winning record in 10 years. All four of his teams in Bozeman relied on a defense that outpaced the offense in KenPom's adjusted efficiency rankings, none in sharper contrast than the 2022-2023 squad that cemented Sprinkle's status as an up-and-comer worth consideration.
Montana State's adjusted offensive efficiency, 105.1, put it firmly among the ranks of the average at No. 169 nationally, flanked in either direction by 23-14 Eastern Kentucky (No. 168), 17-16 Long Beach State (No. 170), 10-21 Charleston Southern (No. 167) and 9-22 Pepperdine (No. 171). That's not sending a team to the NCAA tournament on its own, ranking fifth in a Big Sky with only one top-100 offense (Eastern Washington, No. 66).
It's not alone in Sprinkle's resume at Montana State, either. The Bobcats were at their best offensively in his third year at the helm, finishing 150th in adjusted offensive efficiency, and checked in outside of the top 200 in his first two seasons. There are still plenty of reasons to be optimistic about Sprinkle's offense improving in Logan (offensive film study coming soon!), but there's no sake in pretending it was the guiding force behind Sprinkle's 81-43 record with Montana State (including an excellent 52-18 mark in his last two seasons). It wasn't. His is a defensive-driven program, and that defense deserves a trip to the film room.
---
College basketball coaches talk ad nauseam about defensive connectivity, for good reason. In basketball's modern era, so driven by ball movement and perimeter shooting, defenses have to play as a cohesive unit if they hope to get anything done. Without fail, a disconnected defensive lineup will mean easy baskets in this time of wide-open offense – which Utah State fell victim to during Ryan Odom's tenure a bit too frequently, suffering lapses of focus that led directly to scoring outbursts.
You probably don't need much of a refresher on Eric Williams' 43-point night against the Aggies or other outings like it, but you're getting one anyway: Oral Roberts hit 14 threes and scored 85 points in the Spectrum; Cam Gooden's 29 points kept Utah Tech within striking distance for all 40 minutes; Weber State hit 10 threes as it stormed back to upset the Aggies; Will Baker, Kenan Blackshear and Jarod Lucas combined for 73 points to sink USU in Reno and Baker produced one of the hottest shooting starts you'll ever see when Nevada made the return trip to Logan; Adam Seiko kept Utah State at an arm's length in San Diego with 25 points and seven three-pointers; and finally, Kobe Brown and D'Moi Hodge combined for 42 points (eight threes) to end Utah State's season in the NCAA tournament.
The point is, this was a long-standing issue for the Aggies in 2022-23. More often than not, it was the decisive factor in Utah State's nine losses – six of which saw the Aggies surrender at least 75 points. Utah State's defensive focus and engagement would dip and opponents would rattle off huge scoring runs, either forcing the Aggies to play from behind or erasing what had once been a significant advantage. In almost every case, defensive connectivity (a lack thereof) was to blame.
Sprinkle's defense is not perfect (there's no such thing), surrendering too many free throws (275th in free throw rate allowed) and allowing a lackluster 34.6 percent of three-pointers to fall (228th) in 2022-23, but those lapses that became all too familiar under Odom's guidance? Those are gone. Though Montana State was sometimes too physical or aggressive, its connectivity and focus did not waver. The Bobcats won by making opponents work for everything they got – an ideology Sprinkle is keen to bring to Logan, harkening back to the days of Stew Morrill's grind-it-out Aggies.
"We're going to play with a chip on our shoulder because that's what Utah State and Cache Valley are all about," Sprinkle said. "It's a blue-collar community, and we're going to be a blue-collar team. I can promise you that. Sometimes, it's not going to be pretty, but the result will be. That's what we're worried about. Get your lunchpail, put on your hardhat, and let's go to work. We're going to fight and we're gonna scrap. If there's a loose ball, I can guarantee you we're going to have guys on the floor for that thing. That's how this community is.
"I go back to playing against Stew Morril's teams, and that's how they were built. Stew doesn't coach any other way. You knew you were in for a dogfight when you came up here and played against their team, and that's how it's going to continue to be."
Schematically, the easiest comparison for Sprinkle's defense at Montana State is probably Leon Rice's Boise State defense, which finished 28th in KenPom this past season. It's not a one-to-one connection – Boise State's shooting defense was better, as was its rebounding, while Montana State relied more on turnovers – but both groups are built around two major tenets: mobility and anticipation.
There's no better place to start than with Montana State's pick-and-roll defense, and this play from the Big Sky championship gives us a great look at two of MSU's most commonly used PNR coverages. Northern Arizona opens this set with a dribble handoff into a screen, rolling the screener and hoping to pull RaeQuan Battle out of the corner as a help defender, leaving a shooter open in the corner.
NAU gets the hard hedge it wants on the screen, leaving the rolling screener open briefly as Caleb Fuller (No. 0) and Tyler Patterson (No. 11) rush to switch back, but Battle doesn't fall for the bait, sticking with his man and closing out when the ball comes back to him while trusting Fuller to recover – with a little bit of back-side support from Great Osobor, just in case the ballhandler tries to sneak in an entry pass. Everyone is back where they should be, and NAU resets at the elbow, clearing out for another ball screen.
It's on this screen that Montana State relies on the drop coverage that Boise State uses to great success, sending Battle over the screen and keeping Osobor central, allowing him to defend an on-ball drive while remaining in position to protect the rim if the ball goes to the roller. A third defender, Fuller, rotates in to protect the other side of the basket (also known as the "tag" defender), while Battle executes a late switch onto the screener, keeping him out of the lane and forcing the ball handler to win this matchup on his own. He's not doing that at the rim with a pair of capable shot blockers in front of him, so he pulls up for a low-percentage jumper and Fuller boxes out to secure the rebound. Well done.
When the ball handler plays it more patiently, keeping himself out of the lane and potentially setting up for a pull-up three-pointer, the drop coverage adjusts accordingly and forces a similarly difficult shot, just from further away.
You see the multi-layered approach to screen defense again in this play. Montana State opens with some drop coverage, this time sticking to its original assignments as the screener pops out to the elbow rather than rolling. Patterson can track down his man and regain leverage, freeing up Fuller to close out on his man before he can put up a shot, forcing a reset.
On the reset, a handoff into a screen, Fuller breaks out the hard hedge to help slow down a much quicker ball-handler than the one from the first screen, allowing Darius Brown (No. 10) to recover and forcing another reset. NAU goes right into another ball screen, hoping to get another hard hedge – this time from a slower defender, Jubrile Belo – to free up the roller for a clear path to the basket.
It gets it, and Montana State shows off the importance of an engaged tag defender as Battle swoops in and makes NAU pay for rushing a difficult pass, turning what could have been an easy bucket into two points on the other end. This is connected defense.
MSU relied more on drop coverage and hard hedges, but it wasn't opposed to going under screens against non-shooting ball handlers, as it does here. Knowing the ball handler isn't likely to pull up from deep (and that he's not quick enough to win a race to the basket), Patterson tucks under this screen and keeps himself in front of the ball as it goes into the lane. Off the ball, Belo maintains a leverage advantage to prevent a cutback drive while Fuller establishes himself on the other side of the basket, popping out when necessary and forcing a travel.
That kind of gap discipline and basketball IQ is what stands out most about this Montana State defense. Everyone on the floor is comfortable enough with the rules of the defensive system to apply them to new situations, and they all play with complete confidence in their teammates.
Just look at the fluidity with which this defensive unit operates. There's so much happening here, but no one loses track of their responsibilities. Osobor begins the set playing centerfield, repositioning Fuller to handle a screen, before shifting into an on-ball defensive role as NAU prepares for a dribble handoff at the top of the key, trying to free up the ball handler getting the handoff with a down screen.
Because Robert Ford (No. 20) is now tracking behind his man, Osobor springs into a hard hedge, cutting off the ball handler to prevent an easy dribble drive and trusting that Brown, now the tag defender, is paying attention to the rolling screener.
He is, as is Fuller, and both players collapse in to prevent a layup. But, the play isn't over. Brown moves back onto his assignment with Fuller in control of the situation on the ball and Osobor collapses into the lane, allowing Fuller to return to his assignment as soon as the roller passes. Battle puts himself in the passing lanes as Fuller works his way back outside, while Brown and Osobor team up in the lane to force a turnover. Even in a scramble situation, Montana State resolutely refuses to allow easy looks. If you wanted to score on this defense, you were going to have to hit a tough shot.
None of this is specific to the 2022-23 squad, either. Sprinkle's Montana State defenses were reliably disciplined and cohesive – a testament to a coaching staff that takes its principles very seriously.
"I want to be a physical, defensive team that sits in gaps and makes you score over us," Sprinkle said in 2019. "We're not giving up uncontested layups. We're not going to give up uncontested shots. And we're going to box out all five guys."
That attitude extends beyond pick-and-roll defense, into the kind of one-pass-away gap defending synonymous with another vaunted Mountain West defense at San Diego State. Sprinkle doesn't run the complete pack line defense like San Diego State does, but his off-ball defenders do like to make things trickier by stunting into gaps.
That shows up here, with off-ball stunts into both passing lanes and, at the end of the play, a driving lane for the ball-handler. At the start of the set, as both defenders involved in this screen pop out to trap the ball-handler, No. 2 jumps inside to prevent a pass to the roller before recovering to his assignment as Belo peels away from his hedge.
As the play resets, defenders on either side of the floor look to jump into would-be passing lanes, preventing the first and second looks and forcing a dribble handoff directly into one of those stunting defenders. He's not getting into the lane without driving hard, and he's not pulling that off without charging right through his on-ball defender. This is every bit as good as a steal, even if it doesn't go down as one in the stat sheet.
This time, there's no lying in the stat sheet. Montana State's strong help defense gets three players to the ball when this three-pointer goes up and two around the ball after an offensive rebound. Battle is initially in the mix after the board, but recovers to the perimeter once Brown and Fuller are established, putting himself in the right position to jump the only pass available.
Even when it doesn't create a turnover, this is just a good way to do business when you have a disciplined, athletic defense. If you can trust your defenders to recover after stunting, these little jumps can completely change the way opposing offenses flow. Suddenly, that extra pass to a usually open shooter in the corner is getting deflected out of bounds or picked off, or the dribble handoff that always frees up a driving lane is sending your ball handler right into a trap. Look no further than Utah State's trio of losses to San Diego State for proof.
And therein lies the driving force behind Sprinkle's defense: aggression to create disruption. When you do the work of building a disciplined team, you can reap the rewards of a defense that forces quite a few more mistakes than it makes.
"You need to have an aggressive mindset," Sprinkle said. "We talk about it a lot, setting the rules whether it's offensively or defensively. If you're on your heels, it's not going to work."