Mailbag: Offseason Development, Portal Jockeying, Quarterback Battle And More
(Free) With the end of basketball season and the start of spring football, it's time for a massive March mailbag: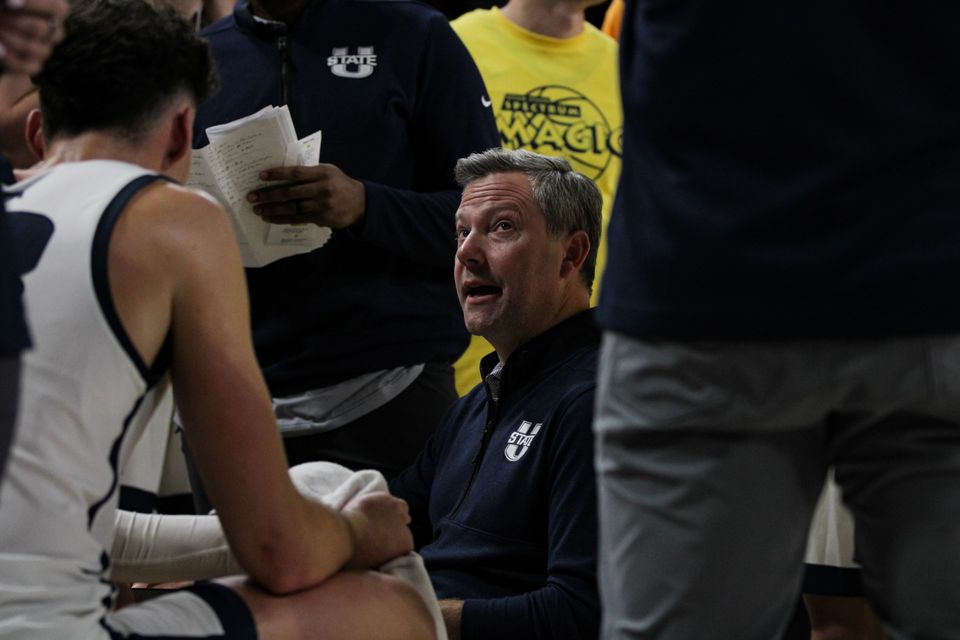 It's the offseason in Logan.
The men's basketball team saw its season end with a hard-fought 76-65 loss to Missouri in the first round of the NCAA tournament – Utah State's 10th straight loss in tournament play, extending its dry spell, which stretches to 2001, by at least one more year. The women's team has been done for a few weeks, closing out a disastrous season with a loss to Boise State in the first round of the MWC tournament.
Meanwhile, the football team is preparing to open its third spring camp under the direction of head coach Blake Anderson, who has been tasked with replacing several assistant coaches and a big chunk of starters from the 2022 defense who left by way of the transfer portal shortly after the team's season-ending bowl loss to Memphis.
It's a time for everyone – fans, coaches, players and media – to step back, stretch our legs, and exhale. There are sports to follow on campus, namely track, tennis, softball, gymnastics and soon-to-be soccer, but I can offer very little insight on those (unfortunately, I am only one person with only so much time in the day). Those teams deserve your support, too, but for all intents and purposes, we're into the offseason with a return date set for Sept. 2 when the football team will face off with Iowa in Kinnick Stadium.
So, along with the chance to take a breather, it's a good time to take a look at some of the questions surrounding Utah State's big three sports, as posed by Twitter users. Welcome to the mailbag.
Basketball
We'll start here, because the status of Ryan Odom will paint the rest of this offseason – and frankly, the next several years – for Utah State basketball. The Aggies have a very different set of questions with him around than they would have if he lands somewhere else within these next few weeks. They're also currently without a full-time athletic director, and really are not in a great place to be looking for a new coach right now.
The good news on that front is that if I'm putting odds on it, I'd say that there's a 90 percent chance Odom sticks around. Utah State still has a few openings to keep an eye on, namely the newly vacant spot at Providence after Ed Cooley's departure to Georgetown and any potential spot that search's culmination may in turn create (read: Penn State if Micah Shrewsberry took over the Friars), but it has largely dodged the biggest openings.
Georgia Tech was at one point rumored a serious suitor for Odom, but it named Damon Stoudamire its new head coach before those concerns could really begin to linger. Syracuse never went to market after Jim Boeheim's retirement. St. John's appears to be locked on Rick Pitino. Odom has no Texas ties, and seems an unlikely candidate for the open positions at Texas and Texas Tech.
That leaves us with a pretty short list of remaining openings for the 48-year-old, and none of them jump off the page as obvious landing places. Notre Dame would need to go pretty far down its list to land on Odom, beyond Ohio State's Chris Holtmann, Shrewsberry, Miami Heat assistant Chris Quinn and Colgate's Matt Langel (per CBS Sports), and I just cannot imagine it gets past Quinn or Langel. The Penn State opening could be interesting if Shrewsberry ends up taking one of these openings, but Odom's ties are further east, and it's a lot easier to see Langel landing in that spot. Odom isn't leaving Utah State for Colgate, so any option would close that circle.
Providence, as mentioned, may have some interest in Odom – though he hasn't been listed on any sourced candidate articles yet, and his ties again don't really fit the area. Odom's footprint is the ACC, not the Big East (outside of a few schools, none of which are open).
Then there's Cal, which was mentioned in connection with Odom a lot when it first opened. That's no longer the case, for quite a few reasons, chief among them being that Odom doesn't appear especially interested. It's not a very good job, and a former MWC coach just failed there in Mark Fox. Cal looks to be headed in a different direction, possibly with former USU candidate Joe Pasternack (currently at UCSB) or Loyola Marymount's Stan Johnson – both of whom have significant west coast ties, as opposed to Odom's two seasons as a coach west of Furman.
That's another thing to keep in mind, here. This is Odom's first experience as a coach or a player in a state outside of the Maryland/Virginia/North Carolina/South Carolina/Florida area. He was born in Durham, N.C., grew up with his dad coaching at Durham HS, Wake Forest, East Carolina, Virginia and Wake Forest again, and went to school at Hampden-Sydney in Virginia. He spent two years at South Florida, three at Furman, two at UNC-Asheville, four at American, eight at Virginia Tech, six at Charlotte, two at Lenoir-Rhyne and six at UMBC.
Every school I just listed is, save for South Florida (where Odom was a GA fresh out of college) within a 536-mile stretch of I-85. There are jobs open in that area this offseason, namely American, High Point, North Carolina A&T and Wofford (with a potential opening at George Mason if Kim English is poached), but none that would serve as an upgrade over USU.
Odom may want to return closer to home at some point, and will absolutely be a candidate for ACC jobs in the future if he keeps winning in Logan, but I don't think it happens this year unless Wake Forest's Steve Forbes does something shocking (like taking the Wichita State job).
If it does, my extremely fast and loose, unsourced list of candidates to replace Odom would look something like this, in alphabetical order: Nate Dixon (Utah State assistant coach), Johnson (LMU), Mark Madsen (Utah Valley head coach), Grant McCasland (North Texas head coach), Tim Miles (San Jose State head coach), Paul Mills (Oral Roberts), Roger Powell (Gonzaga assistant coach), Todd Simon (Bowling Green head coach) and Danny Sprinkle (Montana State head coach). Again, that's a very rough draft of guesses.
For the sake of keeping everything simple, I'm going to answer the rest of these questions with the assumption that Odom sticks around. I'm not fully sure of it, but I feel more confident in saying he's the coach at Utah State next season than I did about two weeks ago.
This is will be a frequent anxiety for Utah State fans in the modern era, and as much as I wish I could dissuade it, it's not unfounded. The Aggies have seen their fair share of departures in recent years within both the football and basketball programs, enough that a comprehensive list would be more indulgent than valuable. I'm sure you remember the biggest names on the basketball side of this equation: Marco Anthony and Rollie Worster in 2021, Daron Henson and Koby McEwen in 2018, Lew Evans in 2016 and David Collette in 2015.
It always stings to lose a player that way, especially a big-time contributor (or a player expected to become a big-time contributor). But, almost every departure on that list came in conjunction with a coaching change, be it from Stew Morrill to Tim Duryea in 2015, Duryea to Craig Smith in 2018 or Smith to Odom in 2021. Utah State has suffered its share of surprise transfers, but they've come almost exclusively on the football side of the equation. All of these on the basketball side made sense, and the transfers that weren't tied to a coaching change over the last decade or so were largely players who the Aggies didn't particularly miss.
I say all of this to make one point: Take a deep breath, and try to relax. Star players very, very rarely transfer out of this program without a coaching change, and I expect that to hold again this offseason. As long as Odom is in town, I would expect the same of Steven Ashworth (who wouldn't leave Utah State unless he was physically dragged away) and Max Shulga. They fit the system perfectly and are guaranteed leadership roles on the 2023-24 team, which will likely contend for the MWC and an NCAA tournament bid as this one did.
That's a pretty good spot to be in, and one that I don't expect either would jeopardize in hopes of finding greener grass with a P6 program. To be very blunt and answer a question that wasn't asked (at least not overtly), BYU already missed on Ashworth, and I do not take him for the type that would let go of a slight like that.
Now, if we're looking a little further down the depth chart? There could be some movement there. The Aggies are still awaiting formal decisions from Sean Bairstow, Trevin Dorius and Rylan Jones about their plans for 2023-24, and some of the players who didn't see a ton of time this year may decide to look elsewhere if a veteran at their spot opts to return. Some of the players who have been around for a while without seeing much playing time may make that kind of call regardless of what those seniors pick.
I'll answer the basketball section here, and touch on the football part of this question in the football section (further down the page). The honest answer is that it depends, and it depends on a couple of things.
Before Utah State can do anything, it needs to know who it will be returning from this roster. It can have a rough idea of positional need before any of those decisions are made – the Aggies need a forward because they know they're losing Dan Akin and Taylor Funk – but it isn't good for anyone to go out and recruit based on a roster that's still up-in-the-air.
Bairstow probably wouldn't be especially pleased if Utah State went out and signed a starting small forward while he was still mulling over his decision. The Aggies don't want to ostracize a proven MWC starter who already knows the system. These guys will have the time they need to make their plans before Utah State does anything radical in the portal. When will those plans be set? Your guess is as good as mine, and I'll say within the next week or two.
Once that's done, you'll know who the Aggies are targeting pretty quickly, and those recruiting battles will unfold just as quickly. Funk committed to Utah State on March 31, Isaac Johnson followed suit on April 18 and Akin wasn't announced until August (though he signed before that and had to wait on a waiver). That window of late-March to mid-April is the busiest time, with the portal closing on May 11.
The portal opened on March 13 and remains open for 60 days until May 11. Players can still transfer after May 11, but they will have to apply for a waiver to get immediate eligibility – save for graduate transfers, who can move at any time in the offseason (but still must follow the transfer rules of the schools involved).
Players transferring for the second (or more) time can also apply for an immediate eligibility waiver but must do so with a reason cited as used to be the case for transfers – usually, that requires a coach or other personnel change with their former school.
Regarding the second question about Cade Potter, I'm not privy to his reasoning, but he hasn't been with the team since at least November (which is when he entered the portal). I haven't seen his name connected to any schools this offseason, and really haven't heard anything about him since he left. He was drawing a lot of buzz around the program over the summer for his work ethic, and may have been an interesting young player to keep an eye on, but I don't expect he'll be back.
Mason Falslev is already a fan favorite at Utah State, and while I share much of that optimism around the rising sophomore out of Sky View, I'm going to take this in a different direction and go with Johnson. A transfer into the program from Oregon last offseason, Johnson's reputation as a big-time recruit precedes him, signing with the Ducks in 2019 as a four-star ranked 74th in his class by 247Sports.
But, his lone season in Eugene never really saw the two parties click as he struggled to rediscover his groove and confidence after two years away from the game to serve his mission for The Church of Jesus Christ of Latter-day Saints in Ohio. The chance to redshirt for a season while building confidence and comfort with the speed of the college game was a big part of Johnson's recruitment to Utah State (as it was for Falslev), and that's exactly what happened in 2022-23. College basketball is without a maximum number of games allowed for a redshirt (unlike football and its four-game limit), so Utah State kept Johnson on the bench.
With this season of work under his belt, the time is now for the 7-0, 235-pound big man to establish himself. Utah State will need new contributors in the frontcourt with Akin and Funk gone (and Dorius likely to join them, in my estimation), and Johnson has as clear a path as anyone to taking over a starting spot – the center job would be up for grabs among Johnson, Szymon Zapala and JUCO signee Kalifa Sakho. I like Johnson to win the battle if it comes to those three.
He's also been discussed as a potential stretch four because of his athleticism and shooting ability, but I don't expect that as anything more than a substitution package at this time. Now that could change if the Aggies grab a shooting-capable small-ball center, though I again would not expect that at this point. If I'm calling it right now, I'll say that Johnson is Utah State's starting center next season with Sakho behind him, while the Aggies nab a transfer to start at power forward backed up by either Dallin Grant or Karson Templin.
I'm going to take the easy answer for the first question and go with Ashworth. He made a huge leap this season and has absolutely earned the "star" moniker, but there's more room for his game to grow and I certainly wouldn't bet against that happening.
What might that look like? I'd say the last few weeks of the season are the blueprint. Ashworth wants to be Utah State's point guard, and he really started to show comfort in that role as the Aggies came down the stretch, beating opponents not just with his shooting but with floaters, layups and mid-range baskets off the dribble.
His last two games against San Diego State and Missouri will leave a bitter taste, but Ashworth still averaged 17.5 points, 4.4 assists, 3.5 rebounds and 1.7 steals with only 2.0 turnovers per game on 43.8 percent shooting (37.4 percent from deep) over his last 14 games of the year. It's no coincidence that Utah State played its best basketball of the season during the same stretch of games, and its success in 2023-24 will depend heavily on Ashworth's continued development into that true No. 1 role (on both ends of the floor).
On the second question, I'll go with Zee Hamoda, partially because there aren't a ton of other options on the board.
He's shown his potential on several occasions and seemed to be turning a corner in the last few weeks of the season, and I believe the expectation within the program is that this offseason is the time for him to take that next big step. That's usually the case with a third year within a program. He's seen the college game, played within Odom's system and alongside his teammates. With another offseason of development, both physically and as a basketball player, I think he's going to surprise a lot of people next season – and I think there's a very good chance he does it within a starting role.
No news is good news, and Utah State has been radio silent on both players since November beyond the occasional quote about their value as teammates on the bench (all of which have been positive). In what I've been able to see of practice (read: not much), both players look good.
Falslev has put a lot of work into his jump shot, and it's evident in watching him fire from beyond the arc – he's smooth, confident, and increasingly consistent. He was a capable shooter in high school, but Utah State has invested a lot of time in improving that part of his offensive game at least in part because so much of his game is rock-solid. He's a very good athlete who can and will handle the ball, his physicality was excellent at the high school level, and his defense wasn't far behind. If that jumper is sitting around 35 percent from beyond the arc, he's an All-MWC player down the road.
Johnson has also put in work as a shooter, but much of the focus for his development has hinged on interior play. Utah State has proven itself capable of developing big men over these last two seasons and wants Johnson to be the kind of dynamic two-way center that fits so well into Odom's system. To do that, he has to be up to the task physically. This offseason will be about making sure he is.
I'll include the not-yet-decided seniors here to avoid skimping on answers. Ordered alphabetically:
Steven Ashworth: As mentioned above, it's about growing more into the point guard role for Ashworth. Finishing around the rim, creating shots off the dribble and on-ball defense will all be a focus.
Sean Bairstow: I'd love to see Bairstow continue his work as a ball handler. Utah State found a ton of success using him in pick-and-roll situations this season and benefitted greatly when he was willing to put his head down, dribble into the defense and finish at the rim. That kind of consistent shot creation is so valuable, and he has more room to grow as both a ball handler and a finisher.
Trevin Dorius: As with Bairstow, it's about more of the same for Dorius. His touch around the rim was greatly improved in 2022-23, as was his ability to defend without fouling, but neither was perfect. If he can be just a little more consistent as an inside scorer while also keeping himself out of foul trouble (and on the floor), he would suddenly be one of the best centers in the Mountain West.
Mason Falslev: The jump shot will remain a focus through the offseason, but the biggest thing for every young player is scheme comprehension in a much faster game than they're accustomed to. The redshirt year will help, but Utah State doesn't want to throw a young player onto the floor before he's ready and will do plenty of work to make sure Falslev is ready – physically and mentally – this offseason.
Dallin Grant: Grant is a returning missionary, so I would not be surprised to see him spend a year on the bench as Falslev and Johnson did. The need at forward may be great enough to push him into playing time, but Utah State really doesn't want to put returning missionaries into that position if it doesn't have to. Grant has weight to add and needs to get acquainted with the speed of the game before he does anything else.
Zee Hamoda: Ball handling and decision-making. Both improved in the latter stages of the season, but Hamoda was just far too careless with the ball for much of the year and found his way to the bench for much of the MWC season because of it. He has plenty of talent, but it's time to put it all together.
Isaac Johnson: Physicality, touch around the rim, and defending in the post without fouling. It's hard to be a young big, and Utah State will be patient with Johnson even as it relies on him for what I will expect to be significant minutes this upcoming season. He's a great candidate for in-season development, too.
Rylan Jones: Jones just needs to get healthy. College basketball is not worth a man's long-term well-being, and Jones missed the last two months of the season. The team never cited a formal reason for the injury, but it doesn't take much to make a pretty informed guess. If he's comfortable with his health, and if the medical staff agrees, Utah State would be happy to have him.
Garrison Phelps: Checking in anywhere from 6-6, 185 pounds to 6-7, 195 pounds depending on your source, Phelps will step onto campus with a college-ready frame – and he's spent the last year with Link Year Prep, playing against some of the best JUCO teams in America.
But, his skills need work. Phelps has work to do as a shooter, passer and ball handler before he's playing serious minutes within Odom's system, and that's what this offseason will be about for the winger.
Kalifa Sakho: I'll say basically the same of Sakho, a 6-11, 220-pound center who spent his last two seasons with South Plains CC as a role player. His body is ready for this level, and he could certainly be an instant-impact defender and rebounder, but his offensive skills need work. He could certainly have some foul troubles in these early stages of his career, too. It's up to Utah State to iron out those issues before leaning on him too much.
Max Shulga: I just want to see Shulga play with the confidence he had offensively over the last month of the season. He has all the skill and athleticism needed to be a dominant scorer and an All-MWC player, and with another offseason of work on his decision-making, he'll only be more dangerous.
Karson Templin: Templin is listed at 6-8, 225 pounds, which would make him another instant-impact contender in this 2023 recruiting class. That's more than enough heft to play at the physicality level Utah State needs from its forwards, and as a rebounder, I think Templin will be ready to contribute from the jump. As a scorer, though, Templin is a work in process. He's good at the rim and can get shots for himself in the post, but he doesn't have much of an outside shot and first-year post scorers are pretty rare. It's not unheard of (see: Tyson Degenhart), however it is rare and will take a lot of work on the technical side of the game.
Szymon Zapala: Time is running out for Zapala, once a very highly touted signee for the Aggies. He fell out of the rotation this season and didn't do much to make a case against that departure in the minutes of playing time he did receive. He's talented and could be a player at the MWC level, he just hasn't been yet, and it feels like there's a lot of ground to cover in very little time – all with young, talented players nipping at his heels.
Football
"What is being done to beef up NIL opportunities for our awesome athletes?" - @pinkcahill
I still need to get into contact with the folks behind the Light It Blue Collective (they've been very willing, I just haven't gotten around to it), but their site lays out a lot of the framework for what NIL will look like at Utah State. I've been a proponent in the past of a collective that focuses a lot of energy on connecting Utah State's athletes to the strong group of small businesses in Logan, and Light It Blue looks to be a great step in that direction.
I don't think Utah State is going to be building up huge coffers from fan donations as schools like Tennessee or Miami have, but that business community is a huge untapped market for NIL connections. I would expect you'll see more and more of those deals as the new collective gets up and running.
With the recent departures of linebackers AJ Vongphachanh and Kaleo Neves, the numbers have increased slightly here. Let's break it down:
The Aggies return starting defensive tackles Hale Motu'apuaka and Poukesi Vakauta, starting linebacker MJ Tafisi and a trio of secondary starters with cornerbacks Michael Anyanwu and Ajani Carter and safety Ike Larsen. If we're working through a two-deep, that group fills six spots.
We can knock a few more off the board with obvious starters and returning contributors, too. On the defensive line, Seni Tuiaki is back at defensive tackle, as are Enoka Migao and John Ward at defensive end. The former is a guaranteed rotational player, while I'd bet that one of the latter two locks down a starting spot while the other is DE3 with JUCO signee Cian Slone taking over the starting job. There's a lot of confidence in Clifton Mosley at defensive tackle, so I'll include him as a contributor as well, with the last vacancy on the defensive line coming in the No. 4 end spot. The battle is wide-open there, and I'd guess Utah State sticks with the group it has unless it finds someone it loves in the post-spring portal. That gives us seven spots filled of the eight on the defensive line.
At linebacker, Anthony Switzer is stepping into Neves' striker spot as long as he stays healthy. The remaining position will come down to a battle between Max Alford and transfer Gavin Barthiel, with the loser of that battle serving as the fourth linebacker. Behind that group, though, there are a lot more questions than answers as Utah State will depend heavily on the development of young players like Cole Joyce and Josh Williams as well as the talent of JUCO signee Javar Strong, who looks as good a candidate as anyone to back up Switzer. I'd put Omari Okeke there, but he's been moved to safety. We'll say four of the six spots are filled here.
Cornerback is pretty easy, with two starters back and Dom Tatum moving into this group. That fourth spot is up to a battle among Xavion Steele and JUCO signees Ron Fuselier and Jaylen Martin barring a surprise freshman contributor like Chase Davis. There are three more spots filled, with one more open.
Rounding out the defense at safety is a whole lot of unproven talent. Malone Mataele is an instant-impact player and can be penciled into a big role, while Okeke should be able to carve out a spot of his own. That's all I'm sure of. Devin Dye could be a quick learner able to back up Larsen, but if he isn't, Utah State may find itself with a very thin room at safety. Let's go with two of the four spots filled here.
Final tally: 16/22. Utah State will lean on development for almost all of those vacancies – do not expect much from the portal.
Right now, the football transfer portal is closed. Teams will go through spring ball with the rosters they have, and then it'll open back up for two more weeks from May 1 to May 15. We haven't seen these windows before, so I really don't know what to expect from this second batch of post-spring departures. If there's a healthy group (especially of P5 castoffs) and the Aggies struggle through spring ball, Utah State could be somewhat active. As I said, though, that's not my expectation at this time.
I'll take this one question by question because there's a third note asking about Levi Williams' inclusion that came in a follow-up tweet.
What would ideal Bishop look like?
As an undersized quarterback with a lightning-quick release and good-not-great arm strength, the first comparison I think of for Davenport at his best would be a less efficient version of McKenzie Milton, which is probably... someone like former Blake Anderson quarterback Fredi Knighten or recently graduated Charlotte signal caller Chris Reynolds? I don't think a season like Knighten had in 2014 would be out of the realm of possibility: 62.3 percent completion rate, 3,277 yards (7.6 YPA), 24 touchdowns, 7 INTs, 211 carries, 779 yards, 11 TDs. That's a really good player.
What benefits would he have over Cooper Legas other than potentially a more accurate arm?
Well, that's a pretty big benefit for a quarterback. I don't know that I want to let you have that one as a given – it would have been pretty valuable for Utah State in 2022. In all seriousness, the biggest thing is just decisiveness and zip. Legas did a lot when dealt a bad hand last season and could absolutely improve on both of these fronts, but Davenport is a more naturally gifted passer and he was a phenomenal quick-read passer in high school.
If he can translate that to the college game, I'm not really sure what advantage Legas would have on him beyond leadership (which can be developed in a young quarterback). Davenport is a great athlete and his ceiling as a quarterback is higher. Legas was obviously the better quarterback in 2022, but he was better than a very young, very green Davenport. I'm not sure we'll be able to say the same thing after the young slinger gets another offseason in the system.
What about Levi Williams?
Williams is a fascinating wild card in this race because he does have that starting MWC experience and he's pretty clearly the most physically gifted of the three with his combination of size, arm strength and athleticism. But, he looked like a deer in headlights when he played in 2022, and his accuracy just is not up to snuff right now. That's a hard thing to fix, especially if you're working with three quarterbacks at once.
If Utah State thinks it can do that, it should commit to Williams as the guy and spend this offseason building his confidence and training both his eye and his optimism. I have not seen that kind of confidence from the Aggies in the Wyoming transfer, though, and I don't think he becomes a starting-level player without that level of attention paid to developing him.