Preview: Air Force Is As Air Force Was
Utah State will kick off its MWC season on Friday night at Air Force, with hopes of replicating the success it's had against the Falcons in back-to-back matchups. Preview: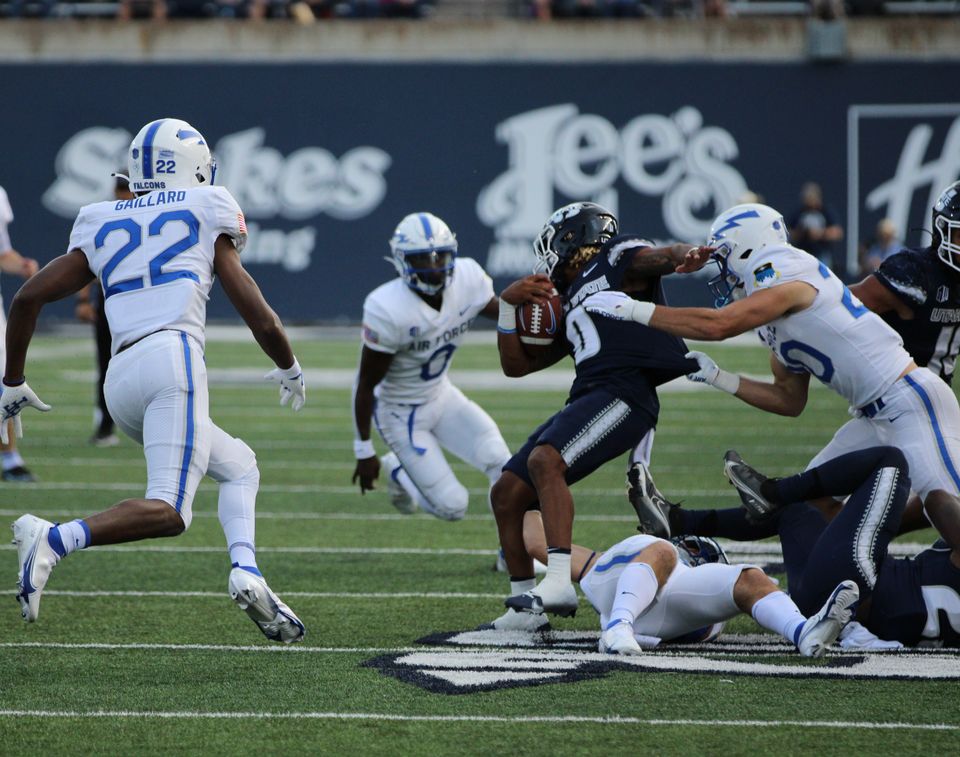 This Air Force football program needs no introduction. The Falcons have been among the Mountain West's steadiest leaders since its founding in 1999, extending back to the days of Fisher DeBerry and carrying through the entire tenure of his successor, Troy Calhoun. Now in his 17th season helming his alma mater, Calhoun has led the Falcons to 123 wins with just 78 losses, notching 12 bowl berths and seven seasons with at least nine wins – including three with double-digit wins in the last four years.
There are no secrets to this program's success. The details have shifted a bit as players and coaches have come and gone, some to match changing times in football and others to fit the specific personnel of a roster, but Air Force is as Air Force was. The Falcons run the triple option as well as any program in America, they tout a big, physical defense, and they do not beat themselves. Having matched up with Calhoun's team every season since 2013 (and splitting those matchups 5-5), Utah State knows all about the task at hand as it prepares for a Friday night kickoff in Colorado Springs.
"I think a lot has to do with them knowing they're going to get, to some degree," Utah State head coach Blake Anderson said. "They know what the recruiting process allows them and what their niche is. I think (offensive coordinator) Mike Thiessen does a great job within their system of being unique, based on the talent pool he has in any given year. One year, they're going to throw it more. One year, they're going to be more vertical. One year, they're going to be more horizontal. He doesn't just stick to the same five or six plays that a lot of traditional triple-option teams do. You're going to have to defend empty, to defend gun, zone and counter. It's more versatile and more diverse than a typical academy triple option.
"You just don't know exactly what to expect when they plug in a new guy. Did they get more dynamic or did they get more physical? Did they lean more on the triple or more on the spread? I think if you asked Joe (Cauthen), he would tell you that unlike a lot of the academies and triple option teams he's looked at in the past, there's a lot more variety which makes it extremely difficult to prepare for. They're also extremely disciplined, they know what they are, they're not afraid to be that team and that's their advantage. We're going to have to tackle and match up and make them really frustrated, or they'll stay on the field all day long."
For Anderson, this series has broken the right way in each of his first two years at Utah State. His Aggies – their ultra-spread offense standing in stark contrast to Air Force's triple option – won a shootout the last time they traveled to Falcon Stadium (49-45 in 2021), and found a breakthrough victory at home in 2022 (34-27) that played a critical role in turning a 1-4 start into a bowl berth. They'll look to follow that same blueprint again this season against a squad that returns seven defensive starters but has a handful of key offensive contributors to replace.
"Assuming that we can execute, I think the way we play is just so different from what they do every day, and a good bit different from what the league looks like," Anderson said. "I would like to think we can make them uncomfortable, but that's all assuming we can execute well, get them in space and play fast.
"If there is an advantage, that will be our advantage, playing fast and spreading people out in the grass. I'm hoping that it works out to our benefit again this season, but that also comes back to us being able to protect up front, being able to cover guys up in the run game, protecting the throw game and then throwing and catching effectively against seven returning starters who are really good at what they do."
---
This post is for paying subscribers only