Cover Story: Flawless Start Guides Aggies To Victory
In a 75-58 victory over College of Idaho, Utah State delivered an ideal game-one performance. It flashed seemingly limitless potential and still left the game with plenty to learn from. Cover story: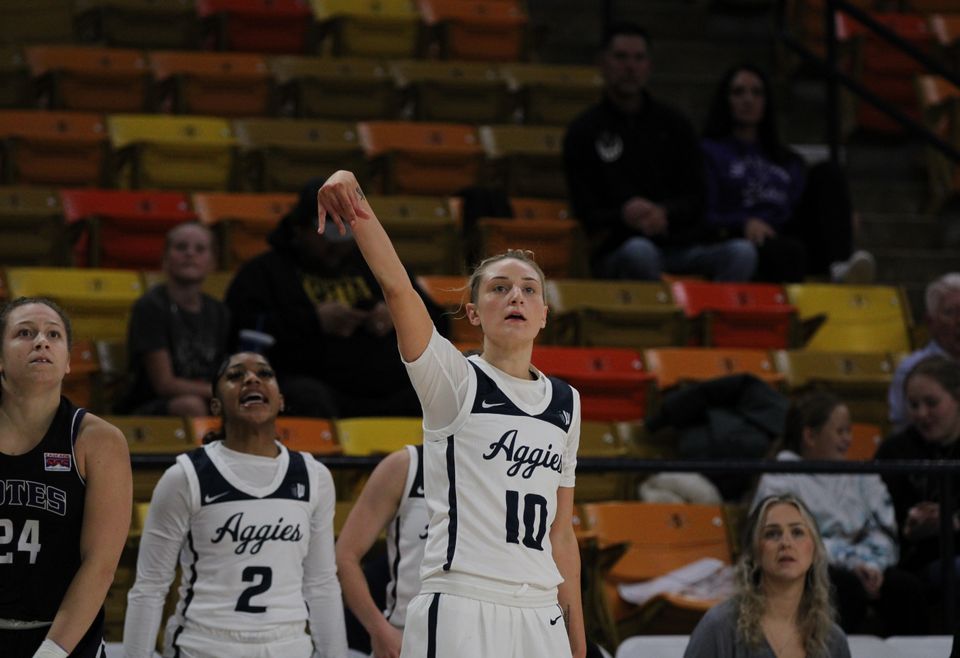 LOGAN – There are two things Utah State would like to make very clear after its season-opening 75-58 victory over College of Idaho.
First and foremost, the Aggies aren't satisfied. They showed off their seemingly limitless potential with as dominant a start to the game as you'll see in college basketball this week. Utah State scored the first 12 points of the game, forced the Yotes into seven turnovers and led 21-4 with two minutes remaining in the period.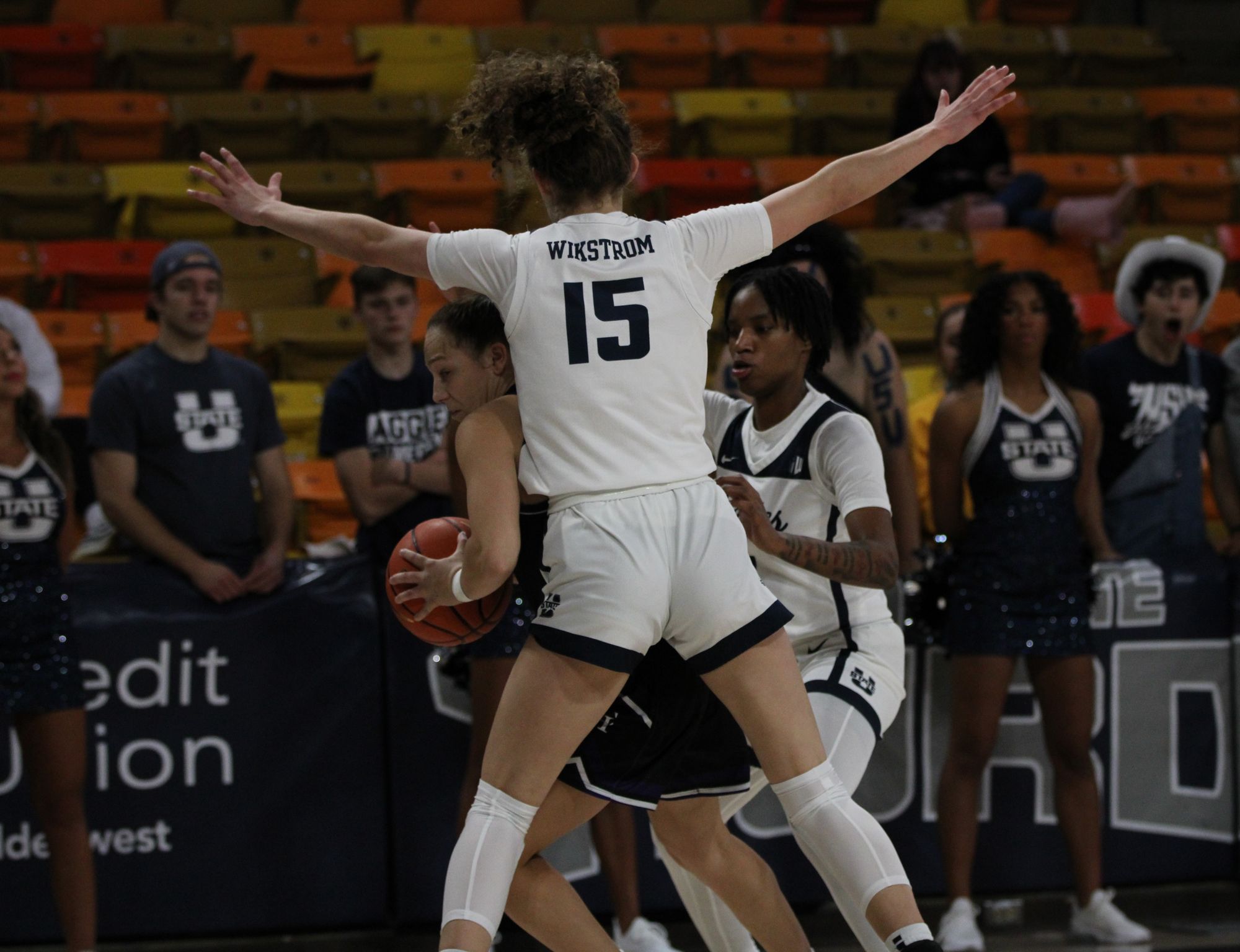 The Aggies started hot from the floor, which is deserving of at least some credit in the opening run. They were 8-of-14 shooting in the first eight minutes of play, including three-pointers from Mayson Kimball and Cristina Oliva (2) and assists on seven of the eight made shots.
Still, much of the speed out of the starting gates was generated by Utah State's defensive motor. Where point guard Maria Carvalho goes defensively, the Aggies follow. And in the first eight minutes of this game? She was untouchable, and her teammates followed her lead.
"Maria is our engine," head coach Kayla Ard told gathered media after the win. "It starts with her, she wants to bother the ball and get on somebody. But, Tamiah is a very, very good defender as well. I think Cris is doing a really good job on defense. (Olivia Wikstrom) comes off the bench with her defensive effort.
"And also our post players, they're working really hard down there and they don't stand out as much as our guards do, but they're doing a really good job down there too. It wouldn't be clicking without them. I'm proud of our defensive effort, and it starts with Maria up top. She's our engine."
Carvalho was credited with three steals in that opening stanza but caused at least two or three more turnovers with her efforts in the passing lanes. Utah State applied a full-court press and had immense success with it, trapping would-be ball-handers with members of the backcourt while using frontcourt players as free safeties. The Yotes ended the game with 19 turnovers and 15 belonged to Utah State by way of steals. At its best, Utah State's defense was the most impressive thing on the floor by a country mile.
The reason Utah State isn't satisfied is that, for a decent chunk of the game, it slipped below its best. College of Idaho rattled off seven points to end the first quarter trailing 26-11. Utah State struggled significantly from the field in the second frame (27.8 percent shooting) and entered the half with only one additional point added to its advantage on the scoreboard.
Utah State was never seriously in danger of losing its lead in the final three periods – the smallest it got was 14 points on two occasions in the third quarter – but it also never extended the advantage beyond 24 points (which it reached several times). The Aggies did enough to win without that dominant opening frame, but Ard saw a bit of satisfaction with the advantage setting in once the lead ballooned in the early stages of the contest.
"Not to be satisfied," Ard said when I asked what she planned to tell the team in the locker room. "I'm really proud of the girls. I'm always proud of a win. But I think we had moments where we were satisfied with having the lead instead of having that blood in the water, attacking mentality.
"We came out in the first quarter hot, we were just dominant on defense, and then I thought we let up a little bit. We have to play 40 minutes. It was the same message after the exhibition game. I thought we played 33 minutes then, and once I go back and watch film I'll figure out how many minutes I thought we played tonight."
There were some technical issues as well, namely on the full-court press that had been so dominant in the first quarter. College of Idaho was able to break it consistently after that initial burst, which Ard said was largely an issue of execution (and fatigue).
"Well, if we would run it right, that would be helpful," Ard said. "We're still working on that. It's kind of new for us and we're working out some kinks there, but we'll keep getting better at it. Our goal is to have the kinks worked out for that when we get to Mountain West play.
"These are reps for us, if you will. When we have a lead, we're going to try to run some stuff like that to see if we can get some reps in and practice it live against different opponents. If we would be disciplined and run it correctly, it would probably work a little bit better."
It was a performance Utah State can be proud of, which is half of what early season matchups like this are for. It's also a performance it can learn a lot from as it prepares for tougher matchups on the horizon – the other half of the equation for these games. If Ard and her Aggies were without anything to address or fix from this game, it would be much good for the long-term development of the team.
"As a coach, I'm always going to be wishing we would've done things a little bit differently," Ard said. "I thought we were a little sloppy at times. I think that's from some fatigue. We're still working out the kinks with subbing and getting to know the new team and new players. As we get that figured out a little more – we're trying to get people out before they get tired instead of subbing them once they're tired – it will be more productive for us.
"But overall, I'm pleased. Especially with our defensive effort. That is what we've been focused on, that's what we've been trying to lock in on. We haven't been good in the past, so I'm really pleased about our defensive effort."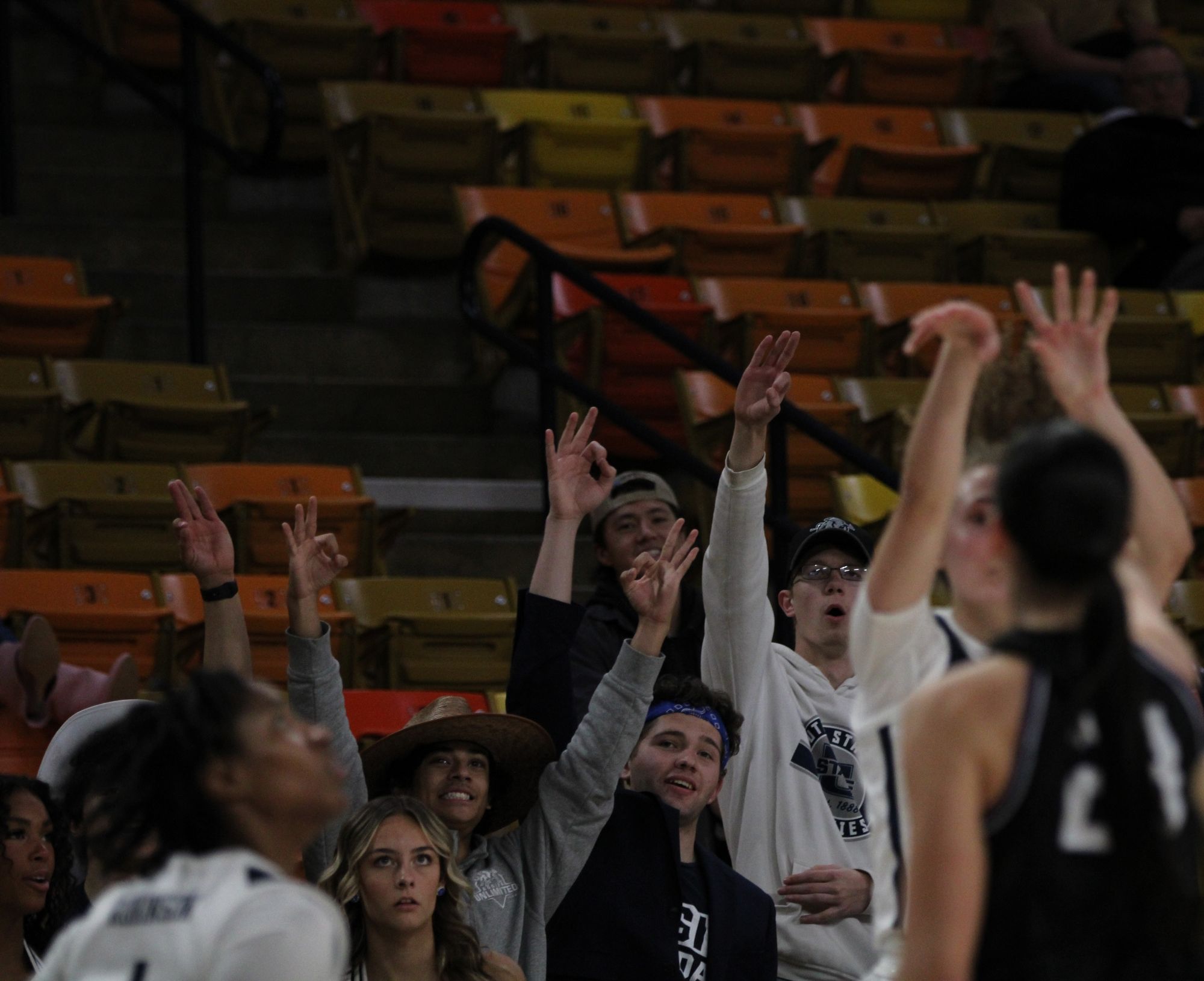 Secondly, the shooting issues of that exhibition bout with Fort Lewis? They're the outlier. Utah State can, as Carvalho put it (before a tactful self-correction), shoot the hell out of the ball.
"I just want to point out that we're not a bad shooting team," Carvalho said. "We just had a bad start, we can shoot the hell out... the crap out of the ball."
The Aggies knocked down nine three-pointers on 23 attempts against the Yotes, buoyed by a 5-of-7 shooting night from deep for Oliva – whose jump shot, as an aside, is among the smoothest you'll see this season. Carvalho pitched in two of her own, while Kimball and Abby Wahl hit one triple apiece.
The shooting star of the exhibition, Tamiah Robinson, ended the game without a three-pointer, though she still managed eight points, eight rebounds, four assists and three steals. It's notable not as it relates to the individual, but as it does to the team. Robinson is a gifted scorer who can and will make plenty of tries from deep this season, but Utah State feels comfortable enough with its shooting prowess that it isn't worried about Robinson having a slower night – just as it wasn't worried when Oliva's shots weren't falling in the exhibition.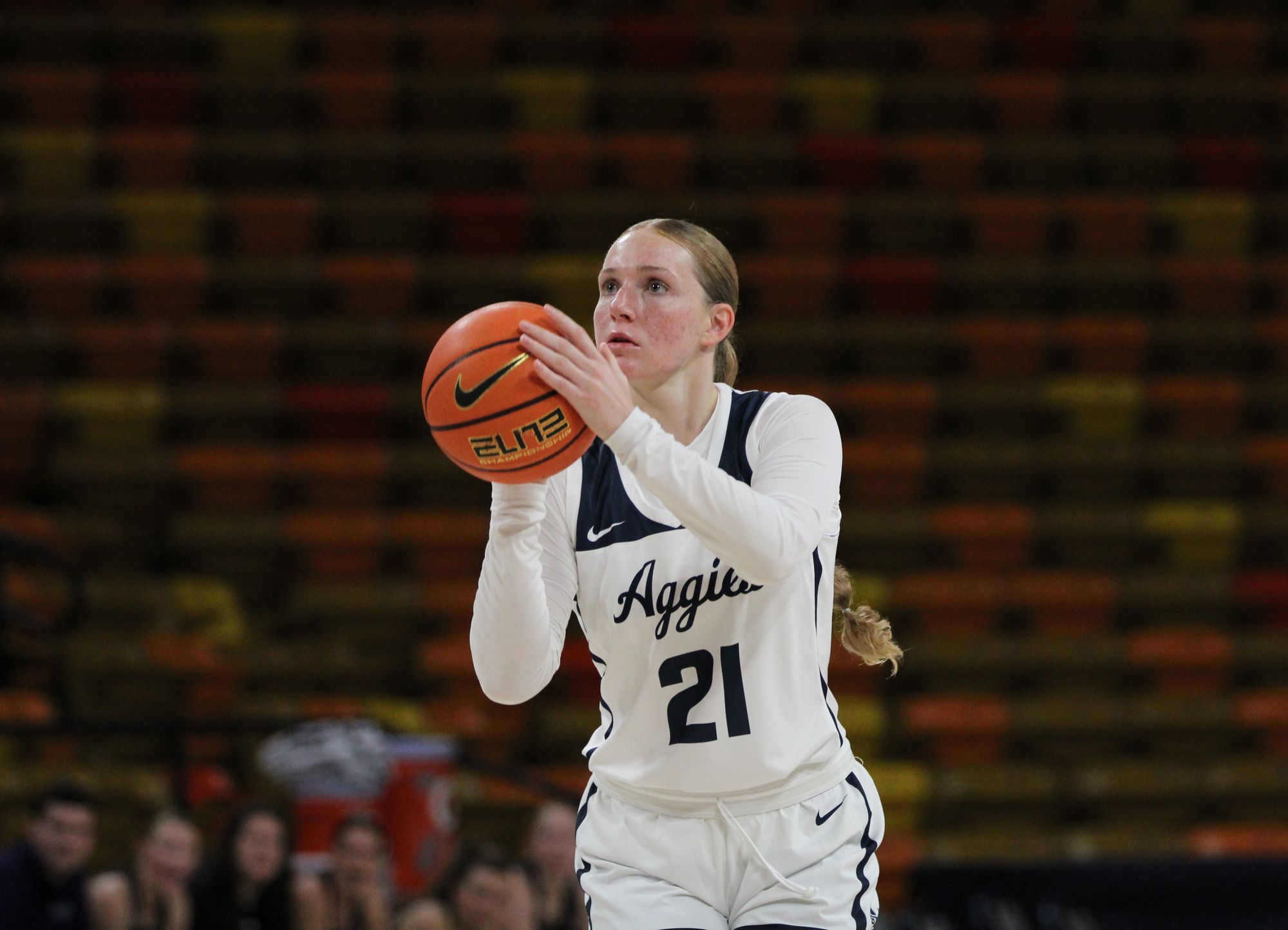 "We're actually a really good shooting team, even though in the exhibition we didn't shoot very well," Ard said. "It was our first game in the Spectrum, and we thought it was kind of funny because everybody was saying we're not a very good shooting team. I think we're a really good shooting team. It was nice for them to bounce back today, but I knew that (they could shoot) coming in.
"Our team talked about it all week – they read everything and they knew they didn't shoot very well (against Fort Lewis). Cris is a really good shooter. In the exhibition game, it was Tamiah who hit four threes and then tonight it was Cris. Those two are going to complement each other really, really well."
As it prepares to take the court next, on Nov. 11 against Southeastern Louisiana, Utah State can pull valuable information from all of this. The defensive scheme, when operating with full effort, worked extremely well. The offense benefits greatly from an on-shooting night from any number of viable sharpshooters, but it isn't solely reliant on one player. It wasn't really reliant on the three at all – Utah State finished the game with 16 assists, 21 shots at the free throw line and a 12-board victory in the rebounding battle, including 17 offensive rebounds.
There are absolutely kinks to work out, both in the short and long terms, but this was the exact kind of game the Aggies needed to open the year. They can celebrate their first win together, and they can spend the next three days picking it apart. What more could a team ask for?