WBB Game Notebook: Utah State Falls Short Despite Late Rally
Utah State never stopped fighting, clawing back from 17 points down behind the offense of Mayson Kimball and Maria Carvalho, but the Aggies came up just short on Friday. Game notebook: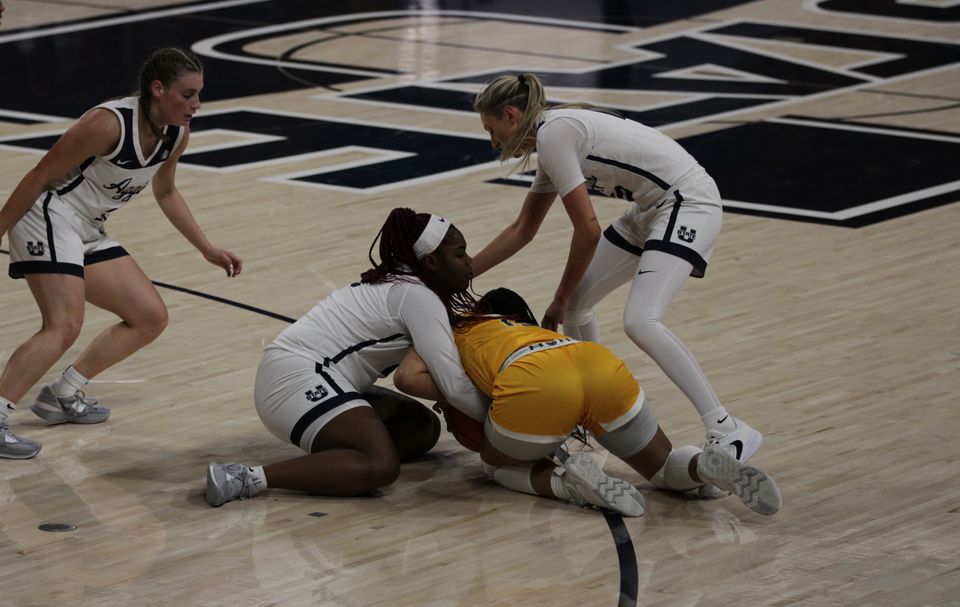 Notes, quotes, thoughts and other quick hitters from Utah State WBB's 78-68 loss to Southeastern Louisiana. Let's not waste any time.
Game-Changing Moment
With how even this game was in the last three quarters (Utah State won the final three frames, 61-58), the game-changing moment here was Southeastern Louisiana's run of dominant play in the first quarter. The Aggies opened the scoring with a Mayson Kimball three-pointer on their first possession of the game but didn't find the bottom of the net until five minutes later when Kimball knocked down another triple.
In the interim, Utah State shot 0 for 3 from the field, missed a pair of free throws and turned the ball over four times – three on dribbling violations – while Southeastern Louisiana built a seven-point advantage.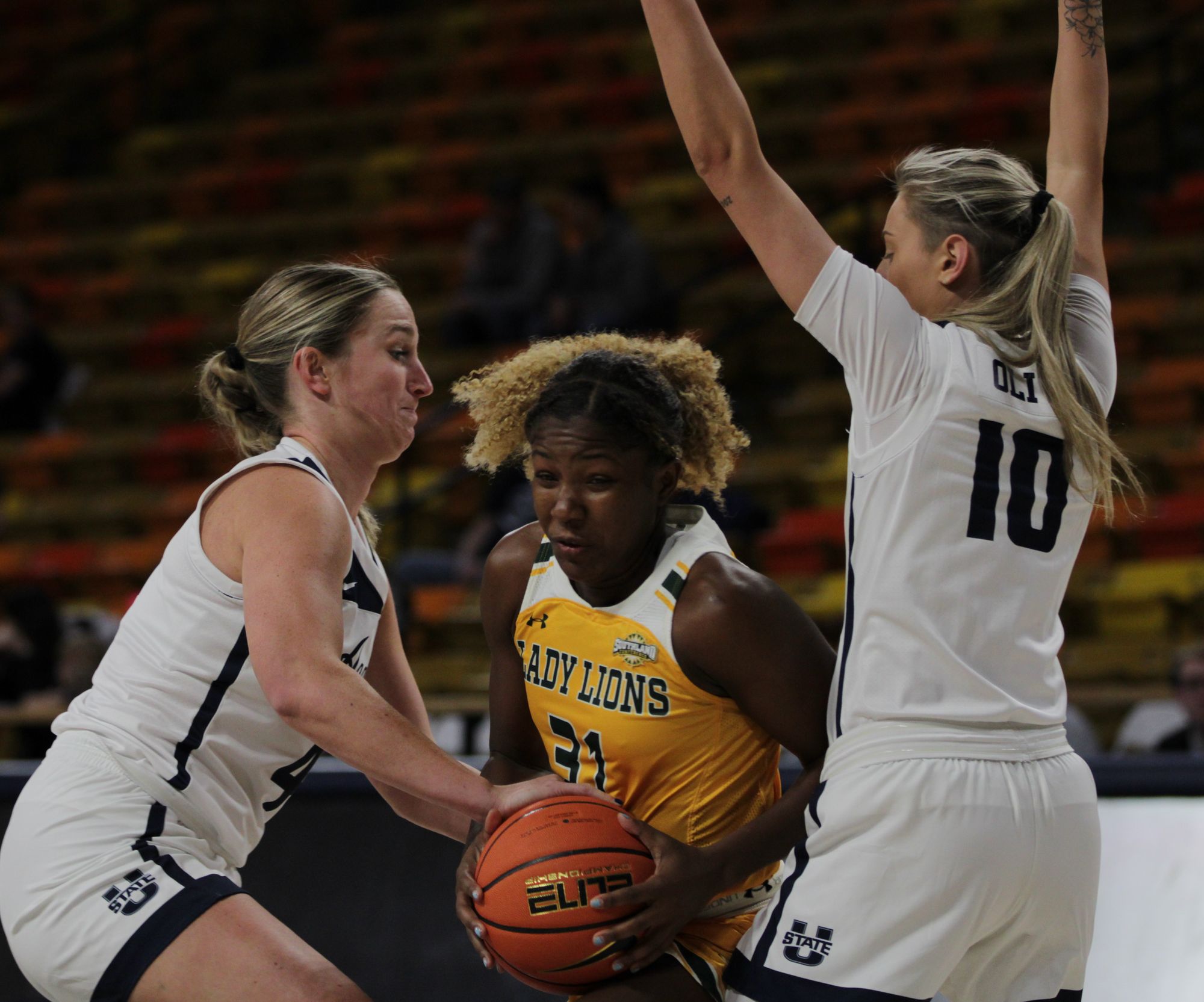 The rest of the quarter wasn't a whole lot better for the Aggies. They finished the quarter just 2-for-10 shooting (both makes belonging to Kimball) and 1 of 4 at the free throw line with five turnovers, which offered the Lions plenty of room to build out a 20-7 lead that would ultimately prove the difference in the contest.
It was a difficult loss for the Aggies to take, given that their performance down the stretch would have been enough to win without the brutal start, but it's also a valuable learning experience about the importance of entering a game ready to compete.
"I'm disappointed, obviously, but this is probably good for us," head coach Kayla Ard said. "It doesn't feel very good right now and it's probably not going to feel very good for our girls right now, but in the long run, this is probably good for us. We needed this to wake us up a little bit. The other two opponents we played, we had quite a bit of a lead so I wanted to see how we did when we didn't have those circumstances.
"You can learn a lot from a win, but you can learn a lot more from a loss. I want to make sure we grow and learn from this. If us taking an L makes us get better and more prepared moving forward, I'll take that."
When It Was Over
This game looked to be over in the waning moments of the third quarter, when an eight-point deficit ballooned to 10, then 13, and to as high as 17 points with 3:10 remaining after Daija Harvey's second three-pointer in just over a minute of play put the Lions ahead 55-38 and forced a Utah State timeout.
The Aggies were scoring at a decent clip – they had eight points through 4:30 after tough buckets from Maria Carvalho and Tamiah Robinson – but Southeastern Louisiana was on fire, finding points on 11 of its first 13 possessions of the quarter and shooting 7 of 9 from the field after an 0 for 2 start (on a possession that still ended in three points after two offensive rebounds).
Utah State still had no answer for guard Alexius Horne on the dribble drive and looked to be on the precipice of the game getting completely out of hand after the 12-3 run that preceded the timeout.
But, USU didn't stop fighting. Robinson opened play back up with a quick layup, Utah State forced two turnovers and Abby Wahl blocked a shot – holding the Lions to just one basket in the last three minutes of the quarter – and entered the fourth quarter in a difficult but much more manageable 12-point hole, 57-45.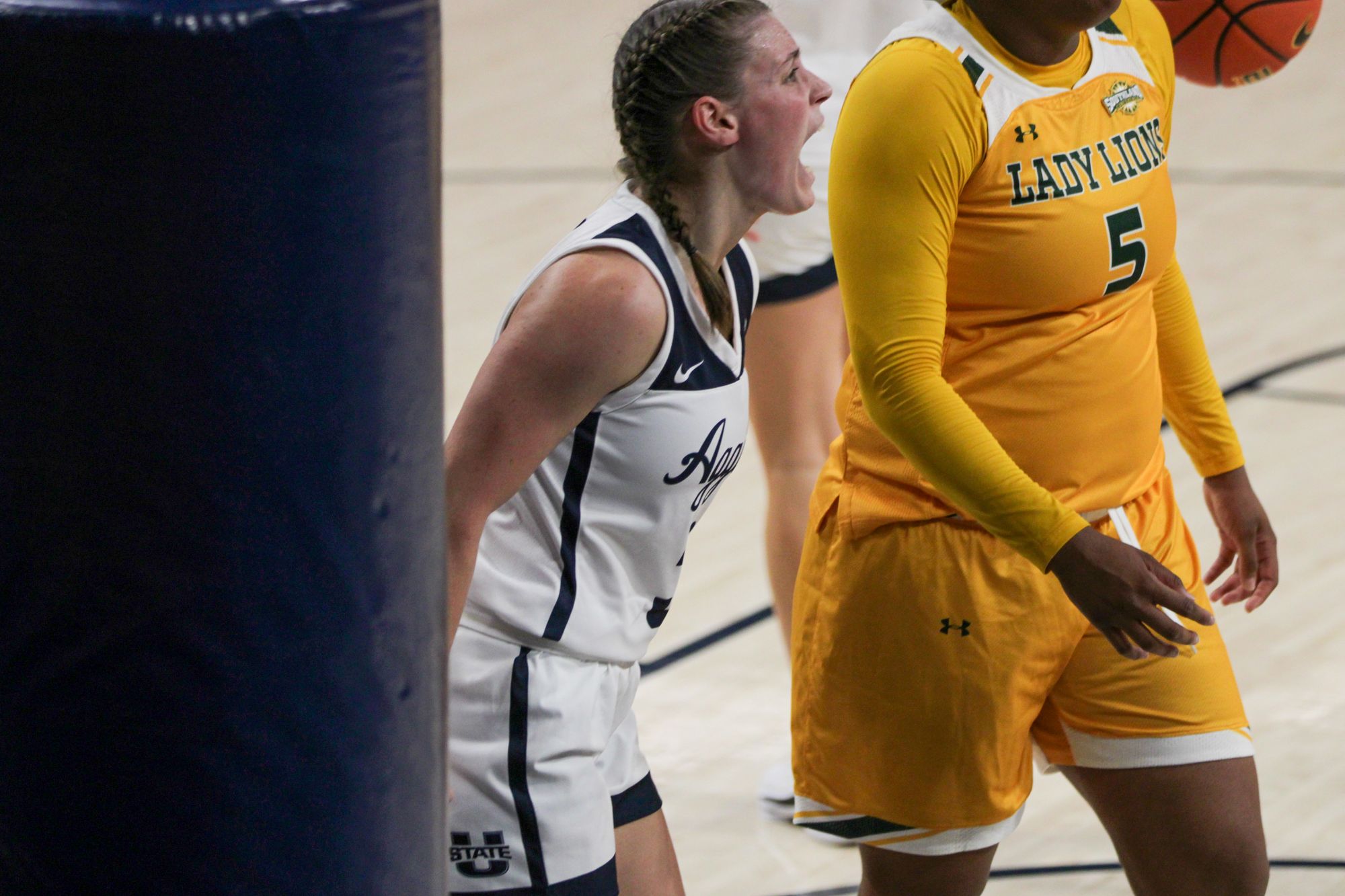 Utah State cut that lead down to single digits with an Olivia Wikstrom three-pointer to open the final frame and rallied almost the way back. The Aggies pulled within two points, 64-62, with 4:52 remaining when Carvalho rebounded a Prima Chellis miss and scored her 16th and 17th points of the game on a layup.
It was over when Southeastern Louisiana answered that layup with a Hailey Giaratano mid-range conversion, Chellis turned the ball over on the ensuing possession and Harvey knocked down two more three-pointers almost immediately after substituting back into the game.
Wikstrom managed to split the triples with a mid-range jumper to briefly keep the game in range, but Utah State answered the second three-pointer with back-to-back turnovers from Chellis and Wikstrom, which the Lions converted into four quick points and a 12-point advantage.
After Utah State came within one possession of the lead, it turned the ball over on four of its next five trips down the floor (and in a cruel twist of fate, hit the only shot it took in that span). Southeastern Louisiana used its next five possessions to score 12 points.
The Aggies never gave up on the game – which is great news moving forward – but it's ultimately a contest to put the ball in the hoop. Again, it's a learning experience for a team playing its first games together.
"Coming out of a loss as a coach you always want to find the positive, and the amount we can learn from a loss is substantial. (Southeastern Louisiana is) very fast and very athletic," Ard said. "We had to change the whole game plan to fight back, and the players did. They fought back and they got it within two. Now I know I have a team that's going to fight, and I'll take that. I'm disappointed we lost, but I will absolutely take the effort those kids gave me. They left everything they had out there.
"I'm not ever going to get mad at them for making mistakes – we only get mad if we don't give all the effort that we have. We weren't making shots we needed to make, missed some layups and we were bad from the free throw line, but the effort was there and I can live with that."
Aggie Of The Game
It's hard to do a whole lot more in one game than Kimball did on Friday afternoon. In just under 33 minutes on the floor, the Merrimack College transfer showed off exactly why Utah State wanted her so badly with 24 points (tied for the game-high with Horne) on just seven shots.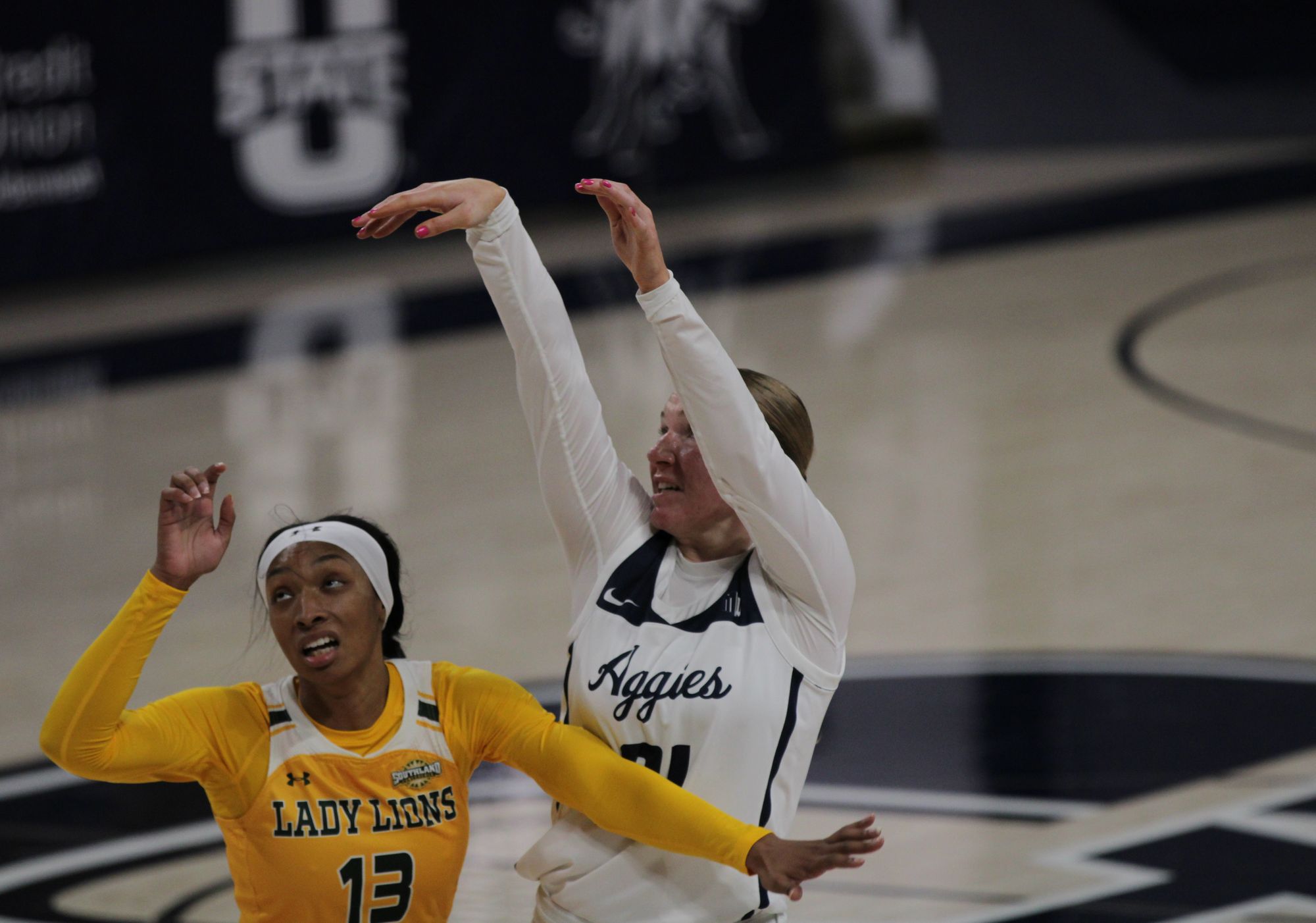 She knocked down all but one of her attempts, converted on all five of her three-point tries and hit 7 of 10 free throws while adding six rebounds, one assist, one steal and a block. Kimball contributed six of Utah State's seven first-quarter points, eight of its 20 second-quarter points and 10 of its 23 fourth-quarter points. If not for foul trouble that held her out for a large chunk of the third frame, she could have easily finished the game with a career-high 30 points.
Kimball won't be satisfied with that performance because of the final score, but it was an early reflection of just how important she's going to be for this team's success as the season develops.
"She could care less about that stat line, she's going to be mad because we lost," Ard said. "That's what I love about her. She didn't do anything today that she doesn't do in practice every day. Nothing about her game surprised me today. She's a heck of a player and she works hard every single day. I think you'll see a lot more games like that out of her."
Other Standouts
Maria Carvalho: Kimball was Utah State's most effective scorer in the game, but no one hit more tough shots in crucial moments than the heart and soul of the team. Carvalho played all 40 minutes, knocked down 7 of her 15 field goal attempts for 17 points, dished out four assists and grabbed a team-high eight rebounds. Plus, against a very opportunistic defense, she turned the ball over just once. She's been as advertised, if not even better.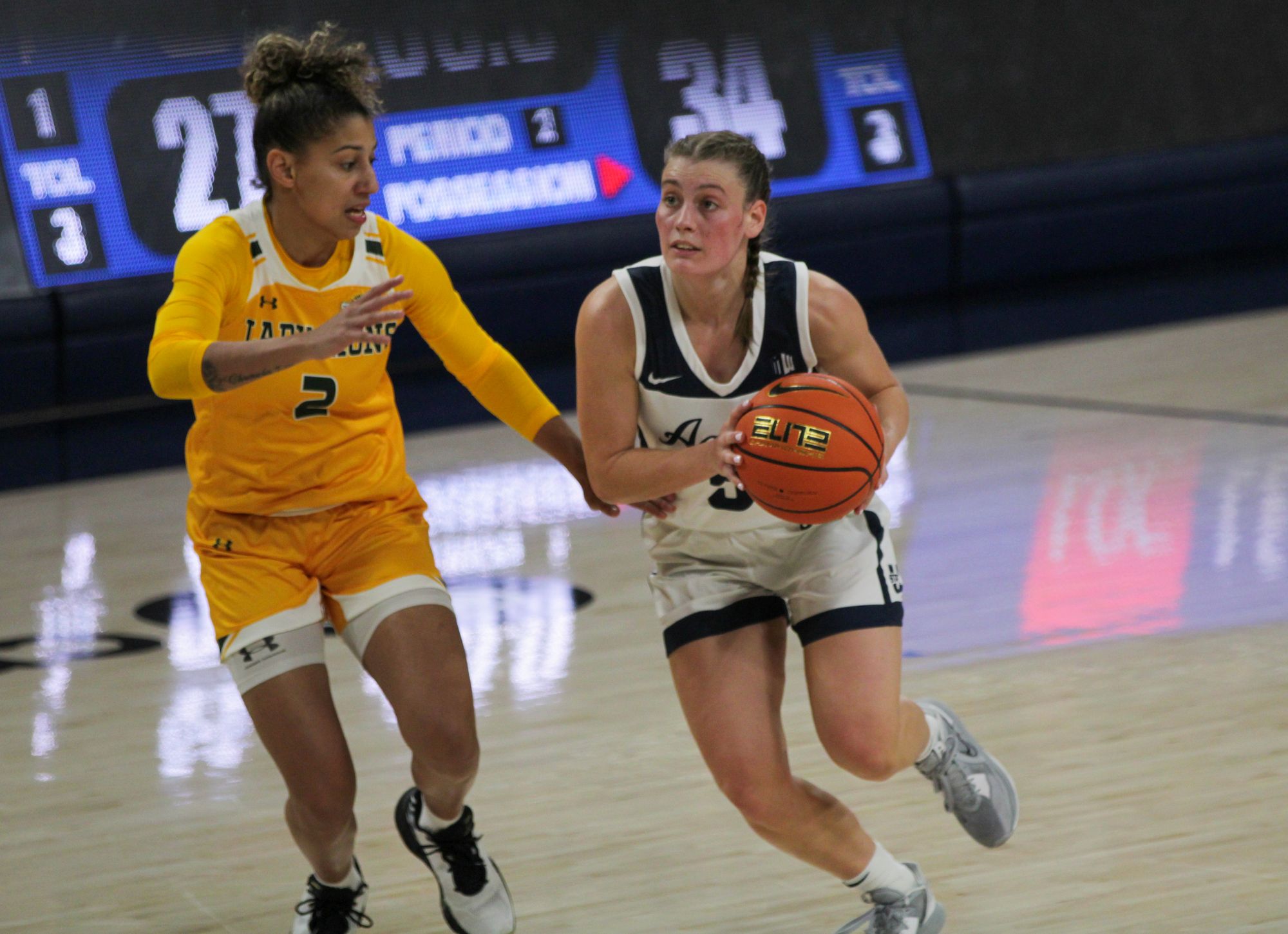 "She's our engine, and it'll be the same thing every game," Ard said. "She rarely gets tired – and when she does get tired, her mental strength is just so good that she can play through it. I feel bad for playing her for 40 minutes, but we thought as a staff going in that she would probably play 40 minutes tonight. We know they were going to press us quite a bit and we really trust her with the ball in her hands.
"I'm really proud of her effort and I'm proud of all the girls, to be honest. I'm proud of our effort tonight. We have a lot to learn from it but I thought we played hard and gave what we had. We just need to get better."
Olivia Wikstrom: Wikstrom didn't stuff the stat sheet, but she came off the bench and gave Utah State 10 points while shooting 50 percent from the field and added three steals, two rebounds and two assists with only one turnover and no fouls. The Aggies would probably like to see her a bit more active on the boards, but that's a pretty good day at the office in only 21 minutes played.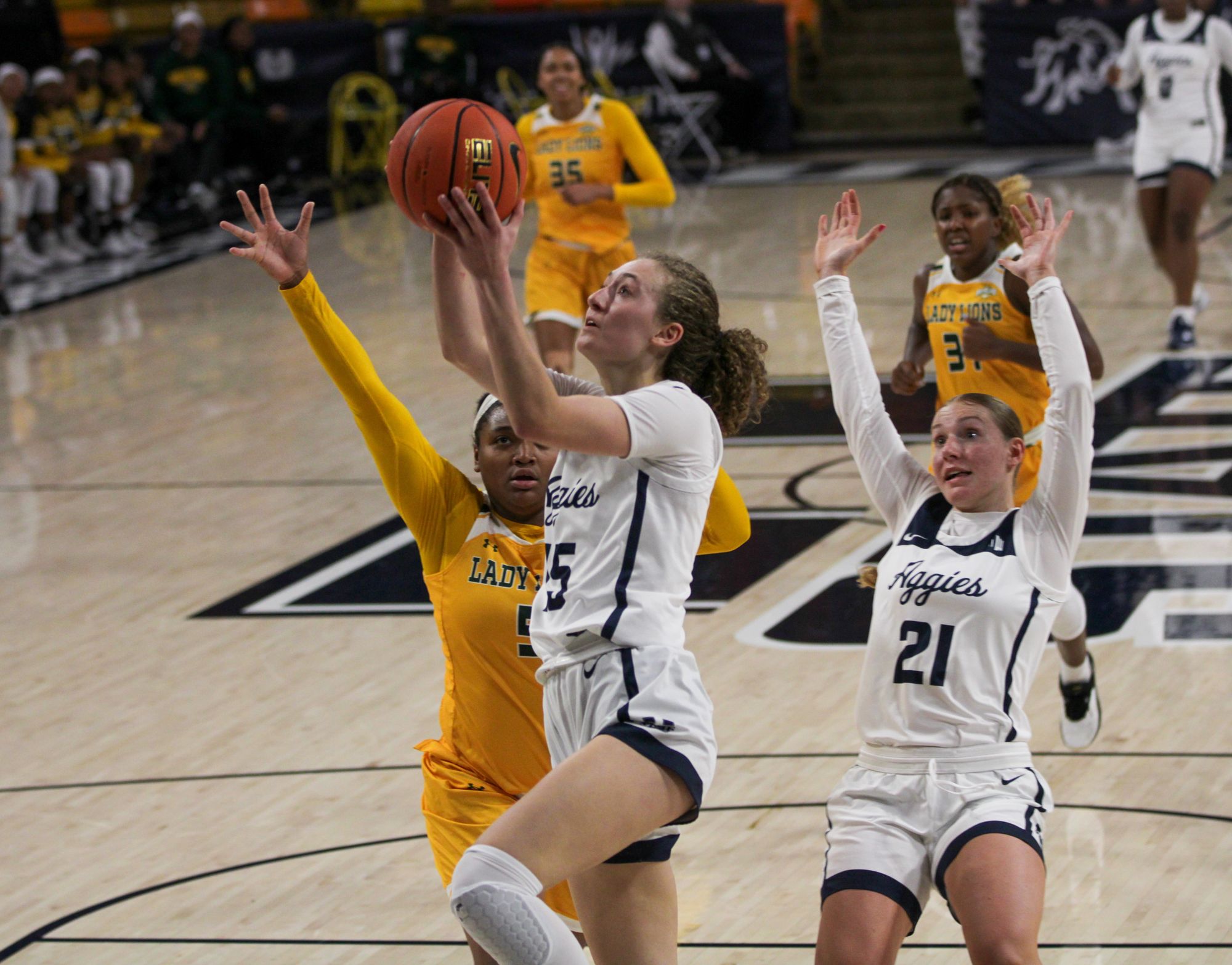 Quotable
"Prima is a really good player. I think has some nerves she's working out, she gets a little bit nervous for the games, but she's going to be fine. She'll be a big player for us, came in, gave us some good minutes and she'll be just fine. She played hard and gave us what she had." – Utah State head coach Kayla Ard
Stats Of The Game
42.9%: It's not time yet to say that Utah State's finishing at the rim is a full-on issue, but the Aggies need to address it before it becomes one. Utah State was 15-of-35 shooting (42.9 percent) on two-point tries on Friday afternoon, 17 for 45 (37.8 percent) against College of Idaho and 23 for 51 (45.1 percent) in the exhibition against Fort Lewis. It had just 26 points in the paint against the Lions.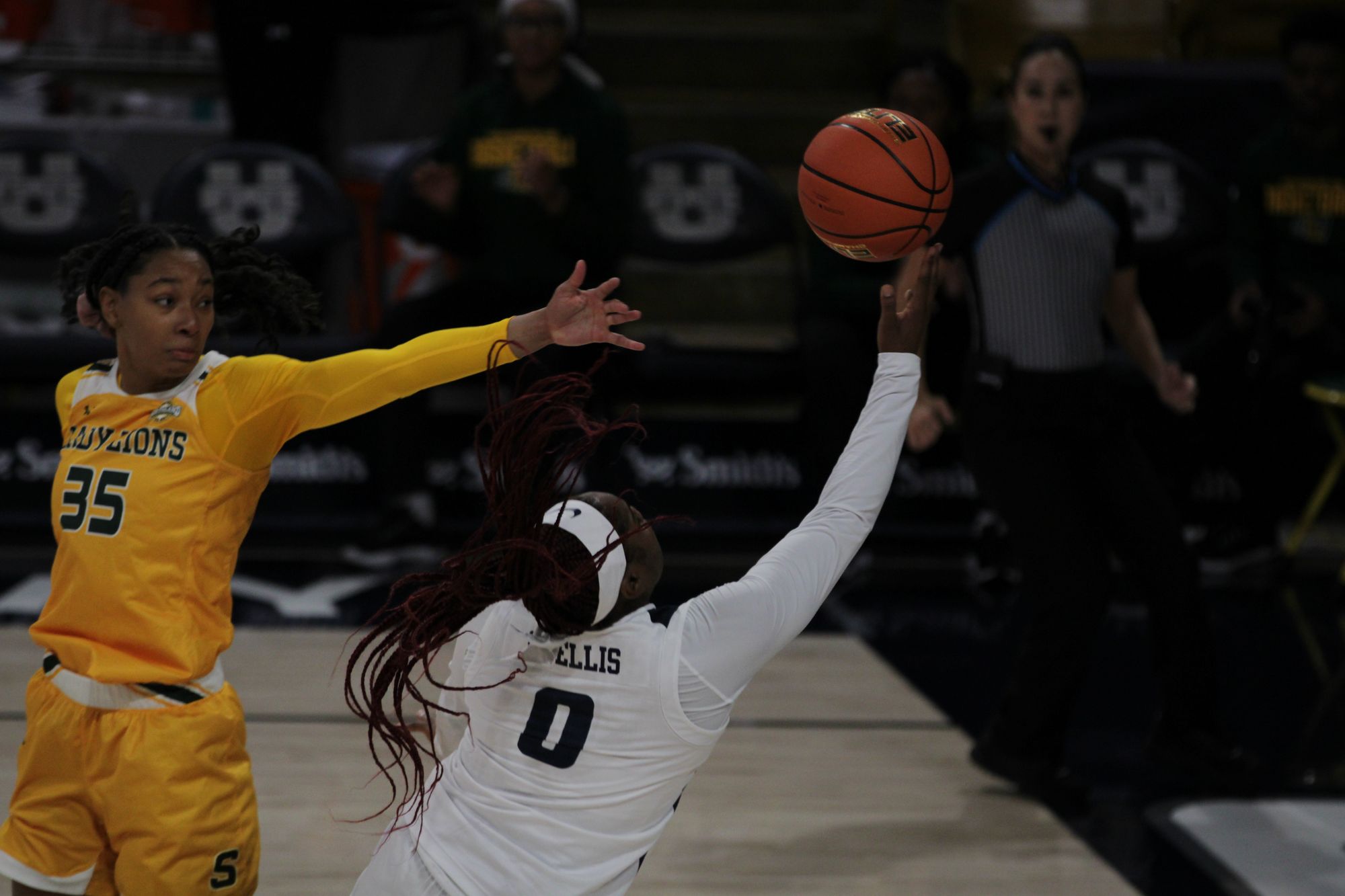 This team has shown a propensity for shooting the ball, and there's no reason to think that issues at the rim will linger with the talent available – especially when the roster is at full strength. But the sample size is what it is, and it hasn't been positive in the post for the Aggies thus far.
-1: On paper, Utah State's production in rebounding was just about sufficient here. The Aggies were vastly undersized relative to their opponents and lost the rebounding battle by only one board, 30-29, with a tie on the offensive glass (seven apiece). Carvalho was great and Utah State picked up solid efforts from Kimball, Chellis (5) and Robinson (4), but Ard wasn't satisfied after the game. No matter the matchup, Utah State wants to win on the glass and it wants more than seven offensive rebounds. Minus-1 isn't going to cut in.
"One of our things is to win the rebounding war every game," Ard said. "We don't make any excuses about size, and seven offensive boards is not nearly enough for us. We have a game goal to get a lot more than that. It wasn't very good for us tonight, unfortunately."
0.52: The first quarter and the final 4:52 of the fourth accounted for 25 of this game's 66 total possessions. Utah State managed only 13 points across those 25 opportunities – a disastrous 0.52 points per possession. In that same frame of possession, Southeastern Louisiana scored 38 points, good for 1.36 PPP.
On the game's remaining 41 possessions, Utah State averaged 1.34 PPP compared to 0.98 from Southeastern Louisiana. Above everything else, this loss was the result of two brutal dry spells for the Aggies.
Emptying The Notebook
You may see more zone defense from Utah State in the future. That fourth-quarter run was bolstered in large part by a shift into zone – Southeastern Louisiana scored only seven points in the first five minutes of the quarter and saw its offense grind to a halt without readily available baskets to be claimed in the paint. Utah State was overmatched physically in quite a few places defensively, and just gumming up the works in the paint seemed to do the trick quite a bit better than anything else the Aggies tried.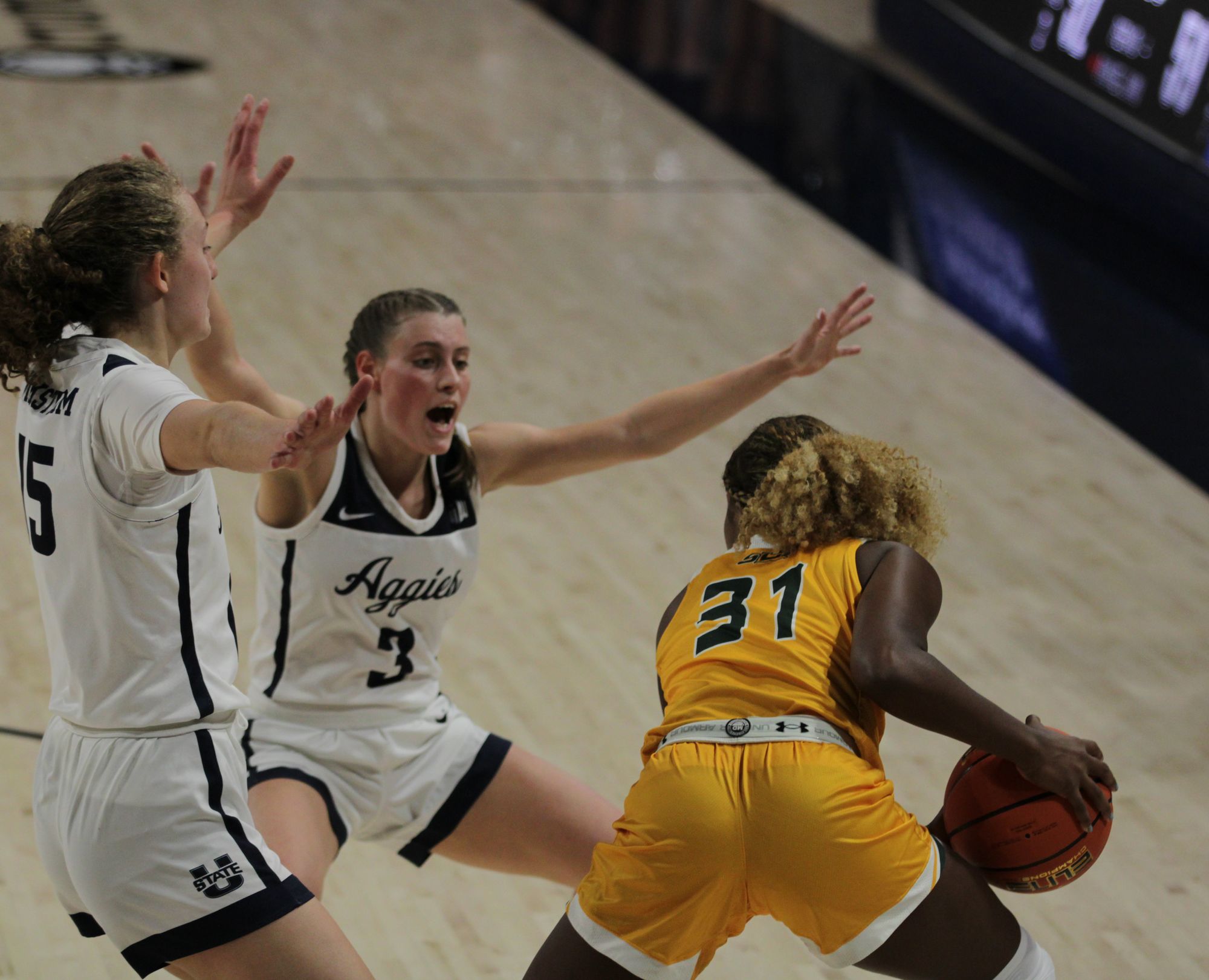 But, as fatigue set in and the Aggies looked to create turnovers with the full-court press, they were forced to abandon the zone – and with it went that defensive momentum.
"I think (zone) was working really well but then we just couldn't get over the hump," Ard said. "We got tired. We couldn't really implement it there at the very end when we needed to, but we showed some good things. It's good to know that we have some fight in us when we're down, I like seeing that. I think it's a big learning experience for us tonight."
Utah State is dealing with some injury issues, especially in the frontcourt. Ashya Klopfenstein and Natalie Fraley were both in street clothes on the bench for the third consecutive game (going back to the exhibition) and forward Olivia Mason didn't enter the game despite dressing for it.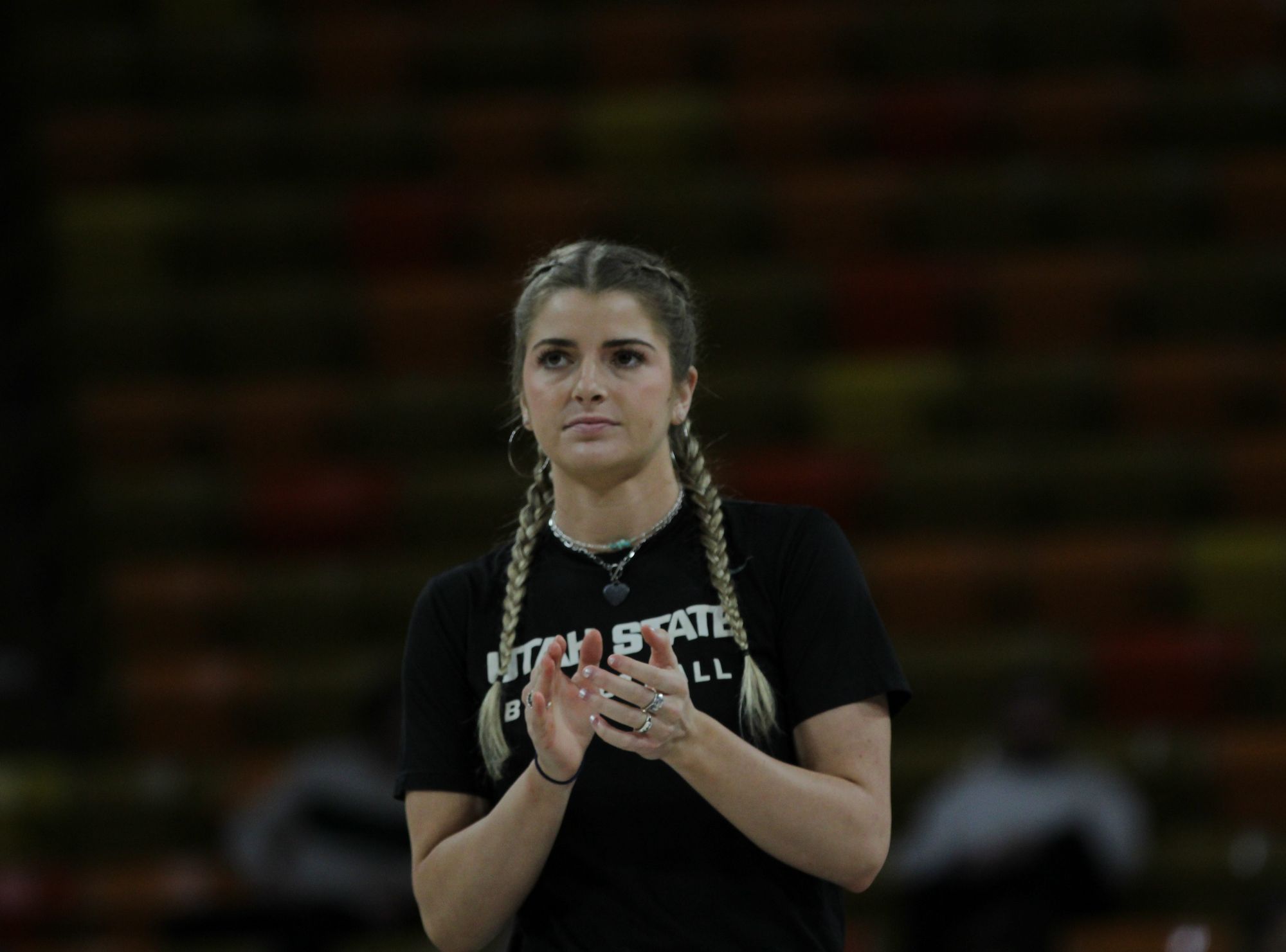 Without that group, Utah State has just two true forwards it trusts to turn to in Chellis and Abby Wahl. Against a team with the kind of size Southeastern Louisiana has, the Aggies flat-out need more bodies in the post. The sooner they can get them healthy, the better.
"We're just managing things a little bit, still managing some injuries," Ard said. "Getting Natalie back will help us quite a bit in the guard position but I thought the rotations were a lot better tonight. We're trying to keep us fresh just at the end of the game but we're a little thin and just got tired."
Next up on the schedule is a trip to Utah Tech scheduled for Nov. 15 at 7 p.m. You'll be able to watch it on ESPN+. The Aggies are 3-1 against the Trailblazers, winning their most recent matchup last season, 81-64. Their first meeting was in 2010 – which was also Utah Tech's lone victory in the series, 71-67.