Utah State WBB Notebook: Aggies Dominant In Exhibition
Game Notebook: Tamiah Robinson's 19-point outing led new-look Utah State to a comfortable exhibition win over Fort Lewis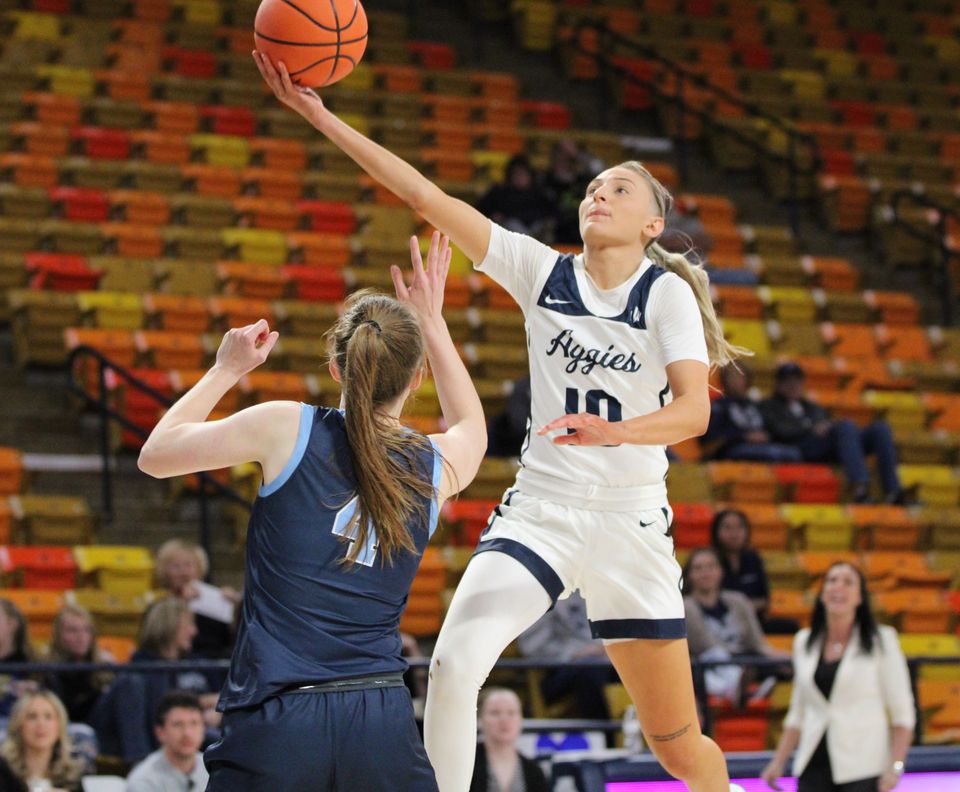 Notes, quotes, thoughts and other quick hitters from Utah State WBB's 74-45 win over Fort Lewis. Let's not waste any time.
Game-Changing Play
It's hard to pick one in a game like this, which was never particularly close, but Utah State's burst of points that ultimately established the Aggies in a leading position they'd never surrender can be credited in large part to forward Abby Wahl. The EIU transfer started the game quietly, but completely altered the dynamic on the floor when she subbed into the game after a quick break with 3:50 left in the first period.
Utah State was leading 11-2 at the time, ended the quarter ahead 19-6 and saw that lead grow to 26-8 before Wahl ended her shift with 5:30 remaining in the second period. She was plus-nine in a bit over eight consecutive minutes on the floor, scoring eight points and grabbing three rebounds to go with some tremendous defending in the paint.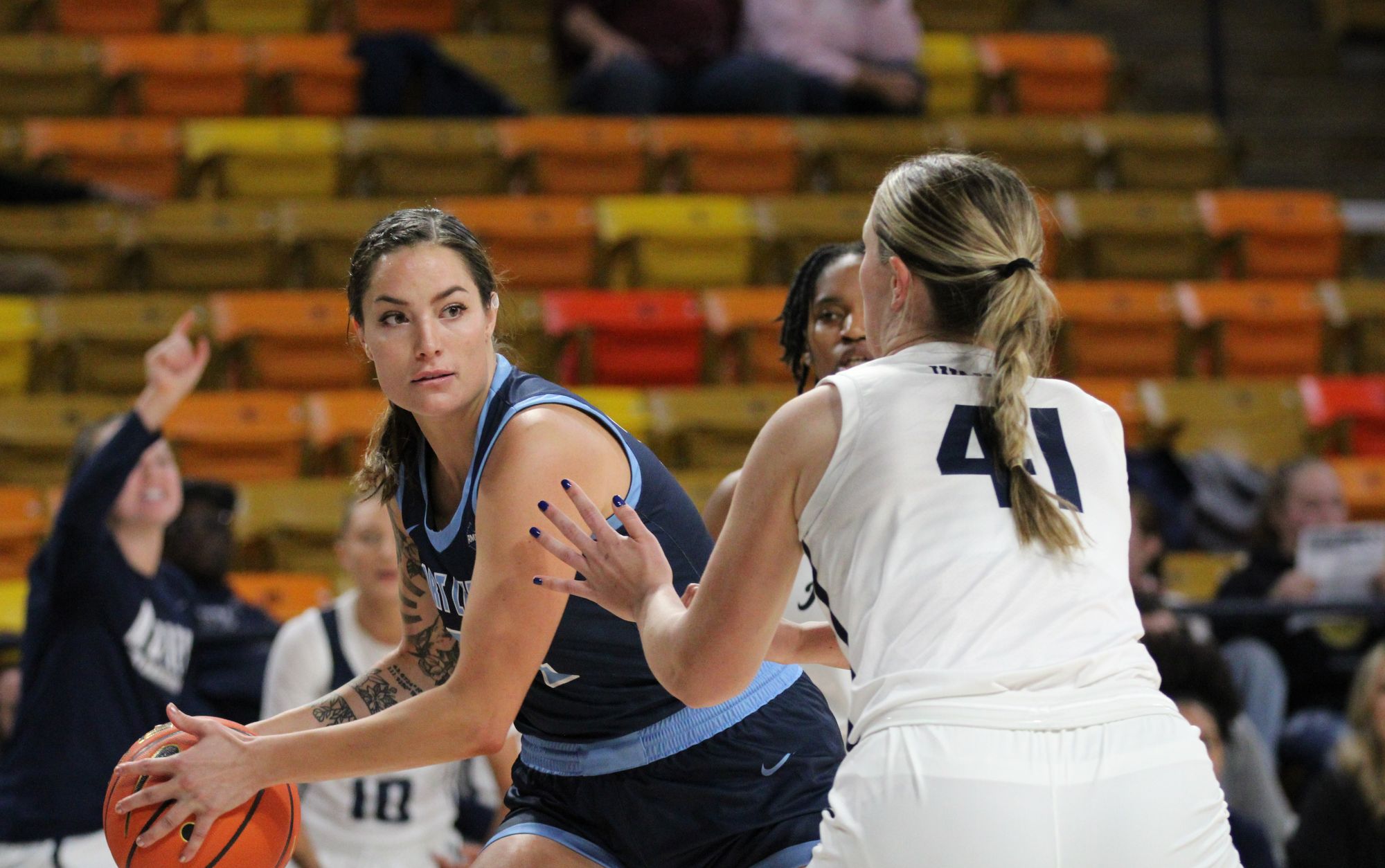 It wasn't a single play that changed the game, but Wahl's presence in the paint absolutely impacted the dynamic on the floor and helped Utah State to find its footing after a few minutes spent searching for answers offensively.
Aggie Of The Game
It's Tamiah Robinson. No one had a particularly strong night from the field for the Aggies, who finished 30-of-81 shooting and 7 of 30 from three-point range, but Robinson's ability to score at all three levels presented a reliable enough lead option for the Aggies to brute force their way to 74 points.
She finished the game with 19 points on 7-of-16 shooting but knocked down four three-point tries on six attempts while adding five rebounds, four assists and two steals with only three turnovers. There was a level of offensive aggression from the Labette Community College product that Utah State has really been hoping to see, especially from behind the arc.
"She looked alright, I don't want to give her too many props... nah, she looked great," Ard said. "She had a great game, I'm really proud of her. It was nice to see her shoot the three finally, she was a great three-point shooter for her junior college and we're glad to see her pull the trigger from the three-point line. And, her ability to get to the rack is really good.
"I love what she's doing out there on both ends of the floor, I think her defense is a big part of what we're doing too. Really proud of her."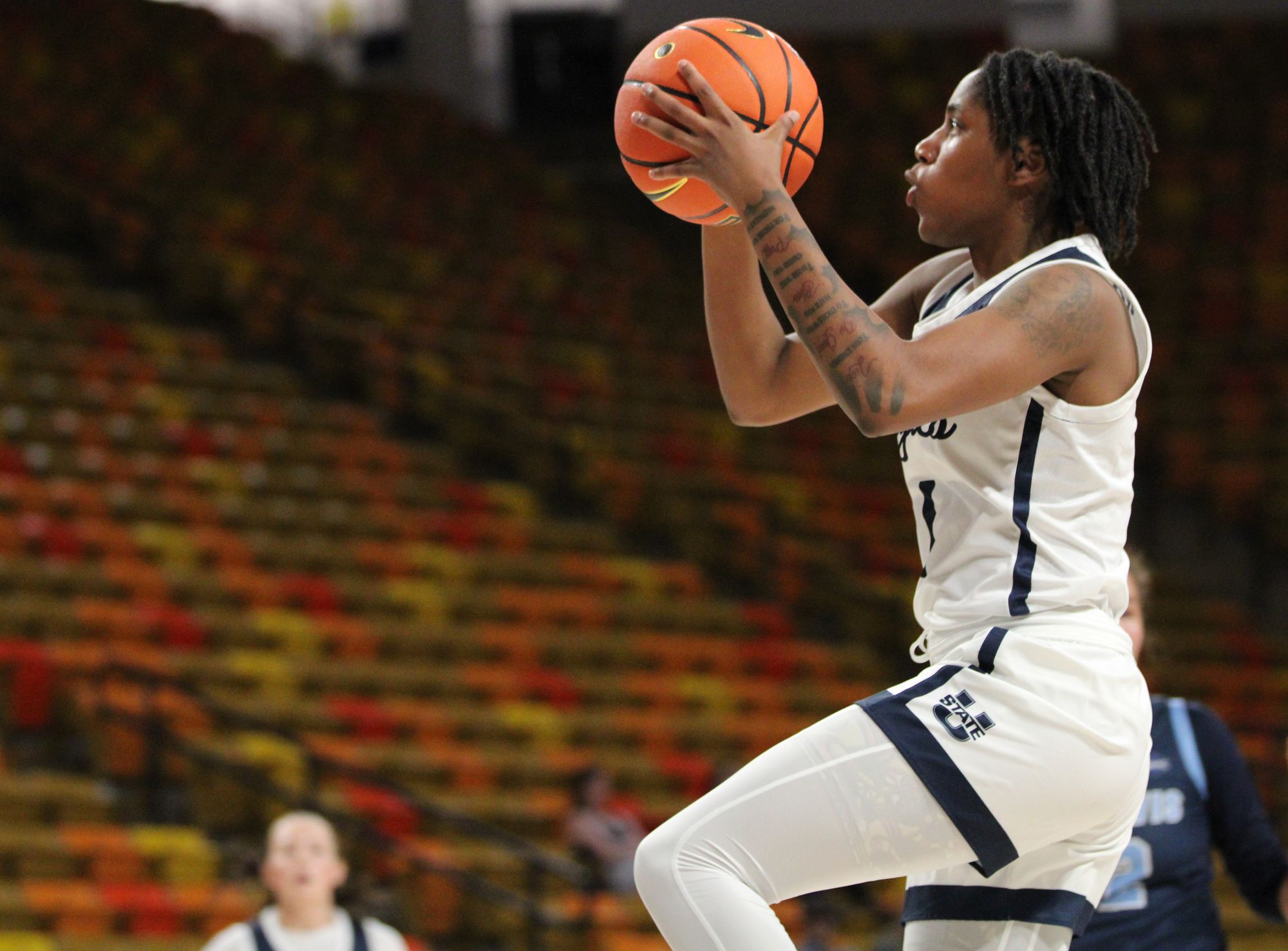 The Aggies are only going to lean on her sometimes as the primary ballhandler and initiator of the offense, but they need her to be every bit as sudden and crafty as she's shown a propensity for in those moments. This isn't an offense with a ton of isolation scorers, and when it needs a bucket it needs to be able to turn to Robinson. She'll need to find her way to the free throw stripe a little more often, but this was largely the kind of offensive performance Utah State is going to need from No. 1.
Other Standouts
Maria Carvalho: She cooled down considerably after scoring seven of Utah State's first 11 points, finishing the game with 12 points on 5-of-17 shooting (2 of 9 from deep, no free throws), but the senior Utah Valley transfer brought crucial energy even as she struggled to find her shot.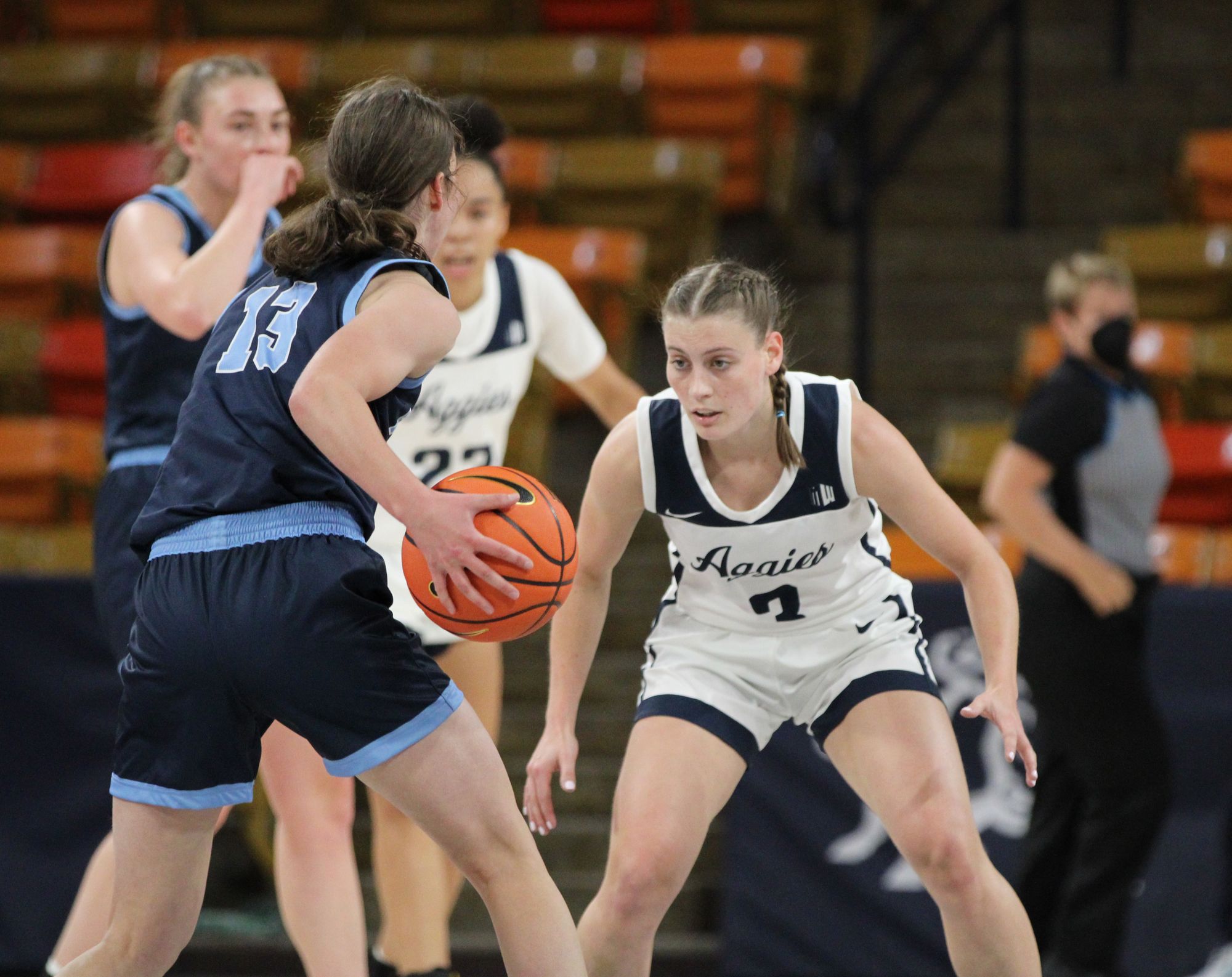 She grabbed seven rebounds despite her status as one of the smaller players on the floor, assisted on three Aggie buckets and was dinged for just one foul despite hounding Fort Lewis ballhandlers all game. Her final stats may not always reflect it, but Carvalho is going to be a consistent impact player for the Aggies. The value of her physicality and poise from the point guard spot really can't be overstated.
"(It's) kind of funny that Maria had so many as probably the smallest one on the court, but she's a fighter. She's very gritty," Ard said.
Olivia Mason: Mason was fairly quiet across her 18:40 on the floor, but she ended the game with nine points and six rebounds on an efficient 4-of-7 shooting performance. And, she was one of Utah State's best post defenders – a spot that the Aggies really need consistency in. She needs to cut down a bit on the fouls, of which she had four, but that's not a huge concern right now.
"We're trying to get them to play so hard and to be aggressive, so I don't know that I can get too upset about (the fouls)," Ard said. "We're missing a couple of our post players, so I think the post was pretty tired and that some of those fouls came from being exhausted. We have some things to work on there, but I would rather us be too aggressive than not aggressive enough so for now, we're going to live with it."
Cristina Oliva: This was not Oliva's night from the field, knocking down only four of her 10 attempts and missing all four tries from deep, but she still found ways to positively impact the game with her defense, effort and offensive gravity. She too was dinged for four fouls, but she drew four of her own and can compromise the defense with just the threat of a dribble drive. Utah State needs opponents to respect her game even on off nights, and she pulled that off here.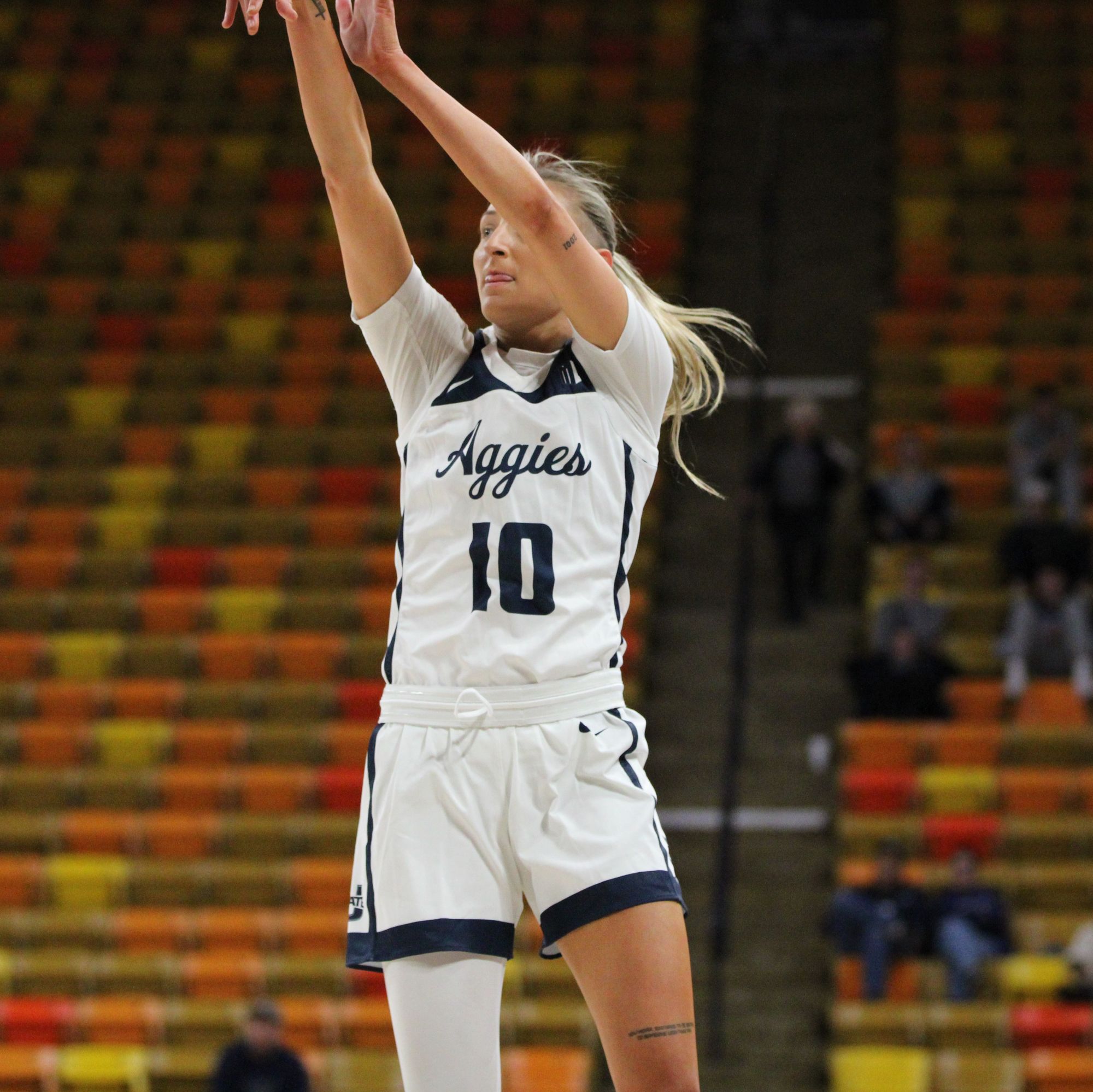 Abby Wahl: Wahl hit five of her six shots, grabbed 15 rebounds and was called for only two fouls despite continued involvement with defending in the post. Utah State doesn't need her to be a star, it just needs her to contribute performances exactly like this one with reliable defending, power on the boards and enough on offense to keep the defense honest.
Quotable
"It's exciting any time you get a win. (It was great) to be in front of the crowd again, like (Ryan) Odom says you can smell the popcorn – well, I couldn't really smell the popcorn but I understand his sentiment – it's nice to be out here in the Spectrum in front of our fans, to see the kids get some play together. We're a little short-handed because of injuries but it was really nice to see them come together.
"I thought we played about 33 minutes of good basketball. We got a little lazy or tired there at the end, but I'm really proud of the effort that we put in, loved our defensive effort. That's been a huge focus for us so I was really pleased with that and the overall performance." – head coach Kayla Ard
Stats Of The Game
20: Utah State had nearly 30 more shots on the basket (81 to 53) than Fort Lewis did, and it can credit quite a bit of that to its work on the offensive glass. On top of winning the rebounding battle by 11, 52 to 41, the Aggies snared 20 offensive rebounds to eight for Fort Lewis, bolstered by three from Carvalho, four from Mason and seven from Wahl, who was dominant in the post all game.
"Those kids were doing what we ask them to do, we ask them to crash the boards and they did it," Ard said. "It's about playing hard. This group plays so hard. Rebounding is a big part of what we're doing, defense and rebounding have been major focuses so that's great (to see)."
19: The Aggies also benefitted from 19 Fort Lewis turnovers. Though Utah State forced only seven steals, Fort Lewis had a lot of trouble for much of the game with the Aggie press and struggled to find a groove offensively because of the aggression Utah State had in its on-ball defense. There's room to grow in the press, which Fort Lewis started to find answers for as the game developed, but it's hard to complain about 19 turnovers – which yielded 23 points for the Aggies.
"I thought we got better in the second half, they rattled us a little bit at the end of the first half and we made some adjustments at halftime that helped the players quite a bit," Ard said. "It was good for us. I have a lot of respect for Fort Lewis and its head coach, Taylor Harris. They threw a 2-3 zone, 3-2 zone, press at us and it was really good for us to work against that before we get official games going."
4:59: The game was already well in-hand for Utah State, but the nearly five minutes of scoreless basketball from Fort Lewis in the third quarter bears mentioning regardless of the margin. With 6:22 to play in the third period, Skyhawks' forward Samantha Wattawa cashed in a layup off an Avery Evans pass, cutting Utah State's lead to 51-29.
Fort Lewis would not score again until a pair of Lanae Billy free throws with 1:23 remaining on the clock. During this nearly five-minute-long drought for Fort Lewis, Utah State rattled off 17 points, including three from Carvalho, three from Kinley Falslev-Wickizier, five from Mason, four from Oliva and two from Olivia Wikstrom.
Question To Answer
Utah State is not going to have a ton of success this season shooting as it did against the Skyhawks. The final numbers aren't pretty – 37 percent from the field, 23.3 percent from three-point range – even if you mostly ignore the 3-of-15 shooting output in the final frame when the game was well in-hand and largely turned over to the reserves. Without that cold spell, Utah State would have finished the game shooting 40.9 percent from the field and 29.2 percent from deep. That's still not going to cut it.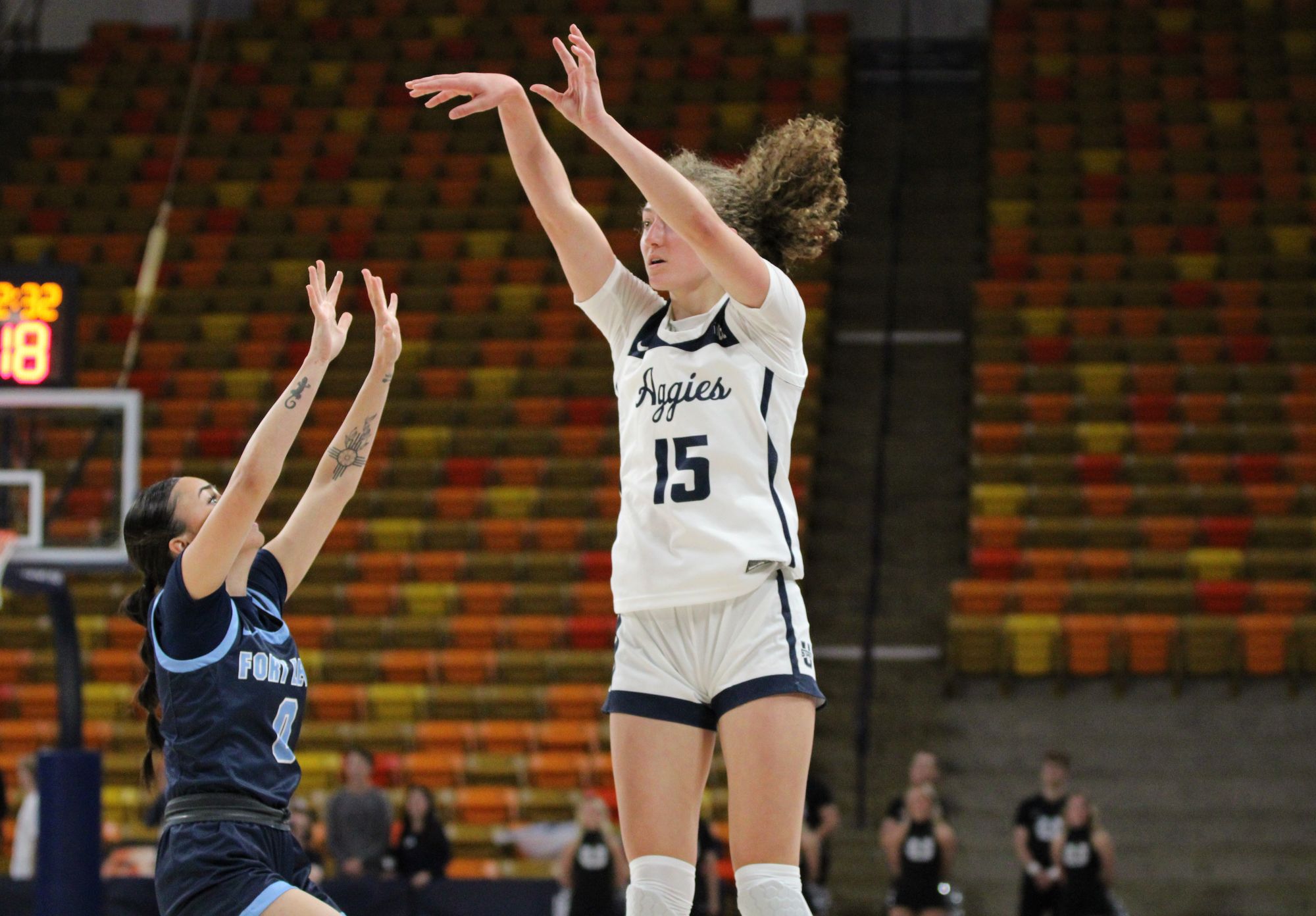 There is cause for optimism, given the shooting histories of several players on this roster, but they're going to need to shake out the jitters quickly with quite a few difficult matchups on the horizon for the opening weeks of the season.
"I think we have some pretty good shooters and were just struggling tonight," Ard said. "We talked about it at halftime, we have to get in the gym more and just settle down. Cris is a really good shooter and her three-point shot just wasn't going in tonight – that'll come around, it was her first game in the Spectrum.
"But, Tamiah's were going in tonight and Kinley had a few. It'll get better, but that was the focus at halftime, I think we were shooting like 16 percent from three and we talked about it but we'll keep getting better."
Emptying The Notebook
Utah State was without Prima Chellis, Natalie Fraley, Mayson Kimball and Ashya Klopfenstein, but Ard indicated that none are dealing with serious injuries. The Aggies expect to be at full strength for the regular season opener on Nov. 7.
"They'll be back very quickly," Ard said. "Nothing serious, we'll have them back pretty quickly here."
Your starters for the Aggies were, from PG to C, Carvalho, Robinson, Wikstrom, Wahl and Mason. Mason was the first to leave the floor, substituted for Tiairra Hill-Brown, followed by Wikstrom who left the floor for Oliva. Mason replaced Wahl and Lillian Harris replaced Hill-Brown a little later.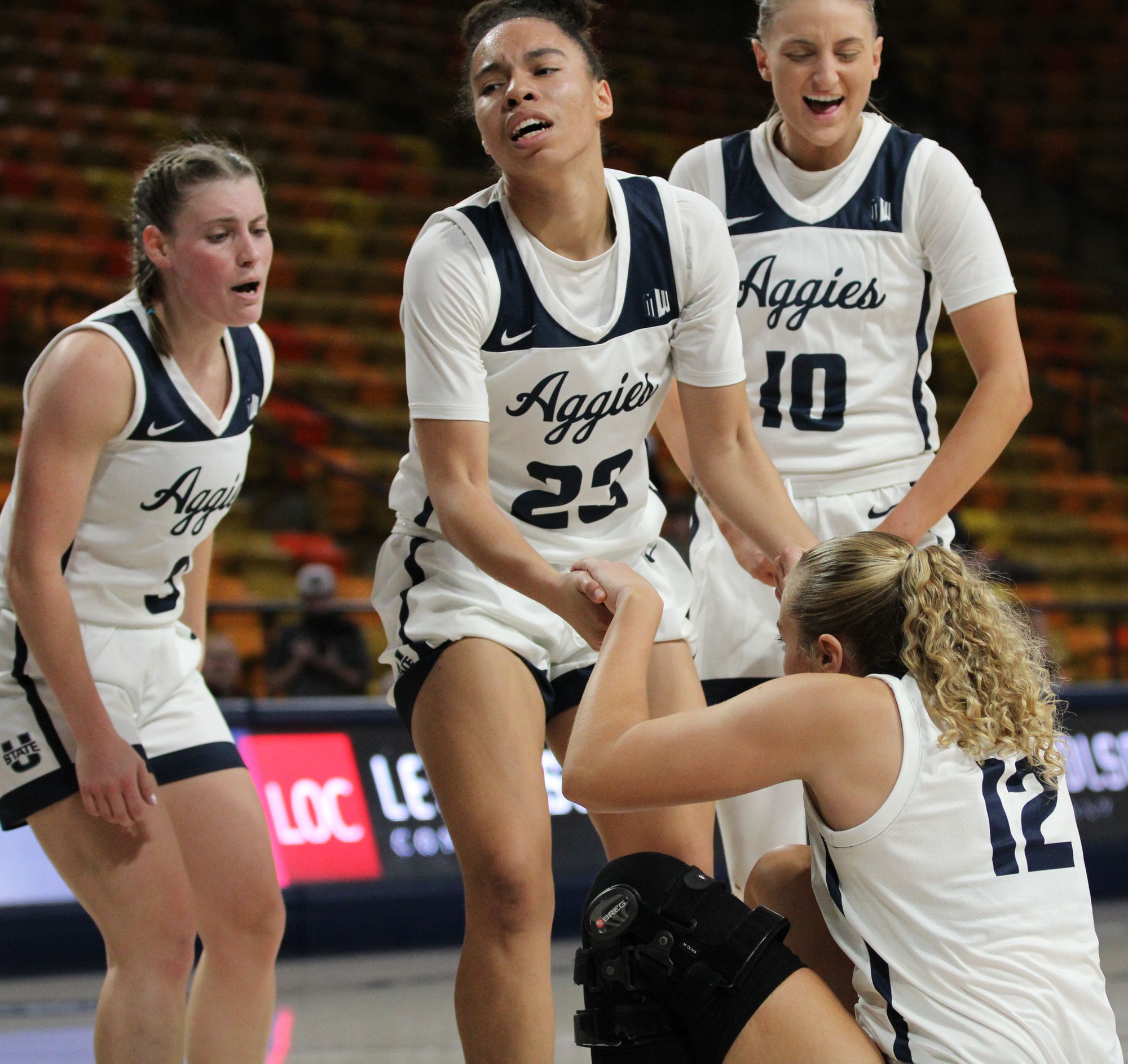 Utah State had at least one of Carvalho or Robinson on the floor for the entire first half and didn't deploy a lineup without either until 6:50 left in the final frame when they left the floor for Isabella Tañedo and Wikstrom. It was the former's first entrance into the game and a pretty strong reflection of Utah State's guard rotation. Carvalho and Robinson lead the way and, health permitting, at least one will be out there for any minutes that count this season.
They were joined in the starting lineup's backcourt by Wikstrom, but she's a lot less established at this point. I would expect that she'll split time pretty neatly with Oliva, who can play any of the three guard spots but looks most comfortable playing off the ball. Falslev-Wickizier was the next guard in minutes logged (13:00) with Tañedo rounding out the group (4:40). Kimball will factor into the rotation somewhere, probably as the leader of the second unit at point guard.
In the frontcourt, the picture is a little bit blurry. Klopfenstein is going to be a factor for this team and it's not entirely clear at this point where she will slot in relative to the rotation shown against Fort Lewis. Mason and Wahl got the start and led all forwards in minutes, the Mason drew only 18:40 to Wahl's 28:59. Harris was nearly equal with 18:35 and Hill-Brown racked up 13:46.
Wahl's status is established. The rest of that group doesn't seem to be, at least at this present juncture. We'll see where everyone lands when everyone on the roster is available.
The Aggies will open the season on Nov. 7 at 3 p.m. against College of Idaho. If the school record books are correct, this will be the first matchup between the two teams. The Coyotes are members of the Cascade Collegiate Conference at the NAIA level and return head coach Janis Beal for her fourth season at the helm. They were 16-15 a year ago with a first round in the league tournament, an improvement from a 4-14 finish in 2020-21 and a 12-18 showing in Beal's first season.
College of Idaho returns 2021-22 leading scorer forward Sienna Riggle (13.3 PPG), leading rebounder guard Lexi Mitchell (9.9 RPG) and assists leader guard Taryn Riley (3.1 APG) and has only two major contributors – Kaylee Krusemark (8.7 PPG, 3.1 RPG, 1.1 APG) and Allie Cannon (8.2 PPG, 3.6 RPG, 1.1 APG) – to replace.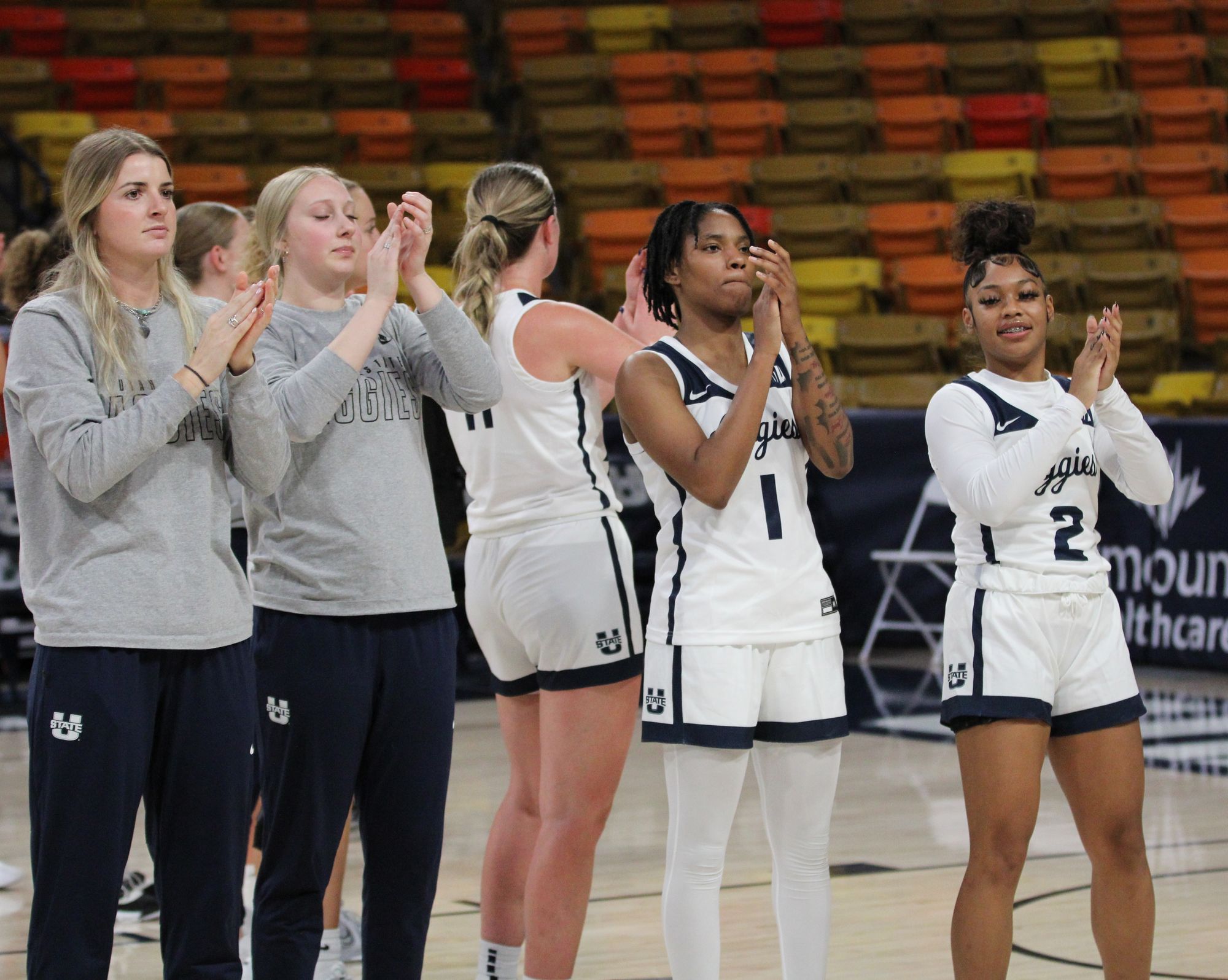 "I thought it was pretty good," Ard said. "There are a couple of kinks to work out, as there should be with 12 new players. I'm really proud of them, they stayed together. I didn't see any moments where we looked like we were breaking apart, which we're always looking out for. I'm proud of the chemistry they've built on and off the court, we've really worked on that."