Utah State Women's Basketball 2022-23 Season Preview
With as many new players as the Utah State women's basketball team touts, its possibilities are just about endless. Season preview: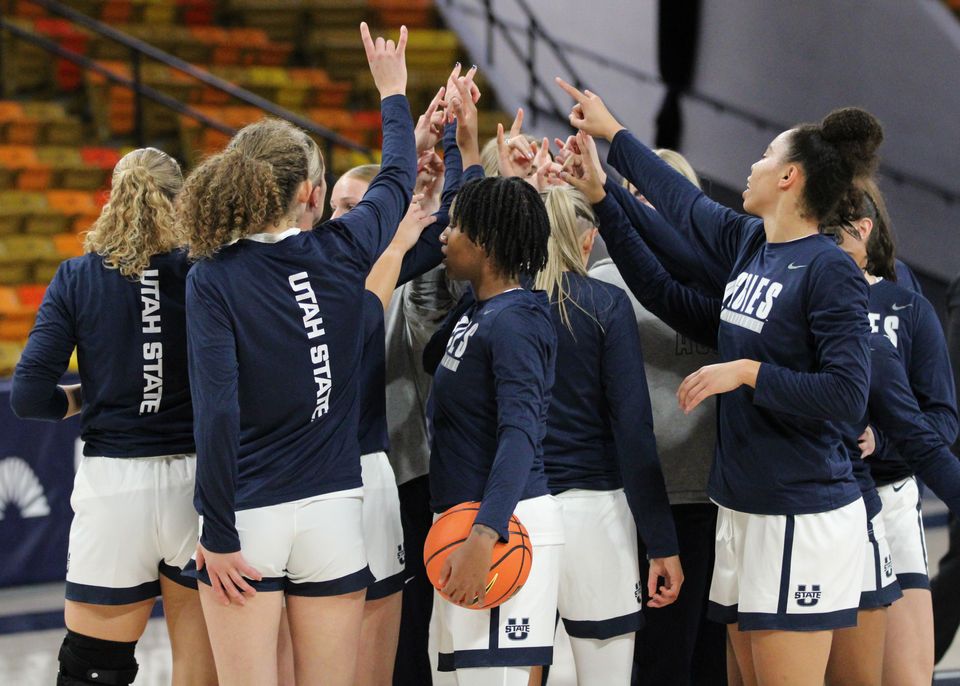 Utah State's greatest strength and largest question to answer as it enters its third season under the direction of head coach Kayla Ard are one and the same. There's no point in muddying the waters by starting with anything but the defining storyline for this team.
Last season, Utah State went 11-19 with a 5-13 record in the very strong Mountain West. It was a marked improvement from Ard's opening stanza, a 4-20 campaign in the bizarre, COVID-altered 2020-21 season, but it was only one step in an extensive rebuild.
Those Aggies were led by something of a rotating cast of contributors – seven players drew at least 10 starts and 11 members of the team logged at least one – but found much of their production from a burgeoning core of talent.
Junior Adryana Quezada led the team in scoring (15.2 PPG) and rebounding (7.9 RPG). Senior Kaylin Randhawa led the backcourt with 11.9 PPG, 4.9 RPG and 2.5 APG. Junior Shyla Latone easily led the team in three-point shooting and pitched in 10.8 PPG. Senior E'Lease Stafford did a little bit of everything, leading the team in blocks while averaging 9.3 PPG and 6.3 RPG (second only to Quezada).
Graduate senior Laci Hawthorne was an active rebounder out of the frontcourt as well, snaring 4.9 RPG (tied for third on a per-game basis with Randhawa). Emmie Harris and Manna Mensah rounded out the top group as members of the backcourt, the former easily leading the team in assists with 92 on the season (3.3 APG) in her fifth season as an Aggie, setting the career games record for the program (139) in the process.
Four of those seven are set for another year of collegiate play this season. None of them will be doing so in Logan. Quezada is now with San Diego State, where she's considered one of the leaders of the No. 5 team in the MWC preseason poll. Randhawa moved on to Sacramento State; Latone is with Cal State Fullerton; Stafford moved back home to Kansas and will suit up for Kansas City. Harris graduated, Hawthorne is playing professionally and Mensah entered the transfer portal in April, though she's not listed on any rosters ahead of this season.
Among the rest of the roster, junior Faith Brantley entered the portal but was also seemingly without a landing spot; junior Kamalu Kamakawiwo'ole returned home and is listed on Hawai'i Hilo's roster; sophomore Amit Lustgarten is now with Los Angeles Trade-Technical College; sophomore Meagan Mendazona departed for UT Tyler and sophomore Halle Nelson transferred to Utah Valley.
In total, Utah State lost 10 members of its roster to the transfer portal (eight of whom are accounted for with new programs) and three to graduation. It also had three coaches to replace, losing Taylor Ignoto to South Dakota, Jauwan Scaife to Ball State and Marc Wilson to Queens University.
You probably know all of this already, but it bears putting into some perspective ahead of the start of Utah State's grand experiment that is the 2022-23 roster and season. The Aggies have 12 brand new players (down one after the preseason departure of Texas A&M transfer Keslynn Oxendine) and three new assistant coaches.
Ard remains, as does director of basketball operations Claire Gritt and a pair of junior guards, Kinley Falslev-Wickizer and Olivia Wikstrom. That's all. Utah State added six transfers, three JUCO products and three freshmen. The vast majority of the lineup will be comprised of new faces, many of whom will be playing their first division I college basketball when Utah State takes the floor against College of Idaho on Nov. 7.
All of this can be painted as, well, whatever you would like to paint it as. It's natural to have some concern about that much turnover after what seemed to be a year of improvement, especially with the number of contributors who will be playing college basketball for other programs this season. Utah State has spent the offseason painting it as a fresh start, a chance to begin anew for Ard after two years of learning in her first head coaching position.
"I don't know that many people get the opportunity (to bring in basically a new team) after they've been a head coach for two years, to get a clean slate and start over," Ard said. "These two years have been a huge learning experience, going through the Mountain West as a first-time head coach. I felt really lucky to start over, to be completely honest.
"The kids we've brought in, they're fun to be around. That's the first thing I think of. We have some really good talent – some of them have surprised me. I recruited them, so obviously I thought they were good enough to help us, but some of them have really surprised me with their talent level.
"The way they've come together, with their team bonding and chemistry, it's (been great). They're a great group of kids. We don't have drama. I don't want to say we don't have problems because everyone does, but they're just fun. We're having a good time with this team."
The energy of the team as it approaches the regular season has been overwhelmingly positive. Players and coaches alike have talked about a bond on this roster (while perhaps implying a lack of such a bond a season ago with the things they don't say). Utah State played inspired defensively and showed signs of serious potential in its blowout exhibition win over Fort Lewis on Oct. 28. Ard has praised the team's maturity – a good sign for a roster with nine upperclassmen, including six seniors or graduates.
"What you want to do is get to a point where you have all of this leadership and all of these kids who have experience," Ard said. "We have a lot of maturity out there. We have a lot of kids with conference accolades (and experience). There's a lot of maturity and a lot of IQ. They coach a lot of the stuff before we even have time to fix it.
"It's fun to watch them out there and see how educated they are in the game of basketball with the experience they've had. To mix the younger players in with them, it's just really fun to watch them out on the court every day."
None of the preseason narrative setting will have any material impact on the only thing that matters when judging a basketball team's success. Whichever way you choose to view this roster and its creation, the ball will be tipped on Nov. 7 all the same, and from there it will be up to Utah State to write its own story. Here's everything you need to know before the Aggies begin their work.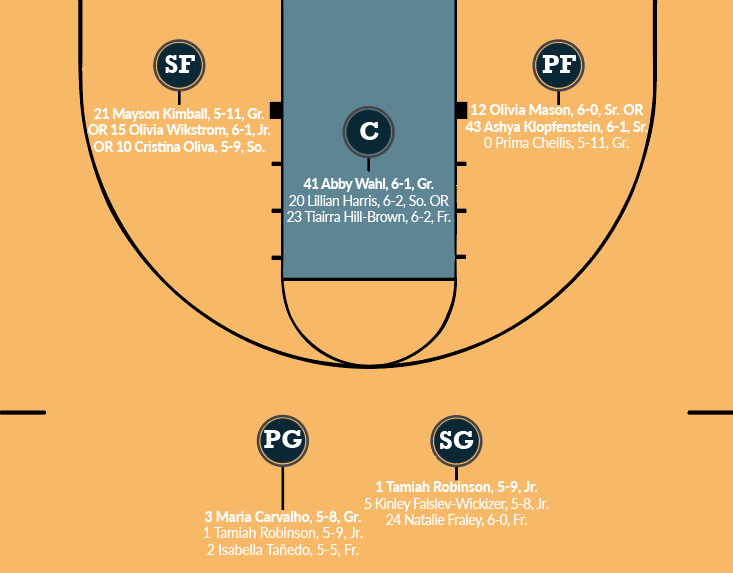 Backcourt Projection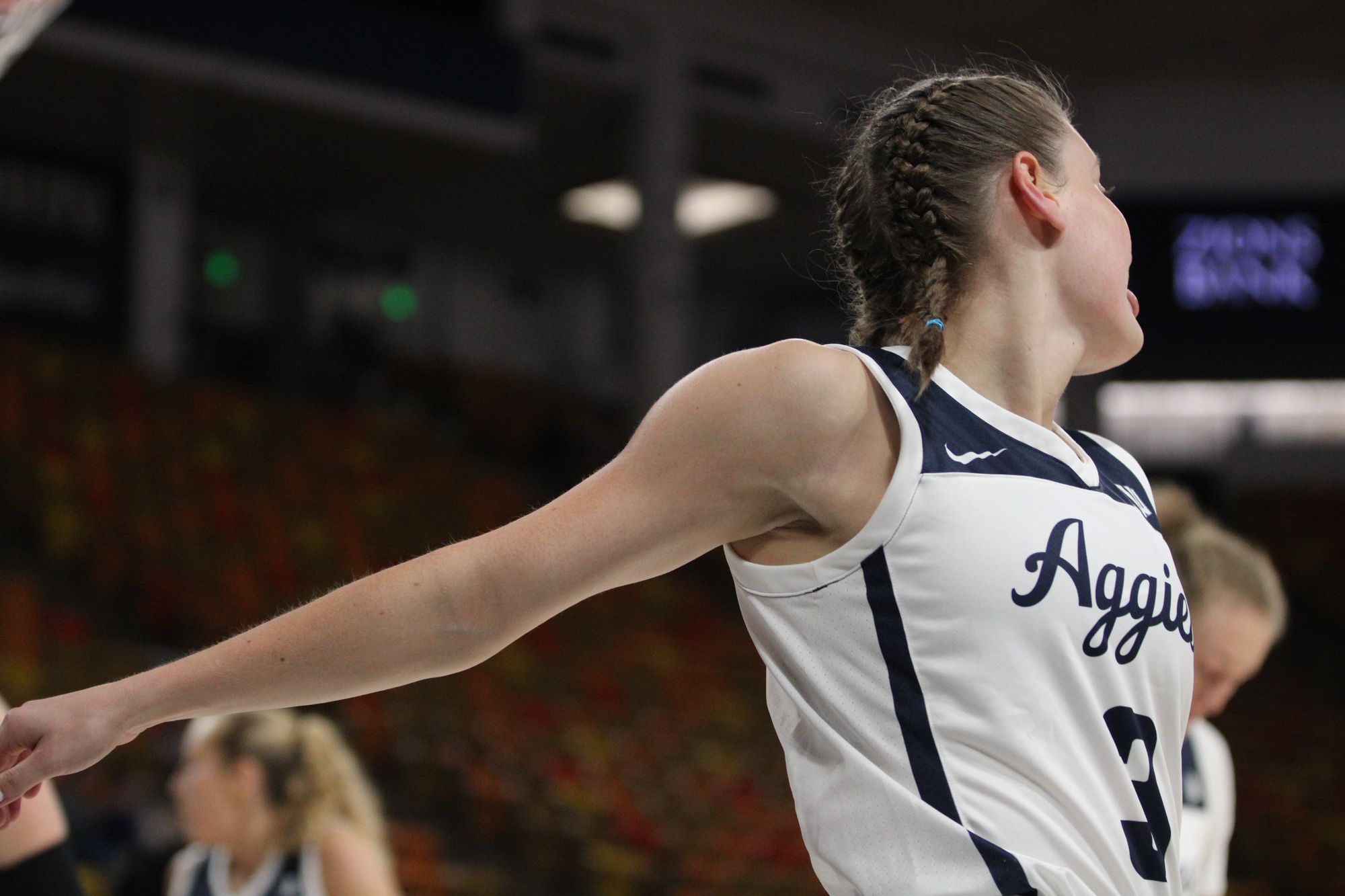 Point Guard: Maria Carvalho, 5-8, Gr., 13.6 PPG/4.7 APG/3.2 RPG in 2021-22 (Utah Valley)
A four-year starter at Utah Valley, Carvalho is the unquestioned leader atop Utah State's lineup. Save for Tamiah Robinson, no one is more established in this lineup than Carvalho. She's appeared in more than 100 games (104) in her career, leading the Wolverines to their first NCAA tournament appearance in the shortened 2020-21 season.
For Utah State, Carvalho's position is well-established. She'll shoulder the majority of point guard duties, directing the offense and defending opposing primary ball handlers – which she has specific comfort with, twice earning WAC all-defensive team honors.
Carvalho isn't the most dynamic scorer on the team, but she's plenty willing to put up shots. She was second in scoring for the Wolverines a season ago and led the team in both field goal and three-point attempts – though Utah State would love to see her improve on a 37.3 percent hit rate from the former and a 33.3 percent mark in the latter.
"I see myself as a leader," Carvalho told The Aggship. "I'm the point guard who talks a lot. I can assist, I can score, I can do everything. And I like to trust my teammates and know that they trust me. When we have that relationship, I know I can count on them on the court."
Tamiah Robinson, 5-9, Jr., 12.6 PPG/5.1 APG/1.4 SPG (Labette CC)
Robinson will probably spend a bit more time at shooting guard than she will here, but Utah State used her and Carvalho almost exclusively as ball handlers against Fort Lewis. Her full write-up is in the shooting guard section, but you won't see many lineups this season without No. 3 or No. 1 at point guard.
Isabella Tañedo, 5-5, Fr., 2.9 PPG/1.5 APG/1.4 RPG (St. John's College HS, stats per MaxPreps)
If needed as a depth piece, Tañedo will be available. A true freshman from Laurel, MD., she's comfortable leading an offense and offers a quick burst off the dribble. Utah State would probably prefer she redshirts this season, though.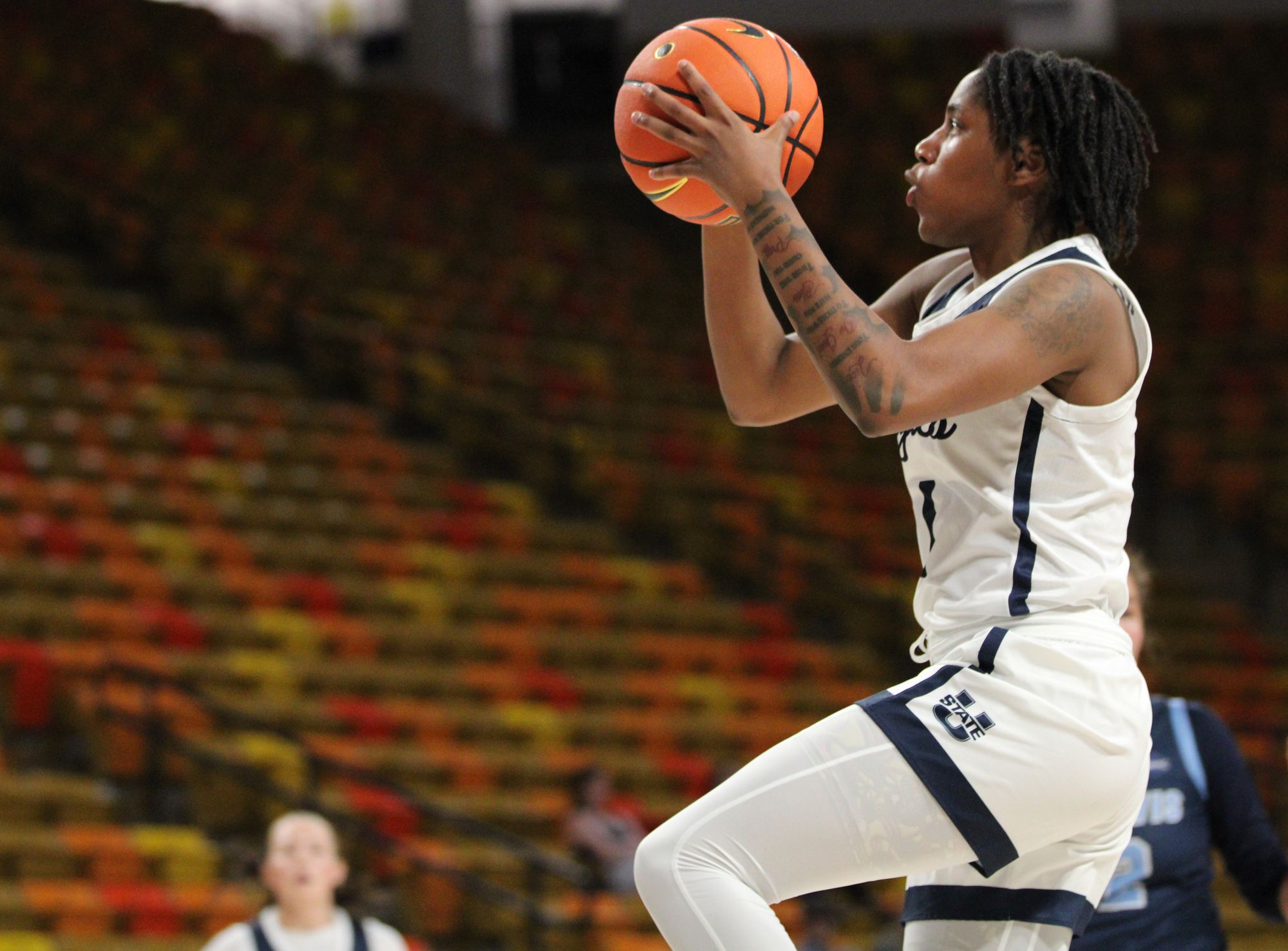 Shooting Guard: Tamiah Robinson, 5-9, Jr., 12.6 PPG/5.1 APG/1.4 SPG (Labette CC)
To steal a phrase from NBA draft writers, Robinson has the deepest bag on the roster. Translation: When Utah State needs a bucket, it's going to give the ball to the Labette CC product. On top of being ridiculously quick, Robinson is an extremely skilled ball handler capable of getting to and scoring from all three levels (post, mid-range, beyond the arc).
Robinson is moving into more of an off-ball role with the Aggies than she filled in her previous spot (though, as noted, she'll still spend plenty of time at PG), which seems to suit her well. She's a very capable shooter (42.4 FG%, 39.0 3PT% in 21-22) and works well off the ball, though she's still at her best when attacking the rim.
"(I see myself) being a leader, being a slasher, making my teammates better and making myself better," Robinson said. "I feel like I will have a chance to grow and mature more here. That's why I picked Utah State over other schools (she also claimed offers from Arkansas State, Central Arkansas, Louisiana and Wichita State)."
Kinley Falslev-Wickizer, 5-8, Jr./1.8 PPG/0.1 APG/0.2 RPG (Utah State)
One of two returning members of the roster, Falslev-Wickizer was used only sparingly a year ago but appears primed for a bigger role in her first year as an upperclassman. She has good size for a guard at 5-8 and has shown a lot of willingness as both a rebounder and a defender. Against Fort Lewis, she notched one steal and blocked a shot in 13 minutes on the floor.
Her playing time will depend largely on her consistency on the other end of the floor. She's shown flashes of shooting ability at the collegiate level and was a very strong scorer at Green Canyon HS, but that has yet to fully translate. There's absolutely a role-player spot available to Falslev-Wickizer if she can continue to grow into the offense, but this spot will be hotly contested. There's no time to waste in proving herself.
Natalie Fraley, 6-0, Fr., 22.9 PPG/4.6 APG/10.4 RPG (Kelso HS)
And here's a major competitor for that backup SG job. A true freshman from Kelso, Wash., Fraley's list of high school accolades could fill an entire preview. She was selected as the Greater St. Helens 3A MVP and the Cowlitz and Lewis County MVP while earning a nod as an all-league honoree, an all-Southwest Washington first-team honoree, a first-team all-state pick (3A) and a member of the all-state second team (overall). She claimed quite a few Kelso HS records before departing for Logan, too.
Her senior year stat line is absurd: 22.9 points, 10.4 rebounds, 6.0 steals and 4.6 assists per game.
Now, we just need to see it at the college level. She missed the Fort Lewis exhibition with a minor injury and will be available with the start of the regular season, but it's just about impossible to place her in this lineup right now because we've never seen her play. If her shooting stroke and physicality at the hoop translate from the jump, she's going to answer those questions very quickly on her way to a consistent rotation role.
Small Forward: Mayson Kimball, 5-11, Gr., 12.0 PPG/1.8 APG/3.9 RPG (Merrimack College)
Like Fraley, Kimball couldn't suit up against Fort Lewis but is expected to return in time for the season opener. Unlike Fraley, there's already quite a bit of information available on Kimball at this level of play. She was a four-year contributor at Merrimack College with 92 starts to her name before transferring this offseason to Utah State. She was second among all Warriors in 21-22 with 12.0 PPG and second in total minutes (808). She averaged at least 10.6 points per game in all four seasons with Merrimack and checked in with at least 4.8 rebounds per game in three seasons.
Utah State didn't pull her out of the transfer portal to be a bench contributor. At her best, Kimball is a very active rebounder and defender who can comfortably slot in as a team's No. 2 or No. 3 scorer.
The challenge for the Aggies will be returning Kimball to her best. She averaged a career-low 3.9 RPG last season and struggled mightily from the field, shooting 33.6 percent overall and 29.0 percent from deep – a far cry from her excellent freshman campaign, in which she shot 43.6 percent from the field and 36.7 from downtown. Her defense regressed, too. She put up a 99.3 defensive rating and -0.1 defensive win shares, both the lowest of her career (she set highs in each as a sophomore with an 83.6 rating and 2.2 defensive win shares).
If she can return to that kind of form with the benefit of more scorers around her, Utah State will have found quite the gem. If she's still pressing to score, though, the Aggies may need to intervene.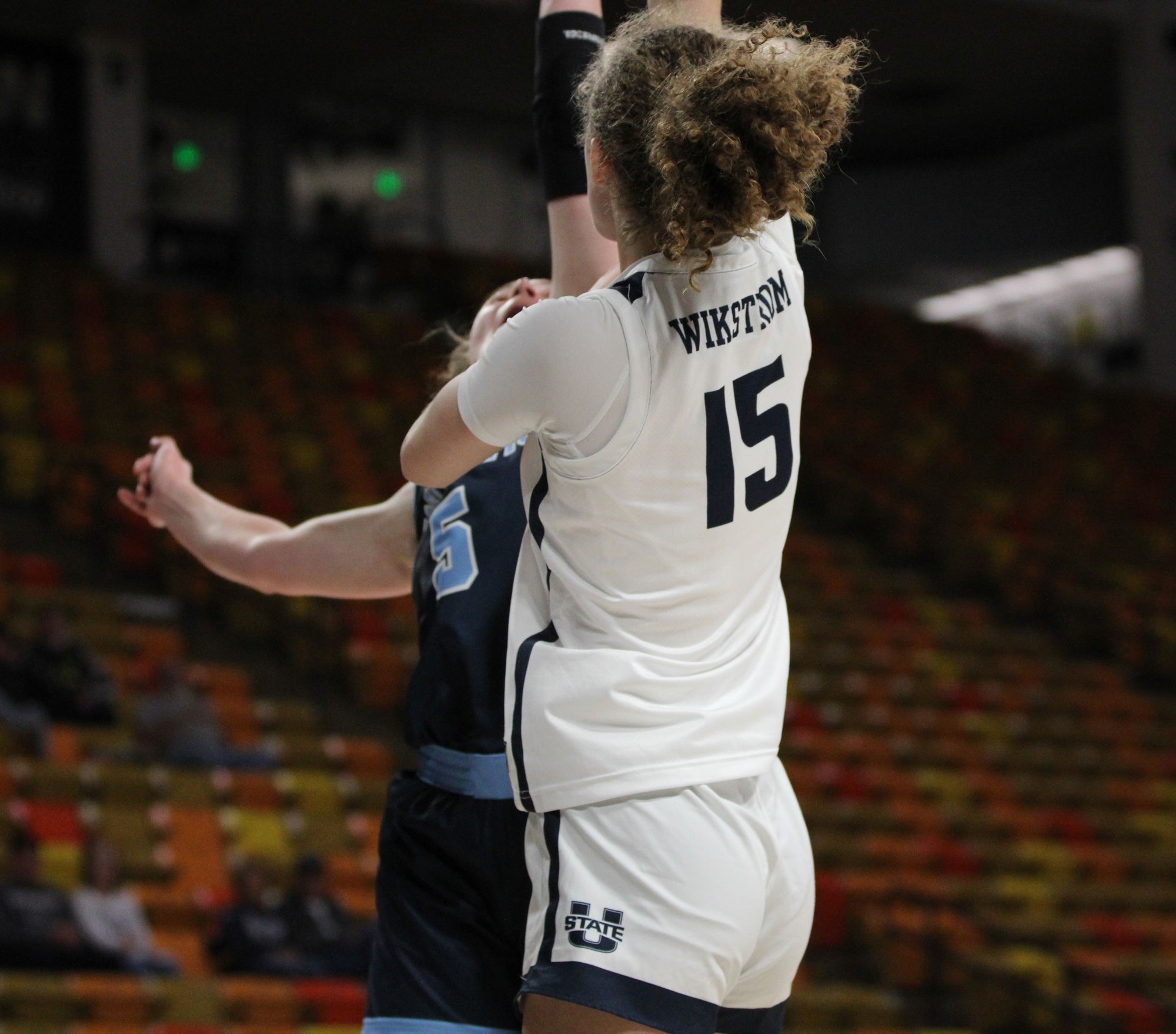 Olivia Wikstrom, 6-1, Jr., 4.5 PPG/0.9 APG/2.9 RPG (Utah State)
Falslev-Wickizer was the first of two returners, and Wikstrom is the second. She too played sparingly last year, though she found a bit more playing time than her counterpart and managed to make an impact specifically as a rebounder. Quite a bit more is expected this season.
Touting rare size for her offensive skill, Wikstrom can fill a lot of roles for this Utah State team if she's ready to take that step. She's a capable shooter – a rough showing in the exhibition notwithstanding – and has no issue with working her way to the hoop, on or off the ball.
Utah State knows she can rebound, and there's no reason to think that she won't continue to improve defensively with the benefit of her length. It's a big if, but if she's able to knock down shots with some consistency she'll be a major piece of this lineup.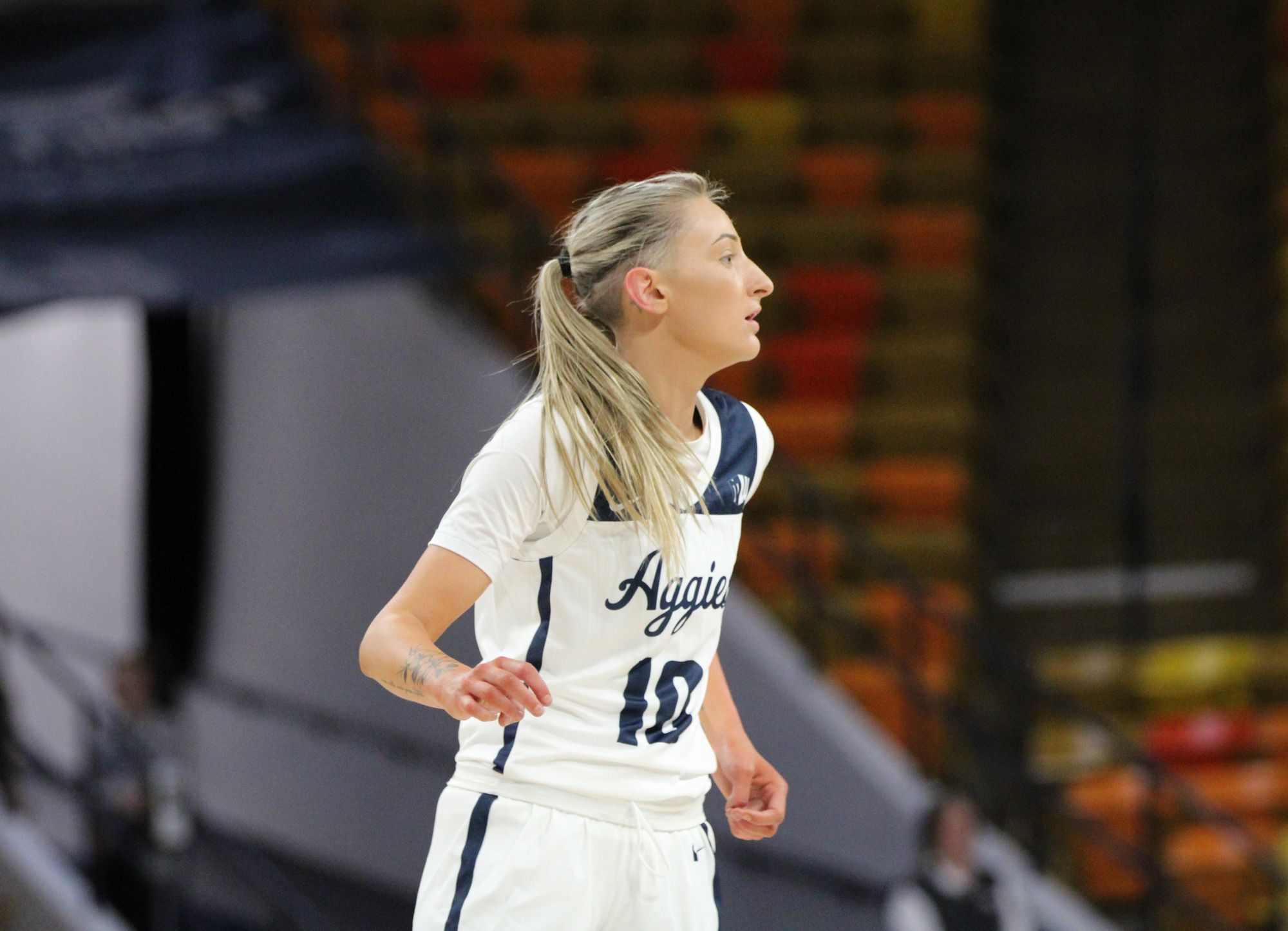 Cristina Oliva, 5-9, So., 15.4 PPG/1.4 APG/4.5 RPG (Sierra College)
Here's your wildcard. A sophomore who played last season at Sierra College, Oliva may very well be the most intriguing player on the entire roster. She's an extremely natural and gifted scorer at all three levels, owning the smoothest jump shot on the team and seemingly endless confidence in her ability.
"Cris Oliva is a huge scorer for us, we were really lucky to get her," Ard said. "She was a late signing for us. She's a captain, great kid, she has that chip on her shoulder and knows how to score at all three levels. She's smart, fun, good teammate, easy to coach and wants to be coached so she brings a lot to us, especially offensively and in leadership.
"I know she has my back, I know she trusts me. That's a great feeling as a head coach, and she gets that in return from me. We have a really good relationship and I'm excited to see what she can do out on the court this year. She had a great year at her junior college and I think she's going to carry that over to Utah State."
You know the word coming next. She would be a sure-thing starter if not for the word coming next.
But, this all still needs to translate to the DI level. Oliva is one of the younger players on the team and she's looked it in the extremely small sample size available to this point (one exhibition, one Aggie Madness and one practice I attended to photograph). Her shot has yet to fall, and her game just doesn't work if her shot doesn't fall.
Utah State has a lot of confidence that her shot will start falling. It's a very fair assumption, given her accomplishments at Sierra College. We still need to see it.
Frontcourt Projection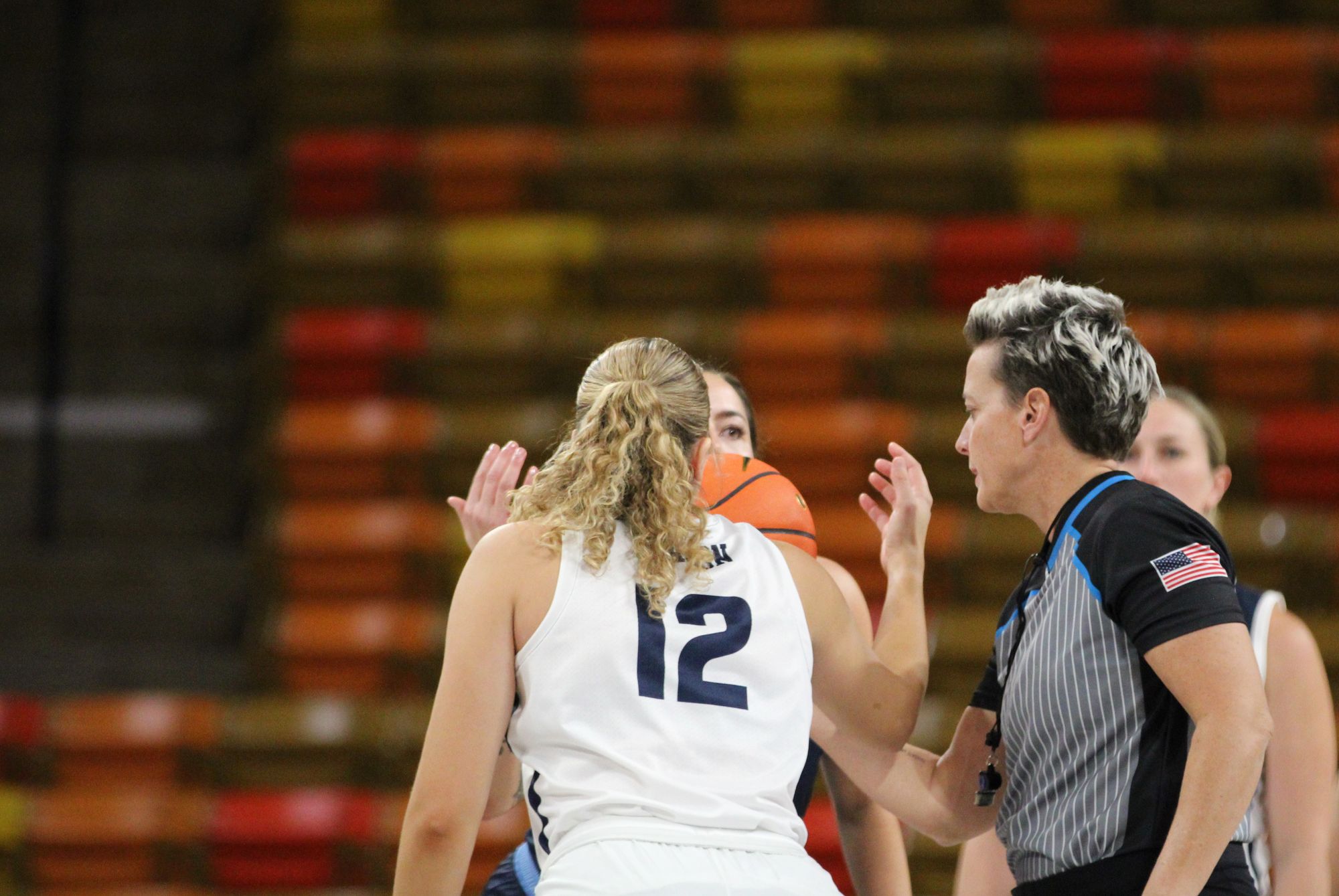 Power Forward: Olivia Mason, 6-0, Sr., 6.9 PPG/5.8 RPG/0.9 APG (Niagara)
The book on Mason has been just about written after 48 games and 43 starts at Niagara before her transfer to Utah State. She has next to zero interest in shooting from beyond the arc – when she knocked down a long two-pointer against Fort Lewis, the USU bench reacted as if the world was coming to an end – and does most of her work offensively either off a rebound or directly off a pass.
She's strong through contact and is a nice piece to have in the paint, but she's served exclusively as a complementary player offensively throughout her career. Utah State has no qualms with that. The Aggies tapped Mason in the portal for her rebounding and defensive acumen. She recorded sub-87.5 defensive ratings (good) in each of her last two years at Niagara while logging a 13.7 percent total rebound rate (very, very good) in 21-22.
The Aggies have scoring options elsewhere. Mason is here to work the boards and defend the paint, and there's no reason to doubt her ability in either category.
Ashya Klopfenstein, 6-1, Sr., 8.1 PPG/5.3 RPG/0.6 APG (Robert Morris)
Mason drew the start against Fort Lewis with Klopfenstein sidelined with (another minor) injury, but it may very well be the Robert Morris transfer who ultimately earns the starting power forward job this season. She established herself as a tremendously well-rounded player in one season with the Colonials, starting in all 24 games she played and contributing in every category.
As a scorer, Klopfenstein has a lot in common with Mason. She's not a shooter and does most of her work off assists or rebounds – though she has shown a bit of post-move prowess. As a rebounder and defender, she's similarly strong.
On the boards, she racked up a 13.6 percent total rebound rate (with an excellent 19.8 percent rate for defensive rebounds). Defensively, she notched 1.6 win shares while her 81.9 defensive rating put her in the 92nd percentile nationally. Both Klopfenstein and Mason can play either frontcourt position and ultimately the starting spot here won't really matter, but either player has a case to claim it.
Prima Chellis, 5-11, Gr., 6.4 PPG/5.1 RPG/1.5 APG (SIU Edwardsville)
Chellis was the fourth and final Aggie not to play in the exhibition. A rotational player at SIUE, the Phoenix product was a National Junior College Athletic Association (NJCAA) Division II third-team All-American in 2019-20 after averaging 20.9 points and 9.6 rebounds per game with South Mountain Community College.
Her role for this team is... a bit of a change of pace from that. She's an extremely valuable leader for the team, providing constant energy and positivity, but her position in the rotation is overwhelmingly unclear at this point. Utah State has a lot of talent in the frontcourt and it seems Chellis may do most of her work as a leader for this bunch.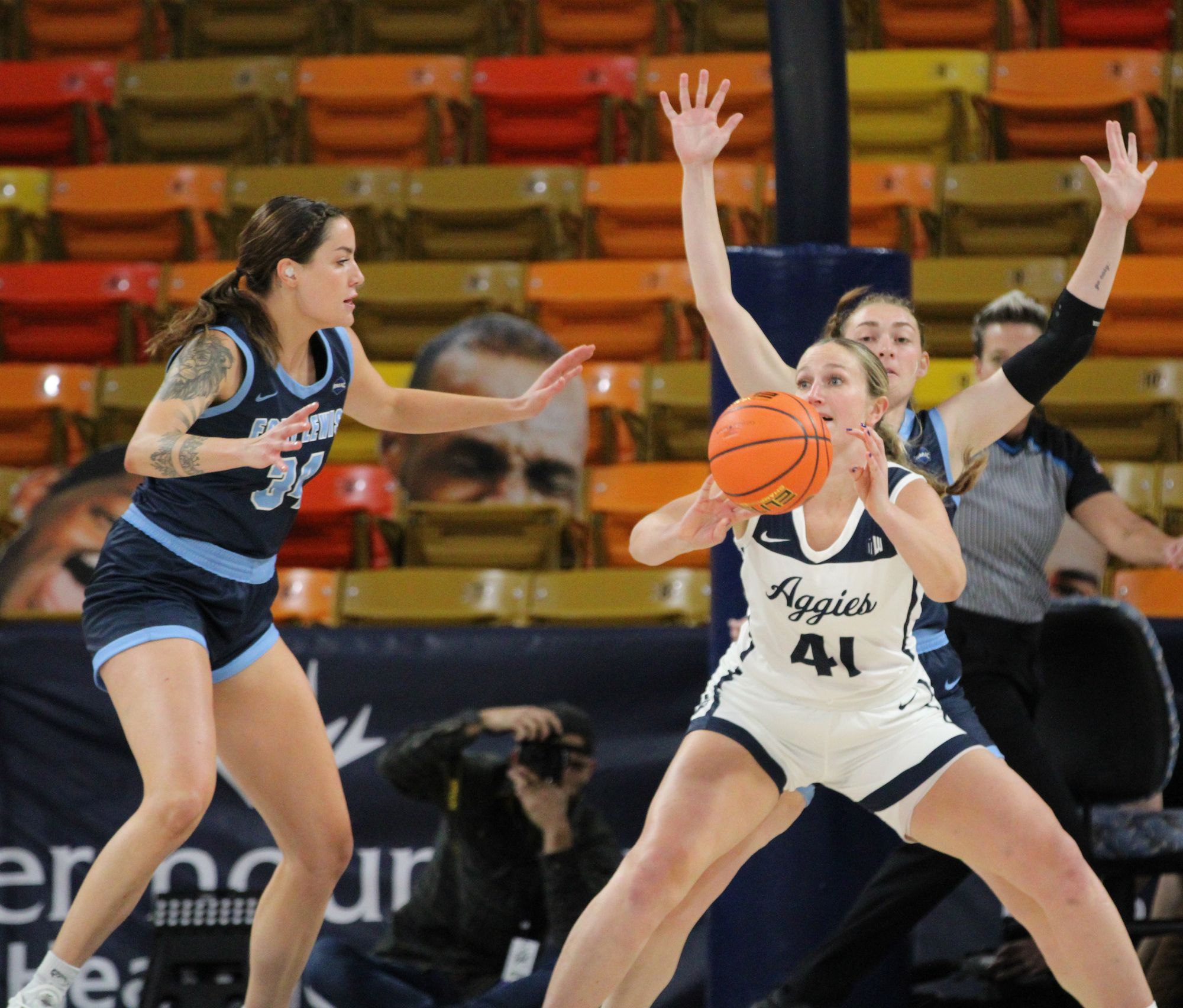 Center: Abby Wahl, 6-1, Gr., 11.5 PPG/5.8 RPG/0.6 APG (Eastern Illinois)
It's not a direct comparison, but the easiest way to define Wahl's role on this team is to liken her to the frontcourt's version of Carvalho. A four-year player at Eastern Illinois with 98 starts to her name, Wahl is a very skilled post scorer (and a great free throw shooter, which always makes the fans happy) and a crucial part of Utah State's offensive plans. These Aggies would like to go fast and rain shots from deep, but they're not ignorant to the value of a dominant post player.
For much of her time at EIU, Wahl was exactly that. She carried the Salukis as a scorer in 2020-21 and handled herself very well in more of a secondary role a season ago – which is closer to what she'll be asked of with this team. If Wahl is shooting about 10 times, hitting 46.4 percent of those shots and contributing 11.5 points per contest, Utah State will be thrilled.
And that's not to mention her ability as a rebounder, which was on full display with a 15-rebound performance against Fort Lewis. Wahl isn't quite as strong defensively as some of her counterparts at power forward, but she can more than hold her own on the boards and will be a staple for the Aggies in the post.
Lillian Harris, 6-2, So., 5.6 PPG/4.2 RPG (CCBC Essex)
Harris wasn't the first player off the bench in the post for Utah State against Fort Lewis, but she led all bench players in minutes and looks to be a major player in the frontcourt for the Aggies. She helped CCBC Essex to a 36-1 record last year and drew interest from Utah State for her prowess on both ends of the court (stop me if this sounds familiar).
Like the other young members of this team, she will need to prove herself at this level. But she looked the part in her first action, and Utah State isn't too deep at center to keep her out of the rotation in some form.
Tiairra Hill-Brown, 6-2, Fr., 17.0 PPG/12.0 RPG/4.0 APG (Ed W. Clark HS)
Here's your first player off the bench for that exhibition game. Hill-Brown enters her first year at Utah State with just about as much acclaim as classmate Fraley does, winning a 4A Nevada State title and earning a nod on the All-Southern Nevada first-team while being named All-Mountain Conference MVP as a senior.
She didn't score in her debut (unofficial), but she did snare four rebounds with an assist in just under 14 minutes played. Like Fraley, Utah State is extremely optimistic about Hill-Brown's long-term outlook. However, the comparison continues beyond optimism and into the key question: How quickly can it translate? Utah State would love to be able to rely on Hill-Brown in the post, but it's always a matter of establishing trust for true freshmen.