WBB Game Notebook: Late Surge Dooms Utah State
The effort was there, but Utah State couldn't find the points needed down the stretch to knock off Arkansas State. WBB Notebook: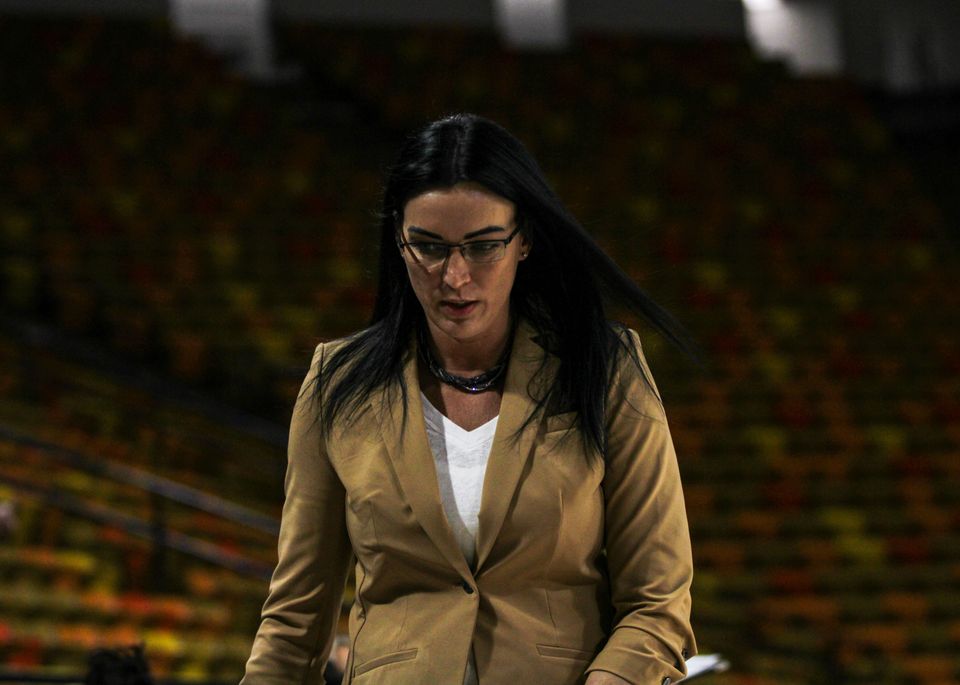 Notes, quotes, thoughts and other quick hitters from Utah State WBB's 63-57 loss to Arkansas State. Let's not waste any time.
Game-Changing Moment
This one started to flip on Utah State early in the second quarter. The Aggies flew out to a big lead at the end of the first quarter behind the strength of an 11-0 run, ending the frame with a 23-11 lead. They looked positioned to sustain it through the first minutes of the second period, building out a 29-17 lead when Olivia Wikstrom knocked down a three-pointer with 6:04 to play in the quarter.
This matchup's game-changing moment was the sequence that followed. After an Arkansas State miss, Utah State had a chance to extend the lead even further. It couldn't take advantage, missing a layup and returning the ball to the Red Wolves. They found their way back onto the board with a Melodie Kapinga layup, cutting the deficit to 10 points.
Arkansas State struck again to break nearly two scoreless minutes from both sides, splitting a pair of free throws after Maria Carvalho was called for her second foul and repeating that effort at the line on the following position – this time with Abby Wahl picking up her second foul. Keya Patton hit a layup to cut the lead down to six and drilled a jumper and a free throw to bring it to five after a Utah State basket before Izzy Higginbottom closed out the half with a layup.
The Aggies lost the last six minutes of the second quarter 11-2, shot 1 of 8 from the field, turned the ball over six times, and were called for six fouls. It wasn't even an especially strong run of play from Arkansas State, Utah State just couldn't find anything to rely on offensively and couldn't hold onto the ball. The Aggies won the other 34 minutes of the game, 55-52, but they've struggled to play the full 40 minutes all season and it came back to bite them again in Jonesboro.
When It Was Over
Despite ample opportunities in the final frame, Arkansas State was never quite able to pull away. The Aggies turned a 13-point deficit with 6:22 to play into only a two-score game with 2:12 to play thanks to three-pointers from Tamiah Robinson and Wikstrom, a trio of free throws, and some of their best defense of the day.
After Patton missed a try at the rim, Utah State held possession with the pull within one score and a little under two minutes to play. It was over when the Aggies couldn't find one or two more baskets. Their ensuing possession ended with a near-miss from deep for Cristina Oliva. She made up for it on the other end, jumping a pass with just over a minute to play, but Utah State again couldn't put the ball in the hoop.
A Mayson Kimball jumper went begging, Arkansas State's Anna Griffin snared her 14th rebound of the game and the Red Wolves iced the game at the free-throw stripe. For the second time in three games, an impressive comeback effort from Utah State came up only a few buckets short of yielding a result. The fight the team has shown is very encouraging, but they're going to need shots to start falling in moments like these.
Aggie Of The Game
Wikstrom has been pretty quiet to start the season. She entered this game averaging 7.0 PPG on 7-of-22 shooting (31.8 percent) and with only one make on eight three-point tries. She'd been a competent defender and a member of the rotation but had not done a ton to load up the stat sheets.
That changed in Jonesboro. Wikstrom shot 5 of 9 from the field (3 of 3 from deep) and scored a game-high 16 points – her highest output since the second game of the 2021-22 season (21) and only her third double-digit outing since – to go with 10 rebounds.
She slowed down a bit in the second half, scoring 10 of her points in the opening two quarters, though the entire team slowed down offensively in the second half. Utah State would love to rely on her as a consistent scoring threat off the bench down the road, her height is difficult for wing players to defend on the perimeter, where she did her best work on Saturday.
Other Standouts
Tamiah Robinson: Robinson added a double-double of her own with 10 points and 10 rebounds along with five assists and a pair of steals. She fouled out with a few minutes to play, and would certainly prefer to shoot a little better than 4 of 13 from the field, but she had only one turnover and was generally a positive contributor when she was on the floor.
Abby Wahl: Save for four turnovers, Wahl handled a difficult assignment well. Arkansas State touts a lot of size with Griffin and Kapinga – the latter of which was designated as Wahl's primary responsibility – and Wahl held her own as Utah State's only true frontcourt player to log more than 11 minutes. Griffin caused a ton of problems, but Kapinga finished with eight points and three rebounds to eight points and nine boards for Wahl. She's doing the best she can with what she has and needs more help down low sooner than later.
Stats Of The Game
23.7%: Utah State's three-point shooting has been, largely speaking, solid this season. The Aggies are 36.2 percent from deep for the year and knocked down 10 of their 22 tries against the Red Wolves (45.5 percent). That's not the shooting issue to worry about – the rest of their shooting profile is.
USU was 9-of-38 shooting from two-point range in this game. Specifically for layups, of which Utah State had 24, only six found their way to the bottom of the net. That's 25 percent. For the whole season, Utah State is now hitting its two-pointers at a 35.9 percent clip. Against only Division I teams it drops to 35.1 percent, good for No. 328 nationally.
Carvalho was 0 of 9 from two-point range. Robinson was 2 of 9. Prima Chellis, Kimball, Olivia Mason and Oliva combined to shoot 2 for 10. It just can't happen.
21: Like the struggles from inside the arc, turnover issues are becoming a trend in the early season for Utah State. It had 21 here, which Arkansas State turned into 12 fastbreak points and 15 total points off turnovers. The Aggies had zero and four points in those categories, respectively. More troubling yet is that Arkansas State had only nine steals – meaning the majority of these were unforced errors. It's something that might be fixed in time as the team jells, but it's a major concern at this juncture.
7: It's not a full-on storyline yet, but it's something to monitor here: Utah State played only seven players for more than 11 minutes in this game. Mason had 11 while Chellis and Isabella Tañedo played four minutes each, leaving the remainder of the time on the floor to the top seven of Carvalho (38), Wahl (35), Robinson (33), Kimball (30), Wikstrom (27) and Oliva (18).
This is still a team working through injuries, and the rotation likely will not look like this as those begin to clear up, but it's still worth keeping an eye on right now.
Emptying The Notebook
Utah State will return to the floor on Nov. 23 at 2 p.m. against Ball State. The Aggies are back home briefly for this matchup before heading right back out for the second leg of this road trip at USC and Weber State. The Cardinals are currently 2-2 and enter the matchup fresh off a blowout loss to No. 9 Notre Dame. A win here would be very, very helpful for Utah State.
The Aggies and Cardinals had their first-ever matchup last season, an 81-55 loss for Utah State in Muncie. It will look to get some revenge here in the second half of this home-and-home series.