WBB Game Notebook: Turnovers, Second-Chance Points Sink USU
Utah State WBB's shooting improved, but the Aggies couldn't overcome turnover or rebounding woes in a 71-63 loss to Loyola Marymount. Notebook: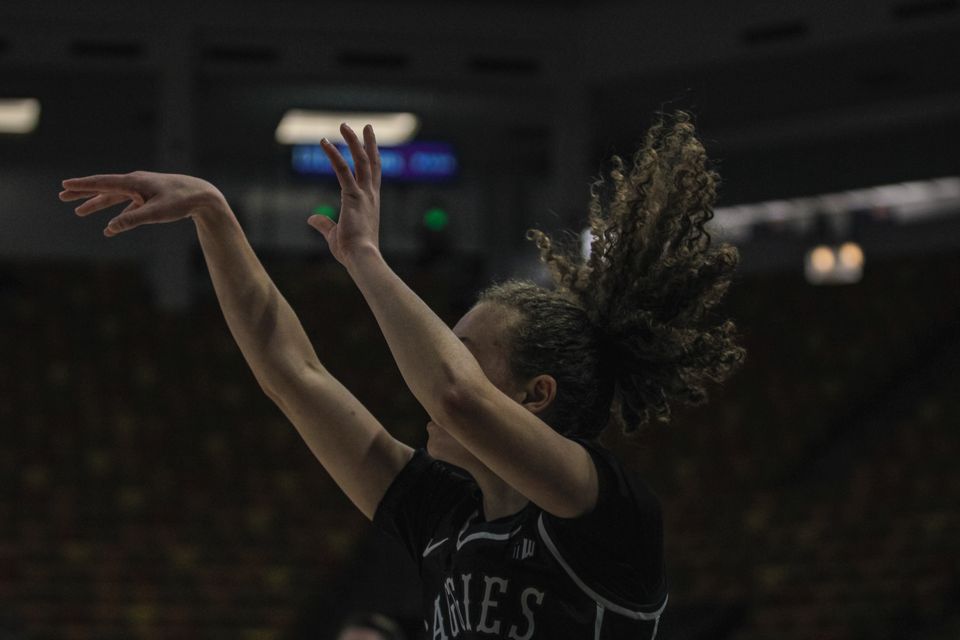 Notes, quotes, thoughts and other quick hitters from Utah State WBB's 71-63 loss to Loyola Marymount. Let's not waste any time.
Game-Changing Moment
Utah State closed the first half of its matchup with Loyola Marymount on a high note, which has been far from a given for the Aggies this season. They won the final four minutes of the frame, 10-7, adding to a 24-21 edge to enter the break with a 34-28 lead. For reference, in Utah State's first nine games of the season, the Aggies outscored their opponents four times in the final four minutes (Arkansas State, 9-2, Southeastern Louisiana, 11-6, USC, 4-2 and Weber State, 8-5), racking up a combined deficit of 38-60.
Whether it was a lead collapsing (against Utah Valley) or a blowout getting worse (against Ball State), the end of the second quarter has not been especially kind to Utah State. The Aggies could breathe easy at the half knowing that they hadn't immediately squandered an impressive first-half comeback, rallying quickly from an eight-point deficit in the first quarter.
No, this time the collapse was scheduled for the opening stanza of the second half. Utah State shot 1 of 5 from the field, turned the ball over four times and scored just two points in the first four minutes; Loyola Marymount went 5 for 6 from the field, 3 of 4 at the stripe and racked up 13 points, turning a 34-28 margin into a 41-36 advantage.
Utah State would respond, reclaiming the lead thanks to three-pointers from Natalie Fraley and Tamiah Robinson and some big free throws from Ashya Klopfenstein, but no one else could get anything going. Klopfenstein ended the quarter with seven points, Robinson had five points, Fraley added her three and Mayson Kimball hit a free throw as LMU outscored the Aggies 23-16 and took a one-point lead into the final frame.
The Aggies have noted the infamous "bad quarter" they seem to have every game on several occasions this season. After out-shooting LMU 48.1 percent (4 of 10 from three) to 40.0 percent (1 of 6 from three) from the field in the first half, Utah State converted 4 of 13 shots in the third frame while LMU knocked down 9 of its 16 tries. Utah State didn't fare much better in the final period, but if you're looking for the bad quarter that doomed the Aggies here, you need not look beyond the third period.
When It Was Over
Utah State held a 54-53 lead with 8:51 to play and had the ball down only two possessions with just over a minute left on the clock. It isn't like this game was ever completely out of reach. But, it was essentially over when, trailing 58-56 at the 6:10 mark after an Olivia Wikstrom layup, Utah State went ice cold.
The Aggies took just three shots over the next 5:16, missing all three. It turned the ball over three more times. LMU didn't exactly run away with the game, but it used the USU dry spell to build out a 64-56 advantage that could withstand Utah State's seven-point flurry in the final 54 seconds – with the help of some strong shooting at the free-throw stripe.
Aggie Of The Game
Robinson led the Aggies in scoring, putting up 15 points on an efficient 5 of 10 from the field, but she also fouled out in 30 minutes of action and turned the ball over five times. Prima Chellis was even better from the field, picking up nine points on 4-of-5 shooting. She was also more efficient in fouling out, leaving the game having notched five fouls in 12 minutes.
Wikstrom has a case here, given that she scored 10 points on 4-of-8 shooting, didn't foul out and only turned the ball over twice while snaring six steals, but I'm giving the nod to Klopfenstein.
She was just 2 of 5 from the field, though she still picked up nine points thanks to a team-high six free throw attempts, of which she converted five. She turned the ball over just once while grabbing four rebounds and a pair of steals. And, in 21 minutes of action, she had a plus/minus of plus-10, making her one of just two Aggies on the right side of zero (along with Fraley, who was plus-4).
Other Standouts
Prima Chellis: The foul numbers here are not entirely reflective of Chellis' day. She played only 12 minutes, but three of those fouls came in the waning moments of the game when the Aggies needed to send LMU to the free-throw line to stop the clock and keep the game alive.
When Chellis was on the floor, she was good, though I wouldn't mind seeing her attack the basket a bit more. She was 4 of 5 from the field and the lone miss came beyond the arc – plus, it wouldn't hurt to get her to the free-throw line a little more. It's not entirely clear why she didn't play more, save perhaps for an injury we aren't privy to (not that it held her out of the final frame if there was an injury), but the time Chellis contributed was, on the whole, solid.
Tamiah Robinson: Again, fouling out was not ideal and the turnovers were just entirely too frequent. That'll preclude her from the top spot; it won't keep her off the standouts list. Robinson fired from three-point range five times and knocked down four of them to go with four assists. In a game that saw her battery mate, Maria Carvalho, completely bottled up on offense, Robinson responded about as well as Utah State could have asked for.
Olivia Wikstrom: See above.
Stats Of The Game
22: While LMU didn't fare much better, losing the ball 20 times, Utah State lost the turnover battle for the sixth time this season as it logged 22 of its own. After opening the season with 14 turnovers against College of Idaho and 12 against Southeastern Louisiana, the Aggies have registered at least 20 in four of the last eight games and are averaging a whopping 18.9 per contest.
There's not any single player deserving of the blame for this – the entire team has to do better. Utah State cannot win games losing the ball with this kind of frequency (in fact, the Aggies are averaging 14.7 TPG in wins and 19 TPG in losses).
12: Utah State allowed 11 second-chance points on 12 offensive rebounds while grabbing seven offensive boards of its own, good for three second-chance points – in a game it lost by eight points. The math isn't especially complicated here.
12-17: From the 4:03 mark of the first quarter to the 2:20 mark of the second frame, Utah State converted 12 of its 17 shots from the field, racking up 30 points and outscoring the Lions by 14. The Aggies assisted on seven of those makes, three coming on three-pointers (4 of 8 from deep during this stretch) and four on layups (8 of 9 on layups).
In the 28:17 of basketball played outside of that stretch, Utah State shot 10 of 36 (27.8 percent) from the field, 3 of 9 from deep and 6 of 17 on layups. It assisted on four of those makes (three for three-pointers, one for a layup). What does all of this tell us? Well, it probably says a few things, none of which are new information.
Firstly, the mid-range is not a good place for this team to be, and they know it. Utah State was just 1-of-10 shooting on two-pointers not considered layups by Statbroadcast. Secondly, those layups must fall for this option to function near full capacity.
Thirdly, and perhaps most importantly: This is not a group that can or should pull up from beyond the arc off the dribble. Utah State assisted on all but one of its made three-pointers here. The film can tell us more than the stats, but the stats are doing a pretty good job of painting a picture.
Emptying The Notebook
There's no need to waste any time, let's talk about the lineup data:
Utah State used 16 unique lineups against LMU, which is right on pace for the Aggies this season. Since logging a season-low of eight lineups against Southeastern Louisiana (the first game I have this data for), Utah State is averaging 16.8 lineups per game.
There's a tie between two lineups for Utah State's best plus-minus against the Lions, both sitting at plus-5. The first, which spent 4:04 together on the floor, is a three-guard lineup with Carvalho, Fraley and Robinson in the backcourt and the frontcourt duo of Chellis and Klopfenstein. It played four shifts and ran up a five-point advantage, 15-10.
The second group – Carvalho, Fraley, Wikstrom, Kimball and Klopfenstein – served in one consecutive 3:26 shift from the 5:36 mark in the second quarter to the 2:10 mark, pushing a 21-19 lead up to a 31-24 edge.
Utah State doesn't have to worry about a tie for the worst lineup of the afternoon, but it won't be especially pleased with the reason for it. With a catastrophic minus-13 outing, losing 24-11 in 13:03 of play across five shifts, Utah State's starting lineup of Carvalho, Robinson, Wikstrom, Kimball and Abby Wahl was easily its worst.
It's a troubling trend. That group is now sitting at minus-29 on the season, the second-worst of any lineup save for Utah State's other most common starting lineup, which swapped Cris Oliva for Wikstrom and sits currently at minus-40. Utah State's best lineup, for those curious, is the same group with Chellis at center rather than Wahl (plus-27). The Aggies did not deploy it against LMU, though they were plus-6 in eight minutes with Chellis joined by Carvalho and Robinson
I wrote after the BYU game about Utah State's success with multi-guard lineups, and it was more of the same here. The Aggies never deployed fewer than two true guards (meaning Carvalho, Fraley, Robinson and Isabella Tañedo) at a time against LMU. However, unlike against the Cougars, those lineups were largely ineffective here. Carvalho/Robinson were minus-12 in 22 minutes as the lone guards, Carvalho/Fraley were minus-2 in nine minutes and Fraley/Tañedo were minus-2 in one minute (Fraley/Robinson never played alone together).
Utah State's lineups (of which there were four) with Carvalho, Fraley and Robinson on the floor together, though? They racked up a 24-16 advantage in eight minutes.
The Kimball/Wikstrom pairing really struggled here, but I'm not worried about it yet. They were minus-8 in 22 minutes together and had a net-zero impact on the score during 11 minutes apart. However, on the season, they've been better together (minus-28) than they've been apart (combined minus-85).
Utah State gets a bit of a break now before returning to action on Dec. 20 with a road trip to Eastern Washington. The Eagles are currently 5-2 (3-2 against DI competition) with road trips to Seattle (Dec. 13) and Oregon (Dec. 15) on the docket before hosting the Aggies. The two have met four times before – three times in Logan and once in Cheney. Utah State was victorious in its lone trip, winning 74-55 back in 2007 and claiming its second victory in the series a year later with a 71-65 home win in 2008. Eastern Washington won the first two matchups, played in 1981 (96-83) and 1982 (81-67).