WBB Preview: Aggies Return Home To Host Ball State
With four rotation players checking in at or above 6-0, Ball State's length could present issues for Utah State – which has been shorthanded in the frontcourt for weeks. WBB preview: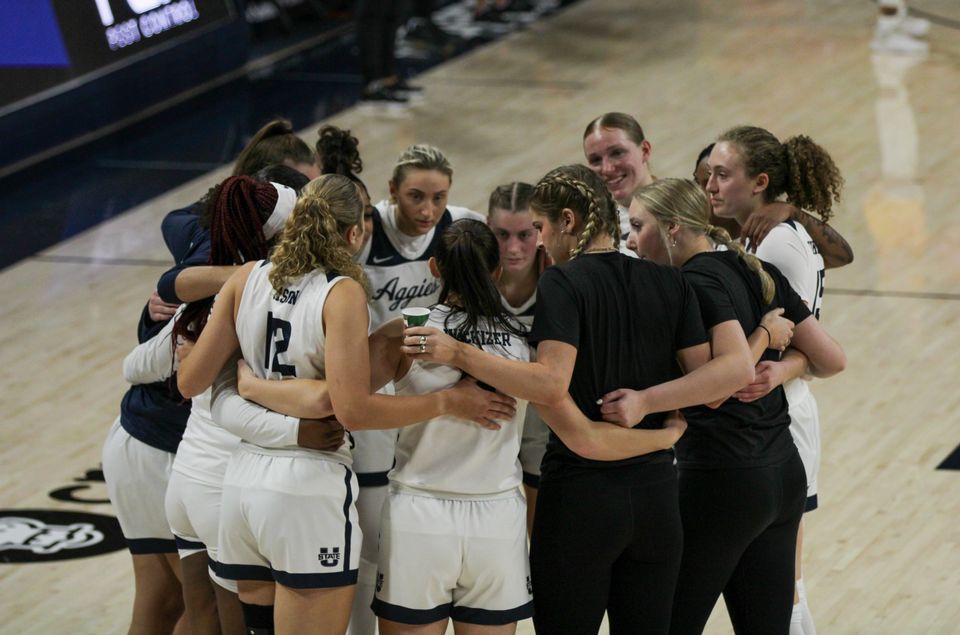 Utah State doesn't need to look far to find positives from its loss to Arkansas State. The Aggies played with excellent effort throughout the afternoon and, despite still suffering from plenty of turnovers, were quite a bit crisper on both ends of the floor than they were in a blowout loss to Utah Tech. Progress can be in the eyes of the beholder at times in college basketball, but that game looked like progress – even in a loss.
Now, as the Aggies return home briefly for a bout with Ball State before heading back out on the road, they're seeking another flash of progress – and to leave this game with a victory, they really need that progress to come in the shooting department.
Utah State has been generally solid from beyond the arc this season, and that was no different against Arkansas State, but the Aggies are currently hitting shots at a 35.2 percent clip (against DI opponents), including a lower percentage from two-point range (35.1 percent) than its percentage from deep (35.2 percent). To spring an upset on a solid Ball State squad, Utah State needs to maintain that effort, yes, but it also just needs to see some shots go through the net.
Projected Lineups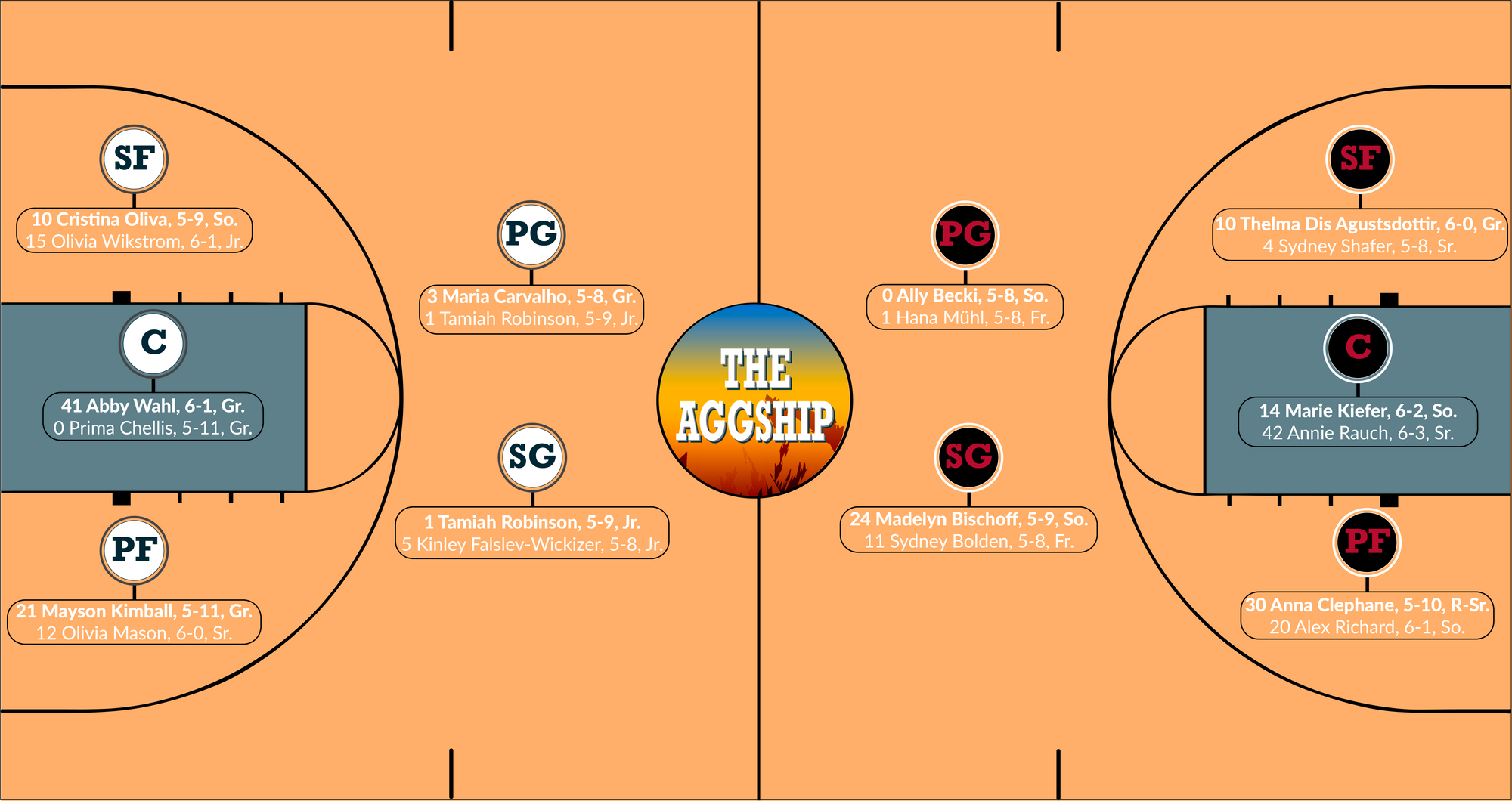 Players To Know
Madelyn Bischoff: A contributor as a true freshman last season, Bischoff stepped into a starting role at shooting guard this season and has impressed through the very early stages of the season. She's the team's No. 2 scorer with 10.3 PPG and serves as one of two volume scorers in the starting lineup alongside small forward Thelma Dis Agustsdottir (7.3 PPG).
The notable question here is centered around Bischoff's shooting. She's a very willing three-point shooter, firing off 21 tries in four games, but she's yet to find her rhythm, hitting only six of those tries. Dis Agustsdottir, the other sharpshooter for the Cardinals, has converted just four of her 26 tries. Ball State has a group of talented and big forwards who can keep the offense afloat without much of a perimeter threat, but this team would love to shoot better from deep than it has to this point (23.4 percent in DI games). That effort will start with Bischoff.
Anna Clephane: We come now to one of those aforementioned forwards and this season's current leading scorer with 13.0 points per contest. That's nothing new for Clephane, a redshirt senior who led the team with 16.2 PPG a season ago before injury cut her year short after 13 games.
She hasn't been a huge factor on the boards (3.3 RPG) and is at times an active impediment defensively, but she's the most naturally gifted scorer on the team – capable at all three levels, but at her best attacking the hoop. Utah State will need to defend her physically but cannot afford to play too much into her strengths, as she has a 45.5 percent free throw rate for the season and knocks those down at nearly an 80 percent clip.
Marie Kiefer: Moving even further into the frontcourt, Kiefer is a center's center. Standing 6-2 and supported by 6-3 backup Annie Rauch, Kiefer plays exactly as you might expect her to. She's shooting very well from two-point range (16 of 28) converting that into 9.3 points per game – tied for third on the team with reserve forward Alex Richard – while leading the team in rebounds (8.3 RPG) and blocks (six through four games).
In a group without many elite individual defenders, Kiefer is the glue that holds everything together. She makes things very difficult for opposing teams at the rim and has largely been pretty good about defending without fouling (a little under three fouls per game). Though, Ball State would love for her to be a bit more aggressive in getting to the foul stripe on the other end of the floor, as she's taken only four free throw tries this season and has a paltry 5.6 percent free throw rate.
Stats To Know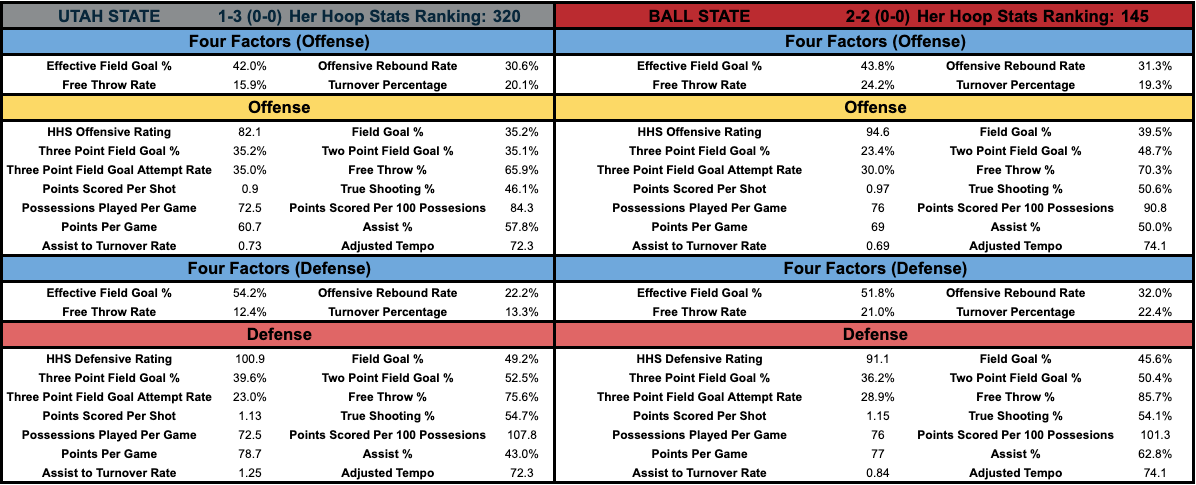 Turnover Percentage: There's no way around it – Utah State needs to cut down on turnovers. It cannot be bargained with or worked around. The Aggies lost to Arkansas State because they turned the ball over too much, and they've had issues through the entire young season with getting flustered by tight defense and throwing passes into dangerous territory.
It just can't happen here if Utah State wants to emerge victorious, Ball State has a very good turnover defense and will gladly spend the entire afternoon trapping and pressing the Aggies if they don't prove capable of handling it. Above anything else, Utah State has to hold onto the basketball and put up a similar number of shots to those produced by Ball State to have a serious chance in this matchup.
Two Point Field Goal Percentage: I mentioned it earlier, I'll drive it home again here. Utah State has had plenty of opportunities at or near the rim, and it hasn't converted them at a rate conducive to winning basketball games. Ball State is a long, physical team. It will not by any means be an easy accomplishment. But, Utah State has to be better inside of the arc than it was against a similarly long team in Arkansas State.
Adjusted Tempo: There's not a ton of detail to add here, it just bears mentioning stylistically that both teams like to push the tempo, both teams have press packages installed in their defenses and both teams have had issues with turnovers. Expect this game to be fast, and don't be surprised if it's fast in a very sloppy way.
Prediction
It feels like Utah State is approaching a breakthrough. The shooting will eventually break in the other direction, which will immediately make the Aggies look a whole lot better than they have at times during this season-opening slump. It cannot hold at this rate all season – Utah State just has too much shooting talent for that.
But, is the breakthrough going to come against a team with a ton of talent and in the post, where Utah State has struggled most to defend this year? That's a tough bet for me to make. The Aggies are getting closer. I'm not sure they're close enough to pull this one out.
Ball State 81, Utah State 67