WBB Preview: Utah State Looks To Get Back On Track Against Arkansas State
Arkansas State is 1-2 and has eight underclassmen in its rotation. If Utah State wants to get back on track with a big road win, this would be a good time for it. WBB Preview: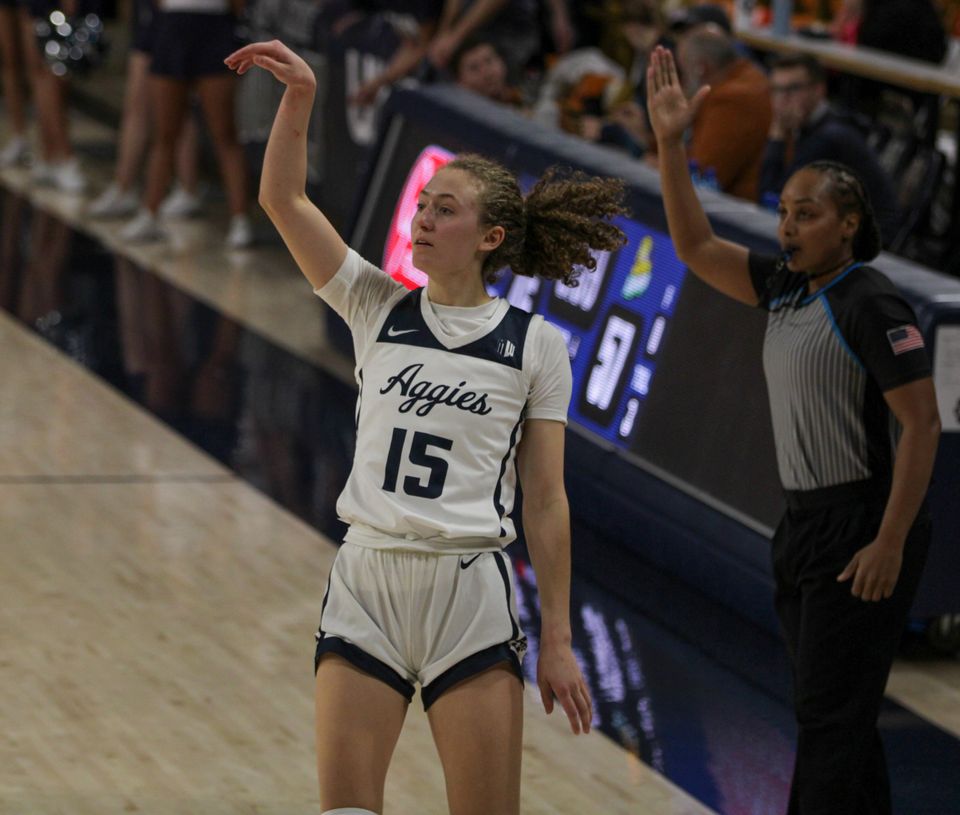 Sometimes, the best thing a team suffering through growing pains can hope for is survival. To escape from a difficult slate of games with one or two unexpected victories, no major injuries and an intact locker room doesn't exactly rally the base, but it can be the levee holding back a full-blown collapse for a team in the very early stages of its development.
Utah State finds itself looking for a way to survive on Saturday afternoon as it enters a battle with Arkansas State, its second of four road matchups in a span of five games. The Aggies have lost two straight, coming up short on a comeback bid against Southeastern Louisiana before embarking on their first road trip of the season, a catastrophic 38-point loss at Utah Tech.
It doesn't get any easier after this game, either. Utah State will return home for a bout with Ball State on Nov. 23 before going back onto the road with a Nov. 26 game at USC and a Dec. 1 matchup with nearby Weber State in Ogden. To round out the non-conference slate, the Aggies draw Utah Valley (Dec. 3) and BYU (Dec. 6) at home and finish with trips to Loyola Marymount (Dec. 10) and Eastern Washington (Dec. 20) before jumping into conference play with a third-straight road trip, this time to Colorado Springs and Air Force (Dec. 29).
In other words? It's going to be a difficult month (and change) for Utah State. The Aggies have 11 new players, eight of 10 rotational players are playing together for the first time, and Her Hoop Stats projects only one win in their next eight games (Utah Valley). To enter conference play with any sort of momentum or positive energy, Utah State will either need rapid improvement – which is not out of the realm of possibility with the talent on this roster working to jell – or it'll need to steal a few wins.
An Arkansas State team with a first-year head coach and eight underclassmen in its rotation certainly fits the profile for the latter – if Utah State can respond after a devastating performance against Utah Tech and find answers to some of its most pressing questions.
Projected Lineups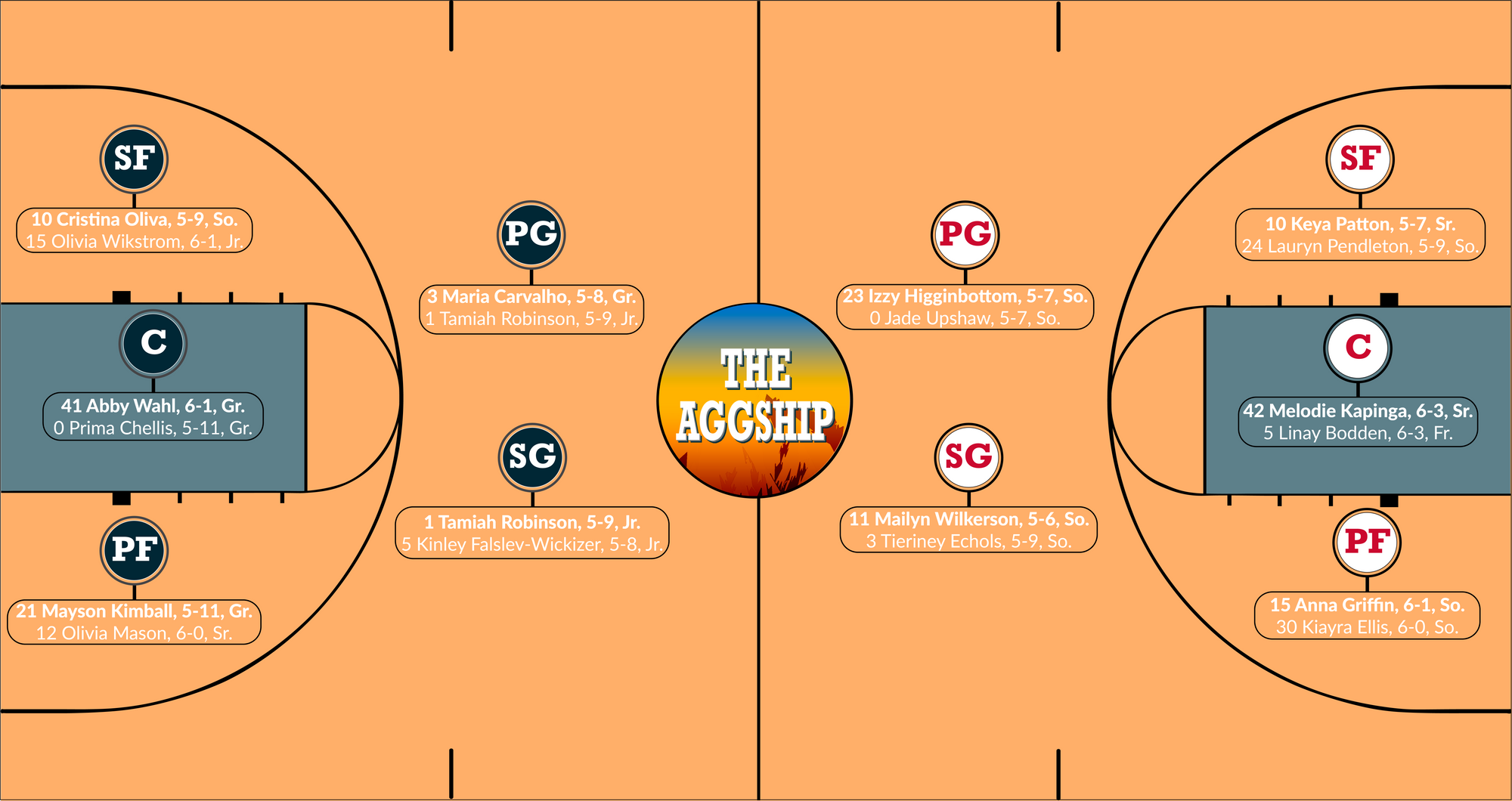 Players To Know
Izzy Higginbottom: There's a bit of shared DNA in the construction of these two teams. While not as extreme as Utah State's offseason roster changes, Arkansas State added seven new players through the transfer portal, from the JUCO ranks or in its high school recruiting class – enough to make up exactly half of the roster. The Red Wolves have returning contributors who will play a major role this season, but head coach Destinee Rogers wanted immediate impact players for her first season as the full-time head coach.
None of the newcomers have impressed more through the early days of the season than Higginbottom, a transfer from Missouri and a former top-100 recruit by Prospect Nation. She played 18.4 minutes and averaged 6.0 points with 1.3 rebounds per game for the Tigers last season before returning to her home state to suit up at Arkansas State.
In her first three games with the team, Higginbottom has established herself as the primary conduit for the Arkansas State offense. She's averaging more than 35 minutes a game and using that time to pitch in 14.0 points, 5.0 assists and 3.7 rebounds per contest.
Her shooting stroke has yet to fully take (40.5 percent from the field, 22.2 percent from deep), but she's a very talented primary ballhandler who Utah State will need to fluster if it wants to disrupt the Arkansas State offense. It starts and ends with her.
Melodie Kapinga: Another offseason addition, Kapinga has been a pleasant surprise to start the season. She never averaged more than 6.4 minutes per game in four seasons with UC Irvine, but she's stepped into the starting center role here and has handled the responsibilities about as well as Arkansas State could have hoped for; She's averaging 8.7 points (on 9-of-12 shooting), 8.3 rebounds and a little over one block per game.
She's been an especially difficult player to handle for opposing post defenders, logging a team-high 50 percent free throw rate (meaning that half of her two-point tries have resulted in a trip to the free throw line) and a 14.9 percent offensive rebounding rate, which is another team-high. She might be due for a little shooting regression after such a hot start, but Utah State hasn't exactly thrived against good post play. The Aggies need to keep her off the offensive glass and away from the free-throw line.
Keya Patton/Lauryn Pendleton: The small forward position for Arkansas State is interesting. Patton was probably the team's best player last season, averaging a team-high 14.3 points with 3.7 rebounds and almost two steals per game. She shot better than 50 percent from the field and better than 40 percent from deep.
But, she played just 16 games as an injury cut her junior season short. She's back for her senior season, serving as one of two upperclassmen in the rotation, and just made her first start of the year after missing each of Arkansas State's first two games.
It seems the Red Wolves want to ease her back in slowly – she played only 19 minutes – but she might be too good to keep limited for long. In her shortened action, she registered a double-double with 10 points and 10 rebounds to go with six assists and five steals. If she's available, she needs to play.
On the other side of the position, Pendleton has her share of bonafides. She started 25 games as a freshman last season and earned Arkansas State its first Sun Belt Freshman of the Year honor since 1997, averaging 11.3 points and 4.6 rebounds per game.
Last year, Arkansas State had room for both to start. This year, Higginbottom is established at point guard, Mailyn Wilkinson is similarly cemented as a sharpshooter at shooting guard and Kapinga is one of only a few center-capable players on the team. Unless the Red Wolves want a very small lineup (which they might, at some point), they aren't going to slide either of these two over to power forward.
So, they'll need to split the time. Patton looks to be established as the starter as long as she's healthy – and fairly so, she's the better player at this point – but you'll see plenty of both in this game.
Stats To Know

Offensive Rebound Rate: While Kapinga has attacked the offensive glass well, the rest of the team has yet to find the same acumen. And, on the other end of the floor, Arkansas State has had a lot of trouble keeping teams off the offensive glass.
That's a place of opportunity for Utah State, which touts four very capable offensive rebounders in Maria Carvalho, Prima Chellis, Abby Wahl and Olivia Wikstrom. If it's still struggling to hit shots, as it has often to open the season, Utah State could make up a lot of ground by keeping possessions alive for second- and third-chance shots.
Assist %: There's good news and bad news here for Utah State. The good news is that it doesn't allow a lot of assists. Its defensive assist percentage is at 39.1, good for No. 20 nationally and one of the few advanced defensive categories Utah State has had success in so far.
The bad news is that it doesn't allow a lot of assists. Opposing ball handlers have had no real issue with creating shots on their own, largely with drives right at the rim. Teams haven't really needed to move the ball around, nor have they needed to set up three-pointers (23 percent three-point attempt rate allowed) to put points on the board.
This Arkansas State team likes to pass the ball. Utah State would love to keep that assist percentage low, but it can't be trading easy isolation baskets for it.
Possessions Played Per Game: After several up-tempo games to open the year, expect this one to take a moderately slower approach. Utah State would love to run more, but the Aggies have struggled with creating turnovers and have been largely unable to get into the tempo they'd probably prefer.
Arkansas State, on the other hand, is content with getting into half-court sets and working from there. Unless Utah State's press defense can click into form, this one might come down to fewer possessions than we've seen through the first three USU games.
Prediction
As a general rule, I'm probably not going to predict many wins in games immediately following 40-point losses to WAC teams. Or any teams, really. Utah State has the talent and ability to compete with Arkansas State and even to win this game outright, but I need to see the Aggies get back on track before I feel comfortable predicting any victories.
Arkansas State 66, Utah State 59