WBB Preview: Utah State Hits The Road For Second Bout With Colorado State
Utah State WBB gets a second look at Colorado State this morning – this time in Fort Collins – after suffering a blowout defeat when the two last met. Preview: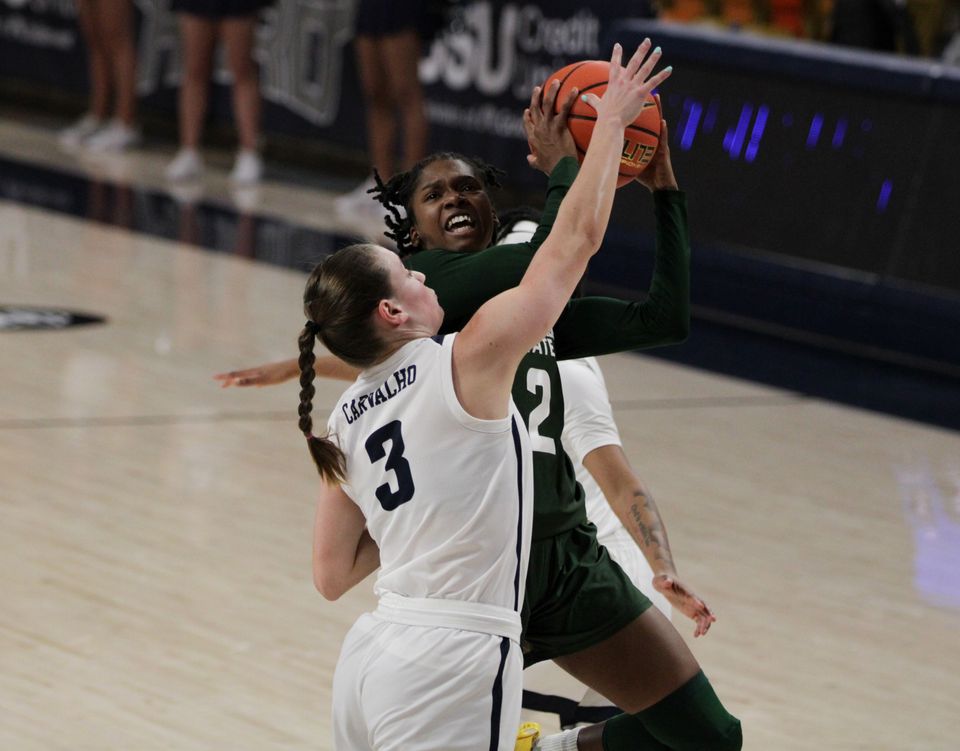 Utah State's last meeting with Colorado State was over almost as soon as it began. The Aggies fell behind 26-10 after a quarter and trailed 52-23 at halftime, having suffered significantly at the hands of Colorado State's talented backcourt. They surrendered 27 first-half points to shooting guard Destiny Thurman on 11-of-13 shooting and allowed another 14 combined points to star point guard McKenna Hofschild and backup shooting guard Meghan Boyd.
The former two, who comprise perhaps the best guard pairing in the Mountain West this season, only needed to play for about half of the second half, ceding to rarely used depth pieces.
At the end of 40 minutes, Colorado State had come up just a point short of the century mark, molly-whopping the Aggies 99-62 in a game that could have been much worse for Utah State had CSU head coach Ryun Williams not called off the troops early in the third quarter – though that may still have been too much because Colorado State probably could have played one quarter of basketball and spent the next three doing something else entirely. Utah State was as outclassed as it had been all season.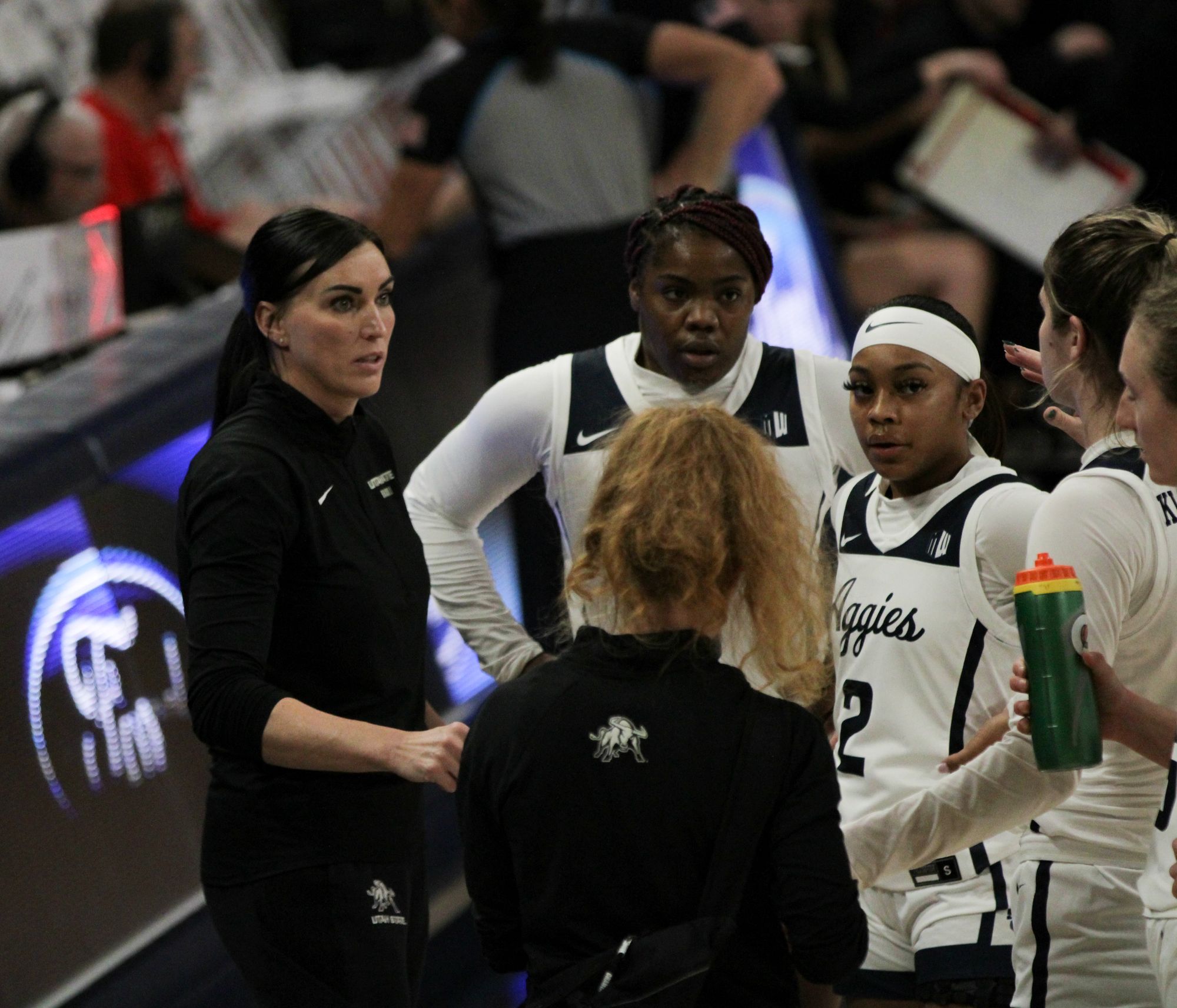 As these two sides enter their second matchup of a season, this time in Fort Collins, the month of space between games has offered little reason to expect anything different. The Rams have dropped three games in a row, all by five or fewer points, against Air Force, New Mexico and UNLV. That might be cause for interest if Utah State hadn't spent the last month accumulating one victory to six losses – the most recent of which, a 98-60 loss to New Mexico, rivaled the beating handed down by Colorado State on Jan. 5.
Save for Utah State's scheduled Feb. 23 road trip to meet the league-leading UNLV Runnin' Rebels and its November loss to USC, there's not a game on the schedule with a lower win expectancy percentage for the Aggies on Her Hoop Stats than this one, which sits at 2.4 percent.
Converted into odds, an upset on Thursday would rival Buster Douglas' defeat of Mike Tyson (+4,200) and Stanford's 2007 upset of USC (+4,100). When Utah State men's basketball coach Ryan Odom led UMBC to the first 16-seed-over-1-seed upset in college basketball history, he beat +2,000 odds. It's been a long season in Logan.
Projected Lineups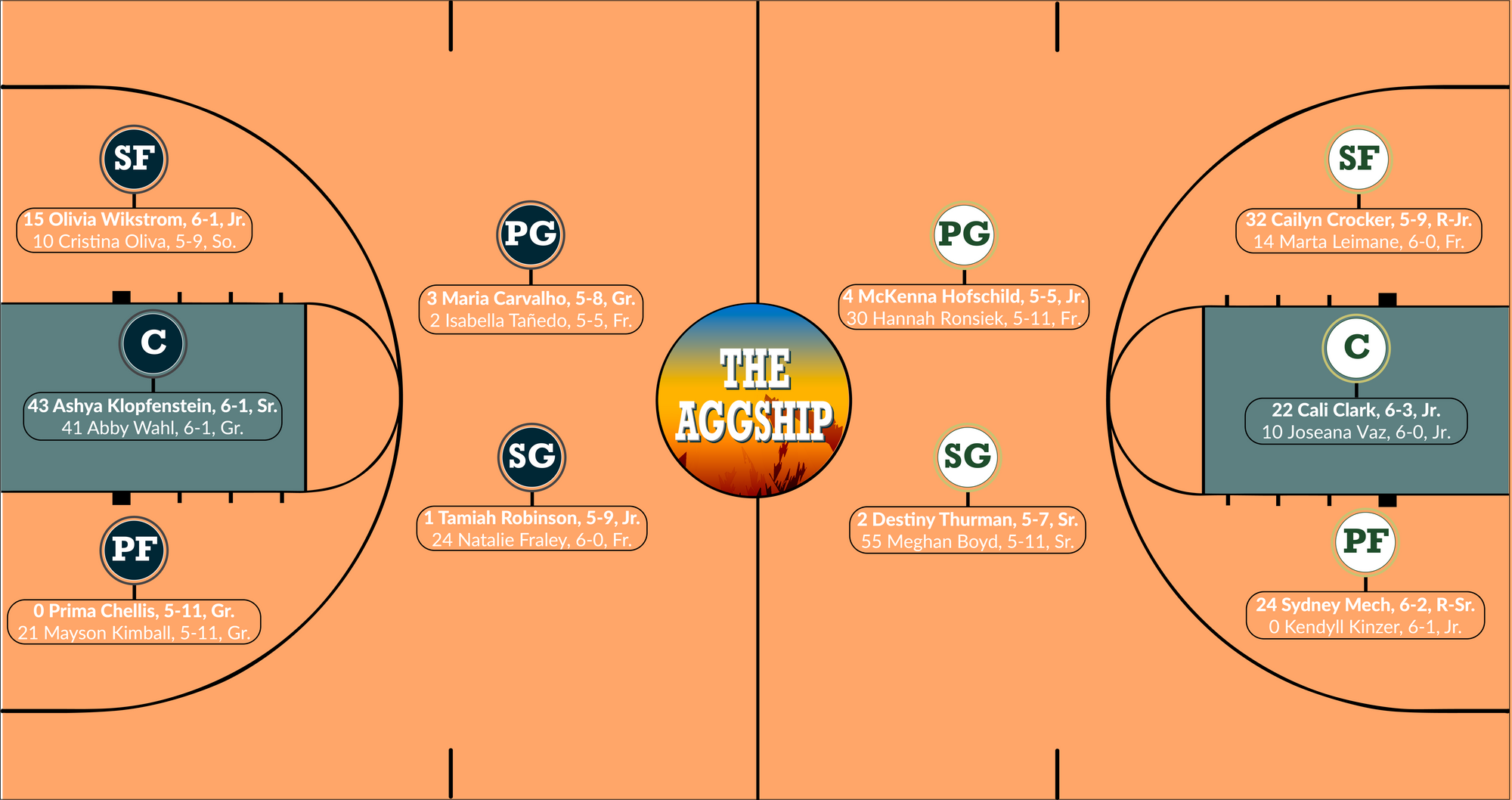 Players To Know
Meghan Boyd: Utah State got some firsthand exposure to Boyd's primary contributions to this team when it last played Colorado State. The 5-11 senior, who transferred into the program from Denver this offseason, is not tasked with a whole lot, and she doesn't need to be. Colorado State has rebounders like Cali Clark (6.8 RPG) and Joseana Vaz (3.6 RPG), well-rounded offensive weapons like Hofschild (21.5 PPG, 7.2 APG) and Thurman (14.1 PPG, 1.9 APG) and even defenders off the bench like Kendyll Kinzer (12 blocks) and Hannah Ronsiek (17 steals).
Boyd's job is to come into the game off the bench, shake free of her defenders and knock down open shots when the ball comes her way. She knocked down a pair of triples against Utah State in an 11-point outing but could have done quite a bit more damage.
On the season, she's Colorado State's most prolific outside shooter, hitting 39.8 percent of her team-high 93 tries from deep. Boyd gives Colorado State about 18 minutes a night, averages 7.1 points per game and keeps the defense for as long as she's on the court even when she isn't shooting. She's a nearly perfect embodiment of the phrase "role player," but that doesn't make the role she plays any less important. The Mountain West's assists leader needs someone to throw passes to, after all.
Cailyn Crocker: Crocker has not drawn the same acclaim as her counterparts in the backcourt, but it's not for a lack of production. The 5-9 redshirt junior, used as a third guard in place of a small forward in the starting lineup, is third on the team in points per game (12.1), tied for third in rebounding with Vaz (3.6 RPG) and third in assists per game (1.5 APG) behind Hofschild and Thurman.
In conference play, the California transfer has been even better. Her passing has dipped slightly, but Colorado State will gladly exchange an assist per game if the return is 13.5 points and 4.1 rebounds per game on 50 percent shooting from the field with a season-wide free throw rate (20.1 percent) that leads the team.
The difference in her game from the non-conference slate to now has not been especially large, it's just a matter of taking efficient shots. She's lowered her three-point attempt rate from well above 20 percent to just 16.4 percent, spending more time attacking the basket and trying to get to the free-throw stripe.
Crocker has scored in double figures in eight of her last nine appearances. She's playing with a lot of confidence right now, and her work as an off-ball slasher – which Colorado State was otherwise lacking – is opening up more room for the offense to operate.
Sydney Mech: One of the unsung heroes of the Colorado State roster, Mech has been caught in a familiar spot of "next best" in most statistical categories.
She's a solid interior scorer, averaging 7.6 points per game on 43.2 percent shooting from the field, but she doesn't get to the line with the same frequency as Crocker, nor does she shoot with quite the same efficiency. She's a good outside shooter, too, knocking down 20 of 52 tries (38.5 percent), but Boyd, Hofschild and Thurman all outpace her in both volume and shooting percentage from deep. Her 20 assists are enough for fourth on the team.
On the boards, Mech pitches in 3.5 rebounds per game – a good number, just not as much as Clark, Crocker, Thurman or Vaz. She's bumped that number up to 4.1 RPG in league play but still trails the former three on average. Even as a defender, Mech has notched 23 blocks, which is enough to make a big impact defensively but not enough to surpass Clark's team-high 29 blocks.
All of this combines to keep Mech under the radar on the outside looking in, but it's immediately apparent that the Denver transfer is delivering exactly what Colorado State needs. Because she does everything without drawing the primary focus, it seems that she's always able to make big plays when the Rams need them. Because she defends without fouling (1.6 fouls per game), she averages more playing time than anyone else on the team not named Hofschild (32.2 MPG).
Mech isn't as good a scorer or passer as any members of the guard trio, and she's not as strong a defender or rebounder as the team's leading post players. Rather, she combines both worlds and provides consistently steady play without commanding attention and taking opportunities away from teammates who excel in specific areas better than she does. She's Colorado State's glue player.
Stats To Know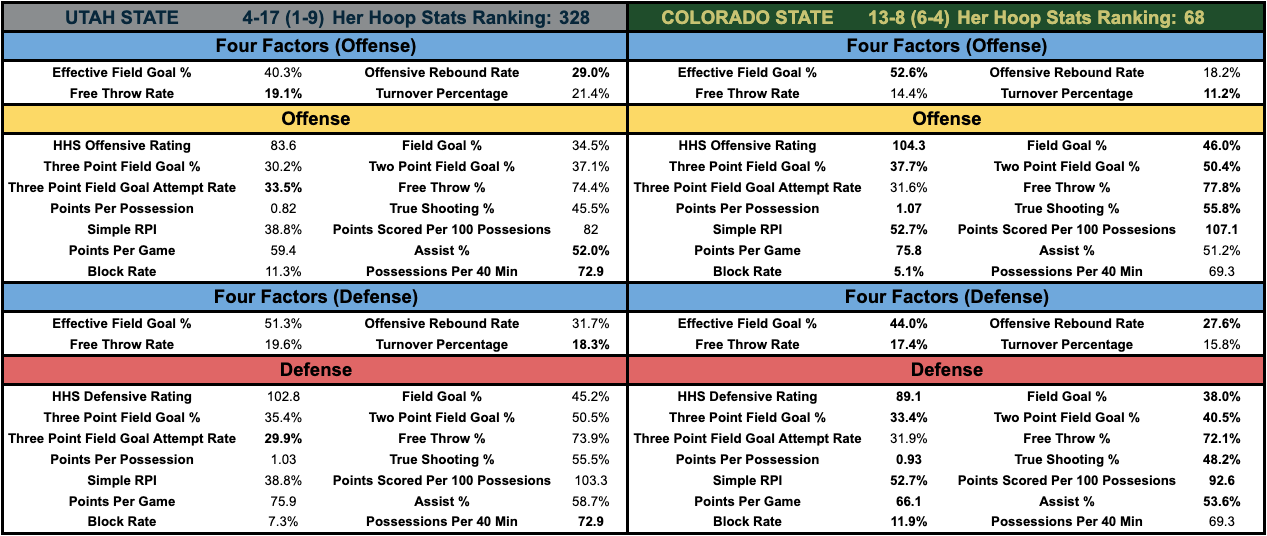 Three Point Field Goal %: With all of these viable three-point shooters comes, naturally, one of the best three-point shooting offenses in America. The Rams are 11th in three-point percentage (37.7 percent) and 115th in three-point attempt rate, even with some recent struggles in conference play (fifth and fourth in the league in those respective categories). It's not the primary focus of the offense, but it's probably the most dangerous aspect of it – as Utah State learned the hard way, allowing a 13-of-25 shooting performance from deep when these two last played.
What Colorado State isn't especially good at, though, is preventing the same shots on the other end. The Rams are 286th in three-point rate allowed, and a disastrous 300th in three-point percentage surrendered. Utah State turned that into nine makes on 26 tries back in early January and would do well to attack it further on Thursday.
The biggest weakness of this team is still rebounding, which has cost it dearly against top-tier conference opponents – CSU's four league losses saw it allow an average of 13 offensive rebounds while losing the rebounding battle by almost eight boards a game – but that still needs to be tied to a competent offense.
Block Rate: The same cannot be said of Colorado State's interior defense. The Rams lead the conference in two-point percentage allowed and check in at No. 2 in block rate (11.9 percent) – good for 48th and 29th nationally, respectively. Beating this defense on the inside has typically required the presence of elite post-scorers (like UNLV's Essence Booker and Desi-Rae Young, who combined for 65 points across two games with the Rams, or New Mexico's Shaiquel McGruder, who put 23 points on this defense) or a dominant outing on the boards, paired with very good defense (Air Force).
The latter is probably the likelier path to success for Utah State, barring the best game of Prima Chellis' career and a similar outing from Ashya Klopfenstein. The Falcons provided the best blueprint of anyone, making up for a major size disadvantage by crashing the boards to the tune of a 45-30 advantage (including 14 offensive rebounds) and using its six-shot advantage to eke out a 67-65 win.
Air Force was willing to let Hofschild beat it, surrendering 29 points on 10-of-18 shooting, but refused to do the same for the rest of the team, holding it to just 37.5 percent from the field. On top of that, the Falcons got a great performance from Kamri Heath (7-for-14 shooting, all from two-point range, good for 15 points), timely shots from Jo Huntimer (12 points) and Faith Shelton (11 points) and a double-double from Madison Smith (11 points, 10 rebounds).
This all sounds like a lot to ask because it is a lot to ask. Colorado State isn't on the level of UNLV, San Diego State or Wyoming in the standings, but this is the MWC's No. 2 team in Her Hoop Stats overall team rating system for a reason. The Rams have an elite offense and a defense that does a good job of preventing easy buckets. UNLV beat it twice, by a combined eight points, because it is a tournament team. New Mexico beat it because it has one of the best players in the conference.
The only comparison for a team without either of those qualities notching a win against CSU in league play is Air Force, and it took a village for the Falcons to get that done. The same (and more) is required of Utah State.
Prediction
I don't see it, and I don't think that I need to provide a ton of explanation for why I don't see it. On a perfect day, Utah State can make this a game – and with that, anything could happen. The Aggies haven't had a perfect day in quite some time, though, and it's hard to imagine that changing on the road against one of the best opponents on the schedule.
Colorado State