WBB Preview: Colorado State Touts MWC's Best Scorer
Utah State will not see a better player this season than Colorado State's McKenna Hofschild, the runaway favorite for MWC POTY and one of the best players in college basketball. Preview: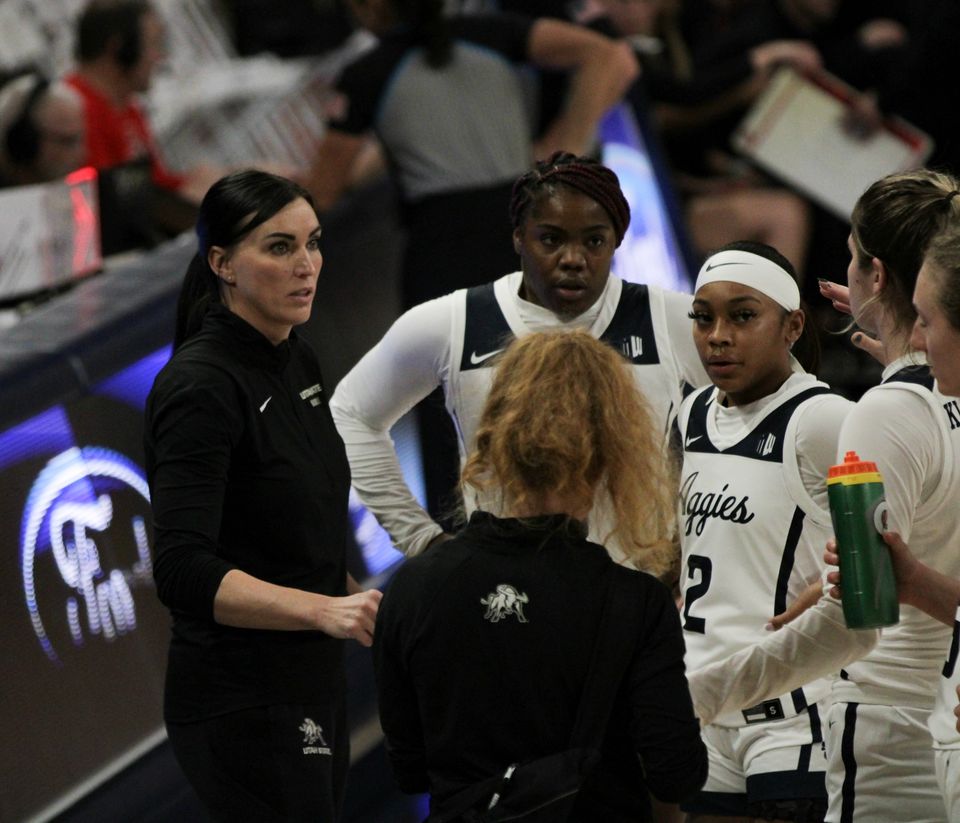 It's been more than a month since Utah State last notched a victory. The Aggies weren't particularly pleased with their 65-55 win over a hapless Utah Valley side – they turned the ball over too much for head coach Kayla Ard's taste and really struggled to build on an excellent first quarter – but it was a win all the same. With a road win over Weber State a few days prior, Utah State could even tout a winning streak. Two consecutive wins may not sound like much, but after a 1-5 start, it was a much-needed reprieve and an opportunity to build momentum as conference play approached.
A 10-point loss to BYU and an eight-point loss to Loyola Marymount were frustrating returns to the loss column, though each still offered cause for optimism. Utah State was getting better at the right time. This reconstructed roster was starting to find a groove.
Three games later, any optimism has been all but extinguished. Utah State looked the part for three quarters at Air Force to open league play, but it ended the non-conference slate with a trashing at Eastern Washington and returned home from Colorado Springs only to suffer an even worse beatdown at San Diego State's hands. The Aztecs, not known for their offense, let off the gas at halftime and still put 89 points on Utah State.
Alternating between losing competently and losing by 30 is not a recipe for long-term viability, although with Colorado State – one of the MWC's best offenses and another strong title contender – coming to town for a Thursday evening tip-off, the former would be one of the best-case scenarios for Utah State. It's been that kind of season.
Projected Lineups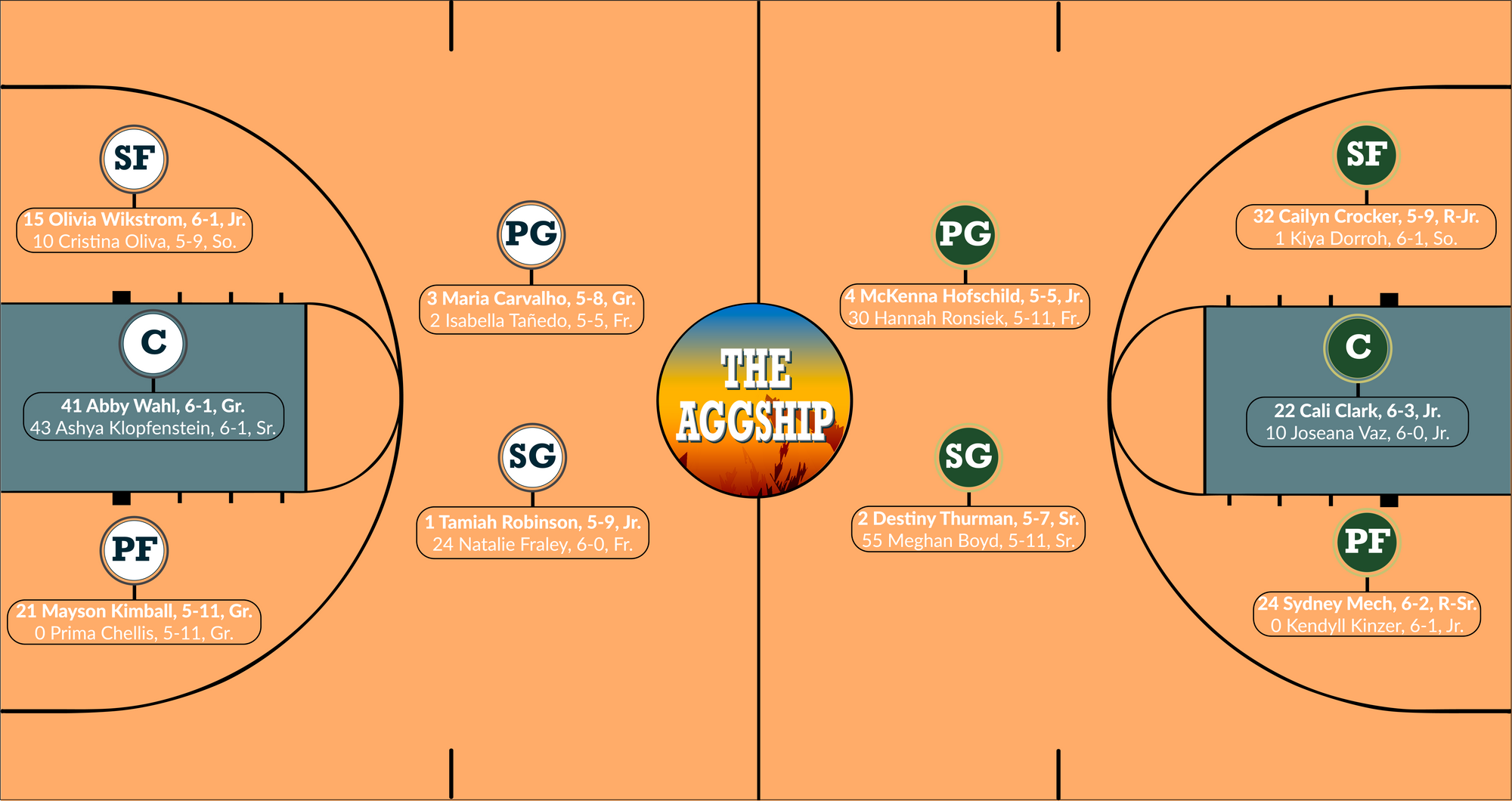 Players To Know
Cali Clark: Clark, a 6-3 junior who moved from a rotational role in 2021-22 to a starting spot at center this season, isn't one for splash plays. She's scored in double figures just once during her 13 appearances (12 starts) and averages just 4.3 field goal attempts per game – the fewest of any consistent starter by almost four attempts. She shoots well from the field (55.4 percent), but her offensive work is limited almost exclusively to point-blank layups and her 5.3 points per game reflect accurately her level of offensive involvement. The Rams are not running a lot of plays for No. 22.
Where Clark is most valuable for this team is on the glass. Colorado State does not rebound well (more on this in the stats to know) and relies very heavily on Clark's work in the paint to stay afloat in the battle for boards. She averages 6.0 rebounds a game (2.0 on the offensive glass), easily the most on the team. And as you may expect, she's also the centerpiece of an otherwise weak defense, working in tandem with power forward Sydney Mech to contest shots at the rim. It's not glamorous work, but it's crucial for Colorado State to play how it wants to play.
Why does this matter to Utah State? Well, beyond needing to keep tabs on her whenever a shot goes up, the Aggies could create a vacancy within this CSU rotation if they can get after Clark and put her in foul trouble. She leads the Rams in personal fouls and has found herself facing down at least three fouls in six games this year. Utah State has to find an edge somewhere. Without Clark to contend with, the painted area could become very friendly to the Aggies.
McKenna Hofschild: There isn't a better scorer in the Mountain West this year than Hofschild, a 5-5 senior and back-to-back All-MWC honoree. If she keeps playing as she has of late, there's not a better overall player in the league – and it's not especially close.
The stats are mind-boggling. Hofschild enters this game shooting 56.2 percent from the field, 61.1 percent from three-point range and 80.2 percent at the stripe while firing off 13 field goal attempts a night. Her 21.6 points per game easily lead the conference and have her just outside of the top 10 among all college basketball players. She's one of only three players shooting above 55 percent while averaging more than 20 points – and her counterparts, Mackenzie Holmes and Angel Reese, are both centers who don't shoot three-pointers.
Oh, and lest I forget: She's also No. 2 nationally in assists per game (7.9) and first in assists to turnover ratio (4.68). The No. 2 player in that category is a full assist behind her (Indiana's Chloe Moore-McNeil, 3.6). No one else in the sport is averaging more than 20 points and more than 7.0 assists per game – the only players even close are Iowa's Caitlin Clark (27.1 PPG, 6.9 APG) and Seton Hall's Lauren Park-Lane (20. 6 PPG, 6.3 APG), and Hofschild is at least 10 percentage points better from the field than both of them.
And of course, she's also good for 3.5 rebounds and 1.2 steals per game. She put 37 points on UNLV, 29 on Fresno State and 26 on San Francisco in her last three games against Division I teams. Utah State isn't going to win this game. You might as well take this opportunity to appreciate greatness.
Destiny Thurman: Someone has to be on the receiving end of all those assists and the honor usually falls to Thurman, a 5-7 senior and Hofschild's battery mate in the backcourt.
A transfer into the program from UTEP over this past offseason, Thurman has clicked into this starting lineup without a hitch. She's averaging 14.0 points per game with a 45.3 percent hit rate from the field, a 40.9 percent mark from deep and a nearly perfect 96.8 percent fare at the stripe (30 of 31 on free throws). Despite her lack of size, she's also one of the team's best rebounders (4.1 RPG) and easily its best perimeter defender, averaging 1.3 steals and nearly one block per game.
It would be hard to create a better player to accompany the star point guard than Thurman, who can handle the brunt of Colorado State's defensive workload at guard while rebounding and knocking down open looks with extreme consistency. She doesn't need to be on the ball to make an impact, nor does she try to take shots away from her running mate. There aren't many better one-two punches in basketball.
Stats To Know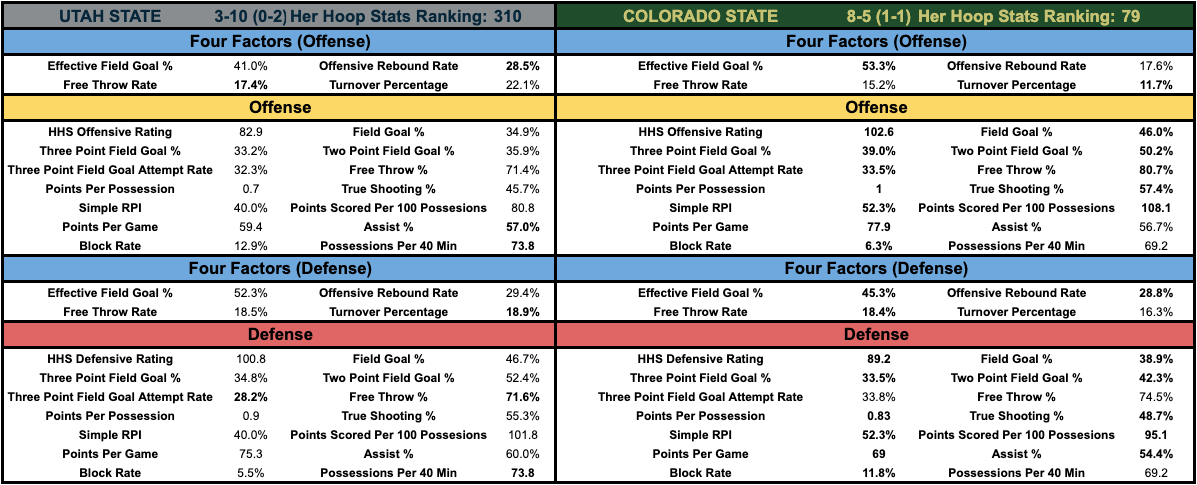 Turnover Percentage: No one in college basketball turns the ball over less often than Colorado State. The Rams tout an 11.7 percent turnover percentage, more than two points better than the next safest team (Bowling Green, 13.7 percent) and on pace for one of the greatest seasons in recent memory.
Only two other teams since 2009 have finished with a turnover percentage below 12.0 percent – 2017-18 Mercer (11.6 percent) and 2015-16 Villanova (10.8 percent) – while only 11 have had an assist to turnover rate above 1.75. Two of those teams won national championships, three more went to the final four and a sixth (2019-20 Oregon) was a title favorite before COVID prematurely ended the season.
Call it a byproduct of a point guard who seldom gives the ball away.
Offensive Rebound Rate: The only real weakness of this offense is, as mentioned earlier, a relative lack of rebounding. Colorado State is one of the worst offensive rebounding teams in the sport, logging a 17.6 percent offensive rebound rate that places them at 359th of 361 teams.
Clark and backup center Joseanna Vaz are the only players on the team with more than five offensive rebounds on the season. They're each very good on the glass, but they can't do it alone and Colorado State doesn't have a whole lot of interest in helping them. It's a stylistic approach – the Rams don't want to allow their opponents to run in transition, and they're confident in their shots falling the first time, so they drop almost every player into defense when the ball goes up.
Is that enough for Utah State to carve out a shot at sticking around? Well, it would need to be paired with the best defense this team has played all year, but it's a start.
Points Per Possession: On a per-possession basis, only the offenses at Utah (1.01) and Indiana (1.00) have been more effective than Colorado State's (1.00) this season. Again, this is rare territory – only 13 teams since 2009 have finished a season at or above 1.00 PPP, and only four of them weren't at Oregon or UConn.
The Rams have a long way to go, but they're 27th in field goal percentage, 27th in points per game, 19th in effective field goal percentage, 17th in points per 100 possessions, seventh in three-point percentage and second in free throw percentage. By pretty much every metric, this is one of the best offenses in college basketball.
Prediction
I don't think there's a lot of room for debate here. Utah State has the 337th-best defense in college basketball (per Her Hoop Stats' defensive rating), the 349th-best effective field goal percentage defense and the 349th-best per-possession defense. The Aggies have allowed more than 1.0 points per possession on five occasions, all to offenses significantly worse than this one.
There's just not a lot to say in Utah State's favor. This team is struggling badly and is not positioned well to handle a matchup against one of the best squads in the Mountain West. It may be able to make some hay against a lackluster defense, but the path to a competitive game is razor-thin and dependent on an extremely uncharacteristic performance from almost every Colorado State contributor. It's best to get this one over with as quickly as possible to begin preparations for a much more winnable matchup against Boise State on Jan. 7.
Colorado State 94