WBB Preview: Aggies Head To Fresno State For Another Road Bout
Fresno State WBB likes to slow the game down and force opposing offenses to win with isolation scoring. Can Utah State keep up on the road? Preview: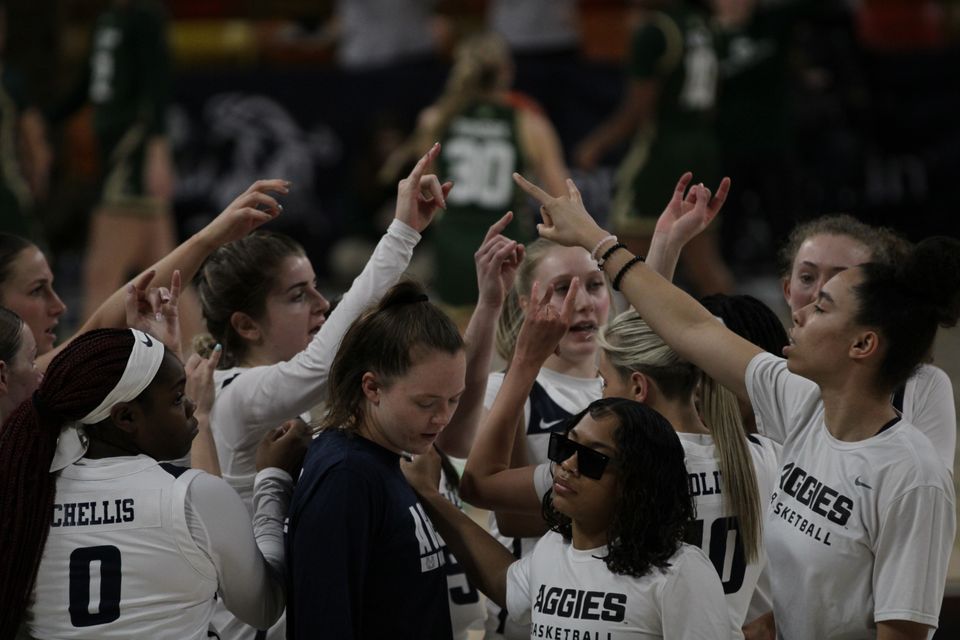 The Mountain West is nothing if not rife with opportunities for a team in desperate need of a breakthrough victory. UNLV is 16-2 and on the outskirts of the top 25 teams in college basketball, San Diego State is 14-4 and nipping on UNLV's heels atop the standings, as are Colorado State (11-5) and Wyoming (11-5). New Mexico has opened its conference slate slowly with a trio of losses in five games, each to members of the above group (Colorado State, UNLV and Wyoming).
That group seems, at this point, fairly impenetrable. As the Her Hoop Stats team ratings tell it, UNLV is far and away the league's best team (19.1 rating) followed by Colorado State (14.9) – which is itself well in front of SDSU and Wyoming (8.7). New Mexico (7.1) rounds out the group.
Utah State has seen the dominance at the top of the league a few times already this season, falling to CSU and SDSU in consecutive home games, neither of which were ever competitive. The Aggies have six games against that group left on the schedule and might as well pencil them in as losses. No one else in this conference is catching the top five.
But, the HHS ratings tell another story beyond the leading group. It's quite the dip from New Mexico to Air Force (-0.2), and it's another precipitous drop to Nevada (-3.2) and Fresno State (-3.7) before Boise State (-8.4), Utah State and San Jose State (-19.3) wrap up the conference. The Aggies have yet to pull out a victory in their matchups within the bottom half of the league, but they've also yet to look entirely incapable of it. For a 3-13 team, that's about as positive as I can be.
They played both Air Force and Boise State closely into the fourth quarter and would have given Nevada a real test on the road if not for their production of one of the worst first halves of offense any basketball team has ever played. Fresno State – next up on the docket as the second leg of a two-game westward road trip – is in the upper half of the league's basement, but the 8-11 Bulldogs (1-5 in the MWC) are within Utah State's reach all the same.
Projected Lineups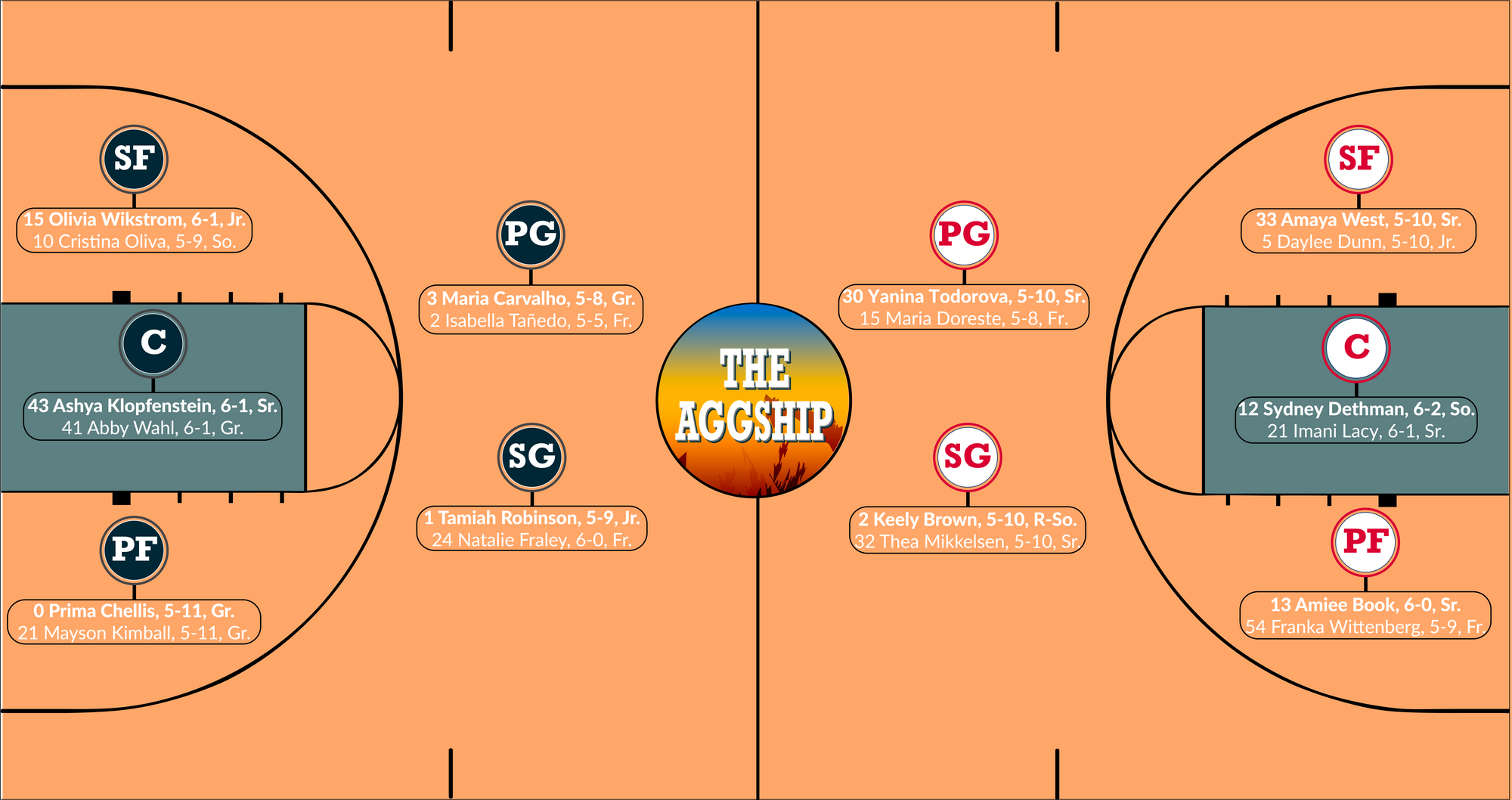 Players To Know
Amiee Book: Fresno State doesn't do a ton of perimeter shooting (155th in three point attempt rate), but when it does, the responsibility usually falls to Book. She's attempted more than twice as many three-pointers (98) as Fresno State's next most frequent shooter (Yanina Todorova, 45) and is just one make short (35) of tripling up the next most successful shooter (also Todorova, 12).
Knocking down 35.7 percent of her tries from deep, Book has taken a bit of a step back from her performance last season (39.4 percent), though it's come with a sharp increase in her usage within the offense from 14.8 percent to 20.5 percent. She's managed to cover some of those misses with a more balanced offensive game, too, hitting 38.3 percent of her shots from the field and cutting his three-point rate down by nearly 15 percentage points from 2021-22 to this season.
The same can be said of just about everything Book does for the Bulldogs this season. She was used only sparingly as a part-time starter in her first season with the team last year, whereas now she's relied on for quite a few more shots, more assists, more rebounds and more... everything. Her rebounding is up from 1.9 per game to 3.9, she's already surpassed her 2021-22 assist total (20) with 23 in 19 games (1.2 per game), and her defense has taken a huge jump from a dreadful 106.5 defensive rating to a much more manageable 92.0 mark.
And, of course, there's the scoring – Book averaged 7.0 points per game a season ago, while she'll enter Monday's matchup with 9.1 points per game to her name. She's had her share of growing pains in taking on a bigger role, as expected, but Book has been largely solid for the Bulldogs this season. Plus, no one on this team is scoring 31 points on 17 shots as she did against Portland State.
Yanina Todorova: What a year it has been for Todorova, a 5-10 senior from Bulgaria. She notched 15 combined starts in 2020-21 and 2021-22 (her first two seasons with the team) and has already surpassed that with 18 starts this season, taking over as Fresno State's full-time point guard.
With her newfound scope, Todorova has quickly emerged as one of the better point guards in the Mountain West, averaging 11.6 points and 1.7 assists per game while leading the Bulldogs in rebounds (4.8 per game) and checking in at No. 2 for steals (1.1 SPG). Her usage has nearly doubled (12.8 percent to 23.5 percent), but unlike Book (and most players), her efficiency hasn't dipped with the increase in shots.
Instead, Todorova has found a level to her game that – beyond spurts of greatness at Odessa Junior College – she's never before shown. She's hitting 46.1 percent of her shots from the field, more than 10 percentage points better than her mark a season ago (36.0) while firing 9.4 shots per game.
She's not as dangerous a player as some of the guards Utah State has faced in the early stages of league play (looking at you, Colorado State and San Diego State), but she's pairing efficient offense with above-average defense and she's been even better in league play than she was in the non-conference. This is a solid player who Utah State will need a good plan for on both ends of the floor.
Amaya West: Fresno State brought West in from Nevada this past offseason with the promise of a starring role after four years as a contributor for the Wolf Pack, so long as she could hold up her end of the deal. The Bulldogs had shots and minutes to go around and West – having seen her role shrink at Nevada last season – took the opportunity.
It's hard to imagine either side being anything but thrilled with the results through 19 games. West is Fresno State's best player, averaging a team-high 12.6 points per game while shooting 41.0 percent from the field and adding 4.6 rebounds, 1.4 assists and a team-best 1.9 steals per contest. She attacks the rim with confidence and skill, gets to the free-throw line more than anyone else on this roster (and hits those shots 87.8 percent of the time) and leads a scrappy defense with her physicality and athletic versatility on the wing.
For as strong as her per-game stats are, they don't do full justice to just how good West has been since settling into her role in town. In Fresno State's last 12 games, West is averaging 15.2 points, 4.5 rebounds, 1.4 assists and 2.1 steals per game, shooting 45.5 percent from the field. She's been excellent.
Stats To Know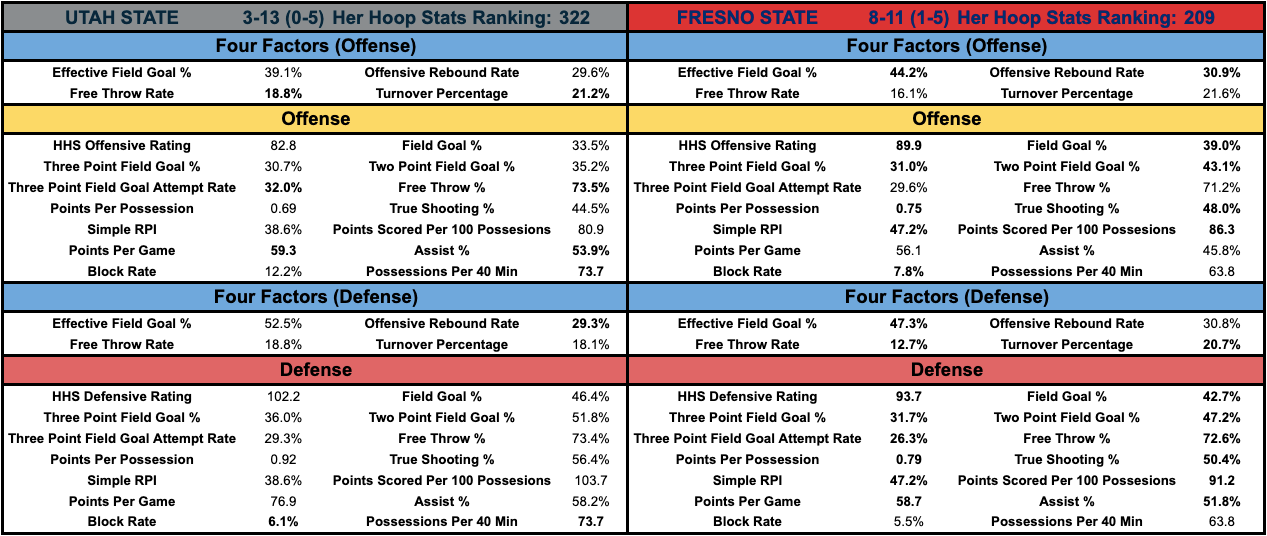 Free Throw Rate: Offensively, Fresno State's free throw rate is decidedly below average (216th nationally, to be exact). The Bulldogs attack the basket plenty, specifically with Todorova off the dribble or with post-ups for Imani Lacy (who only recently returned to the lineup after an injury held her out of the first month of the season), they just aren't especially good at getting to the line.
It's Fresno State's ability to keep opponents off the stripe that really stands out as a stat to know. The Bulldogs allow a 12.7 percent free throw rate, good for No. 21 nationally. They don't have a single player averaging more than two personal fouls per game (Lacy leads the team with exactly two per game) and they've held all but one opponent (Air Force, 20.0 percent) this season to a free throw rate under 18 percent.
Assist %: The free throw rate stat is fun without any context, but it makes a lot more sense when considered alongside the rest of this defensive profile. Fresno State is 280th in field goal percentage allowed (42.7 percent), 257th in two-point percentage (47.2 percent), 217th in three-point percentage (31.7 percent) and 250th in effective field goal percentage (47.3 percent). Meanwhile, the Bulldogs are 91st in three point rate allowed (26.3 percent), 111th in assist percentage allowed (51.8 percent) and 118th in forced turnover rate (20.7 percent).
Again, this is all fun to know... but, what does it mean?
To be overly reductive, it means Fresno State puts its effort into disrupting the flow of opposing offenses and forcing them to win with isolation scoring, not into keeping itself between the ball and the basket. You can beat this defense with elite isolation scoring, as Air Force, Portland State, Sacramento State and UNLV did, or you can beat this defense with elite passing – the examples there being Colorado State, Penn State and UCLA.
It's when you have neither – moving the ball without purpose or attacking with players who can't win those one-on-one matchups – that this defense can eke out victories. That's not great news for Utah State.
Possessions Per 40 Minutes: Fresno State can credit its 58.7 points allowed per game (57th) to good defense, just as its 56.1 points scored per game (306th) can be attributed in part to bad offense, but neither is entirely representative. For that, we can thank Fresno State's 63.8 possessions per 40 minutes – making it the second-slowest team in college basketball behind Albany (62.7).
When adjusting for tempo, the Bulldogs have the 184th defense and the 233rd offense. That makes more sense.
But, those adjustments matter only if Utah State makes them matter. When Fresno State is allowed to play its game – slowing the tempo to a crawl and limiting possessions to make up for a talent disadvantage – this team is quite a bit more dangerous than in up-tempo games. The Bulldogs are still only 3-5 in games played with 63 or fewer possessions, but those matchups include a double-overtime loss at Wyoming (77-72), single-score losses to Cal Poly (48-47), Portland State (62-60) and Sacramento State (62-61), a six-point loss to San Diego State (49-43) and wins over San Jose State, UC Irvine and Utah Valley.
Fresno State's average score in its eight slowest games (average tempo of 58.4) is 56.8-55.1. In its nine other games against DI opponents (average tempo of 68.7), the average score is 55.6-61.9. It isn't often you see an offense get worse when given 10 more possessions, but the cause is very simple: Fresno State turned the ball over 12.9 times per game in its eight slowest matchups and 19.3 times per game in the nine fastest games.
In other words, the easiest (and really, the only) way to speed this team up is by forcing turnovers. If Utah State can contribute some irritating defense and create transition buckets, it can force the Bulldogs into a game they aren't comfortable in. These Aggies aren't winning a battle of half-court offenses against this defense; the only way to pull out this upset is by refusing to play Fresno State's game
Prediction
The recipe for beating Fresno State is pretty simple. The Bulldogs are 0-8 when they allow more than 0.78 points per play and 6-3 when allowing fewer than 0.78 points per play. They're 0-9 when allowing an assist to turnover ratio at or above 0.68 and 6-2 when below it. If an offense can move the ball safely and cash in the opportunities it is given, it will beat the Bulldogs.
Utah State has done neither with any sort of consistency this season. The Aggies have two games above 0.78 PPP (Southeastern Louisiana and Weber State) and five above the assist to turnover ratio benchmark (the two aforementioned games, plus BYU, Colorado State and Eastern Washington). They might be able to keep turnovers down – that has been improved of late – but there's just no evidence to suggest this team can hit enough shots to beat a defense designed like Fresno State's.
Fresno State