WBB Preview: Utah State Hopes To Break Into The Win Column In Kansas City
Utah State WBB is back on the road tonight, traveling to take on a Kansas City squad with plenty of size and athleticism as the Aggies seek their first win. Preview: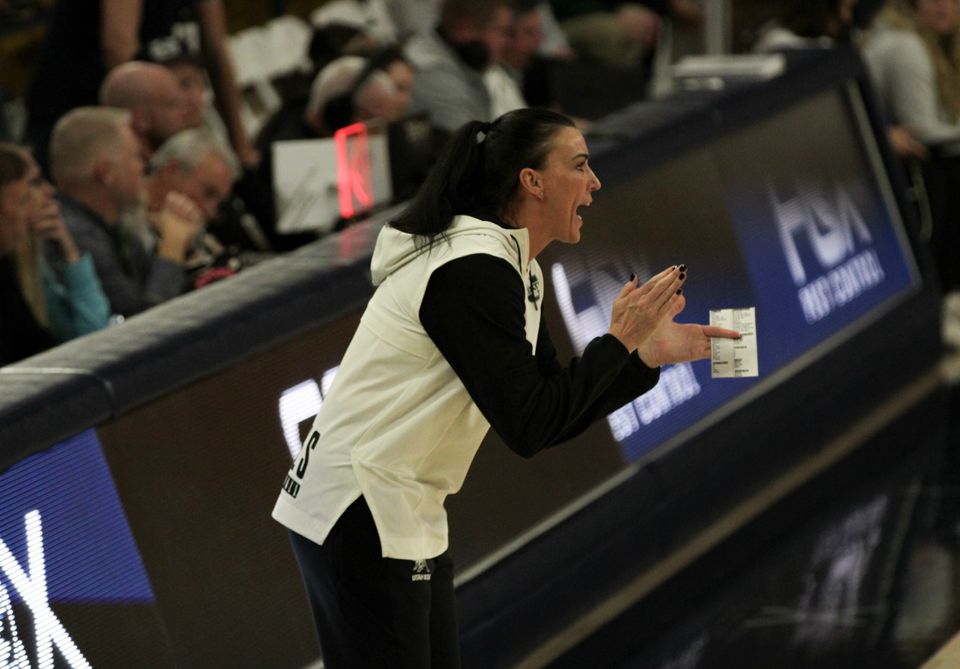 In search of their first win of the season, the Aggies will head to the University of Kansas City on Tuesday night.
Utah State's defense will have its hands full against an offense led by Alayna Contreras and Dominique Phillips, and hasn't yet shown an ability to stop opposing teams. That's a problem here, with a strong offensive attack leading the way for the Roos. The Roos are 1-1 after a 73-66 win over Bradley and a 62-60 loss at UTEP to open their campaign.
Utah State, meanwhile, has struggled through its first two games of the season and sits at 0-2, opening the season with a 79-64 loss at Cal State Northridge and a 75-39 home loss to Eastern Washington. The struggles have been comprehensive, and major improvements will need to be made to both the offense and the defense to get this young season on track.
The Aggies have, however, shown flashes of promise. They had a competitive showing against Cal State Northridge and out-rebounded the Matadors while putting up great offensive numbers in the paint. Against Eastern Washington, Utah State did a good job of controlling the pace of the game early, although it lost control in the second half and never mounted a serious effort to recover it.
To get on the board in the win column, Utah State will need to put forth a complete game – which it has, to this point, yet to do.
Projected Lineups

Players To Know
Ifunanya Nwachukwu: With an impressive arsenal of skills that line up nicely with some of Utah State's weaknesses and focus areas, Nwachukwu is in a position to be a major disruptor to Kayla Ard's system and the Aggies. First is her rebounding. She leads the team with 10.0 rebounds per game and a strong 22.5 percent rebound rate that Utah State will have a hard time working around.
Second is her defensive prowess. Averaging 1.5 steals and 2.5 blocks per game while pulling down 7.0 defensive boards, Nwachukwu is a serious force on defense and makes it very difficult for opposing teams working to get clean looks at the basket. Utah State is already turnover-prone, and having a defender like Nwachukwu in the post could be a concern for the Aggies – especially as they continue to focus on finding easy baskets at the rim.
The 6-2 senior from Lagos, Nigeria is probably the most prolific defensive forward the Aggies have faced thus far, and though she doesn't provide much scoring on the other end (5.5 PPG), she could menace an offense that hasn't yet found its stride.
Dominique Phillips: The senior is averaging 13.5 points, 3.5 rebounds, and 1.0 assists per game, plus 0.5 blocks and 0.5 steals. Shooting a dangerous 54.5 percent from the field, including a 71.4 percent rate on two-point tries, Phillips is an efficient, athletic scorer who can put up a lot of points in a hurry.
She was dominant against Bradley, logging 16 points in only 23 minutes of play on 12 shots, while grabbing three rebounds, two assists, one steal and a block. She's at her best as a slasher, but her ball-handling is much improved, and she's taken very nicely to a much larger role than the one she filled in two seasons at Grand Canyon and two more seasons at Nevada before that.
Alayna Contreras: Coming off the bench but still playing 33.5 minutes a game, which leads the team, Contreras may very well be Kansas City's best overall player. She's atop the board for both points and assists per game, averaging 14.5 points, 4.0 assists, and 3.5 rebounds a contest while shooting 45.5 percent from the field and 57.1 percent from the perimeter.
It's her first season at the DI level, joining the program this offseason by way of Cochise College, but she's already effectively the No. 1 point guard for the Roos. Her defense is suspect, hence the presence of Nariyah Simmons and Lisa Thomas in the starting guard roles, but Contreras will enter this game early and spend much of the evening leading the charge.
Stats To Know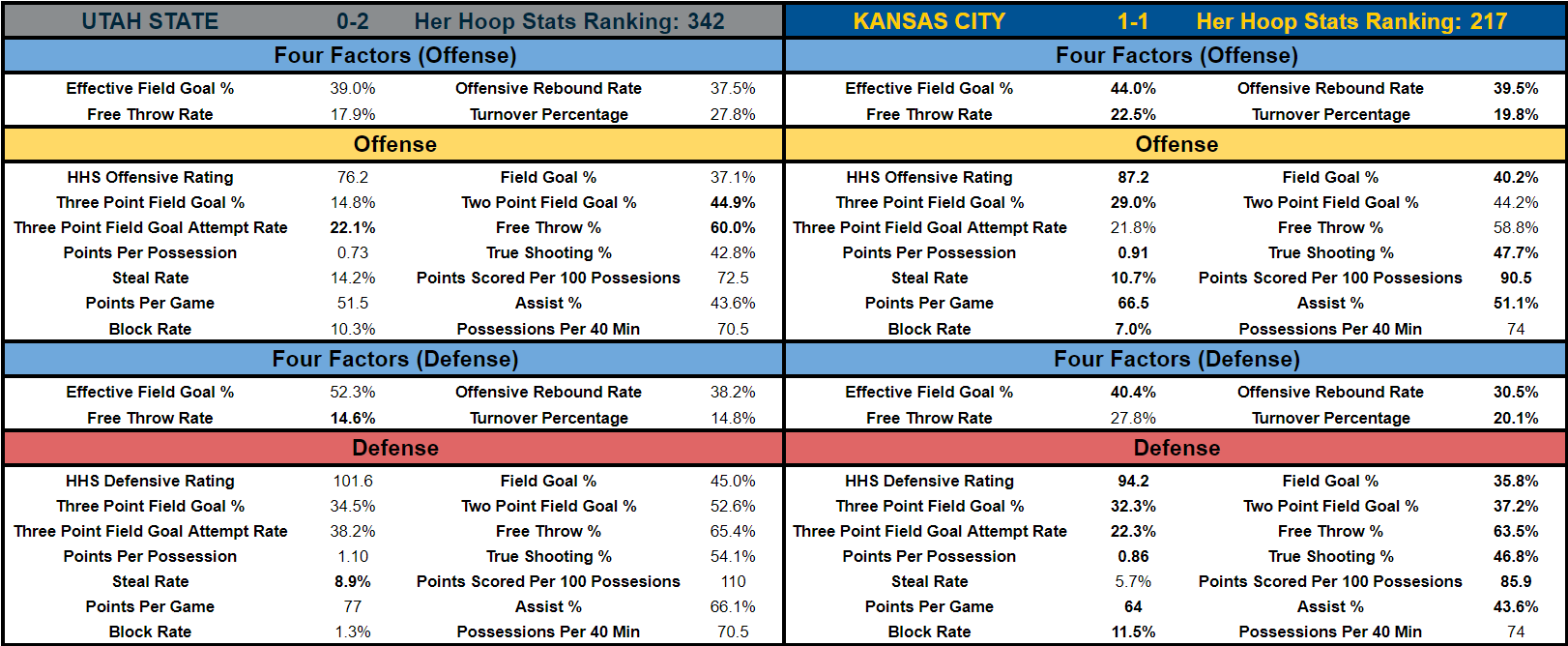 Turnover Percentage: While Utah State is particularly reckless with the ball, Kansas City is only slightly better. The Roos hold a 19.8 percent turnover rate thus far, which is favorable only in comparison to Utah State's dreadful 27.8 percent – the former is 182nd nationally, while the latter is 324th.
There is an opportunity here for Utah State's defensive attack, because Kansas City does not move the ball particularly well, and it has been susceptible to wayward passes, but the same can be said for the inverse matchup. The Aggies have been far too cavalier with the basketball, and Kansas City's 20.1 percent defensive turnover rate is fairly solid. Going up against a stout half-court defense led by Nwachukwu, winning the turnover battle and generating easy fast break points could be a necessary avenue of offensive production for the Aggies.
Effective Field Goal %: The shooting trends are pretty similar for these teams, but the Roos have an edge from the perimeter, which could continue to spell trouble for the Aggies. Both teams have been somewhat reluctant to shoot the three, which is understandable, given that those shots have not been particularly reliable – Utah State is shooting 14.8 percent from three with a 22.1 percent attempt rate, and though Kansas City is only shooting 29 percent on a 21.8 percent attempt rate, that is still a significant edge over Utah State.
From the field, the numbers are again similar, with the Roos slightly in front. Utah State is shooting 37.1 percent on all field goal tries thus far, while Kansas City will enter this game shooting 40.2 percent.
The battle at the free-throw line will be one of attrition. Both teams are hovering around a 60 percent hit rate from the stripe, with Kansas City finding a few more opportunities per game (22.5 percent free throw rate) than Utah State has (17.9 percent), though that could change with the way these two defend – the Aggies have been relatively solid in limiting free throws (14.6 percent), while the aggressive Roos have been much more willing to cede those opportunities (27.8 percent).
Offensive Rebound Rate: Kansas City is a strong rebounding team – maybe the best Utah State has played thus far. The Roos boast a strong 39.5 percent offensive rebound rate, just enough to edge out Utah State's 37.5 percent mark, but they've been much better at keeping opponents off the offensive glass (30.5 percent) than the Aggies (38.2 percent).
This does not bode well for a team that needs to control the post to stay competitive. The Aggies did a good job on the inside in their first game, but struggled to carry that over against Eastern Washington – and this Kansas City squad touts quite a bit more size than the Eagles. Nwachukwu is easily good enough to lead these efforts, but she has plenty of help from Tamia Ugass and Simmons, who are pitching in 7.0 and 5.0 rebounds per game, respectively. Save for Bridget Mullings (9.0), with nine, no Aggies are averaging more than 4.5 rebounds per contest.
Parker Ballantyne covers Utah State women's basketball for The Aggship. You can follow him on Twitter at @PShark14 for updates on the Aggies.