WBB Preview: Aggies Back On The Road To Take On USC
Utah State WBB is back on the road today for a 2 p.m. tip-off against unbeaten USC. The preview has everything you need to know ahead of the game: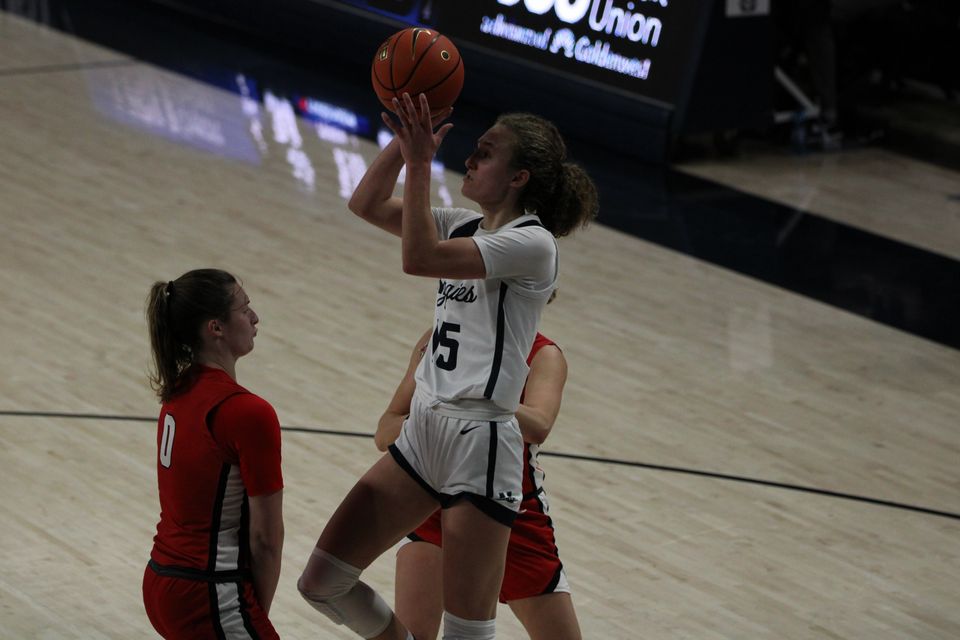 Utah State is not walking into the Galen Center at USC on Nov. 26 with momentum on its side.
The Trojans are a perfect 5-0 to start their season, dominating CSU Bakersfield (86-41), Idaho State (75-42) and San Francisco (74-48) while surviving scares against San Diego (58-50) and Penn (66-60). They've been suffocating defensively and will enter this game at No. 7 in the nation for points per game allowed (48.2). This roster is experienced, long, and a lot more talented than any Utah State has seen.
On the other side, Utah State comes into this matchup with four consecutive losses. The Aggies have yet to beat a Division I opponent, coming up short on comeback bids against Arkansas State and Southeastern Louisiana and suffering blowout losses at the hands of Ball State and Utah Tech. They've been unable to find any consistency on offense, the defense has been porous and the team's list of needed improvements is about a mile long.
This isn't likely to be a fun trip for the Aggies. Opponents have overpowered them with far less talent than USC touts, and Utah State has struggled throughout the early stages of the season with size in the post – USC has six players taller than 6-0 in its frontcourt rotation. As much as the Aggies would love to pull off an upset, success against the Trojans should probably be defined more by signs of improvement than by the final score.
Projected Lineups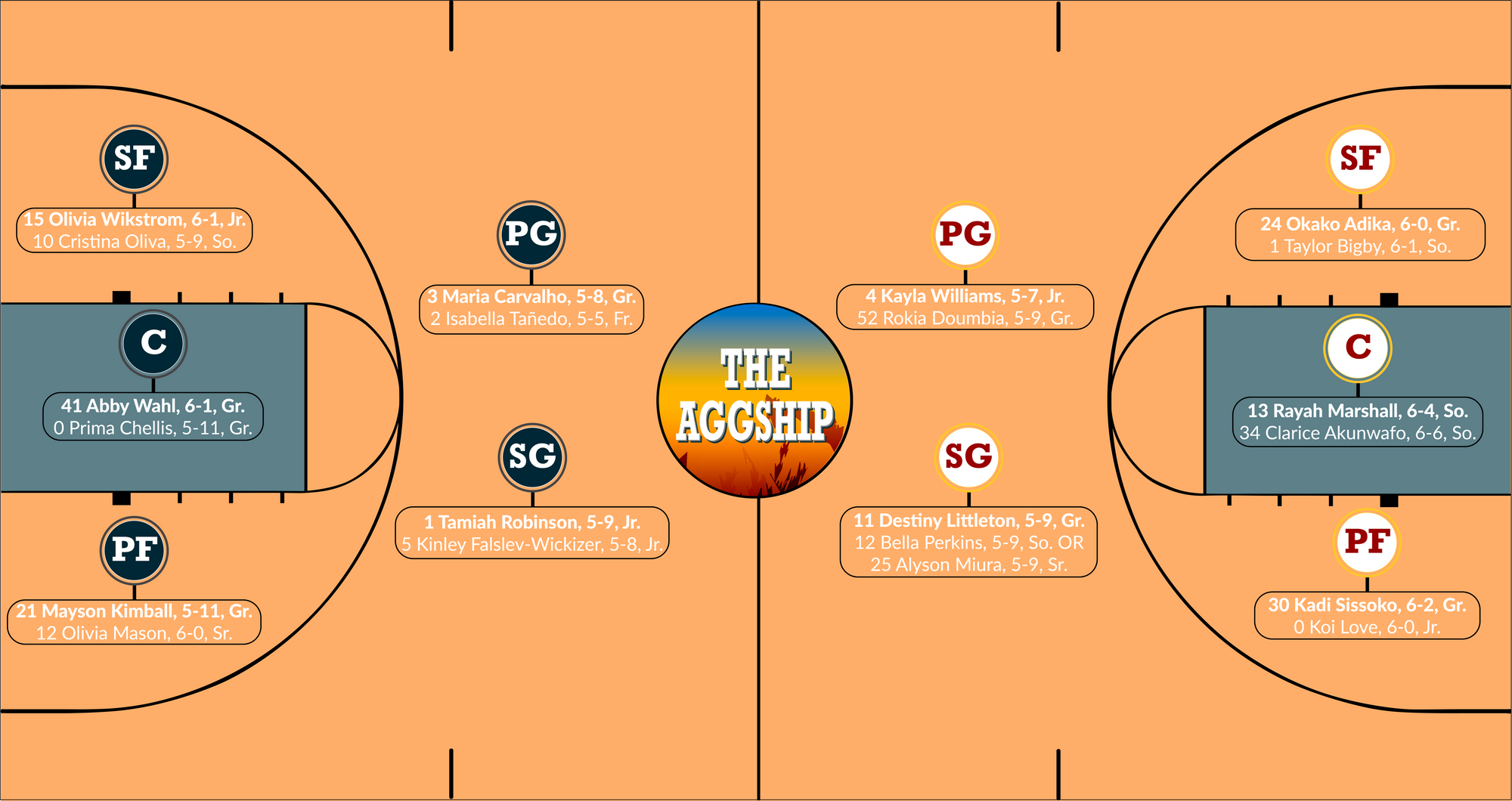 Players To Know
Rayah Marshall: USC has several very impressive individual defenders, but none have been better to open the season than the 6-4 sophomore center. A member of the Pac-12 All-Freshman Team and an All-Defensive Team honorable mention last season, Marshall has picked up right where she left off. She's averaging an absurd 3.4 blocks per game through five contests and has a defensive rating of 57.1 – easily the best on the team and 11th nationally among all players logging at least 15 minutes per game.
She hasn't shot especially well this season (37.1 percent from the field), but she's pitching in 13.0 points per game to go with a team-best 10.4 rebounds per contest. Utah State's best hope at neutralizing Marshall might be to get her into foul trouble, but she's averaging fewer than three fouls per game and her backup, Clarice Akunwafo, stands 6-6. That wouldn't be a whole lot easier for the Aggies to deal with.
Kadi Sissoko: Sissoko has been a revelation for the Trojans at power forward in her first five starts. She transferred over from Minnesota in the offseason and has slotted into this lineup brilliantly, averaging a team-best 17.4 points to go with 6.2 boards and 2.0 assists per game.
Although she can shoot from deep (4 of 7), she works most frequently in the post or at the rim. She's shooting 65.4 percent from two-point range this year and could be in for a career night against a Utah State frontcourt that has really struggled with defending the rim against confident slashers or skilled post players. Sissoko is both.
Kayla Williams: Williams was another offseason addition for the Trojans, and like several of her teammates, she's offered an immediate boost in the starting lineup – especially on defense. She leads the team in steals (18) and checks in with an outstanding 66.9 defensive rating.
Where she's yet to click is on the other end of the floor. Much of the scoring in the backcourt has come from her battery mate, Destiny Littleton (13.8 PPG, 4.6 APG, 2.6 RPG), as Williams has struggled through an early season shooting slump. She's shooting only 27.3 percent from the field and has converted only one of her 14 tries from down. She was a first-team All-Big West pick at UC Irvine last season, averaging 15.5 points, 4.2 assists and 2.3 steals per game, so she should be able to pick back up where she left off at some point – but Utah State would really prefer it not happen on Saturday.
Stats To Know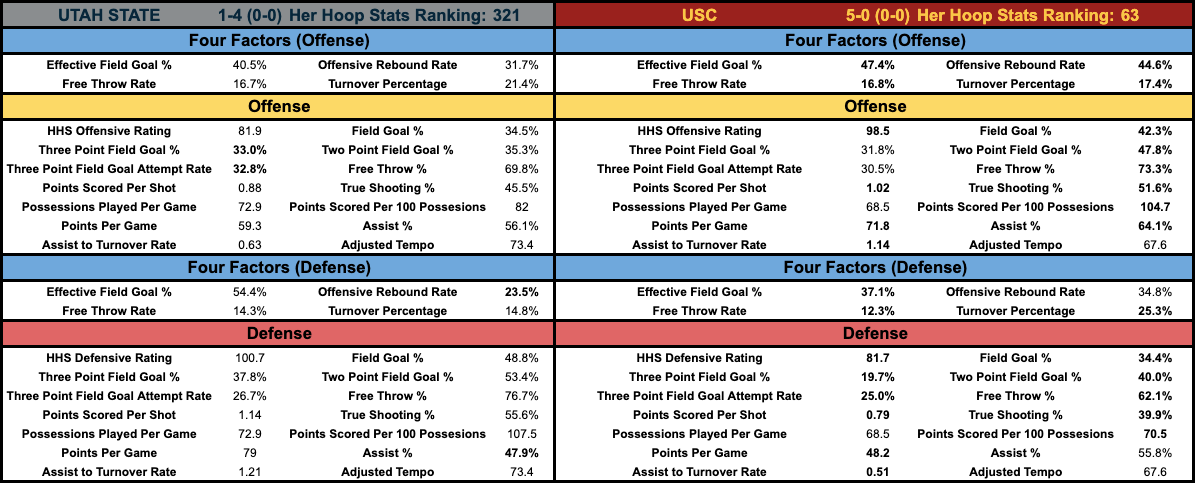 Turnover Percentage: All of those great individual defenders have banded together to create a really nightmarish group for opposing ballhandlers. The Trojans are forcing a turnover percentage of 25.3, good for 35th in all of college basketball. They steal the ball, deflect passes, interrupt passing lanes and make their opponents work for just about any ball movement they get – while also excelling in their one-on-one defense.
It's a test that, quite frankly, Utah State does not look ready for. The Aggies have had a lot of trouble with basic entry passes and generating just a little ball movement against defenses much worse than this one. They're 226th in turnover percentage and just surrendered a boatload to Ball State. This is a bad matchup.
Field Goal %: When USC isn't turning its opponents over, it's very adept at making things difficult on would-be shooters. The Trojans are surrendering a 34.4 percent field goal percentage, 40 percent from two-point range and 19.7 percent from deep. They close out very well, do not make many mistakes in their rotations and very rarely allow for easy baskets at or near the rim.
If Utah State wants to score consistently in this game, it needs to do what no one has really been able to do this season: shoot the ball well from the outside on USC.
Offensive Rebound Rate: Despite its lack of depth in the post, Utah State has been surprisingly solid about preventing offensive rebounds this season. The Aggies are 27th nationally in offensive rebound rate allowed (23.5 percent) and actually quite a bit better about crashing the boards on the defensive end than USC (34.8 percent offensive rebound rate allowed).
All of that being said, this USC team is a different animal entirely. The Trojans have an absurd 44.6 percent offensive rebound rate. That's the 12th-best offensive glass unit in America, spearheaded by the efforts of Okako Adika, Akunwafo, Koi Love, Marshall and Sissoko – all of whom have individual offensive rebound rates at or above 8.9 percent. Utah State has one such player, Olivia Mason (11.5 percent), and she doesn't hit the minutes minimum required to qualify at Her Hoop Stats.
Prediction
I try to be as positive as possible in these previews while remaining realistic. It does no one any good for me to get on here and rattle off negative after negative – it's not fair to the team, and it doesn't make for good previewing. Even in lopsided matchups like this one, there are points to hit on and players to know heading into the game.
I'm also not going to create positives where there aren't positives. Utah State winning this game would be one of the biggest upsets in the history of collegiate athletics. The Aggies are wildly overmatched physically and in overall team talent. They aren't playing well right now, and they're playing a road game against a Pac-12 team that may very well be good.
I'd like to see cleaner passing from Utah State and I'd like to see the Aggies leave this game without any new injuries. Anything beyond that would be asking quite a bit of a team with a lot of growing to do before it can compete in the Mountain West, let alone against the Pac-12.
USC 81, Utah State 52