WBB Preview: Gillen, Isaacson Bolster Utah Tech
The forecast for Utah State's first road game of the season against Utah Tech? It'll be raining three-pointers. Preview: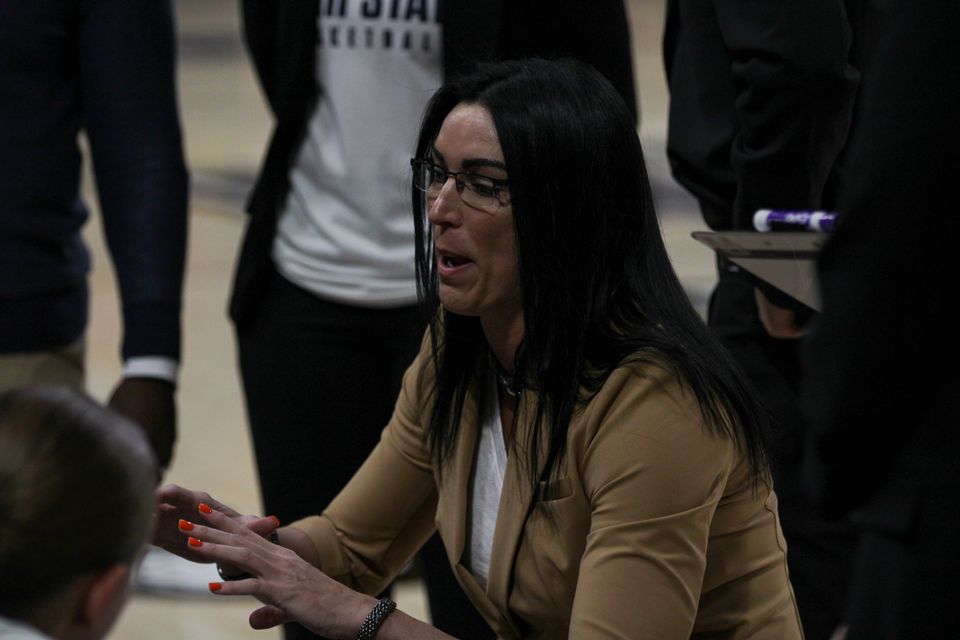 Beyond a change of name from Dixie State to Utah Tech and the accompanying branding alterations, this iteration of Trailblazers basketball looks a lot like last season's 10-19 bunch. At the top, head coach JD Gustin is back for his seventh season helming the program and seeking a return to winning form after consecutive losing seasons – though the 2020-21 season is functionally a wash with only three games played.
He returns almost every major contributor from 2021-22 to do it, by design. The Trailblazers underwent something of a youth movement last season, doling out 78 combined starts to underclassmen in hopes of establishing new contributors for a new era of Utah Tech basketball.
Star point guard and leading scorer (16.7 PPG) Shanaijah Davison is gone, as is infrequently used guard Vegas Camacho. Utah Tech's nine remaining contributors a year ago, though? They're all back with another year of development under their belts and a highly intriguing new option in BYU transfer guard Amber Kartchner.
"We have a good veteran roster back," Gustin said. "We're going to ask her to earn that, but she's right there. There's three or four of them that are fighting for that."
This can be painted as a positive or a negative for Utah State. On the former, the Aggies beat nearly this exact team by 17 points a year ago, 81-64. They were obviously superior from the opening tip and rolled to an easy victory.
The negative slant is just as easy to make your way to. Utah Tech might be familiar, but Utah State sure isn't. The Aggies that won last year's game are all gone, replaced by a group with nowhere near enough time spent on the floor this season for any judgments to be on their quality or overall outlook. There's no historical reference point for measuring their odds of winning this game. It's Utah State's first road trip of the season, and your guess for how it may fare is as good as anyone's.
Projected Lineups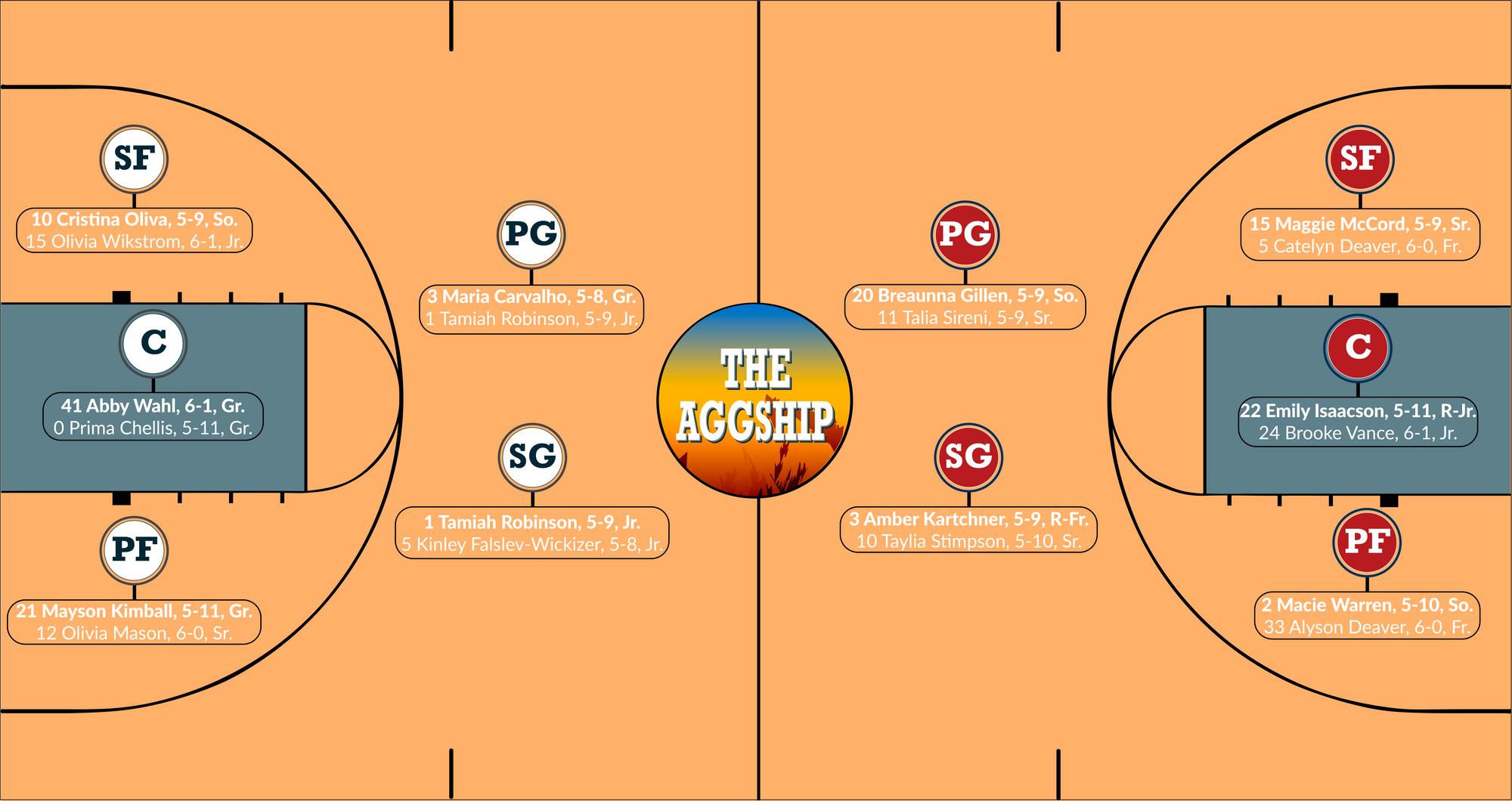 Players To Know
Breaunna Gillen: A starter at point guard in all 29 of Utah Tech's games last season, Gillen has picked up right where she left off despite an increase in responsibilities without Davison – her backcourt battery mate a year ago. She gave the Trailblazers 15.2 points, 5.4 assists and 5.3 rebounds per game in 2021-22 and enters this game averaging 19.0 points, 10.5 assists and 2.5 boards.
Now, it's been only two games. But, with a scoring vacancy to fill in Davison's stead, Gillen has shown plenty of willingness. She's averaged almost 19 shots per game – up from 12.7 a year ago – without seeing any major drop in efficiency. She shot 45.5 percent from the field last year and sits currently at 43.2 percent despite a very cold start from deep (0 for 8), where she was at least vaguely capable (23.9 percent) a year ago. The step into a larger scoring role can be very tricky, but she's shown very few issues with it.
It'll be a difficult assignment for Maria Carvalho, though not an impossible one – especially with Gillen's history of turnover issues. She averaged 2.8 per game last year and sits at 2.5 thus far in 2022. It's not a huge weakness, but it's an opportunity for Utah State to make up some ground and keep her off the scoreboard.
Emily Isaacson: The second of Utah Tech's preseason All-WAC first-teamers (with Gillen), Isaacson presents a whole lot of issues for the Aggies. She is a big, technically speaking, and will do much of her work in the paint defensively (she averaged just over one steal and one block per game last season) and on the glass (7.0 RPG in 2021-22, 9.0 RPG this year), but her offense is predicated almost exclusively on the deep ball.
In 21-22, Isaacson took 72.8 percent of her 292 field goal attempts from behind the arc, converting on 88 of 214 three-point tries (41.1 percent). She's not just one of the best shooters in the WAC, she's one of the finest three-point shooting bigs in America this season.
That's a new archetype for the Aggies to deal with. Center Abby Wahl is a good athlete and can guard the perimeter as needed, but Utah State has had a lot of issues defending the post this season. Removing Wahl's presence to account for a stretch 5 isn't going to do anything to help with that, and will need to be worked around – either by guarding Isaacson with someone else or working a second big into the game to hold down the post while Wahl tracks her.
Macie Warren: She wasn't as productive as her sister, Maddie (9.5 PPG, 3.1 RPG, 2,6 APG), in their respective freshman campaigns last season, but Maddie tore her ACL last season and re-tore it ahead of this campaign. Macie filled in admirably as the starter at power forward a season ago (7.0 PPG, 2.6 RPG, 1.4 APG) and has assumed the role again as a sophomore.
Through two games, she's looked the part of a player with an offseason of improvement behind her. She's averaging 15.5 points and 4.5 rebounds per game while shooting 47.8 percent from the field and 38.5 percent from downtown (both are improvements on last season's figures). Her usage is up, her defense is improving and she looks infinitely more comfortable with the speed of the college game, too.
Stats To Know

Assist To Turnover Rate: Turnovers have been a point of concern for both teams in the early days of the season. Both struggled to handle opportunistic defenses – Southeastern Louisiana for Utah State, Washington for Utah Tech – and both desperately need to avoid losing the ball for their passing-intensive offenses to operate at full strength.
There aren't elite isolation scorers here. This game is going to belong to the offense that can execute without unforced errors and the defense that can jump passing lanes without presenting opportunities for open shots from deep.
Three Point Field Goal Attempt Rate: Speaking of, you're going to see a lot of those here – regardless of defensive prowess. Utah Tech was second nationally in three point field goal attempt rate last season (45.9 percent) and hasn't shown any signs of slowing that down in 2022-23. It has very reliable shooters in Isaacson, Kartchner, Maggie McCord and Warren and an offense that exerts a lot of effort freeing them up for open shots outside of the arc.
Offensive Rebound Rate: Last season's Utah Tech finished 353rd in offensive rebounding rate. There are 356 teams at the DI level. It hasn't been quite as drastically bad this season, but rebounding in general remains a weakness for the Trailblazers. They're one of the smaller teams on Utah State's schedule, and while the Aggies certainly aren't a towering bunch themselves, they need to be better on boards here. They can't afford second-chance opportunities for an offense that can shoot like this.
Prediction
Again, your guess is as good as mine. Utah State's loss to Southeastern Louisiana exposed some real concerns with its frontcourt play, but the guards have been rock-solid so far and that's going to be the biggest matchup for determining a winner here. If Utah State is hitting its shots, cashing in on great opportunities at the rim and from the free throw stripe, and able to create more turnovers than it suffers, it'll return to Logan with a victory.
I have essentially zero confidence in this pick, but I'm not sure the Aggies are yet ready to put together a complete game – and ultimately, I trust Utah Tech's shooters just a little bit more.
Utah Tech 79, Utah State 75