WBB Preview: Utah State Seeks To Extend Winning Streak Over Weber State
Utah State WBB hosts Weber State tonight, and is looking to extend its winning streak over the Wildcats to six games – while also moving to .500 on the season. Preview: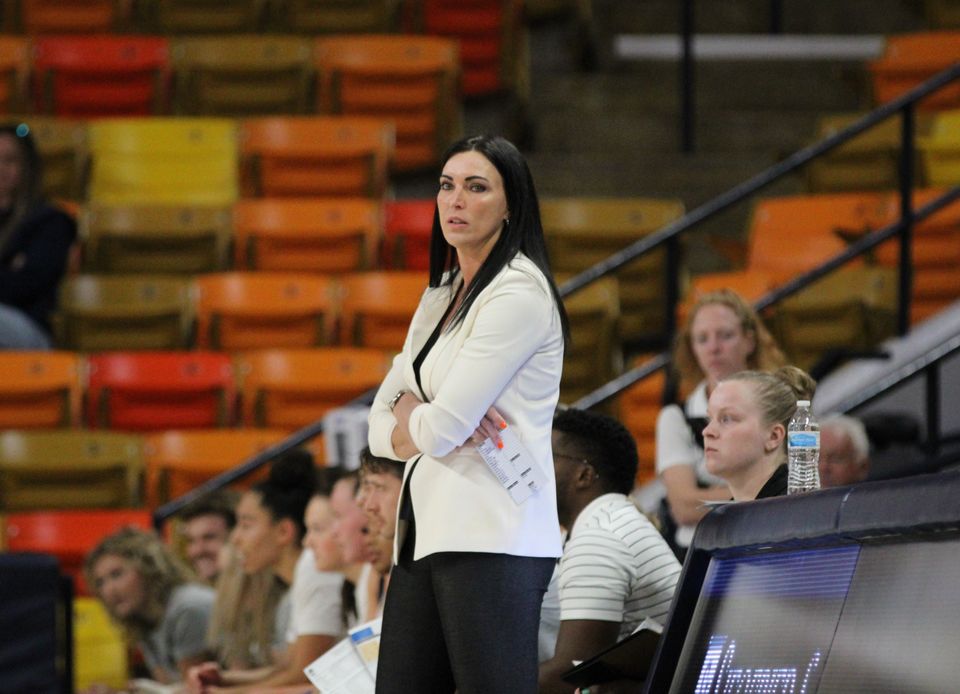 Utah State is set to take on in-state opponent Weber State tonight at 6 p.m., as the Aggies look to keep up their recent momentum and stay in the win column after knocking off Kansas City, 62-60.
Weber State, meanwhile, is 0-3 and is looking to pick up its first win of the season, while Utah State sits now at 1-2, and has the chance to get to the .500 mark for the first time since the second game of last season.
It's been a brutal start to the season for the Wildcats, by design. This is a program that relies on money games in the non-conference schedule, which necessitates a lot of road trips and a lot of matchups that won't likely lean in Weber State's favor. This team has already made trips to Utah Valley (falling 56-55), BYU (falling 77-49) and Boise State (falling 76-47), and still has two more road games to play after this, at San Diego and Oregon State, before it finally kicks off its home slate against Nevada on Dec. 6 (followed by another five-game road stretch).
This will be the 41st meeting of these two teams, and although the Aggies trail the series 23-17, they're currently on a five-game winning streak against Weber State. Last year's meeting, a 74-69 Aggie victory, was one of Utah State's four wins for the season.
These two teams, notably, have a shared exhibition opponent, as both played Fort Lewis College before the season. While the Aggies fell 70-69, the Wildcats won their game against the Skyhawks, 77-62.
Granted, Utah State has made some changes to its rotation since then, including a new-look starting lineup the Aggies will likely stick with after deploying it for the first time in that win over Kansas City. At point guard, Cheyenne Stubbs is leading the offensive attack with 13 points and 2.3 assists a game, adding 3.3 rebounds and 2.3 steals per game on the other end. Shooting guard Skye Miller is another big piece of Utah State's offense, averaging 10.7 points, 4.0 rebounds and 2.0 assists a night. Ivory Finley rounds out the backcourt coming off a breakout performance, erupting for 17 points and playing a big part in Utah State's win.
In the frontcourt, you'll still see plenty of forward Samiana Suguturaga and Allyzee Verdan, but the Aggies went with Tiairra Hill-Brown and Bridget Mullings in the starting five when they last took the floor. Hill-Brown has been quiet through three games (3.3 PPG, 3.3 RPG), while Mullings is averaging 9.3 points per game – though most of that is from her first game when she dropped 17 against Cal State Northridge. She also leads the team in boards with an average of 7.3 a game.
Projected Lineup

Players To Know
Daryn Hickok: A senior in her fifth year with the Wildcats, Hickok is a great complementary player with scoring abilities that just haven't yet been realized this season. She averaged 16.3 points per game last season, but is being held to less than half of that this year, sitting at 6.3 points per night on 30.4 percent shooting from the field.
She's still found ways to pitch in, pulling down 5.7 rebounds per game to lead the team despite standing only 5-10. Her season high came at UVU, when she grabbed nine boards in 18 minutes, though she only had two points. To limit this Weber State offense, Utah State would do well to keep Hickok's scoring under wraps. Given that she's at her best as a slasher, that job falls both to her defender and to any rim protectors on the floor.
Jadyn Matthews: Another fifth-year senior for the Wildcats, Matthews is a prolific scorer who has picked up some of the slack left by Hickok's slow start. She's averaging a team-best 10.3 points per game from her power forward spot, while also grabbing 4.3 rebounds and dishing out 1.3 assists per game.
A big part of this season's surge has come from behind the arc, which had long been a missing piece of Matthews' game. She's always been comfortable as a rebounder and a scorer at the rim who can get to the free-throw stripe, but she's struggled for years to find a rhythm from deep. The sample size is small, but through three games, the returns are very positive. Matthews is shooting 50 percent from deep this season on 3.3 attempts per game, while knocking down 46.2 percent of her total field goal tries.
It's a give-and-take because her free-throw rate has plummeted (17.4 percent to 5.9 percent), but that could just be some small sample size weirdness. She's still more than capable of winning on the inside when she needs to.
Amelia Raidaveta: Raidaveta is coming off a 12-point, six-rebound game against Boise State. Although she's not Weber State's first option, she's a formidable scorer capable of making her own plays by grabbing rebounds and getting putbacks. She comes off the bench and could be an anchor this season for the Wildcat second unit, particularly when she finds a mismatch in the post.
She's averaging 6.7 points, 4.3 rebounds and 1.7 steals per game so far, and has seen her playing time increase rapidly from her freshman campaign, up from 8.7 minutes per game last year to 19.1 so far this year.
Stats To Know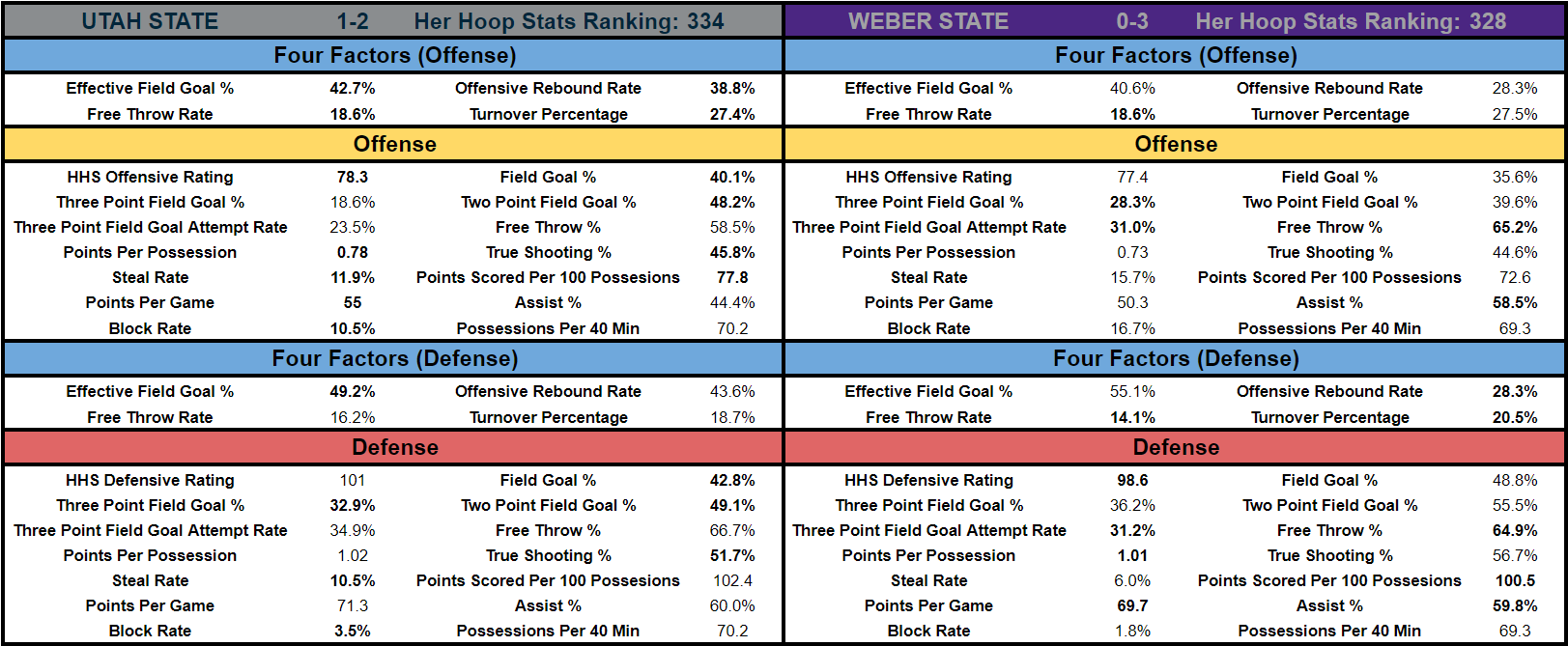 HHS Defensive Rating: This Wildcat defense has not been terribly impressive this season. Checking in with a 98.6 defensive rating per Her Hoop Stats, which ranks 310th nationally, Weber State has had trouble with just about everything on that end of the floor. The Wildcats are surrendering a ridiculous 55.1 percent effective field goal percentage (337th nationally), and have had trouble creating big plays of their own, carrying just a 6.0 percent steal rate and a 1.8 percent block rate. The turnover percentage (20.5 percent) is relatively solid, but Weber State has had very little to do with that.
Utah State, of course, has no room to talk when it comes to poor defense. The Aggies have an even worse defensive rating (101, 333rd nationally), and though they've done a better job in contesting shots, they're allowing far too many offensive rebounds, holding a 43.6 percent offensive rebound rate that ranks 336th.
Assist %: While the Wildcats are, like the Aggies, prone to turnovers (27.5 percent offensive turnover rate, somehow even worse than Utah State's 27.4 percent), they have an interesting propensity for assists.
Their 58.5 percent assist rate is legitimately solid, ranking just outside of the top 100 nationally at No. 106. What's even more impressive is that they don't have a single player averaging more than 2.0 assists per game. Kaiija Lesane and Laura Taylor are each right there at 2.0 per game, but this works because nearly every other player is averaging at least 1.0 a night. Mathews and Kendra Parra are at 1.3 APG each, followed by a trio of Wildcats right at 1.0 APG, and another at 0.7 APG.
It's a roundabout way to move the ball around, and the Wildcats still haven't managed to score a whole lot this season, but their commitment to involving the entire team and keeping the ball in motion is commendable, and will probably pay dividends in the long run.
Parker Ballantyne covers Utah State women's basketball for The Aggship. You can follow him on Twitter at @PShark14 for updates on the Aggies.