WBB Preview: Utah State Looks To Snap Dryspell In Ogden
Utah State WBB is back in action tonight at 6 p.m., seeking its first win over a Division I team with a trip just down the road to play at Weber State. Preview: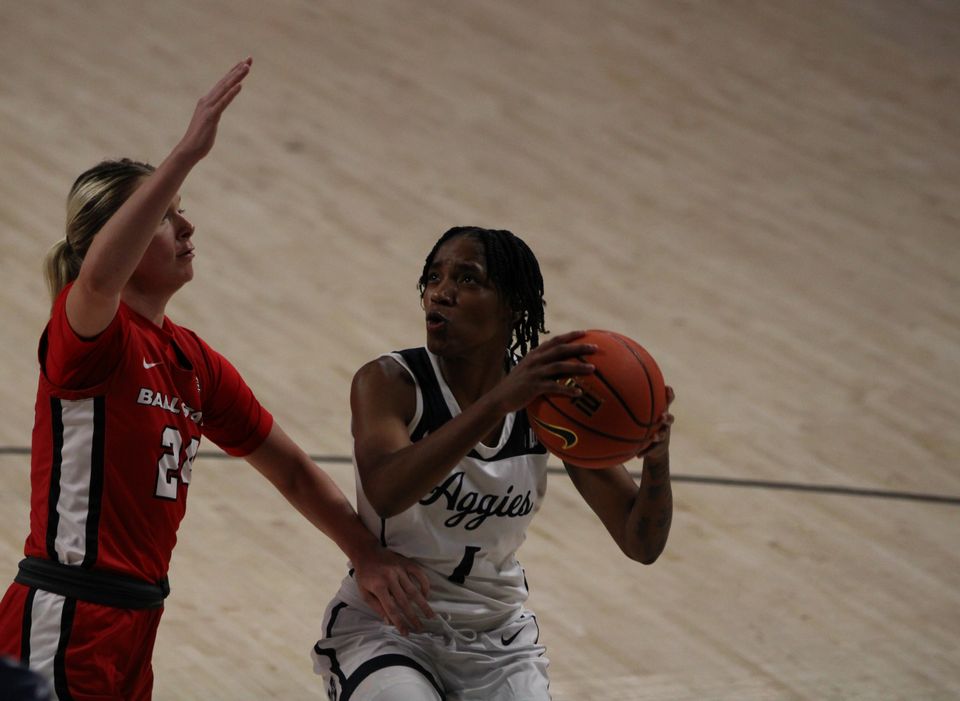 If Utah State is going to enter Mountain West play with at least one victory over a Division I team in its pocket, it'll probably need to win one of its next two games. The Aggies are back in Utah as they prepare to return to the floor after nearly a week off following a 79-48 loss at USC, but they aren't home quite yet. They have one more road game in this stretch of four away games in five matchups, and it's a big one – at Weber State, set to tip off at 6 p.m. local time on ESPN+.
The Wildcats are no pushovers, though. They enter this game at 3-3 on the season, falling to Boise State, Omaha and Providence but toppling Bryant on the road, Hartford in a neutral site game and Utah Valley at home. But, Utah State is set to close out its non-conference slate with this game, a quick turnaround home game with Utah Valley on Dec. 3, another home bout on Dec. 6 against BYU, and road trips to Loyola Marymount (Dec. 10) and Eastern Washington (Dec. 20).
Even with significant early season struggles for all teams mentioned, this bout and Saturday's return home are probably Utah State's best shots at breaking back into the win column. Her Hoop Stats gives the Aggies just a 7.2 percent chance to beat BYU and a 14.7 percent shot against Eastern Washington.
It isn't a whole lot friendlier for this matchup (22.9 percent chance), but that's much closer to striking distance, as is Utah Valley (in which Utah State is actually favored with a 60.5 percent chance) and LMU ( 33.6 percent chance).
The latter could offer an opportunity too, but the time is now for Utah State to strike. It's back in familiar territory and coming off a loss that, despite the final score, offered positives for the team moving forward – namely in USC's 18 turnovers, 16 USU offensive boards and good days offensively from Tamiah Robinson and Olivia Wikstrom.
And frankly, without any sort of positive momentum entering conference play, it could be a very long winter for the Aggies. They need at least one of these games, if not two or three.
Projected Lineups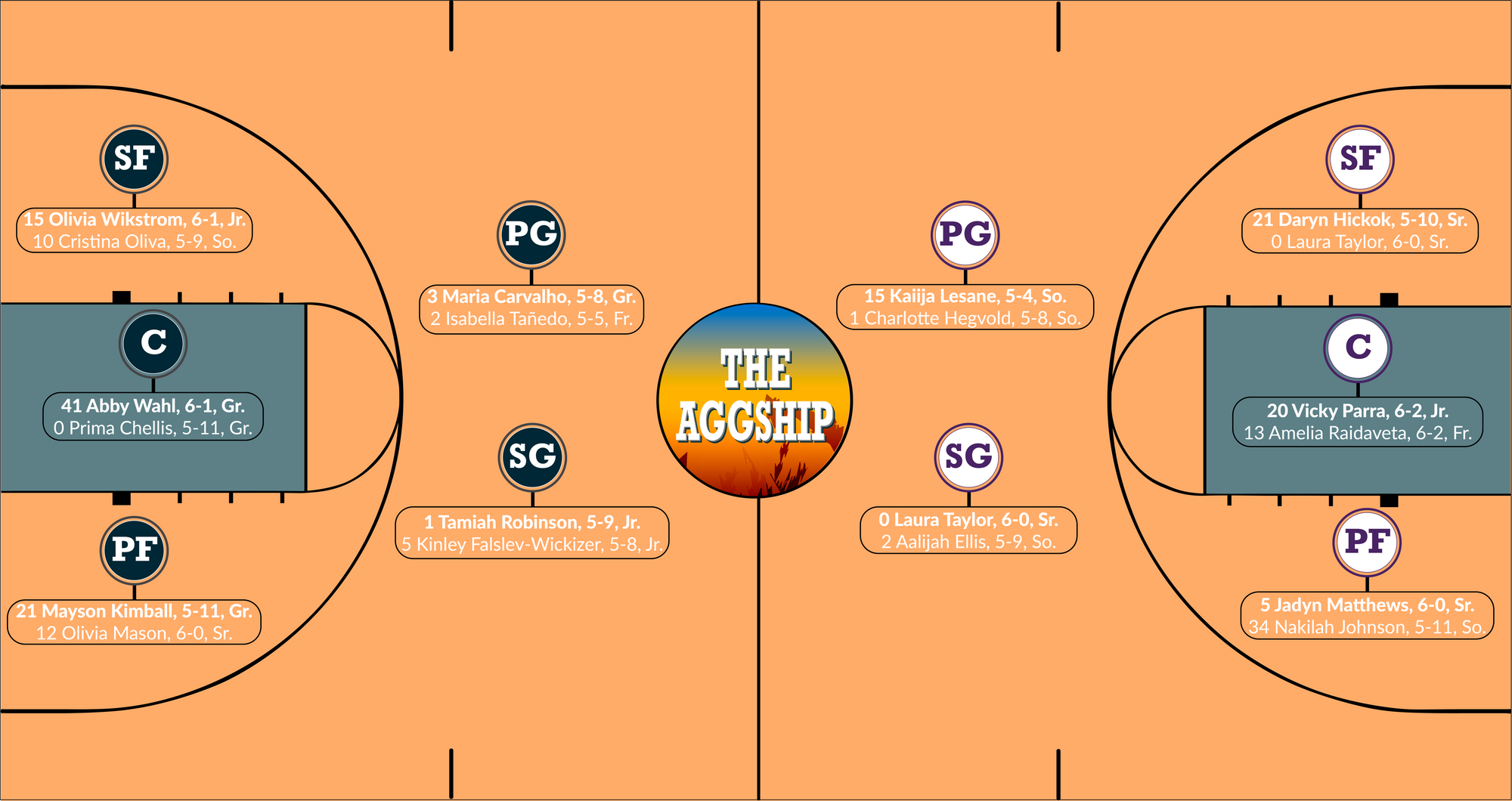 Players To Know
Daryn Hickok: They aren't as big as USC, which had probably the largest lineup the Aggies will see all season, but Weber State is not lacking for size by any means. That's interesting, given that the Wildcats have been without 2021-22 starting center Emma Torbert, but it's explained by another injury – shooting guard Ava Williams has not played since game No. 2.
In her absence, Weber State has gone big, playing three players over 6-0 and four over 5-10 in the starting lineup, with three more over 5-11 in the rotation. Laura Taylor, usually a small forward, shifted into the starting shooting guard spot next to point guard Kaiija Lesane ahead of rarely used reserve Aalijah Ellis, making room in the frontcourt for a true center (Vicky Parra) and two hybrid wingers.
Both have been very good and will be covered in this space, but the best player on the team to this point has been Hickok, who plays as a de facto small forward. It's not a new role to the senior – she led the team in scoring (15.2 PPG) a year ago and checked in at No. 2 in rebounding (7.2 RPG). This year, she's putting up 15.5 points a night with 5.3 RPG, adding 13 assists and 10 steals over six games (both lead the team) as a frontcourt playmaker.
Hickok has not been quite as efficient as she was last year, but she still gets to the free throw line at a great clip (23.1 percent free throw rate) and has taken well to higher usage rates (30 percent) within the offense. She does almost all of her scoring in the paint or at the stripe, but her physicality and skill for finishing at the rim can more than make up for a lack of diversity in how she looks to attack a defense. Her active hands on defense present a lot of problems for opponents, too.
Jadyn Matthews: Joining her in the forward group is another familiar face from the senior class. Last year's No. 3 scorer (12.0 PPG), No. 1 rebounder (8.8 RPG) and another comfortable two-way player, Matthews has picked up a lot of the slack left in Torbert's wake. She's up to 15.3 points and 8.0 rebounds per game – increasing her field goal percentage (52.3 percent) by nearly 10 points and her usage rate (22.9 percent) by nearly three points.
Despite being the taller of the two players, Matthews is much more comfortable on the outside than her counterpart at small forward. Her three-point rate is up five points to 16 percent, and she's knocking those shots down at an improved 33.3 percent clip. It's still not the primary focus of her game – that would be slashing and scoring in the paint. She's not as difficult to keep off the stripe, but she's just as good at attacking the basket.
Vicky Parra: The final member of the starting frontcourt, Parra was a late addition to the starting lineup, as mentioned above. She started the season as a reserve, ceding to a smaller lineup as the Wildcats tried to play without a more traditional center. Williams' injury moved them away from that and pushed Parra into the starting lineup, where she has shone through four games.
She isn't much for scoring, averaging only 4.2 points per game on 10-of-27 shooting (37 percent), but she's leading the team in rebounds (9.0 RPG) and blocks (1.6 BPG). Her offensive rebounding rate is a sky-high 15.9 percent and she has the best defensive rating (79.1) on the team. Parra is not playing up to the level Weber State came to expect of Torbert last season (12.2 PPG, 6.6 RPG, 2.4 APG, 1.5 BPG) but she's filled the role admirably after hardly contributing last season.
Stats To Know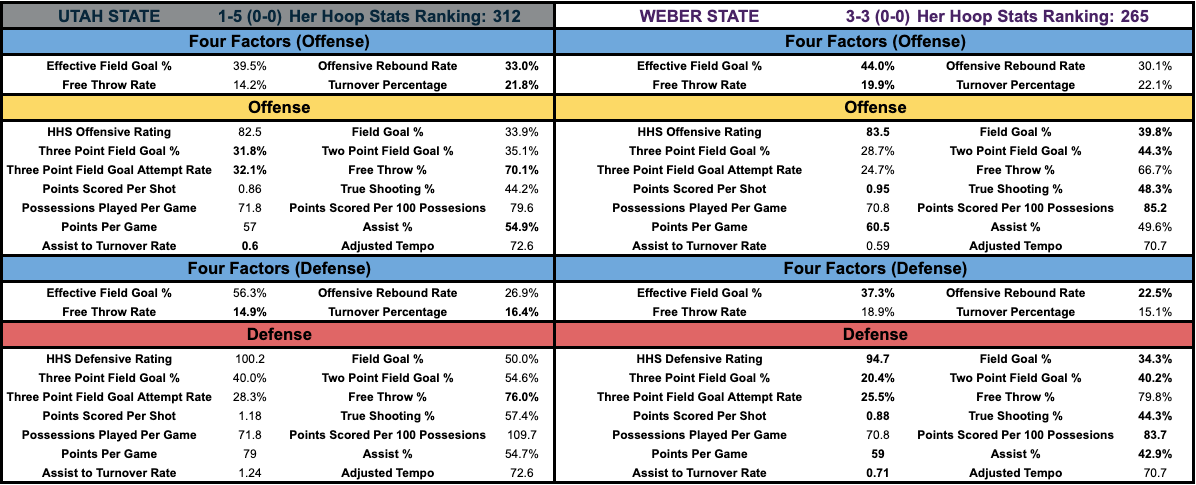 Free Throw %: Utah State has done a pretty good job of keeping opponents off the stripe, but it has struggled to get there itself. Weber State is the inverse, finding free throws on offense but surrendering too many on the other end of the floor. The key to take from that? Despite their rates, neither team has shot especially well at the line this season. When free throw opportunities present themselves here, the team shooting needs to take advantage.
Assist To Turnover Rate (ATR): Both of these defenses would like to create a lot of turnovers. Whether they've been able to do so successfully has varied from game to game, but they are both built to generate steals and make things difficult on opposing ballhandlers. That's pertinent for this matchup because both offenses have had a whale of a time holding onto the basketball.
Utah State enters the game with a 21.8 turnover percentage (257th nationally) and a 0.6 assist to turnover rate (263rd). Weber State's turnover percentage is even worse, down at 22.1 percent (270th) with a 0.59 assist to turnover rate (267th).
The Wildcats are breaking in a new point guard in sophomore Kaiija Lesane after the graduation and departure of Aloma Solovi, and they operate a system that calls for a lot of passing out of the frontcourt. For as good as the wingers have been this season, they have not done a great job of taking care of the basketball.
Seven Wildcats have an individual turnover rate at or above 25 percent (very bad) and only two players with an ATR above 1.0, which is roughly average. Utah State has four players who would fit the former parameters and two for the latter. This one might get a little messy.
Effective Field Goal %: It's not fair to boil a team's struggles down to a single stat, especially in the case of this Utah State squad. It has suffered through a litany of issues in six games and cannot place the blame solely on one problem. However, there's a structural struggle that, if solved, could go a long way toward covering up a lot of those other, smaller problems. Utah State needs to start hitting shots.
It hasn't shot better than 32.1 percent from the field (Ball State) in any of its last four games. It's been under 27 percent from deep in three of the last four and under 40 percent from two-point range in all four. The Aggies have touched 40 percent effective field goal percentage once in the last four matchups, hitting exactly 40 percent against Arkansas State. The other problems need to be addressed as the season develops too, but Utah State isn't going to win games until it can hit some shots. It's as simple as that.
Prediction
Perhaps this is foolish, picking Utah State to win a game on the road when it has provided no real cause for such confidence. This team has been beaten and battered over the last three weeks, and has shown nothing beyond faint signs of life in decent efforts against Arkansas State and, at times, USC. Weber State is not a good team by any means, but Utah State was one of the worst basketball outfits in America through November.
Maybe it's the calendar flipping over to December. Maybe it's the four days of rest between the Nov. 26 game against USC and this matchup. Maybe I'm just feeling charitable after a short vacation. Whatever it is, I'm picking the Aggies to find some answers from the field, win the rebounding battle despite a size disadvantage and claim their first victory of the season over a Division I team.
Utah State 67, Weber State 64