WBB Review: Utah State Battles Back From Early Deficit, Falls Short At CSUN
Utah State WBB rallied from a brutal second quarter and pulled within 10 points of Cal State Northridge entering the final frame, but couldn't close the gap further in a season-opening 79-64 loss: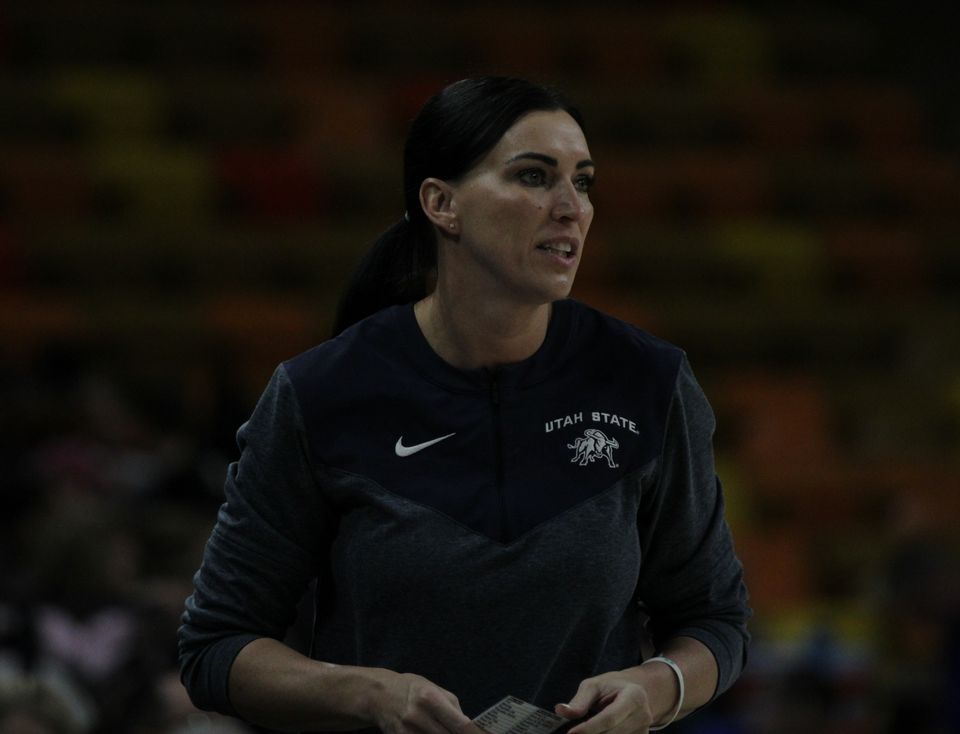 NORTHRIDGE, Calif. – Utah State was unable to prevail in its debut effort, opening its season on the road against former Big West rival Cal State Northridge and falling 79-64.
In a game with only three lead changes, Utah State led for less than two minutes and trailed by as many as 20 points.
The Aggies were competitive early, but a rocky second frame proved too much to overcome, despite a surge in the second half that that saw Kayla Ard's squad narrow the gap to as few as 10 points. It was a brutal second quarter for Utah State, which managed only 10 points on 4-of-12 shooting, while allowing the Matadors to score 22 points of their own (8 of 18 from the field) – ultimately putting the Aggies in too precarious a position to overcome.
They trailed 43-26 at the half, and despite their third-quarter resurgence when they outscored CSUN 20-13 and pulled together an 18-8 run to end the frame with just a 10-point deficit, 56-46, they couldn't manage to close the gap further. Utah State was still outscored on the day when excluding that second quarter gully, but only by three points, 57-54.
Even in a losing effort, Utah State leaves its debut with a smattering of encouraging building blocks. Chief among them, the Aggies won the battle on the boards, 43 to 39. Offensive rebounds were an issue for both defensive units, with the Aggies and Matadors each grabbing 18 boards on the offensive end, but Utah State managed a slight 25-21 rebounding advantage defensively.
With those second-chance points, Utah State earned 21 points to 13 for the Matadors – another step in the right direction for a program that struggled mightily in the post a season ago. In that same vein was Utah State's proficiency in the paint. While the Aggies struggled from the perimeter to say the least, they largely made up for it with a dominant performance around the basket, which is always an important battleground in the Mountain West. On the other side of the ball, the Aggies gave up only 34 points in the paint.
Defensively, while the Aggies didn't record any blocks, they did nab 11 steals, creating 17 points off turnovers with 10 coming on fast breaks.
Bench production was also a plus for the Aggies. Fueled primarily by junior forward Bridget Mullings and redshirt freshman forward Tiairra Hill-Brown, the Aggies had 36 points off the bench. The former was excellent in her USU debut, shooting 6 of 8 from the field and adding five free throws on six attempts, leading the team in both scoring (17 points) and rebounding (10) despite playing only 21 minutes. Hill-Brown was a bit quieter in her first collegiate outing (she redshirted last season), but she pitched in nine points and five boards in 15 minutes of action.
However, as you might expect from a 15-point loss, the game showcased some early concerns. Alarmingly, Utah State was 0-14 from behind the arc. Three-point shooting is not an elective extracurricular, it is a prerequisite to winning, and Utah State could not find its range all evening. The same could be said about free throws, where Utah State also struggled, despite getting to the stripe at a strong clip. The Aggies shot just 14-25 from the free-throw line. CSUN was far from perfect on its shooting, knocking down 9 of 31 three-point tries and 12 of 20 free throws, but those made triples were enough to lift the Matadors to victory.
In another offensive issue, Ard's team committed 23 turnovers to 17 from the Matadors. With 76 possessions in the game, the Aggies ended almost a third of their possessions with a giveaway. Notably, Utah State made 25 field goals, meaning it turned the ball over nearly as often as it scored from the field. These turnovers turned out to be costly for the Aggies, as the Matadors were able to capitalize to the tune of 19 points scored on giveaways.
Let's go a little deeper. With 21 second-chance points, 10 coming off fast breaks and another 14 from the free-throw line, only 19 of Utah State's 64 points came from a set offense. That is… not a good sign. It's reflected in part by the fact that Utah State only had 10 assists – the Aggies just were not consistently getting the looks they wanted on offense.
In the starting lineup, junior wing Skye Miller led the charge with 11 points on a 4-of-12 shooting performance, adding seven rebounds, four assists, and a steal; UMass Lowell transfer wing Ivory Finley had eight points and five rebounds; Canisius transfer guard Cheyenne Stubbs added six points, four steals and a rebound; JUCO PG Livia Knapp dished out four assists; and JUCO C Allyzee Verdan scored only from the free throw line, pitching in two points, two rebounds, an assist and a steal. Foul trouble proved an impediment for Finley, Miller, Samiana Suguturaga and Isabella Tañedo, who each finished the game with at least three personal fouls.
The Aggies will return to action for their home opener on Nov. 10 at 5 p.m., welcoming to town the Eastern Washington Eagles of the Big Sky. They went 19-11 overall and 11-7 in league play last season, and claimed an 84-54 home victory over the Aggies. It will be the sixth all-time meeting between the two, with EWU now holding a slim 3-2 all-time advantage.
Parker Ballantyne covers Utah State women's basketball for The Aggship. You can follow him on Twitter at @PShark14 for updates on the Aggies.