WBB Review: Aggies Use Historic Shooting Performance To Topple Weber State
Led by the emerging trio of Ivory Finley, Skye Miller and Cheyenne Stubbs, Utah State logged one of the best shooting performances in program history to topple Weber State. WBB Review: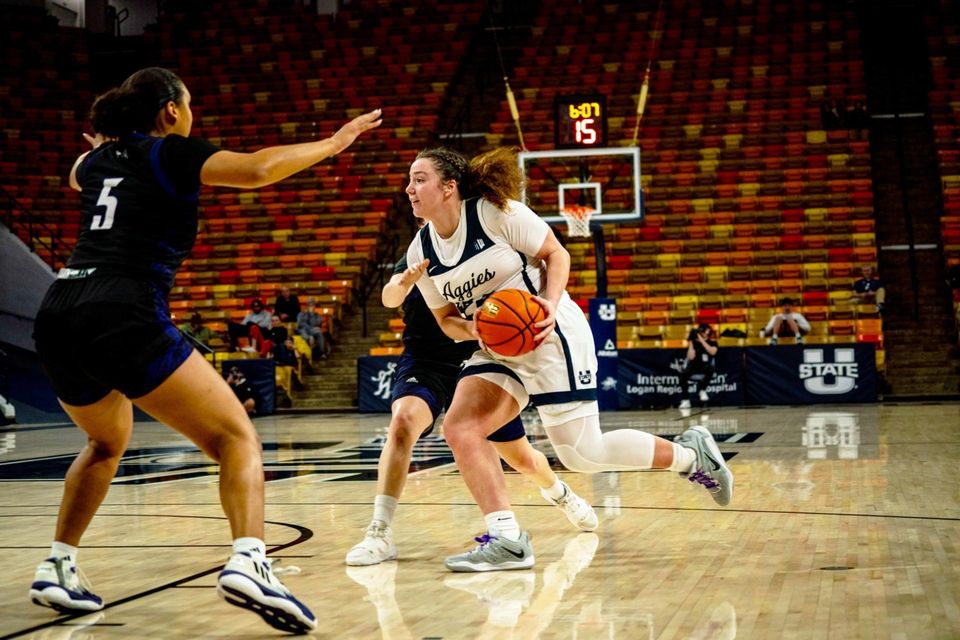 LOGAN – Using the sixth-best shooting night in program history, a 58.1 percent performance, Utah State withstood a comeback effort from Weber State and earned its second victory in a row. With the 72-62 win, Utah State advances to 2-2 on the young season and reaches the .500 mark, which has eluded the Aggies since they dipped below it just three games into last season, when they beat the College of Idaho and then lost back-to-back games against Southeast Louisiana and Utah Tech.
Speaking of first-times-in-a-long-time, Utah State's 72 points are the most scored in a game by the Aggies since the last time these two teams met, on Dec. 1 of last year when the Aggies won 74-69. It's also Utah State's largest margin victory since Jan. 16, when it claimed a 10-point victory against Fresno State, 68-58.
Meanwhile, Weber State falls to 0-4 on the season and still has three legs to go in a season-opening seven-game road trip, with another five away games to follow the home opener against Nevada on Dec. 6 (split only by a Dec. 12 matchup with DII Westminster).
The Aggies, once again, were led by guard Cheyenne Stubbs, wing Ivory Finley and guard Skye Miller. For the second game in a row, the trio all finished with double-digit points – and is responsible for 88 of the team's 134 points, or two-thirds of the offensive production, in those two wins.
For Finley, this is a critical continuation of her breakout game against Kansas City, which came following a very quiet start to the season. She managed eight total points against CSUN and Eastern Washington. She's pitched in 27 points against the Roos and Wildcats. If there was any doubt after her first big night, this one should clear any remaining doubt that Finley is going to be a serious contributor to this team. She finished with 10 points on 4-of-7 shooting, knocking down two three-pointers and grabbing four rebounds with three steals.
Stubbs and Miller were already consistently scoring in double digits, but with the emergence of Finley, Utah State has found itself something of an offensive arsenal. Stubbs again led the way on Friday night, converting 5 of 10 tries from the field with two triples and six free throws for 18 points, adding four rebounds, four steals and two assists. She's averaging 17 points across USU's last three games. Miller kept up the efficiency she found against Kansas City and knocked down 4 of 6 field goals (and 5 of 6 free throws) to log 14 points while setting team highs for rebounds (seven) and assists (five).
The game started with an explosive first quarter for the Aggies. Their 26-point first quarter was by far their best frame of the season, and their best since a 28-point fourth quarter against Nevada on Feb. 4. They shot a red-hot 71.4 percent from the field and knocked down four three-pointers while holding Weber State to just 3-of-16 shooting from the field.
"I was really proud of our first quarter, that was really fun. That's what we're actually capable of doing," head coach Kayla Ard said. "And then I think we might have gotten a little cocky after our first quarter."
Indeed they did. The Aggies led 26-11 after the first quarter, but Weber State flipped the momentum for two straight quarters before Utah State clamped down the Wildcat offense in the final frame.
The Aggies led by as many as 18 points with 8:44 to play in the first half, but a Kendra Parra three-pointer kicked off a 17-4 run for the Wildcats. Then, with 0:54 left, another Parra three brought the Wildcats within three points before the Aggies hit a pair of buckets to close out the half. Ultimately, the Aggies were outscored 24-16 in the second quarter, and took a 42-35 lead into the break.
That Wildcat surge carried into the third quarter, and at the 4:45 mark, Parra struck yet again to tie the game for the first time, 48-48. Stubbs hit a free throw to break the tie, then Livia Knapp hit a much-needed and well-timed deep ball to give the Aggies a four-point lead and some breathing room. Weber State fought back to a one-point game twice in the waning minutes of the quarter, but couldn't get closer than that.
In the fourth, a pair of Ashton Adamson free throws yet again brought the Wildcats within a single point, but the Aggies immediately responded with a three-pointer from Stubbs, from which they never looked back. Holding the Wildcats to nine points in the quarter, Utah State plugged away and closed the game on an 8-2 run, securing the eventual 10-point victory with six free throws and a layup from Miller and Stubbs in the last three minutes.
Every Aggie that saw the court scored, and eight of the 10 players recorded an assist. Along with the leading trio, starting forward Tiairra Hill-Brown had four points on only three shots and grabbed five rebounds, and starting center Bridget Mullings also had four points, plus one board and one assist.
Coming off the bench, Knapp knocked down a pair of threes and grabbed a steal; Isabella Tanedo scored four points and made an assist in just nine minutes; Macy Smith played a season-high 13 minutes and scored five points with two assists and a rebound; Samiana Suguturaga had five points, three rebounds and an assist in 25 minutes; and Allyzee Verdan logged a quiet 24 minutes, scoring two points with one board, one assist and a block.
The Aggies will play next at UC Riverside on Nov. 27, looking to claim a winning record more than one game into a season for the first time since Nov. 13, 2021. The Highlanders are currently 0-3 on the season but will play once more, in a home game against Antelope Valley, before welcoming the Aggies to town. It'll be the eighth all-time meeting between the programs, in a series Utah State leads 4-3. They played last in the 2019 WBI, a 68-60 win for the Aggies, and were briefly conference rivals in the Big West, meeting twice in 2003-04 (two UC Riverside wins) and two more times in 2004-05 (two Aggie wins).
Parker Ballantyne covers Utah State women's basketball for The Aggship. You can follow him on Twitter at @PShark14 for updates on the Aggies.