As Season Draws Near, Utah State Sets Expectations
Utah State MBB has fielded nonstop questions this offseason about its new-look roster. As their season opener approaches, the Aggies are ready to provide some answers: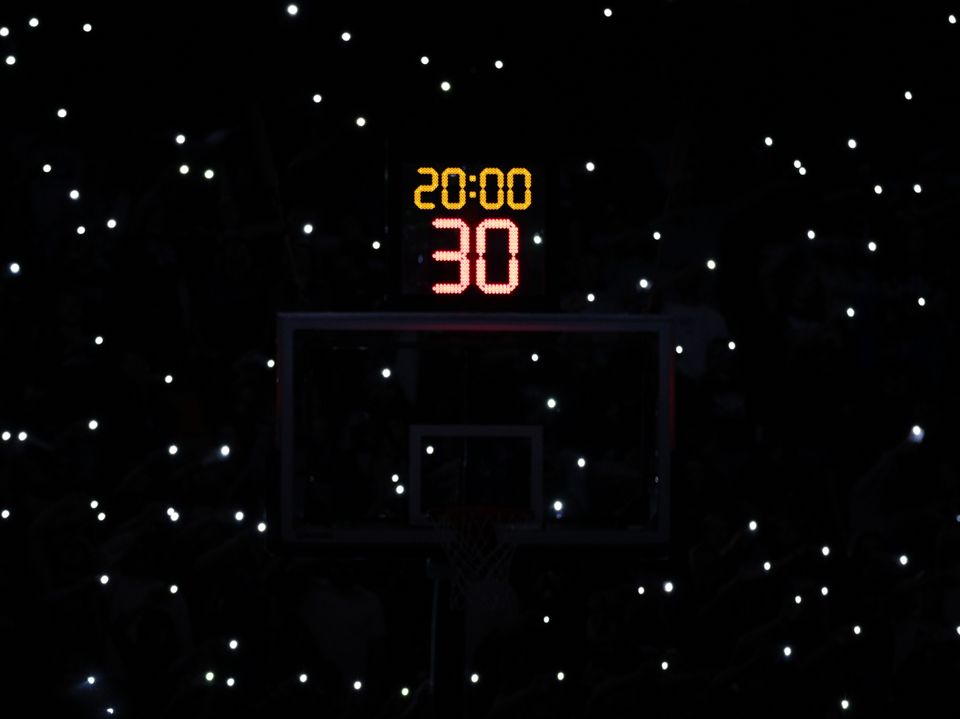 LOGAN – Danny Sprinkle knows what everyone is thinking when they look at his first roster in Logan, built almost entirely in the weeks following his hiring as Utah State's head coach. He's seen the predictions – the Aggies are ninth in the Mountain West preseason poll – and fielded the questions, which all aim to hit the same basic point, no matter the form they might take: "Danny, you have 11 new players, and your two returners both redshirted last season. Why in the world did you sign up for this?"
It's something the 47-year-old has surely asked himself at least a few times in the six-plus months since he walked up to the podium for the first time as Utah State's head coach. He knows that this team's circumstances are unique, even in the transfer portal era. In the KenPom era (since 1999), only six teams have entered a season with 0.0 percent of their production returning from the previous year – and he knows that too, because I told him about it this summer when I asked my version of the "why in the world did you sign up for this" question.
St. Bonaventure in 2023; Portland and UT Martin in 2022; Florida A&M in 2015; Mississippi Valley State in 2013; and UC Riverside in 2011. That's the full list, among them claiming 60 wins to 124 losses with one winning season (Portland, 19-15). They all got there on different paths – some through coaching changes, some through scandal, some through flat-out bad luck – but none can offer Utah State much optimism as it prepares to leap from that common ground. College basketball rewards teams with continuity and experience, and punishes those without it.
Again, Sprinkle knows all of this, as does the rebuilt roster about which so much has been made. It will come as no shock to the Aggies on Nov. 3, when they take the floor for an exhibition against Montana State-Billings, that they've never done so as a team before. Some of these players, like Montana State transfers Darius Brown II and Great Osobor; or Aggie redshirts Mason Falslev and Isaac Johnson, have played together before. Most of them have not. It will be difficult, it will bring about moments of frustration, and it will take time to move beyond those moments. No small part of the job for this team since its arrival on campus has been coming to terms with all of that.
"It's coach speak, but this team just has to get a little bit better every week and then see where the chips fall come March," Sprinkle said at MWC media days earlier this month. "With the talent and some of the players we have, I want these guys to have a chip on their shoulder. Jackson Grant, why did it not work at Washington? Come have a chip on your shoulder. Max, come to Utah State and show the people at USC and Wyoming – have a chip on your shoulder. That's what we're going to need to be successful in this league.
"I've seen the floor of this team, and it's not very good. But, I think the ceiling is high with this team the more we play together. It's going to take us a while, probably into December and maybe even early January to get everybody's role solidified and to see when the popcorn's popping, who plays well. It's easy to shoot well in a scrimmage in the summer, but who is going to make those shots when we're at Bradley and it's a close game with three minutes to go? Bringing all these new guys together is what's going to be fun."
Sprinkle has accepted the reality of the situation, or at least he seems to have accepted it – which is just as good for the PR portion of his job description. His answer to that inevitable question has not changed since April and won't likely change anytime soon, no matter the struggles that may or may not await him this season. He left his alma mater, where he had won back-to-back conference championships, because he saw an opportunity that extends well beyond the potential of a single campaign.
"I've followed the Mountain West for a long time, growing up in Montana and being on the West Coast," Sprinkle said. "I know it's a high major league, and that's always been one of my goals is to continue to push myself and push my staff to that next level. We wouldn't be here without the players who we had at Montana State, that success, the fans, and all of that. I'm very appreciative of them, but it was time to take the next step.
"You only get opportunities like this so often in your career, and when you do, you have to jump at it. With the tradition of Aggie basketball in Cache Valley, how important it is to them and how much they care about basketball, I felt like it was the perfect fit for me."
The next question, once Sprinkle has explained himself and verified his sanity, is also always the same: "Well, are you going to be any good?"
This one is trickier for the Aggies to answer, in no small part because they truly do not know – at least in this reporter's opinion. They're in uncharted territory here, with a team that can be just about anything and a schedule that can indulge a huge variety of outcomes.
Utah State's non-conference schedule is far from easy, but it is built around winnable games. There are no designed losses on the board, the Aggies will likely be favored in all but two or three matchups, and they may be the more talented team on the floor in every game they play during the 2023 portion of the 2023-24 season. Of course, talent won't matter one bit if Utah State hasn't made quite a bit of progress in building a basketball team from its collection of basketball players.
"We have to push them because we have to be ready," Sprinkle said. "Nobody cares that we have 13 new guys. Nobody cares that a lot of them are new to playing with each other. We have to find a way to get them to blend, and they've been doing a good job. They're starting to sacrifice a little bit more – a lot of the transfers we brought in were used to scoring on their old teams. You only get one ball, all five guys can't shoot on a possession. They're starting to play more together, which I'm proud of."
On that front, recent rule changes have worked in Utah State's favor. These Aggies started preseason practice at the beginning of October, but they've been working together in some form since June.
"I remember 12-15 years ago where you couldn't start until like, October 15," Sprinkle said. "It's crazy to think about now because you're playing games two weeks later. Now. you have summer access, you can be around your guys more and learn more about the new guys – which, on our team, is everybody. It is good because we were able to implement some stuff over the summer and carry that through. You can see it, everybody is a little bit further ahead."
It has certainly, helped, too, that the Aggies have a bit of built-in continuity with the pair of Montana State transfers. Those two know how this staff wants to operate, to the point that Brown could lead a practice from his starting point guard spot if asked.
"He's a tremendous leader, and he's a tremendous player," Sprinkle said. "It helps that he plays the point guard position. He can run our practice right now. If our coaches didn't show up, he'd be able to run our team through the practice. He knows what I want as a head coach and he's one of the best at that. On the floor, I feel like he knows what I'm thinking at all times, and it's really made the transition a lot easier, bringing in a player like Darius at that point guard spot."
The big man has drawn less attention this offseason, but he spent the last two seasons learning under a tremendous player in Jubrile Belo, and he's ready to step into the spotlight.
"Great Osobor, he's about 6-8, 260 pounds, and he played his first two years at Montana State so he'll have two years at Utah State," Sprinkle said. "He could play the four or the five, but he's very skilled. He's a big, thick-bodied kid who just has a knack for scoring the basketball around the rim. He's shooting a lot better than he did the previous two years, and a lot of that is that we gave him a little more freedom to do it. He's always been capable, but he can be one of those guys who can be a mismatch because he can handle the ball on the perimeter. I think he'll be able to just get better and better each week."
Those two can do a lot for the Aggies this season, but they can take this team only so far. In the Mountain West – which is wide-open – Utah State's ceiling (and floor) depends on its willingness to assimilate into Sprinkle's system. At its best, his focus on physicality and defense has netted consecutive Big Sky titles and made things tremendously difficult for every opponent.
"We want to be tough and physical," Sprinkle said. "We don't want to give you anything easy. We want to be disciplined. I know a lot of players nowadays, they all want discipline. They act like they don't want it, but they do want it. That's what really separated us at Montana State and got us over the hump, we didn't give up anything easy. We made you beat us.
"There are teams who are going to make some shots and beat you at times, but we're going to try not to beat ourselves. We're going to be physical, we're going to be tough, and we're going to try to do the right thing. We want to share the basketball, we want to play up-tempo at times. The most important thing is getting a shot on the rim. You can't turn the ball over, especially in the Mountain West with as good as these teams are. If you're giving them extra possessions, you're in for a world of hurt."
At its worst? Well, we don't really know what a Sprinkle team looks like at its worst. The Bobcats struggled on offense and lost games because of it, which Utah State seems to be bracing for – at least in the early going.
"We have to defend to have a chance this year," Sprinkle said. "We don't have Steven Ashworth, Max Shulga, Sean Bairstow running around and scoring in a tremendous offense. For us to win, defense has to be our staple this season."
But, even in his opening years as a head coach, Sprinkle's Montana State was physical and tough to beat. His is a system designed with a high floor in mind. Defense requires athleticism, teamwork and coaching, yes, but it's frequently a question of effort above all else. Effort is a lot easier to guarantee than shooting or offensive flow, especially when you're building a team from scratch. No matter where your players came from, if they're working on defense, you'll keep yourself in a lot of basketball games.
If Sprinkle's history is the guide, that effort and floor can be pretty safely assumed for this Utah State bunch. Beyond that? The Aggies have to wait and see, just like everybody else.
"I think we can (be deep)," Sprinkle said. "This team is going to be a work in progress. We're not going to really know who this team is until January. We have to play 10-15 games and see who shines when the lights are on and popcorn is popping and it's not practice. There are a lot of guys who can make shots in the summer and make shots in practice who can't do it in games. Everybody is going to get their shot."