Soccer: Aggies Cap Excellent Regular Season With Win
Utah State is the No. 2 seed in the MWC women's soccer tournament, slated to begin postseason play next Wednesday. Let's take a quick look back at how the Aggies got here: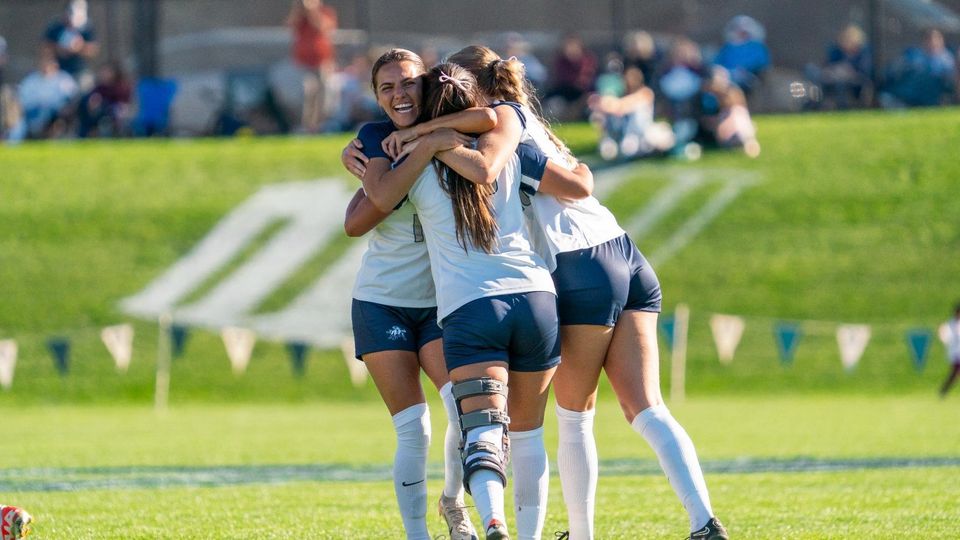 Note: This is a guest-written article from Zach Boyd, who covers Utah State Olympic sports for The Aggship.
---
As the Mountain West women's soccer tournament approaches – set to begin this Sunday, Oct. 29 – Utah State finds itself in an impressive position. Undoubtedly one of the university's most exciting up-and-coming teams, the Aggies will check in as the No. 2 seed, their best finish in a decade of MWC play.
To secure the spot – which guarantees a first-round bye – the Aggies extended their conference-best winning streak to five games, claiming a vital victory on the road against Boise State, 1-0. Those Broncos entered the season finale at No. 2 in the MWC standings behind only San Diego State, and ahead of the Aggies by one point. They swapped spots with the result, and though Utah State came up just short of its first MWC championship when the Aztecs knocked off New Mexico a little later on Thursday evening, the win was still enough to lock USU into the No. 2 seed and three extra days of rest that it brings.
The game against Boise State was a clash of winning streaks, pinning Utah State's then-four-game winning streak up against Boise State's five-game run. The Aggies emerged victorious and kept alive their run of form, but they know the job is not yet done. It's been 13 years since a Mountain West team earned an at-large bid to the NCAA tournament, and that isn't likely to change this fall. To get an invite to the dance, Utah State needs to add two more wins to that streak.
Enjoying their first-round bye, the Aggies get some much-needed rest after a regular season that saw them defy preseason predictions. Predicted to finish fifth in the preseason MWC coaches poll, the Aggies have proven themselves firmly deserving of their position in the league. With a conference regular season that included just two losses, a goal differential of 18-6, and six total shutouts, they stand comfortably as the top defensive team in the conference – a credit both to third-year head coach Manny Martins and his staff, and to the players on the pitch.
For the quickly approaching conference tournament, set in Laramie, the Aggies know their path. They'll face the winner of this Sunday's match between Boise State and Nevada at 11 a.m., MT on Nov. 1. Win there, and they'll draw one of No. 1 San Diego State, No. 4 Colorado State or No. 5 Fresno State in the conference championship game. It's a crucial moment for the Aggies, who have a chance to claim their first conference championship since 2012 – when they were still in the WAC.
It's also a chance for Utah State to write the ideal ending to this season's underdog story. The team faced its fair share of early struggles against formidable opponents, opening the year 2-5-1 before breaking through with an upset it won't soon forget, knocking off No. 1 BYU with a defensive masterclass.
Even as the group found success, it was often marred by offensive inconsistency. It was never for a lack of effort, but rather an issue of identity – especially with a relatively new front line. During Utah State's first conference loss, 0-1 at Air Force, the Aggies found what they were looking for. Aided by a few key tactical adjustments from Martins that focused the offense more on quick, direct attacks to overwhelm opposing defenses with a flurry of shots, Utah State rounded into form and claimed nine wins in its last 10 games, scoring 18 goals across that stretch.
"This season, we haven't been consistently on the front foot when it comes to creating and testing goalkeepers," Martins said at the time. "We (want) to be a little more intentional about testing (the) goalkeeper (and) putting balls in areas where we can have efforts on goal."
The green light to shoot and put pressure on the opposing defense has produced some incredible plays from this Aggie attack. Senior Defender Alysia Butters delivered one of the highlights of the season against New Mexico, and stands as a great example of the trust Martins has in his players.
On average, the Aggies have taken almost twice as many shots as their opponents in MWC play – figuring that more opportunities will invariably provide more goals.
After the setback against Air Force, guided by its newfound identity, the team rallied to a remarkable four-game winning streak against Colorado College, Colorado State, Wyoming and New Mexico. After falling to the No. 1 team in the conference, San Diego State, the Aggies rebounded with this five-game winning streak, beating Fresno State, San Jose State, UNLV, Nevada and finally, Boise State.
The Aggies hope to continue their winning momentum into one more remarkable chapter for their underdog story. They're two wins – 180 minutes – away from the NCAA tournament, where this program has not been since 2012. They've defied expectations, and they've done it their way. Now, the table is set, and Utah State's destiny is only for it to determine.