Utah State Olympic Teams Roll Through Homecoming Weekend
Volleyball claims the top spot in the MWC with a big road win over Boise State and two home sweeps, soccer continues to find an offensive groove, and more Olympic updates from Homecoming week: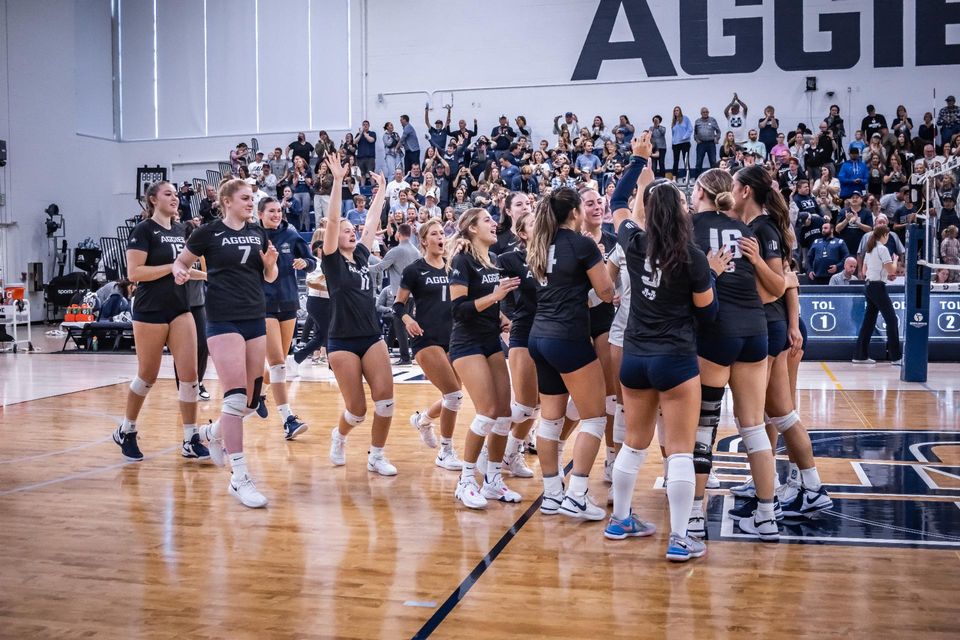 Note: This is a guest-written article from Zach Boyd, who covers Utah State Olympic sports for The Aggship.
---
Homecoming week – when the leaves in Sardine Canyon turn yellow and orange, and Aggie alumni and their families break out the Aggie Blue and Fighting White – has come and gone. Many came for the football, but those who stayed for everything else were served well by a fall Olympic sports season that has treated the Aggies quite nicely.
It was a very busy week in Logan, and the caliber of competition for the Aggies across the board was remarkable, as was the quality of those sides donning the Aggie Blue and Fighting White. In the first two months of this fall athletics season, Utah State has received votes nationally in both volleyball and cross country; earned its first-ever Mountain Regional Tennis Singles Championship; defeated No. 1 BYU on the soccer pitch; and to top it all off, has seen the hockey team notching video game numbers, beating teams 19-1. What a time to be an Aggie.
With all this excellent play, it's a shame homecoming had to be celebrated without a home game for one of the school's most exciting up-and-coming teams in women's soccer.
Instead, in road matches against New Mexico and San Diego State, the Aggies extended their winning streak to four games with a 2-0 victory over the Lobos before falling just short in a 2-1 loss to the Aztecs. Even in defeat, Utah State continues to take steps in its search to identify potential strengths for a fledgling offense. The Aggies have scored eight goals in five MWC games since their shutout loss against Air Force – not a lofty number, but enough to earn a 4-1 mark on the strength of this still-excellent defense.
Essentially, head coach Manny Martins has gone all in on getting his team more bites at the apple. The Aggies are trying to get the ball into attacking range as fast as possible, and when they pull within striking distance, the team has the green light to let the shots fly. For Martins, this is all a numbers game designed to overwhelm opposing defenses with direct attacks.
"This season we haven't been consistently on the front foot when it comes to creating and testing goalkeepers," explains Martins "We (want) to be a little more intentional about testing (the) goalkeeper, putting balls in areas where we can have efforts on goal."
Utah State, now 4-2 in conference play with a four-game homestand on deck over the next two weeks, has seen that approach pay dividends. The Aggies outshot Colorado College (12-6), Colorado State (15-5), Wyoming (22-7) and San Diego State (13-12), coming up just short (14-10) against the Lobos but making the most of those chances. And, with that solid green light to shoot, the Aggies have produced some incredible plays – like this beauty of a game-winning goal against Colorado State in the final minute of play, which earned SportsCenter top ten honors.
Following the weekend, the Aggies sit comfortably in third place in the Mountain West standings. They've fallen to conference leader San Diego State and No. 7 Air Force, and hold wins over the No. 5 MWC squad and the league's bottom three. That four-game home stretch will see No. 9 (Fresno State), No. 8 (San Jose State), No. 6 (UNLV) and No. 4 (Nevada) come to town. With some luck, and a continued focus on offensive improvement to boost this defense, the Aggies could find themselves very well-positioned two weeks from now as they prepare for the regular season finale at No. 2 Boise State, and might have something special brewing come tournament time.
---
Rob Neilson and the women's volleyball team, meanwhile, have surged to the top spot in the Mountain West with a 6-1 conference mark following a three-game stretch that saw them sweep conference basement dwellers Nevada and Fresno State, before going into the unfriendly confines of Boise and leaving with a 3-1 victory over the previously league-leading Broncos.
Looking to rebound from a difficult five-set loss to Air Force (4-2 in MWC play), Utah State delivered nearly perfect performances against the lowly Wolf Pack and Bulldogs. They beat Nevada in every statistical category but blocks, surging through a dominant opening set (25-11) and keeping their foes at bay with wins in the second (25-21) and third (25-20) sets.
Utah State was led by big performances from graduate outside hitter Shelby Capllonch (11 digs, six kills, three service aces and two assists), junior outside hitter Adna Mehmedovic (13 kills, four blocks), junior setter Beatriz Rodrigues (14 assists, six digs), freshman libero Kambree Rodriguez (18 digs and three assists), senior outside hitter Tatum Stall (14 digs, seven kills and a service ace) and sophomore setter Leah Wilton-LaBoy (20 assists, four digs, two service aces and one kill).
"A lot of us had a lot of fire in our hearts. We had some spice in our bones," Rodriguez said. We came out with a lot of gumption as Rob would say. We just came out and wanted to win and pushed ourselves. We also had a really big focus on serving tougher and playing our game rather than waiting for them to make mistakes. We forced them to make those mistakes and we played really, really well."
The Aggies carried their momentum into another sweep in Club Estes, sending Fresno State home empty-handed (25-15, 25-23, 25-18) in short order. Capllonch (11 kills, eight digs, one service ace, one assist), Mehmedovic (nine kills, three blocks, one dig), Rodrigues (13 assists, two digs, one kill), Rodriguez (11 digs, two assists), Stall (10 kills, five digs, three assists, two blocks, two service aces) and Wilton-LaBoy (21 assists, four digs, two service aces and one kill) again led the charge, picking up big contributions from graduate middle blocker Kennedi Boyd (seven blocks, six kills, one dig, one assist) and sophomore outside hitter Kaylie Ray (five kills, two digs, one assist).
"We love being here and playing for our fans," Neilson said. "It was a complete match for our team. They competed really hard. We saw them scrapping and flying around the gym and bringing all sorts of balls back into play, which we love. That's a hallmark of our group. We played really well in almost every phase of the game."
And on Tuesday night at Boise State, Utah State delivered a gem, claiming the first two sets (25-22, 25-20) and overcoming a big Broncos comeback in the third set (21-25) to claim the match in set No. 4, 25-20. It was a 10-2 Utah State run in the final frame that set the table for the victory, rallying from a 14-10 deficit to claim a 20-16 edge, answering a three-point BSU surge with three-straight kills from Mehmedovic, Stall and Boyd, a block from Mehmedovic and Boyd, and (after one more Boise State point) a game-winning Stall kill.
Capllonch and Stall notched 17 kills apiece, Rodrigues and Wilton-LaBoy added 20 and 24 assists, respectively, Rodriguez pitched in 19 digs (with 12 from Rodrigues and 10 from Capllonch) and senior middle blocker Kelsey Watson delivered eight much-needed blocks to lead all players.
Utah State's road trip has two legs still to go as the Aggies look to defend their new perch atop the conference, with trips to San Jose State (2-4, tied for seventh in the MWC) and UNLV (4-2, tied for third) on the docket next, before a returning home on Oct. 21 for a bout with San Diego State (2-4, tied for seventh).