Column: Aggies Deserve Credit For Enduring Effort
Utah State WBB must be better, but the Aggies deserve credit for persistent effort in the face of a brutal regular season. Column: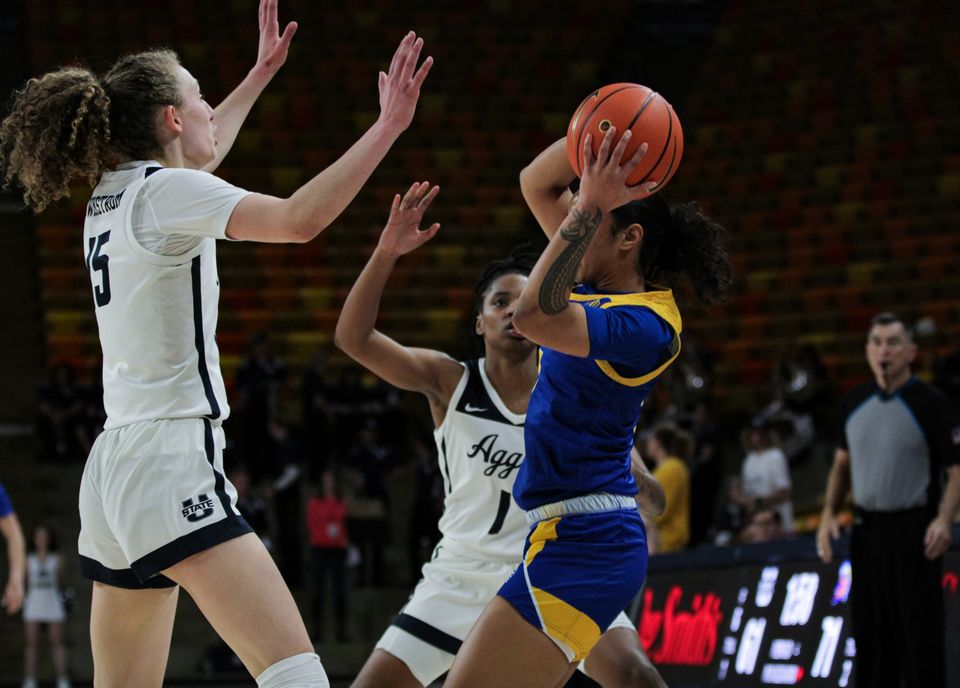 LOGAN – No one involved with the Utah State women's basketball program is pleased with the two numbers that will immortalize the 2022-23 team. Right now, at the end of a tumultuous regular season which saw regular contributors Kinley Falslev-Wickizer, Natalie Fraley, Ashya Klopfenstein, Olivia Mason and Abby Wahl combine to miss 59 games (of a possible 145; roughly 41 percent) with injury and then-emerging star Prima Chellis depart from the roster after 22 games, those numbers aren't pretty: 4-25.
It's Utah State's worst winning percentage in a regular season (13.8 percent) since 2005-06 (11.5 percent) and most losses in a regular season since 1986-87 (26), the final season of USU women's basketball until 2003-04 as the school cut the program amid statewide budget cuts. Since their return, the Aggies have never won fewer than two conference games – and it's happened only twice in program history, both in winless league seasons in 1985-86 and 1986-87.
Forgive me as I repeat myself here, but I figure it bears emphasizing. Those numbers are really, really ugly. The last time Utah State had a season this bad was in its third year after revival, and the last time before that was bad enough that it (indirectly) killed the program. Raegan Pebley and the 2004-05 Aggies have the excuse of that revival for their year-three woes, while Kayla Ard and this group doesn't.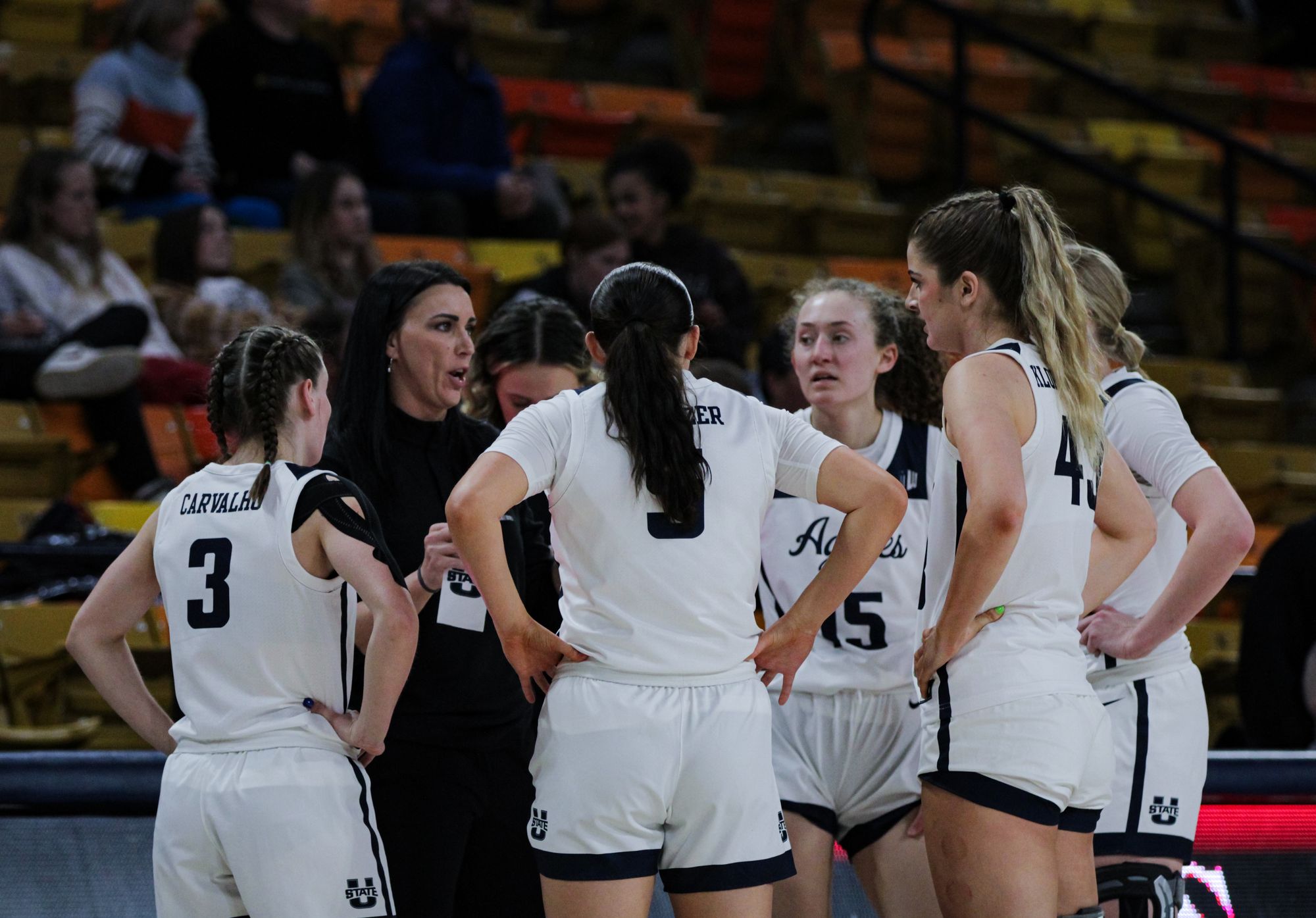 Did Ard take over a program in need of a serious makeover? Absolutely – hence the five-year contract she signed when she took over the job after three seasons as Jim Turgeon's top assistant at Denver (including 11 games as interim head coach in 2019-20). Ben Finkbeiner's single season at the helm (2019-20), which came on the heels of his father Jerry's surprising November retirement, was hardly enough to merit promotion to a full-time role as the Aggies went just 8-23, losing the momentum they had built with a 17-16 campaign the year prior.
The 4-20 season that emerged from the 2020-21 roster (which returned only 53 total starts from the 2019-20 group, including 42 from two players, Taylor Franson and Emmie Harris) was to be expected. So too, then, was the year two improvement to 11-19, and the implied third step onto the edge of MWC contention in year three – reminiscent of Lindy La Rocque's first three seasons at UNLV; Joe Legerski's three-year Wyoming rebuild in the mid-2000s; Beth Burns' turnaround at San Diego State in the late-2000s; or Ryun Williams' rapid rebuild of Colorado State a decade ago.
The expectations around this team, regardless of the circumstances that would come to define it – almost unprecedented roster turnover that created a team populated with transfers, JUCO signees and freshmen – were much higher than this. Three years is not the maximum time allowed for a complete rebuild, and Utah State's context is different than the programs that those successful coaches took over elsewhere in this league. Another year of competitive play in the MWC probably would have sufficed.
This, of course, was not that. The Aggies lost almost every contributor from last year's group to transfer and returned with an all-time bad season. It is what it is, just as the contours of this season were what they were. Utah State did suffer crucial in-season attrition, did come up just short of a few breaks in several games that easily could have gone the other way, and did probably deserve at least a little better than it got from its final regular season record.
The Aggies will have at least one more chance to prove that when they take the floor on Sunday against a Boise State team that rocked them by nearly 50 points earlier this month, but it's fair to assume that the final record probably isn't going to be much friendlier to this season than the one we're all currently looking at. This was a disastrous year, filled with more blowouts than close losses, and that cannot be overlooked.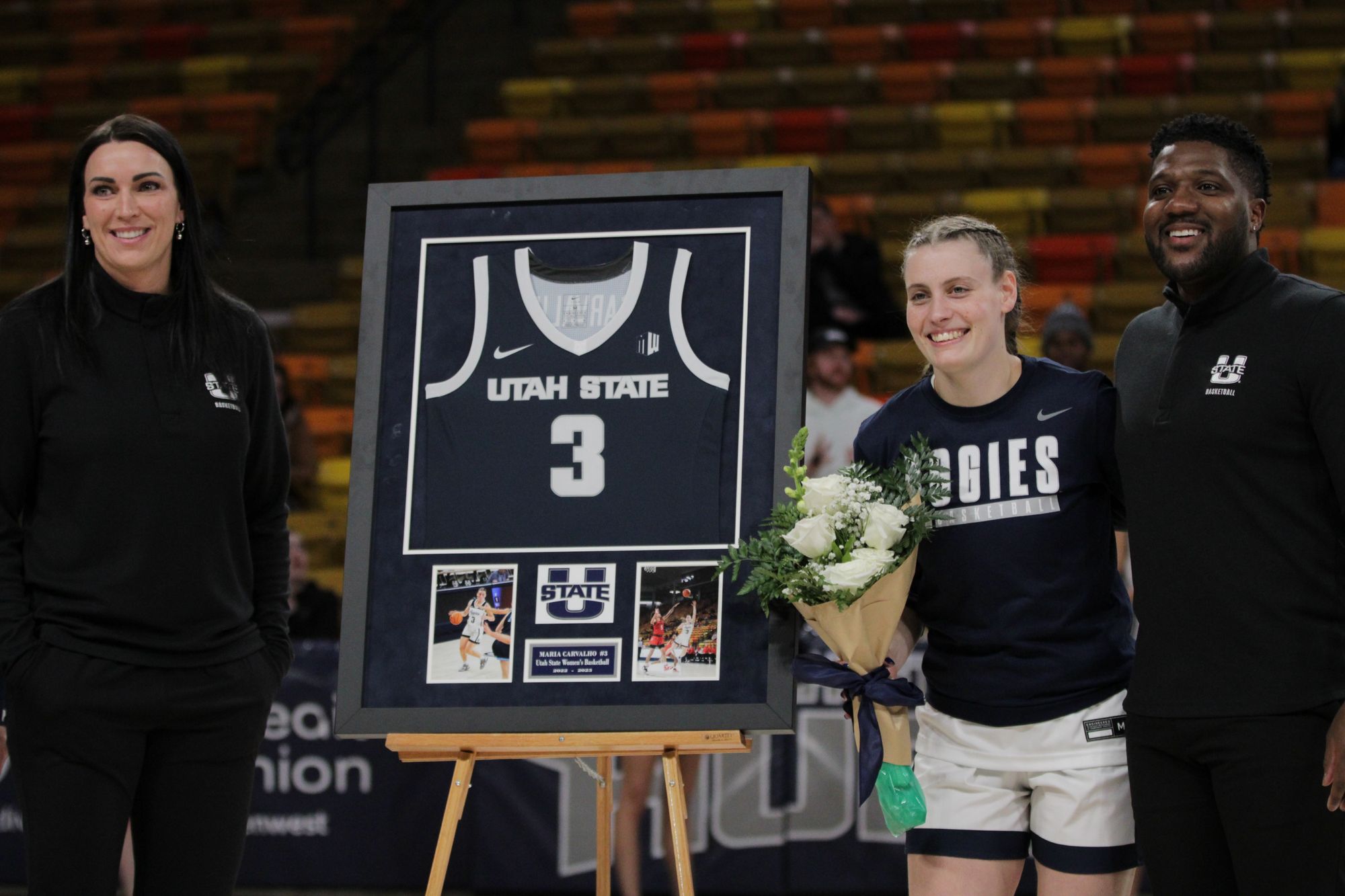 The Aggies took loss No. 25 in their regular-season finale, after a pre-game ceremony recognizing their six seniors (Maria Carvalho, Falslev-Wickizer, Mayson Kimball, Klopfenstein, Mason and Wahl), falling 78-65 to lowly San Jose State.
They were marred by shooting woes as they have been all season (23-of-60 shooting), lost the rebounding battle 44-32 and turned the ball over 18 times, all of which compounded to prove insurmountable. Though Utah State did manage to tie the game in the third quarter and entered the final frame trailing by only two points, 52-50, the fourth quarter again vexed them as San Jose State took advantage of untimely mistakes to rattle off 26 points over the final 10 minutes, pulling away in the waning moments. It would be difficult for a single game to tell the story of a season better.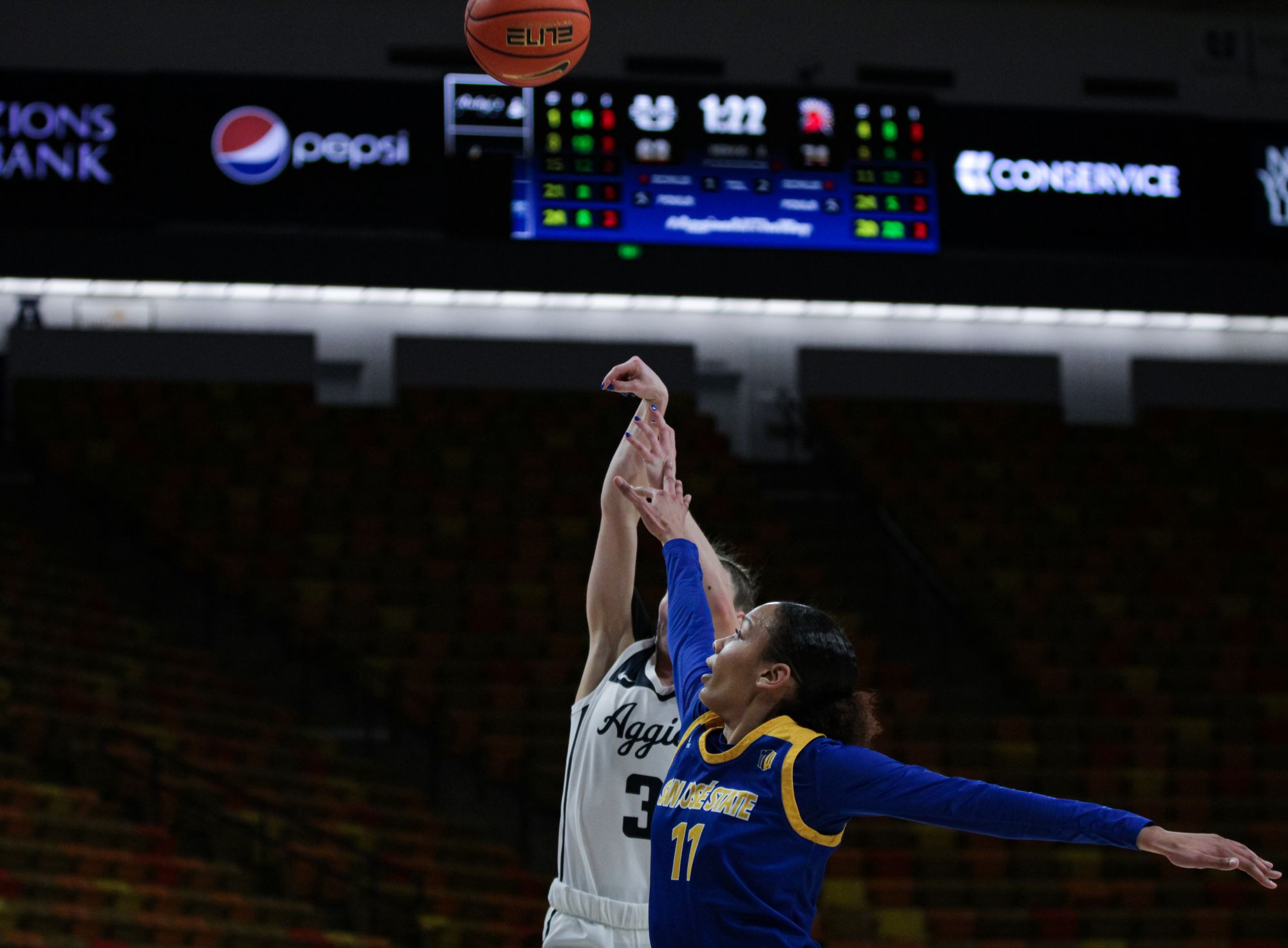 It can't encompass all, either. The final stats won't accurately reflect that Utah State never stopped battling, even after 24 losses – the three worst of which came consecutively against Boise State, UNLV and New Mexico immediately preceding Tuesday evening's matchup. The Aggies fought back from an early deficit against the Spartans, surged to that third-quarter tie and played some legitimately solid basketball, racking up 14 assists and forcing 16 turnovers.
That wasn't enough to get a result, but to put forth that kind of effort after the losses this team took last week is a lot easier said than done, and I certainly can't say I would have mustered the energy had I been in their shoes. They deserve credit for that.
"I'm really proud of their effort," Ard said. "I thought we played very hard and the effort was there. We had some mental lapses late in the game when we didn't need to have some mental lapses, and there was obviously a turn in the game there at an unfortunate time, but I thought the effort was there and that it was a good basketball game. Our kids competed, and that's all I'm asking of them right now. Let's just compete. It looked like they were competing and having fun out there today, so I'm proud of that."
So too does that embattled senior class, comprised almost exclusively of players who spent the majority of their careers elsewhere and decided to wrap them up in Logan. They expected more out of this year than they got, but at no point was it fair to question their desire. This season and this program mattered to them, even when they were playing for little more than pride.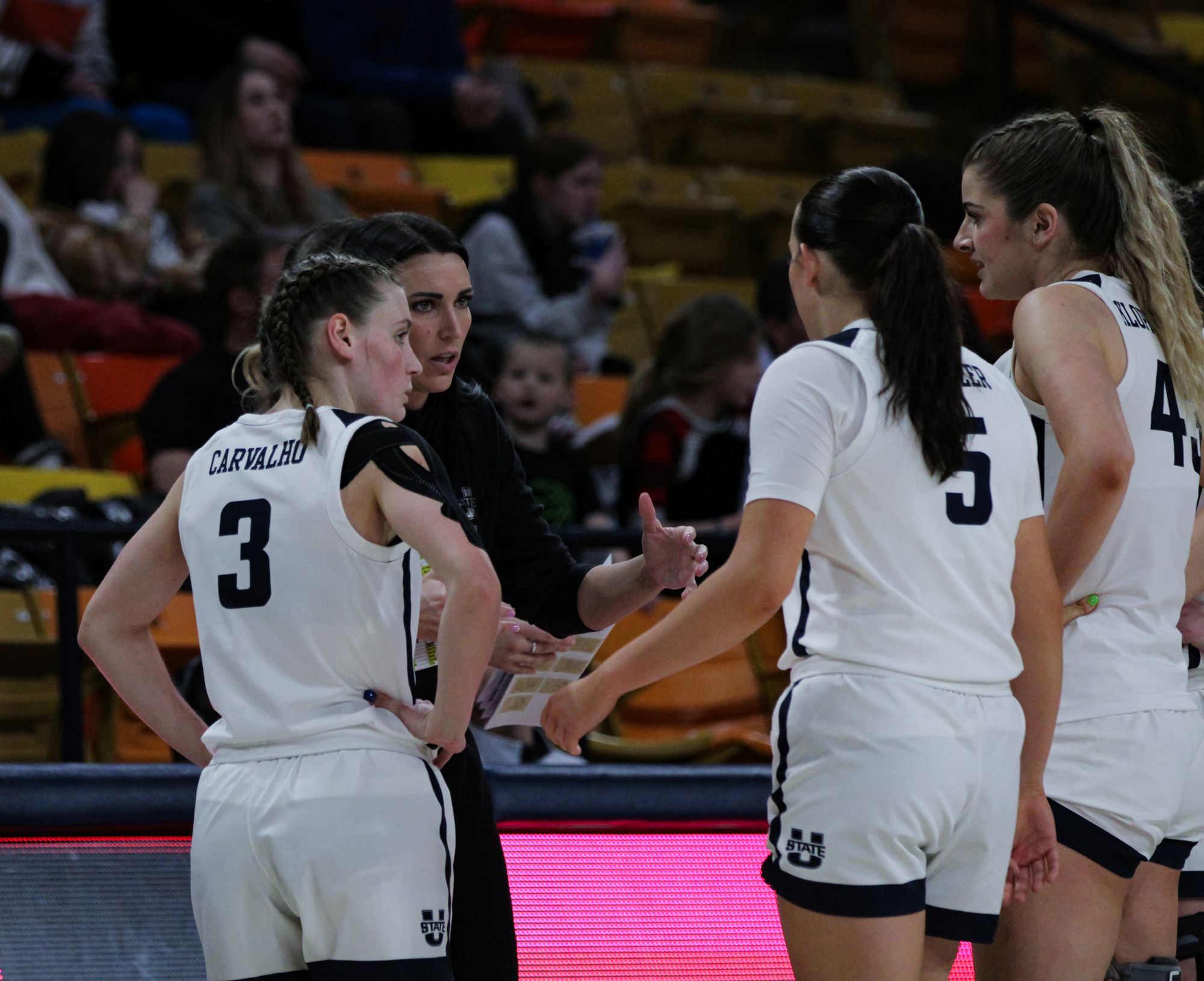 Carvalho averaged nearly 33 minutes a night and never once left the floor without first pleading her case to stay in the game; Falslev-Wickizer underwent surgery in January and returned to play in Utah State's final five games; Kimball never saw a loose ball she wouldn't dive for; Klopfenstein entered the lineup in December after nearly a year spent rehabbing a torn ACL; and while Mason and Wahl saw their seasons cut short by injuries, they were constant sources of support for their teammates from the end of the bench.
"We had two kids get injured, Olivia and Abby, and they didn't get to play very much for us, unfortunately," Ard said. "Those were two people we were counting on heavily. I'm glad that I got to know (these seniors) and the players who have played for us, they're really good people. The wins and losses didn't turn out how we wanted or how we thought they would be, and we can talk about a million reasons why that didn't happen, but we're losing some incredible people here who I'll forever have relationships with and follow. It's an emotional day.
"This senior class, they're fun. They were easy to coach, they listen and they gave me everything they had. I notice some people on the outside saying, 'It's not enough,' but they gave me everything they had, and I'm very proud of that. I'm proud of who they are and of the way they treat people. Those are the things I'm looking at."
---
Utah State needs to be better than this. College athletics is not a charity, and Ard will not be long for this job without making a lot of progress in very short order. There's no sake in pretending otherwise. The Aggies will have another offseason makeover ahead of them as those six players graduate out of the program with two other players (Chellis and Keslynn Oxendine) already gone from the season's start.
At the absolute most, next season's team will have seven returning players from this group: Fraley, Lillian Harris, Tiairra Hill-Brown, Cris Oliva, Tamiah Robinson, Isabella Tañedo and Olivia Wikstrom. It was no easy task this year, and even in that best-case scenario, won't be an easy task next year.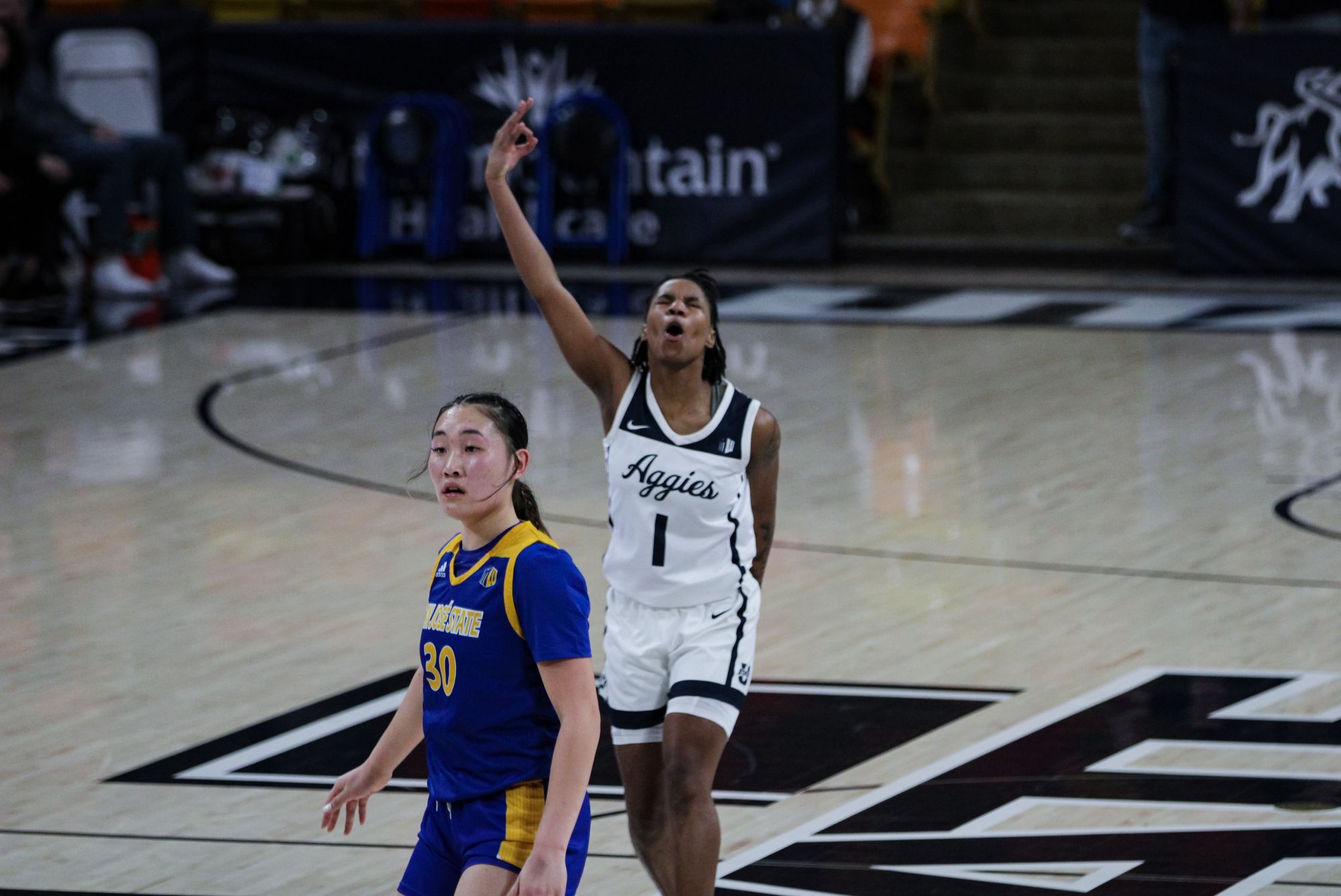 Robinson is a proven multi-level scorer who can and should take over as Utah State's starting point guard, a role she's always been better suited for than the shooting guard spot she filled this season. The Aggies will need to cut down her turnovers, but Robinson's energy is infectious when she's at her best, and she's absolutely capable of competing in the MWC. Wikstrom is a sure-thing starter too, doing a little bit of everything for the Aggies as a dynamic wing.
Fraley and Oliva flashed in moments and could certainly contend for starting jobs (though they're certainly not assured), while Harris and Tañedo looked like developing young players and Hill-Brown redshirted.
That's one established guard and one established wing, two sometimes encouraging underclassmen in the backcourt, two developing underclassmen (one guard, one forward) and a center who hasn't played. There are certainly gaps to fill in that roster.
But, if Utah State does bring back all seven of those players (and I don't say that to be ominous, I say it because transfers are now inextricable from college sports and no roster continuity can be fully assured unless the player comes out and says she is coming returning), it can feel confident that it will field a team that doesn't stop fighting – because if they didn't after this truly nightmarish season, they never will.
That's a positive to pull from a season without many to offer, and for their efforts across four months of in-season work and even more in preparing for the season, this team deserves at least one positive note. Perhaps they can claim another on Sunday – or at least have some fun trying.
"I just want the kids to go have some fun, I want them to have a good experience," Ard said. "The season has not gone the way we wanted it to go, and I just want the kids to go down there, have a good experience, have some fun, and go compete. It's basketball. It should be fun."