WBB Preview: Aggies To Recognize Six On Senior Day
Utah State WBB will try to send off its seniors with a win tonight as it hosts San Jose State in the regular season finale. Preview: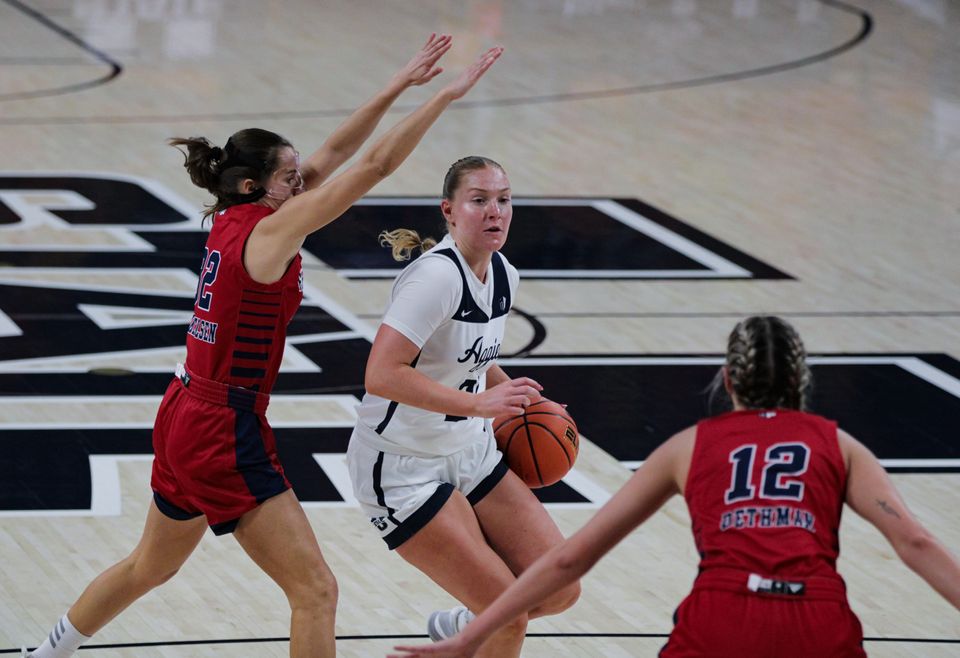 If Utah State has anything left in the tank after a brutal three-game road swing, it has one more chance to show it as it welcomes San Jose State to the Spectrum for senior day on Tuesday evening. The Aggies return home for Tuesday's regular-season finale having absorbed a 48-point loss at Boise State (89-41), a 54-point loss against the MWC champion UNLV Runnin' Rebels (86-32) and a 56-point beatdown in their last time out at New Mexico (111-55).
Those losses didn't just take over all three podium spots for the largest margins of defeat in MWC play this season (Utah State has been on the receiving end of six of eight losses by at least 30 points in league play and nine of the 16 by at least 20 points) – they cemented themselves as three of the worst losses in program history, taking up the No. 10, No. 15 and No. 24 spots on the list of largest margins of defeat.
Let's go even further. There have been 1,364 Mountain West matchups since the start of the 2009-10 season, and Utah State was just dealt three of the seven worst losses in those 1,364 games in one week. I'm far from a capable mathematician, but friend of the site Wyatt Crosher of the Hoopla newsletter is, and he puts the odds of that at about 0.000006635 percent (1 in 15,071,590). It was a bad week.
In basketball, though, hope springs eternal. It's a new day for the Aggies (4-24, 1-16) as they play host to fellow cellar dwellers San Jose State (4-24, 2-15) with the league's No. 10 seed and a first-round against Air Force (rather than the loser of Boise State-Colorado State) on the line.
They're set to honor six seniors – Maria Carvalho, Kinley Falslev-Wickizer, Mayson Kimball, Ashya Klopfenstein, Olivia Mason and Abby Wahl – and have their friendliest Her Hoop Stats pre-game projected winning percentage (44.1 percent) since early December when they toppled Utah Valley. For the last time in the 2022-23 regular season, let's preview.
Projected Lineups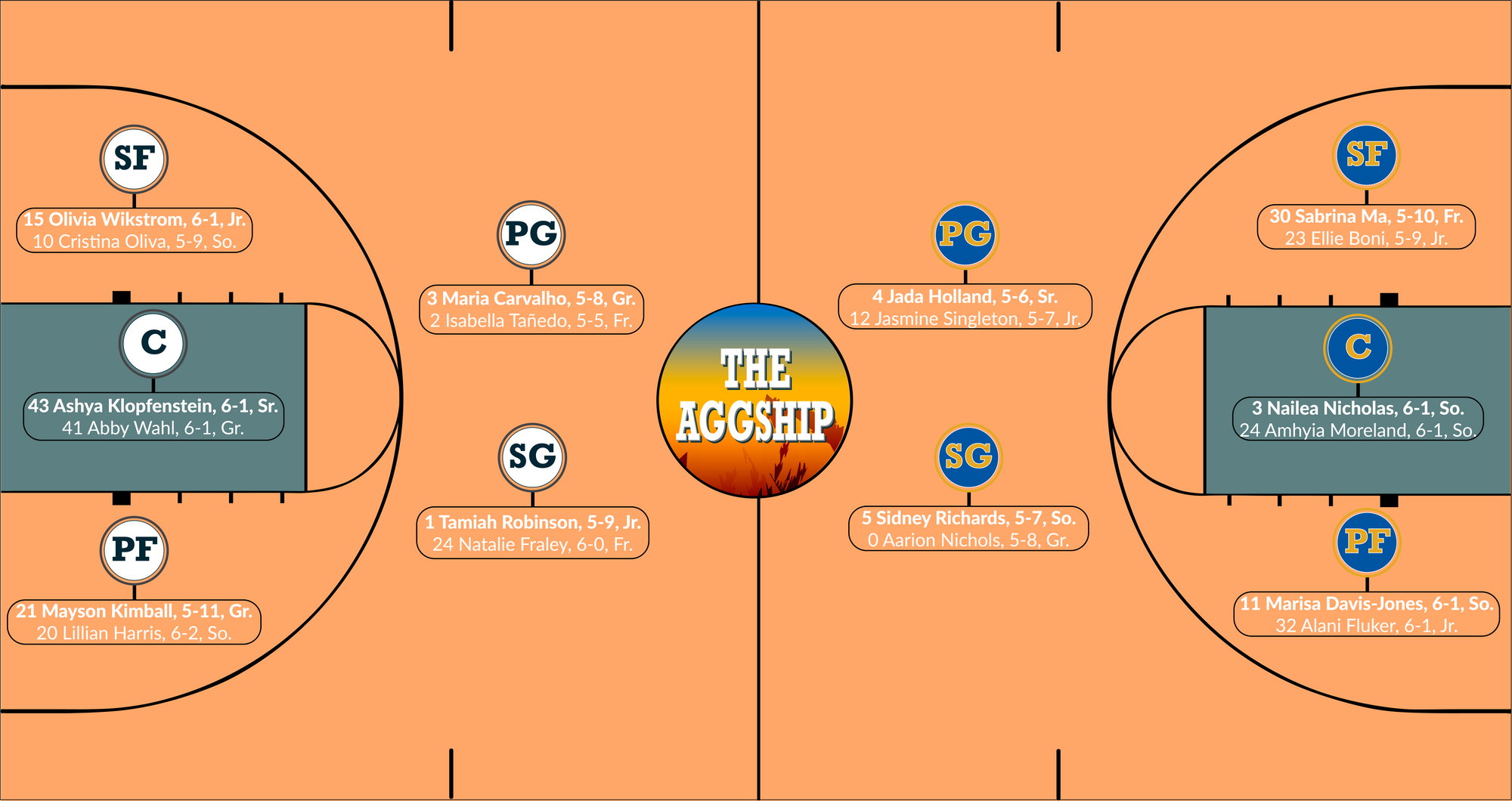 Players To Know
Jada Holland: Though she's one of several new additions to the starting lineup since San Jose State and Utah State first met on Jan. 21, Holland's importance to this San Jose State squad has been one of only a few constants through a very difficult season. After transferring from UC Riverside – where she was a Big West honorable mention last season – Holland opened the 2022-23 campaign exactly where she was expected to, at the helm of San Jose State's starting unit.
She played her first nine games as a Spartan with the top group but found herself working off the bench after a fairly inefficient start to the season, remaining there through the latter half of December and all of January as she played behind junior Jasmine Singleton at point guard. The arrangement did help Holland find a bit more efficiency as a shooter and ball handler, and did give Singleton some important reps with the starting five, but San Jose State abandoned it at the onset of February.
Now, having started six of San Jose State's last seven games, Holland is beginning to deliver the kind of play the Spartans hoped they would get when they plucked her out of the transfer portal.
She's averaging 13.6 points, 4.1 rebounds, 2.3 assists and 2.3 steals per game in February, shooting just under 40 percent from the field (39.1 percent). And crucially, she's cut down significantly on her turnovers. Holland averaged 4.3 turnovers per game in November before earning a trip to the bench unit, and has that down to 3.0 turnovers per game in her last seven appearances. She even led San Jose State to just its second league win of the season on Saturday, scoring 21 points and adding six rebounds, three assists and three steals in a 73-66 victory over Fresno State.
Holland is far from a perfect player – her turnover rate is still too high, she's never really found her shot from beyond the arc and she's too dependent on attacking the basket for an undersized (5-6) guard – but she's playing her best offensive basketball of the season, and has long been San Jose State's best defender. She's hitting her stride at the right time and taking over as the leader this group needed her to be.
Nailea Nicholas: Speaking of new starters, Nicholas joined the top five with Holland at the start of February, replacing fellow sophomore Amhyia Moreland after a January slated filled with quiet scoring nights and frequent foul trouble for the Old Dominion transfer.
Nicholas hasn't exactly been a revelation for the Spartans, but she has surpassed the (relatively low) bar set by her predecessor at center. In seven starts since the beginning of the month, Nicholas is averaging 8.0 points and 5.0 rebounds per game, shooting 55.0 percent from the field and keeping the fouls low enough to stay on the floor (2.7 per game).
She's had her share of off nights too, including a disastrous 26 minutes against San Diego State (zero points, one rebound, three turnovers, five fouls), but her highs have been really strong. Nicholas notched a double-double against UNLV with 15 points and 13 rebounds, and matched that scoring output against Fresno State on 7-of-8 shooting, adding three rebounds to help lead the charge in that victory.
Moreland is a better defender and a more reliable rebounder, but she's been able to add that value off the bench without her constant foul trouble costing the Spartans too badly. While she's still liable to foul out in about 16 minutes (as she has twice in the last three games, nearly making it three of three with four fouls against the Bulldogs), spreading those minutes out seems to have helped the overall flow of this team – and, it's gotten Nicholas more involved, which has been an especially positive development for an offense that badly needed a reliable interior scoring threat.
Aarion Nichols: San Jose State has tried out just about every possible trio at point guard, shooting guard and small forward this season. The Spartans have quite a few players who can fit those roles, with true point guards like Holland and Singleton, tweeners like Sidney Richards and wings like Ellie Boni and Sabrina Ma. But it's been Nichols, a graduate senior from Tiffin University, who has captured SJSU's imagination of late.
A three-time all-conference player at the DII level before transferring to San Jose State ahead of the 2022-23 season, Nichols earned just her fifth start of the year against Fresno State and backed up what had looked pretty obvious all season: When given the playing time, she's the best shooting guard of the bunch. Nichols scored 12 points on 4-of-9 shooting against the Bulldogs, adding eight boards, three steals and two assists in 33 minutes – essentially picking up where she had left off at the end of January and beginning of February.
Then, she rattled off five-straight games in double figures, adding some much-needed aggression off the dribble and a lot more rebounding than her 5-8 frame would suggest, averaging 10.6 points and 6.8 rebounds per game while shooting 35.7 percent from the field.
A bad showing against UNLV pushed Nichols out of the good graces again, but her recent return to form against Fresno State could be a harbinger heading into the season finale and conference tournament. The Spartans need scoring, and they haven't gotten it consistently from any guards beyond Holland, Ma and Nichols. It wouldn't be a surprise to see those three at the top of the lineup in the backcourt on Tuesday evening, joined by the always-solid Marisa Davis-Jones and Nicholas.
Stats To Know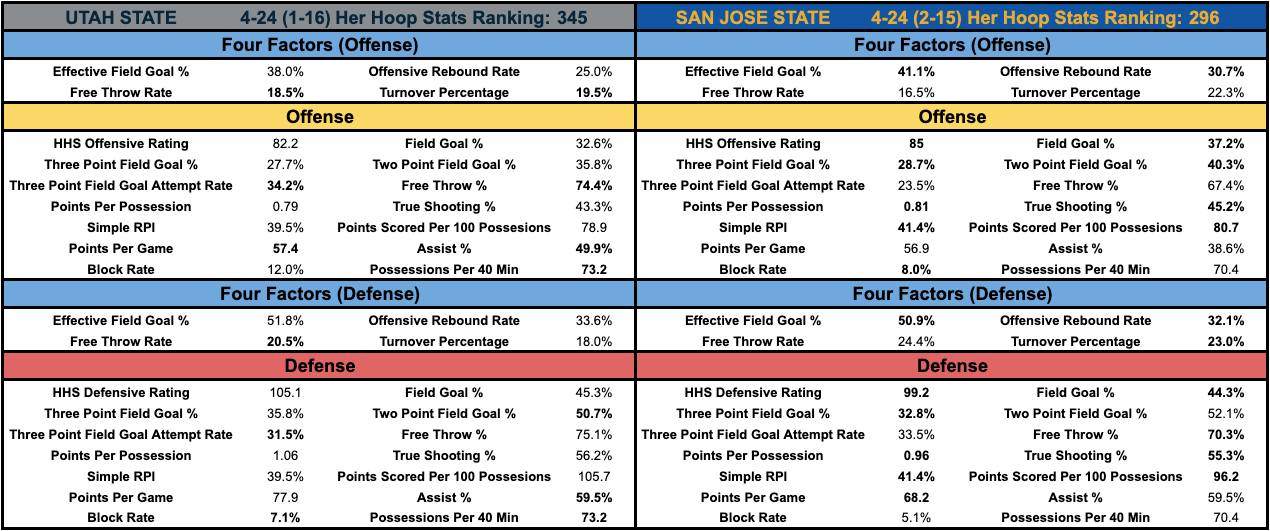 Effective Field Goal %: San Jose State has had plenty of issues finding shooting of its own, checking in at No. 301 nationally in effective field goal percentage (41.1 percent), but that isn't why this stat is on here. No, effective field goal percentage bears mentioning ahead of this matchup because the Spartans cannot stop much of anything defensively.
They're 353rd nationally in EFG% allowed (50.9 percent), 354th in two-point percentage (52.1 percent) and 267th in three-point percentage (32.8 percent). Granted, Utah State's defense still manages to clear that bar with the No. 357 effective field goal percentage defense, but the Aggies have to take their opportunities where they can get them, and one of the worst shooting defenses in America is a pretty great opportunity for a Utah State offense that hasn't shot above 38 percent since Jan. 16 (when it beat Fresno State).
Turnover Percentage: Utah State will have its shot at creating even more easy scoring opportunities if it can take advantage of the offense with the 314th-worst turnover percentage in college basketball (22.3 percent), though it's again the SJSU defense, not the offense, that puts this stat on the board. And unfortunately for the Aggies, San Jose State's turnover defense isn't here for its ineptitude.
No, the Spartans have actually been extremely adept at creating miscues this season, largely because their defense is built around it. They allow entirely too many open shots, but they don't do it without sometimes getting the best of their opponents, forcing 9.5 steals per game and logging a 23.0 percent turnover percentage that puts them 35th nationally. Holland (4.3 percent steal rate), Singleton (3.8 percent), Nichols (2.9 percent), Moreland (2.3 percent) and Richards (2.2 percent) are especially important to watch here as Utah State looks to avoid the 27-turnover fate that doomed it when it played at San Jose State.
Conference Record: I noted it earlier and will reiterate here that, despite three historically bad rows in consecutive games, Utah State does still have something to play for beyond pride on Tuesday evening. The Aggies are only a game back of San Jose State in the conference standings and would overtake the Spartans with a win thanks to their better record against UNLV (0-1 vs. 0-2), setting up a first-round matchup with Air Force.
Utah State is winless against the Falcons this season, but played them into the fourth quarter on both occasions and would feel a whole lot better about that matchup than it would about a third bout with either Boise State or Colorado State – against whom it has a 31-point average margin of defeat in four combined meetings this year. Either the 6-11 or 7-10 game would put Utah State on the right side of the bracket (meaning as far from UNLV as possible), but the latter would make for a somewhat winnable first-round matchup. I cannot say the same about the former.
Prediction
Listen. Utah State has lost its last three games by 158 combined points. Did those defeats come against much better opponents than this one? Absolutely. Does that give me any confidence that the Aggies have the mental fortitude to recover from three straight beatdowns, having produced only four wins all season? Even against the lowly Spartans, it does not. I'm optimistic enough to say that Utah State goes down swinging, but I won't go any further than that.
San Jose State 74, Utah State 64