Cover Story: MWC Debut A Mixed Bag For Aggies
Utah State WBB's 77-63 loss to Air Force offered plenty for the Aggies to build on, even without the result they wanted. Improvement always has to start somewhere. Cover story: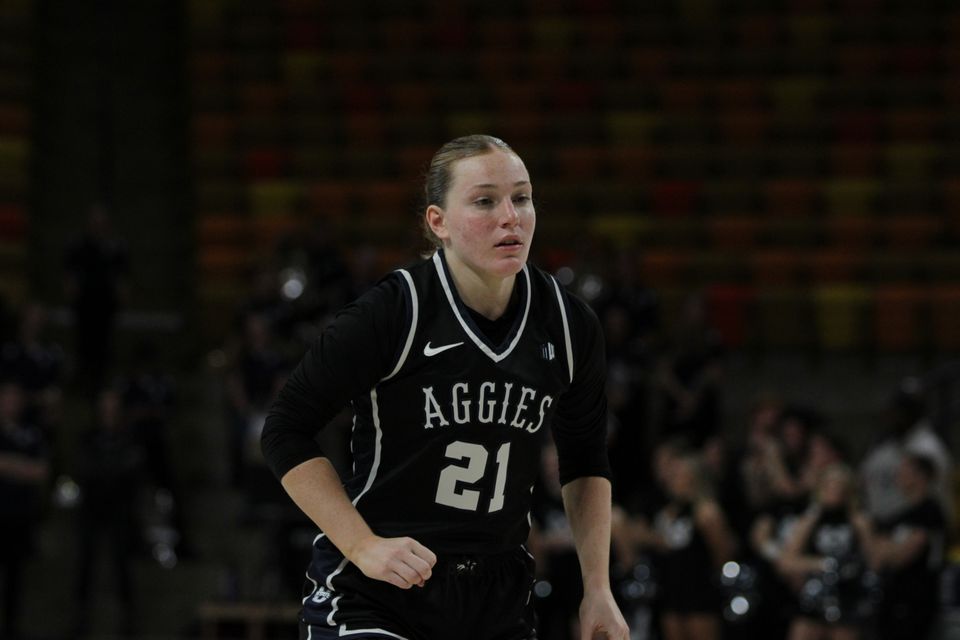 COLORADO SPRINGS – Utah State's 77-63 loss to Air Force in the MWC opener for both teams can't be explained neatly by a single moment. It was a back-and-forth game defined by bursts of red-hot offense and contrasted by lulls of stagnation. Neither side was immune.
Utah State spent the first six minutes of the game ice cold from the field, while Air Force built out a 14-2 advantage. The Aggies clawed back with 11 points down the stretch of the period, pulling to a 21-13 deficit entering the second quarter. Then it was Air Force's turn to stumble, going nearly four minutes without scoring while Utah State whittled down the lead. The Aggies knotted the game at 26 but scored only six points in the final 4:47 of the half, allowing Air Force to reclaim a 35-32 edge heading into the break.
Ashya Klopfenstein and Maria Carvalho connected on a pair of attempts in the opening minutes of the second half, giving Utah State a 36-35 advantage – its first lead of the game – only for the Falcons to rattle off a 9-0 run to move back ahead, 44-36, in just over two minutes of action. The Aggies took it in stride and responded with a 16-5 run in 4:28 of game time, jumping out to a 52-49 lead and threatening to take over the game as Air Force again fell silent from the field.
In retrospect, it was a decent indicator of where the game was headed that an 8-of-9 shooting performance in the third quarter produced only a one-point victory in the frame for Utah State, 21-20. The Aggies shot better against Air Force than they have all season (46.8 percent), looked more cohesive offensively than they have all season, and they left with a 14-point loss after a fourth-quarter blowout.
The shots had to dry up at some point, and a 5 of 18 showing in the final frame sent Utah State right back down to Earth. Air Force closed the game on a 28-11 run after falling behind by three.
It didn't matter that the Falcons never found their shooting stroke, hitting just 5 of 16 shots in the fourth quarter and shooting 39.1 percent for the game. Utah State's hot streak ended, three of Air Force's five makes were open threes, and the Falcons added nine points at the stripe. Consecutive Air Force three-pointers in just 29 seconds, turning a five-point difference into an 11-point difference, served as the proverbial dagger with 5:43 to play, but the game was over when the Aggies ended the third quarter still behind by two points, despite their torrid shooting.
After a loss like this one, the first question to ask is obvious: Now what? Utah State can say it isn't in the business of moral victories, and that every loss is a failure, but the situation in Logan is what it is. Utah State is 3-9. The Aggies need eight conference wins just to match last season's 11-19 record, and they just dropped a game they very well could have won. This league will not give teams free wins, they have to take advantage of opportunities like the one Utah State just squandered.
This revamped roster has, to this point, produced very little to be optimistic about, and that's not an opinion. To be competitive in a road conference game, as Utah State was, has to be considered a positive at some level because this team just has not been good enough to hold itself to a higher standard.
Momentum has to come from somewhere, and Utah State just had its best offensive performance of the year against a legitimately capable Air Force defense. That's something. The eight days between games offered the Aggies an opportunity to find some answers offensively, and they did that. It still needs to be better, but it was a crucial return to competence after Eastern Washington blew this team out of the water in the final non-conference game.
This was much more in line with the performances Utah State put to record against Weber State, Utah Valley, BYU and LMU. This looked like an improving team with fledgling strengths to build on. Are there kinks to work out? It's pretty apparent there are.
Utah State lost this game explicitly because it turned the ball over 25 times and Air Force converted those mistakes into 28 points. Turnovers have been a problem for the Aggies all season and they've still yet to find a solution. Carvalho and Olivia Wikstrom each had five, Mayson Kimball had three and four players each had two. On the other side of that, eight assists are still too few. The ball movement was better on Thursday night. It's still very much a work in progress.
And there's the issue of the rotations, which appear entirely unsettled heading into the bulk of conference play. Utah State is throwing a lot at the wall to see what sticks, and it's yet to get definitive answers on much of anything. Carvalho's scoring has been generally reliable, as has Wikstrom's defending and Abby Wahl's rebounding. Everything else is still yet unproven and will take time to find clarity on. Utah State is firmly in the "I think" stage of assessment right now. Next up is "I believe," followed then by "I know."
---
Here's where I'll do a little conjecture about what I think, believe and know. The third category is the most exclusive, and it's home to only a few pieces of information. I know:
Carvalho is the heart of this team, as she has been all year. She's the best scorer, best passer, best defender and just about anything else you could assign to her. Without her, Utah State is a vague collection of talent. It needs her healthy and confident to make any noise in this league.
Wahl is the most reliable post-player on the team. She's not done a ton of scoring and she can't hold down the frontcourt on her own, but her rebounding and defense are both assets for the Aggies.
Utah State has a lot of faith that both Kimball and Wikstrom will find their breakthroughs and take on larger scoring roles in this offense. It helps that they're both good defenders and rebounders, but they've yet to really settle in offensively. The Aggies are giving them every opportunity to do so.
Things seem to be headed in the opposite direction for Cris Oliva. She didn't play against the Falcons, and I'm not privy to any injury that would have caused that. Her talent is obvious, but it doesn't take an expert to see that confidence is sparse right now, both for the player and the team. She's fallen out of the starting lineup and saw only 20 combined minutes against UVU, BYU and LMU. Utah State would love to have her shooting, but if the attempts aren't falling, the Aggies don't have much of a choice but to look elsewhere. A sharpshooter in a dry spell is a difficult player to work around.
I believe:
Natalie Fraley is going to continue seeing more playing time if she keeps performing like this. Her stats aren't huge – she had five points (2 of 5), three boards and two assists – but she was one of only a few players with a positive plus/minus (plus-6) and it's due in large part to the big "0" in the turnover column. Utah State needs as many reliable ball handlers and passers as it can get, and Fraley is already proving capable of both.
Prima Chellis is rapidly improving. She shot 4 of 6 from both the field and the stripe on her way to 12 points while nabbing four rebounds in just 13 minutes of action. Her defense isn't where it needs to be, but she's one of only a few players on this team who will attack the rim with confidence and finish off her drives with made layups.
I think:
Utah State really wants to see what it has in Lillian Harris, Isabella Tañedo and Kinley Wickizer-Falslev. All three drew plenty of playing time against the Falcons, and all three offered up something to think about moving forward.
For Harris, my feeling right now is that she's not ready. She didn't score in eight minutes, fouling twice and turning the ball over twice without recording any other stats. Her size is nice, but if she isn't going to grab rebounds, she doesn't add a ton to the rotation. Those minutes are better spent on Chellis.
Tañedo is fascinating. She's already a very good defender despite her age, and she brings a ton of energy when she's on the floor. Plus, she has good handles and could be a viable member of the backcourt. To this point, though, she's looked a lot like a freshman point guard. The bad moments outweigh the good ones offensively, and Utah State cannot afford to give 11 minutes to a player only for her to contribute one point, three fouls and two turnovers. I'd still like to see more of her if only to see what she can do as the game starts to slow down. It can't come at the expense of her long-term confidence, though.
Wickizer-Falslev could be the answer in the currently vacant sharpshooting role. She was 2-of-8 in this game, but all eight of those shots came from behind the arc. In other words: She isn't lacking for confidence. That's good. Utah State needs a player who will just shoot the ball when she's open, and Wickizer-Falslev can be that if she can get her percentage closer to 35-40 percent. She's a good defender, too. I would expect to see more of her.
If I was setting a starting lineup right now, based on the last five or six games of film, I'd go with Carvalho, Robinson, Fraley, Kimball and Wahl, with Tañedo, Wickizer-Falslev, Wikstrom, Chellis and Klopfenstein behind them. The good news for everyone's sake is that I'm not setting a starting lineup. Kayla Ard is, and she's yet to find one she really likes.