WBB Preview: Utah State Opens MWC Play At Air Force
Tip-off for Utah State WBB's conference opener is imminent, here's what you need to know about the scrappy Air Force team lined up opposite the Aggies: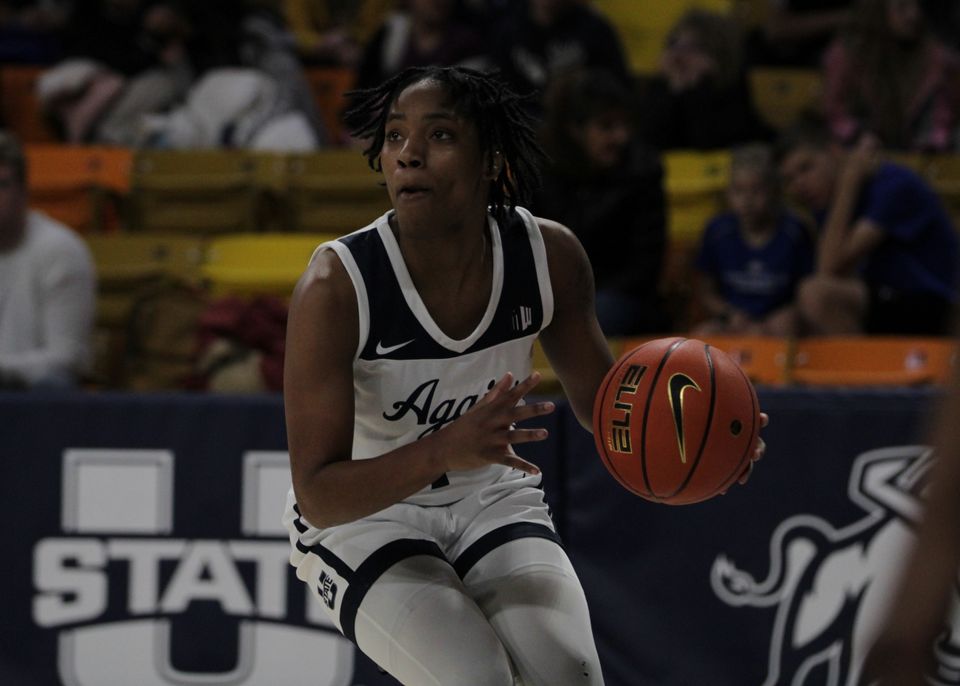 The onset of conference play offers a world of new opportunities to every team in college basketball, no matter the turmoil they faced in their out-of-league endeavors. Every year, without fail, everyone opens their league slate with the same record. Unbeaten teams have to prove themselves against their conference foes just as winless ones do. It's a blank canvas and a chance for struggling teams to rewrite the stories of their seasons.
For Utah State, nothing could be more attractive. The Aggies will open Mountain West play on Thursday evening with a road trip to Air Force, looking to reverse their fortunes after a 3-8 start to the season. They'll also be taking the court for only the second time since Dec. 11, an almost unheard-of layoff in this sport.
When these Aggies last emerged from a lengthy break, taking on Eastern Washington in the non-conference finale after nine days without a game, they couldn't have imagined a worse start. The Eagles ran them off the floor in the first quarter, 23-4, on the way to a disastrous 30-point loss in a game Utah State expected to be seriously competitive in.
It's been eight full days since that result. Air Force (5-7) is a better team than EWU, and there's no such thing as an easy conference game. This may be only game No. 1 in the Mountain West, but Utah State cannot afford a similar outcome on Thursday night. A competitive loss can be built on. There's no building on a blowout, and it's not going to get any easier with San Diego State and Colorado State scheduled to come to Logan as conference bouts No. 2 and 3. Utah State needs positive momentum, and it needs it now.
Projected Lineups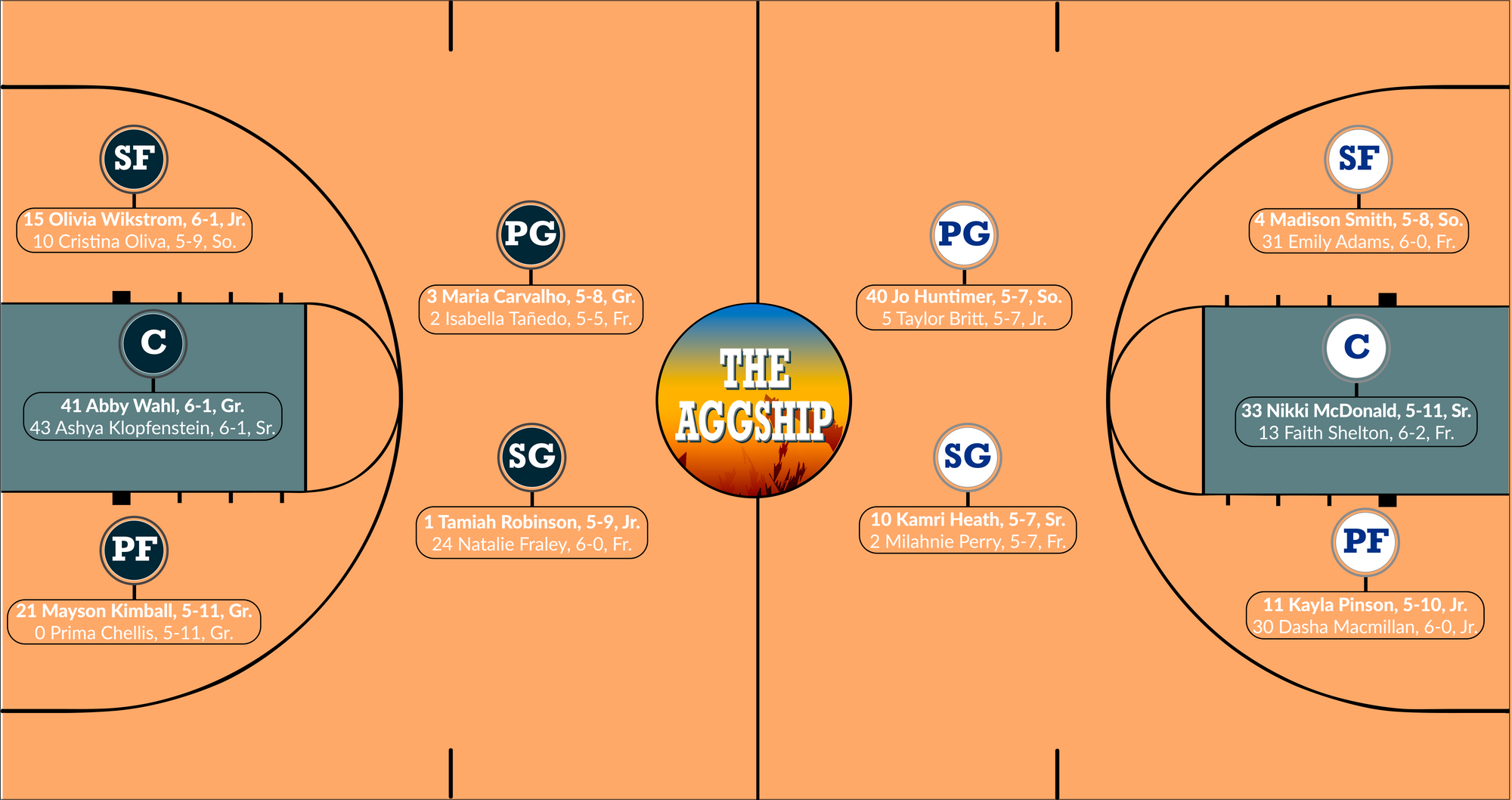 Players To Know
Kamri Heath: Few players in the Mountain West have shown more improvement this season than Heath. A senior with 76 games to her name entering the 2022-23 campaign, Heath seemed to have found her ceiling last year.
She broke into the starting lineup on a far more consistent basis after two years as a reserve, logging 20 starts in 31 appearances, and met the new responsibilities well. Her 7.6 points, 3.1 rebounds, 1.1 assists and 1.2 steals per game were not groundbreaking, but she was one of the team's most efficient shooters (low volume, though) and could be relied on as one of the better perimeter defenders on the roster.
As one of only a few veteran players in the rotation this season, Air Force knew it would lean on Heath for leadership, but it seemed a pipe dream to expect her to make another major leap in production.
And yet, 12 games in, a major leap in production she has provided. Heath is leading the Falcons in scoring, averaging 15.4 points per game while shooting 45 percent from the field with the second-highest usage rate on the team (26.7 percent). Her passing has dipped (0.9 APG), but Heath's rebounding (3.3 RPG) and free throw rate (10.1 percent) have both improved.
That's not to mention her defense, which is still among the best on the team. Her advanced defensive metrics are down slightly, but it's hard to complain about 2.6 steals per game. This is a dangerous off-ball guard who only seems to be getting more comfortable in her new role. She's had off nights and can be limited, it's just a lot easier said than done.
Jo Huntimer: Though her statistical improvements aren't as pronounced, Huntimer is a good deal better right now than she was a year ago. Unlike Heath, her development was pretty easy to predict. Huntimer started 28 games at point guard as a true freshman a season ago, averaging 2.8 points, 3.7 assists, 3.5 rebounds and 1.5 steals per game – not a bad start by any means.
In large part, her biggest flaws last season were exactly what you would expect. She turned the ball over too often, about 1.7 turnovers per game, and she had no real interest in attacking with the ball. Perhaps the latter was for good reason because Huntimer shot just 33.6 percent last season, but a starting point guard just cannot attempt only eight free throws in a season. Air Force needed her to cut down on the mistakes and turn up the aggression in 2022.
She's still not a superstar scorer or anything like that, but Huntimer has largely answered the call. Her shooting has improved to 39 percent from the field, she's already more than doubled her free throw totals (18 attempts) and her scoring has followed, up to 4.3 points per game. She's improved as a passer too, rattling up 4.8 assists per game.
With that aggression has come a steep rise in turnovers (2.8 per game) and a slight drop in rebounding production (3.3 per game), but it's a trade Air Force will take to have a point guard worth thinking about defensively. The job for Utah State and Maria Carvalho is a tricky one because shutting Huntimer down won't do anyone any good – she's still not doing a whole lot of scoring.
To take advantage of this matchup, the Aggies need to force the sophomore guard into more shots, more aggression, and more turnovers. Michigan turned her over four times, Denver five and Colorado eight. It would go a long way toward slowing this offense down.
Kayla Pinson: Here's the player upon whom this game may hinge for the Aggies. After nearly a month away from the floor, Pinson returned to the lineup on Dec. 4 against UTEP with a bang.
She hit 8 of 11 shots and racked up 17 points, helping the Falcons to a 63-60 victory – just as she did with more modest but still impactful outings in the first two games of the season, wins over Denver and Navy. She was present in Air Force's win over UC-Colorado Springs, too, making the Falcons 4-3 with her in the rotation and just 1-4 without her.
This is not to say the versatile power forward is some bastion of consistency, though. It's quite the opposite, even. At her best, Pinson is the best player on the team, running up 17 points on UTEP or 21 points on 9-of-14 shooting with 11 boards against Utah Tech.
At her worst, she's a major impediment to her team's success. She shot a combined 5 of 21 in Air Force's last two games against Northwestern and Oklahoma State, grabbing one more rebound (7) than she did personal foul (6) and turning the ball over four times with just one assist.
There's no telling which version Air Force will get of the 5-10 forward on any night. She's the team's best player and most talented post scorer, but she's also incredibly destructive when she's not on her game – and she's been bad just as often as she's been good. If Utah State can limit Pinson, Air Force's offense will need to fight for every made shot it can find. If she finds a groove, the game will be over before halftime.
Stats To Know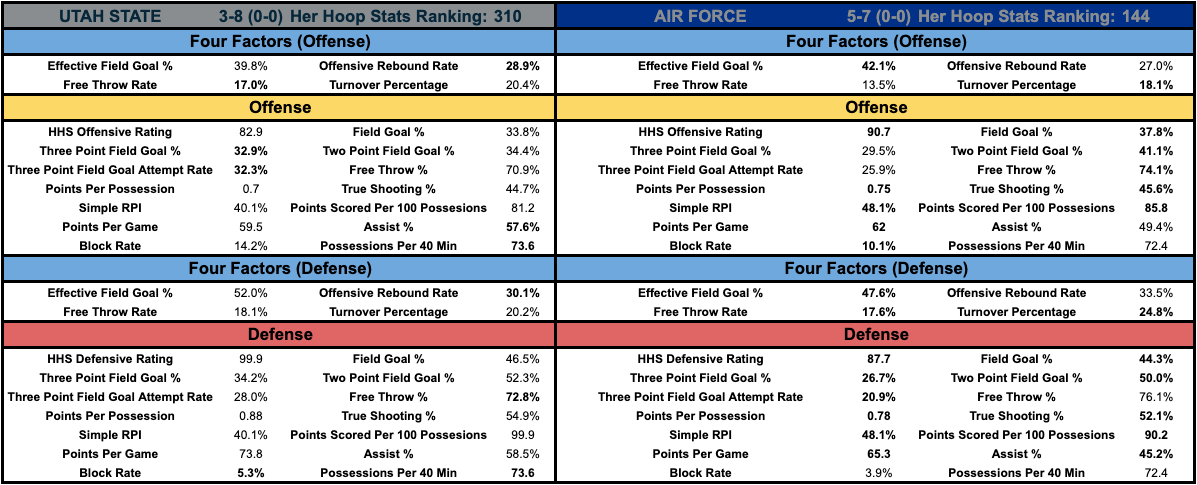 Field Goal %: Part of what makes Pinson so important is her shooting percentage. At 44.8 percent shooting from the field, Pinson is the second most efficient shooter in the rotation (behind only Heath) and one of just three shooting about 40 percent.
The other forwards in the rotation, Dasha Macmillan (35.8 percent), Nikki McDonald (38.7 percent) and Faith Shelton (27.7 percent) just haven't shown an ability to get it done on the inside, and Heath is about the only player able to create offense off the dribble. This Falcons offense can stagnate quickly if any of Heath, Pinson or Madison Smith (42.2 percent, 12.0 PPG) isn't converting at the rim.
And of course, Utah State's shooting is even worse – but you already know that. I wouldn't expect the most aesthetically pleasing basketball in Colorado Springs on Thursday night.
Three Point Field Goal Attempt Rate: When Utah State has had success offensively, it's largely come from the long ball. The Aggies aren't outstanding from deep or anything, but they have several capable three-point shooters and not a whole lot of anything else within this offense.
That's bad news for this matchup because Air Force allows just a 20.9 percent three-point attempt rate. The Falcons may not have much scoring to speak of, but their perimeter defense has been excellent all season and that's kept them in a lot of games. It could easily win them this one.
Turnover Percentage: Speaking of Air Force's defense, the Falcons enter this game with the No. 25 defensive turnover percentage in America (24.8 percent). Heath and Huntimer are the leaders of those efforts, but the entire team is engaged defensively and capable of jumping in front of lazy passes.
Utah State, meanwhile, is 206th in offensive turnover rate and has fallen out of plenty of games because of its inability to hold onto the basketball. It's a fair bet that Air Force will come into this game with that as the No. 1 focus in its game plan.
Prediction
Utah State hasn't been able to score against bad defenses, and Air Force's is far from a bad defense. The Aggies might be able to keep the Falcons off the board enough to stay in this game, but I don't see Utah State producing anywhere near enough offense to win it. Once that bad quarter hits, as it has all season for the Aggies, Air Force will run away with the game.
Air Force 70