Cover Story: Unforced Errors Sink Aggie Upset Bid In Iowa City
Missed opportunities may nag at Aggies, but their resilience in Iowa City is a reflection of the difference a year can make. First cover story of the season is free, the rest are members only: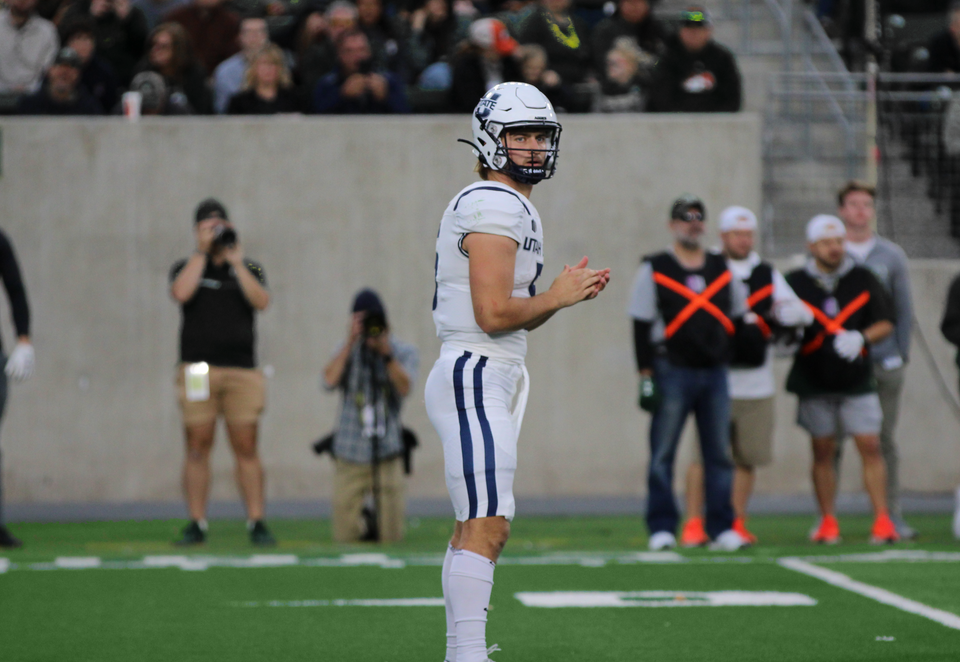 IOWA CITY – College football rarely affords a clear view of progression or regression, be it at the individual, team, or program level of the sport. There's no definitive way to quantify a veteran quarterback maturing into his role or a young team discovering itself through the hardships of a season, and wins and losses – important as they are – cannot tell the full story of a program's path within a coaching tenure or spanning several. There are simply too many variables, with too small a sample size, in a sport too complex.
I've always enjoyed the way Bill Connelly, who has built a career around working to better quantify the unquantifiable, puts it:
"The words "college football" and "stability" don't go together all that well. Such is life when your livelihood is based on the whims of a pointy ball, eccentric boosters and a bunch of 18- to 22-year-old players."
In the aftermath of a season-opening loss to Iowa, 24-14, before 69,250 fans packed into the hostile confines of Iowa's Kinnick Stadium, Utah State can appreciate a fleeting moment of congruity in two games split by a year of change – and, if it's lucky, learn a thing or two from it.
One calendar year – save a day – before Utah State and Iowa squared off, the Aggies took to the field in Bryant-Denny Stadium opposite the mighty Alabama Crimson Tide. That crowd was a bit bigger, nearly 100,000 strong, and Utah State's opponent then was better than the one it just faced, but enough is shared between the moments to draw comparisons. In both instances, a young, unproven batch of Aggies, playing the role of a team paid handsomely to be throttled, met a far bigger, faster and stronger opponent. They did it without stars upon whom they depend and with the weight of grand college football coliseums all around them.
Both games saw the Aggies fall behind early, faltering on offense and suffering too many mistakes on defense. Last season, Alabama raced out to a 17-0 lead in the first quarter, outgaining Utah State by 109 yards (150 to 41) with demoralizing strikes through the heart of the Aggie defense to the tune of 25, 17, 16, 16 14, 12 and 10 yards at a time. Flustered by a barrage of bad news, Utah State lashed out with a trio of penalties and, like a man spending the last of his paycheck on a watch for Bill Gates, gifted Alabama another 35 yards.
This time around, Iowa struck from 36 yards out on its second play from scrimmage – its first season-opening touchdown pass since 1991 – and ran up gains of 21, 18, 14 and 10 yards, building a 14-0 lead just over seven minutes into the contest. As Utah State's offense sputtered, the defense made mistakes, extending a touchdown drive with penalties and ending the opening frame having taken three for 27 yards. Iowa ended the quarter with a 109-yard edge, 139 to 30.
It looked familiar because it was familiar. Utah State was antsy, lacking in confidence, and overwhelmed by the moment. Perhaps this time next year, when the Aggies are scheduled for a trip to see USC in LA Memorial Coliseum, they'll have an answer to that problem – but for now, it was as it had been.
"When I met with the team before the game, I asked how many guys were playing their first Division I football game, and how many guys were playing their first football game for us," third-year Utah State head coach Blake Anderson said. "Three-quarters of the room raised their hand. Some of the jitters were expected, but it's something we have to learn from and I think our guys will. I have no doubt about that."
What wasn't the same on this humid, late-summer afternoon in Iowa City is what Utah State can use to measure the work it has done over this last year.
A year ago, the Aggies took Alabama's best shot and crumpled. The Crimson Tide extended their lead to 24 points, then 31, 34, and finally 41 with less than a minute to play in the first half. The big plays never stopped coming, and Utah State never got up off the mat. It looked, in several moments, as though the Aggies had never intended to – which would make sense, given how aggrieved they'd been about the whole affair leading up to it.
The Tide rolled to a 55-0 beatdown, outgaining their foes 559 to 136, while Utah State blew off some steam and racked up 11 penalties for 110 yards. There's an argument to be made that the blowout extended into Utah State's next two games as the Aggies suffered a pair of brutal home losses to Weber State and UNLV. They certainly wouldn't have been the first team to let Alabama beat them more than once, which Anderson expressed concern about immediately following that game.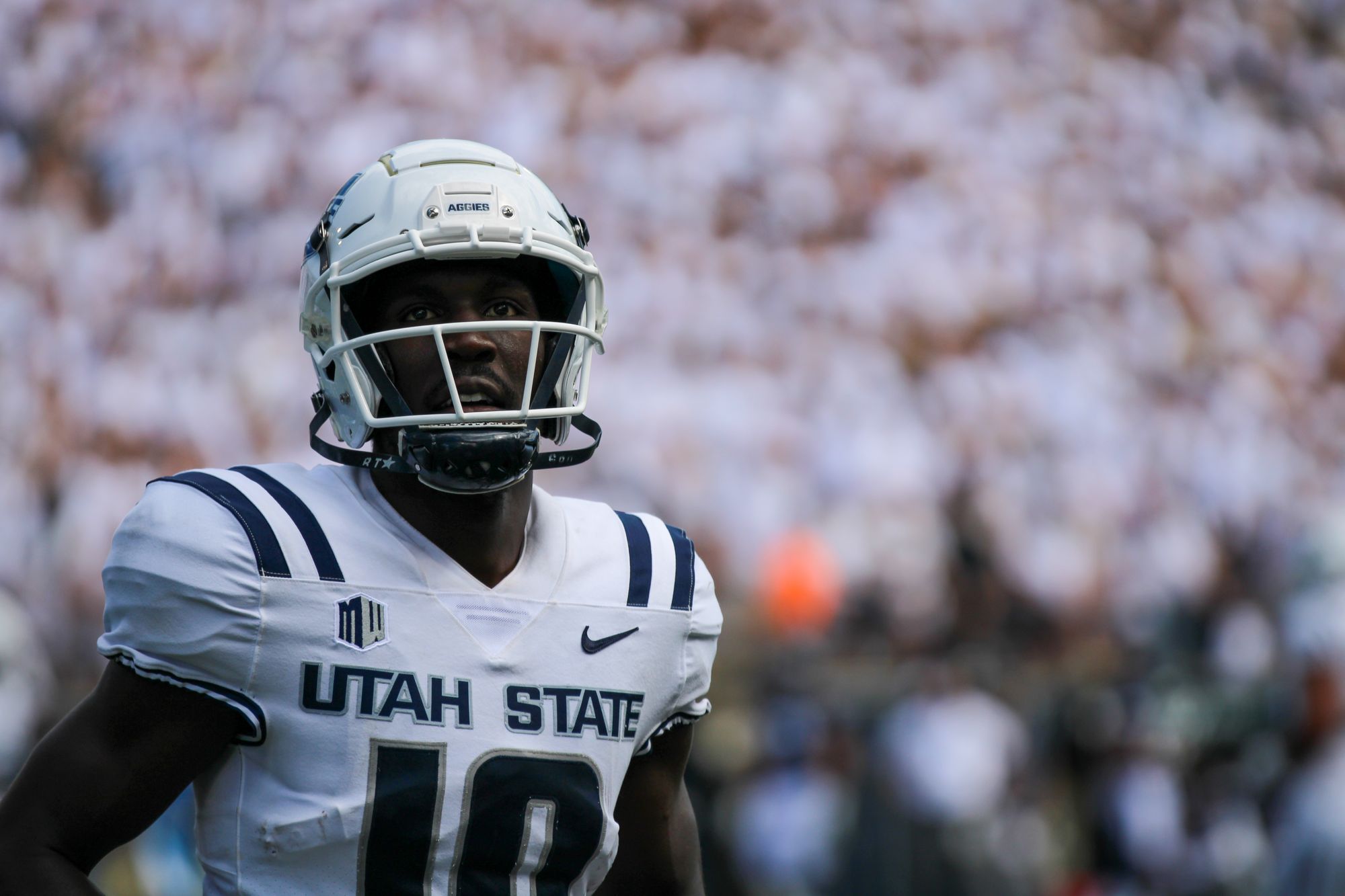 "We aren't built that way, and only having been here for a year and a half, we're a long way away from being able to play that game physically and match up," he said at the time. "Maybe we'll never be able to. But we need to put this one where it belongs. Don't let this one linger. Learn from it, move forward and move on. Trust the way we do things. That's all we can do."
Fast forward a year. Utah State's roster and coaching staff have undergone as much turnover as Anderson has seen in his career. The Aggies eventually recovered from their loss to Alabama, rescuing a bowl bid from what could have been an utterly disastrous season, but they left the 2022 season with more questions than they had solutions. They've done what they could to remedy those concerns over the last nine months, and with as many new faces as they have – 26 players made their Utah State debut on Saturday, and 15 made their FBS debut – the Aggies didn't know what they'd get in Kinnick Stadium. They didn't really even know what they had to begin with.
"You don't know a whole lot through fall camp," Anderson said. "You play each other every day, and you get to a point where you're seeing the same things and the same matchups to some degree, until you see an opponent of this caliber in this kind of game."
The Aggies still have plenty of questions to answer, given Iowa's... proclivities. But Utah State saw what that year of work could mean when, after absorbing what easily could have been a knockout blow just a few minutes into the season, this young team pulled together and fought back.
It began with new defensive coordinator Joe Cauthen's unit, which had been scorched by big plays and bitten by penalties as it struggled through miscommunications to open the game. Heading back onto the field after an Aggie three-and-out, only one game minute removed from an 11-play, 75-yard Iowa scoring drive, the defense had to find something lest the game fly completely out of hand.
Another penalty helped the Hawkeyes along, but linebacker MJ Tafisi knocked halfback Kaleb Johnson back for a loss on second-and-4 from the Aggie 32-yard line, and tackle Bo Maile held up Luke Lachey a yard short of the line to gain on third down. When Iowa tried its luck on fourth-and-1, Anthony Switzer blazed through and blew up a Leshon Williams handoff. As would become apparent, this breakthrough portended what Cauthen's group could do once it had settled in.
Over the final 53 minutes of the game, Utah State held Iowa to 10 points and 170 yards, with roughly 3.0 yards per play. Are the Hawkeyes an offensive juggernaut? No. And the Aggies were far from perfect, committing 10 penalties for 91 yards and twice missing a chance to recover Iowa fumbles. They made mistakes, blew assignments, and they lost a winnable game in no small part because of it.
At the same time, Utah State was stifling, physical, and athletic enough to keep pace with a Big Ten team. Tafisi looked like a star, racking up 12 tackles with three TFL, as did redshirt sophomore safety Ike Larsen in blocking a punt and deflecting a pair of Cade McNamara passes. If not for those first seven minutes, the Aggie defense would have left the game having been unquestionably better than the Iowa offense. It might have even left with a win.
"I think the key is that the kids settled down and played the defense the way it was expected to be played," Anderson said. "You could tell we were nervous early, it was really jittery and there was some miscommunication. We had to reach that point where they would exhale and realize, 'Hey, we're just playing football. It's not some new game all of a sudden.' When we got to that point, we played really, really well the rest of the day. It wasn't perfect by any means, and there are still things that I'm sure Joe would be ripping apart, but it was great to hold those guys to less than 300 yards and less than 100 yards rushing, to be able to stop them on fourth down and force them to punt the ball. I was really, really pleased.
"I'm proud of how hard they played, but we have to play better. Those key mistakes in critical situations that extended drives for them, and the missed opportunities for turnovers that could have changed the outcome of the game – those are things we have to capitalize on and avoid. Today, we didn't, and we played a really good team. You're going to see an outcome like this basically every time with those kinds of mistakes."
While the Aggies can and should rue those missed chances and a penalty problem that continues to plague this program, there was another Utah State unit on the field in Iowa City, and its performance has been somewhat overlooked amid reactions to the game – presumably because of the matchup it ran into. This offense, with directives now coming straight from the head coach, didn't find the end zone until very late in the fourth quarter after Iowa had the victory just about locked up, relying on a pair of field goals for its entire output in the first 58 minutes of the game.
That said, like its counterpart unit on the other side of the ball, Utah State's offense grew into this game – even if it wasn't really reflected on the scoreboard. The Aggies, after putting together one drive of at least 40 yards in the first half, had four in the second. They outgained the Hawkeyes 237 to 108 in the last 30 minutes of play, running 41 plays to Iowa's 31 across a little more than 16 minutes of possession time, playing the game at the Utah State pace, not the other way around.
And, just as the Aggies hoped, Iowa started to wear down. Quarterback Cooper Legas was 20-of-28 passing for 136 yards and a touchdown in the second half, and while Utah State would love more yardage than that, it will take what it can get against this sort of defense. Rahsul Faison ran wild in the fourth quarter with 55 yards on six carries, leading a rushing attack that netted the Aggies 91 yards on 13 second-half attempts. Had the deficit not stretched to 14 points so early, that ground game might have made a difference before the last frame. You could say the same about the offense writ large. Had it found a groove a little earlier, this could have been different.
"I think we could have gotten that energy earlier in the game," Legas said. "I think a lot of us knew we were coming out against a Big Ten team with big, strong guys like Iowa has, and I think we were just not as locked in as we should have been. In the second half, we realized it's just another team, and we can really play with them. It ended up working out a little better in the second half, but obviously, we would've liked to start a lot earlier."
It even had moments of great potential – perhaps none better than a two-drive sequence in the fourth quarter: the first an eight-play, 50-yard series that appeared earmarked for six points before a pair of untimely false starts in the red zone stopped it dead; the second a three-play, 70-yard jaunt through the heart of the Iowa defense that ended with a 16-yard touchdown pass to Terrell Vaughn.
"On the touchdown drive, we were moving quickly, moving with the tempo that we practice with every day and we finally put a full drive together there at the end," Legas said. "That was the biggest moment for the offense."
But, Utah State couldn't consistently create the big plays it needed to move the ball against one of the nation's best defenses. It squandered opportunities to move the chains, netted one yard on five red zone plays and on several occasions ended very promising drives with either three or zero points. It was never winning this sort of game like that.
"Iowa just does a really good job of taking away the big shots," Legas said. "Every time we were trying to make a big play, I had to go to the check down. Iowa did a great job of defending what we were trying to get. I probably could have taken some more shots, but I was trying to protect the ball."
In those 60 minutes, Utah State can see just about anything it wants to see. There are clear signs of improvement in the things that can't really be measured – toughness, fight, physicality. Legas took better care of the ball, though he was frustrated after the game with his lone interception, a bad throw up the seam that safety Xavier Nwankpa jumped in front of.
"I want to throw every ball with a purpose, and I really babied that ball," Legas said. "It floated in the air, gave the safety time to go over and get it. If I drive it, it's probably a big play for us."
The rushing attack, once it found itself, looked pretty good, as did a rebuilt offensive line. Nothing on that side of the ball was dominant, but it doesn't have to be good enough to beat Iowa's defense to win the Mountain West or contend for it.
"It will help a lot when we're not playing one of the top 10 defenses in the country," Anderson said. "We have to block them better and give ourselves a little bit more time to generate downfield throws. We knew that was going to prove to be tough today. We didn't want to put ourselves in jeopardy, either, so we picked our opportunities carefully. We missed a couple of opportunities where we could have generated (big plays), but a lot of it had to do with the matchups. Their front is as good as we're going to see, and I think as you watch in the season, they'll create a lot of problems for a lot of people."
On defense, you can see the hits, the fight, the freakish plays that Larsen just keeps making and imagine a group that could get that much better with a little more discipline and two of its best starters in the front six back from injury. This was, after all, its first game under a new defensive coordinator.
Simultaneously, you can see a game against a ranked team that Utah State wins if it just stays out of its own way; that flips with a few more plays; that could have ended very differently. The Aggies have been struggling with some of these problems, like the penalties, for three years now. You can see they've still yet to be fixed.
"As you can imagine, I'm frustrated with the outcome," Anderson said. "We felt we had a plan in place that, if we executed it well, would give us a chance to win. I'm not much for moral victories, so keeping it close and beating the spread and all that stuff doesn't fire me up a lot. What does is how hard the guys played, and the fact that we showed at times that we could compete with that group. That's a really, really well-built football team, and when we calmed down and did what we're supposed to do at times, we looked really effective, efficient and talented. We played hard, and the effort was great all day.
"It comes down to too many self-inflicted mistakes; too many unforced errors. You're going to struggle to beat a bad team with the errors we had today, much less a team of this caliber. Five personal fouls are unacceptable, we can't have them. We've been coaching that nonstop, and it's still showing up in key situations. It's something we have to fix. It's something that we will continue to coach as a staff."
Notably absent in all this, especially when taken in contrast with that game those 364 days prior, were red flags of waning effort level and disinterest in a matchup that looked bleak. Iowa is not Alabama, but plenty of teams have been beaten down by the Hawkeyes in Kirk Ferentz's more than two decades at the helm. The Aggies weren't.
"I saw that when we calmed down and we played football, we can do some pretty good things on both sides of the ball," Anderson said. "We blocked the punt today, we rushed for 116 yards against one of the best defenses we've seen, we outgained these guys and stopped them on fourth down, man. We're a few plays away from having a really, really good game. I learned that if we keep working on the process, keep believing in what we're doing and keep coaching them, if the guys would buy into that fully, we're capable of being a pretty good football team."
What Utah State saw, ultimately, were signs of a team it isn't yet, and a team it could still be.
"We had glimpses of what we can do, and if we can take those glimpses and make a full game out of it, we can beat everyone else on our schedule," Legas said.