Cover Story: With Magic In The Air, The Spectrum Welcomes Utah State Home
I wanted to do something a little different to preview Utah State's MBB season opener tonight at 7:30. Here it is, free for all to read. On the Spectrum, Utah State's heart and home: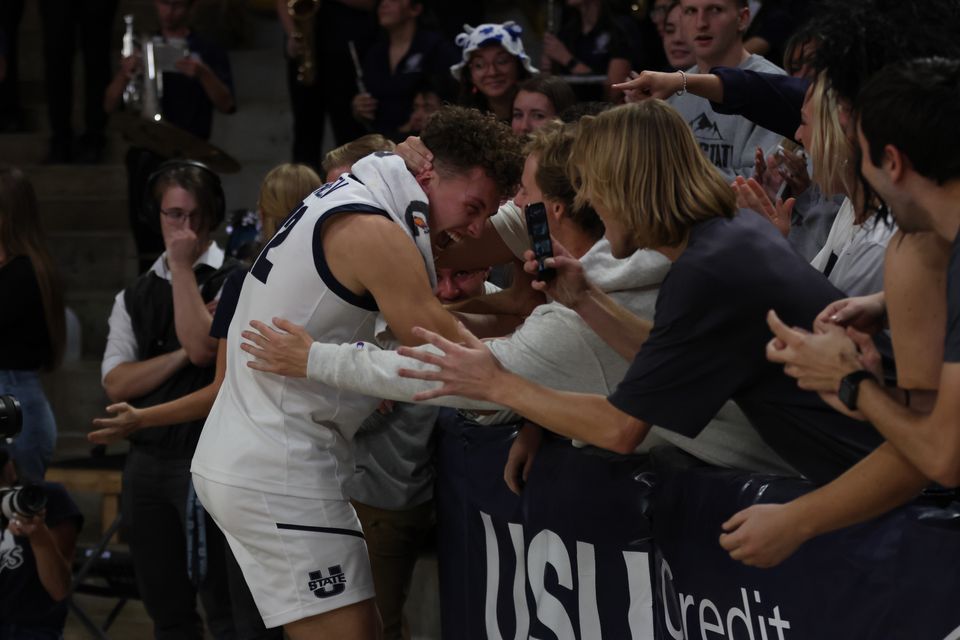 LOGAN – Everyone remembers their first game in the Spectrum, and that's exactly how Utah State likes it. Home to the Aggies since Dec. 1, 1970 (which, fittingly, was a 95-89 victory for Utah State over Ohio State), your lasting impression of the Spectrum is contingent on your perspective.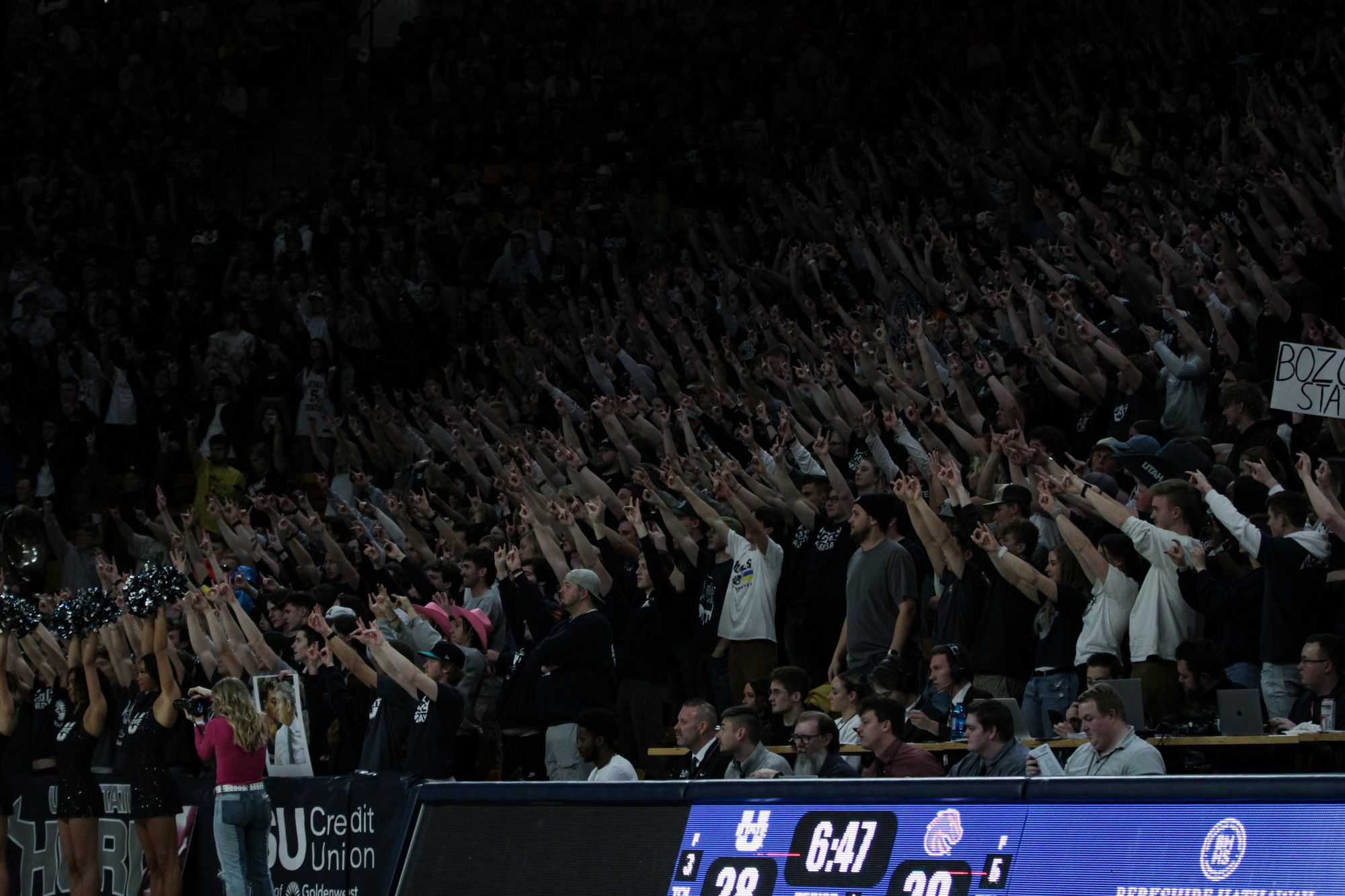 For the thousands of Utah State fans who pile into the 10,000-seat (give or take a few) arena every chance they get, it's a place of refuge – during those brutal Cache Valley winters, an evening among the old fall-tinted metal seats is more than a welcome reprieve. Many have experienced the environment in all of its forms, attending first as a young Aggie fan, then as a raucous student, and finally as a proud alum.
For visiting teams, the Spectrum is anything but a place of comfort. As The Hurd so aptly puts it, that environment is college basketball's little slice of Hell for opposing players and coaches. Abandon all hope, ye who enter here – for the Aggies are 636-152 (80.7 percent) overall and 300-82 (78.5 percent) in conference games played within those hallowed walls. Forward Max Agbonkpolo, who transferred to Utah State this offseason after suiting up for Wyoming in 2022-23, knows exactly what that trip entails.
"It was one of the top three crowds I've ever played against, up there with Arizona and UCLA," Agbonkpolo told The Aggship. "All I've heard is great things about this crowd, that they show up every game and they're always going to be on your side, no matter the ups and downs. I remember when I played here, you could barely hear the person right next to you, even on the bench. The crowd is amazing here and I'm ready for them to be on my side this time."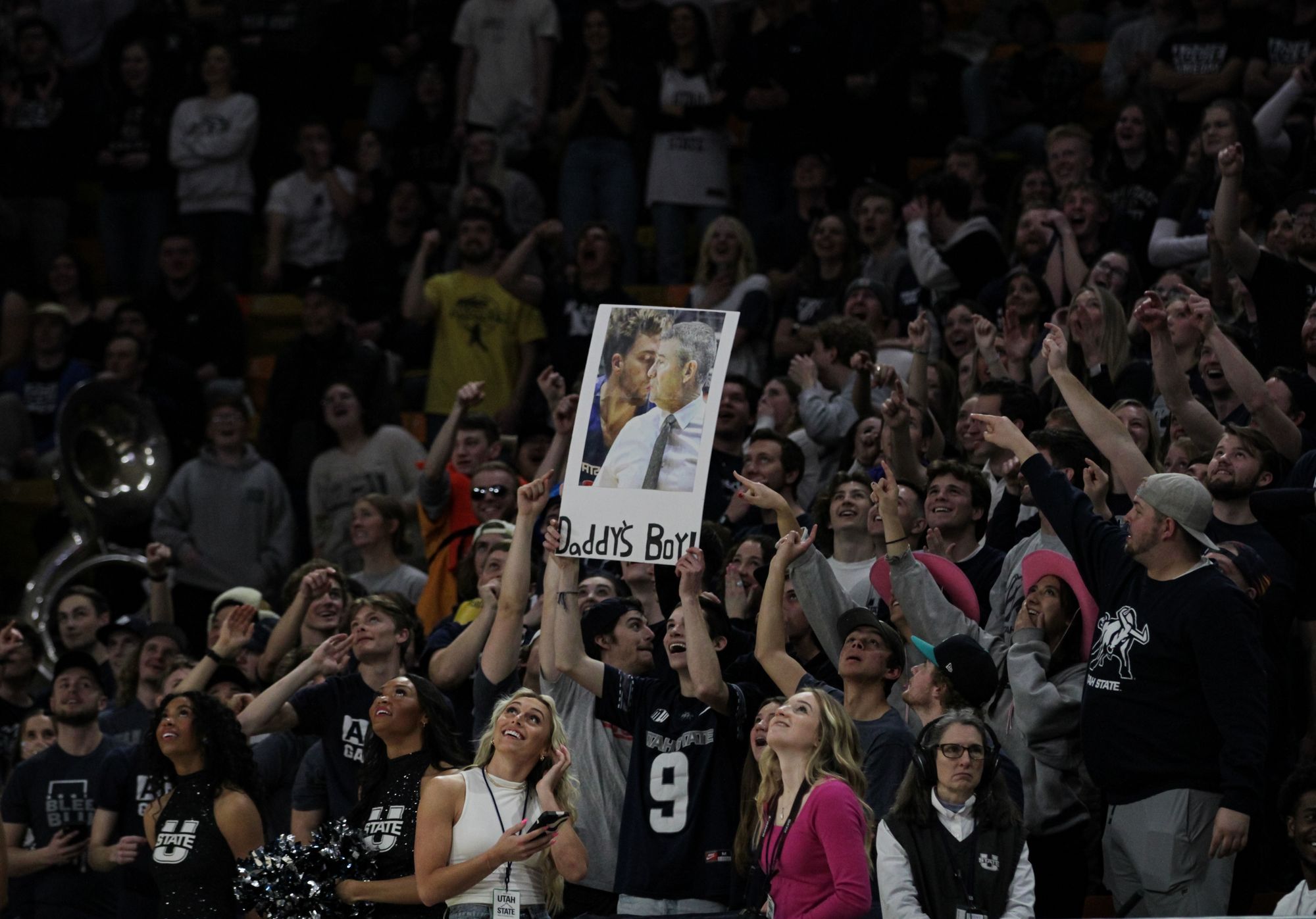 No matter the opponent, that sense of hostility is always present. The Hurd takes a great amount of pride in its research, scouting out sore spots and hammering them with glee, like a shadow coaching staff that exists only to exploit mental mismatches. Boise State guard Max Rice, son of Broncos head coach Leon, was on the receiving end of a particularly spirited effort in last season's home finale and responded in turn, struggling through a 4-of-12 shooting night with four personnel fouls (several of which were wholly unnecessary) as Utah State rolled to an 86-73 victory.
His night in Hell is far from unique. In the game prior, Nevada star Jarod Lucas found himself on the wrong end of that cacophony amid a brutal performance from the field. Once those students get a hold of you, any failed efforts to silence their jeers will only make matters worse.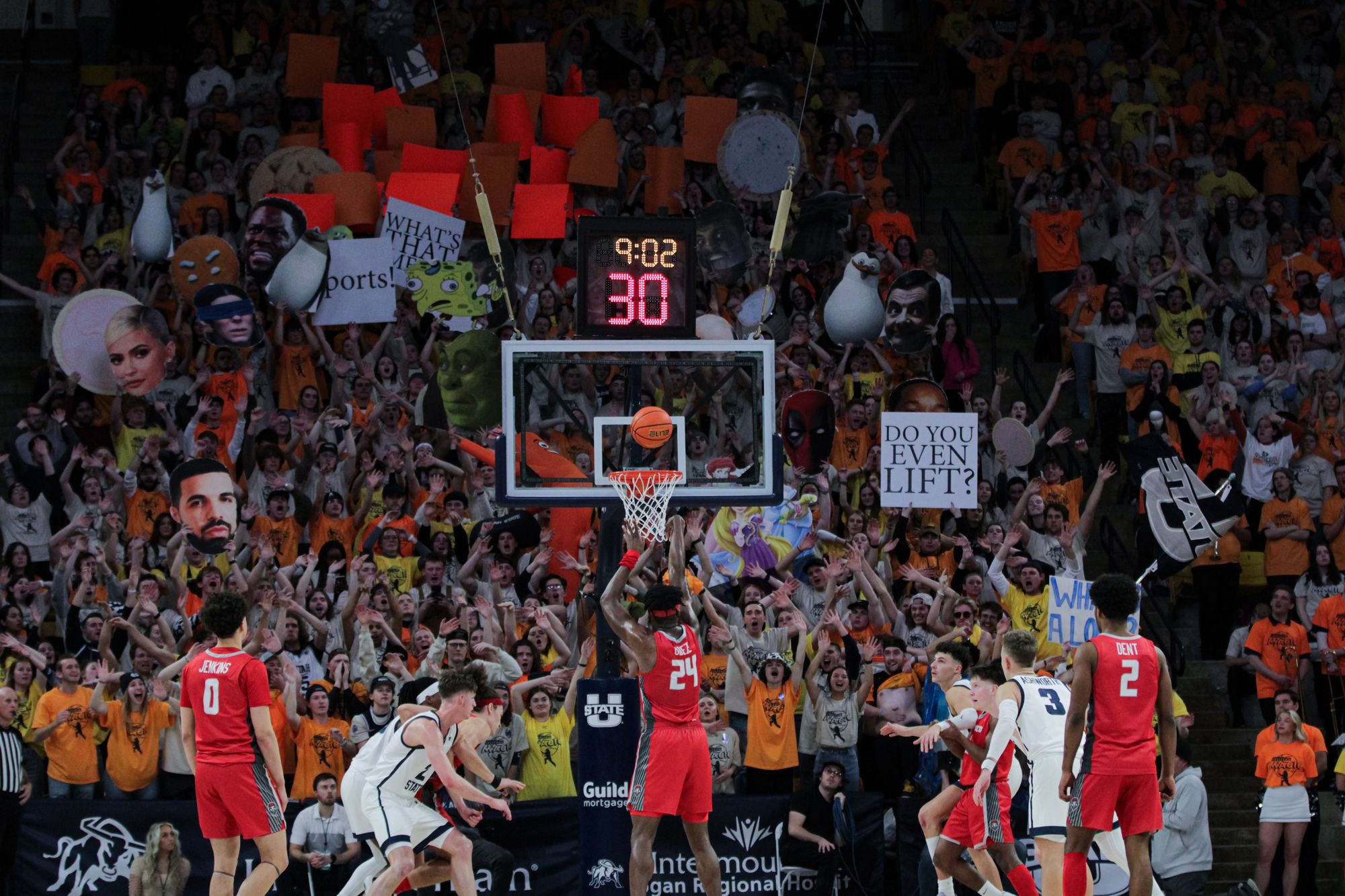 That's a tradition of this program just as strong as those formally recognized. Utah State can (and does) keep its distance from that part of the Spectrum's mythos, but the advantage offered by that inhospitality has long been significant, and the Aggies aren't exactly in the business of surrendering any edge they can get. There's a reason the student section, which wraps around nearly a third of the arena, remains untouched even in the current world of big-money college athletics. Could Utah State make good money on those seats? Absolutely. Should it? Well, I know just the man to ask:
"It's an incredible place," legendary Utah State head coach Stew Morrill told The Aggship. "Unique. Another thing you don't ever want to do is take away the student seats. I've seen that happen at some places because they can get more money for them. Those students are the best. They set the environment in that place, and they have for a long time."
The inevitable tides of change have long lingered around the arena, which is now in its fifth decade of life, but Utah State has little appetite for a significant overhaul. This past summer, then-interim athletic director Jerry Bovee made clear that the Aggies are committed to upkeep, not change for the sake of it.
"We are doing a feasibility study with an architect looking at the Spectrum and what the potential might be to keep the bones of this building in place and grow around it," Bovee told The Herald Journal this summer. "We are in the middle of it right now. We are looking at seating, bathrooms, concession stands and other things that we just over the years have grown out of.
"I don't want to be the one that ruins all that. There is all the mystic with Spectrum Magic and you certainly don't want to ruin tradition. ... There will be change, but all good things come with some change. We may have to look at the naming, as we will need help in raising the funds. We need to keep the location here and the bones of the building. It's a homecourt advantage we don't want to lose."
That approach has the support of head coach Danny Sprinkle, who has been on the visiting side of several trips to the Spectrum, and will for the first time tonight patrol the sideline with the full support of his new home. The building is not short on relics, but that court, buried under 10,000 screaming fans, will never go out of style. It cannot be separated from Utah State basketball, because for every one of those fans who trods through the snow and cold to cheer on their Aggies, the Spectrum is Utah State basketball.
"I think that's the most important thing, Sprinkle told The Aggship. "I don't want to touch the Spectrum because of its character. Spectrum Magic – that's the community. That's Aggie basketball. When you think about Aggie basketball, you think about the Spectrum and the fans. They're right on top, and it's loud.
"Are there some things that we have to touch up? Yeah. Whether it's for fire hazards or handicapped seating and things like that, you have to adjust with the times. We have to fix some of that, and I think even up top it might not be bad to add some suites, kind of like what they did at New Mexico with The Pit. You walk into The Pit (now) and it's still The Pit. When you're on the court, it's still The Pit. I want that to be true here, too. When teams come here, I want them to know it's still the same old Spectrum."
It would not be unfair to say that the allure of the Spectrum played a significant role in Sprinkle's decision to relocate to Logan, leaving his alma mater and his home state after an excellent four-year run at Montana State. He knows exactly what he has in that environment and everything it means for the program he's now tasked with leading.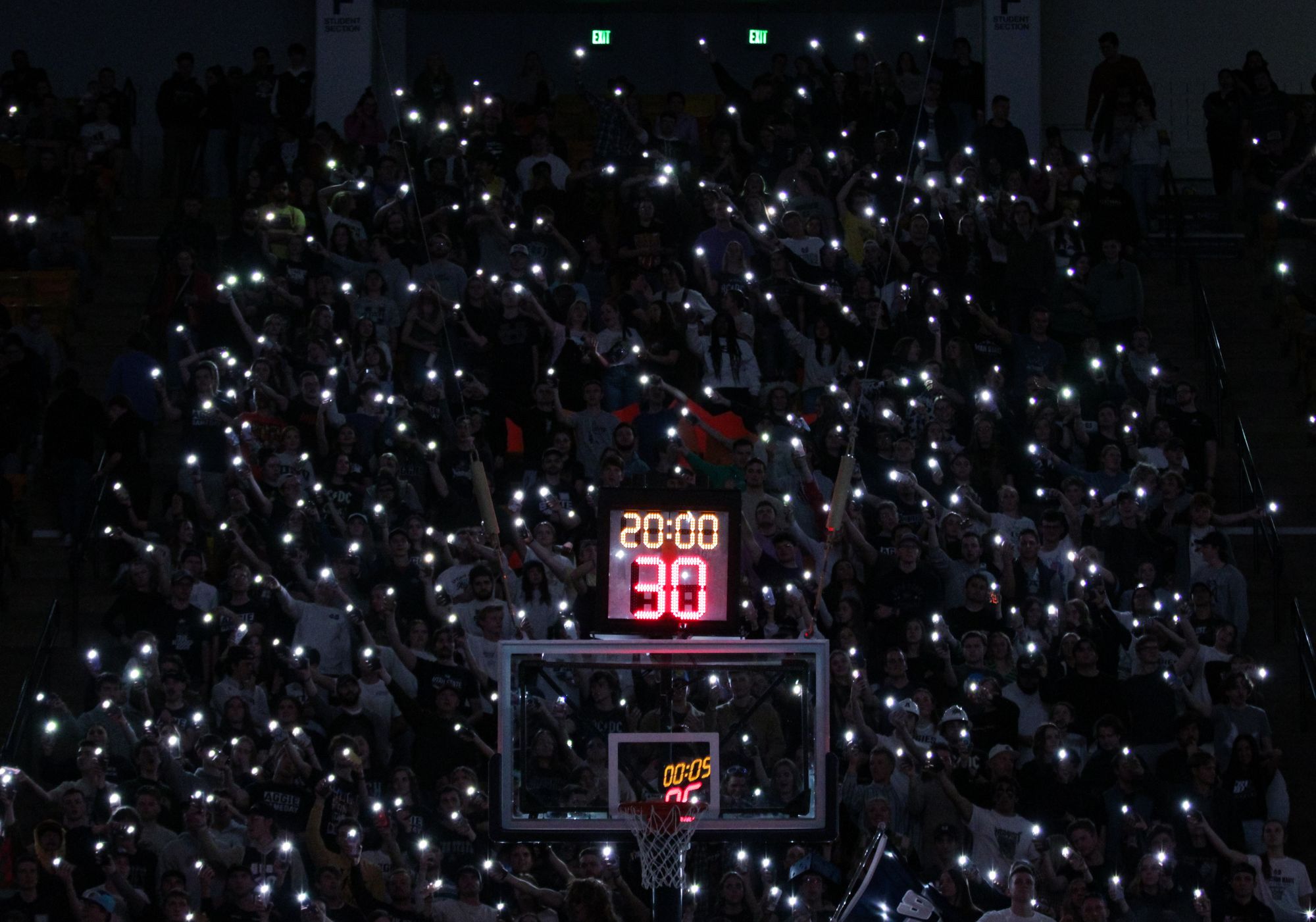 "The Hurd, man," Sprinkle said at his introductory press conference. "I can't wait to walk down that tunnel. You guys are what make this place. You're the separator. They talk about this being one of the best environments, but it's not just one of the best. It is the best. I mean it when I say that you give us the home-court advantage, that's the truth. I can't wait to walk down that tunnel and get this place rocking, and I know the players will too.
"One of the biggest things that attracted me to Utah State is something people don't talk about anymore, the care factor. This community cares. There are not a lot of communities that care about their basketball team like Utah State. You turn on games in the Pac-12 right now, and you're seeing 3,000 fans in some of those arenas. That will never happen here. You're a loyal fan base that cares, and one thing I can tell you is that my care factor is off the charts. Sometimes I have to remind referees about that, and I know my mom does too. It's because I care. It's different here, and I appreciate that."
And of course, for the select few each year with the opportunity to don the Aggie blue and white, the Spectrum is an extra teammate. It's a source of great pride for those who grew up dreaming of the chance to wear that uniform, but players from far and wide are granted the same acceptance and met with the same fanfare are those native sons. That's not to say it doesn't mean a little more for them, though.
"I'm not even going to lie, I was so nervous," Smithfield product and redshirt freshman guard Mason Falslev said after making his Spectrum debut in Utah State's exhibition win over Montana State Billings. "I haven't played in front of a lot of people in a really long time, and even towards the end of the game, I still kind of had the jitters. I'm excited to keep playing, and hopefully, that becomes a little bit more normal, playing in front of people. Once that one shot fell, I got a little bit more confident and I was able to knock a few more in."
No matter the hometown, the Spectrum is there to lift Utah State's players when they're down, and to bolster them in their best moments with a wall of noise. At its zenith, that old building and those who inhabit will roar to life and knock the thoughts right out of your head. I can attest to that with my first memory of the Spectrum – last season's opener against Utah Valley, when I was caught so off guard by the barrage of sound that I nearly threw up (I'm not kidding).
---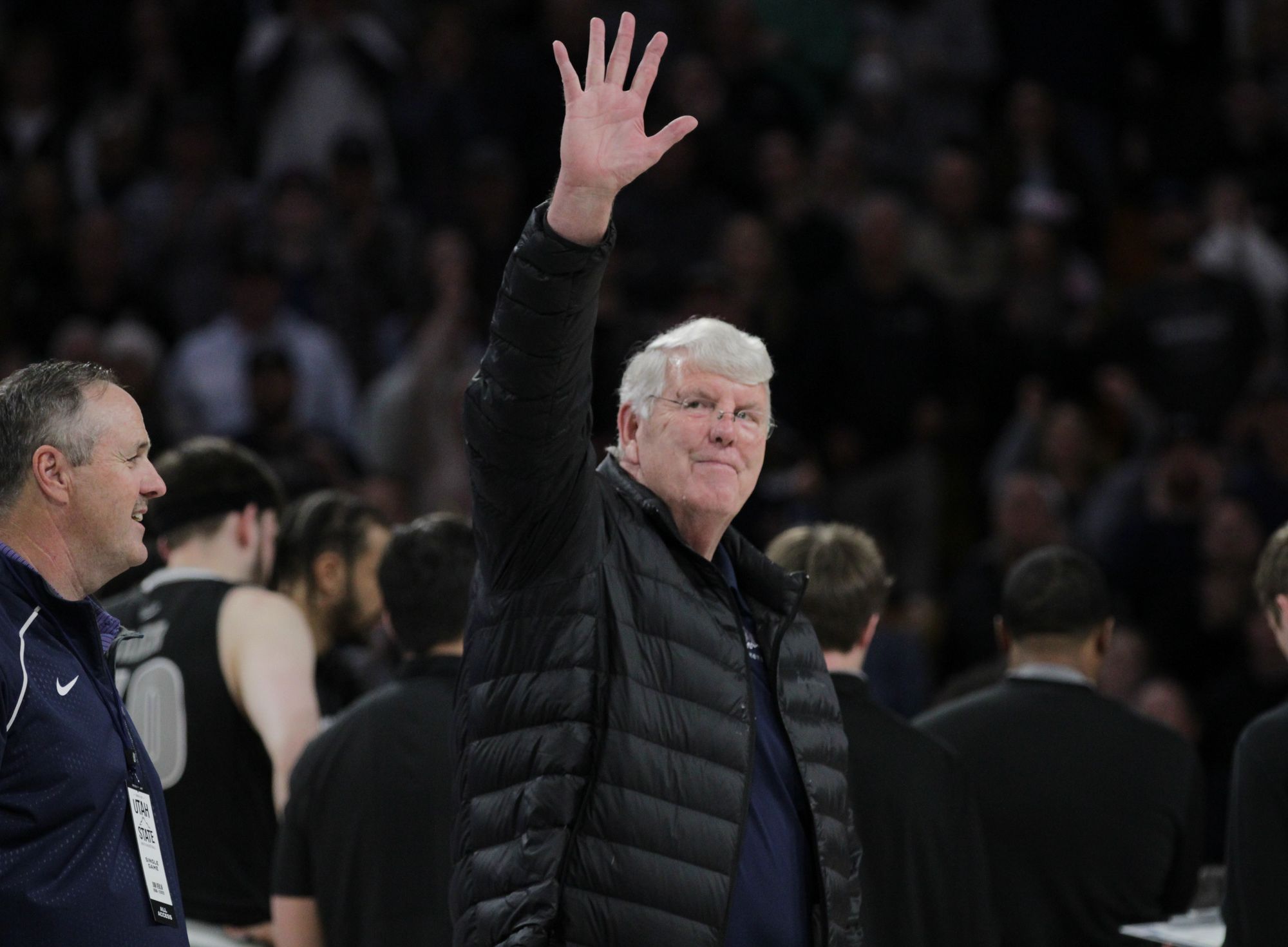 There's so much change to talk about as another season lurches to the starting blocks. Change to the sport, yes, but change much closer to home. This Aggie team looks nothing like the group that last took to that floor. It will play nothing like that team, by design. Sprinkle, his coaches, and the vast majority of those young men representing Utah State are still strangers to their new public. That too will change in short order.
And yet, the heart of this program is untouched. The Spectrum does not change, because it does not need to. Anyone who may think otherwise will be met with two very prescient words from the man who knows Utah State's home better than just about anybody.
"Two words: Be careful," Morrill said with a chuckle. "Be careful what you do, because it has a magic feel to it with the crowd right on top of you. I know there comes a time when you have to update and deal with suites and donations and all those kinds of things, but it (has been) as hard a place to play as there is anywhere in the country for a long time. I think it's fine to look at some improvements, but boy, you don't want to lose the magic. It came up when I was coaching that we needed to do this and that, and I used to say just those two words. Be careful."