Aggies Seeking Competitive Identity In Kayla Ard's Fourth Season
Looking for an identity to build on, the Utah State WBB team is focusing on fostering a competitive environment in Kayla Ard's fourth season at the helm. From WBB correspondent @PShark14: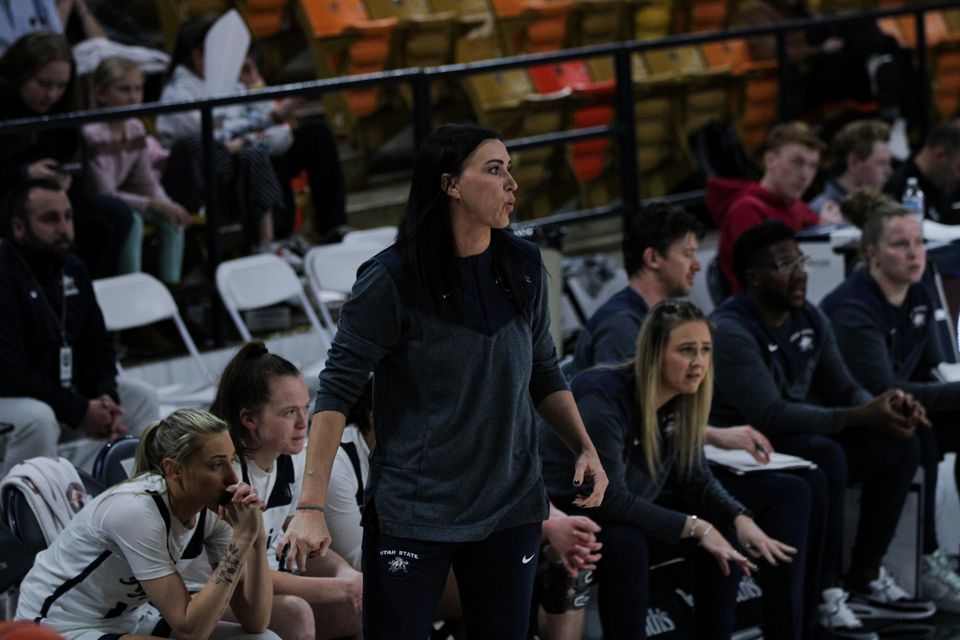 Utah State women's basketball head coach Kayla Ard knows where this program has been, where it can go, and what it will take.
"I want to compete," Ard said at Mountain West Media Day in October.
Leading a team that has struggled to be competitive throughout its history, that would seem to be a reasonable expectation and a worthy goal.
Being competitive is certainly a reflection of coaching, but ultimately, the competitive edge a team brings is incumbent upon the players on a roster. In that regard, Ard likes what she has seen so far.
"I want competitors, and I give a lot of kudos to my staff. We did a good job with that. We compete every single day, these kids are diving on the floor for loose balls, and they're going at each other. Practices get chippy when we play against our practice team and that part has been achieved, for sure." Ard says.
Now in her fourth year at the helm in Logan, Ard has yet to lead the Aggies to the kind of breakout season they've long sought. She hopes the competitive spirit of this year's team can do just that.
Operating in a community that expects success on the hardwood, Ard can see the next question before it arrives. She's faced it many times, from an oft-frustrated fan base and in her own reflections on the task at hand.
"Now, how far can we take it? That's the next question," Ard said. "Our main goal is to compete, and we want to trust the process of getting better every single day. I've seen a lot of improvement since we started practice, and I think that's going to continue. Our coaching staff is doing a great job, and I'm not taking anything away from them, but it's about the kids."
Utah State has struggled to find continued success in recent years, but that drought predates Ard by a wide margin. This is a program that was once disbanded in 1988, finally returning to the floor more than a decade later in 2002. Upon that return, the program tasked head coach Raegan Pebley with building a team that could compete in the Big West Conference.
The team's pseudo-inaugural season in 2003-04 wasn't the welcome party the Aggies wanted, as the team posted a 5-22 record. The following year, they improved, going 14-14 overall with a 9-9 record in the Big West. As they matriculated to the WAC with the rest of their Utah State athletics counterparts, the team began to see success. Their first season over .500 came in 2008-09, when the Aggies went 16-15.
As it would turn out, that period around the new decade would stand as Utah State's modern peak. The Aggies notched three consecutive winning seasons for the only time in program history from 2010-13. They participated in the WNIT in back-to-back seasons, beating Arizona before falling to in-state rival BYU in 2011 and losing in the first round to another in-state rival, Utah, in 2012.
After the 2012 season, Pebley departed for Fresno State, succeded by Jerry Finkbeiner. He would helm the program when Utah State made the move from the WAC to the Mountain West a year later.
That move, though fruitful for a large majority of Utah State programs, has brought little to cheer about for the women's basketball team. The Aggies have only achieved two winning seasons since joining the Mountain West in 2013, both led by Finkbeiner. They logged a 17-16 record in 2018-19 and a record of 17-15 in 2016-17, and after an 8-23 season in 2019-20 under Ben Finkbeiner – who took over as interim head coach when his father stepped down for medical reasons – Ard was called in.
Ard, who was an assistant at Denver at the time, was brought in to rehabilitate a decaying program, which had been slowly moving in the wrong direction for nearly a decade. The team took another step back in her first season, posting their worst record since 2005-06 (4-20) amid the chaotic COVID season, but made improvements during her second year, posting a record of 11-19.
It was still on the wrong side of .500, but showed the signs of promise Ard had been seeking. It was Utah State's best season since 2018-19 and stood as a clear and significant improvement on the season prior.
That momentum, as those who follow the program know all too well, did not last. Attrition decimated Utah State's roster, and the Aggies collapsed. At 4-26 overall and 1-17 in MWC play, the 2022-23 campaign lives in infamy among the worst in program history – and there's no shortage of competition there.
A team that can't build its identity around a long history of success or current momentum – and these Aggies have neither – has to find something else. Utah State, throughout its many iterations, has never really managed to find a foothold (save for that brief run at the turn of the decade). In desperate need of progress, Ard and another new-look roster has turned its focus to that competitive spirit. As Ard and her staff view it, that drive must exist as the heart of this squad's identity.
With that competitiveness, Utah State is hoping to build a sense of accountability among both its staff and roster. For the Aggies, improvement can come from no other source.
"They're doing a really good job of holding each other accountable, and that's one of our core values," Ard said. "They have really bought into that, and they're pushing each other every single day. We were looking for people who wanted to compete, and that's going to be our identity – competitiveness."
To accomplish that, Utah State hit the transfer portal and recruiting trail in search of players like junior forward Bridget Mullings, a transfer student from UC San Diego, who thrive on competition.
"As soon as I was able to walk, (my siblings and I) started competing with each other and working at different things," Mullings said. "Whether it was learning how to cook, how to play sports, or whatever else, we got really good at pushing each other to be the best. I think that's what made our family really successful, whether it's me or any of my siblings, we all are following what we want to do in life."
Coming off a 4-26 season with a single conference win, this team isn't necessarily built to see immediate success. Winning cultures can be elusive and difficult to establish. It can take time – and in college athletics, only so much time is granted. With its strong, competitive identity, Utah State hopes this team can serve as a representation of the process. These Aggies want to see season-long improvement for a roster that never stops fighting. They want to be hungry, chippy, and defiant.
They won't have to look far to find a place to channel that energy. This team has quite a bit to prove. During the preseason, Utah State was picked to finish last in the Mountain West. Those expectations were reinforced with a 69-70 exhibition loss to Fort Lewis College at home – a game in which the Aggies never led, and once trailed by as many as 20 points. The good news from that result, if there is any, is that the regular season hasn't yet arrived. If Utah State is going to meet its goal of being competitive this year, it'll start with improvement through the adversity of that shocking loss.
Those low expectations are, if approached correctly, an excellent opportunity for this team. If the Aggies can exceed those standards and show signs of growth through that oh-so-important process, they can begin to redefine themselves. Success, even if small, can give rise to more success – and that success can only come to a Utah State team that keeps fighting through adversity.
"They're not going to give up, they're not going to quit," Ard said. "It doesn't matter if we're up or down, we're going to compete and we're going to fight."