Utah State Men's Basketball Preview Roundup
To help you prepare for Utah State's season-opener against South Dakota Mines tonight, here's a (free) landing page for all of The Aggship's preview coverage of Danny Sprinkle's first Aggie team: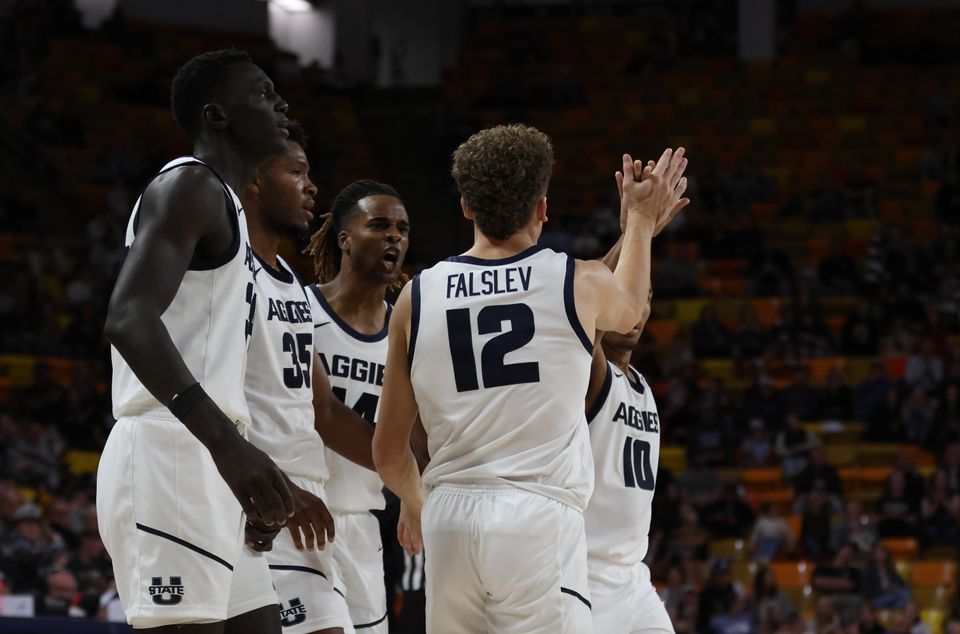 Basketball is back in the Spectrum on Monday evening as Utah State opens its season against South Dakota Mines, and The Aggship has you covered for everything you need to know about Danny Sprinkle and the new-look Aggies. For ease of viewing, I've collected all of my offseason preview articles – from Sprinkle's introductory press conference, all the way to Utah State's exhibition win over Montana State Billings, with in-depth looks at every new member of the roster.
---
Sprinkle Prepares For His First Season In Logan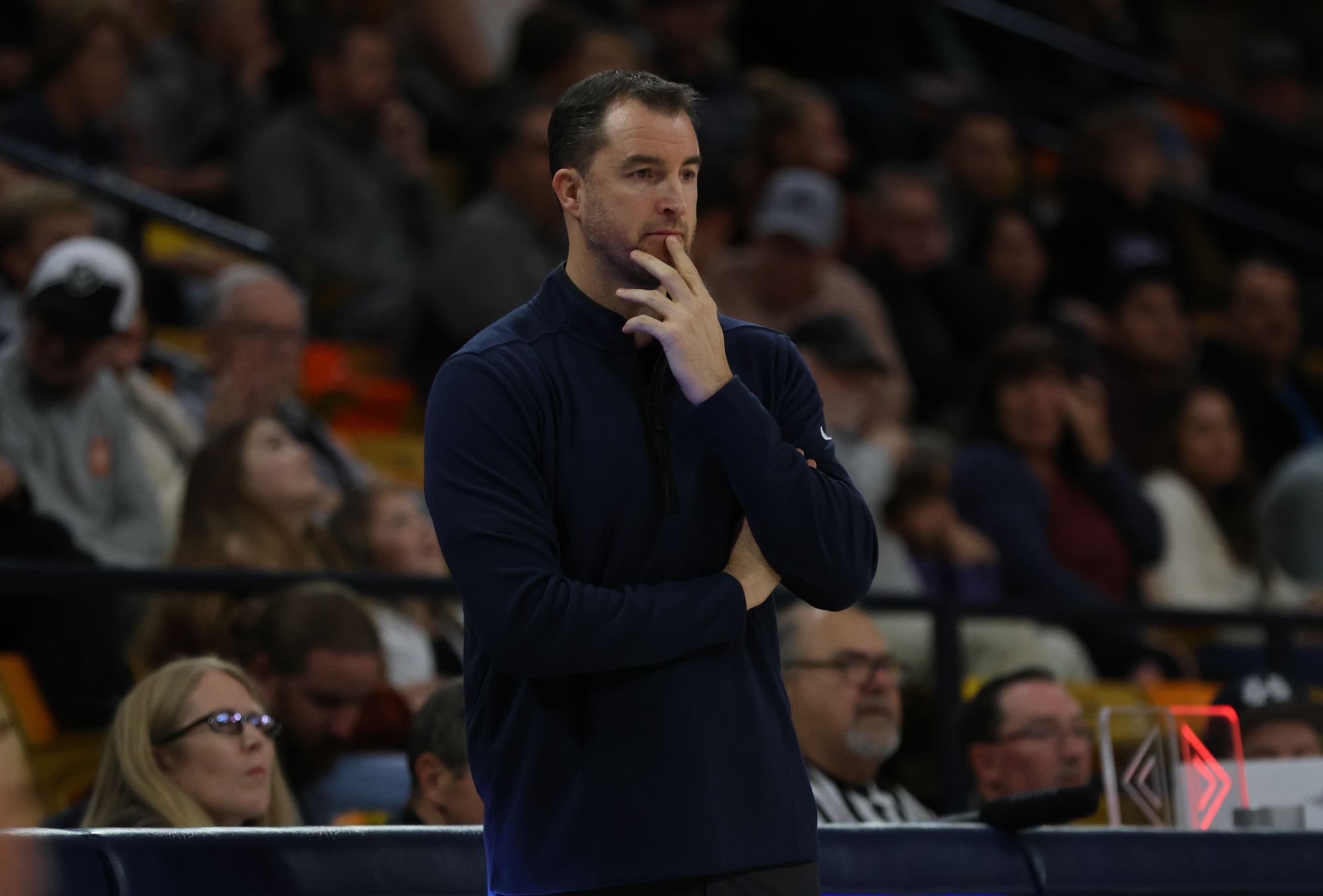 Utah State Basketball Is 'A Lot Bigger Than This Team'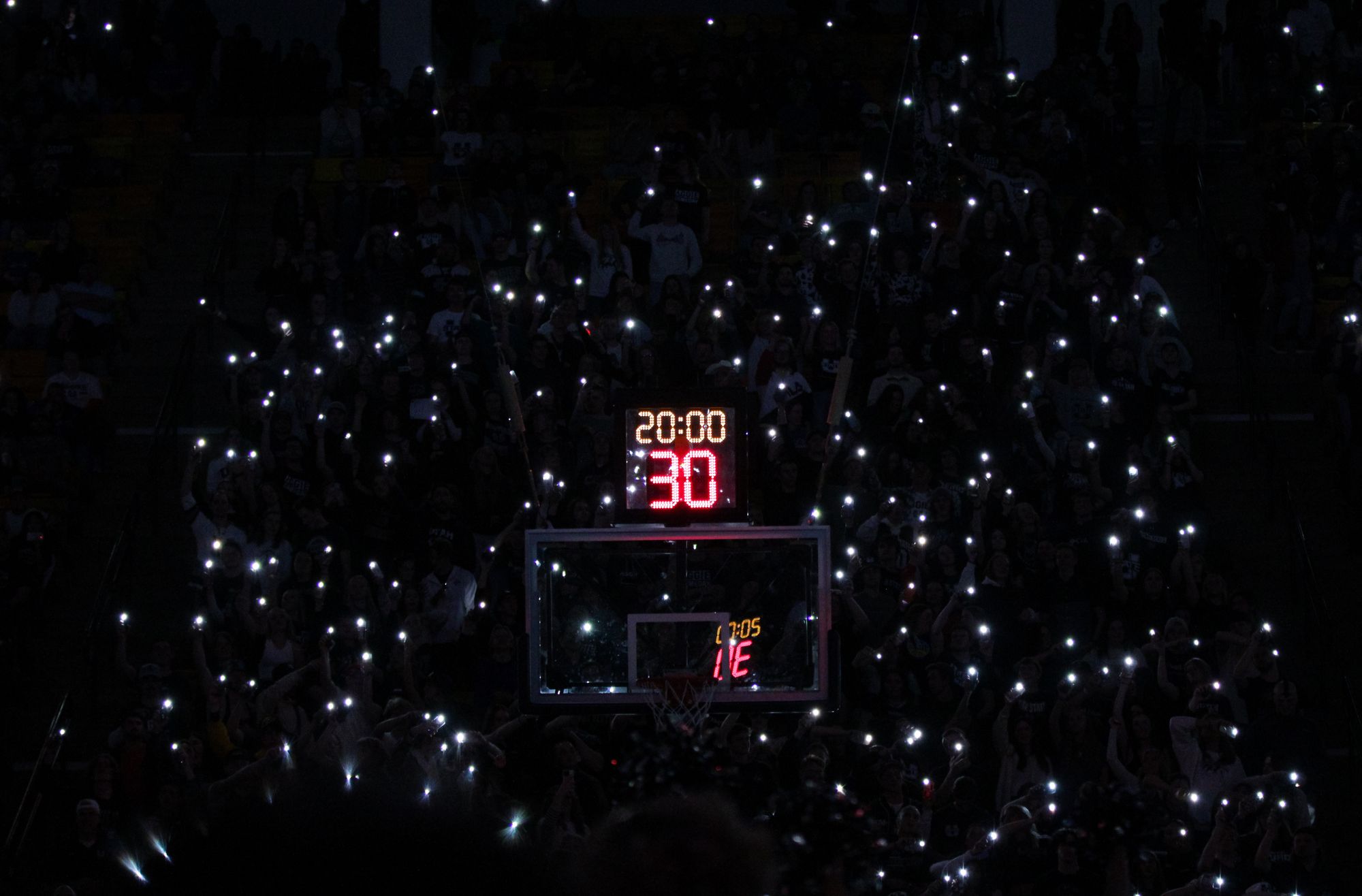 Danny Sprinkle: By The Numbers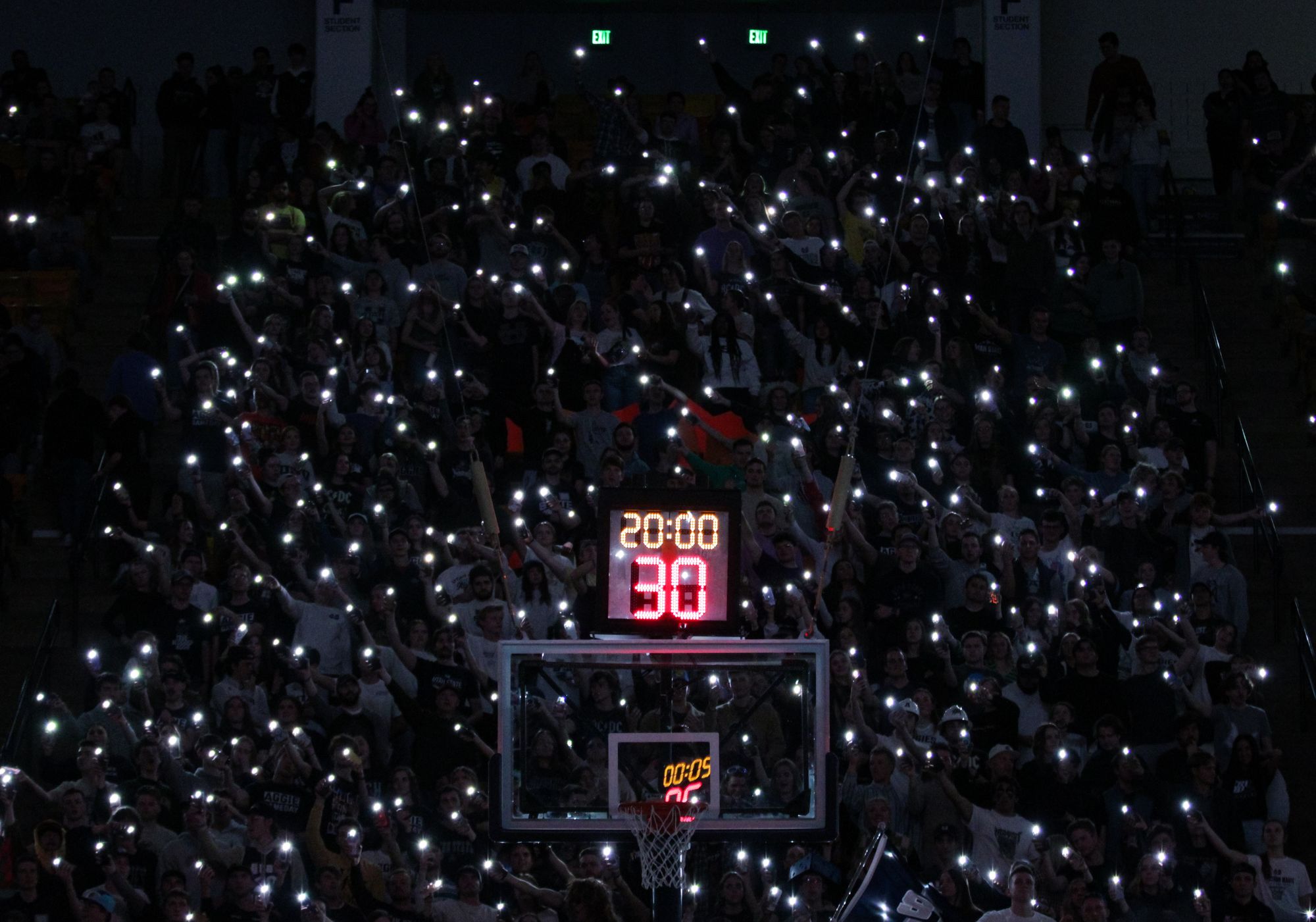 With Sprinkle, Utah State Embraces Its Roots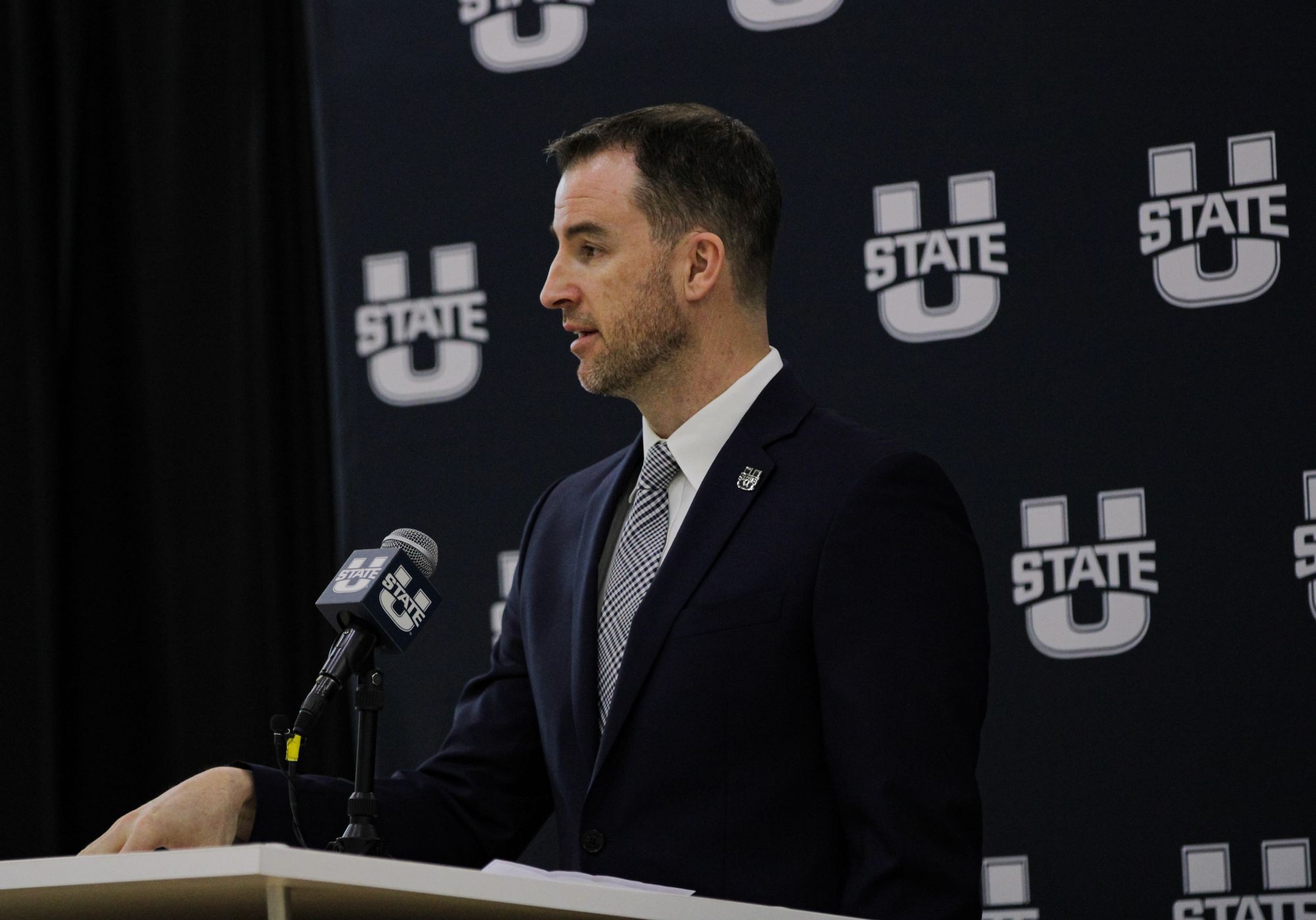 Film Review: Danny Sprinkle's Hard-Nosed, Anticipatory Defense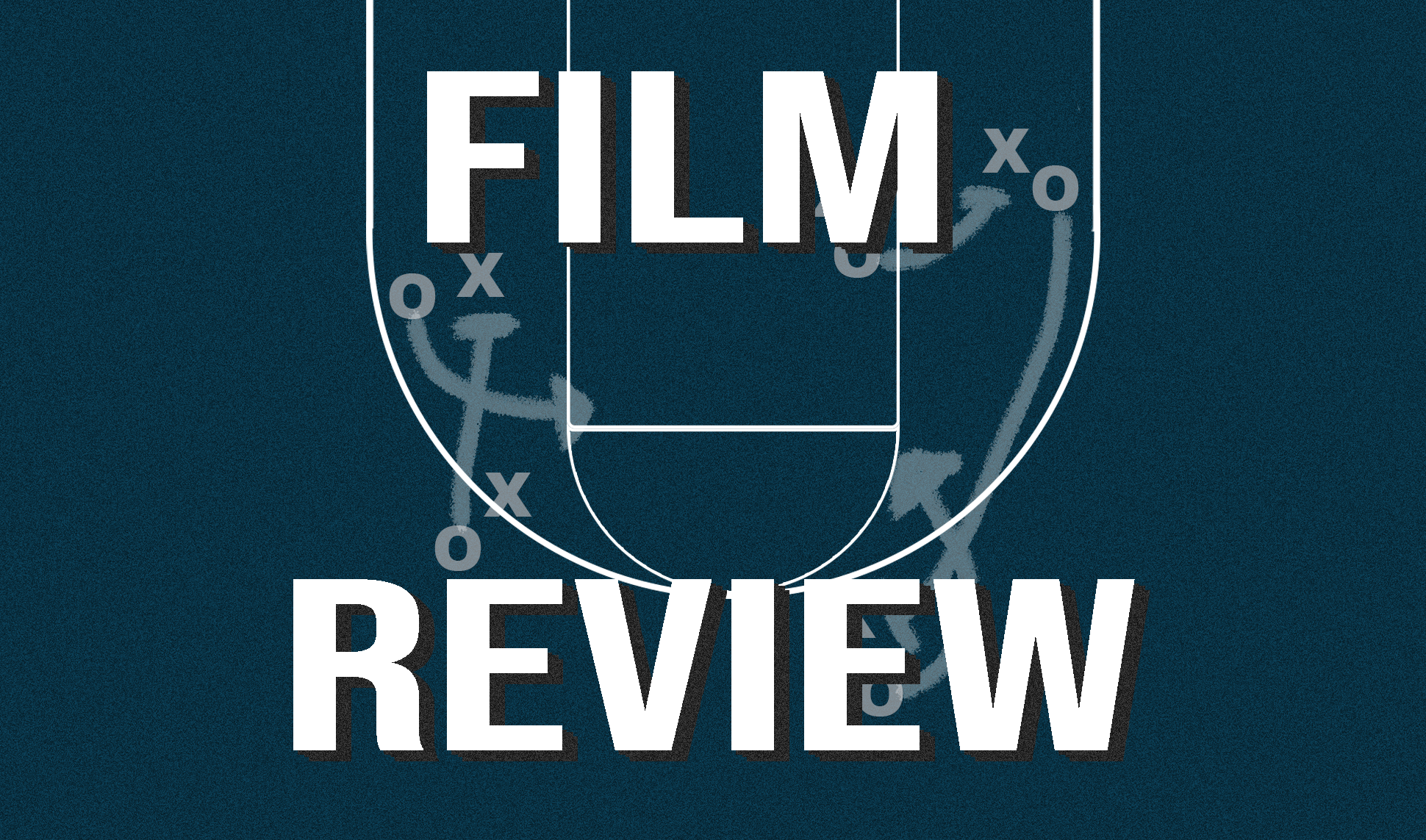 Danny Sprinkle's Recruiting: By The Numbers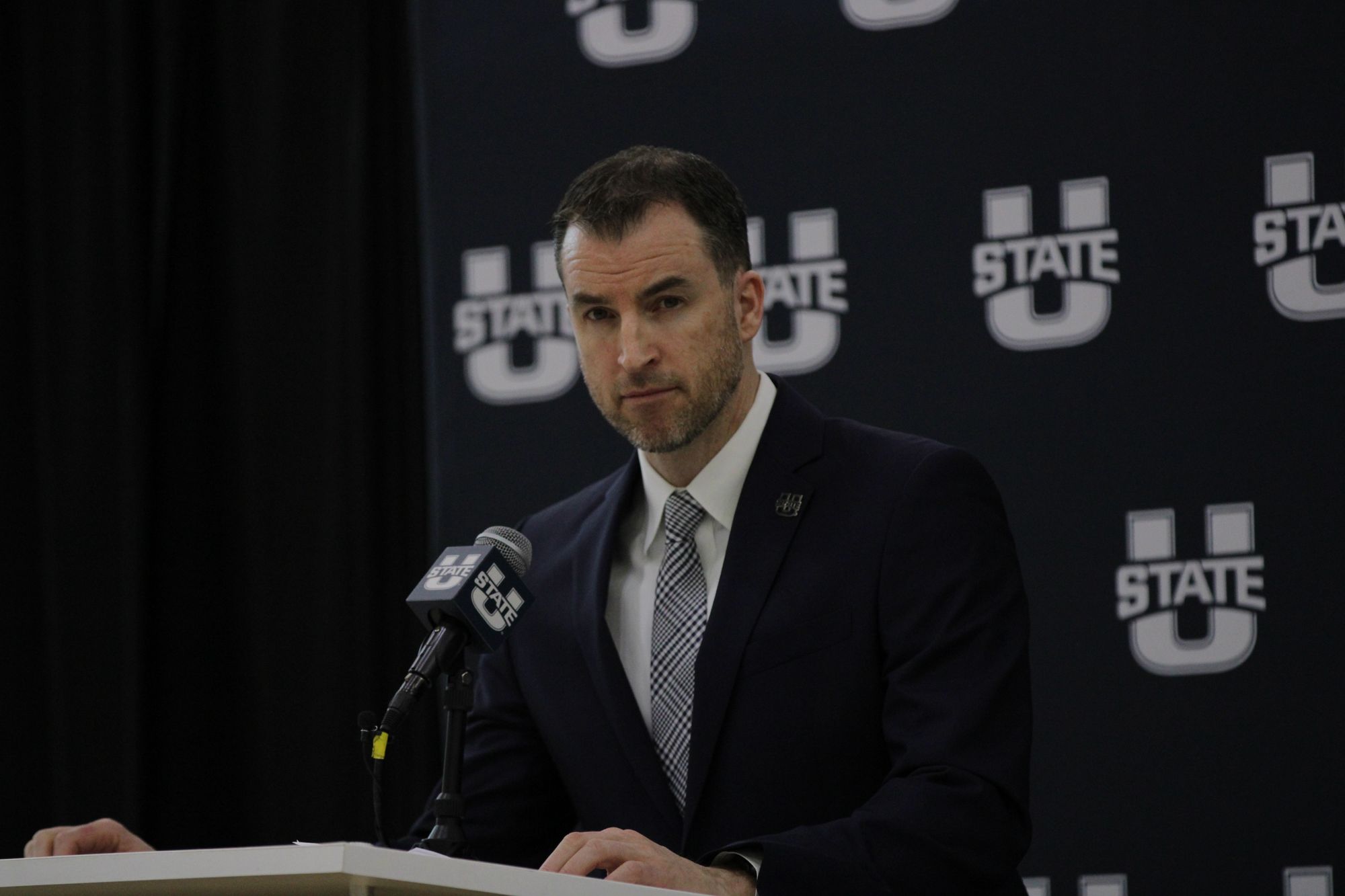 Film Review: Montana State's Shapeshifting Offense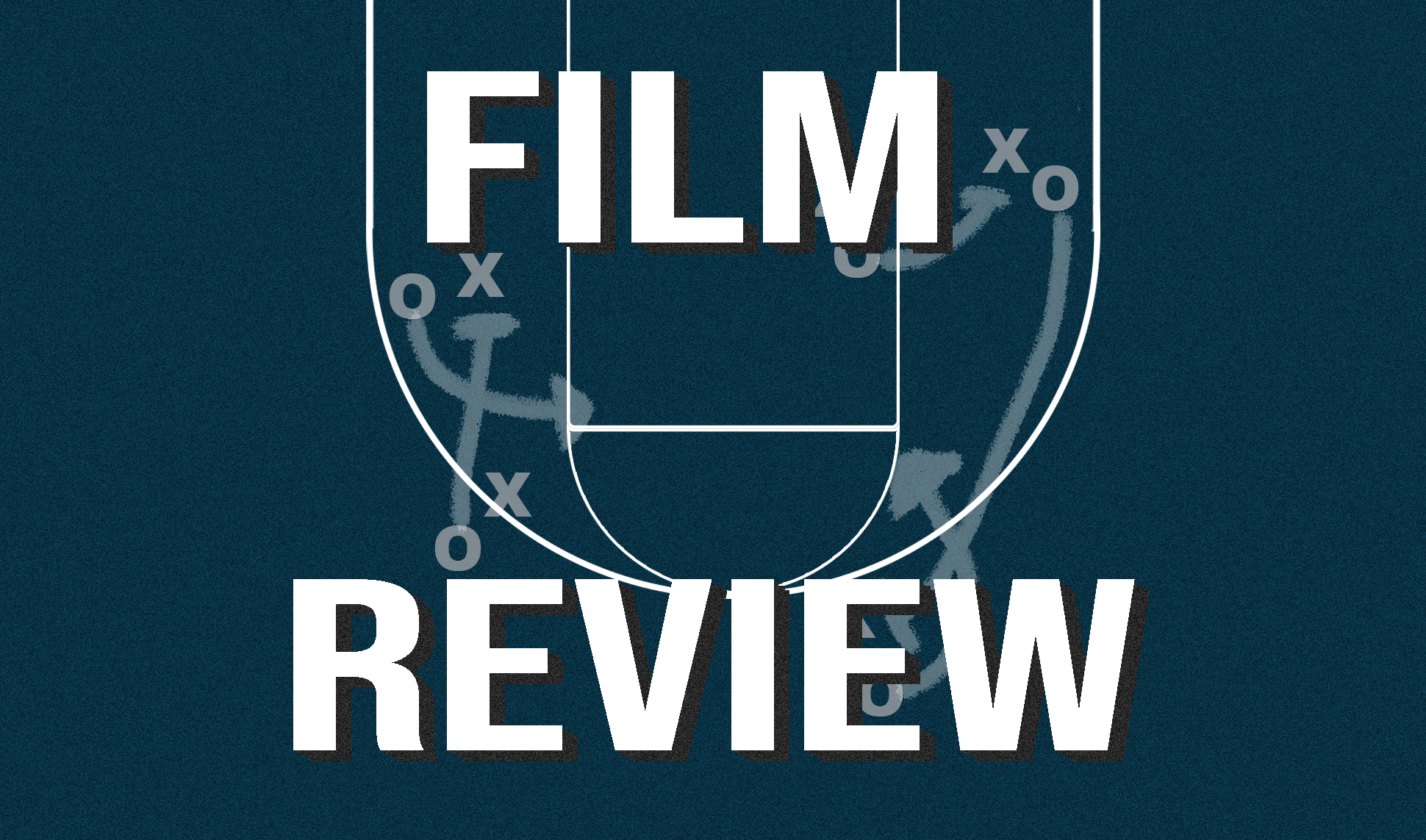 Danny Sprinkle's Non-Conference Scheduling: By The Numbers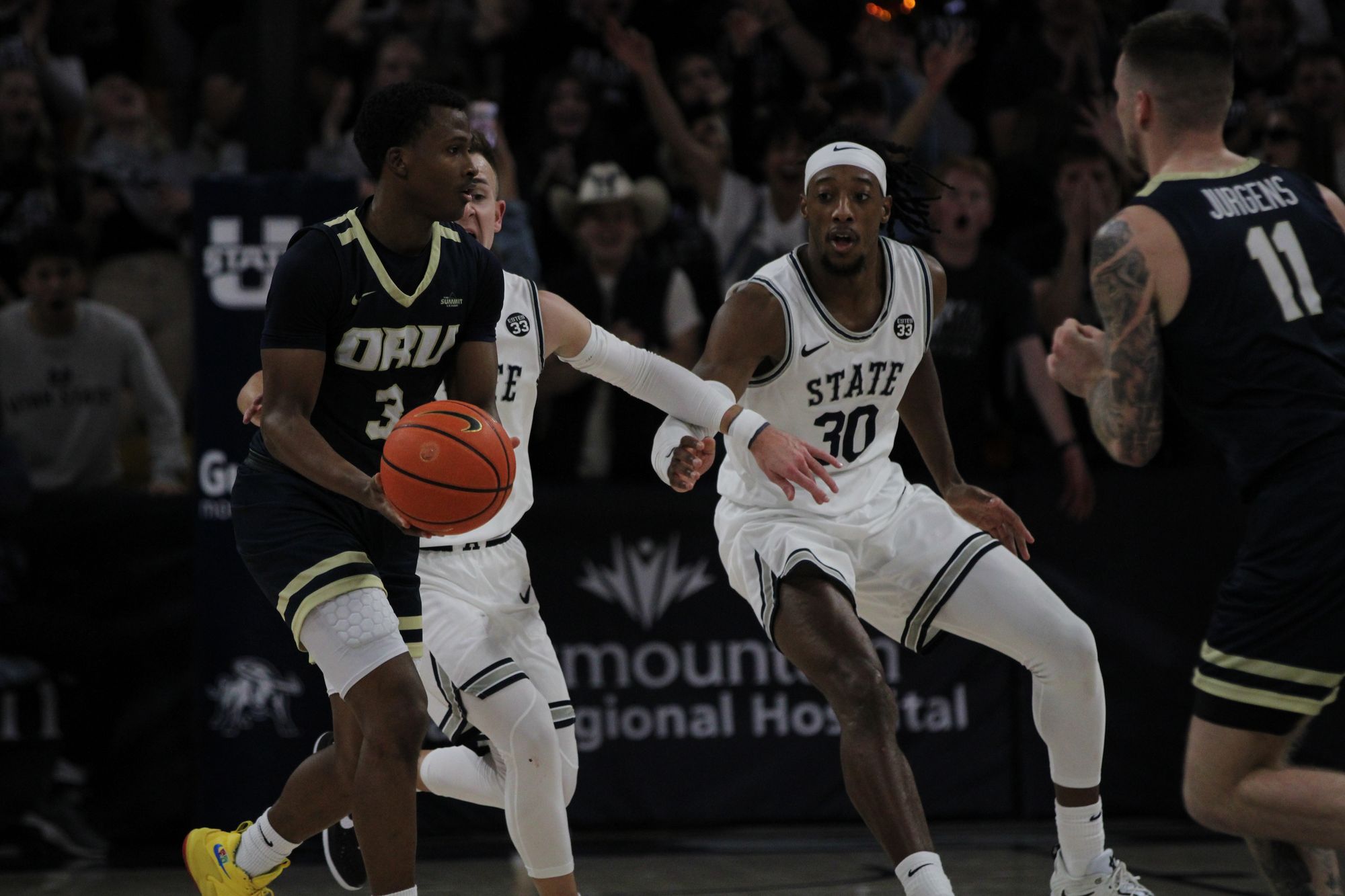 Aggies Not Alone In MWC With New-Look Rotation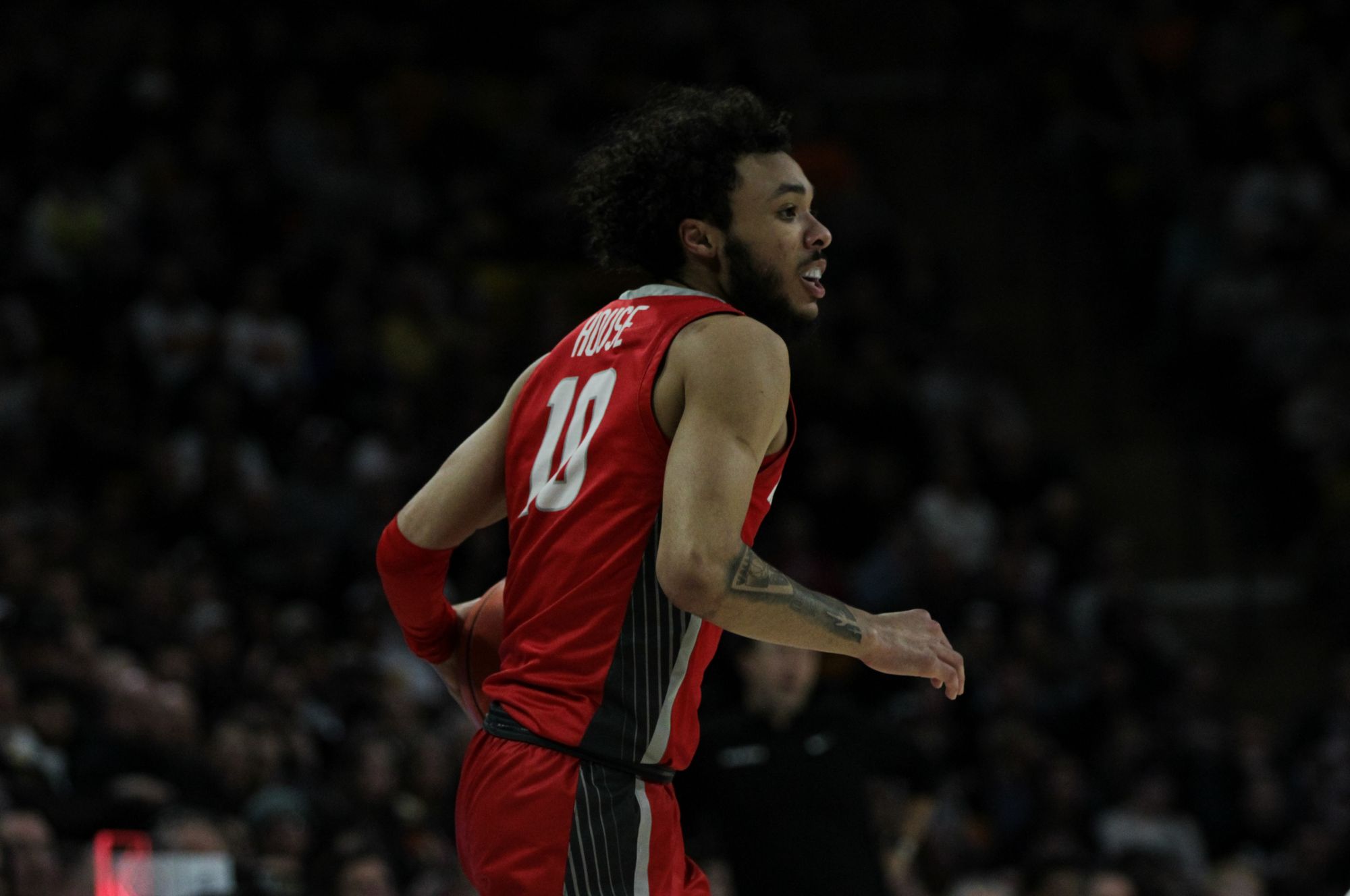 Sprinkle And Morrill Connect Over Montana Roots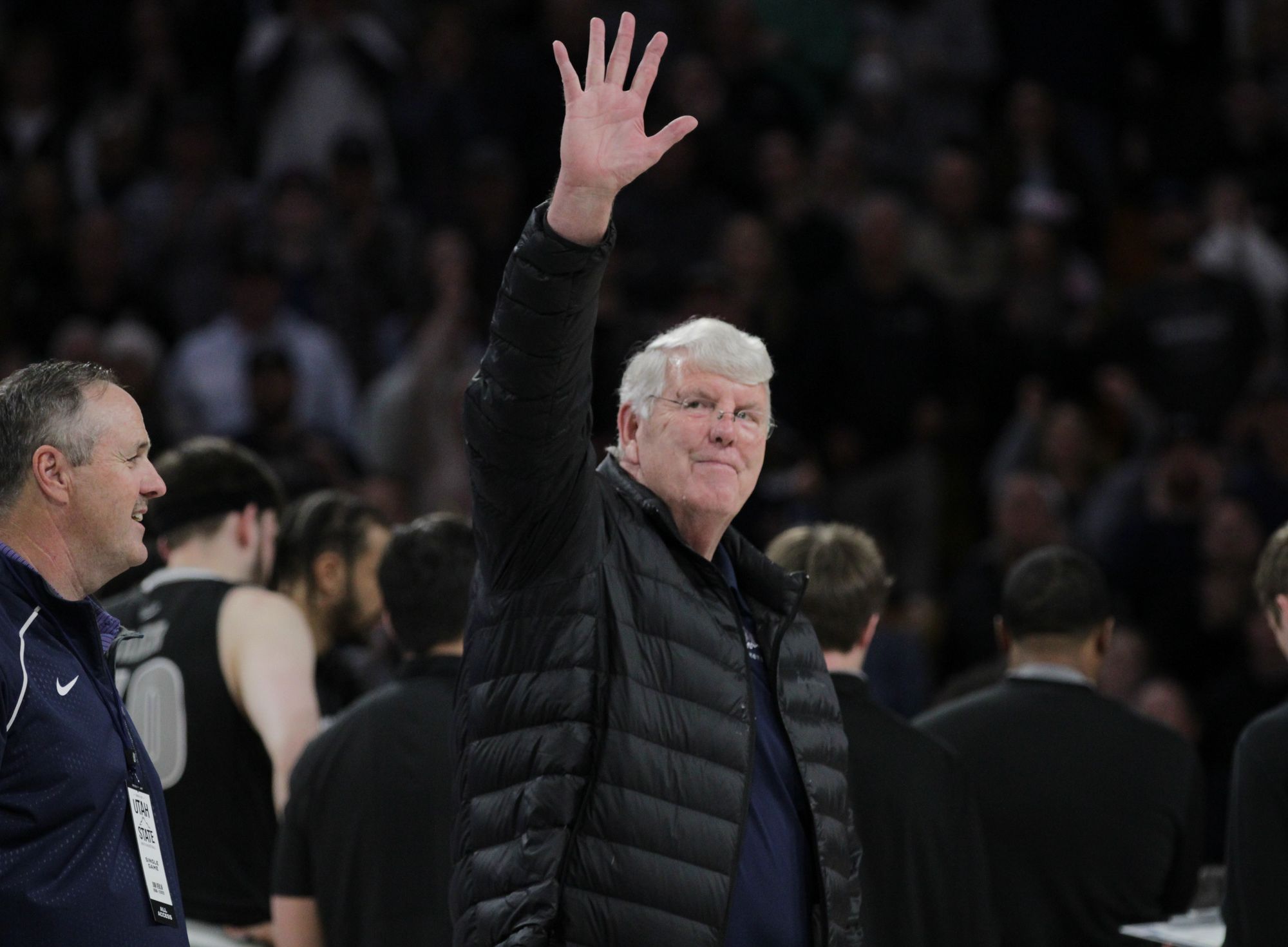 As Season Draws Near, Utah State Sets Expectations
Aggies Roll To Exhibition Win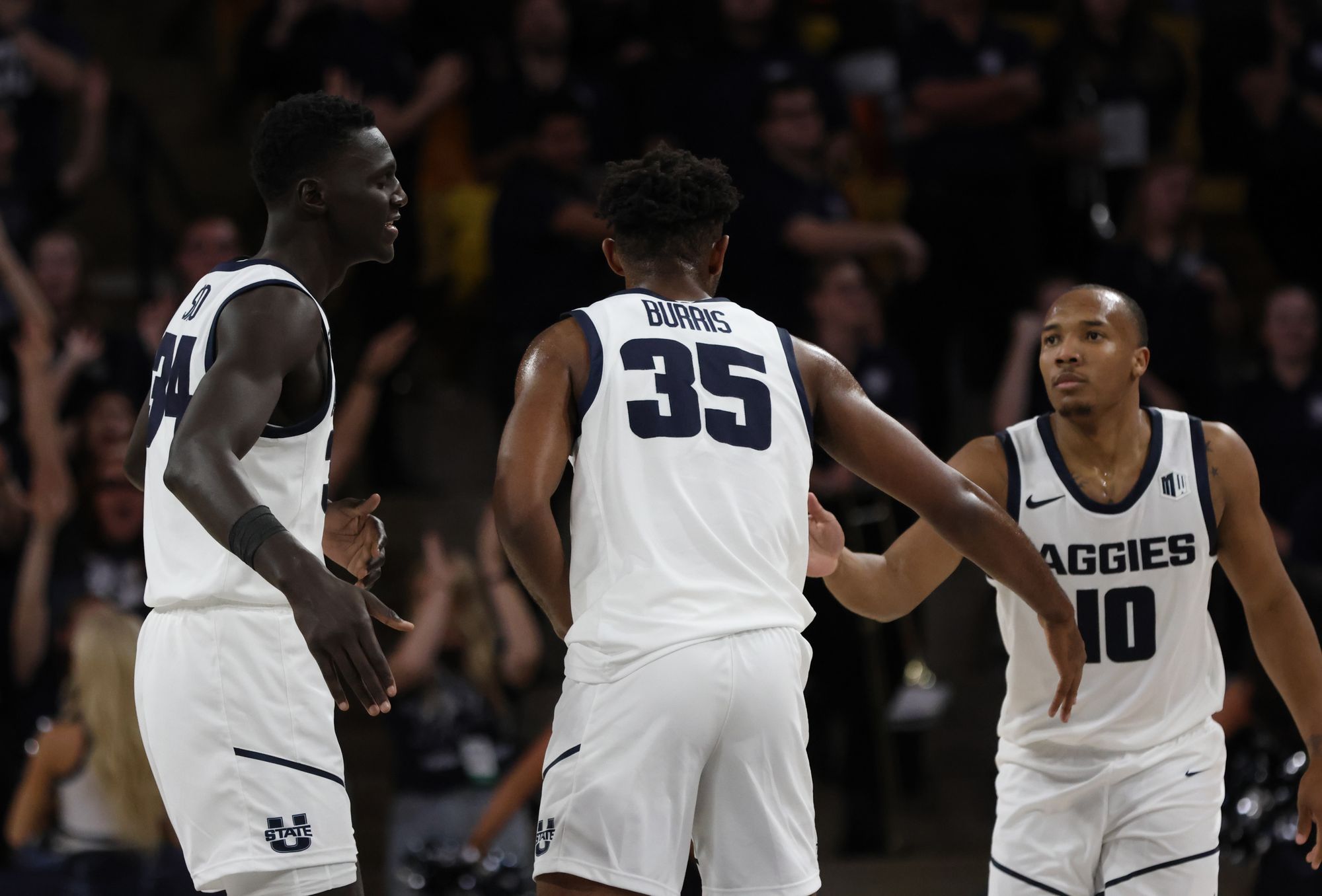 Projected Starting Lineup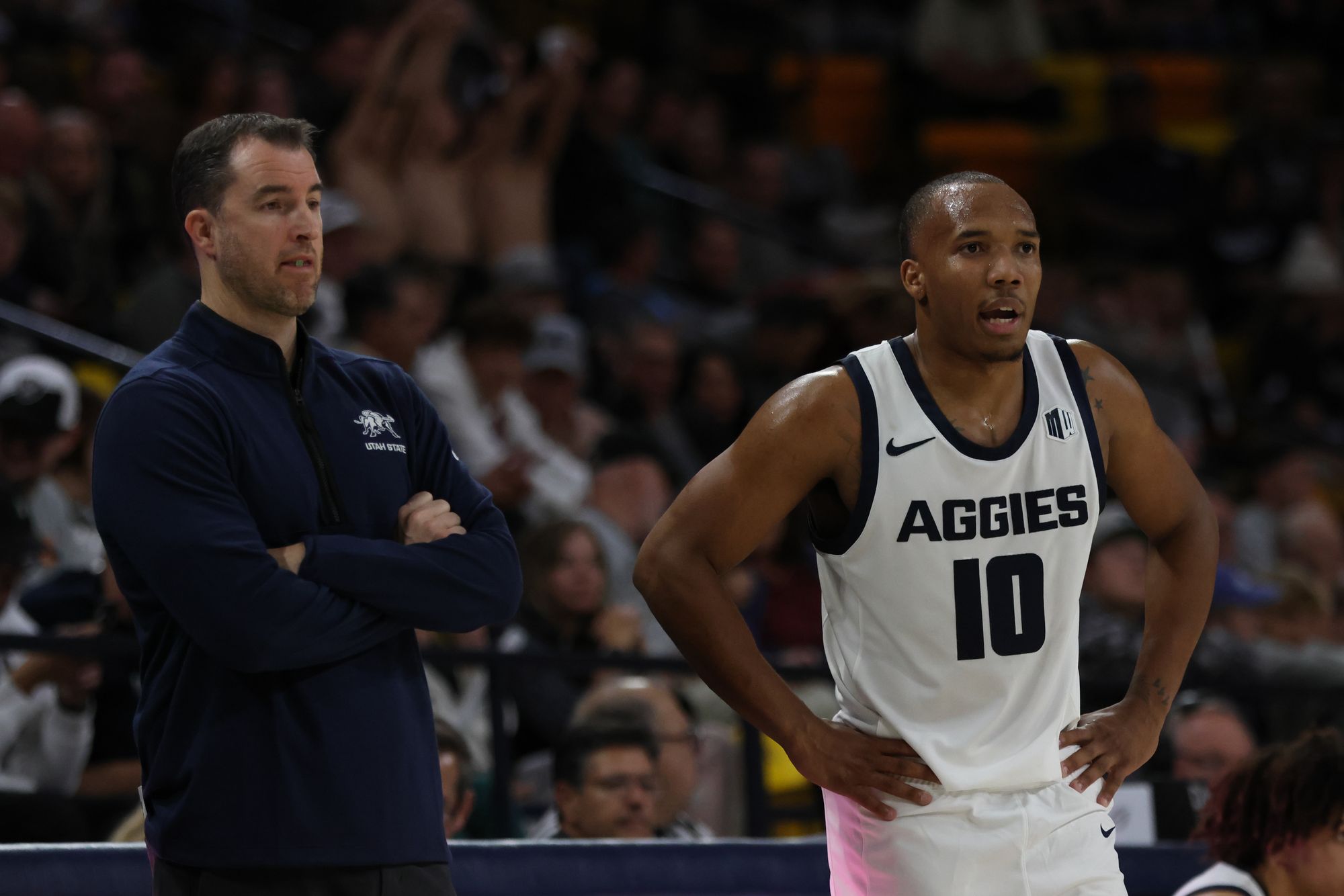 Point Guard: No. 10 Darius Brown II, 6-2, 192, Gr.
Background: A graduate transfer who followed Sprinkle from Montana State, Brown began his career at Cal State Northridge before joining the Bobcats last offseason, stepping into the starting point guard role and helping lead Sprinkle's squad to a Big Sky title and an NCAA tournament bid. He was selected as the Big Sky's Defensive Player of the Year, averaging 11.1 points, 4.6 rebounds, 4.3 assists and a conference-leading 2.4 steals in league play.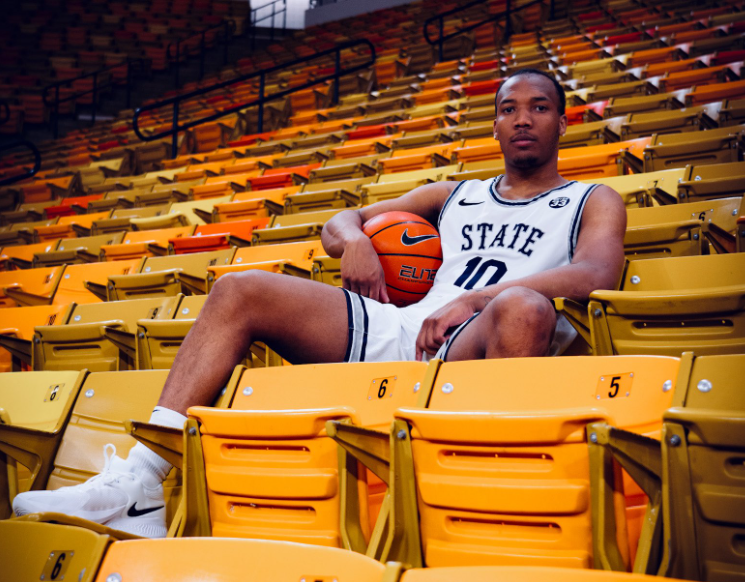 Game In A Paragraph: "Brown's quickness and defensive intensity make him an excellent fit to lead Sprinkle's defense, which is predicated on taking away driving and passing lanes, forcing opposing players to win off the dribble. That's overwhelmingly difficult to do against Brown, who has the size and strength to hold up to bigger point guards, the speed to keep up with smaller opponents, and a motor that never seems to quit."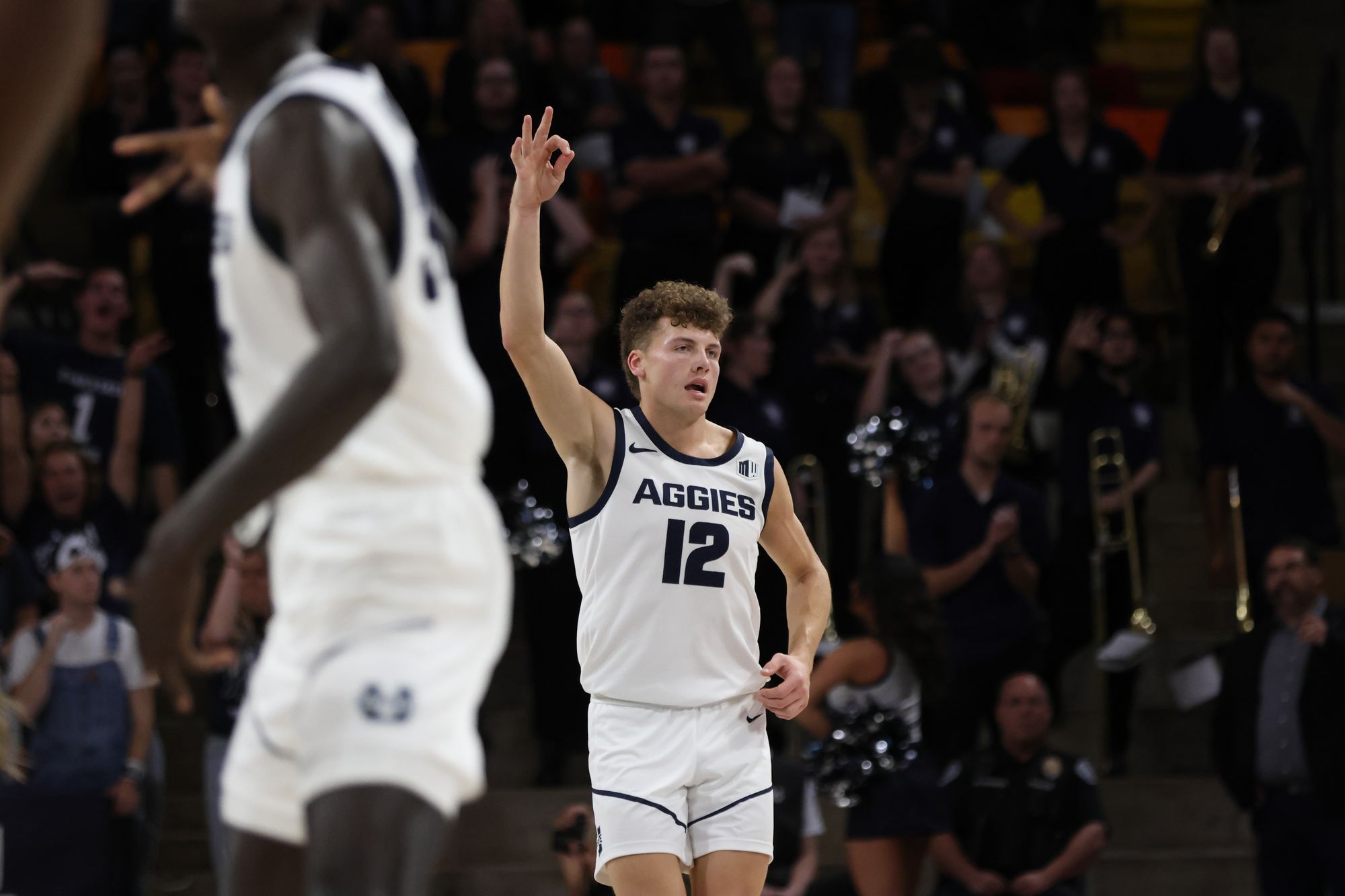 Shooting Guard: No. 12 Mason Falslev, 6-3, 203, R-Fr.
Background: Falslev is one of two scholarship holdovers from the final season of the Ryan Odom era, enrolling at Utah State last season after a two-year mission trip and spending the year as a redshirt. The fan favorite was a superstar during his time at nearby Sky View High School, earning back-to-back 4A state MVP honors and leading the Bobcats to a state title in 2019. He finished his high school career with a school record of 1,930 points, averaging 20.1 PPG as a senior with 8.4 rebounds, 5.8 assists and 1.6 steals per game.
Game In A Paragraph: "An above-the-rim-athlete at 6-3, Falslev pairs great quickness with a ton of skill on offense, averaging 20.1 points and 5.8 assists per game as a high school senior while adding 8.4 rebounds and 1.6 steals a night. He wasn't exactly a knockdown shooter in those days, but he did well enough for himself and spent a ton of time reworking his shot this past year. As scorers go, this roster doesn't have many more natural than the Smithfield product."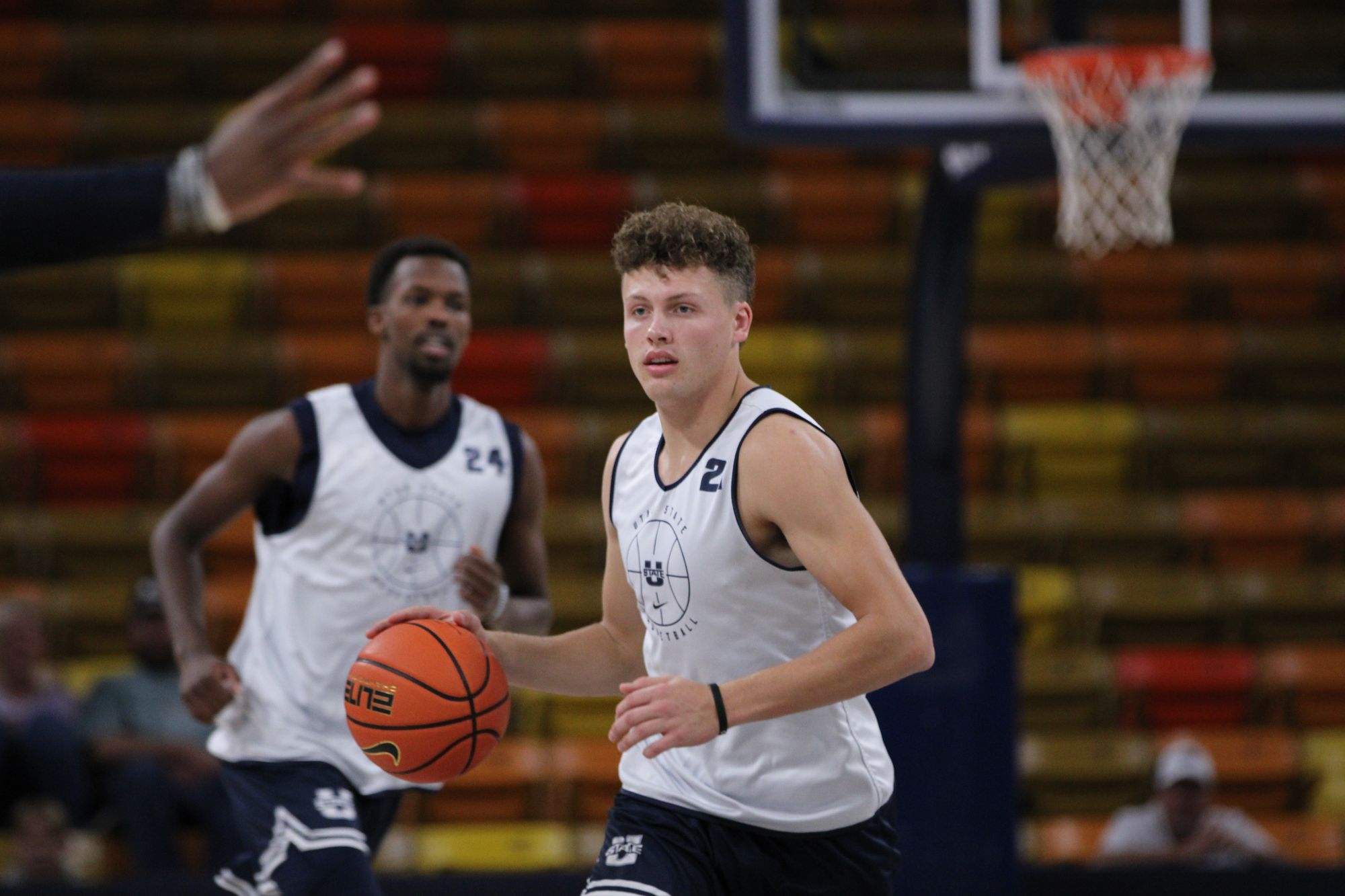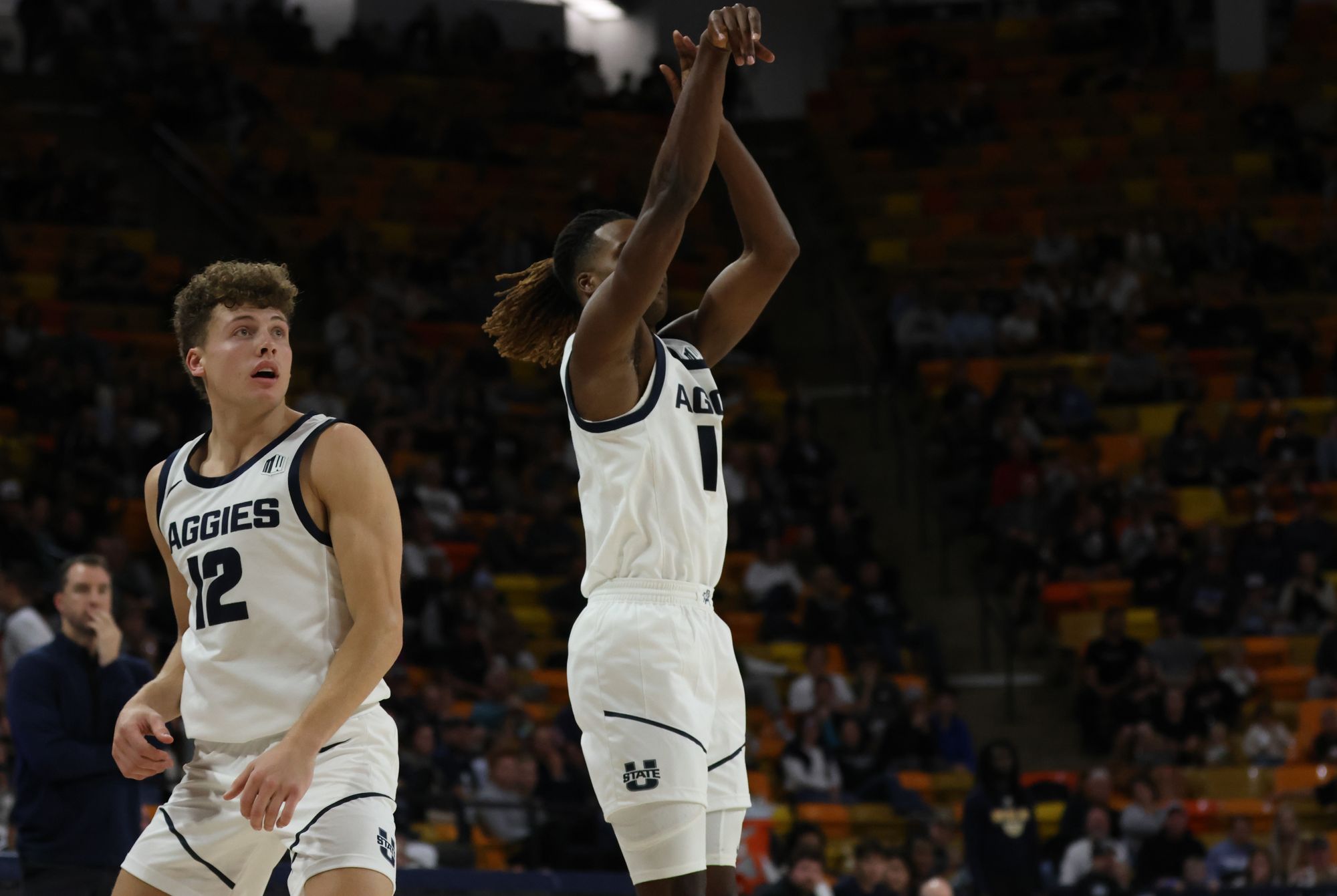 Small Forward: No. 14 Josh Uduje, 6-5, 189, Jr.
Background: Uduje comes to Utah State after two seasons at Coastal Carolina, reconnecting with a coaching staff that originally recruited him when he was a prospect coming out of Arizona Compass Prep by way of London, England. He led the Chanticleers in scoring as a true sophomore, notching 13.2 points per game on 42 percent shooting to go with 3.9 rebounds, 1.3 steals and 1.2 assists a night.
Game In A Paragraph: "He's a natural scorer with plenty of physical gifts, but that shouldn't be taken as a dismissal of his skill. It takes an extremely skilled basketball player to tie all of these abilities together into a neat package, and Uduje did it frequently last season. He has a rare combination of physical and technical traits, but that means nothing without a great deal of body control and a keen sense of awareness. That he makes all of these shots look so easy is a testament to his quality."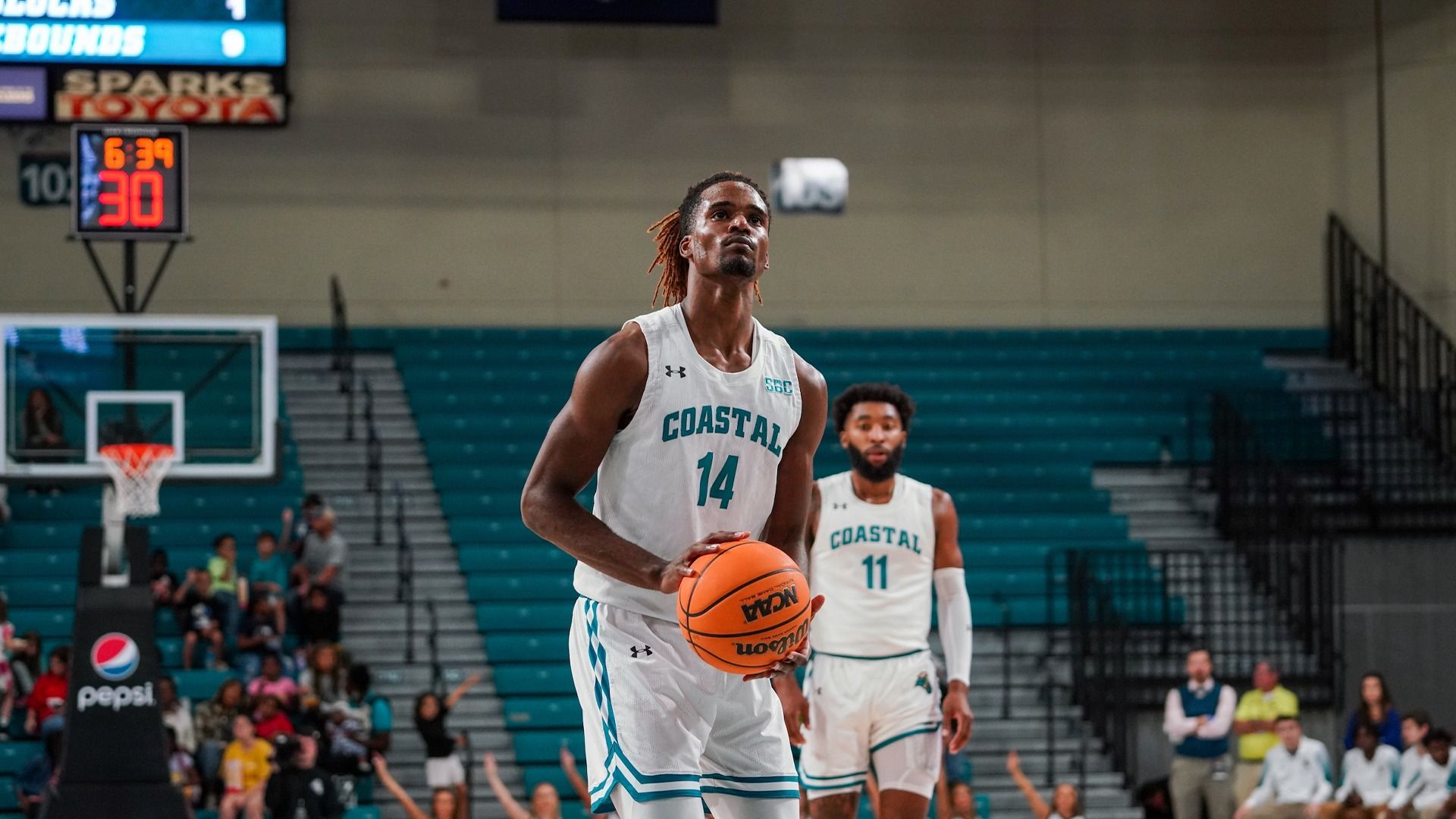 Power Forward: No. 1 Great Osobor, 6-8, 250, Jr.
Background: Another Montana State transfer, Osobor is the latest product of assistant coach Chris Haslam – an excellent big-man developer who helped turn Jubrile Belo into the 2021-22 Big Sky MVP and Defensive Player of the Year. The England native spent his first two collegiate seasons behind Belo on the bench, earning Big Sky Top Reserve honors as MSU's sixth man, averaging 10.3 points, 4.4 rebounds and 1.2 assists per game in conference play.
Game In A Paragraph: "His interior scoring away from the rim is a bit less refined, but it's still there, and it's hard to imagine it won't continue to grow as Osobor does. He has an outstanding feel for how to use his body to create space without losing control, and that's quite a bit harder to develop than the shot that comes after the space is created. Plus, that spatial awareness and physicality sent him to the stripe at an outstanding 77.0 percent clip in 2022-23 – though he could afford to improve once he gets there, shooting 66.4 percent on free throws this past year."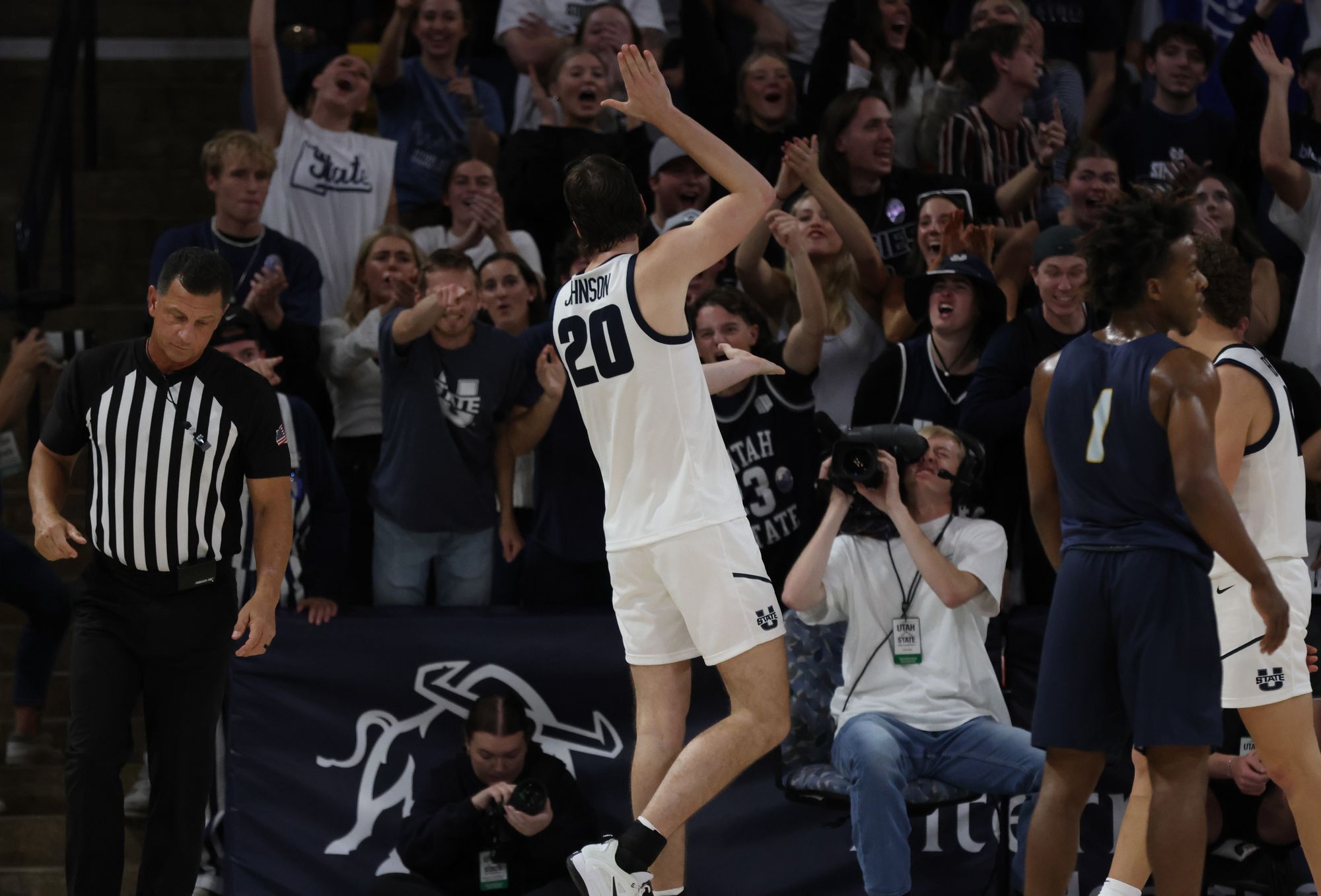 Center: No. 20 Isaac Johnson, 7-0, 227, R-So.
Background: Johnson is the other holdover from last season, redshirting alongside Falslev after beginning his career at Oregon. He struggled to find a groove in Eugene, thrust into action immediately after returning from a two-year mission trip, but Utah State took last year to rebuild the confidence he once showed as a four-star recruit coming out of American Fork (UT) High School. The Aggies would love for him to rediscover his senior season form, when he averaged 18.7 points and 8.1 rebounds per game.
Game In A Paragraph: "At his best, Johnson moves and shoots very well for his size, and Utah State is hopeful that a year of practice and growth is enough to prepare him for a jump into the rotation this season – be it as a very big stretch power forward or as a fairly standard center capable of playing on the perimeter far more than most MWC bigs."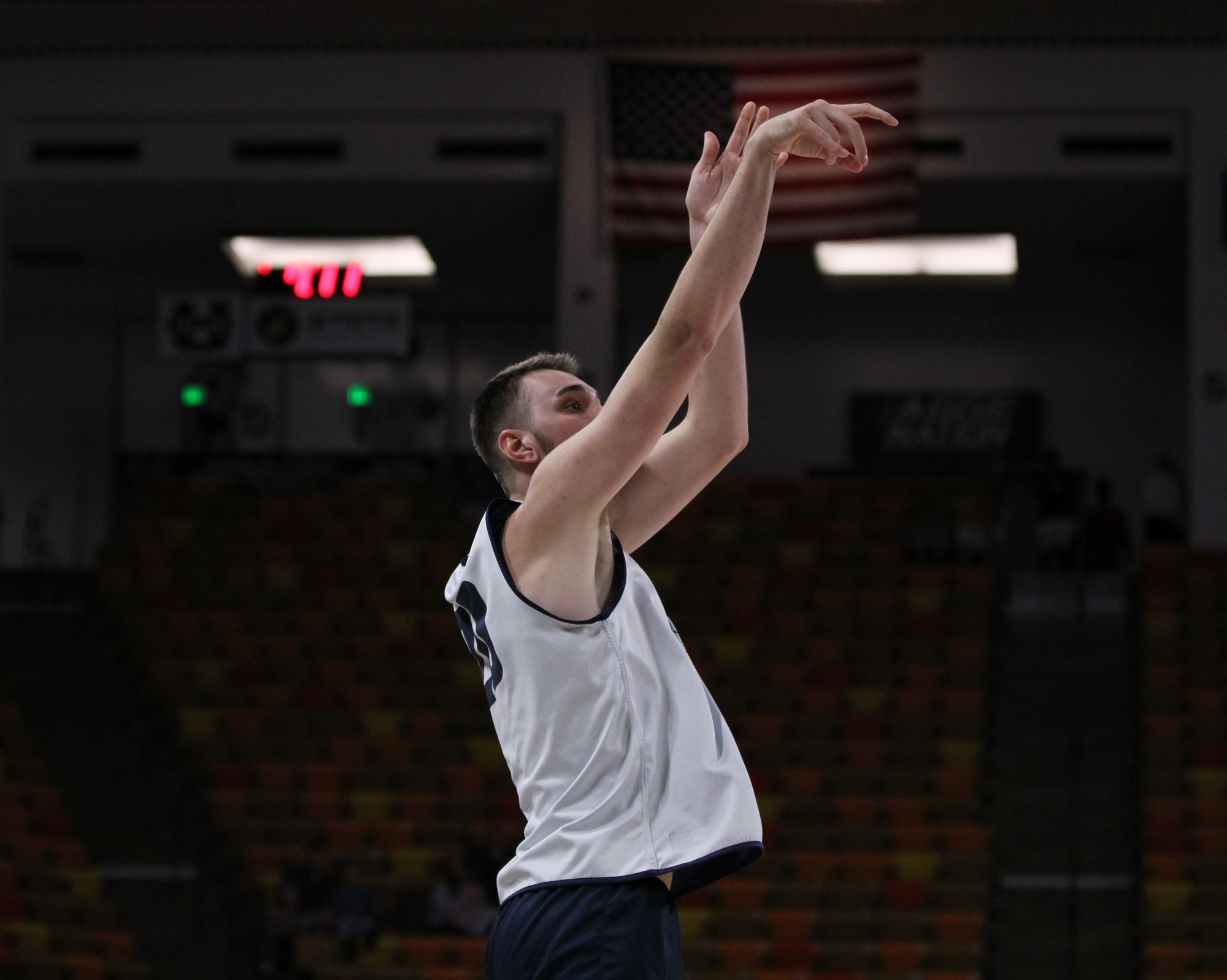 Top Reserves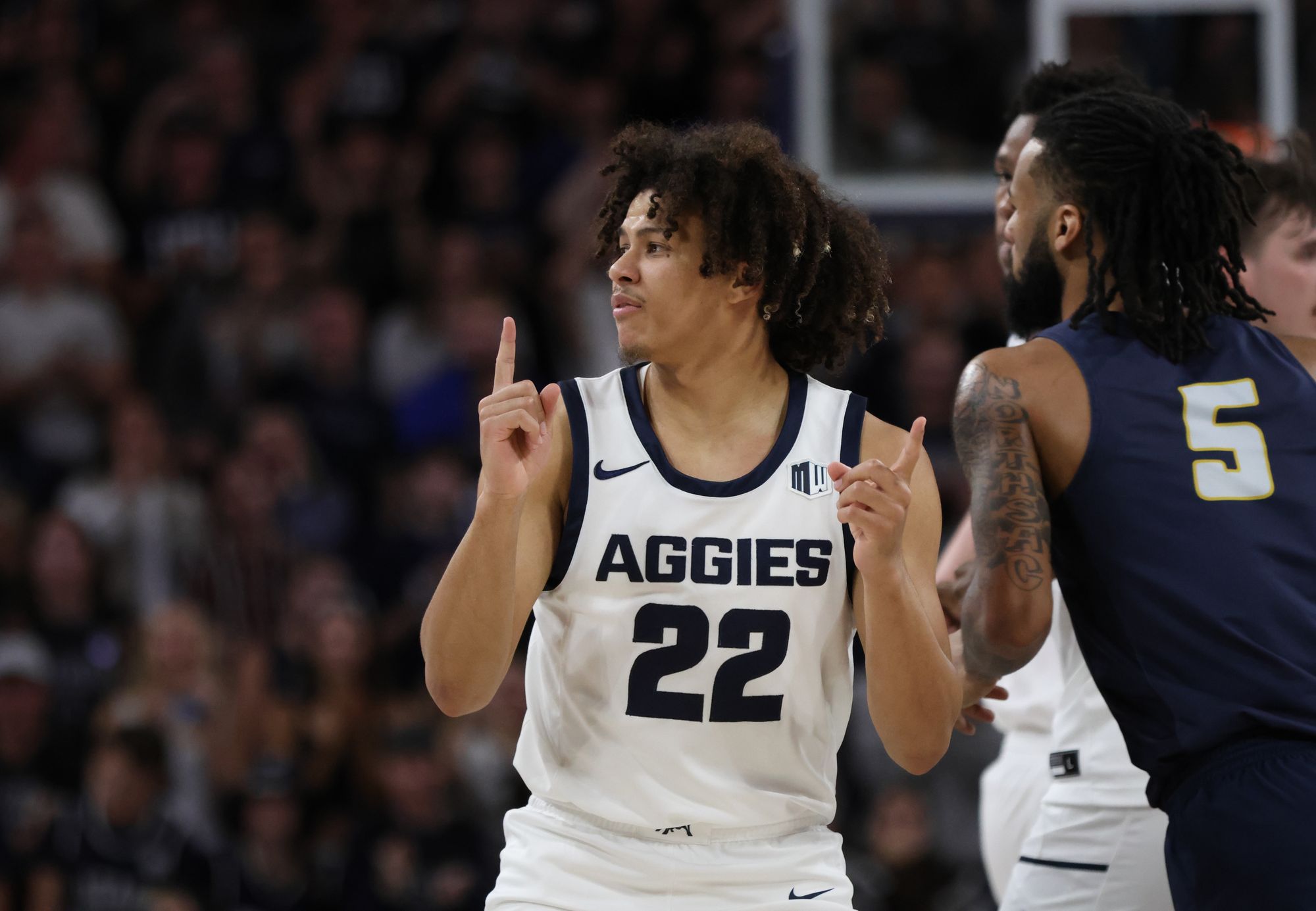 Point Guard: No. 22 Javon Jackson, 6-3, 190, So.
Background: Jackson was one of the final additions to this Utah State roster, coming to Logan by way of DII Southern Nazarene in Bethany, Oklahoma. He starred in his lone season with the Crimson Storm, earning first-team all-Great American Conference honors and the league's Freshman of the Year award as he averaged 15.8 points per game on 45.5 percent shooting, leading the team in both assists (2.8 APG) and steals (1.3 SPG) and adding 3.4 rebounds a contest.
Game In A Paragraph: "The tape, albeit limited (publicly, Utah State certainly has more) backs up the stats. Jackson has a lightning-quick release from deep and is more than capable of creating shots off the dribble. He'll face much better competition at Utah State than he did in the DII ranks and may need some time to adjust physically, but good shooting usually translates, as does defensive tenacity."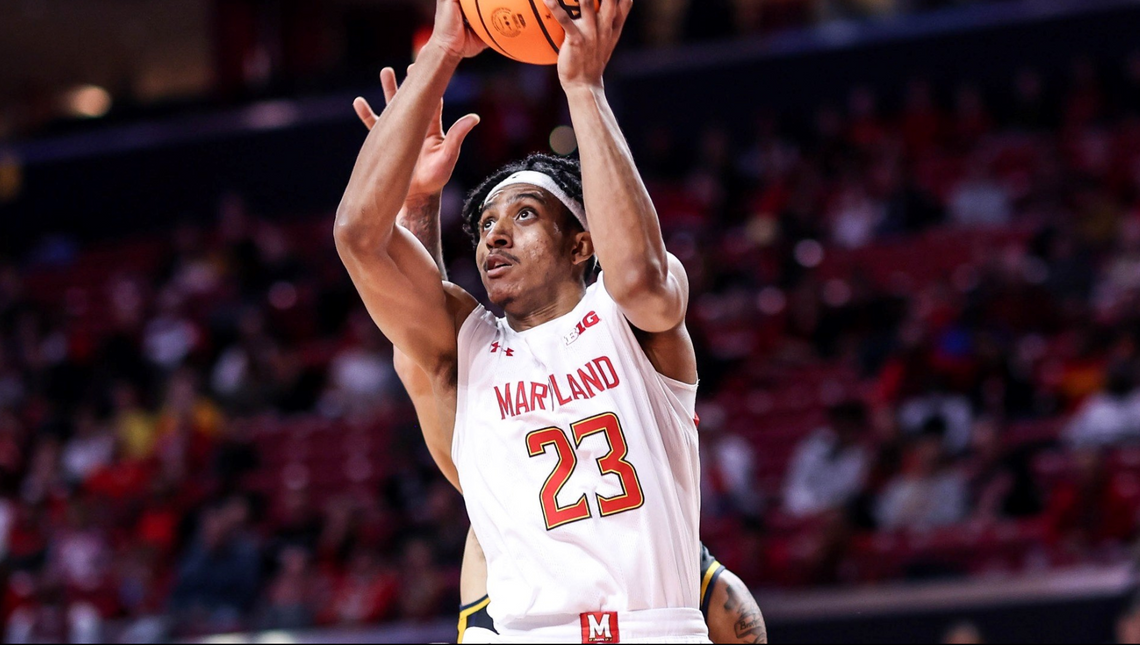 Shooting Guard: No. 4 Ian Martinez, 6-3, 185, Sr.
Background: Martinez was the final addition to the roster, coming to Utah State after two seasons at Maryland and one at Utah. A former four-star recruit out of JSerra Catholic in San Juan Capistrano, Calif., Martinez was expected to be a starter at Maryland this season before entering the portal, after averaging 5.7 points and 2.4 rebounds per game as one of the top reserves for the Terps in 2022-23. His eligibility this season remains a question, as Utah State has still yet to hear a ruling from the NCAA on his waiver to play immediately – which is only guaranteed for a first-time transfer or a graduate transfer (Martinez is neither).
Game In A Paragraph: "Utah State is getting a high-upside scorer who could flourish in a larger role, especially as he gets more comfortable with his perimeter shot. That's exciting for the Aggies on its own. But, Martinez isn't in Logan because he could be a good off-ball scorer. He's in Logan because he's an All-MWC caliber defender from day one; a plug-and-play fit in (assistant coach Andy) Hill's defense as an anticipatory off-ball guard with a motor that never stops running, who delights in making the kind of defensive plays this system is built around."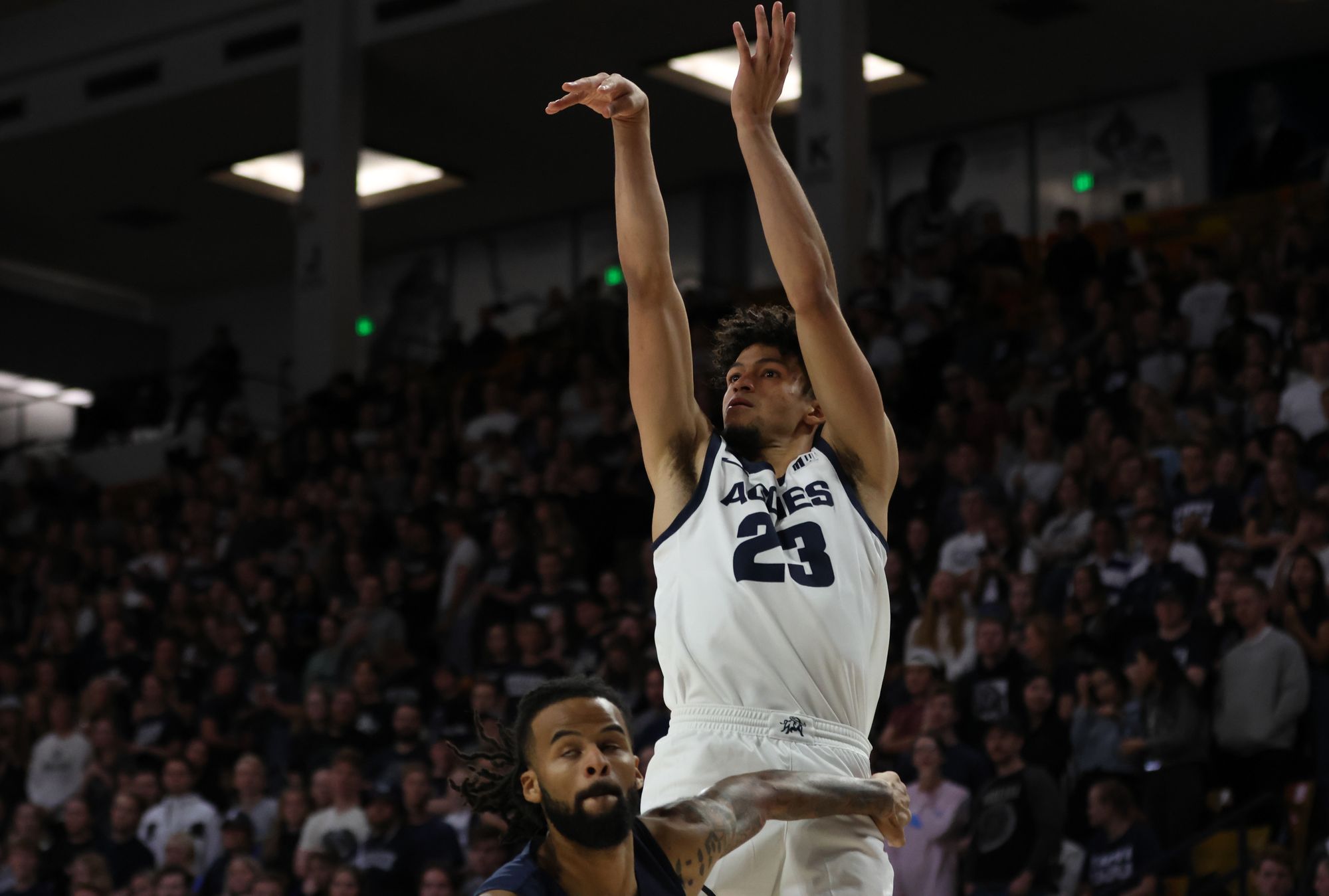 Small Forward: No. 23 Max Agbonkpolo, 6-9, 194, Gr.
Background: Agbonkpolo is a familiar face to Utah State fans after his brief time at Wyoming last season, but this staff's interest in the graduate wing from Santa Margarita Catholic extends well beyond the 16 games he played for the Pokes. Agbonkpolo was a highly sought-after high school recruit in the class of 2019, eventually signing with USC as a four-star prospect. He shone brightest as a junior for the Trojans, averaging 7.7 points and 3.5 rebounds per game, and Utah State would like to unlock the full skill set that once made him such a hot commodity on the trail.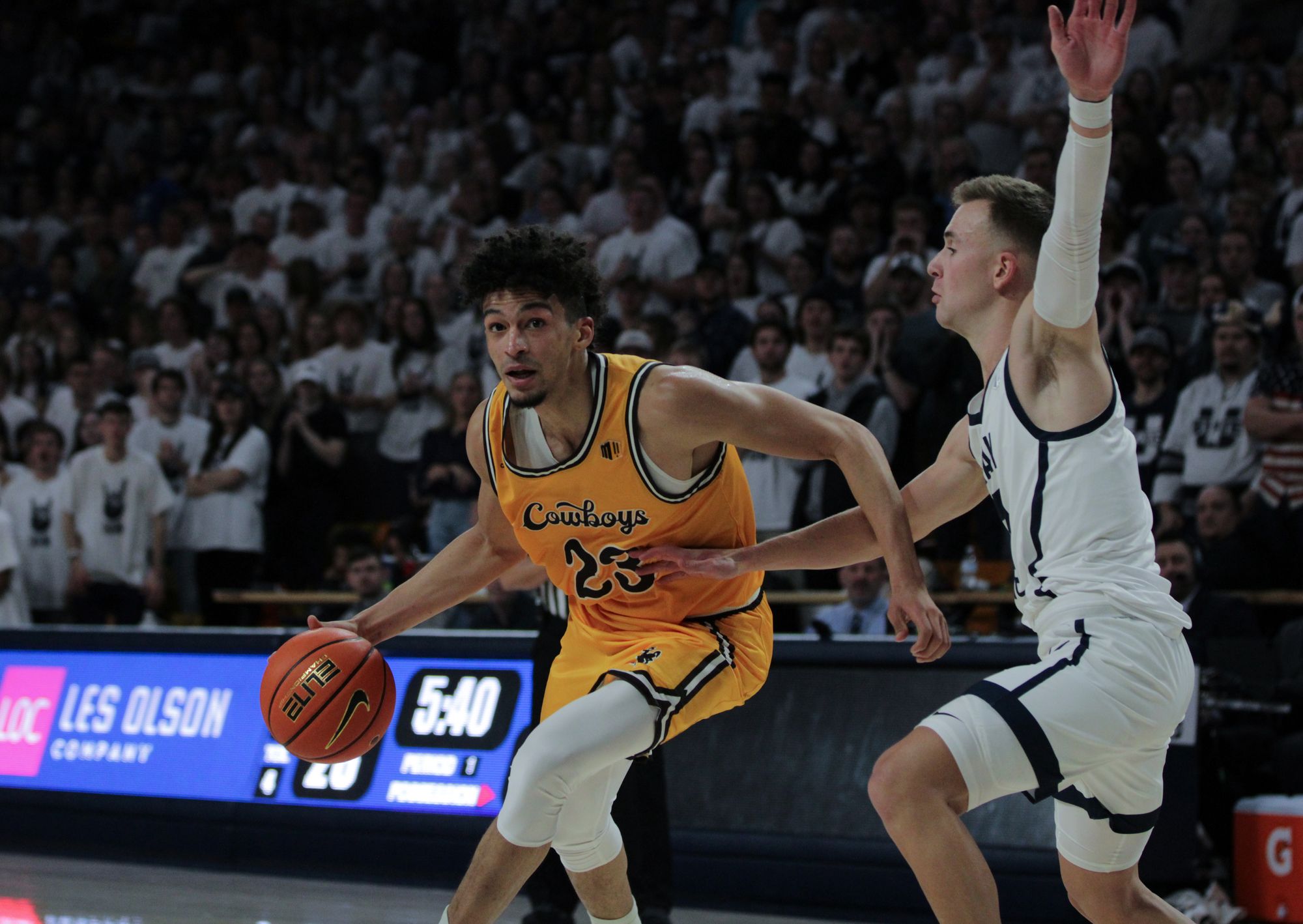 Game In A Paragraph: "For all the positive traits Agbonkpolo touts, from his elite size, athleticism and defensive versatility to his great finishing touch at the rim, he's yet to fully put it all together at the collegiate level. Utah State has obviously seen enough to take a shot at helping him get there in his last year, and stands to gain a two-way forward with all-conference-level talent if that bet pays off."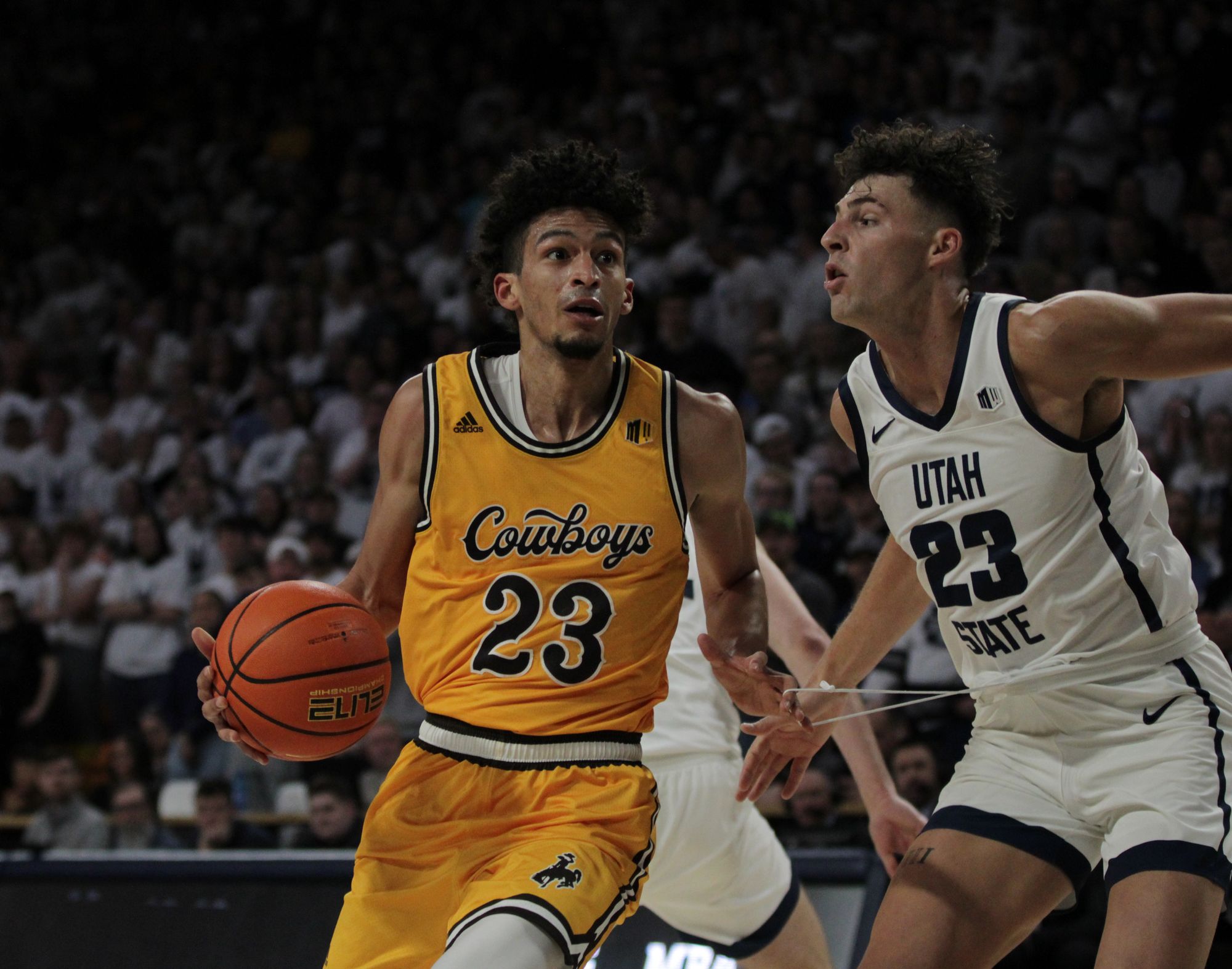 Small Forward: No. 2 Garrison Phelps, 6-6, 192, Fr.
Background: Phelps committed originally to Odom and Co., but Sprinkle and his staff had been involved with his high school recruitment from very early on, and managed to keep him on board through Odom's departure. He was a standout for St. Mary's Catholic High School in Arizona, earning Arizona Defensive Player of the Year and first-team all-state honors while averaging 15.3 points, 6.1 rebounds, 4.2 assists and 2.9 steals as a senior.
Game In A Paragraph: "He was a good-not-great shooter in high school and could run into some issues in adjusting to the college game offensively, but what can be said with some confidence is that Phelps is an extremely capable defender with fantastic size – and that'll play well in Sprinkle's program from day one, enough to earn minutes."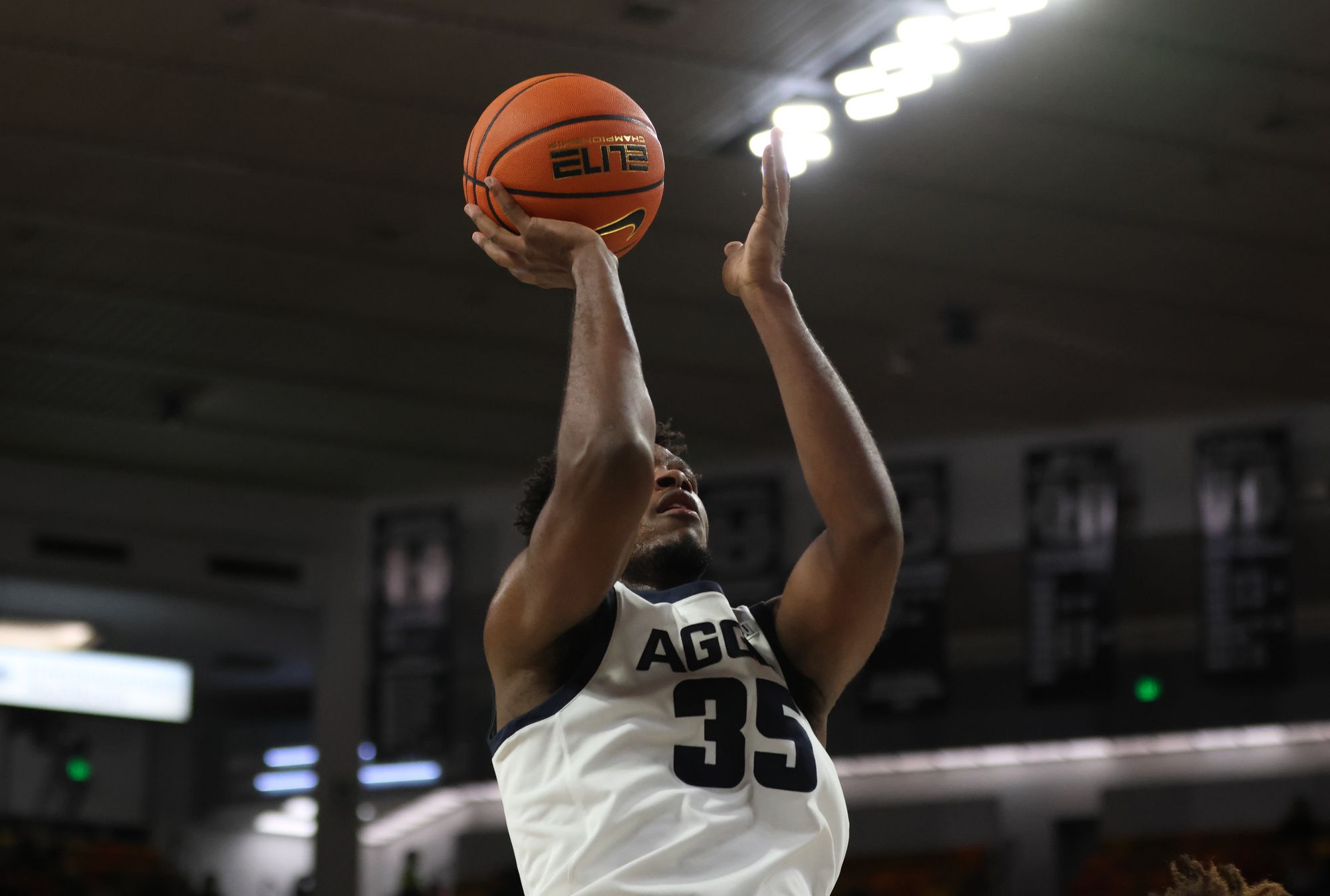 Power Forward: No. 35 Nigel Burris, 6-7, 224, So.
Background: Sprinkle and his staff had the chance to see Burris in person on two separate occasions during his freshman season at Idaho last year, and that was more than enough to draw their intrigue – the Big Sky Freshman of the Year recorded a double-double in his first game against the Bobcats (11 points, 11 rebounds) and nearly matched it with nine points and seven boards in game No. 2. For the season, Burris averaged 8.8 points and 5.0 rebounds per game, shooting 52.7 percent from the field and a whopping 44.8 percent from deep.
Game In A Paragraph: "Burris elevates very well when firing from beyond the arc, making that 6-7 frame quite a bit more difficult to deal with, especially for defenders who give him too much room. He pairs that elevation with a full-extension release, making him an ideal fit for pick-and-pop plays. There's no cheating on the ball handler when you're dealing with a screener who can shoot as well as Burris does. Even if a defender matches his size, they aren't contesting that release on a close-out – they have to be on him from rise to release."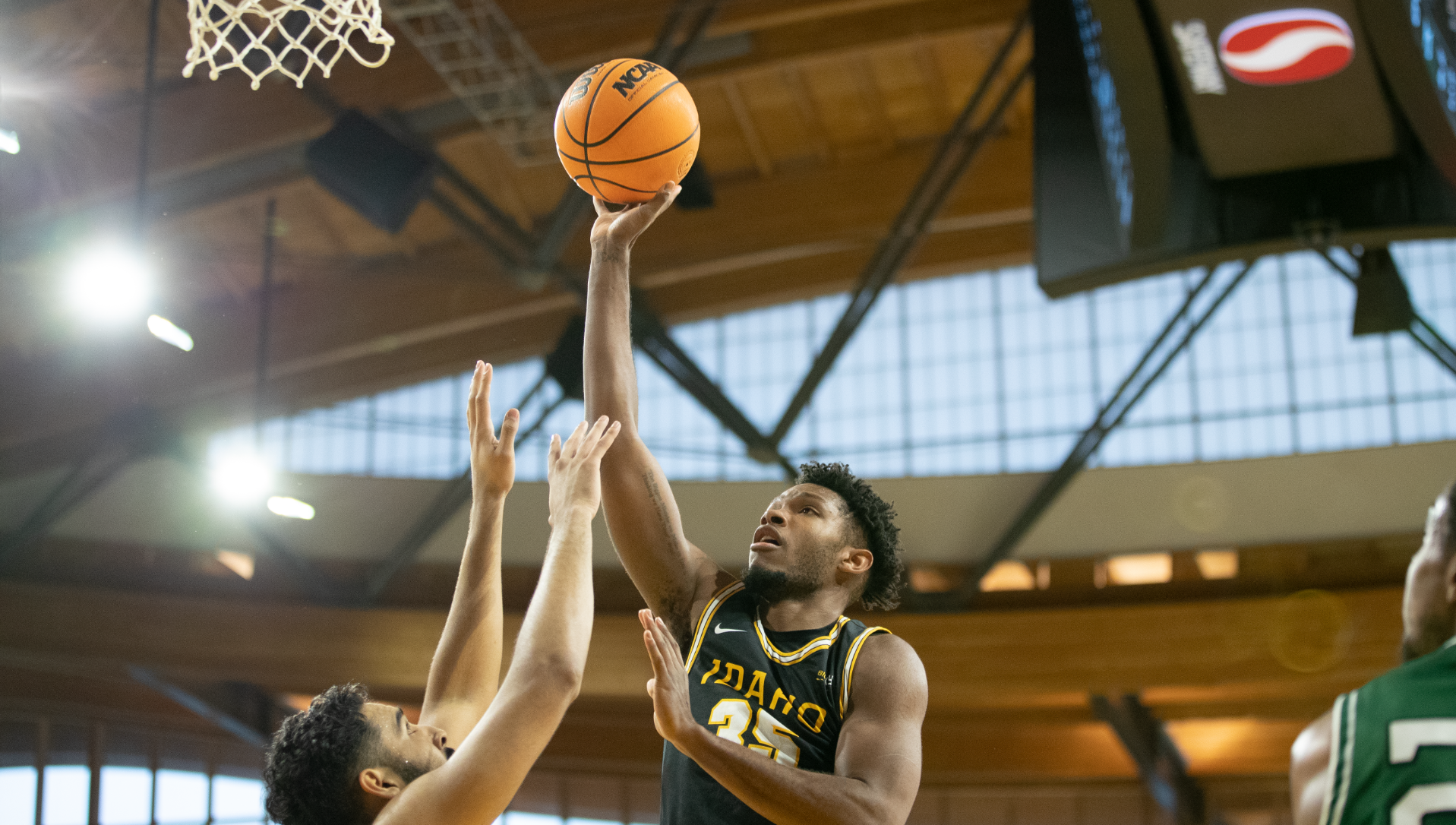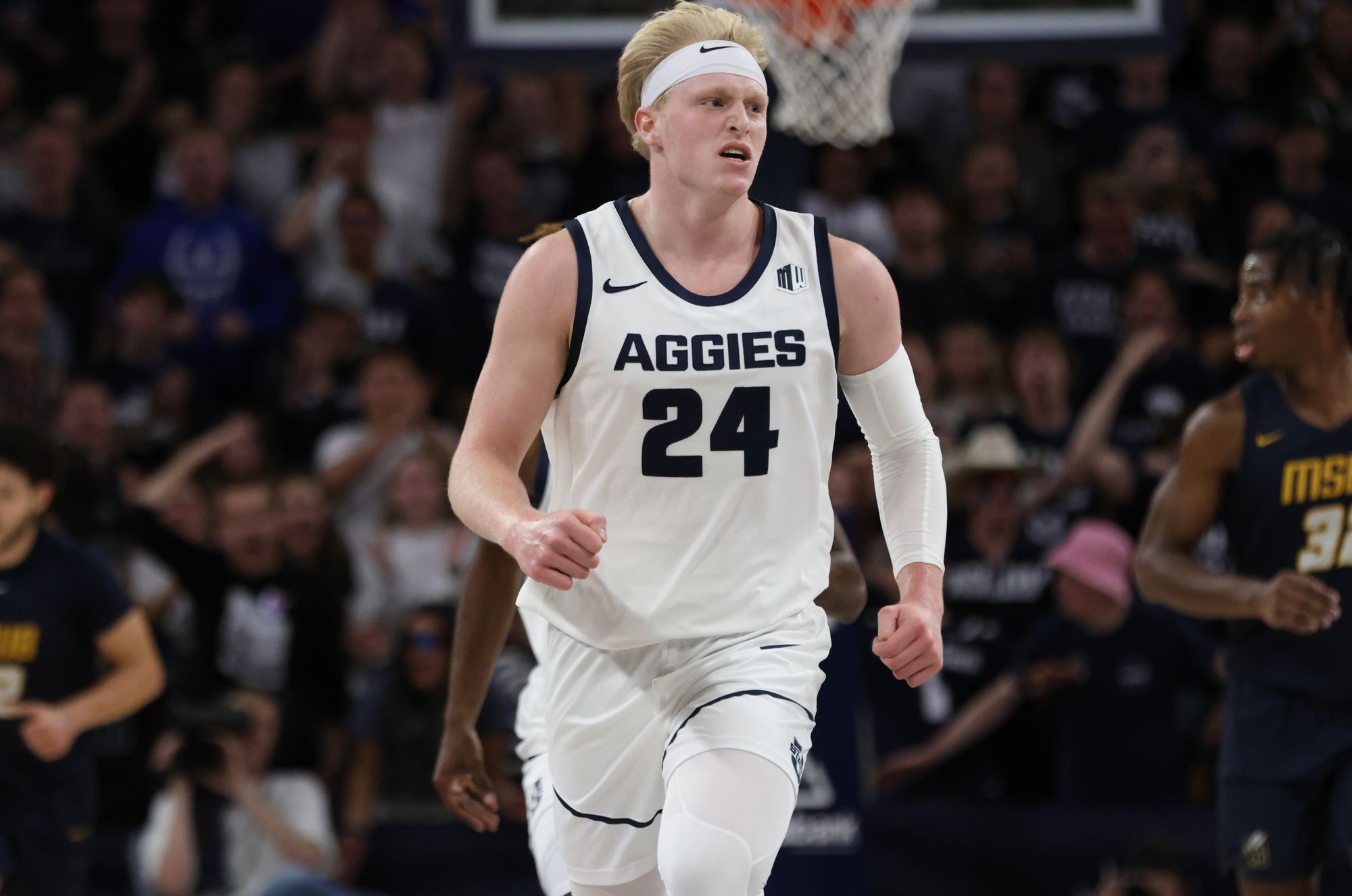 Power Forward: No. 24 Karson Templin, 6-8, 217, Fr.
Background: Like Phelps, Templin committed to Utah State well before Sprinkle's arrival, and held strong on his pledge even amid great turnover in Logan. He was a terrific player at Lovejoy High School in Lucas, Texas, averaging 20.7 points, 11.1 rebounds, 2.2 assists and 2.0 blocks per game as a senior, earning Texas 5A all-state and all-district Defensive Player of the Year honors as he led the Leopards to three consecutive district championships, an area championship and a regional quarterfinals berth during his three seasons as a starter.
Game In A Paragraph: "Templin is already a very strong defender, athletically capable of guarding multiple positions in the frontcourt and experienced in doing so, serving at times in all three forward spots for his high school team... His role on this team will depend, then, on his offensive development. Templin's strength and athletic acumen extends to the other end of the floor, where he's done very well for himself as a slasher with better ball-handling skills than he gets credit for, but he may need more time to become comfortable as a scorer at the next level. His jump shot, while improved in 2022-23, is still a work in progress."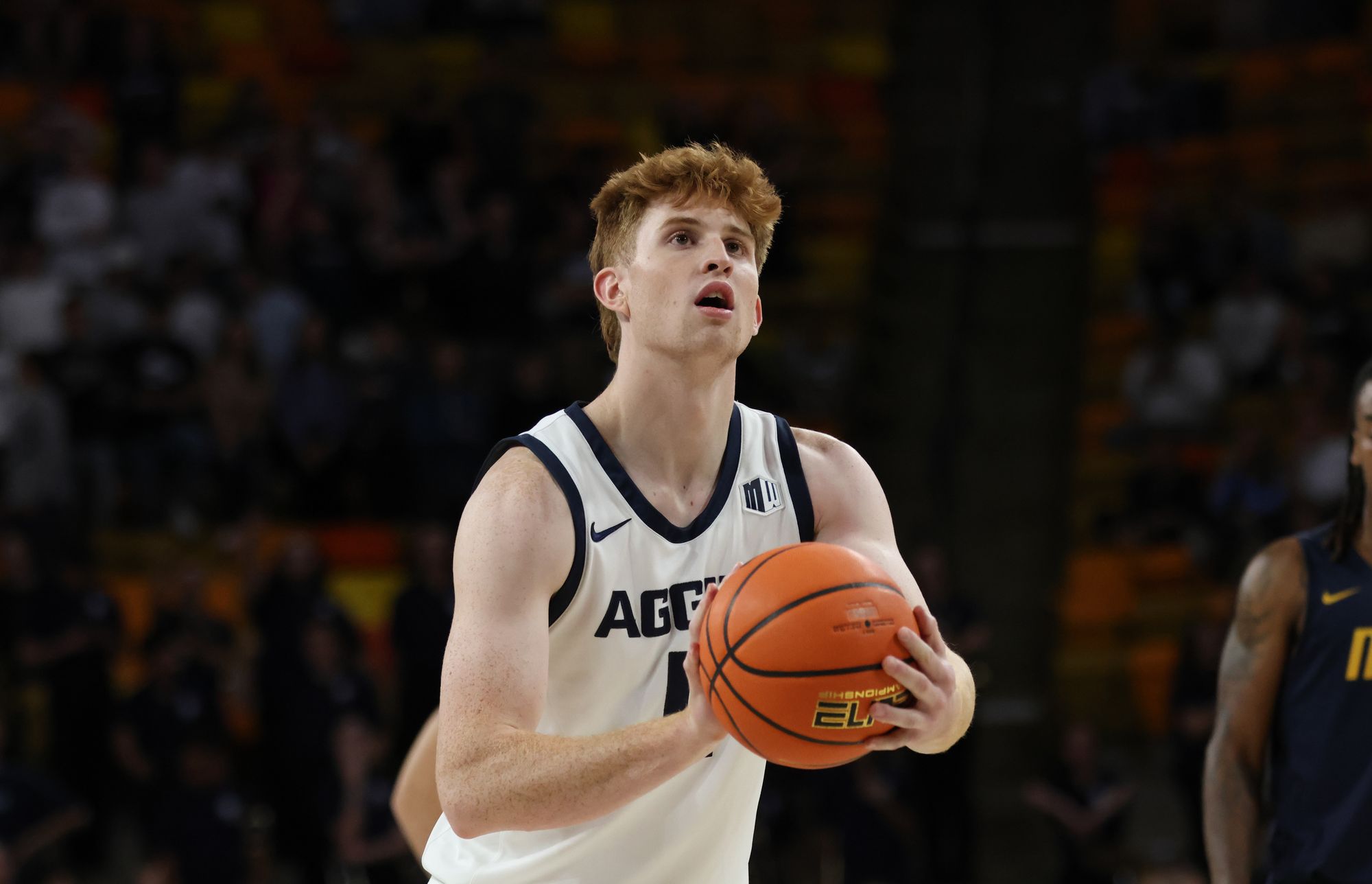 Power Forward: No. 11 Dallin Grant, 6-8, 218, Fr.
Background: Grant is the lone returning missionary for this Aggie team, arriving after a two-year mission for The Church of Jesus Christ of Latter-day Saints in Minneapolis, Minn. As a prospect, Grant drew plenty of acclaim at Cedar High School. He was named the 4A Player of the Year as a senior, averaging 16.4 points, 5.8 rebounds and 2.4 assists per game as the Reds rolled to a state title.
Game In A Paragraph: "Unless the Aggies really can't do without him in the rotation, this season presents a great chance to bring Grant along at his own pace. A year spent learning Sprinkle's system, developing physically and acclimating to collegiate basketball in practice would do him a lot of good, and position him well to step into a rotation spot (if not a starting role) next season after Agbonkpolo departs."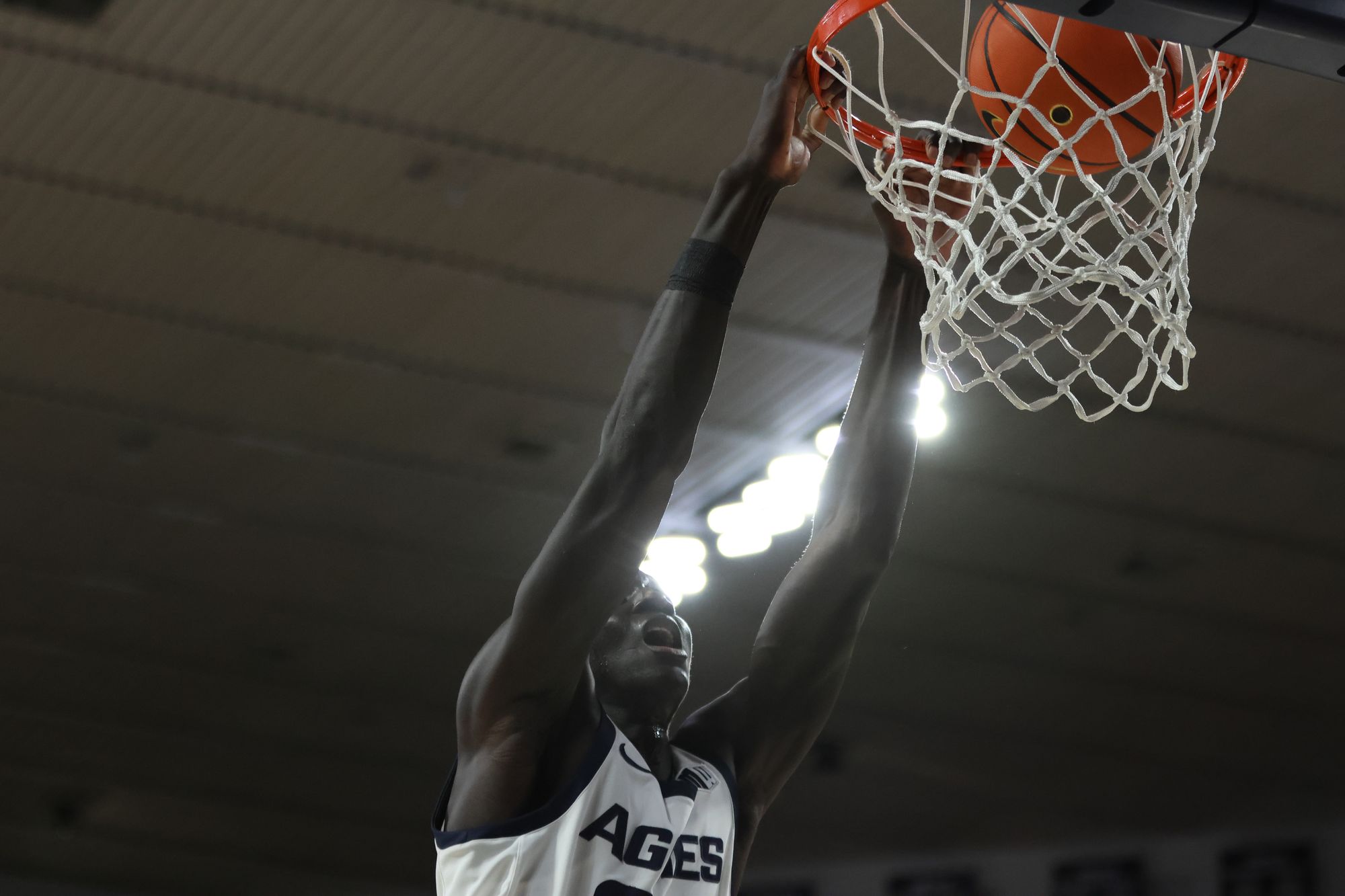 Center: No. 34 Kalifa Sakho, 6-11, 220, Jr.
Background: Sakho is the lone JUCO signee in Utah State's 2023 recruiting class – and, like his cohorts, he had to be re-recruited in short order by this new staff. Sakho's was the toughest of USU's commitments for the Aggies to hold onto (his connection was exclusively with Odom), but they brought him back to campus shortly after Sprinkle was hired and managed to seal the deal for a second time.
His stats at South Plains College don't leap off the page, but he was the WJCAC Defensive Player of the Year as a freshman, averaging 6.9 points, 6.1 rebounds and a whopping 2.2 blocks per game. This roster needed a rim protector, and Sakho is about as natural a shot-blocker as they come, touting elite athleticism in his lanky 6-11, 220-pound frame.
Game In A Paragraph: "If that kind of defensive output is sustainable against a higher level of competition, Sakho could very well find himself as both an immediate starter and as one of the better rim protectors in recent memory at Utah State. Any comparisons to Neemias Queta are premature, but the Aggies can certainly dream of getting that sort of defensive impact from the 6-11 junior. He'll have a great coach in Haslam, and a defensive system that lends itself very well to shot blockers – look no further than the production from players like Belo and Osobor. Utah State probably shouldn't expect much offensively from Sakho, but it won't need much if the rest of the starting lineup looks roughly as expected."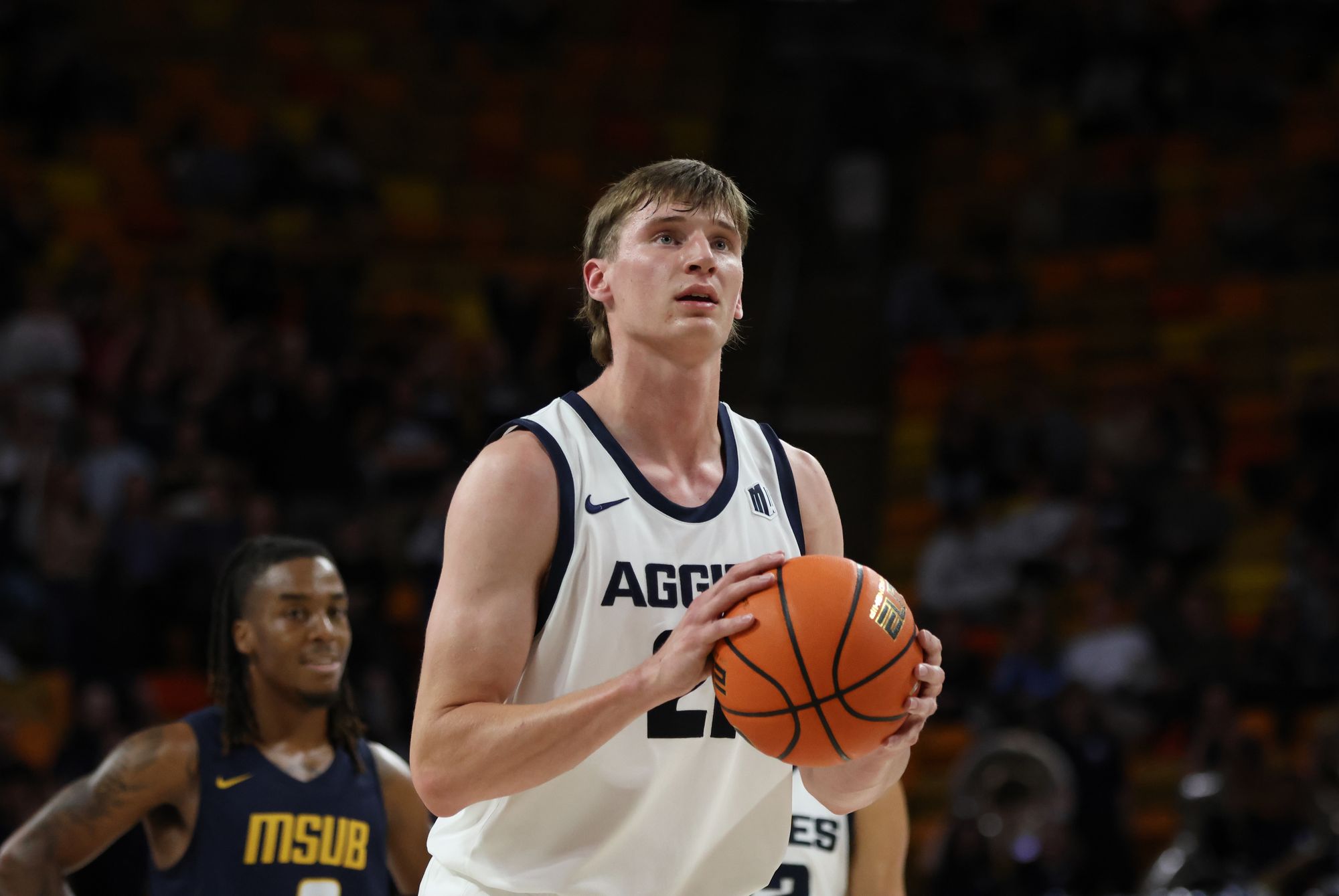 Center: No. 21 Jackson Grant, 6-10, 226, Jr.
Background: Last but not least is Grant, a junior who spent his first two seasons of college basketball at Washington, where he signed as a four-star prospect out of Olympia (Washington) High School. His time as a Husky was quiet, but he was a McDonald's All-American in high school, earning the 2020-21 Gatorade Washington Boys Basketball Player of the Year honors and averaging 22.9 points, 11.2 rebounds and 3.0 blocks per game – enough to lead the Bears to the South Puget Sound League championship in 2021.
Game In A Paragraph: "Grant never caught on with his home-state team. He logged 39 appearances over two seasons with the Huskies, including 14 in what was supposed to be a redshirt year last season before injuries forced him into the rotation. Having dominated the high school ranks physically, the increase in competition presented a major challenge – especially offensively – that Washington failed to appropriately prepare Grant for. With Utah State, he'll get a fresh start under Haslam's direction. It seems both player and coach are eager for the opportunity, because Grant originally committed to this staff when they were at Montana State, only to decommit and flip to USU shortly after Sprinkle's departure."