Cover Story: Aggies Still Fighting, But Can't Close The Deal Against Nevada
Utah State WBB kept fighting (both literally and figuratively) and erased a 29-point deficit, but the Aggies couldn't overcome their own first-half woes in another difficult loss. Cover story: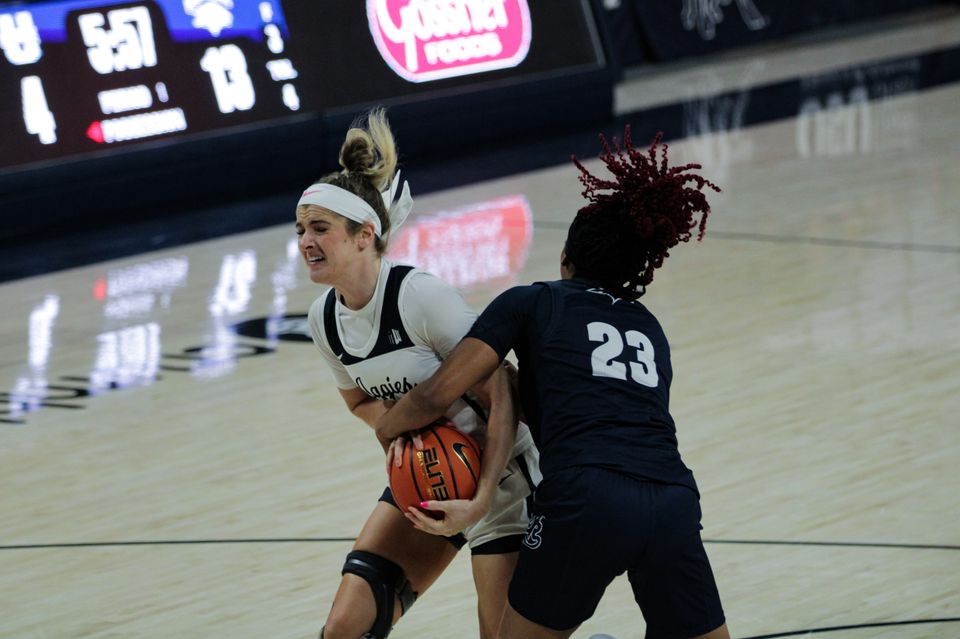 LOGAN – Utah State's surge back into the game against Nevada, which saw the Aggies erase a 29-point second deficit and pull within three points in the waning moments before eventually suffering a 68-63 loss, didn't start with the fight.
Now, it certainly galvanized the team when the fight for a rebound between Utah State forward Ashya Klopfenstein and Nevada's Audrey Roden devolved into an actual fight, drawing the other eight players on the floor (and one who wasn't) into a pile-up. It took officials more than 10 minutes to review the incident before ejecting the offending parties – and Nevada forward Lexie Givens, who ran onto the floor as an impending substitute.
The opportunity to defend a teammate and the energy generated by that sort of event sparked a 23-9 run for the Aggies over the next 5:41, cutting a 54-37 Nevada lead down to just three points, 63-60, with 1:16 left on the clock.
"I'm actually surprised that more of us didn't get kicked out because they're kind of scared of things like that," point guard Maria Carvalho said. "We stepped on the line. Poor Ashya, we love her and I'm glad we brought the energy (for her). I'm not going to lie, that brought us more together and made us want to win more."
But, it wasn't when Utah State first made an appearance after a catastrophic first half that saw Nevada build a 44-17 lead against an Aggie side that looked like it would rather be anywhere else. No, that came in the third quarter, after Nevada quickly extended that 44-17 lead to a game-high 29-point margin with a second-chance layup. The Aggies, as Carvalho tells it, got a wake-up call at halftime and took to it.
"We got yelled at and we finally woke up," Carvalho said. "It all started with shootaround. I wasn't there, but I heard that shootaround wasn't the greatest. It starts with shootaround, we have to have great energy for it. We've been losing a lot of games, we can't just go to shootaround relaxed and pretending like everything is fine. It's not fine. We have to bring the energy every single time.
"We started the game the way we started with shootaround, and we just can't do that. We have to bring the energy, and I guess we just needed coach to start screaming at us like, 'You have to wake up, snap out of it,' to start doing something.
"We started playing team basketball. Basketball is a team sport, not a one-on-one. Because we are losing a lot of games, it makes us super frustrated and it's super emotional with every single thing that happens. When someone messes up, everyone is all on them and we just can't be like that. We have to stick together, we have to respect each other and be like sisters on and off the court."
Nevada's seemingly insurmountable lead dwindled, first slowly and eventually with a bit more urgency. Tamiah Robinson hit a three-pointer on Utah State's first possession of the second half, cutting the lead to 26 points. Carvalho put it back to 26 with a second-chance layup off her own miss after a pair of Nevada free throws, and the Aggies answered two more Wolf Pack free throws with six straight points – four from Robinson, two from Klopfenstein – to pull within 22.
After several minutes of oscillation, Robinson finished the quarter with another triple – giving her 10 points for the quarter – to bring the Aggies within 19 points, 54-35. An 18-10 advantage in a quarter might not look like much when its product was still a 19-point deficit, but it isn't fair to say that Utah State only arrived on the scene to defend Klopfenstein, decided to stick around afterward, and eventually made a game of it. Utah State was fighting well before it was fighting.
"We obviously have the motor to do it because we did it at the end of the game," Ard said. "I would like to see us do that early on and not when we have the motivation of a comeback. It would be fun to do that when we're ahead. But, it speaks to their heart that they just wouldn't give up. They wouldn't quit. It was really good to see, and I'm proud of their effort. Not in the first half, but in the second half, our effort, our lock-in, our focus... it was all really, really good.
"We're still fighting. We have a ton of injuries, we're short on bodies and they won't quit. They won't give up. They have good attitudes and they're good kids. I love where our culture is right now. It's not coming in wins and I wish it was, but I'll take this group of kids and go to battle with them any time."
That's not to say that Utah State was perfect in the second half. It scored only two points in the first three minutes of the fourth quarter, and while it didn't allow any on the other end, that wasn't going to be enough on its own – though defensive improvements did guide a lot of the success in the second half, with the Aggies forcing 18 turnovers while only suffering three and turning those Nevada mistakes into 15 points. Connectivity has been the keyword for Utah State all season. When this team plays connected basketball, it plays good basketball.
"We adjusted some things we were doing defensively, which seemed to really bother them and made us more aggressive," Ard said. "We were getting more steals and more tips which created some more run-outs for us offensively... In the second half, we were a really good basketball team. If we could just put that together for 40 minutes, I think we could be a really good basketball team."
If Utah State's 4-19 record doesn't tell you this, I will: That hasn't happened often enough. The Aggies are hot and cold, they have moments, quarters and halves of great, connected play, but they have just as many moments of lethargy and inefficiency. When they weren't locked in at their morning shootaround, they were setting the stage for a first half that they just couldn't overcome.
"I thought we were very lackadaisical at shootaround this morning, unfortunately, and it just carried over," Ard said. "I didn't think we were there. We seemed very distracted and it carried over and that's how we started the game.
"We're still trying to work with these young ladies to make them understand that the way you practice is going to be the way you play. If you're going to shootaround and you're not focused, you're not going to be focused on the basketball game. We spoke at halftime about that and then when we did the little things, we were a really good basketball team. We need to figure out a way to be that second-half team for 40 minutes."
And in large part, it did take a literal fight to ignite the fight in the team. Utah State rallied around Klopfenstein and looked like a team on a mission in the final 6:39 of play. Robinson hit a pair of technical foul free throws to cut the lead down to 15, and Mayson Kimball slashed it down even further with a second-chance layup out of the ensuing inbound. The Nevada lead dwindled to 12 with 3:07 to play, which was enough to activate Carvalho.
She scored 10 points on four possessions spanning 52 seconds and slashed Nevada's lead down to five points, 63-58, forcing a Wolf Pack timeout. The Aggies got a stop out of the break and burgeoning freshman point guard Isabella Tañedo, who has been forced into action because of injuries and scored six points in 16 minutes, knocked down a pair of free throws. Nevada was without two of its best players, but Utah State was playing well enough to make up ground on just about any team in the Mountain West.
"I think the big thing that happened was the scuffle," Ard said. "This team loves each other. They care about each other. To them, that was about defending Ashya and really stepping up. I would love for us to do that before the scuffle... they love each other and they're trying to protect and look out for each other.
"You defend everybody in our circle. We talk all the time about protecting your family, and this is our family. This is our circle. Regardless of who was in the wrong – and I would have to go back and watch it, I don't know – you protect each other in this program, that's what we do. I knew when we were coming out of that huddle that we were going to make this a game, I had no doubt about it. I'll never get on our kids for protecting each other and taking up for each other, but I'd love to see us do that to start the game and do it for 40 minutes."
That was as close as the Aggies would get, though. They had the ball down by three points twice, and twice they couldn't find the bottom of the net. For everything those final 6:39 said about Utah State's heart and refusal to quit, the Aggies fell victim to the hole they dug for themselves in the first half. They keep seeing what they could be with 40 minutes of connected, focused basketball, but the results are unchanged.
"We've had a lot of up and downs," Carvalho said. "It's hard when you're losing a lot of games to still stick together. But, we know that if we do it individually, we're not going to go anywhere. We've had a few games where we just played one-on-one basketball and it didn't go anywhere. We know that, and we know that we have to stick together. We have to do the team bonding. We have to do the extra stuff on the side to keep us united and help us win games."
Utah State has faced heartbreaking loss after heartbreaking loss. It is playing without several contributors, as it has been for weeks. The Aggies seem to be down another one with the absence of forward Prima Chellis, who is no longer listed on the team roster and could be seen sitting apart from the team, talking with coaches and later gone from the bench in the latter stages of the team's mid-week loss to Colorado State (when I asked Ard about Chellis, she gave a very rare "no comment").
And yet, they've stayed together. That doesn't change the record, nor does it erase dozens of halves and quarters just like the one that doomed the Aggies on Saturday afternoon, but it's more than a lot of teams with similar circumstances could say. They have seven more guaranteed opportunities – six regular season matchups and at least one MWC tournament game. Until that number hits zero, it seems likely these Aggies will keep fighting.
"Today was a demonstration that we can do it, we can win a game," Carvalho said. "We've just been going downhill. It's just so hard to get out of that and finally start winning games. Having a really close game and seeing that we can do this brings us more together and gives us more energy to come to practice and do the things we have to do to get better and hopefully get a win."