Cover Story: Utah State Collapses In Shocking Loss To Weber State
After nine wins, Utah State took a punch it couldn't answer in a stunning loss to Weber State. Now, with three more games this week, the Aggies need to get up off the mat. (Free) Cover Story: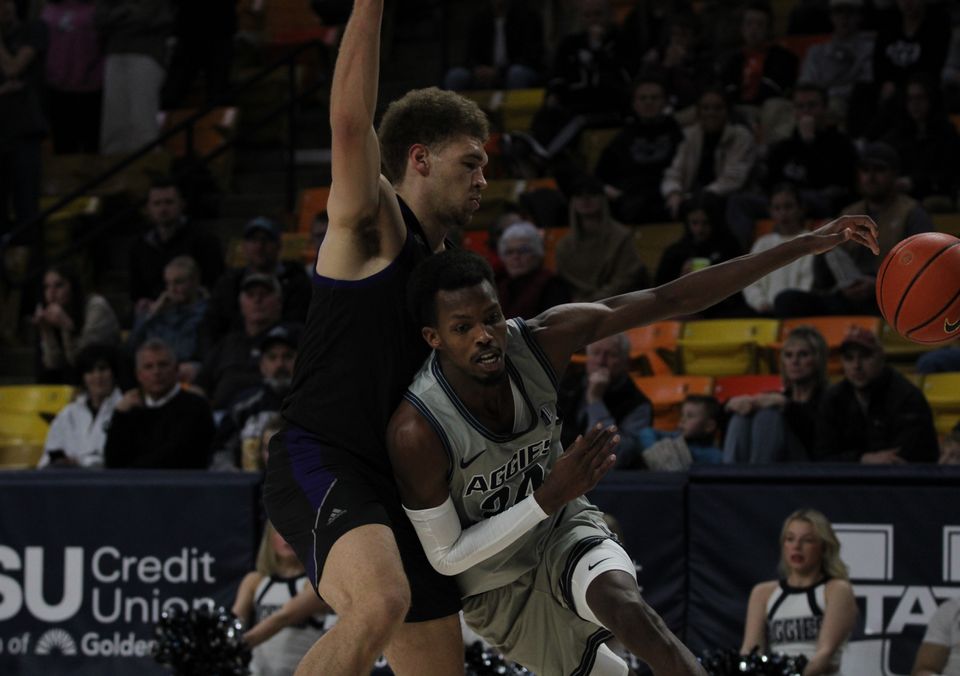 LOGAN – Dan Akin looked like he had seen a ghost. Steven Ashworth, Taylor Funk and Rylan Jones appeared to be deciding between exhaustion and misery, settling somewhere in the middle. Max Shulga always looks at least a little mad, but now he was outright steaming.
Utah State had run out of time. For the first time in the 2022-23 season – after a 9-0 start that tied the program's record for the best start to a season and put Utah State in extremely rare company as one of five unbeaten teams left in college basketball – the final buzzer rang with the Aggies, not their opponents, laying on the mat.
Worse yet, they had done it at home, in front of their best crowd of the season. Utah State fans have been fooled before and take some convincing to buy in, even with a team that had been as rock solid as this one. To lose a showcase opportunity like this may very well put that boulder right back at the bottom of the mountain.
And far more damaging than just about anything else, short of a loss to a non-Division I opponent, Utah State fell to Weber State, 75-72. Just like in football. These Aggies, so dominant through nine games – eight of which came against teams far better than the one to finally topple Utah State – squandered an 18-point lead and fell apart in a way that was utterly impossible to imagine until it actually happened.
"First and foremost, I thought (Weber State was) fabulous in that second half," head coach Ryan Odom said. "They did a great job, coach (Eric) Duft and his staff. Their players were very competitive in that second half right away and they got back in the game pretty quickly.
"We went down 26-6 in the second half, we were struggling to score and making some uncharacteristic plays at the rim... They were scoring and getting stops. The momentum shifted and that's what college basketball is all about. There are momentum changes all the time in sports. It happens a lot in basketball because it's just such a quick game. You have to give all the credit to Weber State and their players for making the key plays through that second half to give themselves the best chance to win."
Utah State rolled into the half with a 43-29 advantage, looking every bit as dominant as it did when it crushed Westminster only five days prior; or when it went on the road and took care of San Francisco and Loyola Marymount in consecutive games. The Aggies were back at full strength with Funk and Jones in the lineup, shooting 54.2 percent from the field in the first 20 minutes of play and smacking the Wildcats around with the same joyous cruelty they've used before smothering all their opponents all season.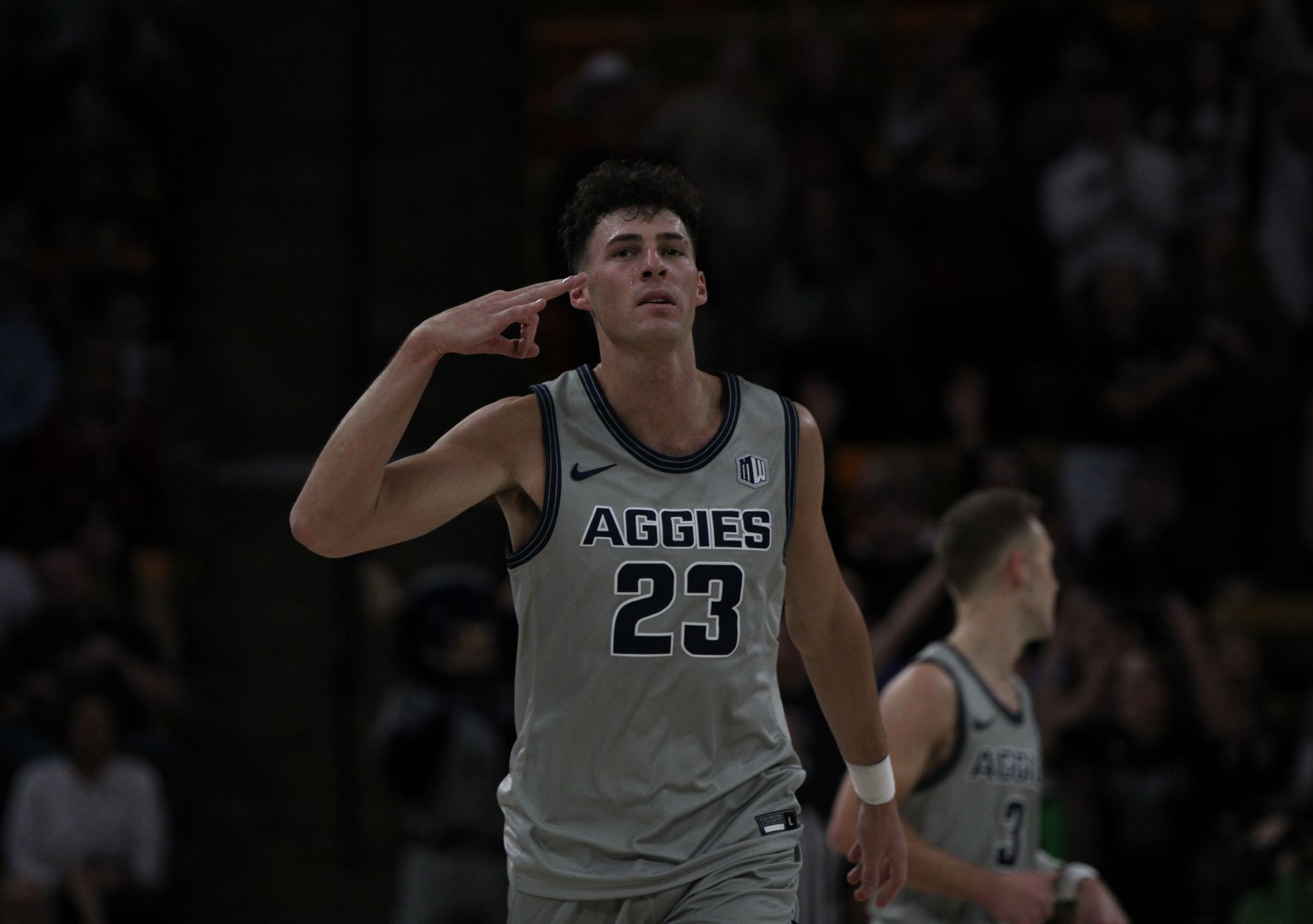 They swatted shots aside, broke into unstoppable fast breaks, drained 5 of 8 tries from beyond the arc, identified Weber State's strength – free-throw shooting – and claimed it as their own, and stepped on the gas effortlessly. Utah State led 25-7 with 11 minutes left in the first half, let Weber State creep back within 11 points and then pushed right back ahead by 18 with a three-pointer, an alley-oop and a pair of free throws in a sequence that took all of 1:17 after a 30-second timeout.
Even when Weber State ended the half well, cutting the deficit down to 14, Utah State never looked to be anything but in control.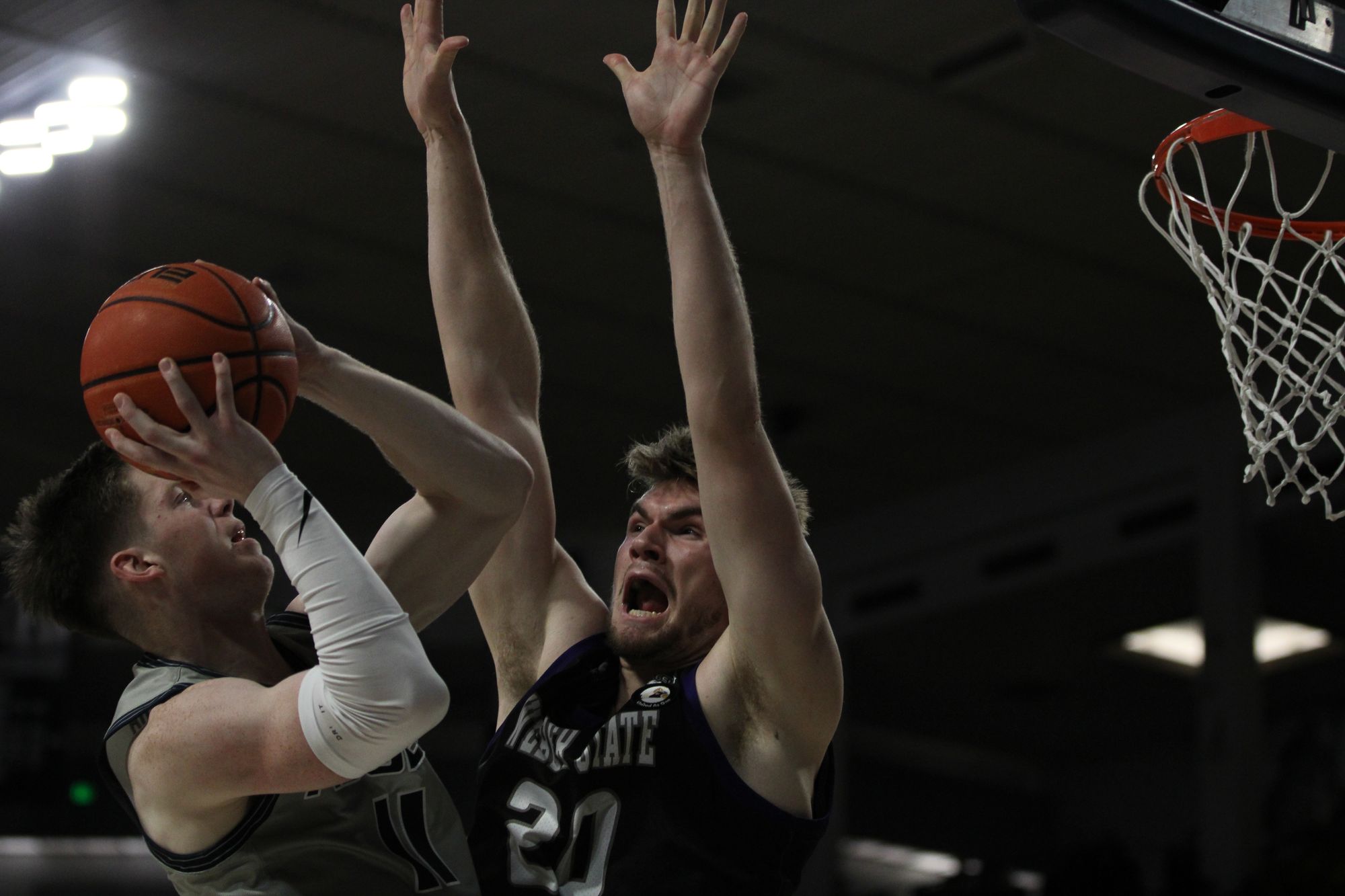 And then, for the first time, it wasn't. The offense, listed among the nation's best this season for very good reason, stagnated. It missed open shots at every level of the floor, coming up short on three-pointers it has hit with more consistency than anyone else in the sport, clanking layups off the backboard and even shanking free throws, which the Aggies were 12 of 13 on in the opening half.
"We played more tentatively," Odom said. "We were playing not to lose on offense, we weren't in an attack mode. We had some turnovers, threw a pass right out bounds, took some tough shots challenging big guys at the rim – that's going to be a hard shot. All of a sudden, that gets them going in the other direction if they rebound and we only had two offensive rebounds in the game. That isn't a great effort for us.
"And then we weren't moving as well. We couldn't get them in a scramble as much, their bodies were in front of us. We missed some free throws and two front ends, and that can take the juice away. They weren't playing a different defense – it was pretty much the same defense, we were just a little bit more tentative."
Utah State can chalk it up to a failure of effort – a lack of movement, faltering execution, timidity, or anything else that can be coached up – but the play on the floor told a distinct story. These shots were open, and they weren't falling. That's a whole lot scarier for a roster fundamentally designed to create and convert open looks. If the latter part of the equation is failing, there's no troubleshooting to fix it.
The Aggies aren't some paper tiger, set to collapse at the first sign of trouble. They've absorbed plenty of power punches without issue, doling out damage twice as hard as what they took to put away opponents far stronger than Weber State.
But, they've always done it with shooting, either behind the arc to bury teams like Oral Roberts, Santa Clara and Utah Tech or in the paint when forced to adjust by Loyola Marymount and San Francisco. The common thread for all nine of Utah State's wins was an offense that looked immortal, cropping up with a new dominant trait whenever the defense limited one aspect of its game.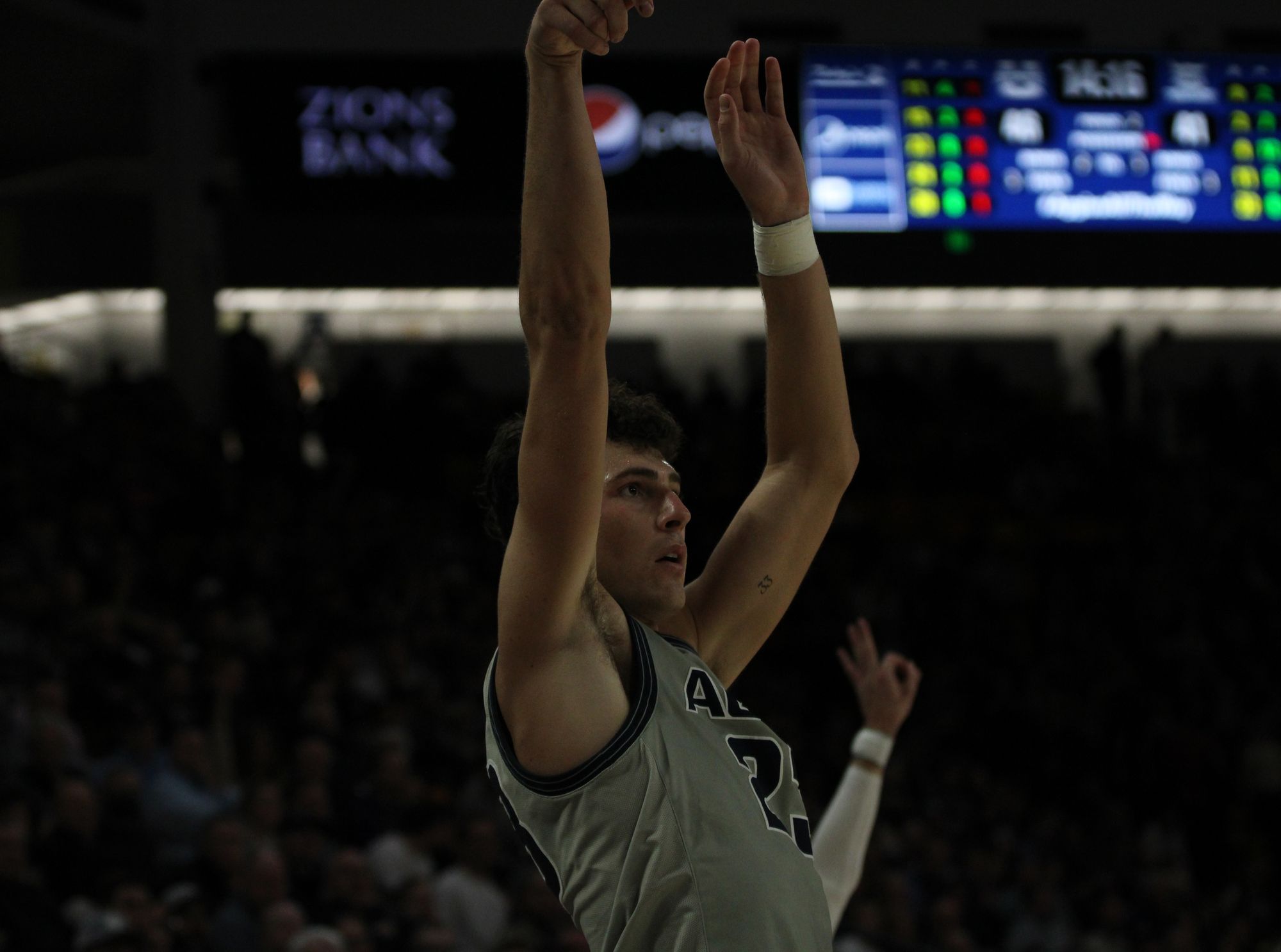 Weber State didn't limit a damn thing on Monday evening. It played disciplined defense, stayed in front of the ball and forced Utah State to make shots. For the better part of 20 minutes, it couldn't. The Aggies played less like a finely tuned sports car on the open road and more like one desperately spinning its wheels to escape a compactor.
They scored six points in the first 12:07 of the second half while surrendering 26, entering the penultimate media timeout trailing 55-49. Utah State, so often lethal on the fast break, ended the game with as many fast-break points (seven) as it had in the first half. Call it complacency, anxiety or anything else; the Aggies were lethargic and they suffered the consequences of it.
"We weren't in attack mode," Odom said. "We're allowed to run if another team scores and I think we were just playing very slowly today. You can attack whether they score or not. We weren't really doing that.
"At its core, our team understands that we want to push the basketball but we don't want to push it crazily and out of control. We want to push it on our terms and try to put pressure on the defense as quickly as we can. In this particular game, we did not do a great job of it."
Ashworth emphasized the seriousness of the moment in the break, occupying the vocal leadership role he's filled so well and pleading with his teammates to wake up. This wasn't a last-gasp effort from a Weber State team unwilling to accept its fate, Utah State was under siege in its home arena, missing 14 of its first 16 shots in the second half while the Wildcats drained 10 of their first 19.
These situations have usually galvanized Utah State. This wasn't its first time in need of a response down the stretch run of a tight game, nor was it the first time the offense has faltered after blowing open a big lead earlier in the game. The Aggies have taken a lot of joy in squashing resurgent foes with game-ending flurries of points and defensive stands.
When Utah State's offense – or, to be more accurate, Ashworth – finally found its rhythm, Weber State answered. Ashworth grooved a three-pointer and Funk hit a layup on consecutive possessions as the clock moved under six minutes; Junior Ballard scored a layup of his own. Ashworth knocked down a pair at the stripe; Alex Tew scored at the rim with only a few seconds on the shot clock. Ashworth tied the game twice with a pair of threes, once at 61 and again at 64; Ballard answered the first and KJ Cunningham matched the second.
"In the first half we allowed seven three-point shots, we were putting high hands to their shooters," Jones said. "In the second half, just in the first eight minutes, they had seven three-point attempts. It was our lack of focus and discipline to get to their shooters. We came out in the second half flat and we weren't ready to go."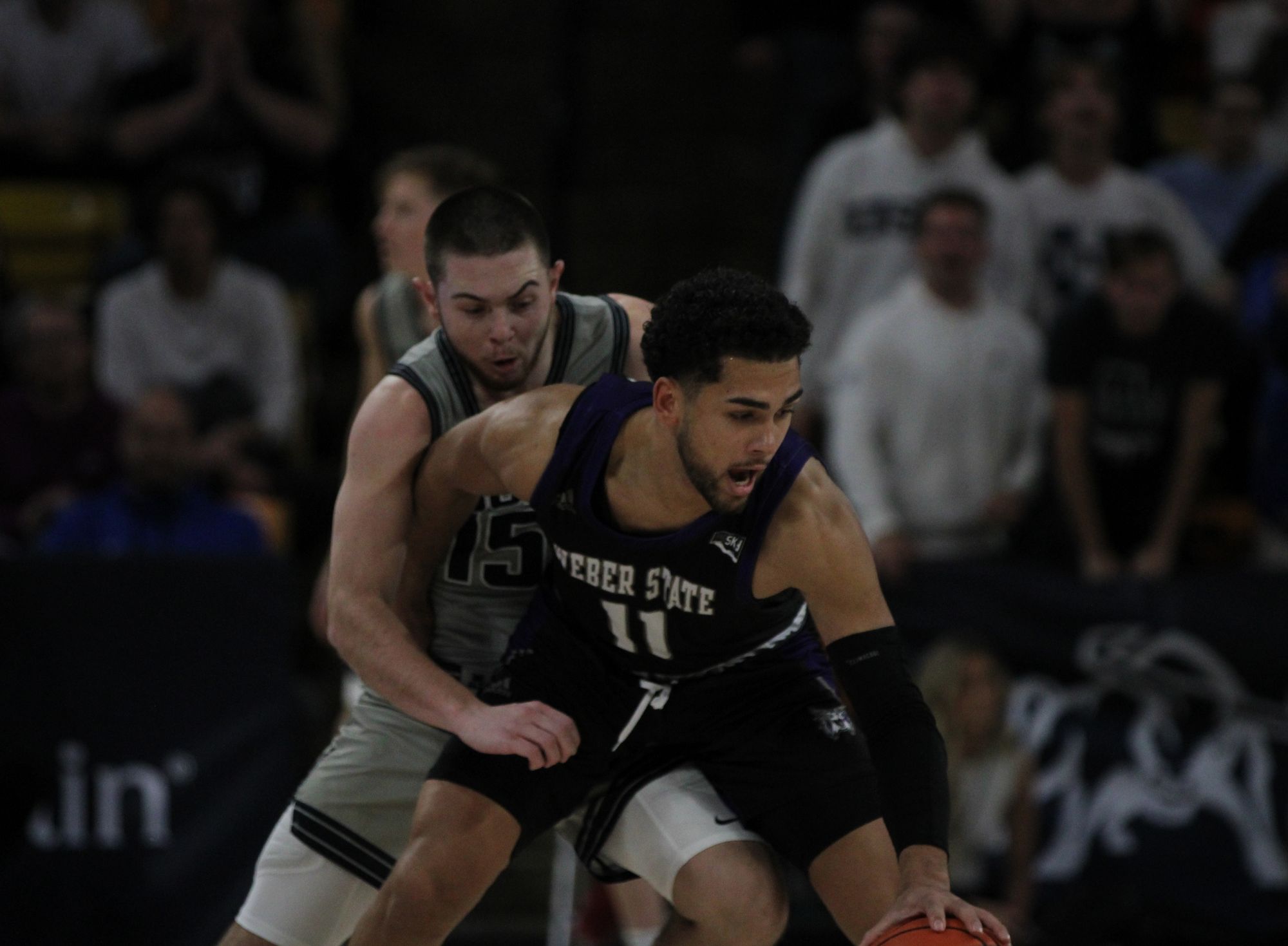 All told, Utah State hit 6 of 8 shots and scored 18 points in just over five minutes of action (6:08 to 1:00). The offense emerged from its slumber and did what it has done in these spots all season. It still wasn't enough. Weber State went 7 of 9 down the stretch – including a run of six straight makes worth 16 points in just 3:16 of game time. Every Aggie make was met with a Wildcat dagger.
"It was either a layup or it was a three, back and forth," Odom said. "If you're trying to whittle that lead down, you can't trade baskets at that point. Time was tight and we were 1 for 5 on stops at the end of the game. You need to be able to do both to finish it out. Weber State answered every single time.
"They made the key plays. Baseline drive, one kid pops out and now we have two on the ball. They throw it out, he's wide open for three. We did not guard as intensely as we needed to and we weren't as intentional as we needed to be on their three-point shooters."
Utah State finally found a stop, taking over possession with 31 seconds to play down 73-70. Funk took the ball in the corner and missed a three-pointer. He was open, as he had been all game – and as he was on the next possession after a pair of WSU free throws when his ninth and final three-point try went begging.
Two Ashworth free throws meant nothing with 1.5 seconds left on the clock. His intentional miss on try No. 3 glanced off the iron and into Ballard's arms as the buzzer sounded and the Wildcats began their delirious celebration, first at center court and then in front of the Utah State student section – touting only 30 percent of its usual population, ravaged by the poor timing of winter vacation.
---
There are about a million ways for Utah State to respond to this loss. If recent history is the only indicator, the Aggies could be in for a rough week with three more games on the docket between now and Dec. 25 as they head to Hawaii for the Hawaiian Airlines Diamond Head Classic. They draw Seattle (138th in T-Rank) in the first round, one of Iona (60th) or SMU (196th) in the second round and one of George Washington (175th), Hawaii (139th), Pepperdine (134th) or Washington State (58th) in the last round.
The Aggies are the highest-ranked team in the tournament. If they play as well as they did in their first nine games, they'll leave Hawaii with three victories. With a repeat performance of the second half against Weber State, they'd be very lucky to return to the Spectrum for a New Year's Eve matchup against Fresno State without three more losses tacked onto their record.
Last season's Utah State team developed a nasty habit of allowing losses like these to beat it more than once. A two-point loss to Saint Mary's at home carried into an 11-point loss to BYU. The Aggies followed a 49-47 loss to Air Force with an overtime win over New Mexico but dropped their next four games. Their overtime loss to Wyoming ceded to three more losses. Utah State followed seven losses with a victory and eight with another loss.
As established on plenty of occasions already, these Aggies aren't their predecessors. At least, they haven't been. This collection of talent has played in a lot of close games, sustained a lot of difficult losses and recovered from them. Funk has suffered through poor shooting nights like his 4 of 13 showing against the Wildcats and Utah State is fully confident in his ability to bounce back.
"I'm always confident (in Taylor)," Odom said. "He shot faked in the corner one time and I was like, 'What? Dude, what are you doing shot-faking when they're not near you?' His teammates tell him that too. I'm not worrying for one second about him. But, he can't be shot-faking like that. We need him to shoot when he is open because he's an elite shooter."
That's true of the whole roster. Utah State's least experienced contributor is Zee Hamoda, and he just played his 38th college basketball game. The nine consistent members of the rotation have combined to play 818 games in their careers (90.9 on average). The Aggies know what they have and know that their first nine games are a lot more representative of this team's ability than one disastrous half – just as much as they know how quickly a performance like that can spiral, and how quickly a great start can be washed away. Hell, just watch the tape from this game.
"Our guys are kicking themselves but we understand that we're about a third of the way through the season at this point and the guys are off to a good start," Odom said. That's just what it is though. It's a start. We realize we have to play better. We can't play one half. It takes two to win a basketball game and we did not play two halves."
Granted, it isn't like this information is new. Utah State has been confident all season and didn't collapse against Weber State because of a lack of belief in its own ability. They had all that talent, an incredible start to the season and a tremendous first half all in plain view, and none of it kept Weber State from springing one of the largest upsets of the year.
They'll spend as much time as they can grappling with that while understanding that the goal hasn't changed – and that another test is already en route.
"You have to focus on what your process is every day and how you go about trying to create a winning culture," Odom said. "It's about the habits you create in practice. That doesn't mean you're not going to match up against an extremely hot opponent sometimes, but you need to figure out a way. We couldn't figure out a way to turn it back. We have to play with energy and enthusiasm, and we can't play on our heels. That's not how we play. Today I think we did a little bit and I'm sure the film will show that."
The Aggies don't ever view a loss as a positive, especially not one like this, but it's not difficult to see this as a needed wake-up call as the degree of difficulty shoots up. Utah State survived lackluster outings against Oral Roberts, San Diego and Utah Tech, but it won't be so lucky in conference play.
"It's never a positive to lose," Odom said. "We don't take that approach. There are some dejected guys in (that locker room). But, you learn when you win and you learn when you lose. Our guys have taken the same approach every game after we've won. We've been in that locker room writing down the things we celebrate and the things we tolerated – and maybe the result would've been a little bit different had we not tolerated these things.
"We got off to a good start, but we didn't finish the game. We played one half of solid basketball and gave ourselves a good chance to win. Weber State played way better in the second half and we didn't. We'll have to go back and look at the film to see exactly why that was."
Identifying the root cause isn't at easy as sorting through lineup data or grinding tape. Utah State's next steps to recover from this loss are much more complicated, and will ultimately determine the path these Aggies take.
Great teams lose games. Yes, even in embarrassing fashion, as Utah State did on Monday night. Great teams show moments of weakness, struggling with complacency when nursing a big lead and falling victim to the pressure of the moment when trying to avoid an upset.
It's how those teams respond when they do lose that makes them great. One loss will not tell this team's story – so long as they don't let it.
"It's a crappy feeling," Jones said. "We're going to think about this one and the things we fell short on in the second half a lot tonight. But tomorrow is a new day and we're going to need to be more focused, more disciplined and ready to take on tomorrow.
"We as a team talked in the locker room about how we need to bring back the focus and attention to detail we had in the preseason and in our first nine games. We can't be undisciplined. That's what happens to undisciplined teams, you get punched in the mouth in the second half because of a lack of focus. We need to regroup. It's one night. We'll dwell on it tonight, and tomorrow we'll be ready to roll."