WBB Preview: Aggies Return After Extended Break
Utah State WBB is back after a long break and will look to close out the non-conference season with a victory at Eastern Washington. Preview: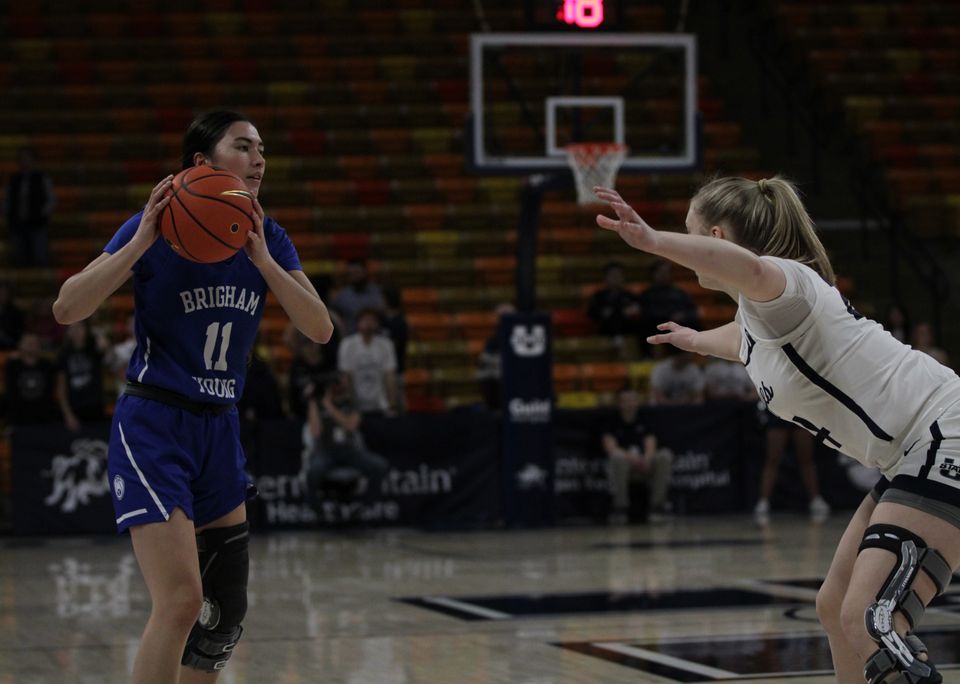 It's been 10 days since Utah State fell short on the road against Loyola Marymount, squandering a halftime lead and eventually falling 71-63 as the Lions claimed their first Division I win of the season. Whether the extended layoff was good news or bad for the Aggies won't be clear until they commit their Dec. 20 matchup with Eastern Washington to the record.
To an optimist, the answer is obvious: Utah State showed major improvement in each of its last four games, toppling Weber State and Utah Valley in consecutive games before playing competitively against BYU and LMU. The Aggie defense has taken several big steps forward, and that long break away from competitive action offered plenty of time for head coach Kayla Ard and her staff to dissect their listless offense. Eastern Washington is roughly on par with the teams the Aggies beat, and this matchup is, at worst, a neutral one for Utah State on a position-by-position basis.
For the pessimist, Utah State's offense needs a whole lot more work than 10 days can provide. The Aggies are shooting a paltry 34.7 percent from the field against DI opponents with a 35.1 percent hit rate from two-point range which places them squarely among the worst shooting teams in college basketball (348th nationally). They've been legitimately decent from beyond the arc, but they've had a lot of trouble creating openings for those shots in recent games – knocking down just 6 of 26 against BYU and 7 of 17 against Loyola Marymount.
Neither will need to wait any longer for the answer. Eastern Washington is a capable, albeit largely unimpressive 6-3 side with a pair of non-DI wins and a trio of solid players leading an otherwise young and inconsistent rotation. With just three upperclassmen in the two-deep, the Eagles – much like Utah State – can produce just about any result on any given afternoon.
In their non-conference finale, the Aggies would certainly prefer to play the EWU team fresh off a 50-point loss to Oregon rather than the one with wins over Boise State, Southern Utah and Tarleton State (among others) and close losses against Oregon State and UC Irvine. And once again, there's only one way to find out if they will.
Projected Lineups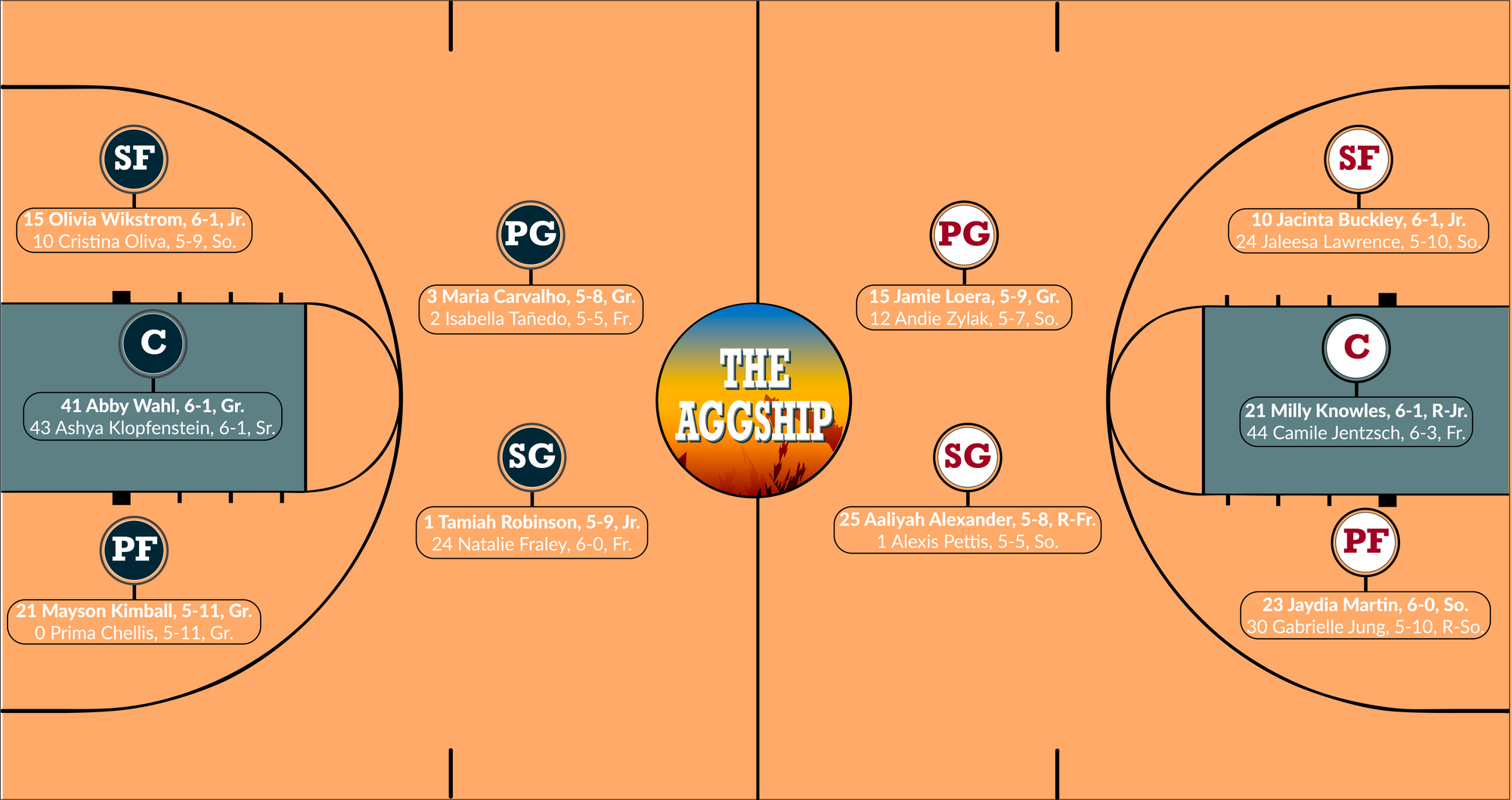 Players To Know
Jacinta Buckley: A 6-1 junior who transferred to EWU from UNLV and earned third-team All-Big Sky honors last season, Buckley is the player in the starting lineup who connects the frontcourt to the guards.
She's a three-level scorer shooting 47.6 percent from the field and 50 percent from deep, though she's taken only 20 shots beyond the arc through nine games. She's also the team's best rebounder (6.7 RPG) and rim protector (1.0 BPG) while serving as a capable passer (1.6 APG) and an active participant in disrupting passing lanes (1.7 SPG).
Outside of Loera (more on her in a moment), Buckley is the best defender the Eagles have. Her scoring and usage numbers have dipped a bit this season after she averaged 12.9 points per game a year ago, but she's still a critical part of this starting lineup who can put double-digit points and rebounds on the board in a hurry if the Aggies aren't very careful in how they handle her.
They'll need to be physical without fouling and constantly attentive in keeping her off the offensive glass to prevent easy second-chance opportunities. The best way to slow the junior winger down is to keep the ball away from her – on both ends of the floor. Olivia Wikstrom has the chops to do it, but she'll need to play one of her best games of the year to sustain it for a full game.
Jamie Loera: Utah State would certainly prefer an easier matchup at point guard for Maria Carvalho as she looks to bounce back after being shut down by LMU in USU's last appearance. Loera is Eastern Washington's No. 2 scorer (11.3 PPG) despite shooting just 39.4 percent from the field and 29 percent from deep, thanks in large part to her 25.6 percent free throw rate.
To make matters worse, the Arizona State graduate transfer is also currently EWU's No. 2 rebounder (5.8 RPG), its top distributor (3.7 APG) and the best defender on the roster (2.9 SPG) – if not one of the best in the entire Big Sky Conference.
Loera isn't easily knocked off her game, either. She rarely fouls and has largely avoided turnover trouble despite serving as Eastern Washington's primary ballhandler – meaning Carvalho could be in for a full afternoon spent dealing with an all-conference-level point guard. She's had success against players of this ilk before and Utah State needs her to match those efforts here while avoiding foul trouble.
Jaydia Martin: Martin will be the most dangerous scorer on the floor whenever she's in the game on Tuesday afternoon. The 2021-22 Big Sky Freshman of the Year, Martin has picked up right where she left off a season ago when she averaged 15.2 points per game to set a school freshman record.
Through nine starts, the 6-0 forward is leading Eastern Washington with 14.1 points per game, shooting 42.6 percent from the field and hitting a team-best 23 three-pointers on 57 attempts (40.4 percent). Though not the primary features of her game, she's also third in rebounding (3.6 RPG) and second in assists (2.1 APG).
Put simply, Martin is a star. She's not quite as strong a defender as her two counterparts listed above (though she is capable on that end) but she's absolutely one of the most gifted scorers Utah State has faced to this point. Only two teams (Oregon and Tarleton State) have held her to single digits – and outside of those games, she's averaging 16.4 points a night while knocking down 47.8 percent of her tries from deep and 44.7 percent of all shots from the field.
Those two doubled her when she entered the paint, forced her into contested three-pointers and held her to season lows in field goals attempted (seven and nine) while attacking her on the other end and forcing foul trouble. Can Utah State do the same? It might need to if it wants to have a chance here. When Martin is allowed to heat up, she can put a game to bed in the blink of an eye.
Stats To Know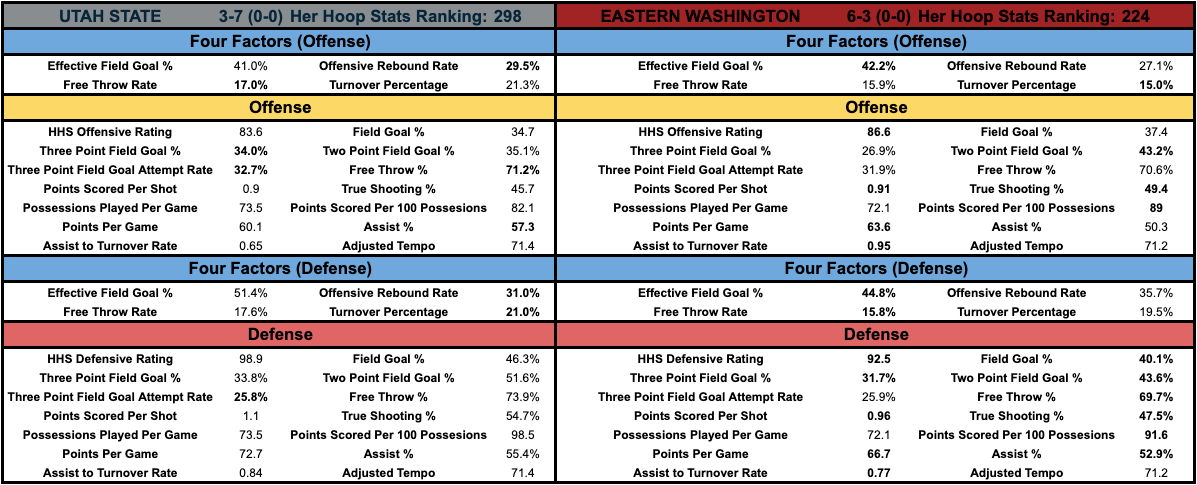 Three Point Field Goal %: For all of Eastern Washington's top-end offensive firepower, it hasn't shot especially well this season. The Eagles are converting 37.4 percent of their tries from the field against DI competition and a dreadful 26.9 percent of their three-point tries.
Some of the struggles beyond the arc make sense  – Alexander shot 27.4 percent from deep last year and is at 26.5 percent this year, while Loera was never an especially good three-point shooter at Arizona State (though she was in high school) – but others seem to be just a matter of an early season slump. Backup small forward Jaleesa Lawrence was nearly a 40 percent shooter from deep a year ago, but she's hitting just 24.1 percent of her tries this year and only 2 of 15 in her last four games. She could come back to the mean at any time.
Regardless of how it got there, Utah State has to keep Eastern Washington's three-point shooting to a minimum while rediscovering its rhythm from beyond the arc. The deep ball has been the best offense all year for the Aggies and they badly need those shots to fall in this game.  
Offensive Rebound Rate: Another avenue for Aggie offense? Hitting the glass. Eastern Washington is 283rd in offensive rebound rate allowed – which is easily the largest weakness in this defensive unit. Utah State has not been dominant in snaring offensive rebounds, but it has held its own against much bigger and more proficient rebounding teams than this one.
Turnover Percentage: Where Utah State won't likely find an advantage against this offense is in the turnover game. The Aggies have forced turnovers at a great clip in recent appearances, racking up 92 over the last four games (23 per contest), but Eastern Washington's 15 percent turnover rate is 19th in college basketball and among the best Utah State will see all year.
Only three Eagles – center Milly Knowles, backup power forward Gabrielle Jung and backup point guard Andie Zylak – have an individual turnover rate above 17 percent. Unless Utah State can force the ball inside to Knowles or get Loera and Martin off the floor, it's going to be very difficult to turn this offense over consistently. They're disciplined, well-coached and move the ball quite a bit better than their experience might imply.
On the other end of the floor, Aaliyah Alexander, Buckley, Loera and Martin all have double-digit steals this year. If Utah State can't turn the Eagles over, it needs to be sure the same is true of the inverse.
Prediction
All things considered, this is a favorable matchup for Utah State. Eastern Washington is without a dominant center to hassle the Aggie defense on the inside, just as it largely lacks elite rim protection. The Eagles have very good interior scorers on the wings and a great point guard to direct the offense, but Utah State's best defenders this season are Carvalho, Prima Chellis, Mayson Kimball and Wikstrom – a point guard, a forward and two wings.
However, the top-end talent for EWU is too good for me to pick the Aggies here, given what I've seen from this Utah State offense. Barring a big-time scoring outburst from several members of the lineup, I just don't see Utah State keeping up down the stretch. I have this down as a competitive loss, but a loss all the same heading into conference play after another lengthy break (Dec. 29 at Air Force).
Eastern Washington 64