Get To Know: Saint Joseph's Transfer F Taylor Funk
Taylor Funk hopes his unique game is the piece Utah State needs to make a run in 2022-23.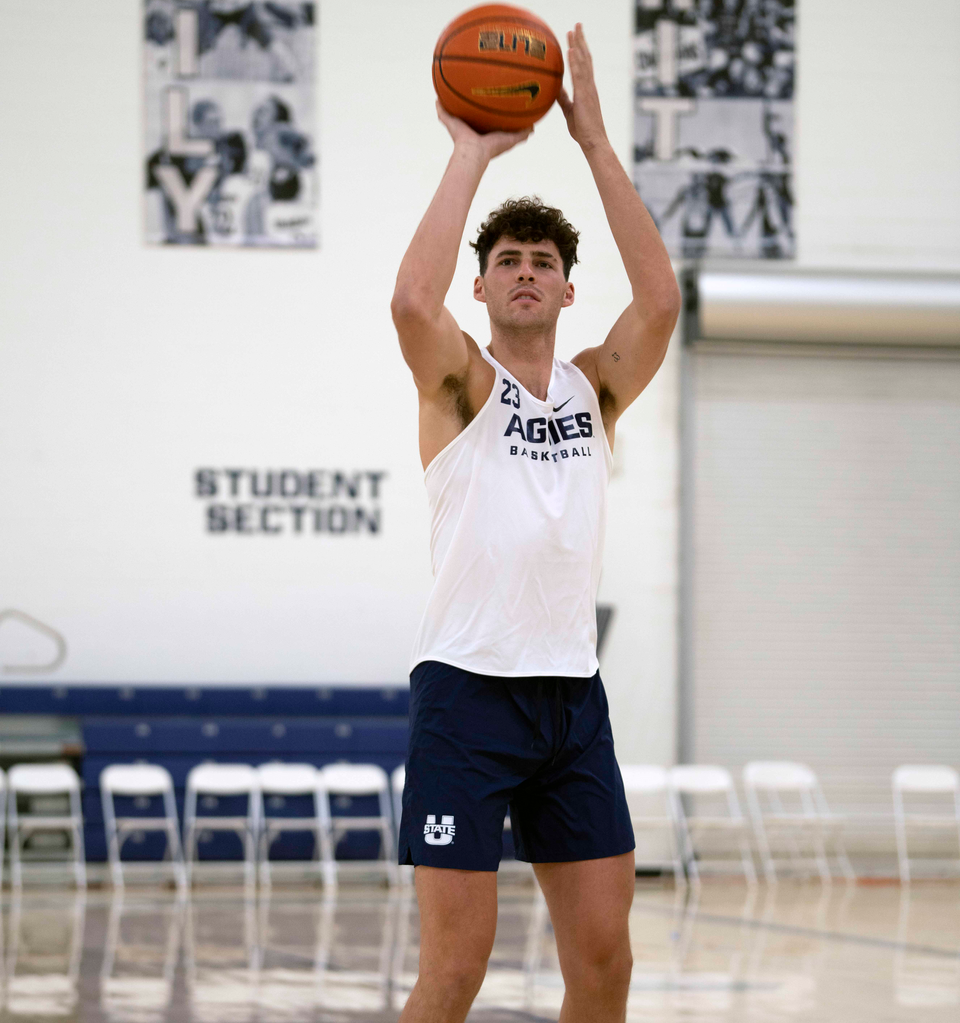 This is a free preview of the articles typically sent only to premium subscribers to The Aggship. If you'd like to subscribe, you can do so for $6 with the button below. You can also try one month for free by clicking the "One Free Month" button, which also includes access to the $10 tier film study stories.
---
Taylor Funk is a throwback. A five-year contributor at Saint Joseph's with 100 career starts under his belt, the 6-8 forward looks like he was plucked straight out of the 1980s as he works his way through an early June practice session with his new Utah State teammates.
His shorts cropped well above the knee, Funk is methodical and silky smooth through shooting drills. His turn in line among the other Aggie forwards is appointment watching as he knocks down 3-pointer after 3-pointer. Be it off the dribble, off a pass, defended, or left clean, nothing seems to change the outcome. His 35.3 percent career mark from deep looks closer to 70 or 80 percent in practice.
Most striking in his work at this specific practice is his shooting motion. It, too, never changes. He doesn't have a lightning-fast release, but his gather and rise are quick enough that he doesn't need it. It's the same motion that he showed off for the last half-decade with the Hawks.
In a video highlighting his 29-point outburst against Georgetown (including eight 3-pointers) this past season, his first three hits from downtown illustrate the strengths of the shot perfectly.
He keeps the same upper body form on a clean spot-up from the corner, on another clean shot from straight-on – caught off a screen – and lastly on a contested runner on the deep elbow. It's the consistency of a player with years worth of shooting practice to lean on, and it's just as impressive to watch in a practice setting as it is during a game.
Funk's entire game reflects that meticulous approach to shooting. There's no wasted motion in anything that he does. Nothing is out of place when he sets up a post-move off a pass or pulls up for a mid-range jumper off the dribble drive.
Once practice breaks and shifts into intrasquad pick-up games, Funk settles into a leadership role on his teams. He issues offensive and defensive directives, flies around off the ball to create open shots, and fires off passes that make the offense hum. He wasn't asked to do quite as much as a lead passer at St. Joseph, averaging 1.8 assists per game last season and 1.5 for his career, but his tertiary passes – both within a half-court offense and as outlets off of rebounds – are phenomenal.
He looks like he's been doing this for years because he has. His game is so reminiscent of a bygone era of basketball because he wants it to be. As he tells The Aggship after his last pick-up game, basketball has been a lifelong endeavor.
"I was home-schooled my entire life," Funk told The Aggship. "The decision of me being homeschooled was so I could train more than the average player. Every day around lunchtime, my father would take me to play pick-up against grown men. When I was in middle school, these guys had 150 pounds on me. I had to learn how to pass and shoot, catch and shoot. How to play basketball the right way.
"I would study Larry Bird, Pistol Pete, Magic Johnson... it wasn't just about them when they were playing. It's about everyone else, and it comes back to them. That old-school basketball is how I learned."
He gravitated especially to Bird, whose influence is immediately apparent in Funk's game. In years past, he also paid special attention to Miami Heat spot-up shooter Duncan Robinson. As he shifts into an offensive system that will ask more of him as a complete player, Bird is the idea behind Funk's game.
"I studied Larry Bird," Funk said. "I mean, I don't think there's a YouTube video of Larry Bird that I have not seen. In previous years, I watched more Duncan Robinson – being able to spin off screens, catch off the inside foot and get a shot up. I pretty much played last year modeling my game around Duncan. A little mix between both of them is the player I like to be."
That style is what ultimately moved Funk across the country, from Philadelphia to Logan.
The Aggies became one of the most pass-heavy offenses in the nation in their first season under Ryan Odom's direction. His best team at UMBC (the 2017-18 bunch that upset Virginia) averaged 14.6 assists per game (89th nationally, 0.579 assists per made field goal (48th) and 0.208 assists per possession (72nd).
He was able to take those figures to new heights with an already pass-friendly program last season, as USU checked in at No. 5 for assists per game (17.7), No. 1 for assists per made field goal (0.664) and No. 2 for assists per possession (0.256).
With assist leader Rylan Jones (4.5 per game) returning to Utah State, alongside several other capable passers – Steven Ashworth (3.6 APG), RJ Eytle-Rock (1.9 APG), Sean Bairstow (1.4 APG) and Max Shulga (1.0 APG) – Funk saw the kind of fit that he was searching for as he prepared for his final season of college basketball.
"When I put my name in the portal, I knew I'd have a good amount of options to pick from," Funk said. "But you know, I'm an older guy and I thought that just going to the biggest name and the biggest stage wasn't right. I had to make a more mature decision. Meaning that I had to find the fit that is right for me.
"Utah State was No. 1 in assists per made field goal last year, No. 2 in assists per possession, and top five in assists per game. That's the style of basketball I like to play. Unselfish. One of my favorite parts about my game is that I'm more than just a shooter. I really enjoy facilitating passing and getting everyone involved.
"This team will give that back to me. You get off the ball, you're going to get it back. That's the culture here. It's playing together, and that's how you win games. You're seeing it in the NBA, and you're seeing it now more in college. That's why I chose Utah State."
He saw a vacancy, too. A self-described stretch four, Funk has been identified within and without the program as a potential replacement for the departing Brandon Horvath in the frontcourt. Horvath added 2.2 assists per game in 2021-22, but he was a consistently willing passer who did far more to connect the offense than those assist figures show.
Funk spends more time on the outside than Horvath did, but it's easy to draw parallels between the two as frontcourt playmakers. And it was easy for him to see a program on the precipice of making major noise with the addition of a few more pieces.
"I saw some of this team," Funk said. "A lot of people say, 'Oh, why did you go here?' I don't get that. I mean, this team showed so much with what they did last year, and they were so unsatisfied with what they did. They lost a good amount of games by one or two points, five points. Those games can go either way. This is a winning team, it's a winning culture, winning coaches.
"I came out here on my visit and on my first day here, I knew I wanted to come here. To be around these guys, it's just fun. There wasn't a single player out here that had anything bad to say about this program. And honestly, that's a very hard thing to find in college basketball today, especially with the transfer portal. I didn't hear one negative thing about the coaches, the players, the team or the style of play. And that's coming from people that didn't even get into the game. I was really impressed. And I knew that was something I wanted to be a part of.
"I'm an older guy. I've been in college a good amount of time now. I like to say I've matured through the years. I've seen what winning teams do and what winning cultures look like. I don't want to be the last guy in the gym, but if that's what it takes, I'll do it. But we have guys out here who want to be leaders like that. We all want to be leaders."