Get To Know: Labette CC Transfer CG Tamiah Robinson
Get to know Tamiah Robinson (@tamiahrobinson1), a 2021 NJCAA Division II All-American and one of Utah State's (@USUWBasketball) top new guards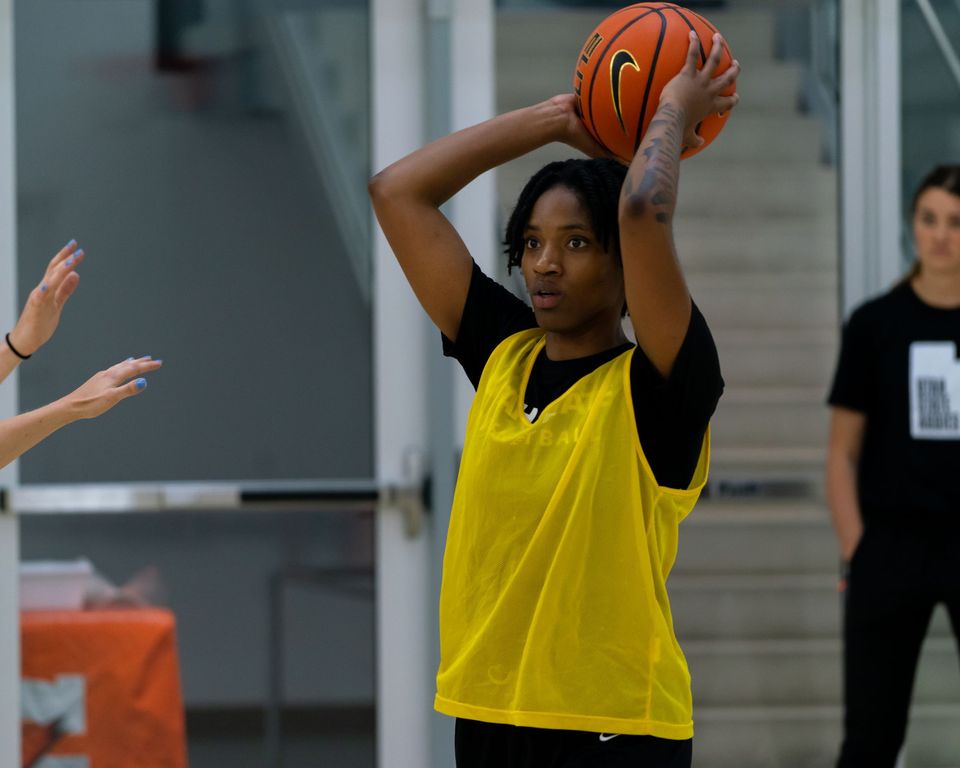 Tamiah Robinson's stretch of play for Labette Community College from Dec. 4 to Jan. 31 last season was nothing short of brilliant. The 5-9 guard from Philadelphia put on display her full range of ability across the span of 11 games, leading the Cardinals to nine wins as a distributor, shooter, slasher and just about any other role you could ask the director of your offense to fill.
From the field, she shot 53.9 percent (63/117), hitting just under half of her three-point tries (15/32) and nearly 80 percent of her free throws (35/44). She averaged 16 points per contest, maxing out with a 25-point outburst against Eastern Oklahoma State College and 22 points against Allen County Community College three games later. As a distributor, she doled out 5.8 assists per game while turning the ball over just 1.7 times a contest (with six games of one or zero turnovers). She even snared 3.6 rebounds per game from her perch in the backcourt.
It was the strongest distillation of the skillset that earned Robinson a spot on the NJCAA Division II All-American second-team – a skillset that ultimately drew Utah State to her.
To fully understand the thinking behind turning the keys of the offense over to Robinson, though, you must look beyond that peak run of form. A basketball player is defined not by their best days, but by their day-to-day, game-to-game consistency. And for the Cardinals over the last two seasons, Robinson delivered the exact kind of steady hand Utah State was looking for at the top of its lineup. And perhaps even more importantly, she carries the exact mentality the Aggies want.
"I want to win," Robinson told The Aggship. "I want to win the Mountain West with my team, and personally, I want to be all-conference."
She averaged 12.6 points per contest on 43.3/32.9/78.7 percent shooting splits, pitching in 5.1 assists and 4.0 rebounds with only 1.9 turnovers per game. Her standard fare for scoring is a little below what she showed in that peak stretch, but the rest of her game? It's rock solid. The Aggies know she can move the ball without turning it over, they know she can play defense against Mountain West guards, and they know they can trust her.
Therein lies the perfection of the fit between player and team that exists for Robinson and Utah State. The Aggies have undergone a significant shift in roster makeup this offseason, turning over nearly every member of a 2021-22 group that struggled down the stretch of an 11-19 campaign.
Two members of that team remain – Kinley Falslev-Wickizer and Olivia Wikstrom – surrounded now by 10 transfers (from both the JUCO and four-year levels) and three freshmen. Even the staff is nearly brand new; head coach Kayla Ard and director of basketball operations Claire Gritt return, but assistants Andre Gibbs, Ross James and McKenzie Mangino are brand new, as is graduate manager Brianna Stewart.
It was an offseason of talent acquisition above all else, pulling players from all over the country in hopes of piecing together a group capable of competing for the Mountain West crown in Ard's third season – a natural progression after a 4-20 season in year one, and year two's 11-19 showing. Stagnation is the eternal enemy of a budding tenure, and this offseason in Logan was designed specifically to avoid stagnation. With this much change, Utah State has no choice but to keep moving.
To ensure that movement is positive, the Aggies needed glue players – those who are comfortable in their roles and who can keep a collection of talent intact as it learns to play together. There may not be a new addition assigned more of those responsibilities than Robinson, whose passing ability should prove especially valuable for a program that finished 86th in assist percentage (percentage of FGM assisted on) and 149th in assist to turnover ratio.
"(I see myself) being a leader, being a slasher, making my teammates better and making myself better," Robinson said. "I feel like I will have a chance to grow and mature more here. That's why I picked Utah State over other schools (she also claimed offers from Arkansas State, Central Arkansas, Louisiana and Wichita State)."
She's been a natural guard for her entire basketball career, finding her way to the game early as she played with family members in the backyard and at the park before impressing in middle school gym class and parlaying it onto a spot with her school's team.
"I grew up around all boys," Robinson said. "My cousin, he had a basketball court in his backyard, and every summer we would just play for fun. One day, we went to the playground and they had a little league around there. I never knew (what I could really do) because I just played in the backyard. I never went to the park.
"(A few years later,) I was playing in gym class and a teacher, he had seen me playing and wanted me to play for the intramural team. But, you had to have a money order. I couldn't afford it, so he offered to pay for me. He was also the head coach for the varsity girls' basketball, and in my first game, I kind of went off. He asked me to join the (varsity) team."
That role will be specifically valuable for this group, which pulled several impressive scorer threats from the portal. Maria Carvalho averaged 13.6 points per game at Utah Valley last season; Mayson Kimball put up 12.0 PPG for Merrimack College; Cristina Oliva led Sierra College in scoring with 15.4 PPG and Abby Wahl contributed 11.3 PPG for Eastern Illinois. Someone needs to distribute the ball to all those scoring threats, and Robinson fits the billing.
Of course, that's not to say the Aggies won't be leaning on her for scoring, too. She considers herself more of a combo guard than anything else and is comfortable on or off the ball – as are several of this offseason's additions.
"I can run both. I like playing the two-guard because I'm off the ball more and more have freedom," Robinson said. "But, I also like running the offense, and I know I can do it. I like when the ball is in my hand."
Striking a balance among players like Carvahlo, Kimball and Robinson in the backcourt will be a test for the new-look Utah State staff, but can offer the exact versatility and upside it was hoping for – if that balance is handled well.