Get To Know: Utah Valley CG Maria Carvalho
Get to know @USUWBasketball guard Maria Carvalho, a Portugal native and a three-time All-WAC selection at Utah Valley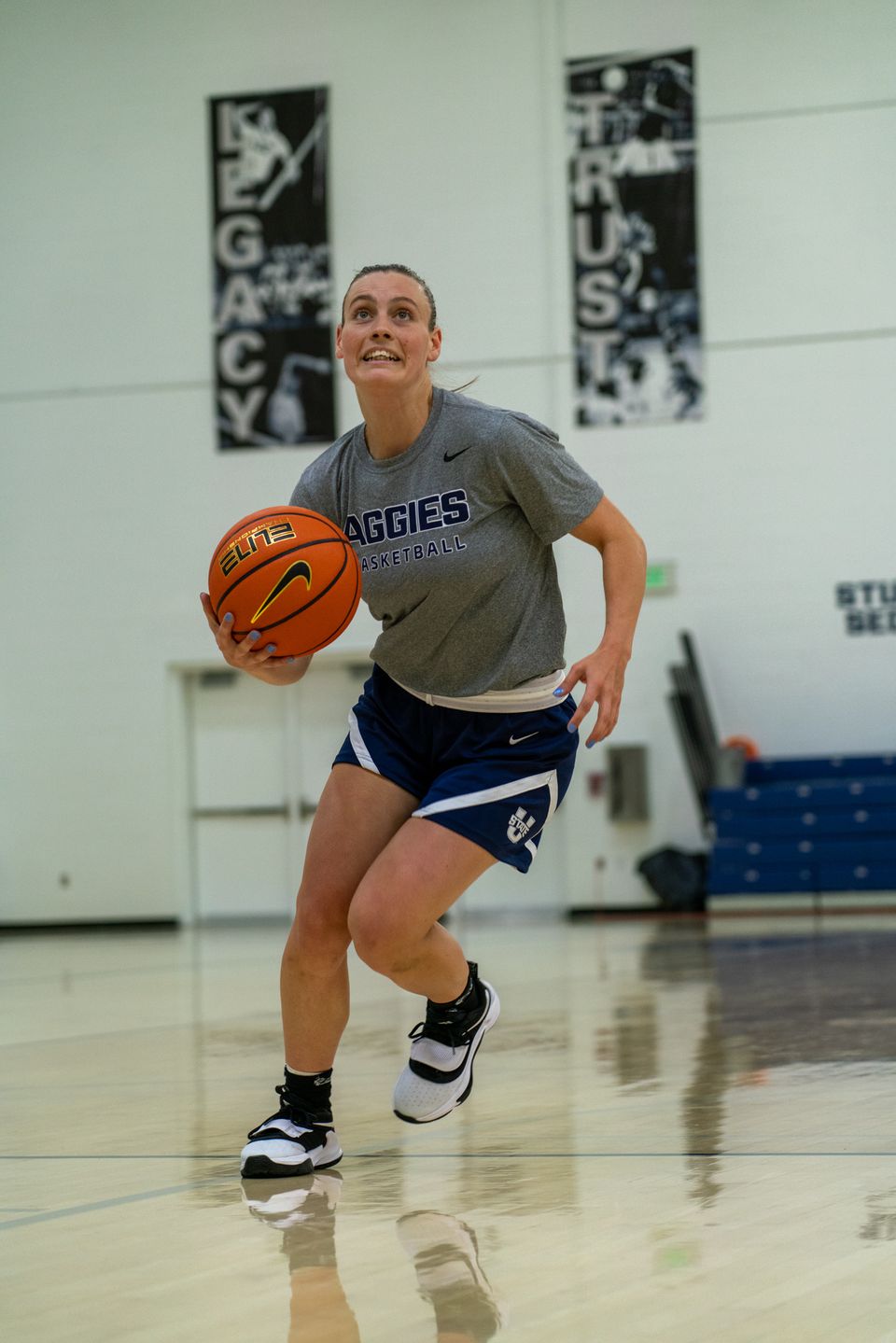 Maria Carvalho isn't afraid of trying new things. A graduate senior who spent her entire collegiate career at Utah Valley – where she started all 104 games she appeared in over four seasons – Carvalho's move two hours north to Utah State this offseason is nothing compared to the journey she embarked on out of high school.
Carvalho grew up in Portugal, going to school at Escola Secundaria De Vagos in Lisbon. She was accustomed to traveling because of Portugal's amateur basketball scene, which features club teams rather than school teams and sees those clubs play games all over the nation.
"You have high school and then outside of it, you have a club and you play for them," Carvalho told The Aggship. "That was me, I played a bunch of different clubs. It is really weird. I pretty much traveled around virtually everywhere. At 14, I was sleeping away from home because of basketball."
As her skillset grew, she earned one of the ultimate basketball honors and had the chance to play on the national scene with the U16 and U18 teams.
"I played for the national team with Olympic players, workouts and everything," Carvalho said. "To be honest, I was so scared. In my first year, I was shaking. And then when I'm singing the anthem (for the first time), I was crying. I was bawling before the game and I'm like, 'Okay, control yourself.'
"We don't do that in Portugal... only if it's with the national team. I had so many emotions. But, it was amazing."
Thanks in large part to her performances on the national level – which offers valuable film for prospective college coaches – Carvalho drew the interest of Division I programs around America. She flashed a burgeoning shooting touch at both the club and national level, but impressed too with her defense and physicality, averaging 3.4 steals and 4.1 rebounds per game in 2016 (per EuroBasket).
In her final season, playing with the club Ad Vagos, Carvalho averaged 12.3 points and 9.1 rebounds and led the squad to a runner-up finish at the Portuguese Basketball Federation U19 Championships while earning regular season MVP honors.
Having never been to America, and having no familial ties in America, finding a safe, quiet place to play was a major part of her recruitment. Ultimately, she picked Utah Valley.
"I wanted a safe place because I'm the first one in my family to come to America," Carvalho said. "And from the schools that I had interest from, I was like, 'I want a safe place and also I want to get a chance to play.' I thought Utah Valley would be the best option for me."
Carvalho took no visits before making her decision. She did Zoom calls with potential college coaches – thanks to some help from her dad, who served as the contact point for American programs.
"I was really nervous and I didn't know what to say at first. So I was always staring at my dad. My dad was behind the camera and I was like, 'Dad, what do I say? I have no idea.' It was so bad. I wanted him to just write down stuff on the paper and be like, 'Okay, say this.' Please.
But beyond the video calls, Carvalho was heading to a brand new place blind. She knew the coaches and some players at Utah Valley, but Orem, Utah is seven hours ahead of Portugal and, while certainly not New York City, still offers a wildly different culture than she was accustomed to.
"I just came straight to America by myself," Carvalho said. "And I was like, 'Oh goodness, what am I doing?' Everything is just so big over here. And the culture, the language, it was so weird at first.
"To be honest, I think I cried for two straight weeks. It was just really weird. But, now I'm used to it. I mean, it's my fifth year. This is normal. I still have an accent, but I'm getting there."
After working through the initial culture shock, Carvalho found her comfort where she had for nearly a decade: on the court. She started 27 games and averaged 29.7 minutes per contest as a true freshman for the Wolverines, scoring 7.4 points and pitching in 4.3 assists per game.
"I always loved basketball. Okay, I love every single sport. I'm a very sporty girl," Carvalho said with a laugh. "I played a bunch of sports before basketball. But, there was one time when my brother was playing hockey and I was just waiting for him to finish it, and I was just shooting on the hoop next to them.
"This team was practicing and the coach was like, 'Hey, do you want to practice with us?' I agreed. There I was, wearing jeans and a Hannah Montana shirt – I was a huge fan of her – and I was like, 'Sure, let's just practice like that.' That's how I started. I was 11 years old."
Her role would only grow at Utah Valley. Serving as the team's most reliable backcourt defender and ball handler, Carvalho led the team in minutes as a sophomore (34.4 MPG) and was consistently strong in just about every category. She averaged 8.1 points, 4.6 rebounds and 4.4 assists per game and earned All-WAC Second Team and WAC All-Defensive Team honors.
As a junior, she again bolstered the backcourt, averaging 12.9 points, 5.1 rebounds and 3.3 assists per game and earning her second WAC All-Defensive Team and first WAC First-Team nod. That season also provided her fondest basketball memory, as Utah Valley worked its way into the NCAA Tournament.
"It was just pure excitement," Carvalho said. "I didn't know what to do, I was just jumping around."
It's a feeling she hopes to recreate this season at Utah State. After a strong senior campaign with the Wolverines (13.6 points, 4.7 rebounds and 3.2 assists per game), the 5-8 super senior guard decided to look elsewhere for her final season of collegiate basketball. She wanted to play at a bigger school with a better chance of bringing home some hardware, while also earning her Master's Degree in Biochemistry.
"I want to get a ring," Carvalho said. "That comes from doing the little things every single day. It's not just about basketball. It's about your routines. When you go to bed, what you eat, if you're hydrated, if you do your school work, it's about every single thing. It's not just basketball, it's everything outside of it. That's what leads you to a champion."
On this team, which touts quite a bit of experience and talent, she hopes to step immediately into the kind of leadership role she filled at Utah Valley. She may need to take a slight step back as a scorer given the group around her, but her defensive ability and skill as a true point guard can be immediately valuable in that quest to claim a Mountain West title and head to the NCAA Tournament.
"I see myself as a leader," Carvalho said. "I'm the point guard who talks a lot. I can assist, I can score, I can do everything. And I like to trust my teammates and know that they trust me. When we have that relationship, I know I can count on them on the court."