Position Preview: Aggies Hopeful For Health At Tight End
With a (mostly) clean bill of health, Utah State is optimistic that it can lean more on its group of tight ends within the offense this fall: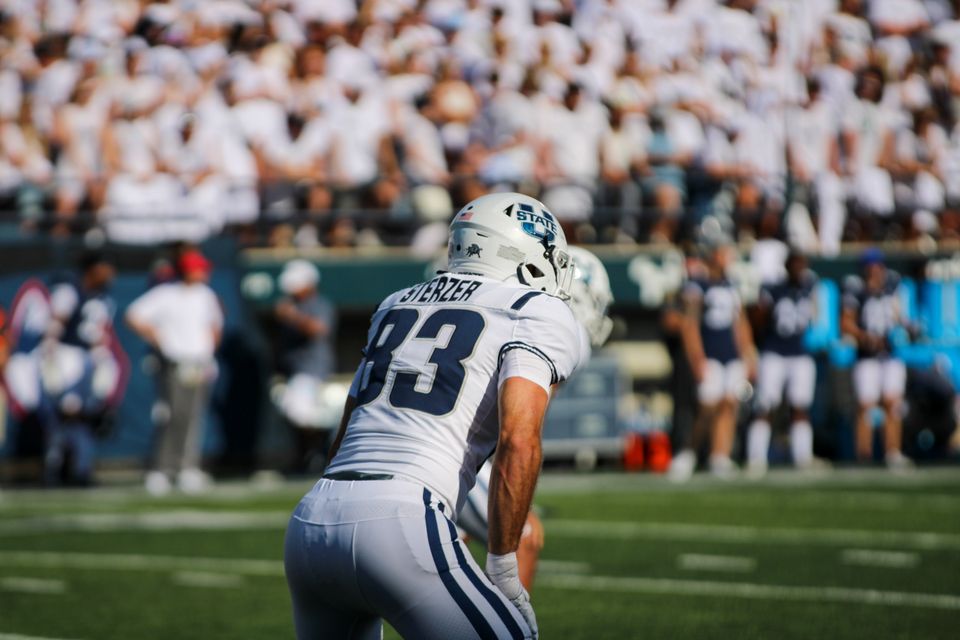 There are few truly ubiquitous experiences in college football, by design. It's a big sport within just the FBS ranks and a massive sport in its entirety, defined and often made significant by the cultures and traditions unique to each of its member schools. Even in close quarters (especially in close quarters?), you'll find wildly different views on the sport and the world as you jump from school to school. Those shared moments are few and fleeting; common ground is hard to find and shaky at best.
College football does have at least one universal truth, encompassing the whole of its vast population and echoing across the nation. Every season, no matter where you are or who you cheer for, your team is going to get the tight end more involved in the passing attack this season.
During Blake Anderson's tenure at Utah State, questions about the inclusion of tight ends (or lack thereof) in his high-flying passing attack have been constant. The Aggies dialed up tight end Carson Terrell's number just 11 times for 113 yards and two scores in 2021, and bumped the volume only slightly in 2022, with 11 completions for 129 yards and a touchdown for starter Josh Sterzer and another six receptions for 39 yards (plus a TD) from Broc Lane – both scores and 84 yards coming from one game, Utah State's win at Hawaii. Anderson gestured towards turning up USU's reliance on those two a few times last fall, but the on-field product didn't follow suit.
"I've been wanting to get (the tight ends) more involved all year, we've talked about it and I've had some things designed truly to get them involved and we just hadn't hit them, but tonight we did," Anderson said in the aftermath of that Hawaii game.
"We hit them when we needed to. Both of those guys getting in the end zone was a great payoff for how hard they work, how hard they block and how unselfish they are. I believe it will only benefit our offense to spread the ball around to more people. It makes us more difficult to defend and that's a trend that we need to continue."
Once again, as Utah State eases itself into fall camp with a week one trip to Kinnick Stadium in Iowa on the horizon, Anderson and the Aggies are looking to spread the ball around more through the air – and yes, that includes the tight ends.
"Coach (Blake) Anderson has the ability to spread the field with multiple positions, so you'll see tight ends spread out more and being involved in the passing game," tight ends coach DJ Tialavea said in a team release. "They're all capable of catching the rock, but I always tell them you have to do the dirty work first. You're still going to see us run blocking and protecting the quarterback, and then when coach Anderson calls for us to be split out and get into the passing game, we're fired up to do so."
Though Anderson has deployed versatile, high-volume tight ends in his offenses before – chiefly in 2017 at Arkansas State with Blake Mack (48 receptions, 618 yards, seven TDs) – and though the Aggies have good reason for confidence within the room, returning three TEs who should be ready to take the next step while adding one newcomer apiece from the JUCO and high school ranks, it's a shift that should probably first be seen before it is believed.
"We've got three guys returning and two new guys that we've added to our group this spring," Tialavea said. "For the most part, they all fit the mold of what we're looking for. They're hard workers, guys who love football and do anything they're asked. They show up every day to compete, so that's all we can ask for."
---
This post is for paying subscribers only