Cover Story: Turnover-Free Day A Win For Utah State's Offense
Utah State took to the field for its first scrimmage of the fall on Saturday, and you can read all about it in this free cover story (consider it a demo for the season). Man, it feels good to be back: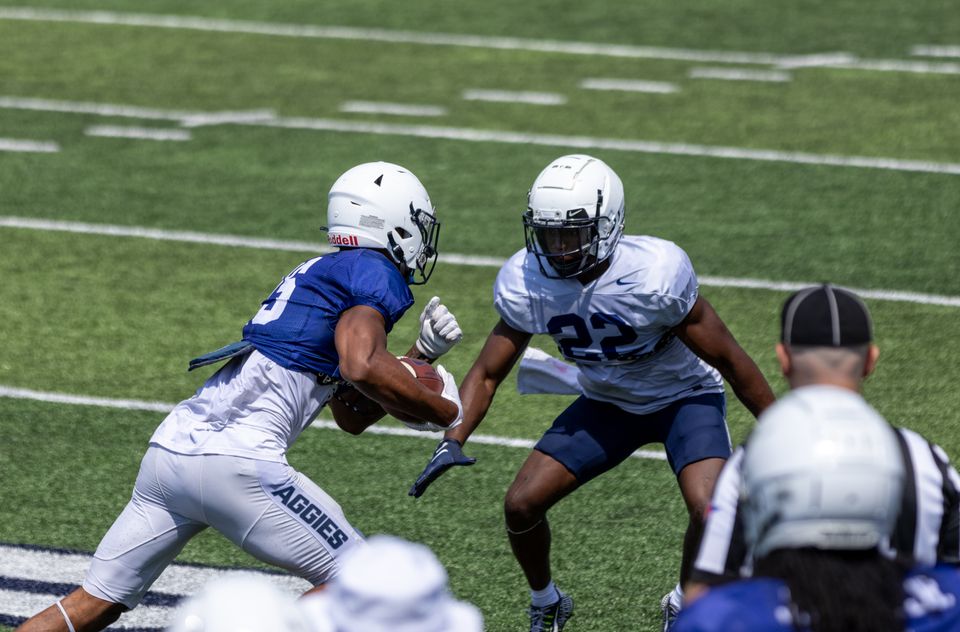 LOGAN – As Utah State head coach Blake Anderson stood before his team at the conclusion of their first fall scrimmage, which spanned a little over two hours on a balmy Saturday afternoon, he delivered a message that plenty of college football coaches probably find themselves sharing around this time of year. The Aggies had shown some good just as they had shown some bad, and Anderson saw plenty of work still to be done before they make the trek east to Iowa's Kinnick Stadium in about three weeks.
He had also seen something a bit more actionable and a bit more urgent. Playing in hot weather (it was a little over 90 degrees on the field) for the first time of this fall camp session, Anderson's Aggies had looked at times sluggish, and ill-equipped for the realities of an August afternoon in Logan. That effort earned the team a quick set of up-downs before their day in Maverik Stadium was allowed to end. It drew a warning from the coach, too, of the extended forecast in Iowa City. More likely than not, it'll be hotter there on Sept. 2 than it was in Logan on Aug. 12.
"I thought it was a solid day," Anderson said. "This was the first day we've gotten a little heat, we've had a really cool fall camp to this point and you could tell that they felt it. We got a little sluggish at times.
"We'll have some afternoon practices between now and (Sept. 2), but so far we've had a very cool first week. It's been 60s and 70s in the morning, by the time we get off the field, they're not really even sweating, and today they were. I wanted to see how they'd respond today, and I didn't think we handled it very well. That's a great test for them, and we're going to need to do a better job this week."
This is, after all, what a first scrimmage is for. It's a barometer for Utah State's staff, measuring just how far the team still has to go while there's still time left in fall camp to help get them there. So long as the afternoon is disaster-free – no injuries, and no huge, glaring issues with the play on the field – the team can leave the opening week of practice feeling optimistic.
The Aggies suffered a few calamities on Saturday, between some lackluster tackling in the early stages of the scrimmage and a few bumps and bruises to players like linebackers Logan Pili and Josh Williams, but they dodged disaster. That's good.
Now, because there was no catastrophe to define the affair, Utah State can get to work on embracing the good and tweaking the bad of this first foray onto the field. Within the former category, perhaps nothing stood out more than the play of Utah State's running backs, where a group of three standouts seems to have emerged ahead of schedule.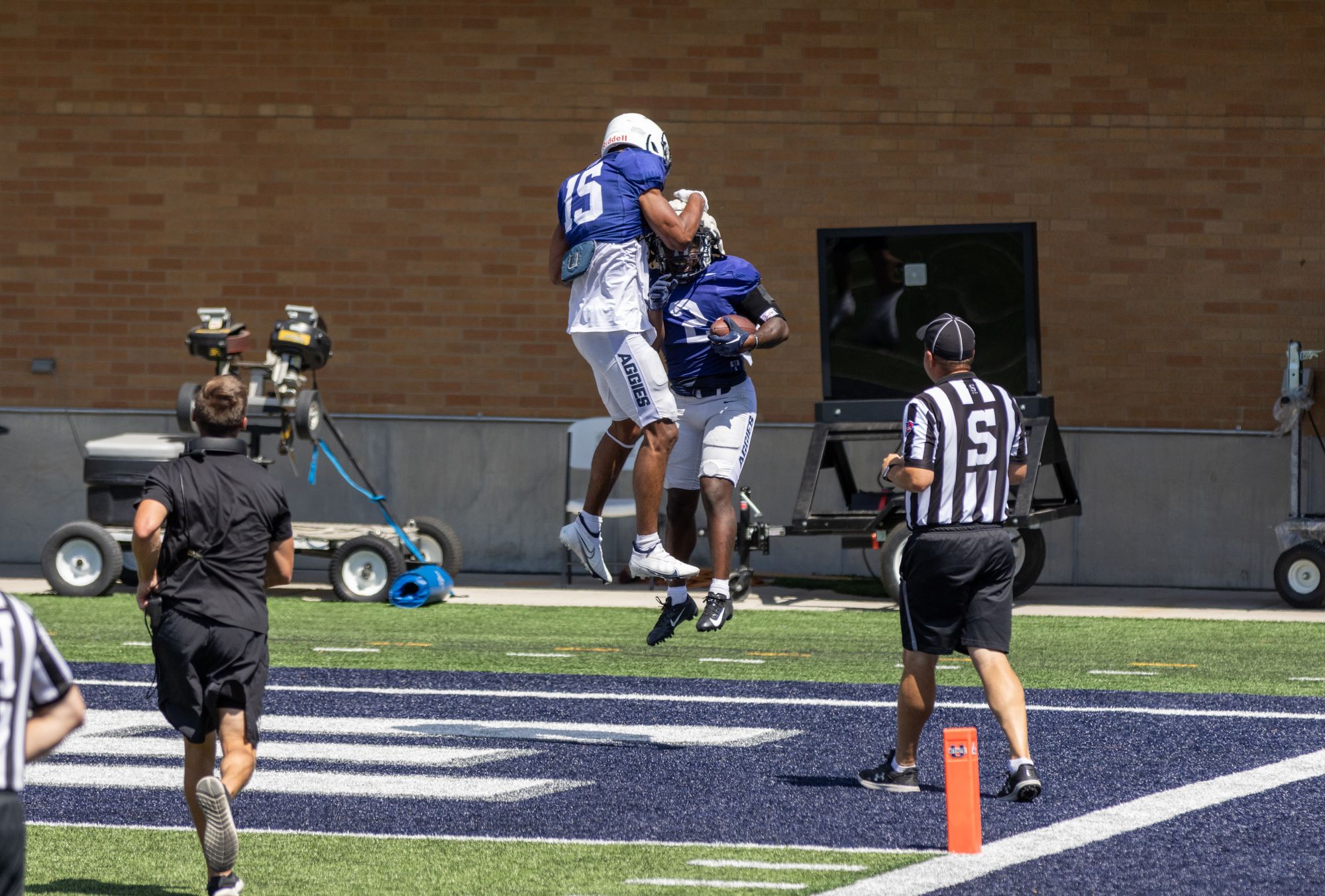 They didn't see many touches as the Aggies focus more on keeping everyone healthy than on getting reps for players they already trust, but the three-headed halfback monster of Davon Booth, Robert Briggs and Rahsul Faison still managed 145 yards and a score on just 15 carries – and would have had quite a bit more if an impressive Briggs touchdown scamper from more than 50 yards out hadn't been called back for a holding penalty away from the ball.
It was Faison, the newest addition to the room who arrived over the summer and is taking his first reps as an Aggie this fall camp, who made the first splash. He took his first carry of the scrimmage for 38 yards, surging through contact and doing just enough to maintain his balance, and followed it up on the next play with a 23-yard touchdown.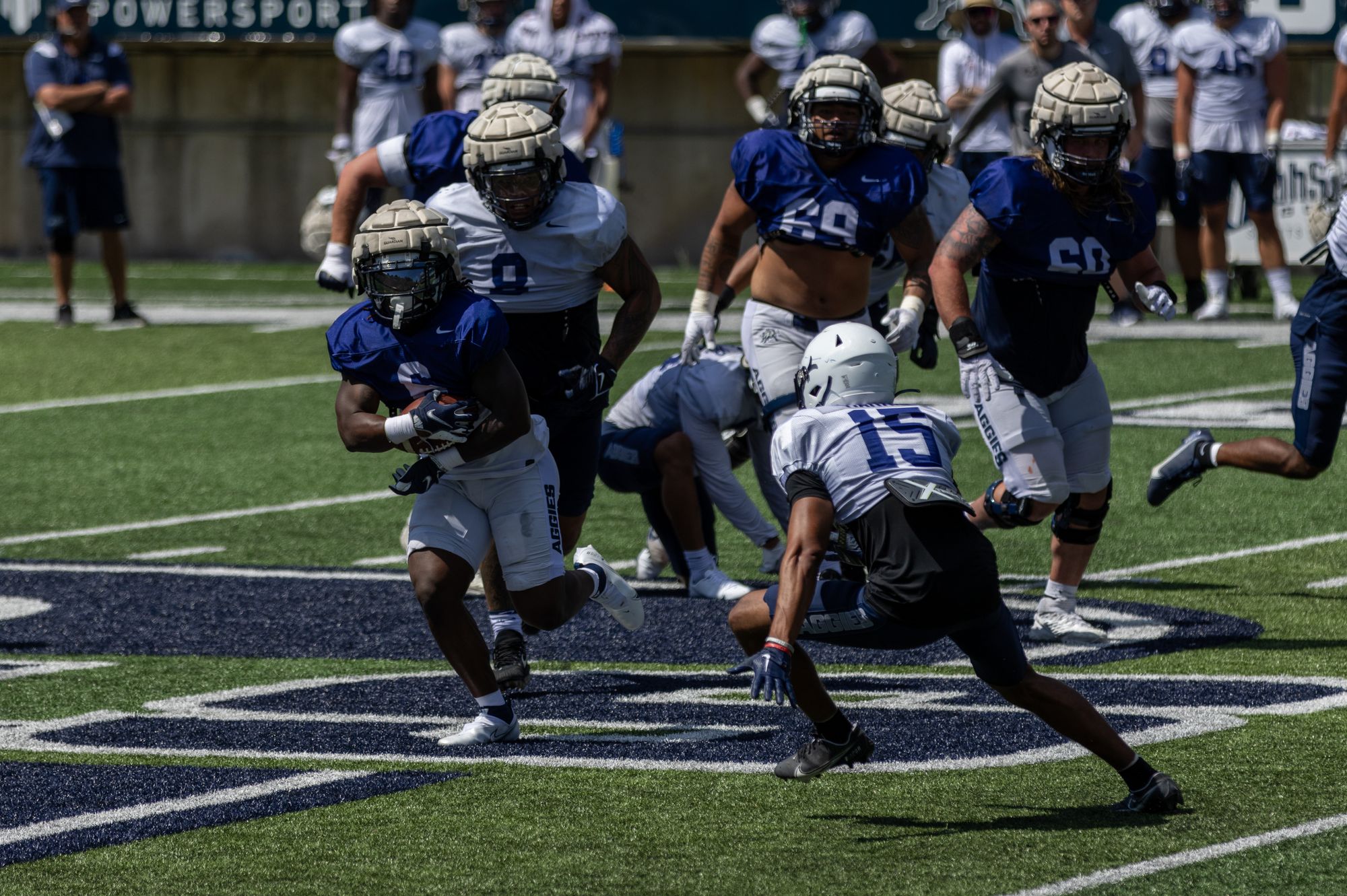 Not to be outdone, Booth added a brilliant 38-yard run of his own a bit later, meeting a wall of linemen on his initial path, bouncing away from would-be tacklers and reversing field, beating cornerback Simeon Harris to the edge and dodging a pair of safeties before leaping to extend the ball past linebacker Cole Joyce. The touchdown jump was for not, as his foot hit the sideline during his dust-up with safety Ike Larsen, but it was a tremendous feat of footwork and grace from a running back who plays as physically as Booth does.
"I feel like we've upgraded that room," Anderson said. "We brought in Davon and Rahsul, we get Briggs back – and Briggs has been a breath of fresh air. You can tell that he feels comfortable and confident, and that he grew up a lot last year coming off the injury. That's a really solid room. We felt like we didn't have a lot of depth there last year and didn't have the one-two punch. Heck, now maybe we have a one-two-three punch, which would be good if we can keep them all healthy."
There wasn't quite as much excitement from the next batch of runners, Sione Finau, Cooper Jones and the Aggie quarterbacks (this group combined for 36 carries, 98 yards and one score), but it was a day on the ground the Aggies could be pretty happy about, both for the backs toting the rock and the offensive line they operated behind – which rotated groups frequently, but most often deployed a starting five with Calvin Knapp at left tackle, Wade Meacham at left guard, Falepule Alo in the center, Tavo Motu'apuaka at right guard and Cole Motes at right tackle.
While Anderson – who was on the headset calling plays for the offense for the first time at Utah State, as he once did at Arkansas State – wasn't thrilled with the passing attack, which is his primary focal point beyond his head coaching duties, he saw enough from the group to leave the day fairly pleased. More important than any other stat, the Aggies didn't turn the ball over.
"We had good and bad on both sides," Anderson said. "I thought the offense started better, the defense followed up late, and we have to find consistency on both sides. Probably the best thing for us is that we didn't turn the ball over. We didn't play great on offense, but we didn't turn it over. That's been one of our biggest conversations, playing faster and not turning the ball over. We're starting to play faster, and we're protecting the ball. That gives us a chance to win."
Leading the Aggie offense onto the field was, no surprise here, Cooper Legas. The senior earned the starting job in Logan Bonner's stead last season, held onto it through the year, took the first reps in the spring and took a hold on the spot that he isn't relinquishing. He overthrew a few open receivers, but Legas looks stronger and faster, he's talking like a leader, and he's operating the offense at a higher level than he did when Utah State fans last saw him. He led the way on Saturday with 294 yards and a touchdown through the air, completing 25 of 37 attempts while adding seven carries for 11 yards.
"Cooper is doing better," Anderson said. "I'm sure he's still getting used to me and what I'm asking. We've changed some things technically that he's been doing On some of those balls that he missed, he just has to learn to tighten up the target a little bit. But, he did not put the ball in harm's way, and that's our first step at quarterback. He might the right checks, ran the ball okay and escaped when he needed to, and I think we're building on that."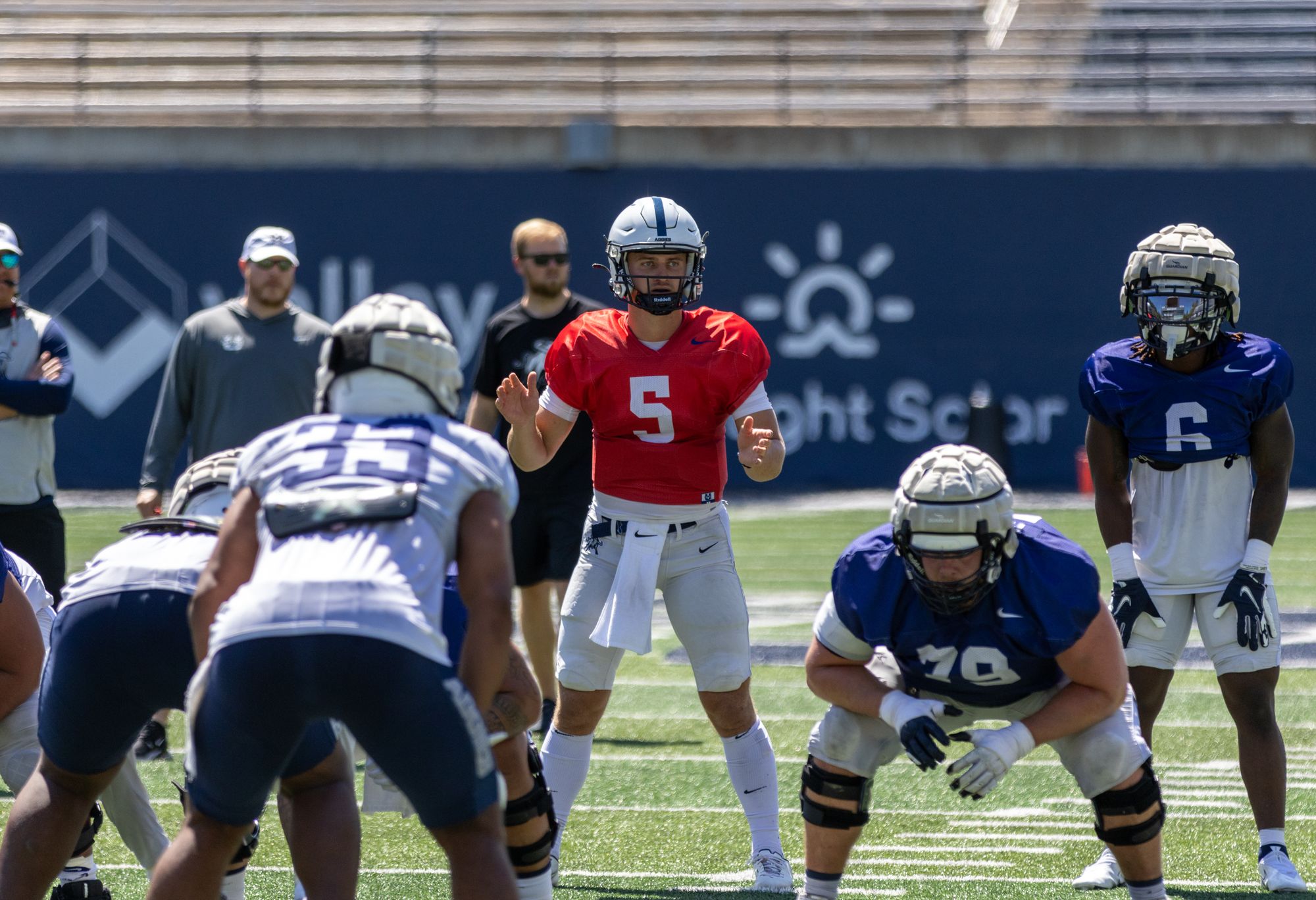 Perhaps his best pass of the day came on a deep shot down the sidelines to wideout Jalen Royals (three receptions, 75 yards), who spent the entire scrimmage working with the starting offense, joined by sure-fire slot starter Terrell Vaughn (five receptions, 119 yards) and a rotating cast of players vying for the third and fourth receiver spots in the first-string.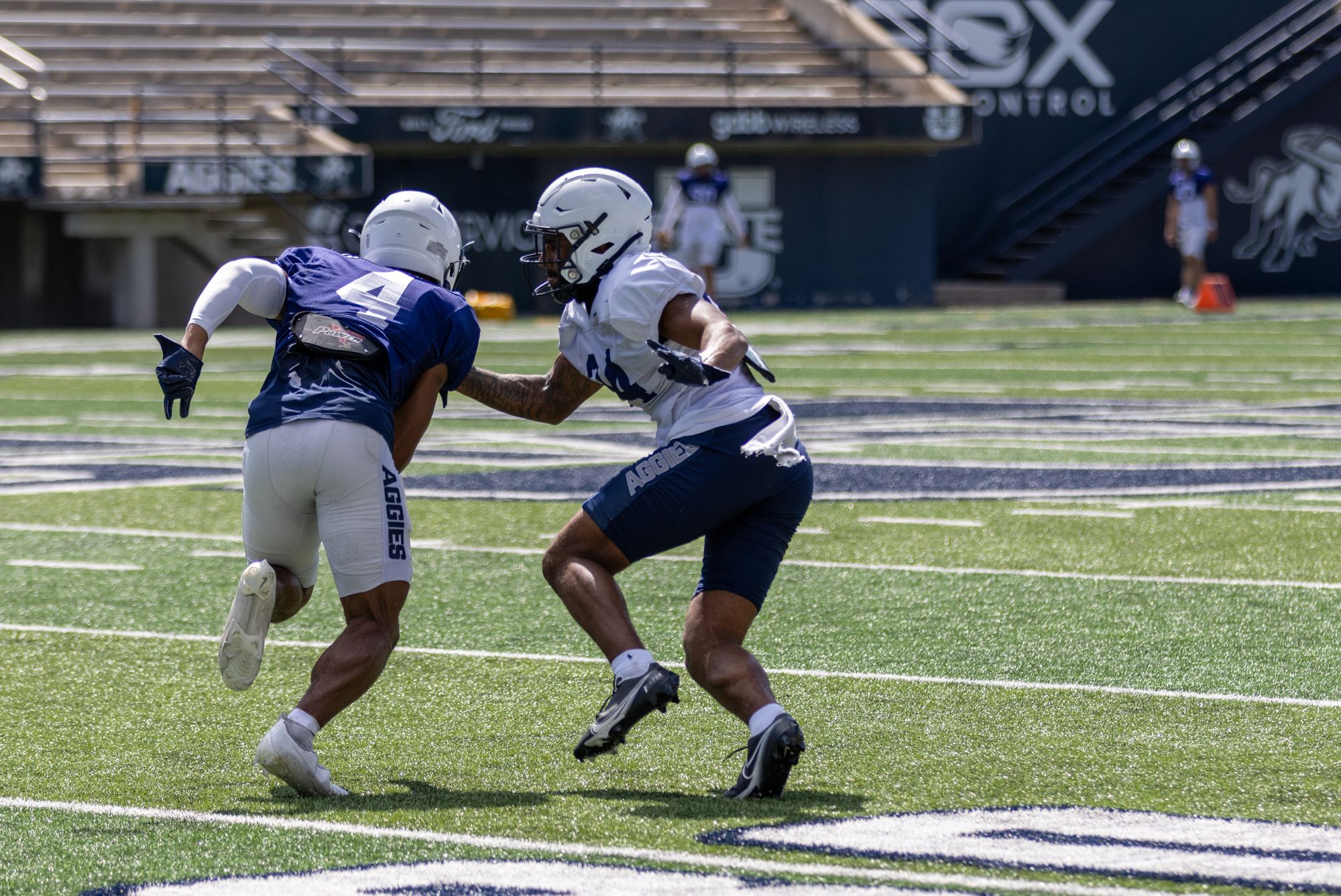 The best of that bunch on the stat sheet was Stanford transfer Colby Bowman, who made a beautiful 46-yard reception and finished with 72 yards on seven catches, but he still couldn't put much separation between him and his competition. Otto Tia got the first crack at top billing opposite Royals and finished the day with a game-high nine receptions for 70 yards, trailed by Micah Davis (two receptions, 41 yards), who rounded out the rotation in the top lineup on the outside.
Kahanu Davis (one reception, for a 38-yard touchdown), Grant Page (five receptions, 33 yards) and Arcelles Johnson (three receptions, 17 yards) rounded out the play on the outside in the second- and third-strings. In the slot, Vaughn was most often joined by senior Kyle Van Leeuwen (three receptions for 30 yards), backed up by Ryder MacGillivray (seven receptions for 32 yards) and Kyrese Rowan (three receptions for 22 yards). At tight end, Broc Lane (one reception for nine yards) and Will Monney (two receptions for seven yards and a score) are the only healthy players and took all the available snaps.
The aerial attack stalled a bit in the back half of the scrimmage, but the quarterbacks combined for more than 600 passing yards (Levi Williams added 258 and a score on 23-of-28 passing, while McCae Hillstead pitched in nine completions worth 52 yards on 12 attempts) and the receiving corps earned high praise afterward for good reason.
"It's fantastic. I think it's going to be hard on the coaches figuring out who is going to play because it is for sure the deepest the room has ever been," Legas said. "We have so many guys who can make plays. We have Terrell and Jalen as big playmakers but I don't know if we have a Deven Thompkins yet, but the overall depth in the receiver room is the best we've ever had at Utah State that I've seen. There are so many guys who can go out there and make plays. It's awesome for me."
There were, of course, wins for the defense too, most of them coming later in the scrimmage. Without projected starting tackle Ralph Frias III, an Arizona State transfer, Utah State's offensive line had a ton of trouble keeping Joe Cauthen's pass rushers out of the backfield. The Aggies registered four sacks (Sir Mells, Adam Tomczyk, Maka Tu'akoi and Williams) and 12 tackles for loss (Al Ashford II, Gavin Barthiel and Williams each had two, joined by the sack leaders, plus Alford, Jaiden Francois and Seni Tuiaki), impressing with speed and power while frustrating the head coach calling plays opposite them.
"I know they got to my quarterbacks way more than they should," Anderson said. "I don't like how many times we were having to scramble for our lives, so I'll have to assume the defense is doing something right."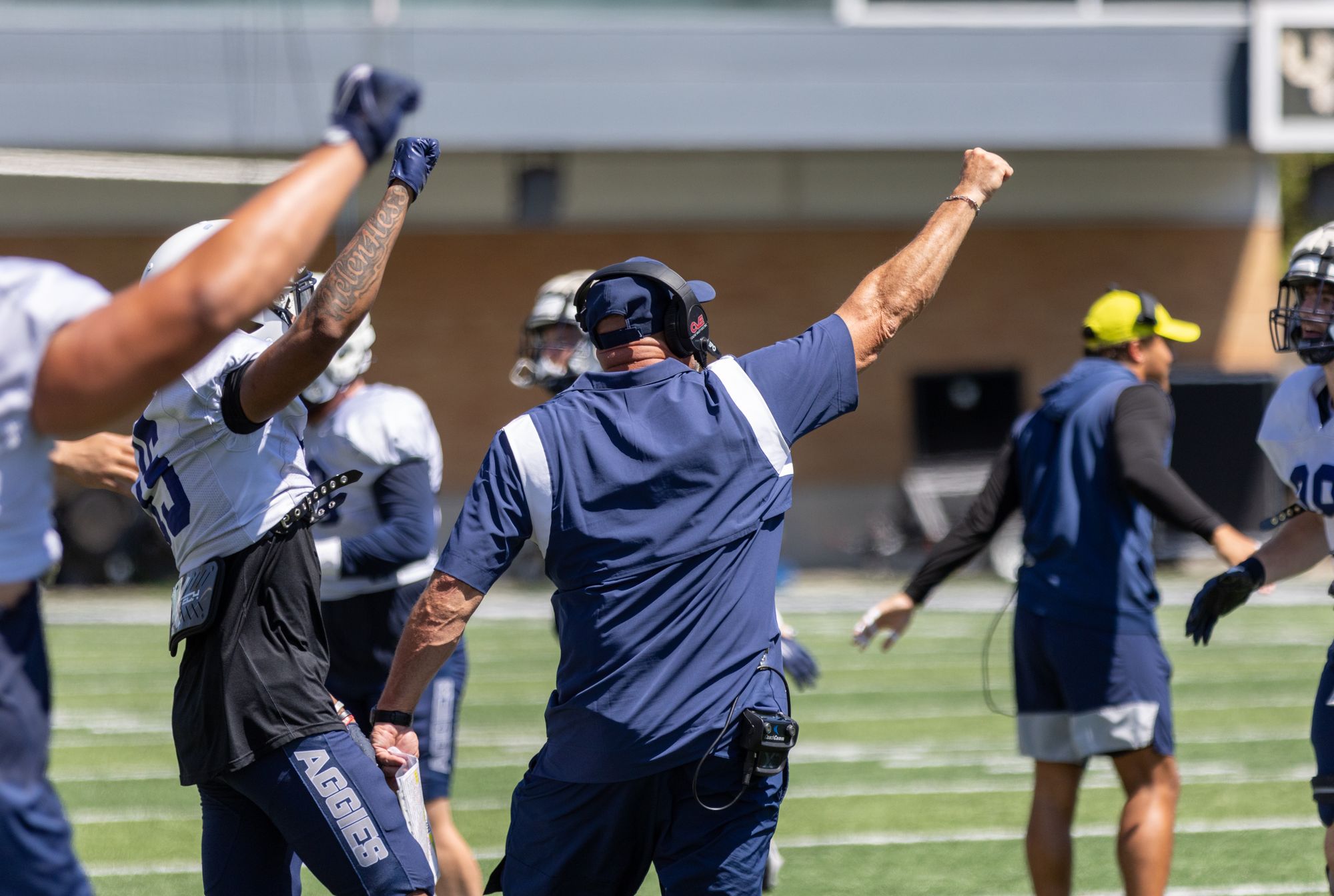 After struggling both with missed tackles and blown coverage assignments in what could be described loosely as the first half of the scrimmage (there was no clock, and seemingly random break times), Cauthen's unit really grew into the day. The starting defense emerged from a quick rest and forced the first three-and-out of the afternoon, which the second string-defense immediately answered with a three-and-out of its own.
"I thought they got better as the day went on," Anderson said. "I don't know if we got a first down in that last rack with the No. 1s. They responded and we didn't. That's going to be how some games go. You don't play well early, but you stay around, stay around, stay around, and you make plays late. I thought they did a much better job of that than the offense did."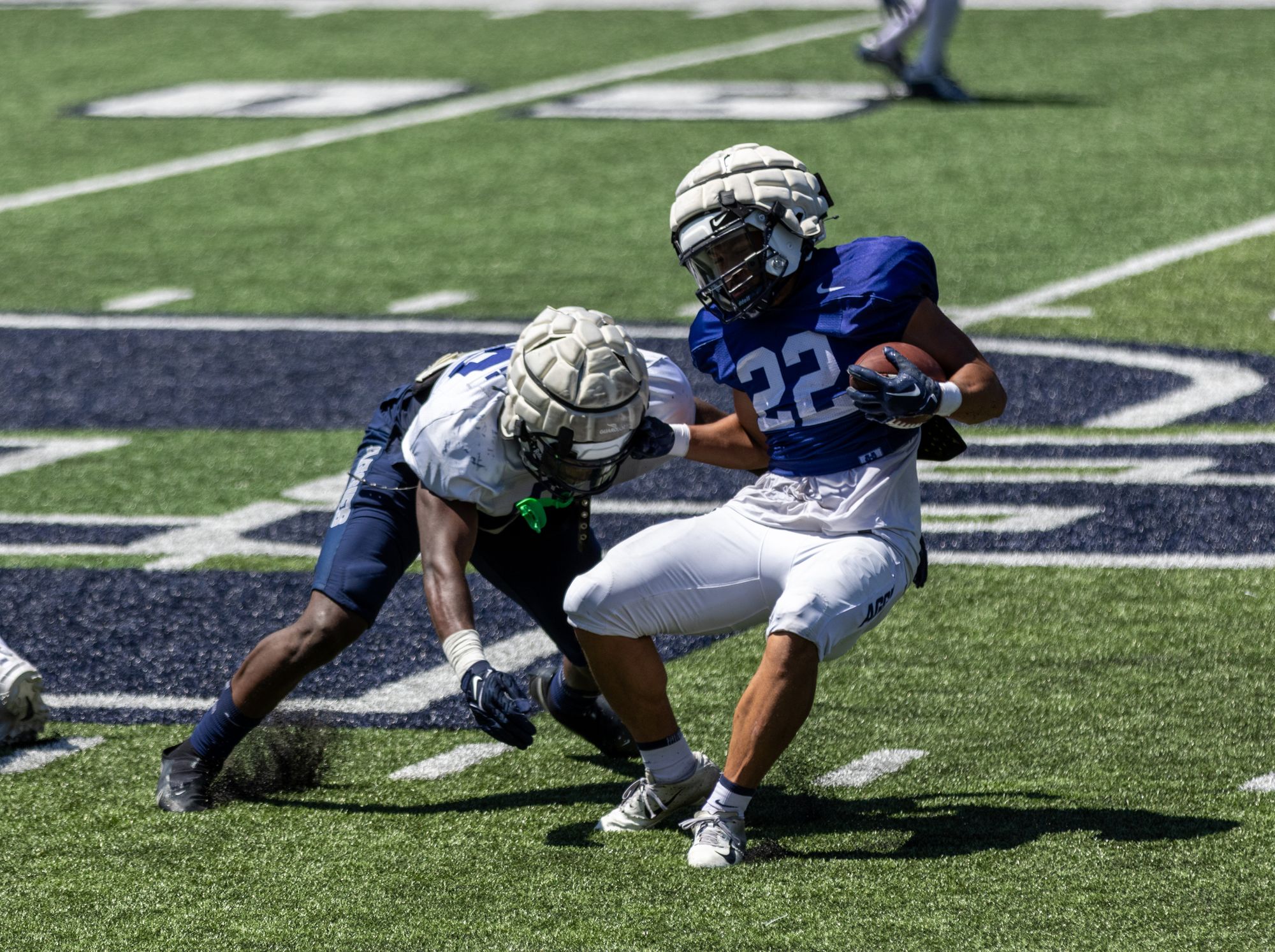 This sort of event doesn't exactly lend itself to sweeping takeaways of any kind, especially not those about a defense that is still obviously working on its grasp of a new system, though it is becoming increasingly difficult to argue against the play of Barthiel or Devin Dye. The former led all defenders with 10 tackles and the latter added seven, including a crushing blow to Finau that may have been the biggest hit of the day – a crown the JUCO safety often claimed during spring ball, too.
Those two both worked with the backups, Barthiel behind Alford and MJ Tafisi, Dye behind Larsen and Javar Strong, but the defensive depth chart is wide open right now. Utah State has probably six sure-thing starters (Alford, Michael Anyanwu, Larsen, Hale Motu'apuaka, Tafisi and Tuiaki) on that end, and battles at defensive end, cornerback, nickel and safety that will wage throughout the next month.
At this early juncture, Paul Fitzgerald and Enoka Migao got the first dig at defensive end, J.D. Drew played opposite Anyanwu, Harris led the way at nickel and Strong took on the top reps opposite Larsen. Cian Slone and John Ward were the DEs for the second group, with interior support from George Lauhingoa and Clifton Mosley, linebacker play from Barthiel and Josh Williams, and backed up by Ashford and Xavion Steele at CB, Francois at nickel, and Dye and Omari Okeke at safety. The name of the game for Cauthen and his staff is to whittle down a huge list of potential contributors into a more manageable rotation of actual contributors.
"Joe has a million guys on defense and he's trying to figure that out," Anderson said. "I'm anxious to see how the tape looks... There are a lot of guys over there who are starting to step in and take on bigger roles, but it's too early to tell exactly who the No. 1, No. 2 or No. 3 is, but we have more bodies to throw at the problem, more veteran bodies, quick-twitch bodies, and speed bodies to throw at the problem. Now Joe has to figure out the best 11, who goes next, who can play multiple positions, and that's a real challenge right now for them."
He'll get a few more names to change from in the coming weeks, too. Oregon transfer CB Avante Dickerson, Bowling Green transfer DE Blaine Spires, S Anthony Switzer and DT Poukesi Vakauta were all sidelined for this scrimmage but are expected to return soon, as are TE Isaiah Alonzo, Frias and TE Josh Sterzer on the other side of the ball.
"We got out of today healthy, which is a huge plus," Anderson said. "We haven't had a season-ending injury yet, thank God. We've got a couple of bumps and bruises – including Sterzer, Alonzo and Buchanan, the tight end room took a big hit this week, but they should all be back within a week to two weeks.
"Nobody, right now, is dealing with an injury that is season-long. Switzer, I think you'll see next week. Spires probably within the next week as well. The next two or three weeks are going to be critical and I think we'll get them all back."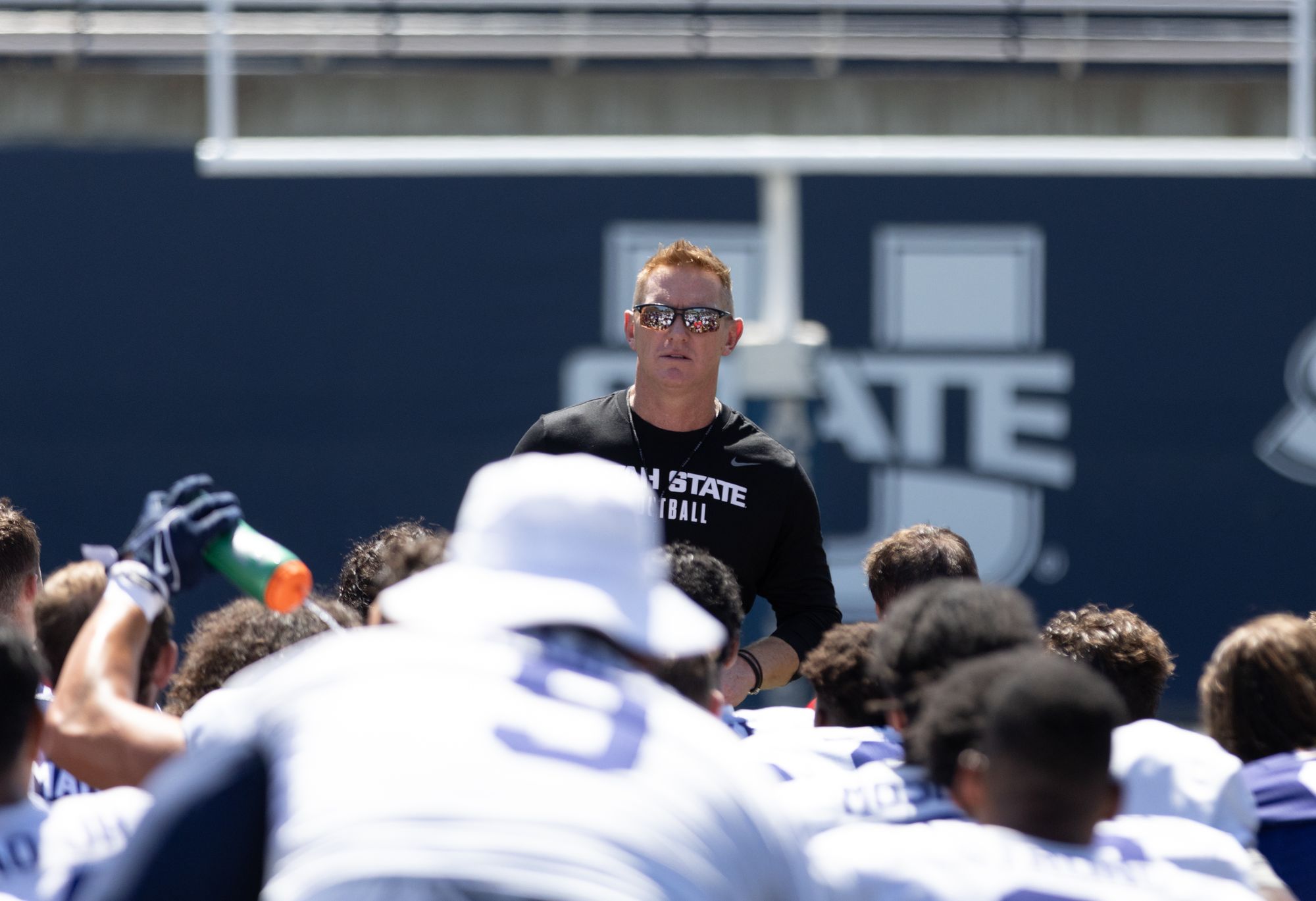 For the Aggies, that the list didn't grow any larger this weekend is a success. They can move forward with new lessons learned, and prepare for another outing much like this one, set to kick off at 1 p.m. local time next Saturday. And watch out, because much to Anderson's delight, it's going to be a hot one.