Try The Aggship's Men's Basketball Coverage, Free Of Charge
Alright, here's the deal. I told myself that if Utah State beat New Mexico, I'd open up the doors with a free trial from now until the MWC title game. Utah State held up its end, I'm holding up mine: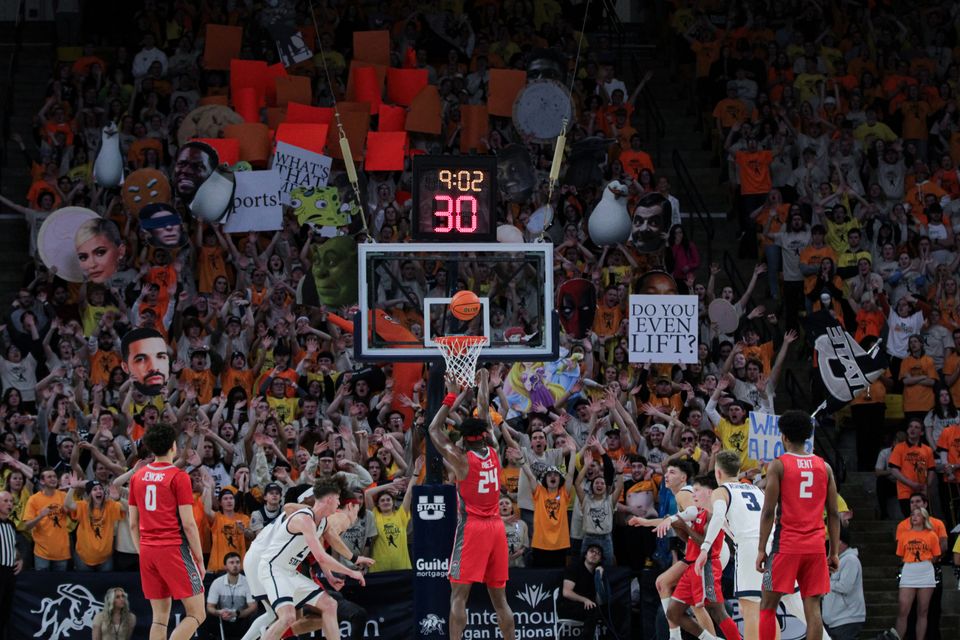 With Wednesday evening's thrilling 84-73 victory over New Mexico, the Utah State Aggies control their destiny in the Mountain West and find themselves firmly in the hunt for an NCAA Tournament bid. It's an exciting time in Cache Valley, and I'm working daily to cover the Aggies with the passion and professionalism Utah State fans deserve.
But, I know The Aggship's $6 monthly subscription fee can be prohibitive – not to mention the $10 subscription for Flaggship tier subscribers interested in game film breakdowns and the monthly Q&A podcast. During the stretch run of such an exciting season, I want everyone who loves the Aggies to have access to that coverage.
So, I made a deal with myself on Wednesday morning. If Utah State knocked off New Mexico on Spectrum Magic night and positioned itself for what could be an especially magical stretch run with Boise State, Nevada and San Diego State all due for visits to Logan, I would open up the doors.
You know just as well as I do what came next (though if you don't, stay tuned for today's cover story). Utah State blew the doors off the Lobos, and I'm following suit. Using the button below or the attached link, you can read all of The Aggship's men's basketball coverage between now and the Mountain West championship game completely free of charge.
With your free trial, you'll gain access to every men's basketball preview, cover story, game notebook and feature (the film studies remain exclusive to the Flaggship tier), along with my already free coverage of the women's basketball team – you'll even get a few football stories as spring practice rolls around.
There is, as always, a catch – though I think it's a reasonable one. This is a free trial, and free trials end. But, I'm not trying to trick you into a subscription. The catch is simple: If you like what you read between now and March 12 when the deal ends, I would love for you to stick around. I'm going to cover Utah State athletics for as long as you'll have me, and I hope to make the subscription well worth your while.
Additionally, it bears mentioning that I offer a 50 percent discount to students, as well as annual subscriptions at a discounted $60 – each of which can be easily transitioned into from this trial, just drop me a line at patrick.mayhorn@gmail.com.
This trial corresponds with a monthly subscription at the base paid tier ($6). If you don't like my coverage, or if you just can't swing the financial commitment, I totally understand. You can unsubscribe at any time with the click of a button. No phone calls, emails or hoops to jump through.
I cut my teeth as a newspaper writer. I learned the importance of treating people the right way in this business from Buckeye Sports Bulletin's Frank Moskowitz, one of the best publishers in the business for more than 40 years. That's why The Aggship will never have ads, and will never stray from its commitment to delivering professional, informative and entertaining coverage of the Utah State teams you love. I report to no one but my readers.
Enjoy The Aggship's coverage for the remainder of the season. It's on the house.