Forecasting The Aggies: Slot Receiver
Do impressive spring showings from NyNy Davis and Terrell Vaughn put them in the lead for starting roles?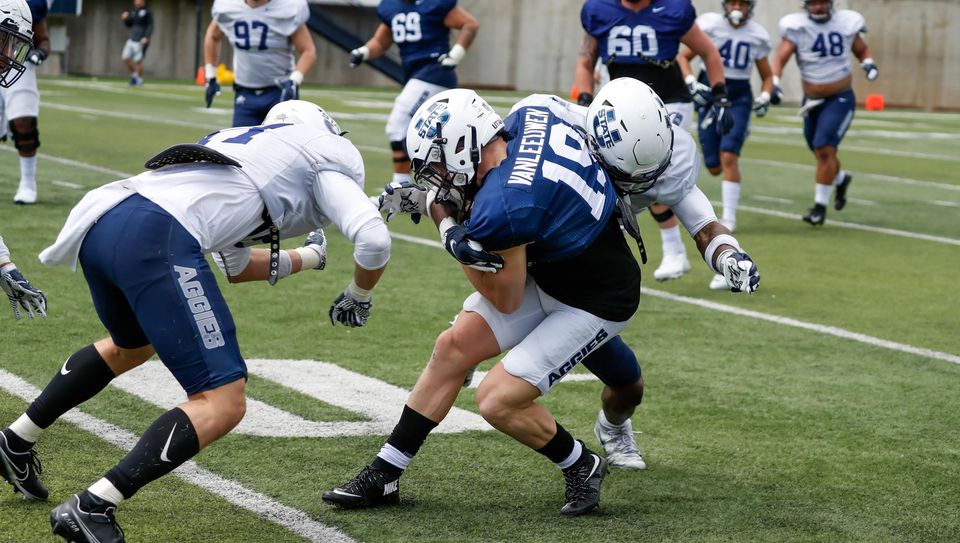 Note: We already took a look at the outside wideouts, so be sure to check that post out if you haven't yet. The intro is the same, so if you're already read that story, go ahead and jump to the depth chart breakdown.
Plenty has been made of Utah State's receiving corps this offseason, and for good reason. There's perhaps no storyline that could prove more impactful on the field for the Aggies in 2022 than their ability to move forward after a mass exodus of talent from the pass-catching corps.
That exodus has been covered ad nauseum but deserves a quick refresher all the same.
From last season's group of contributors, Utah State said goodbye this offseason to Brandon Bowling, Jordan Nathan, Savon Scarver, Deven Thompkins and Derek Wright. Those five wideouts accounted for 216 receptions, 3,425 yards and 33 touchdowns in 2021.
Add in the contributions of departing halfback Elelyon Noa and tight end Carson Terrell to the passing game, and Utah State has 238 receptions, 3,617 yards and 35 receiving touchdowns to replace as it heads into 2022.
That's 78.5 percent of last year's receptions, 85.1 percent of last year's receiving yards and 85.4 percent of last year's receiving touchdowns. On pure snaps, Utah State lost 2,869 from just the receivers room – 75.4 percent of all USU receiver snaps in 2021.
It's a lot to lose in one offseason. There's no other way to slice it.
The Aggies aren't without experience or talent at the position as they approach fall camp, though. Firstly, from within the program, Justin McGriff remains entrenched in a starting role on the outside, bringing back 35 receptions, 414 yards, six touchdowns and 850 snaps just on his own. His presence is crucial, both for his experience within the system and for the way that his strengths as a player can often enable his counterparts to find more success.
He's joined by Kyle Van Leeuwen, who worked largely behind Bowling and Thompkins in the slot last year, logging eight receptions for 63 yards while earning 84 offensive reps for the season. That's the end of the experience internally. There are very interesting young options in NyNy Davis, Quinton Hadnot and Otto Tia, but none of the three logged any offensive snaps in 2021.
Rather, the bulk of The Aggship's projected depth chart as it stands in very early July is comprised of new faces. It was a very busy offseason for Blake Anderson and company in the transfer portal at wide receiver, and those additions will now be counted on for both filling out starting spots and for rounding out the two-deep.
Maryland's Brian Cobbs and Alabama's Xavier Williams arrive by way of Power Five programs, while JUCO additions Terrell Vaughn and Taylor Larsen look to follow in Thompkins' footsteps.
"I think we've brought two guys in from Power Five schools that give us a tremendous amount of versatility," Anderson said. "They can be all over the field. We all know Deven Thompkins and Derek Wright and Brandon Bowling, those guys all graduated.
"It may not look the same – we have to build that production across the board – but the versatility of both Xavier and Brian, who have played all across the field, may even add some bonuses that we're not aware of yet from that experience those guys have had."
This is perhaps the most tentative of all depth chart projections, but that's the fun in projections. Let's take a look at the potential room in the slot for the Aggies this fall.
16 Terrell Vaughn, 5-7, 175, Jr. OR
18 NyNy Davis, 5-8, 160, R-Fr. OR
9 Kyle Van Leeuwen, 5-9, 180, Jr. OR
23 Taylor Larsen, 5-11, 200, So.
Terrell Vaughn
What We Know: There's no replacing Thompkins with just one player. He was too good and too productive last season to expect that kind of performance from any one receiver on the roster this season.
But if any one receiver is going to take on the kind of role that Thompkins filled last season, it's probably Vaughn. The Ventura College signee is easy to connect to Thompkins. He's undersized, checking in at 5-7, 175 pounds, but his film is filled with physicality beyond his frame.
He can be tied to Wright, too, as a JUCO product coming to Utah State with astronomical stats. Across two seasons, Vaughn hauled in a school-record 149 receptions for 1,715 yards and 20 touchdowns.
To expect him to replicate the 2021 campaigns of either receiver is, again, unfair. It sure is tempting though. Especially after he amazed through spring camp, darting past defenders on the kind of routes that defined Thompkins' 2021 season for countless big plays and touchdowns, be it in standard practice settings or in scrimmages.
He looked at times like the best player on the field, specifically during the first scrimmage when he snared six receptions for 80 yards and two scores while flashing plenty of the ability as a runner that he picked up as a punt returner at the JUCO level.
"That's my boy. I knew he had a little shift to him," Cobbs said of Vaughn after that scrimmage. "We've seen him make those plays since day one of spring ball, so that's nothing new to us, but we know the kind of excitement that he brings to our offense."
Even if he probably shouldn't be leaned on for 1,700 yards and an All-American caliber season, he does fill one of the vacancies at receiver very well.
He has the athleticism and YAC potential to work well in Utah State's litany of screens and quick-hit passes to slot receivers – where he'll likely spend almost all of his time – but he's also fast enough and a good enough ball tracker to take on at least some of the deep threat responsibilities. Those fell largely to Thompkins and Wright last year, and this season it seems Vaughn and Williams are best suited to handle those roles.
What We Don't Know: The biggest question about Vaughn at this point is his route tree. Ventura College wasn't asking him to do much beyond screens and loose routes. He ran a lot of go routes and did a lot of work just finding open space, rather than running a defined route.
That doesn't mean that he can't handle the kind of routes that Utah State will need from him. The Aggies don't ask a ton of their wide receivers as route runners and can work around someone with limited experience in that area, but he will need to continue to take steps forward in that department as the season draws near.
He can't only run screens and go routes, and even if Utah State can clear him up for free releases on most plays, the ability to beat a defender with footwork rather than sheer athletic ability is a whole lot more important in the MWC than it is in the JUCO ranks. Much of this offseason has been about growing that tree and developing Vaughn as a receiver rather than as an athlete.
Bottom Line: There are plenty of reasons to be very excited about Vaughn, from his production before arriving at Utah State to the top-end spark of speed and athleticism that he adds into an offense that suits him very well, but there is also at least a little cause for pause with his inexperience as a route runner.
He's almost certainly a day one starter in one of the vacant slot roles, but expectations should probably be set closer to Bowling's numbers than they are to Thompkins'.
NyNy Davis
What We Know: There's no question that Davis is the future in the slot for the Aggies, but he may also be the present after starring throughout spring camp and working himself firmly into the battle for starting snaps.
The 2021 three-star out of Attalla (Al.) Etowah opened the scoring in scrimmage No. 1 with a 12-yard touchdown and finished the afternoon with four receptions for 91 yards and two scores. He followed that with four receptions, 70 yards in scrimmage No. 2, putting up the highlight of the day with a 51-yard touchdown reception.
A few receivers might have been more consistent, but no one had bigger flashes this spring than Davis did. And that's not just at wideout. That's anywhere on the roster.
He drew a lot of attention as a recruit for his speed and has seemingly carried that over to the collegiate ranks without any trouble. That 10.5 100-meter speed he showed off in high school doesn't just fade, after all.
More impressive is his strength at just 5-8, 160 pounds. That latter number is likely to jump on the official fall roster, as he's spent the last two years building on a frame that already carried a lot more strength than you might guess. Look no further than plays like this from his high school days for proof of that concept.
That, too, seems to have carried over to the college ranks if the spring work was any indication. Vaughn might be easy to compare to Thompkins, but Davis sure does fit the billing too, and he may even have his JUCO counterpart beat as a leaper. He was an all-state caliber long jumper in high school.
Utah State is trying its best to be cautious about doing too much too soon with Davis, but Anderson couldn't help but draw some of the same comparisons this spring.
"For a freshman, I think he's made some good strides for us and hopefully, I don't know if he's (Deven Thompkins), but he can fill in some of the holes that DT left," Anderson said.
What We Don't Know: The concern with Davis is his age. He and Tia would be the youngest members of the wideout rotation by a pretty large margin if they were to crack into the group, and Davis is easily the youngest potential starter of the bunch.
The other seven receivers included in The Aggship's wideout rotation write-ups are nearly in their fourth season of college football on average (3.85 year-average). The only other underclassman (not counting redshirt sophomores), Larsen, graduated from high school in 2018 and took a two-year mission, putting him at 23 years old. The projected nine-man rotation is about 22 years old on average.
Davis is either 19 or 20. He's had a year with the playbook and in the weight room, but that's a lot of experience to make up, even if most of the potential rotation is new in town.
It requires a pretty significant leap of faith to put a redshirt freshman in the starting lineup, and that's the job that Davis is pushing for right now as the Aggies usually deploy four-wideout sets with a pair of slot receivers. He's the most talented of the four serious slot contenders. It's just a big jump in responsibility – one that will always bring with it some concern.
Bottom Line: Davis might be too good to keep off the field, but he'll need to continuously prove his maturity to overcome his age disadvantage and secure the starting spot opposite Vaughn in the slot.
Kyle Van Leeuwen
What We Know: The only slot receiver on the team with in-game experience as an Aggie, Van Leeuwen would be a shoo-in for a starting job under normal circumstances.
He pulled in eight receptions for 63 yards in 2021, working largely as the No. 3 option in the slot (33 reps there last season) behind Thompkins (479 slot reps) and Bowling (339 slot reps). Usually, when the rep leaders in a position depart, the next man up is the one who filled in behind them.
And Van Leeuwen certainly could land in that role. But the circumstances here aren't normal. He's been lost in the mix a bit with all of the inbound transfers and with the rise of Davis in the spring, but he still had a decent spring and he's a former first-team all-region receiver out of Provo (Utah) Timpview in his own right.
On top of that, like Larsen, he's a graduate of the 2017 high school class with a two-year mission under his belt, making him one of the oldest receivers on the roster.
We know that he can fit in the offense. He didn't have a ton of chances to show off his skills last season, but he's a competent route runner and a good enough athlete to do what Utah State needs from its slot receivers.
If the only criteria for picking starters was reliability within a role, Van Leeuwen is walking through fall camp with a job.
What We Don't Know: Alas, that's not the lone criteria. Top-end potential and ability to make plays outside of the normal scope of the designed offense have a lot of value here, and Van Leeuwen has not shown that in the same way that some of his competitors have.
It's not to say that he can't have that kind of impact on the offense. He has good hands and was able to generate big plays as a high schooler, both with the ball in his hands and on throws down the field.
He just hasn't shown that ability as an Aggie yet, and he's looked to be a step behind in that category thus far this offseason. If he can add that layer to that game (or if it's already there and we just haven't seen it), he has a great case for a starting job.
If not? He's still one heck of an option to bring off the bench.
Bottom Line: Van Leeuwen is the presumed starter by experience, but this offseason's influx of talent and the recent rise of Davis has his spot in the starting lineup in jeopardy unless he can show off a new layer to his game.
Taylor Larsen
What We Know: Not much.
Larsen has been the subject of very little coverage since his commitment to Utah State last December, coming to Logan by way of Snow College just as Wright did a few years back. He was an NJCAA first-team All-American punt returner and an honorable mention as a wide receiver in his lone season with the Badgers, snaring 33 passes for 479 yards and three touchdowns and logging some lofty returner stats.
He was relatively unknown as a recruit, too. A Utah Class 5A first-team all-state pick out of Salt Lake City Skyline High School in 2017, he had 70 receptions for 1,401 yards and 16 touchdowns but didn't draw a ton of collegiate interest. He claimed a Utah State offer at the time (which appears to have been a walk-on offer), as well as interest from Benedictine (NAIA) and William Penn (NAIA) before landing ultimately with Snow College out of his mission trip.
With the little tape there is on Larsen, it's immediately apparent that he can add a couple of things to this rotation.
Firstly, he can take a hit. It doesn't sound like a compliment, but there are very few traits more valuable for a slot receiver than the willingness to go across the middle and the ability to do so without being knocked out of the game. This is the first play on his JUCO highlights. He can take a shot and hold onto the ball. That's a plus.
Secondly, he's an extremely capable blocker. His tape is littered with run-blocking reps like this one. Utah State's receivers have to be willing blockers for this offensive system to work, and Larsen checks that box off.
Thirdly, he's no statue. He doesn't tout the speed or verticality of players like Thompkins or Wright, nor can he match what Davis and Vaughn have to offer in the current room, but he was a first-team returner for a good reason. He lists a 4.58-second 40-yard dash and was a consistently difficult cover at the JUCO level.
Like Vaughn, he doesn't have a defined route tree, but it's not like he would be useless as a receiving threat. His greatest strengths may be elsewhere, but he's absolutely good enough for FBS-level wide receiver reps.
What We Don't Know: Everything else.
There's only so much to glean from a three-minute highlight tape, a few game highlights and JUCO-level stats. It's hard to imagine many college football players pushing 25 years old with this little in the way of sample size. He'll be in the back half of his 20s by the time he leaves Logan, and we just haven't seen much of anything from him as a college football player.
That makes any sort of projection for him a roll of the dice. Utah State doesn't take him if it doesn't think he can contribute, but it's hard to know what the exact vision is for his tenure.
Bottom Line: With Scarver and Thompkins gone, there's a vacancy in the return game. Maybe he fills that spot and lands ultimately in a similar role to Scarver's within the offense. Last year, that looked like six receptions for 42 yards across 204 offensive reps.
Larsen may not see quite so many snaps on that front, but it would be a surprise if he doesn't at least have a small role in the offense, probably as a reserve option out of the slot who can pull out tough receptions when needed.