Soccer: Aggies Turn To MWC Play After Upset Victory
Fresh off a huge upset of No. 1 BYU, Utah State soccer is set to enter MWC play with momentum. @ZachB0yd has you covered with a look at that win, and at what comes next for the Aggies: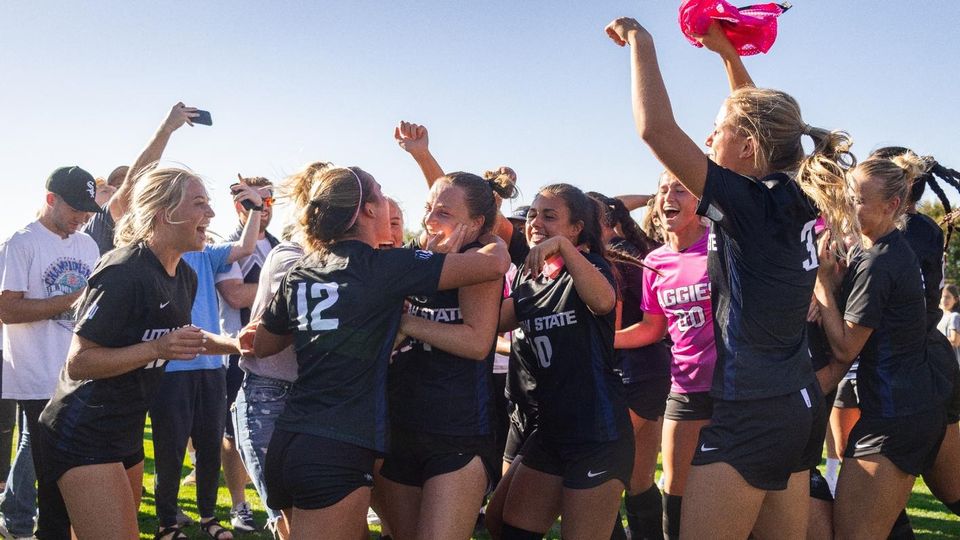 Note: This is a guest-written article from Zach Boyd, who covers Utah State Olympic sports for The Aggship.
---
Manny Martins and the Utah State women's soccer team are set to begin conference play today in Colorado against Air Force. Carrying with them a 3-5-1 non-conference record, the Aggies will now wipe the slate clean and embark on their push toward the conference championship game.
If you've been watching this team, you know their record is deceiving. If it weren't for their most recent victory, the Aggies might have caught many in the Mountain West by surprise. That victory, of course, was Utah State's first-ever over the nation's No. 1 ranked team. And to make matters even better for the Aggies, it came against in-state rival BYU, dropping the Cougars to No. 6 in the latest coaches poll. It was a statement victory to the rest of the conference: If you want to win against the Aggies, you'll have to bring your A game.
"What can I say? I'm proud of the girls, proud of the staff," said Martins. "It's a collective effort. I'm proud of Diera (Walton) for getting another shutout and for us winning with another freshman scoring like we did two years ago. (BYU is) an incredible team. For us, it's an honor to be able to measure up to them and to come out with such a positive score. It's exciting, and I'm proud, but I'm also humbled by it."
Don't let Martins' humility fool you; thus far, he's had BYU's number at Utah State. Since arriving in Logan, Martins holds a 2-0-1 record against the Cougars, rescuing the Aggies from what had been an abysmal 0-13 all-time drought.
To hold the No. 1 team in the country scoreless for an entire game highlights the anchor of this Martins-led team: Defense. For 90 minutes, Utah State's bend-don't-break style of defense forced the normally explosive Cougar offense to take difficult and contested shots on goal. Coming into the game, BYU averaged 3.87 goals, and was among the best in the nation for points per game.
At the head of this killer defense is superstar goalkeeper Diera Walton, who became the program's all-time shutout leader with her 23rd career clean sheet. And who can forget the fan favorite on the other end of the field, freshman Summer Diamond, who scored the game-winning goal with a beautiful left-footed bolt past multiple Cougar defenders and into the back of the net?
There are only so many ways to say it, so why beat around the bush? This Aggie defense is not just good – it might be elite. Even when Utah State managed to find the net, it could be chalked up in large part to the defense, taking the ball away in Cougar territory and giving it to the freshman phenom out of Bonneville High. The controlled swarm forced BYU away from its usual strategy and created visible frustration, culminating in a red card and ejection for stomping.
That stingy defense is, of course, built around the incredible play of Walton. Because of her ability to clean up mistakes, the defenders have more freedom to take chances and press opposing players to get them out of their rhythm. The Aggies needed every bit of Walton and their defense to pull off the upset, all the way to the final whistle, when BYU saw a beautiful penalty shot in the waning seconds of the match defended perfectly and deflected just to the right of the goalpost.
As time expired and an excellent home crowd erupted, you could get the sense that Martins and the Aggies had just entered something of a golden era of USU soccer. An incredibly difficult stretch of non-conference games had prepared the team well to go toe-to-toe with the best of the best. The record-shattering 2,013 fans in attendance, many of whom rushed onto Bell Field as time expired, are proof positive that rivalries still matter, that passion is what makes college sports great – and that the Aggies are just getting started.
"We want to win championships, we want to get to the highest level, and we want to be able to compete with teams like this on a regular basis, and today we did," said Martins.
If you haven't already, I highly encourage you to listen to Patrick and Parker break down their thoughts on the game in this week's Aggship podcast (1:01-5:15), and consider subscribing as we get into the heart of Mountain West play across all kinds of sports here at Utah State.
---
Now that the dust has settled after the program's best-ever win, Martins and the Aggies are ready for an interesting transition into conference play. It's no knock on the conference, but the caliber of teams the Aggies will be playing pales in comparison to their non-conference schedule. Let's take a step back and break down that 3-5-1 record.
Losses:
| | | | |
| --- | --- | --- | --- |
| Team | Result | Opponent Record | Opponent Average Goals Per Game |
| vs. St Louis | 0-2 | 6-2-1 | 3.0 |
| vs. University of Utah | 0-1 | 4-2-3 | 1.55 |
| @ Texas Tech | 0-3 | 7-0-2 | 3.0 |
| vs. Arizona State | 0-1 | 5-1-3 | 1.66 |
| @ Arizona | 0-1 | 3-2-3 | 1.625 |
| TOTALS | 0-8 | 25-7-12 | 2.167 |
These teams tested the Aggies, as all five losses came at the hands of Power Five opponents (except St. Louis, which ranks just outside the top 25 nationally). They were incredibly difficult games, with an obvious theme of offensive struggles for the young Aggies. They have still yet to score in a game they either lost or drew.
Impressively, Utah State's "worst" loss was at the hands of an incredibly explosive Texas Tech offense. The Red Raiders are now ranked No. 25, and sit at No. 4 in the nation in points per game.
Draws:
| | | | |
| --- | --- | --- | --- |
| Team | Result | Current Record | Average Goals Per Game |
| vs. South Dakota | 0-0 | 4-2-3 | 2.0 |
In Utah State's lone tie of the year thus far, it was more of the same. The Aggies played great defense, but were limited by an offense that hasn't quite clicked yet.
Wins:
| | | | |
| --- | --- | --- | --- |
| Team | Result | Current Record | Average Goals Per Game |
| vs. Weber State | 5-1 | 0-6-1 | 0.857 |
| vs. South Dakota State | 2-1 | 7-2 | 2.66 |
| vs. BYU | 1-0 | 7-1-1 | 3.44 |
These wins, including two previously unbeaten teams (SDSU and BYU), are a testament to what Utah State can achieve when its offense finds ways to put the ball in the net. With some support, this defense has been more than capable of pulling through, even against electric offenses. After the win over South Dakota State, Martins spoke on his team's greatest strength.
"I'm proud of the team. This is a really good team that only lost one game last year, and it was in the postseason. They hadn't lost a game yet this year. They average 16 shots per game; today they had five, and only three on goal. It was a really good defensive performance.
"They made some adjustments, and we adjusted as well. I thought it was a great first half (until) we committed a little bit of an infraction at the end of the first half and conceded a goal. That's dangerous, because in sports sometimes people can get momentum (from that), but our team did a really good job of coming back together and creating some chances."
Momentum is now firmly on the side of the Aggies.
---
Let's take a quick look around the conference and note a few important things to know.
As part of the 12-team Mountain West Conference, the Aggies are looking to earn their first-ever MWC championship. Similar to men's and women's basketball, the finale to the women's soccer conference season is a single-elimination postseason tournament. This year's tournament begins next month on Oct. 29 in Laramie, WY. Of its current members, San Diego State (five) has the most tournament championships, while last year's champion was San Jose State.
There's an unfamiliar foe for most fans here – the Tigers of Colorado College. Joining in 2014, the school is only associated with the Mountain West Conference in women's soccer.
Regular season league games consist of two halves, 45 minutes a piece with no stoppage time and no overtime. Every game is pivotal, as the conference season consists of only 11 total games – one game per opponent. Women's soccer, it bears mentioning, is one of six Olympic sports at Utah State that does not require the purchase of an entry ticket. Both bleacher seats and lawn viewing are available for free to the public.
---
And to round things out here, let's do a quick refresher on the names to know for the Aggies.
Minutes Leaders
D Kelsey Kaufusi, Sr.
Kaufusi is tied for first on the team in assists (2).
D Addy Symonds-Weichers, Jr.
A former top-100 recruit, Symonds-Weichers hasn't missed a start for the Aggies since her redshirt freshman season in 2021. Her starting streak is up to 52 games.
D Kylie Olsen, Sr.
Olsen has yet to find the back of the net as she works through her fourth season with the Aggies, but she's tied for second on the team this season for shots on goal (4).
GK Diera Walton, Gr.
Walton has saved 71.4 percent of the shots on goal she's seen this season, allowing a little over one goal per game (1.17) and earning National Player of the Week honors this past weekend.
MD Alex Day, Sr.
Day, a former Arizona transfer, was a second-team All-Mountain West a season ago, noted for her excellent stamina and defensive prowess from her midfield spot.
Offensive Standouts
MD Summer Diamond, Fr.
Diamond leads the team in shots on goal (12), goals (3), shot percentage (25 percent) and points (7). She nabbed the game-winning goal against the Cougars.
MD Kaylie Chambers, So.
Chambers is tied for first on the team in assists (2).
The Aggies begin their conference play against each of the three Colorado teams, heading to Air Force (Sept. 21) and Colorado College (Sept. 24), before returning home to face Colorado State (Sept. 28).
| | | | | | | |
| --- | --- | --- | --- | --- | --- | --- |
| | Overall | Pct. | Streak | Stats | Best Game | Frustrating Losses |
| | 4-1-3 | .688 | W1 | Alyssa Glover leads the team with 5 goals and two MW Offensive Player of the Week awards for the season. | Traveling to Louisville, the Cowgirls tied 2-2. | The only loss of the season for the Cowgirls comes off a 0-3 loss at home to Idaho State. The Bengals 1-6-0 earned their first and only win of the year. |
| | 5-2-1 | .688 | L2 | CSU has outshot their opponents 126 to 79 and out-scoring the competition 11-6. | With a relatively weak non-conference schedule, beating Louisianan Tech 3-0. | 1-0 to the University of Utah which was the first and only match the Rams didn't score. |
| | 5-2-1 | .688 | W3 | Best record in non-conference play since 2012. That year the Aztecs finished No. 7 in the nation and advanced to the Sweet 16 in the NCAA Tournament. | 1-1 draw against Pepperdine. | 0-3 loss at home to Long Beach State. |
| | 3-1-2 | .667 | W1 | Coming off their third consecutive regular season conference title, the first since San Diego State in 2012-15. | 1-1 draw against Texas Tech. | Their first and only loss on the season was 0-2 against No. 20 ranked Colorado. |
| | 4-2-3 | .611 | T1 | Road Rebels: Unbeaten in their first four road games for the first time since 2002. | 3-2 Win against New Mexico State. | 0-3 loss vs. North Texas. |
| | 2-1-5 | .563 | T2 | The Broncos did not lose any of their 4 non-conference Pac-12 games…they didn't win any either (0-0-4). | 1-1 draw against Oregon. | The only loss of the season came against BYU in a 1-4 blowout in Boise. |
| | 2-3-4 | .444 | W2 | Fifth-year player, Luz Arreaga climbed to top 10 in program history for single-season goals (5) and career goals (9). | 0-0 draw vs. Richmond. | 1-2 loss against Utah Tech. |
| | 2-3-3 | .438 | T1 | The Spartans rank second in the conference in both shutouts (3) and saves (46). | 1-0 win against Northeastern in Boston. | 0-2 loss against Saint Mary's. |
| | 3-4 | .429 | L3 | The Lifeblood of the team, Junior Mia Otero is the only player on the team with multiple goals (2) and assists (3). | 3-1 win against Hawaii (non-conference). | 0-3 loss to the University of North Florida. |
| | 3-5-1 | .389 | W1 | With her 23rd shutout of her career, Diera Walton was named the College Soccer News National Player of the Week and now sits atop the list as the program's shutout leader. | 1-0 victory against #1 BYU. | 0-1 loss to the University of Utah at Bell Field. |
| | 1-4-3 | .313 | L2 | Rank second in the Mountain West in corner kicks earned. | 2-1 victory against CSU Bakersfield. | 0-3 loss at Pacific. |
| | 0-6-1 | .071 | L5 | The only team in the Mountain West without a win this season. | First and only non-loss of the season 2-2 against Denver. | Credit to the Tigers, and their very tough non-conference schedule, 1-3 loss against Louisiana Tech. |