Utah State To Hire Montana State's Danny Sprinkle As Head Coach
Utah State taps Montana State's Danny Sprinkle for head coaching vacancy, per numerous reports (photo via Jack Murrey/Montana State Athletics)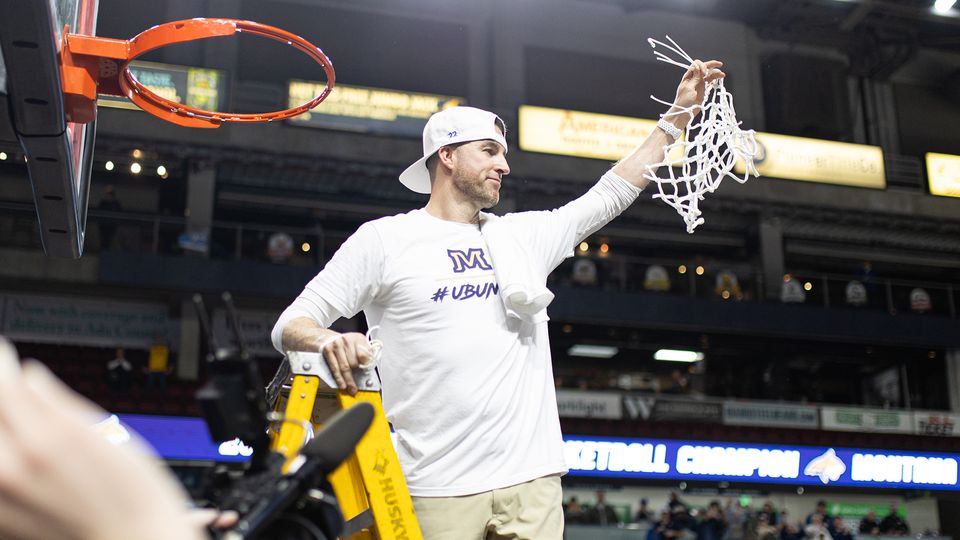 Danny Sprinkle, who led Montana State to consecutive Big Sky championships and a pair of NCAA tournament berths in 2021-22 and 2022-23, is set to take over as Utah State's next head coach. Sprinkle's hiring comes a little over a week after the job formally opened on March 29, when Ryan Odom accepted the head coaching position at VCU, ending a two-year stint in Logan which saw him lead the Aggies to an NIT berth in 2021-22 and an NCAA tournament appearance in 2022-23.
A 46-year-old native of Pullman, Wa., who graduated from Helena (Mont.) High School, Sprinkle played his college basketball in Bozeman and is considered one of the greatest players Montana State has produced. He helped the Bobcats to a conference title and NCAA tournament berth in 1996 and finished his four-year career as the seventh-leading scorer in program history.
He began his coaching career shortly after ending his playing career, accepting a position under Cal State Northridge head coach Bobby Braswell, where he would stay until 2006. Sprinkle returned to his alma mater briefly to serve under head coach Brad Huse, but returned to Cal State Northridge in 2008 and remained until Braswell's tenure ended in 2013 – at which point Sprinkle accepted a similar role under newly-hired Cal State Fullerton head coach Dedrique Taylor.
Sprinkle got his big break in 2019 after helping Cal State Fullerton to three postseason tournament berths in a row (two CITs, one NCAA bid), returning to his alma mater as its 23rd head basketball coach on April 4, 2019. He opened his head coaching career against Utah State, as his Bobcats fell in the Spectrum, 81-73. That was the latest of 10 matchups against the Aggies through his coaching career, joined by nine meetings from his time at Cal State Northridge (Utah State went 6-3 in those games). He has never won in five trips to the Spectrum.
Now, almost exactly four years later, Sprinkle will make the trek westward to Logan having directed one of the most successful runs Montana State has ever seen, racking up an 81-43 record (49-23 in the Big Sky) over four seasons. His two conference tournament crowns and two NCAA tournament berths are the most for any tenure, while his 65.3 percent winning rate is fourth among all multi-year coaches and the best of any modern MSU coach, edging out Stu Starner (53.7 percent) and his former head coach Mick Durham (53.6 percent).
His last two seasons with the Bobcats were his best, winning the Big Sky regular season and tournament titles with a 27-8 (16-4) squad that nabbed a No. 14 seed for the NCAA tournament in 2021-22 and repeating as tournament champions this past season, earning a 25-10 (15-3) record and another No. 14 seed.
Sprinkle's teams are somewhat comparable to those built by another former Aggie head coach, Craig Smith, during his time at South Dakota. The Bobcats touted the No. 77 defense in KenPom this season with the No. 169 offense, relying on a strong free-throw rate (No. 5 nationally) offensively while forcing turnovers (73rd in turnover rate), grabbing rebounds (55th in offensive rebounding rate allowed) and denying assists (9th in assist rate allowed) on the other end. Their No. 113 overall KenPom ranking was the best in school history, buoyed by marquee road wins over Eastern Washington and Southern Utah and a 12-1 home record.
Now, Sprinkle begins the work of piecing together Utah State's 2023-24 roster. The Aggies graduated Dan Akin, RJ Eytle-Rock and Taylor Funk, and have seen forward Sean Bairstow, guards Steven Ashworth and Max Shulga and center Szymon Zapala enter the transfer portal in the wake of Odom's departure.
As of yet, guards Mason Falslev and Rylan Jones, forward Zee Hamoda and center Isaac Johnson have not entered the transfer portal, leaving Utah State with four filled scholarship spots and four incoming recruits – forwards Dallin Grant, Garrison Phelps and Karson Templin and center Kalifa Sakho. If every player on that list remains in Logan, the Aggies would have five open scholarship spots for Sprinkle to fill.
This is a developing news story, and The Aggship will have more coverage in the coming days. Subscribe for access to those stories and plenty more.