WBB Game Notebook: Aggies Snap The Losing Streak
Clutch shooting down the stretch lifted Utah State WBB over Weber State as it claimed its first Division I victory of the season. Notebook: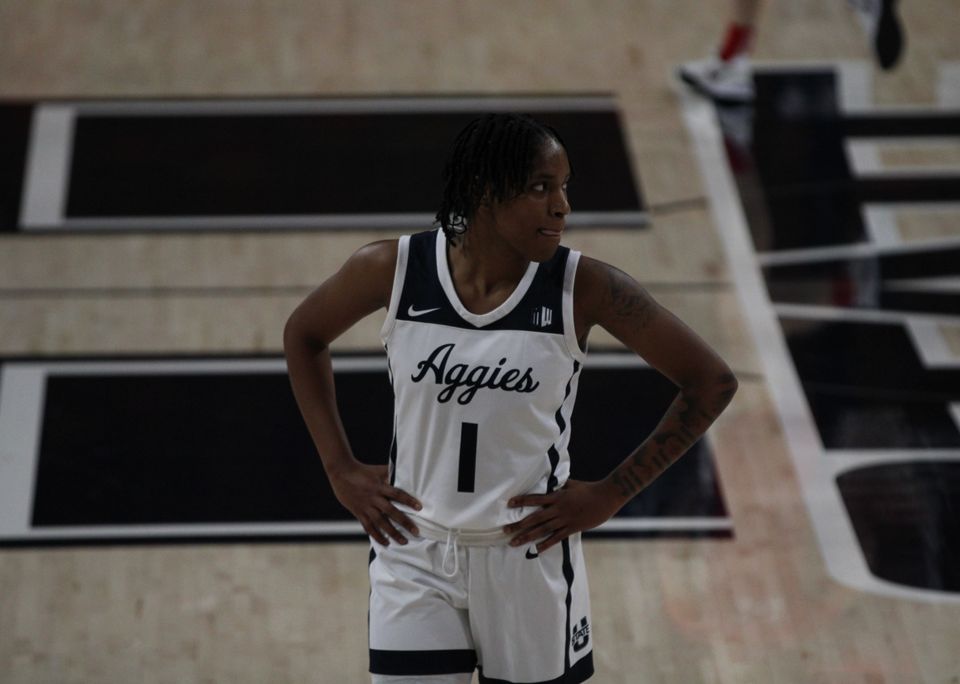 Notes, quotes, thoughts and other quick hitters from Utah State WBB's 74-69 victory over Weber State. Let's not waste any time.
Game-Changing Moment/When It Was Over
The game-changing moment and the moment it was over are one and the same for this game, both coming as the clock dipped below four minutes in the fourth quarter.
Utah State had managed to keep itself within striking distance for essentially the entire game, but it had not been able to convert that into a lead. The Aggies never fell behind by more than eight in the second half, but they lead for only 20 seconds in the first 16 minutes of the final two frames. It was better than the first half, which they were lucky to survive, but it hadn't been enough to wrest control of the game.
"We were terrible in the first half," head coach Kayla Ard said. "But our girls showed toughness and grit, and we made some adjustments in the second half which changed the game thankfully."
As the game entered its final minutes, Utah State finally found its breakthrough. Weber State held a 62-56 lead and had the ball with the chance to extend it further and just about put the game out of reach until a Vicky Parra turnover offered Utah State new life. The Aggies took advantage, finding Prima Chellis for a three-pointer to cut the deficit down to three points.
Weber State knocked down a pair of free throws, as it had seemingly any time Utah State came close, but the Aggies answered again. This time it was newly subbed-on guard Tamiah Robinson knocking down a triple to bring the game within two points, 64-62, with 3:11 to play.
Mayson Kimball forced another Parra turnover, the ball found its way back to Robinson and she dropped off a beauty to Chellis, who knotted the game with a layup. The Wildcats called a timeout in need of a response and nearly found it when Daryn Hickok rebounded an Amelia Raidaveta miss, but Hickok turned the ball over.
Utah State wasn't going to squander this opportunity – Maria Carvalho drilled a three-pointer only 10 seconds later to give Utah State a three-point edge, its largest since 4:56 in the first quarter. With its first Division I win of the season in reach, the Aggies went for the kill after Hickok's ensuing layup missed the target, moving the ball back to Carvalho on a fast break for another three-pointer. It gave Utah State a 70-64 lead with 1:25 to play – enough for the Aggies to ice the game at the stripe.
"It feels great to get a win on the road", Carvalho said. "We played great in the fourth quarter, and we played as a team."
Aggie Of The Game
Olivia Wikstrom is changing how the Aggies play on offense. A new addition to the starting lineup a few games back, Wikstrom just keeps proving that move correct. In her last four games (three as a starter), she's averaging 14.8 points and 5.8 rebounds per game, knocking down 20 of 46 shots from the field (43.5 percent) and 10 of 19 from deep (52.6 percent). This one was no different.
Wikstrom gave Utah State a new season-high 19 points in 37 minutes of action, draining 7 of 12 shots and 4 of 6 from deep to go with five boards and a pair of assists. As wing scorers like Kimball and Cristina Oliva continue to search for their scoring groove (which I believe both will find this season), Wikstrom has been instrumental in filling the gap. Against Weber State, she was Utah State's outright leader on offense – a role that more and more seems to suit her.
Other Standouts
Maria Carvalho: Carvalho logged 17 points, seven rebounds and five assists against Weber State. In other words? Just another day at the office for the Utah State graduate point guard. She has been so reliable in all facets of her game this season that it's quickly becoming the standard that she scores in double figures and threatens to notch either a double-double or even a triple-double.
And the good news in this game specifically? She did it on just 12 shots, converting six of her tries from the field and draining both of her three-pointers. An efficient Carvalho is a good Carvalho – now Utah State just needs to find a way to help her out of foul trouble (she had four on Thursday).
Prima Chellis: What a much-needed game from Chellis. She's had her struggles through the early weeks of the season, but this was a big-time performance when Utah State needed it most. She went 3-of-5 shooting and 2 of 3 from deep for 10 points, adding a pair of steals on the defensive end. With Natalie Fraley and Ashya Klopfenstein both back in the rotation, debuting in this game, that's the exact kind of stat line Utah State would love to get from Chellis. She doesn't need to be a star – efficient play and active, hands-on defense is more than enough.
Tamiah Robinson: She still hasn't been able to really find her shooting stroke from deep, hitting just 1 of 6 tries from downtown against Weber State and making 4 of 11 shots from the field, but Robinson has proven herself as up to the task in big moments. The one three-pointer she did knock down was massive for the Aggies, who needed every bit of the 12-point, seven-rebound, two-assist outing she provided.
Stats Of The Game
9: While Utah State can come away from this game very pleased to snap its five-game losing streak, especially with a victory on the road, but it won't leave anywhere near satisfied. The Aggies were outrebounded 44-35 on the evening, allowing a whopping 18 offensive rebounds – 13 of which came from the starting frontcourt of Hickok, Jadyn Matthews and Parra. Luckily for Utah State, the Wildcats converted those chances into only 15 second-chance points. The Aggies might not be so lucky if they lose the battle on the glass like that in another tight game.
32.3%: How did Utah State manage to survive its loss in rebounding? Well, Weber State shooting 32.3 percent from the field, 22.2 percent from deep and a disastrous 9 of 34 in the second half (26.5 percent) certainly helped. The Aggies did not light up the scoreboard, but they converted 42.6 percent of their tries. After the dry spell they started the season in, this reversal of fates was due at some point.
8-13: Nowhere was Utah State's improved shooting more important than from behind the arc in the second half – when the Aggies shot 8 of 13 after a less-than-ideal 2 of 11 start in the first half. They were 5 of 6 from three-point range in the fourth quarter alone, and that was just enough to push the game toward Utah State.
Emptying The Notebook
The return of both Fraley and Klopfenstein is huge for Utah State's rotation. The Aggies had been operating with only two true bigs on a full-time basis (Chellis and Abby Wahl) while Olivia Mason played severely limited minutes, and that just was not enough to keep up with the kind of frontcourts on this non-conference slate. Fraley played only seven minutes while Klopfenstein checked in at 13 minutes, but any time at all that Utah State can rest Chellis and Wahl is crucial. Plus, you can chalk up interior defensive improvements directly to this infusion of talent.
Utah Valley is up next for Utah State on a very quick turnaround – the game is set to tip-off at 2 p.m. local time on Saturday in the Spectrum (I'll have a preview up for it ASAP). The Aggies have faced off with the Wolverines 15 times and hold a 9-6 series advantage.
These two last squared off at Utah Valley in 2019 – a 57-49 UVU victory – and met in Logan last in 2018, which Utah State claimed 67-62. The Aggies have won four of the last six matchups and haven't lost to the Wolverines at home since 2007, holding a 6-1 advantage in matchups they've hosted.