WBB Preview: Utah State Seeks Second-Straight Win Against Utah Valley
Utah State can notch its first winning streak of the season with a win over Utah Valley. Tip-off is imminent in Logan, here's what you need to know: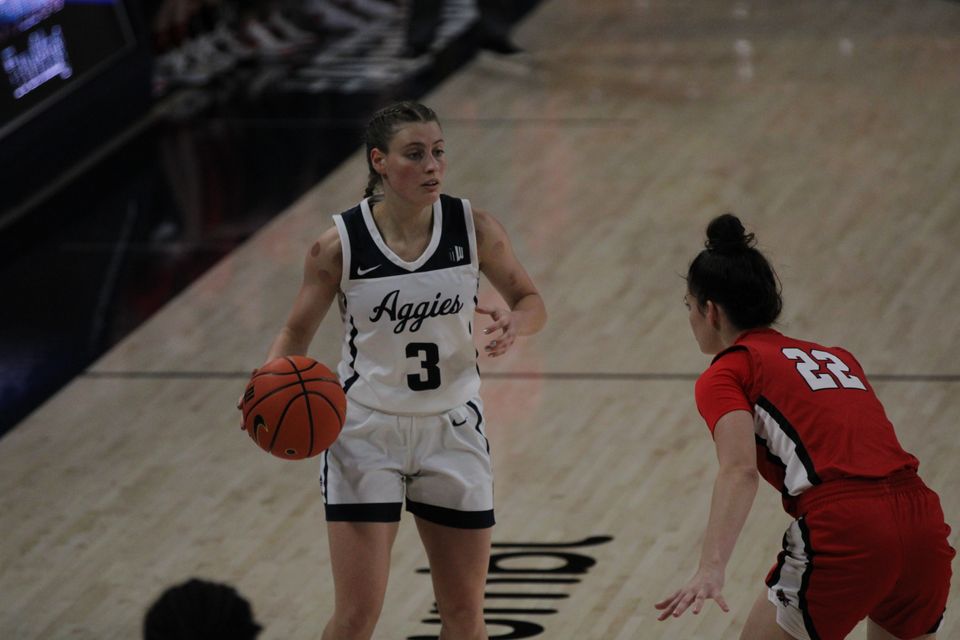 Utah State finds itself in unfamiliar territory as it enters a home bout with Utah Valley, set to tip off at 2 p.m. local time from the Spectrum.
Firstly, the Aggies are, by just about every metric, favored against the Wolverines. Utah Valley has yet to beat a Division I opponent, toppling Park University Gilbert (Ariz.) in its season-opener before dropping five consecutive games against Portland State, St. Thomas (Minn.), UNLV, Utah, Weber State. The Wolverines were moderately competitive just once, in a 55-44 loss to Weber State – which Utah State just beat on Thursday. Their average margin against DI opponents is 73.8-41.4. For as much as USU has struggled, Utah Valley has suffered through a whole lot worse.
Secondly, Utah State is on the attack here. It halted a five-game skid with its road victory over the Wildcats and looks now to start its first winning streak of the season. Carrying it over to three games with a win over BYU (also at home) on Dec. 6 doesn't seem especially likely, but the Aggies have a very winnable game at Loyola Marymount on Dec. 10 and could realistically hope to win three of four games – with a Dec. 20 bout against Eastern Washington also not completely out of the question.
As conference season approaches, that kind of momentum booster would be huge for Utah State. Its roster is near full strength for the first time all season. This is a very winnable game and perhaps even one that Utah State should win. Every team has to start somewhere, and a quick two-game winning streak would be a big improvement for the Aggies after their brutal start to the season.
Projected Lineups
Players To Know
Jaeden Brown: Utah Valley hasn't been able to find much of any offensive success to this point in the season, but when it has scored, chances are good that Brown was involved. She's more of a forward than a center, but the Wolverines have been going small this season and she's found some comfort as a versatile No. 5.
She leads the team in scoring (11.0 PPG), rebounding (6.0 RPG), blocks (2.0 BPG) and free throw attempts per game (2.7). Her perimeter shot has yet to click into place (3 of 16 from deep), but she's been very good inside of the arc, knocking down 22 of 43 attempts (51.2 percent). She isn't the biggest or the most physical post scorer that Utah State has seen this season, but she's a skilled player with a better handle than you'd expect from a forward – and Utah Valley's offense runs through her.
Eleyana Tafisi: Although she's struggled mightily from the field, shooting just 17 of 52 (32.7 percent) worth 6.5 PPG through six games, Tafisi is just as important to Utah Valley's success as Brown is. She easily leads all Wolverines with 4.7 assists and 2.3 steals per game to go with 5.0 rebounds a night, working as it do-it-all point guard in a backcourt that just does not have a whole lot else to offer.
Utah Valley would love to see her cut down on the turnovers (nearly 4.0 per game), attack the hoop more and shoot better from deep (1 of 9), but she's just about the only trustworthy ballhandler or distributor on the roster. If Maria Carvalho can cause her problems in the backcourt, Utah State can just about shut down the Utah Valley offensive attack.
Stats To Know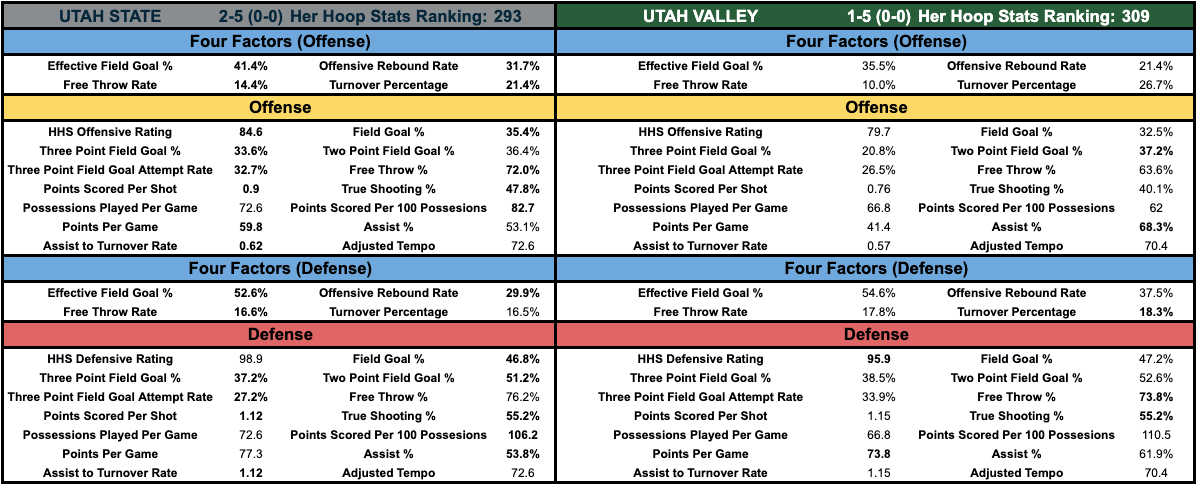 Offensive Rebound Rate: There aren't many teams worse at rebounding in college basketball than Utah Valley. The Wolverines are 342nd in offensive rebound rate (21.4 percent) and 304th in offensive rebound rate allowed (37.5 percent). With backup center Tessa Chaney questionable (she didn't play the last game) and no other real size up front, the Wolverines just do not have the bodies to win on the boards. Utah State needs to take full advantage and dominate on the glass – making things a whole lot easier on its shooters and defenders.
Assist %: To Utah Valley's credit, it does try to move the ball offensively as much as it can. Its 68.3 percent assist rate is legitimately strong, and this offense is capable of creating open shots if Utah State isn't locked in defensively. Now, the assist percentage is also a reflection that the Wolverines are without any true isolation scoring threats, but I have to find some positives somewhere.
Point Scored Per 100 Possessions: I'm not going to provide any here, though – Utah Valley has been awful this season. Awful. This is one of the worst offenses in college basketball, and the defense hasn't been a whole lot better. Unless Utah Valley has its first hot night from the field of the entire season, it just lacks the pieces needed to score against Division I competition.
Prediction
I'm very, very wary of predicting a blowout victory for this Utah State team, given the output we've seen this season. I wouldn't do it if I didn't have a damn good reason, and Utah Valley's track record is enough to provide that. The Aggies have certainly struggled this season, but they should still be a whole lot better than the visitors from Orem.
Utah State 65, Utah Valley 51