WBB Game Notebook: Aggies Suffer Another Collapse, Fall To Wyoming
After running out to another big lead only to fall down the stretch in a 64-52 loss to Wyoming, Utah State WBB is again left searching for answers. Game notebook: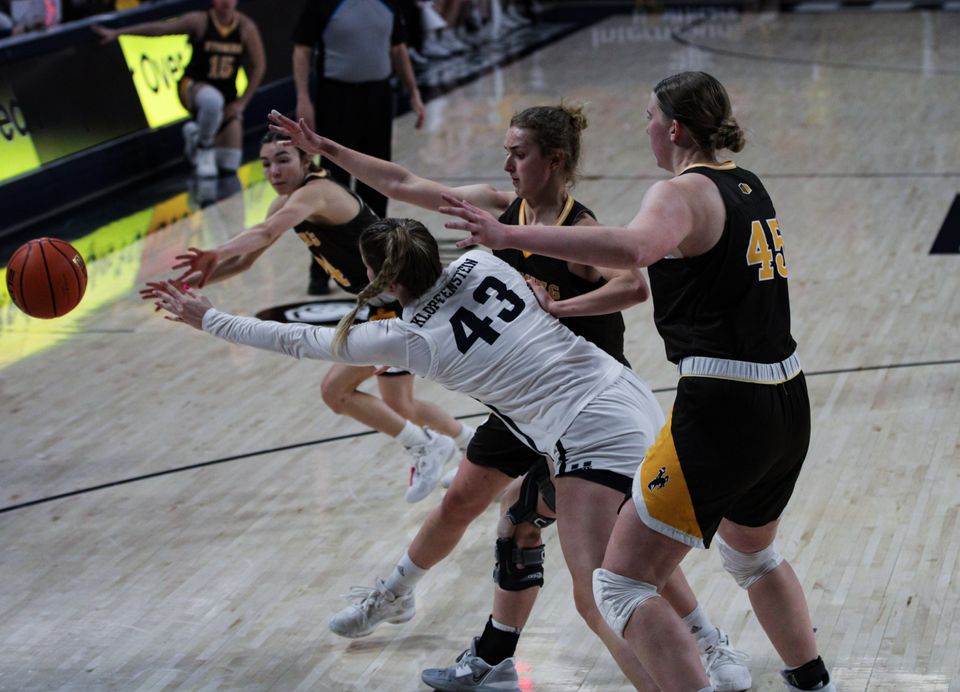 Notes, quotes, thoughts and other quick hitters from Utah State WBB's 64-52 loss to Wyoming. Let's not waste any time.
Game-Changing Moment
There are a lot of possible answers here, but the best is probably the game's first true sign of trouble for the Aggies.
It had been smooth sailing for Utah State through the first 16 minutes of the first half. A trio of three-pointers and some extremely stingy defense – holding Wyoming to just 3-of-18 shooting – bolstered a strong first quarter for the Aggies as they jumped out to a 19-7 lead, and the first half of the second quarter was much of the same.
The Pokes missed their first two shots and turned the ball over twice, giving up a pair of easy layups as Utah State extended its lead to 16 points, the largest of the game at the time. Wyoming hit a pair of free throws, and Ashya Klopfenstein immediately drained an open three off a pass from Olivia Wikstrom to push the Aggies up by 17. It grew even larger, to 18 points, on a Natalie Fraley triple a few minutes later, and returned to 18 when Klopfenstein answered an Allyson Fertig layup with two free throws.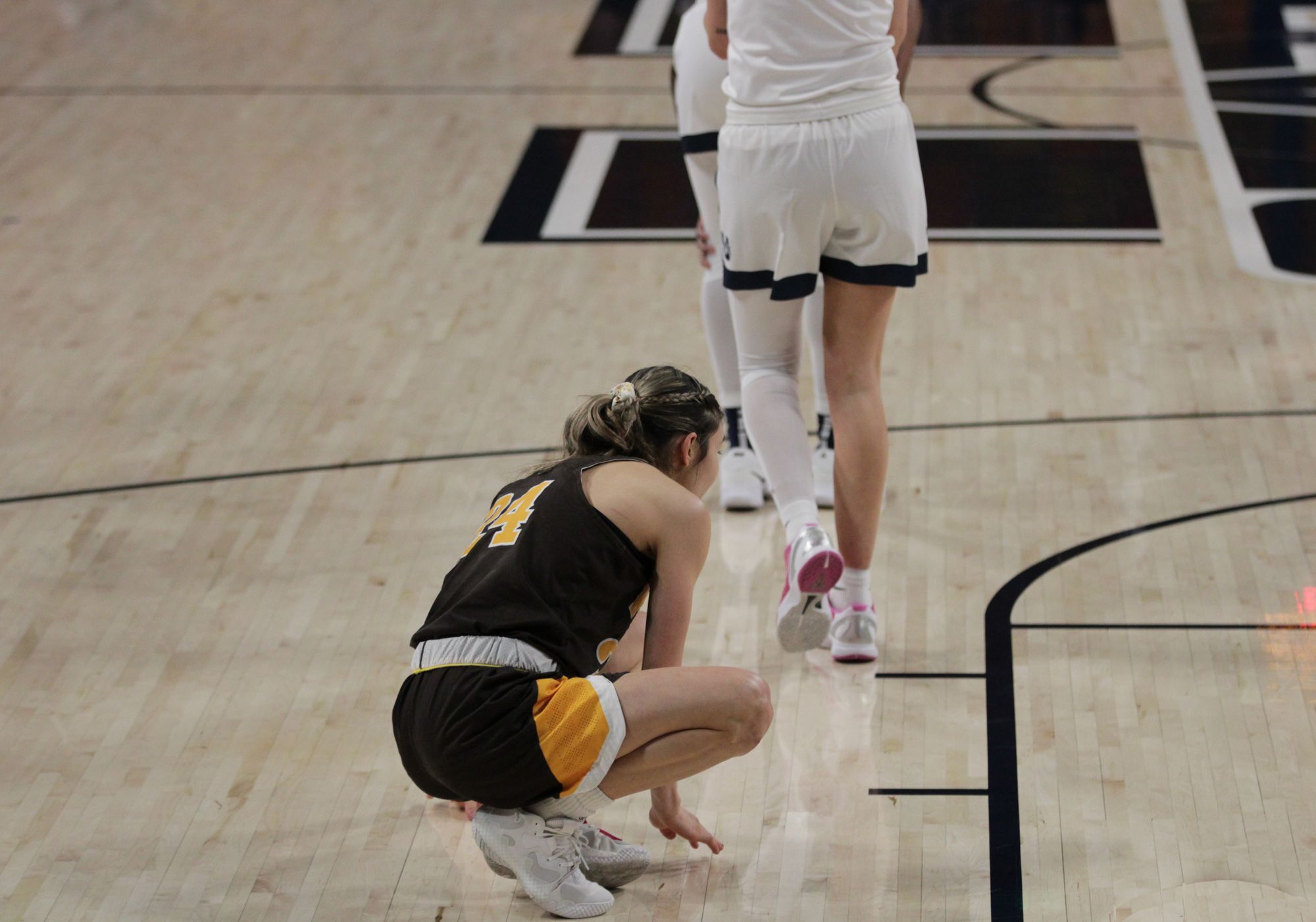 Utah State's lead was overwhelming and comfortable, 33-15, with 3:46 on the clock. The Aggies were picking at the seams of Wyoming's zone defense, knocking down open shots when they arose and playing with a ton of energy on both ends of the floor. They had forced seven turnovers while Wyoming shot 6 of 25 from the field, and essentially the only thing keeping Wyoming in the game at all was its effort on the boards – the Pokes had 25 rebounds to Utah State's 12 in the first half, including 12 on the offensive glass.
And then, as it has all season, Utah State sputtered. The Aggies managed three shots worth three points in the last 3:46 of the half while allowing Wyoming eight looks it converted into 12 points. The Pokes needed only 2:44 to halve Utah State's lead, pulling within nine after converting two layups, two free throws and a three-pointer before the Aggies found the bottom of the net again.
Prima Chellis stopped the bleeding with a three-point play, only for Malene Pedersen to drill another triple at the buzzer, sending the game to the break with Utah State ahead 36-27.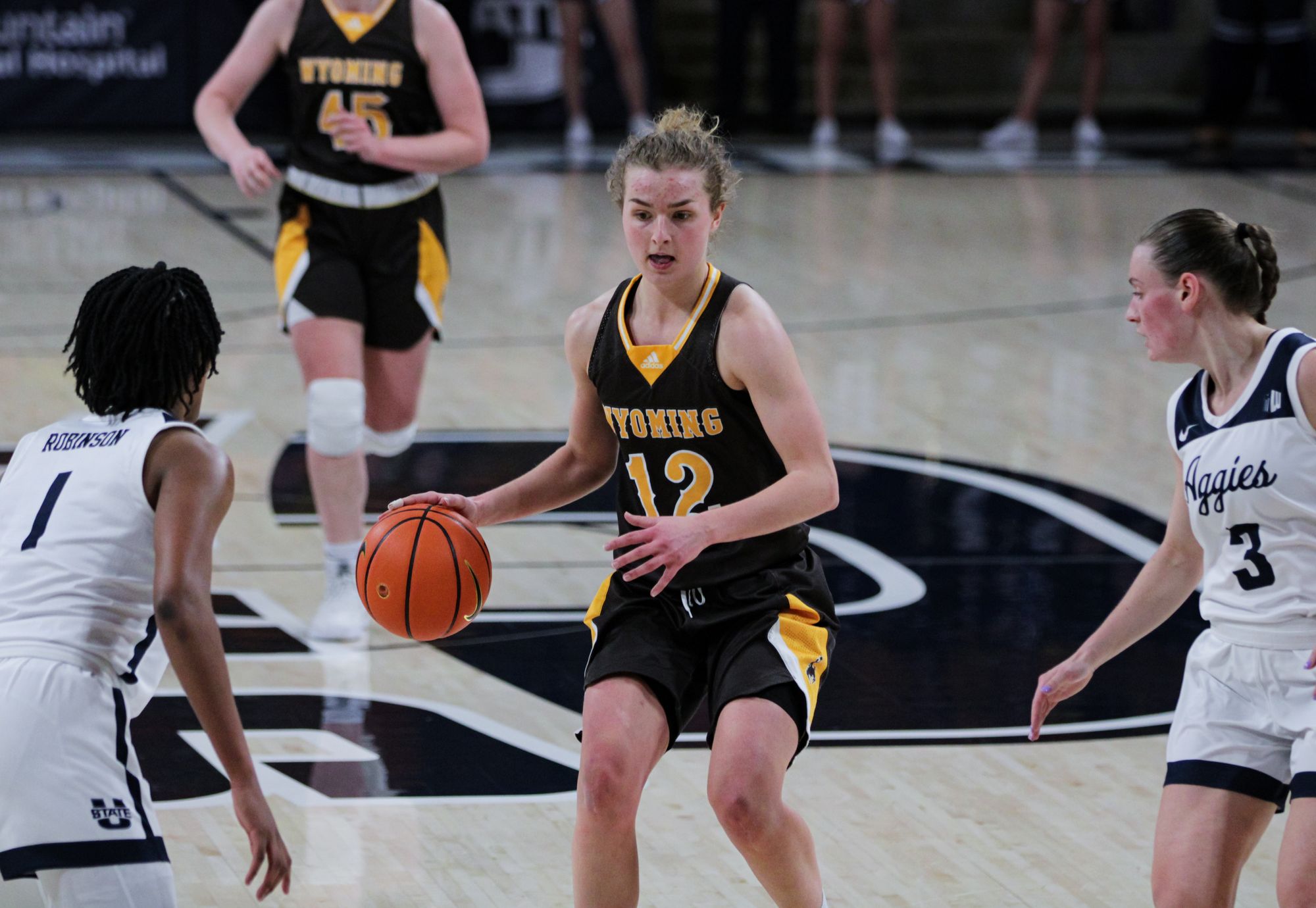 It was like a switch had been flipped. That run set the tone for the second half, which played out following basically the same formula. Utah State struggled to pull the trigger on shots against Wyoming's zone and played itself into turnovers and bad looks, while Wyoming dominated the glass and got to the free-throw line for easy points. Whatever happened in the back end of this game, it started at the end of the first half and Utah State never found an answer for it.
When It Was Over
Though the Aggies were pretty thoroughly outplayed in the second half, they didn't fall out of contention until the final minutes of the game. It was tied heading into the fourth quarter, and Utah State was within one score of tying or reclaiming the lead as the clock fell under the four-minute mark, trailing 52-50 with 3:56 to play before Emily Mellema hit a pair of free throws.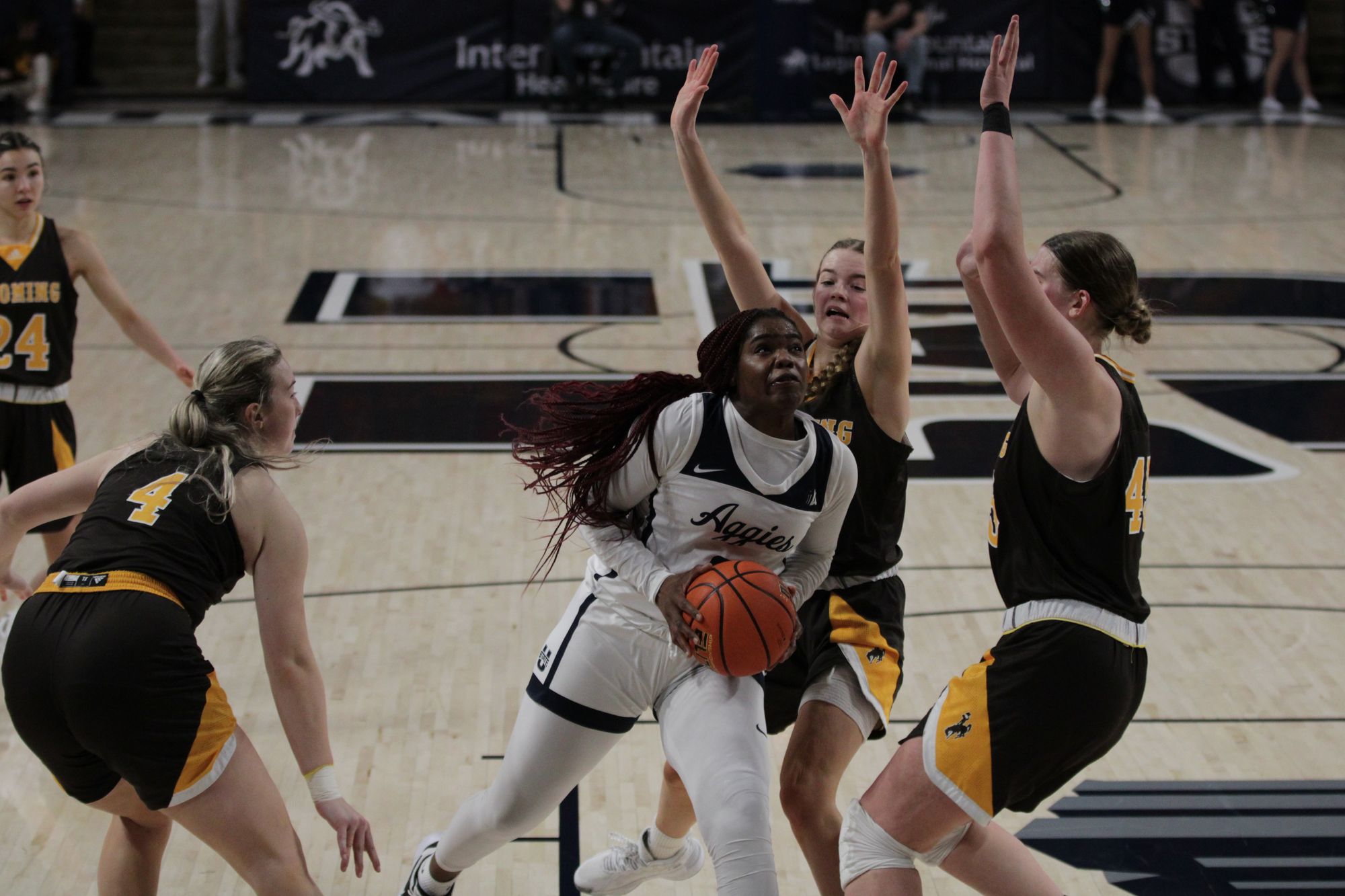 This game was over when Utah State failed to find anything on offense for more than two minutes after Chellis rallied to score four quick points, bringing the Aggies to that two-point deficit. The sequence was just brutal. There's no other way to describe it.
Mellema hit her free throws to push the lead to four; Utah State responded with a missed Fraley three-pointer. Fertig got to the line and put the Pokes ahead by six; Maria Carvalho's layup try on the other end was blocked. She had two more shots on Utah State's next possession after a Wyoming miss, and again neither found the bottom of the net.
Wyoming missed again, and Chellis eventually managed to add a point to Utah State's total at the line, but the Pokes hit a pair on the other end, Tamiah Robinson's three-point try didn't fall and Carvalho sent Tommi Olson to the stripe for two more points. The Aggies scored eight points total in the third and fourth quarters – they certainly weren't erasing a nine-point deficit in 1:12.
Aggie Of The Game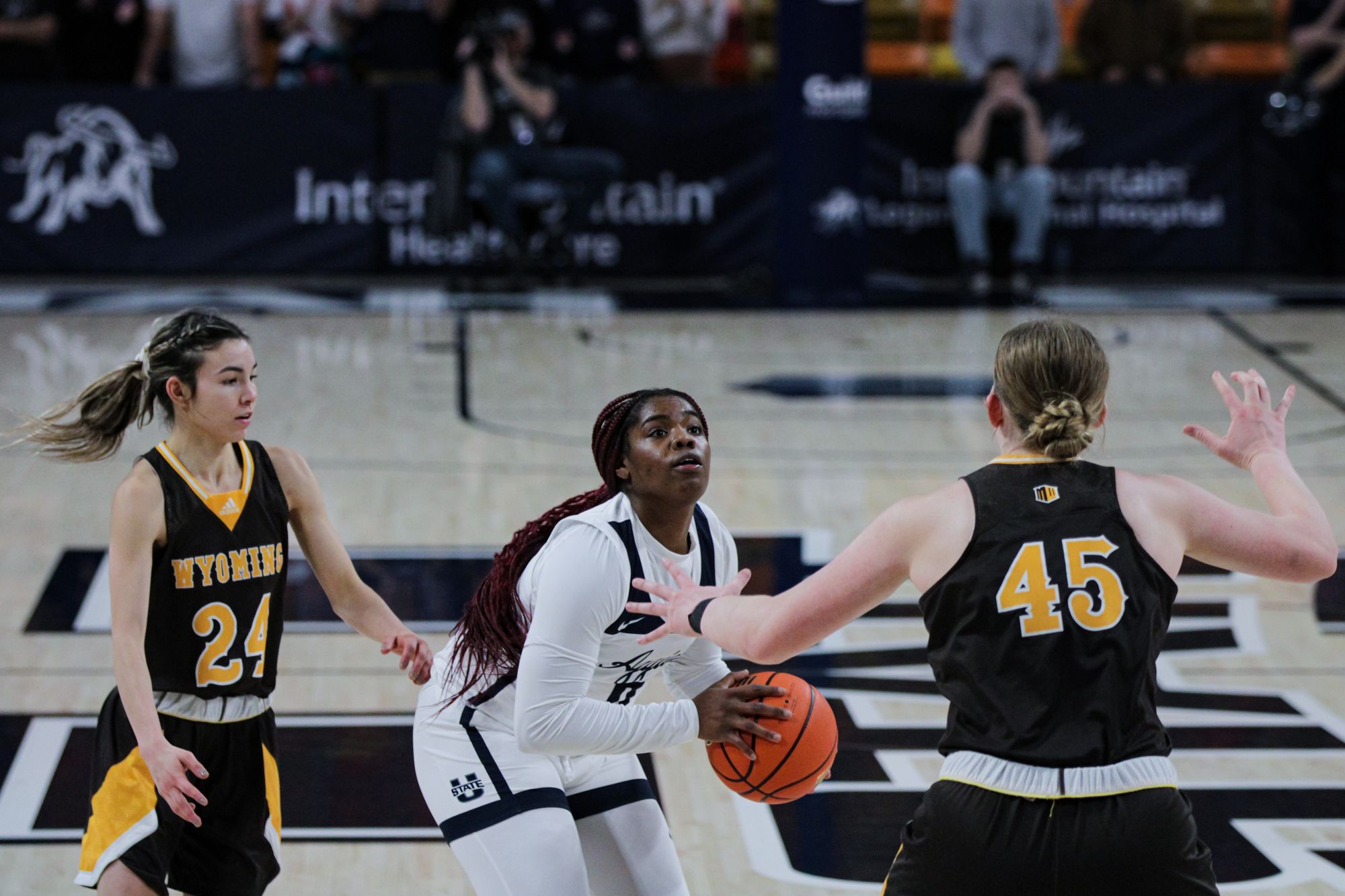 As has been the case for much of conference play, Chellis was Utah State's best player on Thursday evening. She didn't notch huge numbers, scoring 12 points on 3-of-5 shooting and adding four steals and three rebounds, but so many possessions (on both ends) seem to rely almost entirely on Chellis making a play.
This is as much about what she contributes as it is about what Utah State misses when she's either struggling or not in the game. When she's tired, the Aggies just collapse. When she isn't on the floor, the offense is tentative and the defense lacks connectivity. They're asking too much of her, but she's handling it well – all things considered.
Other Standouts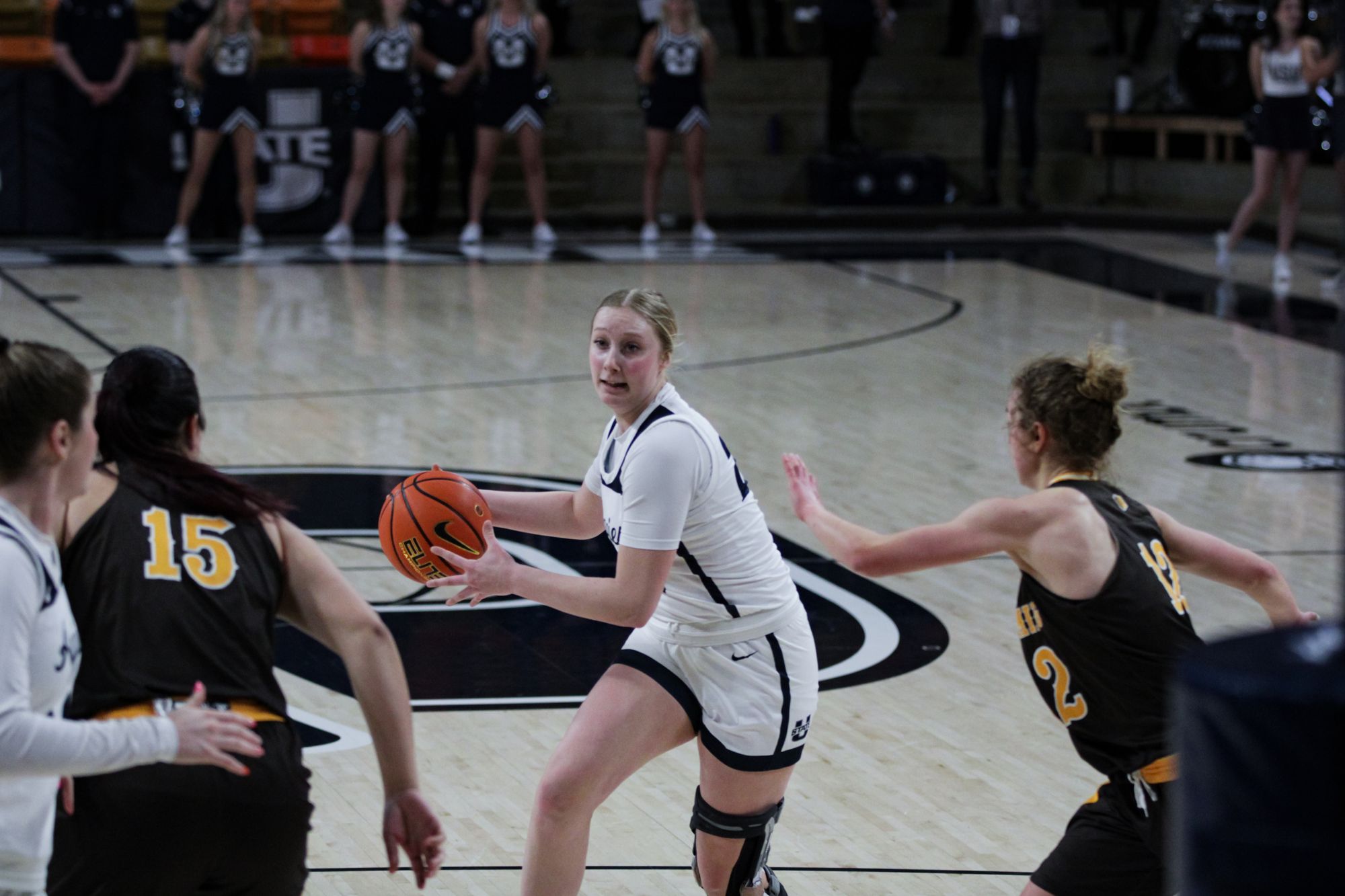 Natalie Fraley: She didn't quite match her huge game against San Jose State, which saw her score 18 points on 6-of-7 shooting with three assists and three boards in just 23 minutes, but this was another nice outing for the freshman. She finished with eight points on 3-of-6 shooting, hitting a pair of threes and adding a rebound, a steal and a block with just two turnovers.
She disappeared a bit in the second half, but she's developing well in her first season with the program – especially having missed so much time early in the year. If she stays on this path, she'll be a really valuable player to build around in the years to come.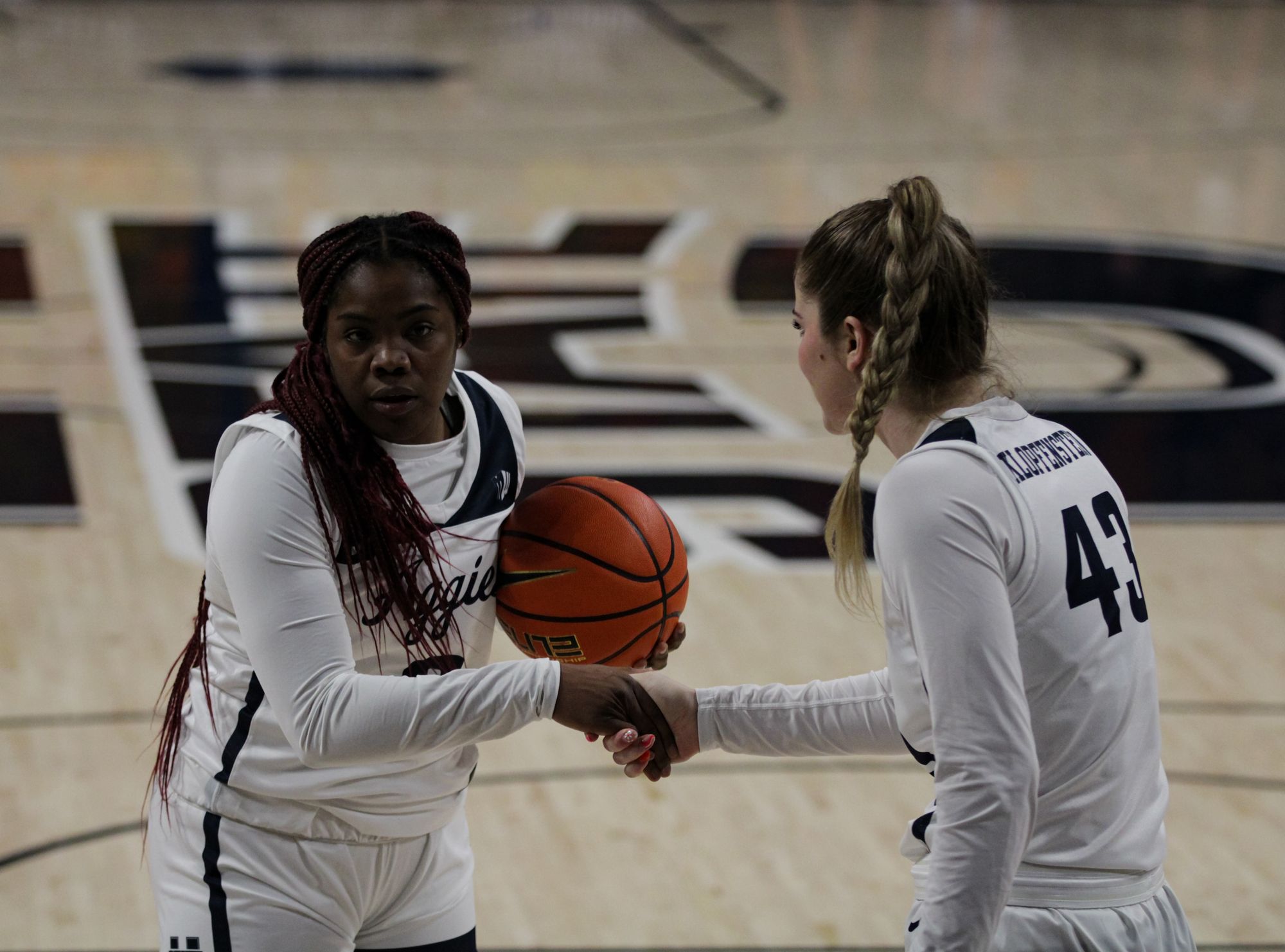 Ashya Klopfenstein: She also disappeared a bit in the second half, scoring only two of her 12 points, but Klopfenstein was still largely a positive player for the Aggies. She was 4 of 6 from the field in scoring those 12 points, adding four rebounds, two blocks and a steal. She wasn't able to handle Wyoming's forwards on her own in the paint, but we're again getting into "asking too much territory" there. She played well, and while she had four personal fouls, she still played 33 minutes and didn't draw the fourth call into the latter stages of the fourth quarter. That's a win.
Stats Of The Game
20.8%: Utah State seemed to have a pretty good feel for attacking Wyoming's defense in the first half. It hit 13 of its 27 shots (5 of 13 from three), finding open spots with strong ball movement and firing away when it did. The Aggies were willing to shoot from the outside, but it wasn't all they were doing. Even against Wyoming's zone, they found shots at or near the rim.
In the second half, you could count Utah State's quality shots on one hand. Literally. The Aggies hit five shots on 24 tries (2 of 12 from deep). In the first half, six players took at least three shots and eight took at least one. Everyone was involved, and the defense had to concern itself with all five players on the floor. In the second half, Utah State fell right back into the same hero ball that hasn't worked all season.
Only six players shot, and only three more than three times each. Carvalho went 0 for 7, Olivia Wikstrom was 0 for 5 and Robinson went 2 of 6, combining with Chellis to contribute 14 of Utah State's 16 second-half points. The shooting was bad in the second half, but it was bad because of things Utah State was doing.
This offense works well when the Aggies are fully committed to it, but their focus has waned so often this season that it's hard to believe in any sized lead. More often than not, they've only been blips before the offense falls back to Earth, the defense loses energy and the game slips away.
23: It certainly would have helped Utah State to have Mayson Kimball or Abby Wahl, both of whom watched this game from the sidelines because of unspecified injuries, but the Aggies were so significantly overwhelmed on the glass that it's hard to imagine anyone on this roster doing enough to change it.
Wyoming outrebounded Utah State by 23 boards, 48 to 25, including 20 on the offensive glass worth 15 second-chance points. Take those away and Utah State wins this game, but it feels like that can be said of a new stat every game. The Aggies are playing whack-a-mole with gameplan-destroying malfunctions.
8.5%: Utah State got a bit more out of its bench here than it did in the loss to Air Force thanks to 23 minutes from Fraley, but Lillian Harris, Cris Oliva and Isabella Tañedo still combined to play just 17 minutes, roughly 8.5 percent of the available minutes. In the starting lineup, Carvalho led the way with 38 minutes, Klopfenstein added 33, Robinson played 32 and Wikstrom finished with 30, along with Chellis' 25.
As they're presently constructed, it's very hard to see the Aggies having the depth and energy to close out conference opponents. They need Kinley Falslev-Wickizer Kimball, Olivia Mason and Wahl back if they want to make any noise.