WBB Preview: Utah State Hopes To Make Right On Recent Losses Against New Mexico
Utah State WBB is back in action today after a quick turnaround, looking to change its fortunes against the visiting New Mexico Lobos. Preview: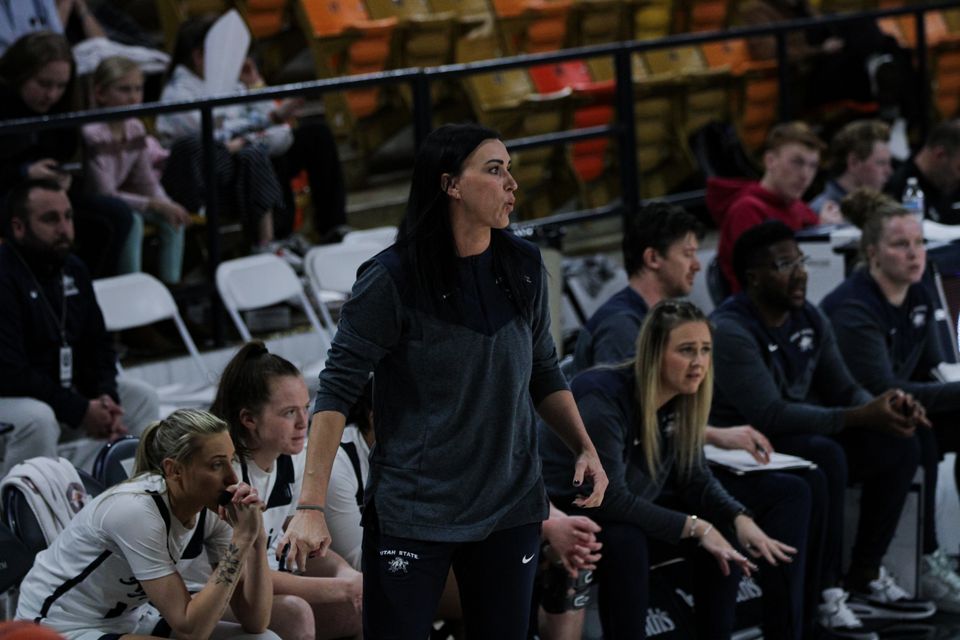 "Almost" can wear on a team, and Utah State has had more than enough to understand that this season. The Aggies are 1-8 in Mountain West play and have a conference schedule riddled with "almost." They went into the final quarter at Air Force trailing by two points, collapsed in the last 10 minutes and lost by 14. When the Falcons made their return trip to Logan, Utah State held a 10-point advantage well into the fourth quarter, collapsed, and lost 66-59.
It played within four points of Boise State after three quarters and ended the game behind by nearly 20, 73-56. A disastrous first quarter proved decisive at Nevada, providing 11 points of difference in what would become a 20-point loss. When they last took the floor in the Spectrum only two days ago, the Aggies ran out to an 18-point first-half lead over Wyoming, saw it shrink to nine by halftime and watched as it withered away completely with the Pokes reversing course and claiming a 64-52 win.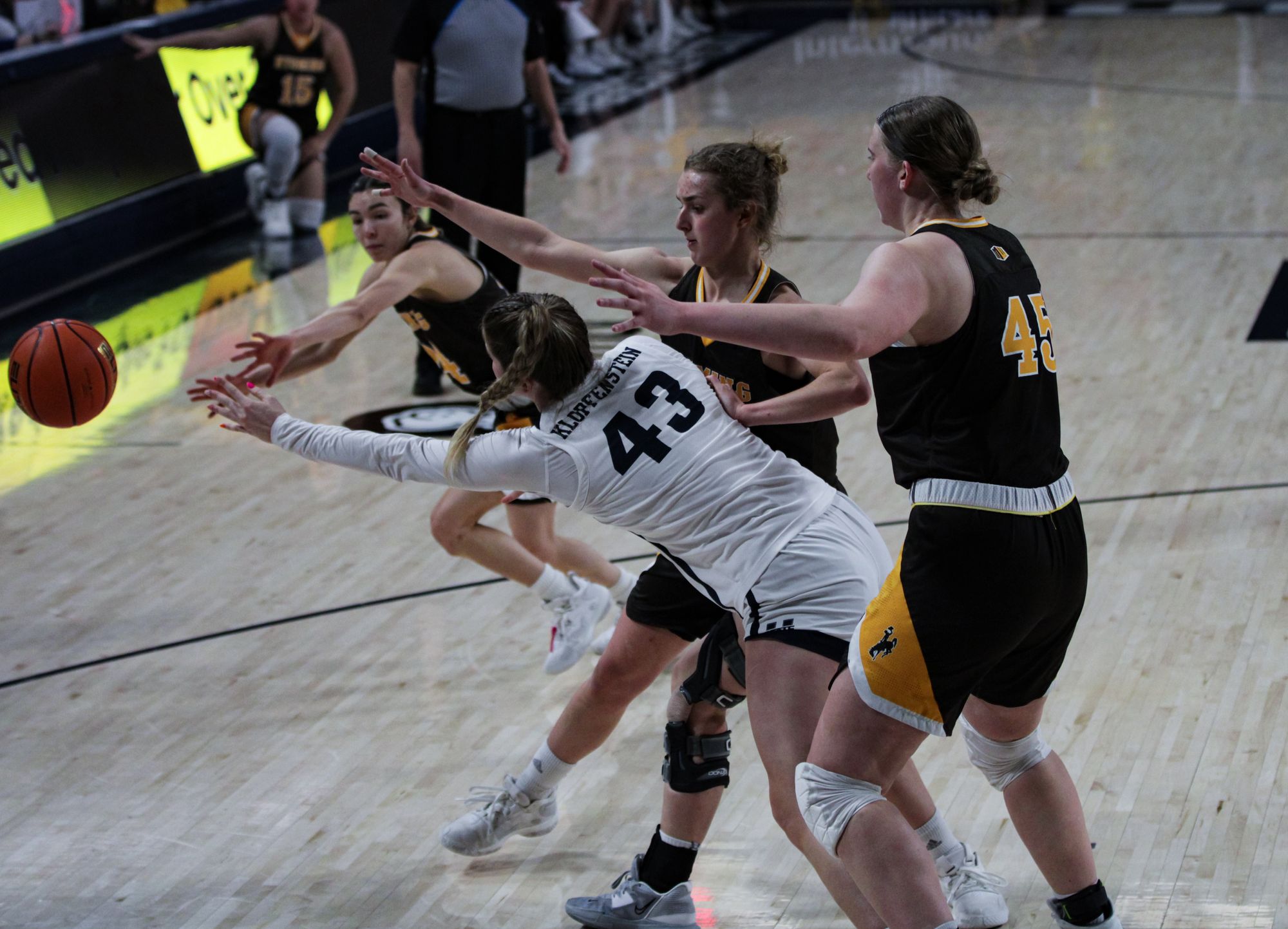 The story has been the same for this team all season. It took a 10-point loss to Southeastern Louisiana because of a brutal 20-7 first quarter; squandered a 12-point first-half lead over Arkansas State and dropped that game 63-57; ran out of time on a comeback bid against BYU, cutting a deficit that grew as large as 19 points down to 10 but never getting over the hump to pull closer; fought back from an early deficit at Loyola Marymount, only to lose its third-quarter lead on the way to a 71-63 loss. The Aggies have suffered blowouts, both in and out of conference play, but more common have been losses that linger – "almost" losses.
They got on the board with a conference win over Fresno State on Jan. 16, but can't seem to find the next victory needed to build momentum. As they return to play for their 10th conference game, this one against the New Mexico Lobos (12-9, 4-4), the Aggies are still looking for their breakthrough.
Projected Lineups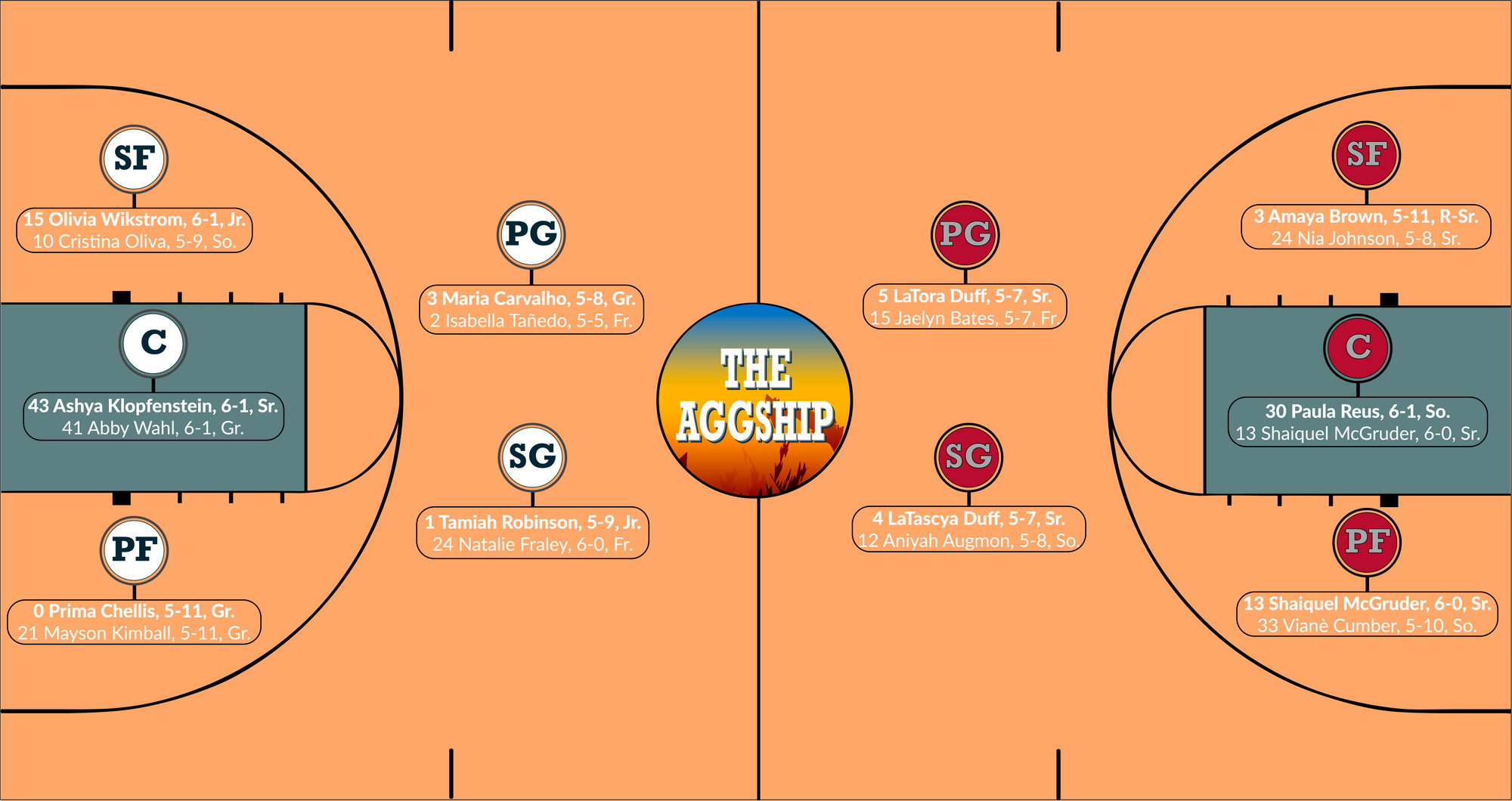 Players To Know
LaTascya Duff: LaTascya Duff's job at New Mexico has always been to bolster the offense with perimeter scoring. The 5-7 senior has knocked down more than 200 three-pointers (while attempting more than 500) in three seasons with the Lobos, transferring in from Shelton State CC along with her sister and backcourt battery mate LaTora ahead of the 2020-21 season. Last season, she did it as the No. 3 scoring option behind All-MWC forward Shaiquel McGruder and guard Jaedyn De La Cerda, pitching in 12.0 PPG despite just a 16.3 percent usage rate.
Now, with De La Cerda gone and LaTora needed to take over some of her distributing duties (taking her away from scoring), LaTascya has stepped into the No. 2 scoring role alongside McGruder. She's still averaging 12.0 points per game, but her usage rate has jumped to 18.1 percent as she attempts nearly 10 shots per game (9.95). Duff has taken on some of those passing responsibilities as well, averaging 2.5 assists per game (up from 1.7 a season ago).
Her shooting splits have dropped slightly – she's shooting 40.2 percent from the field (from 42.6 percent last year) and 37.7 percent from three (from 42.5 percent last year) – but Duff is still comfortably one of the best outside shooters in the Mountain West and one of the most dangerous pieces on a solid New Mexico team. Her defense has improved slightly, too, both in advanced stats (95.0 defensive rating, the best of her career) and counting stats (1.6 steals per game), and she's averaging 2.9 rebounds per game to boot.
LaTora Duff: While her sister helps to lead the offense with shooting, LaTora is the connector who keeps the Lobos on track – on both ends of the court. She's the team's leader in assists (4.4 per game) with fewer than three turnovers a contest (2.7), and its primary on-ball defender, averaging 1.3 steals while also snaring 3.9 rebounds per game.
What she isn't, at least this season, is an efficient scoring threat. Duff was one of New Mexico's best scorers last season, averaging 12.0 points per game while shooting 39.2 percent from the field and 33.0 percent from deep with a strong 19.0 percent free throw rate. Without De La Cerda around to draw the bulk of the attention in the backcourt, all of those numbers have dropped significantly for Duff. She's shooting 34.5 percent from the field and 25.3 percent from three, while her free throw rate has dropped to 15.9 percent.
She's seen some improvement on those numbers in league play, though she's also seen a lot of defensive regression as she struggles to manage higher-quality opposing point guards than those she saw in the non-conference. LaTora is still a solid player and an upper-echelon point guard in the Mountain West – she just isn't playing at the level she was when Utah State last faced the Lobos.
Shaiquel McGruder: The same cannot be said of McGruder, who has continued her development from an All-MWC nod (and an all-defensive nod) last season into a conference POTY candidate this season.
The 6-0 senior from Trotwood, Ohio is having a career year as New Mexico's true No. 1 option, averaging 15.1 points, 8.1 rebounds, 2.3 blocks, 1.9 steals and 1.1 assists per game (against DI competition) while shooting 58.5 percent from the field. That's a career-high for points, rebounds, blocks, steals (all of which she leads the team in) and assists – and she's doing all of this while averaging just 1.9 personal fouls per game.
Last year she was great. This year, she's a superstar, and she's only getting better in conference play. UNLV managed to shut her down, but she finished in double figures in six of her other seven conference games, surpassing the 20-point mark against Air Force (21), Boise State (25), Colorado State (23) and Wyoming (22). Remove a zero-point outing against the Runnin' Rebels, and McGruder is averaging 17.9 points and 9.4 rebounds against conference opponents.
Unless Utah State can find a post defender on Desi-Rae Young's level (read: probably the best defender in the conference), the Aggies can expect more of the same from McGruder. She's been just about unstoppable in league play and is making a strong case for a first-team all-conference nod.
Stats To Know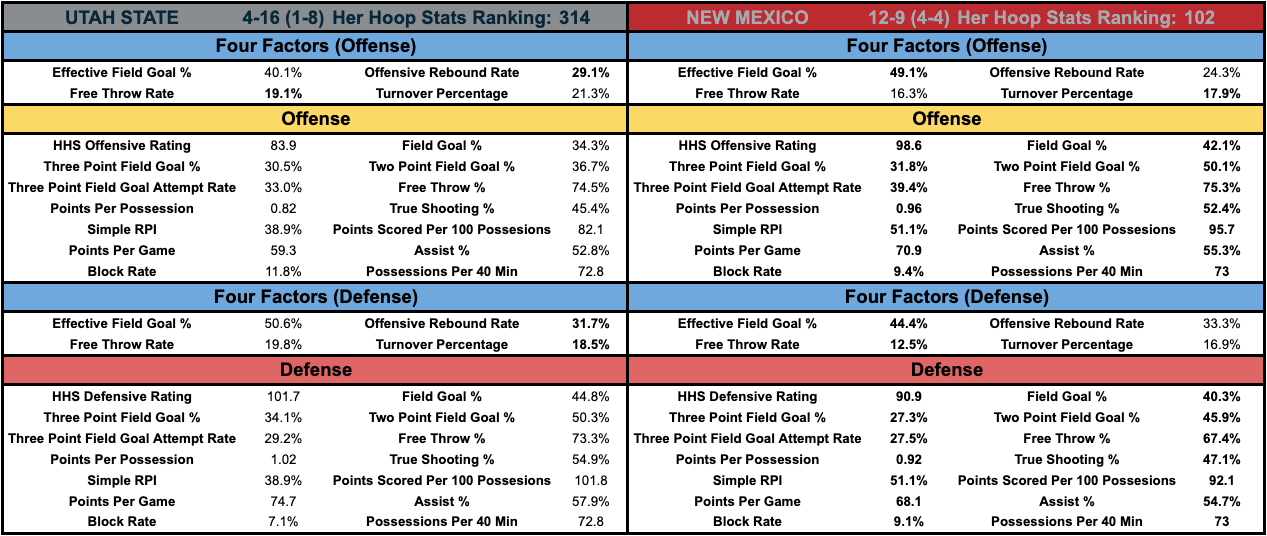 Three Point Rate: New Mexico leans on McGruder for interior scoring as a primary function of its offense, but her value on the inside goes beyond what you see on the stat sheet. She commands the attention of opposing defenses both as a scorer and a rebounder, forcing them to collapse in when she has the ball and creating all sorts of open space for New Mexico's litany of perimeter shooters – hence its 39.4 percent three point attempt rate, the 17th-highest in college basketball.
The Duff sisters are each capable of knocking down triples in bunches (LaTascya averages 2.9 made threes a game, LaTora averages 1.3) but they're far from alone.
Utah State will need to keep close tabs on Vianè Cumber (7.9 PPG, 74.1 percent three point attempt rate, 40 percent hit rate), Jaelyn Bates (4.0 PPG, 59.5 percent three point attempt rate, 33.3 percent hit rate) and Paula Reus (8.2 PPG, 43.7 percent three point attempt rate, 33.3 percent hit rate) to keep any potential barrages at bay. That's not to mention Aniyah Augmon (5.8 PPG) or Amaya Brown (8.1 PPG), either, each of whom is a capable shooter from beyond the arc as well.
The Lobos want to force defenses to pick their poison – either they leave McGruder alone against one defender to keep the perimeter shooters locked down, or they double up on McGruder and risk the long-distance game. Neither is an especially attractive option. This New Mexico offense has had some misfires this season, struggling especially against defenses that can match its trio of offensive leaders in man-to-man defense (Colorado State, San Diego State, UNLV), but should not be overlooked in the slightest.
Free Throw Rate: There's not as much to say about this New Mexico defense as there is about its offense – the group is largely middling. The Lobos are 126th in effective field goal percentage allowed, 176th in assist percentage allowed and 308th in turnover rate. Their block rate (9.1 percent) is 99th, but that's almost entirely from McGruder. It's not overly aggressive nor is it especially conservative, and frankly, it's not notably good or bad at much of anything.
One exception in the positive direction, however, is in New Mexico's free throw rate allowed. Utah State has made a lot of hay in getting to the stripe against conference foes, but may not be in for such an easy ride on Saturday – the Lobos are 16th in defensive free throw rate, allowing opponents to the line on 12.5 percent of their scoring attempts.
This too is partially a function of a very good defender in the front court who does not foul very often, but McGruder's ability to keep herself out of foul trouble extends to several of her teammates. Augmon (4.4 percent), Brown (4.6 percent) and Nia Johnson (4.3 percent) are the only contributors with a personal foul rate above 3.4 percent, everyone else checks in below it – and only two players, Brown and LaTora Duff, average more than two fouls per game. This defense may not generate a ton of big plays, but it's pretty good at avoiding them.
Offensive Rebound Rate: New Mexico is not good, however, at rebounding – and that's true on both ends of the floor. McGruder, Brown (5.3 RPG) and Reus (5.0 RPG) are all solid on the glass, but this is a team without a ton of depth in the frontcourt, and the team rebounding figures reflect that. The Lobos are 251st in offensive rebound rate allowed (33.3 percent) and a ghastly 338th in the same category on the other end (24.3 percent).
It's been an issue all season. New Mexico allowed 40 or more rebounds in 11 games this year and lost seven of them while winning all but two of its nine DI games with fewer than 40 rebounds allowed. The Lobos have had the rebound advantage just six times this season, and they won all six of those games.
Utah State isn't a good rebounding team, but it's quite a bit better than that. There's not a clearer path to victory for the Aggies in this game than a dominant performance on the glass – and that would be a whole lot easier with Mayson Kimball, Olivia Mason and Abby Wahl, who have all been sidelined in recent weeks.
Prediction
Utah State has come ready to play from the tip in each of its last three home games (Boise State, Air Force Wyoming), and I don't expect anything different here. A connected and energized Aggies team can have a lot of success on the glass and may be able to generate some turnovers by jumping in front of passes into the post for McGruder. I wouldn't be surprised at all to see Utah State build out an early lead behind all of that.
I wouldn't be surprised to see it dwindle as the game continues, either. Until Utah State proves it can string together a full 40 minutes, I'm expecting more of the same – bursts of great play, marred by bouts of fatigue and inefficiency that ultimately decide the game.
New Mexico 77,