WBB Notebook: Aggies Beat Utah Valley, Despite Struggles
Defensive improvements and free throw shooting helped Utah State to its second consecutive victory, this time over Utah Valley. WBB Notebook:
Notes, quotes, thoughts and other quick hitters from Utah State WBB's 65-55 victory over Utah Valley. Let's not waste any time.
Game-Changing Moment
Sometimes, a game-changing moment will be a brilliant explosion of points. Other times, it'll be stifling defense – enough to ice an opposing team out of a game. In Utah State's 65-55 victory over Utah Valley on Saturday afternoon, the game-changing moment was a simple steal and the basket it preceded. It hardly made any noise on the stat sheet, but it may very well have saved this game for the Aggies.
About three minutes through the third quarter, Utah Valley took its first lead of the game on a Jaeden Brown layup, 34-32. This, in itself, was a disaster for Utah State. The Aggies started their matchup with Utah Valley about as well as they could have hoped to, opening up a 16-9 lead after one period of play. They were knocking down shots opened up by strong passing and off-ball movement – both of which have been spotty throughout this season – and playing intense, focused defense. Utah State was doing what it was supposed to do against one of college basketball's worst teams.
And just as quickly as it had claimed the lead, it spent the second quarter squandering it. The defensive effort dropped off, Utah State's off-ball movement disappeared and the shots it was hitting in the first frame dried up. Utah Valley trailed by 10 points with just over five minutes to play in the half and went into the break trailing by two points, 30-28, and that was only after a pair of Natalie Fraley free throws with only a few seconds on the clock.
When Utah Valley took the lead, it didn't just alter the game state – it erased all of the work Utah State had done in that first quarter. These nightmare quarters have been an issue all season, and while there's a larger issue to be addressed there, Utah State needed to find a way to stop the bleeding as that malaise drifted into the second half.
"We always have one quarter that just doesn't go well," point guard Maria Carvalho said. "Energy drops, we can't score, the defense sucks and we just struggle through the quarter. We bring it up (a lot) because if we're consistent through all four quarters, we can win every single game. We just have to do little things and keep our discipline. If we do that, we should be fine. In this case, it was the second quarter. We messed it up and then we came back."
Therein lies the game-changing moment. Utah Valley extended its lead to three points with an and-one layup from Shay Fano to answer a pair of Tamiah Robinson free throws and had two separate chances to move into a two-score advantage. The first came after Ashya Klopfenstein had a layup try blocked, but Brown couldn't convert a close-range attempt of her own.
The second looked just about sealed up until forward Prima Chellis intervened. A Carvalho jumper had missed the target and ricocheted to Fano, who looked to have a clean fast break ahead of her if she could fire off a good outlet pass. Chellis intercepted the ball as soon as it left Fano's hands. She found Mayson Kimball, who broke a nearly eight-minute-long dry spell with a layup, cutting the deficit down to a single point.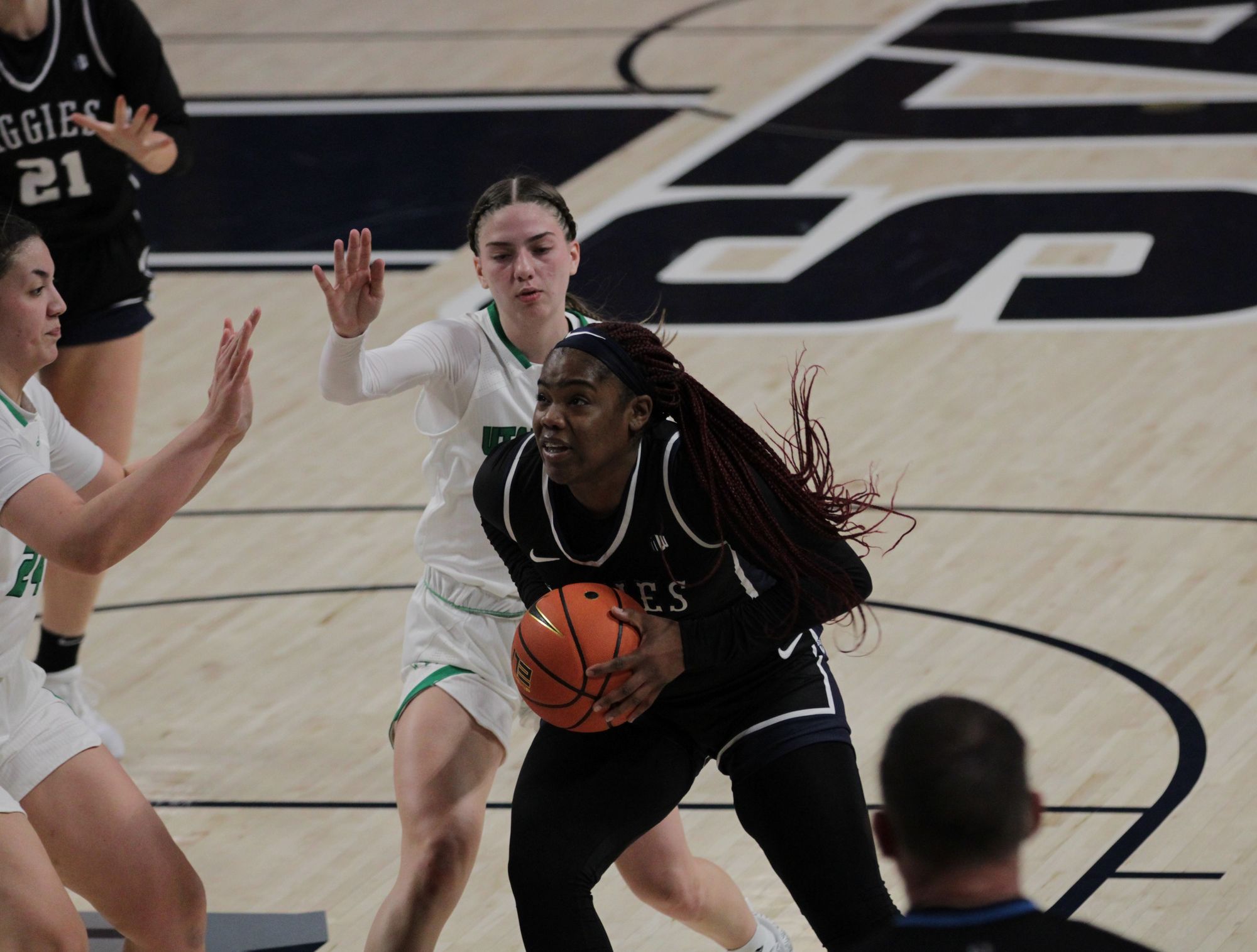 Kimball hit a pair of free throws a few possessions later and followed a Utah Valley free throw with a three-pointer, putting the Aggies ahead by three, 41-38. The Wolverines tied the game once more, but Utah State never trailed again as it closed out its third victory of the season – and second in a row.
It was not a performance that Utah State will be especially pleased with on the whole. But, to be feeling that way about a victory did not seem possible for this team only a few weeks ago. Now, the Aggies look for a third-straight victory against a team that just about everyone in Logan would like to beat: BYU.
When It Was Over
Playing just her second game back from injury, Fraley put this one to bed with a little over two minutes left on the clock. A pair of Carvalho free throws – courtesy of UVU head coach Dan Nielson producing the first of what really should have been several technical fouls for arguing with the officials – had just put the Aggies ahead by five with the chance to ice the game as the ball stayed on their end of the floor.
Fraley took that chance, drilling her second three-pointer of the game off a Robinson pass and pushing Utah State's lead to 61-53. The freshman guard recovered an Eleyana Tafisi miss on the other end and paid Robinson back with an assist on a layup that ended the game for good, putting the Aggies ahead by double-figures with 1:52 to play. Fraley didn't stuff the stat sheet, scoring eight points with four rebounds, one assist and one steal, but she's already starting to show off just how important she'll be for this rotation.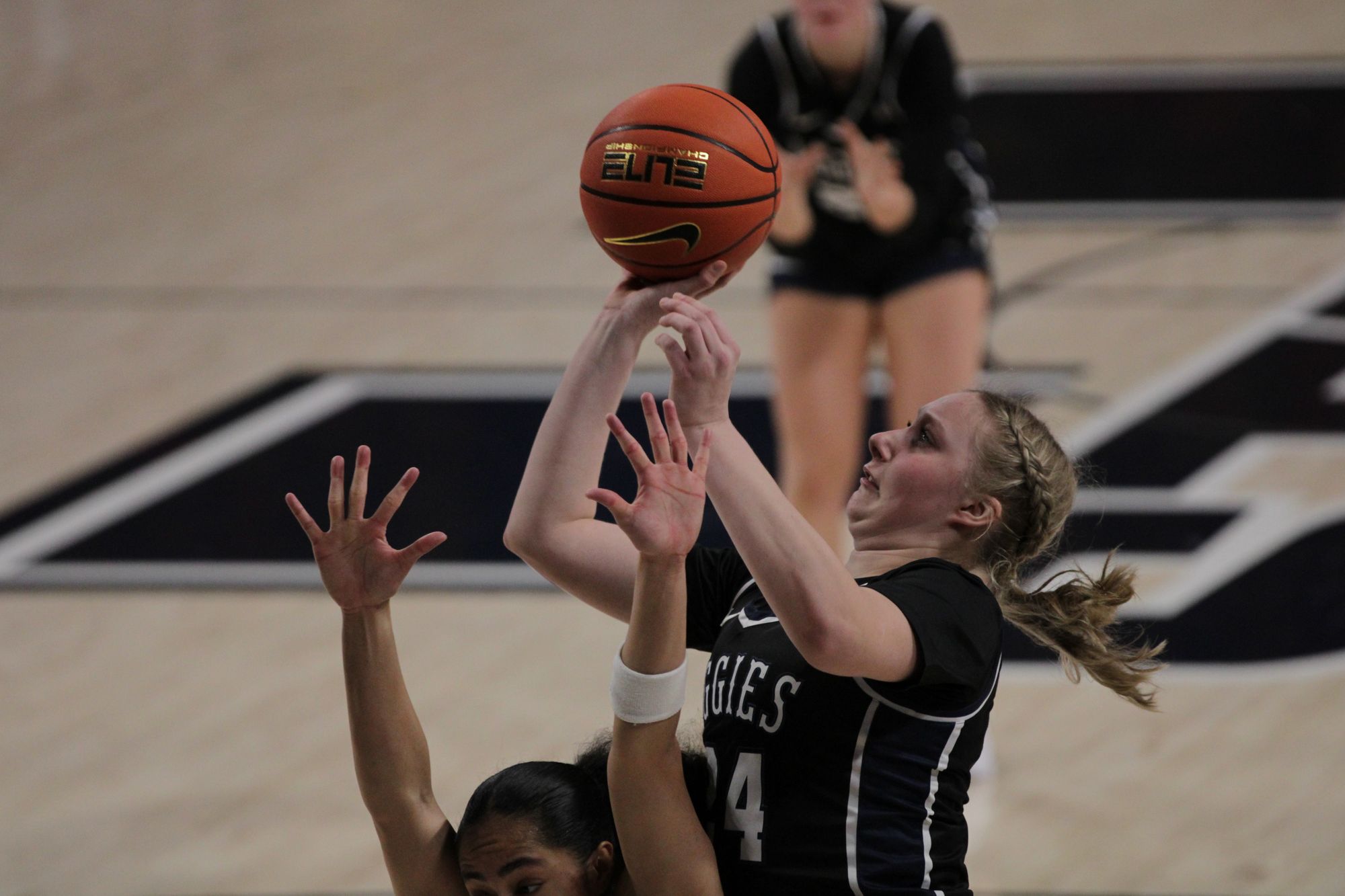 "Natalie worked her butt off coming off her knee injury and having her as the extra guard (is huge)," Carvalho said. "She played point guard when she was in high school and now she's playing the two-guard when I'm in. She has great basketball IQ, which helps me out a lot when I'm on the court. I'm so glad that she's back."
Aggie Of The Game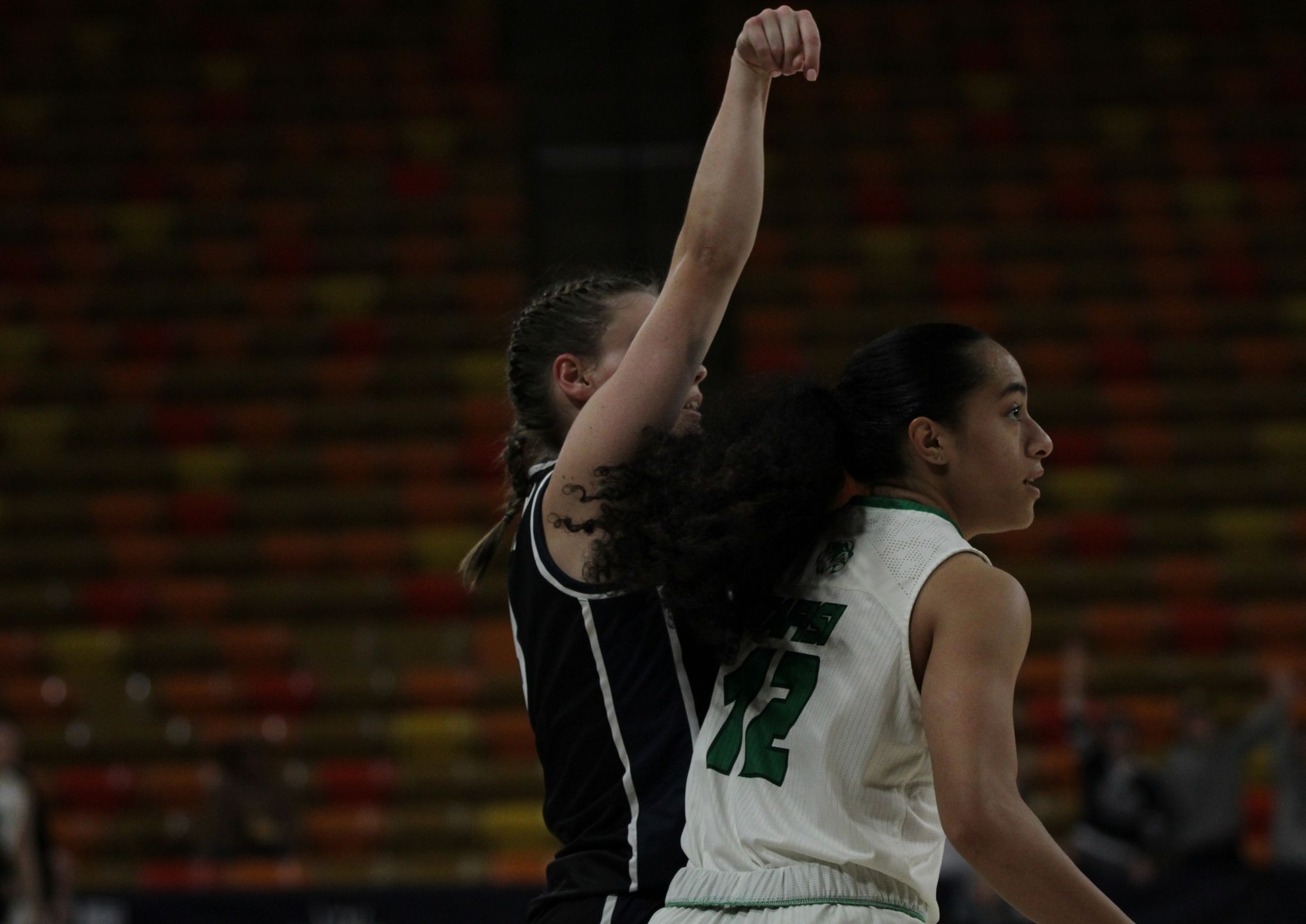 Do you think this one might have meant a little extra to Carvalho, who spent her last four years at Utah Valley before transferring to Utah State this offseason?
The graduate guard had a game-high 21 points on 6-of-11 shooting, knocking down 5 of 6 shots from behind the arc and all four of her attempts at the free throw stripe. Six rebounds, four steals and an assist certainly didn't hurt Utah State's cause, either. Carvalho was the best player on the floor for all 35 minutes she spent in this game, and Utah State has to be pretty darn pleased that she's doing it as an Aggie, not a Wolverine.
"I spent four years at UVU. I still have my friends there and everything, but it feels good to dominate them. I'm not going to lie," Carvalho said.
Other Standouts
Mayson Kimball: Foul trouble limited Kimball to only 19 minutes of action (she fouled out with 43 seconds to go), but they were 19 big minutes. She racked up 12 points only just 3-of-5 shooting, thanks to five trips to the free throw line – which she was perfect on. Utah State made it a focus to draw fouls against Utah Valley's zone defense and Kimball, along with Carvalho (4-4), Chellis (2-6) and Robinson (4-4) did a very good job of playing into that focus.
"I think it was very important because they were in a 3-2 zone, which I don't think we have played yet," Carvalho said. "To be honest, we weren't expecting that. We kind of had an idea (that they would show it), but we weren't expecting them to zone us throughout the game.
"We were trying to penetrate and kick it out and I think we did a phenomenal job towards the end. We got our free throws and we just had to knock them down."
Quotable
"I hope our kids are feeling good about getting two in a row over in-state schools. We're going to play another in-state school that's probably our biggest rival in the state. I hope our kids are feeling that way.
"We need to get some rest and try to get a little healthier before that game, and we need to make shots. We're missing way too many shots around the rim right now. We're shooting pretty well from three, but we have to make layups and we have to score the ball in the paint. We're just not doing that very effectively right now." – Utah State head coach Kayla Ard
Stats Of The Game
26: With Utah Valley in a zone defense (of various forms) throughout the game, Utah State needed to either hit its shots from the outside or find its way to the free throw stripe. The Aggies finished this game 10 of 23 from beyond the arc – enough to check off the box, probably not enough to win a game – and took 26 shots from the free throw line, converting 19 of them. There's the biggest factor behind this victory.
In the third quarter alone, Utah State scored as many points from the free throw line as it did on 16 attempts from the field (eight). When the offense stalled, as it did on a few occasions, Utah State attacked the basket and bailed itself out. It would prefer to avoid those situations entirely, but that's a level of in-game adaptation that we hadn't seen much this season. It's a positive step.
"We talked about that, we recognized that we were in the bonus and told our kids to attack," Ard said. "The refs were calling the wild fouls and that worked out in our favor when we did go on those cold streaks. But, we have to figure out a way not to go on those streaks. We have them almost every game, we go into an offensive dry spell and we have to figure out a way to eliminate those."
28: Along with Fraley, this was also the second game back in the lineup for Klopfenstein, who figures to be a major piece of the frontcourt rotation. The two combined to play 28 minutes. Neither made a huge impact on the stat sheet, and both looked at times like they weren't terribly comfortable. That will come with time, and for now, Utah State is just happy to have them back – both for their talents and to take a load off the shoulders of its other rotational players.
"It's been super helpful, and they're just starting to get their flow back," Ard said. "I think once they're back and comfortable – I don't know how comfortable they are out there yet – they'll make us better. We just have to get a better flow. We are dealing with chemistry issues, which we expected with so many new players, but we have to get a better offensive flow going."
22.9%: There's an elephant in the room, and it's the same one Utah State has been attempting to negotiate around all season. Ard did not leave this victory feeling especially pleased with her team, and the biggest thing to point to on that front is the two-point field goal percentage. It's been bad all season, and it was even worse here: Utah State shot 8 of 35 from inside of the arc. That's 22.9 percent. Awful.
"I don't think we played very well tonight," Ard said. "I'm happy to get the win, but I just didn't think we played very well. Our offensive flow is not very good right now. I'm happy that we held them to 55 points and I think our effort is there, but we're sloppy and we need to be cleaner if we're going to beat better teams moving forward. We have BYU coming up and we need to have a better offensive flow than that (to beat BYU)."
She's right. The offense was stilted and off too often against a Utah Valley team that Utah State should have handled comfortably, and it's not a performance that bodes well for that upcoming bout with BYU. The Cougars have not been good this season, but Utah State isn't beating them by hitting fewer than one in every four attempts it takes inside of the arc. The shooting has to be better. The interior offense has to be better. And it needs to happen soon.
Emptying The Notebook
It's time for my favorite part of these notebooks – lineup data, done in self-contained notes.
This wasn't a game for specifically good or bad lineups in the plus-minus category. Utah State's best lineup netted it just three points, while the worst lost it three points. The former was a three-guard group I would love to see more with Carvalho, Fraley and Robinson in the backcourt, a true slasher with Kimball and a center in Abby Wahl. They played together for a little over 3:30 and won that time 8-5.
The worst lineup was Carvalho and Robinson in the backcourt, Olivia Wikstrom at small forward, Chellis at power forward and Wahl at center. It played for 3:20 and lost its time on the floor 9-6. The Aggies aren't good enough in the paint right now to be playing two true bigs.
Looking for further proof? Lineups including at least two of Chellis, Klopfenstein, Olivia Mason and Wahl at a time finished the game minus-one and accounted for 20 minutes of game time. Groups with only one big were plus-11 in 20 minutes.
As for the guards, Utah State used only five lineups featuring just one of the true guards (Carvalho, Fraley, Robinson and Isabella Tañedo), and all five featured wingers who can handle guard responsibilities in Cris Oliva and Wikstrom. Those lineups, for what it's worth, finished minus-three in about four minutes.
The vast majority of Utah State's lineups (30 minutes) featured two true guards, which accounted for a net gain of six points. USU's most common pairing was, no surprise, Carvalho and Robinson (23 minutes, minus-one) followed by Carvalho/Robinson and Fraley (three minutes apiece, net gain of seven points) and Robinson Tañedo (one minute, no points).
The three-guard lineups are my favorite. In seven minutes across three different lineups with Carvalho, Fraley and Robinson, Utah State lead 14-7. The group with Kimball at the four position was the most effective, but the trio of guards yielded a two-point advantage when grouped with Klopfenstein and Wahl in the frontcourt, as it did with Chellis and Wahl. If Utah State wants to play two bigs, it'll need three guards.
In terms of net rating (meaning the difference between points scored and allowed per 100 possessions), Utah State's two best players were Fraley (90.82-41.91, plus-48.9) and Kimball (100.82-69.13, plus-31.68). The offense was at its best with Wahl on the floor (101.46 points per 100 possessions) while Fraley's lineups easily played the best defense (41.91 points allowed per 100 possessions).
This is the 44th time Utah State and BYU have met, and the stats aren't pretty BYU has won four straight going back to 2017, and before that, it had left victorious in 28 consecutive meetings. On the whole, BYU leads this series 39-4. Utah State hasn't won this game at home since 1978. It's a big hill to climb for a team that looks like it's only just starting to put on its hiking boots.